Do you want to smash everyone else while playing FIFA or Call of Duty online? If yes, then you also need a high-quality gaming headset. It may enable you to anticipate the movements and plans of your enemies and better communicate with your teammates.
We all know that gaming hardware, including headsets, can be quite expensive. A premium headset can cost you a fortune. Not everyone can afford these costly headphones to be honest. That is why we have created this list which makes it easier for you to find the best pc gaming headsets under 100 bucks.
Yes, you have heard it right. You don't need to spend hundreds of dollars on a good gaming headset. All the headphones in our list are budget headphones yet they pack amazing features such as great comfort, exceptional sound quality, noise isolation, and reliable connection, etc. Similarly, they also have built-in microphones to effectively communicate with your teammates and friends online in case you play multiplayer games.
Best PC Gaming Headsets under 100 Dollars
We have actually reviewed hundreds of gaming headsets and the following are our top choices for the best pc gaming headsets under 100 dollars. Keep in mind that the headsets appear in no particular order in our list.
SADES SA902 7.1 Channel: Most affordable pc gaming headset
Logitech USB Headset: The best budget gaming headset
HyperX Cloud Alpha Gaming Headset: Best gaming headset under 100 ps4
Razor Kraken Tournament Edition: Best gaming headset for pc
CORSAIR Void Pro RGB: Premium headset by Corsair
AILHIHEN C8 Girls Headphone with Microphone: Best pc gaming headset for girls
SteelSeries Arctic 5: The most comfortable gaming headset under 100
Sennheiser GSP 302: One of the best pc gaming headsets under 100
Microsoft LifeChat LX-3000 Headset: One of the best pc gaming headsets under 50
SteelSeries Serbia V2: Best gaming headset for a tight budget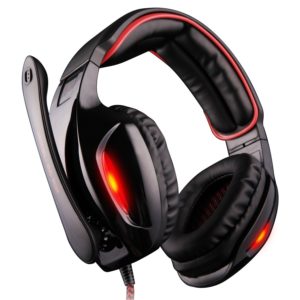 SADES SA 902 is the first headset on our list and one of the most affordable as well. All the SADES headsets are reliable, comfortable and lightweight and the SADES SA 902 is no exception. It ticks all the right boxes when it comes to the basic headset requirements. The headset is for all the enthusiastic and leisure gamers who are on a tight budget. It also deserves a place in the best pc gaming headsets under 100 dollars list due to excellent noise cancellation functionality, 7.1 stimulated sound channels and pleasant looks.
Build Quality
The build quality is what you expect from a $30 headset. It feels pretty solid because of the formed heavy plastic it is made of. However, it is a very lightweight and comfortable headset. The headset has a glossy red and black finish. The noise cancellation earcups, padded and finished in leather, are big enough to cover your entire ears. The leatherette is of the highest quality which doesn't chip away. Your ears will sweat even if you are in a pretty chilly room. It is definitely gross but the headphone works great.
The headphone further enhances the gaming ambience through red LEDs on the back of the earcups. The headband features a lot of padding to provide a comfortable fit on your head as well.
SADES 902 is also one of the best affordable gaming headsets with mic. The microphone delivers clear voice when you talk on Skype, Ventrilo, and Google Hangouts.
The braided USB cable is also very sturdy and long at almost 3 meters. Similarly, it is very easy to find big controls on the head even in the dark.
Sound Quality
The headset comes with its own software disks. They are easy to set up thanks to a simple and straightforward interface. The "Karaoke" mode is very interesting as well. The X EAR 3d audio also works like a charm and adds to an already wonderful gaming experience.
SADES 902 is among the best gaming headsets under 50 dollars. It delivers an immersive deep sound which makes playing popular FPS games such as Titanfall and Battlefield a real pleasure.
When it comes to music, the headsets offer tremendous performance. They may not be as good for music as they are for gaming. But, you will get a brilliant overall sound regardless of the type of music. Similarly, you can change different sound settings with the help of the included software. In fact, the included echo makes you feel like you are watching movies in a theater, delivering a full and rich voice.
Verdict
SADES 902 is a great headset, considering its price. It has a simple yet attractive design and a clear mic. It does incredibly well with surround sound gaming as well.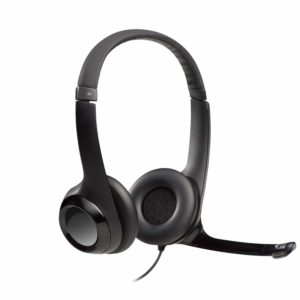 Logitech USB H340 Headset with Noise Cancellation Mic is brilliant yet affordable pc gaming headset you can buy today. Don't be fooled by its price because it will blow your mind away with its performance. The noise canceling microphone and simple plug-in-play USBA-A connection are two of its best features. It delivers clear internet calls. You also get superior digital audio for your favorite games and music from laser-tuned drivers.
Build Quality
Weighing only 6.9 Oz (0.197 kg), Logitech H340 is a very lightweight headset. It is also a very comfortable headset thanks to rather thick padding on earcups and headband. So, you can wear them for long periods of time. The connection options are limited to one USB-A port. It also means it is only compatible with full USB supported desktops, tablets, and laptops. The USB cable is exactly 2.33 meters long. Therefore, there is no chance of you accidentally putting down your computer when you need to pick up something.
There is also a clip-on, in-line remote on the cable. It is actually a wonderful addition as it enables you to mute or control volume without interrupting your calls.
It is also possible to obtain an optimal speaking position by rotating the plastic microphone.
The only downside of having H340 is low build quality. Complaints about cracks in the plastic and wires shredding away after a few months of use are quite common. This could have adverse effects on voice quality. However, this is a tradeoff you can make, considering how cheap this headset is.
Sound Quality
Talking about voice quality, it is brilliant no matter you are playing games, watching movies or just talking to your friends. The noise cancellation technology offers clear conversation by eliminating unwanted background noise. On the other hand, when you mute the call using in-line controls, the other person thinks you are sitting in a very quiet room.
Another minor disadvantage of H340 is the constant but slight echo when you listen to music. 
H340 is among top pc gaming headsets because it also offers a full 7.1 surround sound. This imparts you a competitive edge while playing FPS games as you can hear distant sounds such as gunshots, explosions, and footsteps with greater clarity.
Verdict
Overall, Logitech USB H340 is the best budget gaming headset out there. The built quality is slightly questionable but it offers topnotch features such as noise-cancellation, in-line controls, and full 7.1 surround sound at an affordable price.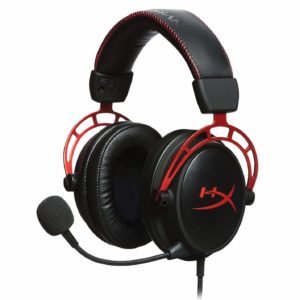 Kingston's HyperX Cloud series has been enjoying immense popularity since its introduction. The latest headset in the series, the HyperX Cloud Alpha has all the characteristics which make Cloud one of the best gaming headsets in the world. It delivers well-balanced audio and beautiful aviation-inspired design at an extremely low price. More importantly, the Cloud Alpha covers the gaming basics better than any other headset on the market.
Build Quality
The HyperX Cloud Alpha has the bombproof build quality. The headset is made of extremely durable wrought material. It also means the Cloud Alpha is slightly lighter in weight than its earlier versions.
Kingston has made some improvements to the chamber design and inline controls. They have also refined the cabling but the headset does the basics extremely well. It has generous padding both on earcups and headbands, offering higher comfort over long periods of use. This is particularly important for gamers who usually have longer gaming sessions.
The other headlines are a cable and detachable mic. You can remove mic to have fairly discrete gaming experience. Similarly, your headset will survive if the cable breaks. You just have to spend $10 to get a new cable.
However, the in-line controls are not as good as the HyperX Cloud series is famous for. On the other hand, the Alpha offers a better frequency range compared to the Cloud II.
Sound Quality
The headphone offers excellent sound quality. The Cloud Alpha focuses on the low end a bit more than you would like to. The sound remains perfectly clear and vivid despite extra bass. In fact, the earsplitting bass sounds great with music environments and games. Similarly, you will clearly hear all the mids and highs which work in perfect harmony with the low ends. As a result, the response is genuinely traumatic when a grenade explodes but it is well-balanced when glass pieces fall on the ground.
There is also no distortion at incredibly loud volumes. On top of that, articulation is simply fantastic, making cloud Alpha one of the best pc gaming headsets under 100. 
The best thing about HyperX Cloud Alpha is that it offers great sound right out of the box. You don't need any bundled software or fiddling with RGB profiles. There is even no Game Mode to activate. Just plug it in your computer and you are good to go.
Verdict
It can be rightly said that HyperX Cloud Alpha is the best gaming headset for PS4 and Xbox One. It outperforms other headsets in this category by quite a margin. Therefore, if you are looking for a wired headset under $100, this one should be your first choice.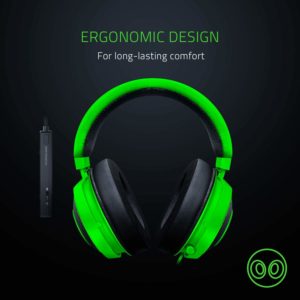 Kraken is one of the most iconic headphones you would ever wear. They are easily identifiable thanks to their incredible green color. The latest version, the Kraken Tournament Edition, considerably enhances your gaming experience but comes without any frills. More importantly, it still retains the heritage of its predecessors such as bright green color. This headset is tailor-made for gaming and thus, it is also devoid of any extravagant light-up panels.
Build Quality
You will meet a quality product as soon as you open the box. The headset is lightweight despite the fact that is made of metal. Both the earcups and the headband have thick paddings. Similarly, they have a leather-like super soft finish as well. According to the Razor, it transfers heat keeping your ears comfortable and dry throughout the length of the gaming sessions. There is a layer of cooling gel under each earcup. You can even match the headphone perfectly with your eyewear because of the concealed glasses channel.
The Kraken Tournament Edition does not have a detachable microphone. But, it is possible to move the mic to an invisible state. The headset doesn't offer active noise cancellation. One again, the earcups are big enough to fully envelop your ears, lending to excellent noise isolation.
Sound Quality
The sound quality is very good. The headset offers brilliant 7.1 surround sound, providing plenty of boom and a lot of clarity. The frequency response range is also higher than the average. The inline controls help you mute the microphone.
Razor Kraken Tournament Edition delivers extremely good THX special audio on your PC. It gives you an actual sense of direction and added awareness which can be vital while playing games like PUBG and Call of Duty. The action also sounds very powerful and punchy. The headphone has a bass-heavy signature which means explosions and gunshots will sound pretty bombastic as well. You can even differentiate between the sounds of different guns. In general, the audio performance is very solid and immersive.
As a result, the Tournament Edition easily becomes one of the best pc gaming headsets under 100. The Razor's Synapse app also lets you adjust the settings if you need to.
The only possible drawback is the microphone. It is too insensitive and quiet for our liking. You actually have to shout to the other person for him to hear you if you reduce the sensitivity too far.
Verdict
The Razor Kraken Tournament Edition is a very powerful and one of the best gaming headsets for ps4, Xbox One S, and PC under $100. It is large, comfortable, and delivers incredible sound quality for gamers. It offers solid THX simulated sound especially for PC, making gaming an exhilarating experience.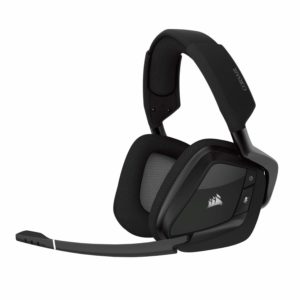 Corsair Void RGB is an extremely popular headset by Corsair. They have gone one step further by introducing the Corsair Void Pro. The new version considerably improves the recording and sound quality. In addition, it also brings in 7.1 surround sound which is all the rage at the moment. On top of that, it has fully customizable RBG lighting as well. It is also a wireless headset giving you full freedom of movement, often required for playing online games.
Build Quality
Although it is currently available for less than $100, it is a premium headset by Corsair. You certainly get a premium impression from its design. The RGB lighting, in particular, is there to please the gamers. It has a beautiful, unique, and modernistic design which you don't find anywhere else.
However, build quality is not as premium as you would like. The flimsy plastic body is not very robust like most of its competitors in the likes of V-MODA Crossfade Wireless. However, it is still a very comfortable headset which you can wear for long gaming sessions thanks to heavy padding on the headband and earcups.
Unlike the outer body, the inner body is made of metal pillars. It means the headset is pretty durable which will not break despite constant use.
You can also turn the mic, located on the left earcup, on and off by raising and lowering it. The mic is bendable, allowing you to put it in the optimal speaking position. Similarly, there is also a USB charging port, a power button, and a button for muting the microphone on the left earcup.
Sound Quality
The Corsair Void Pro falls in the category of the best pc gaming headsets under 100 for its matchless sound quality. Although it is a gaming headset yet it has well-balanced audio to cater to the need of all types of users.
However, Corsair Void Pro is essentially a gaming headset. All the EQ presets, other the one for movies, aim at gaming. Therefore, it is not the best choice if you need a headphone exclusively for music.
The Corsair Void Pro makes brilliant use of virtual surround sound. It delivers vivid and punchy audio, making it an excellent gaming headset. The microphone delivers clear voice both during the game speeches and audio calls on Skype or smartphone. More importantly, it also does a good job of minimizing background noise.
The headset also has a good battery life and wireless range. However, you can go for the wired version of RGB Pro if battery life is your main concern.
Verdict
The Corsair Void Pro is a beautiful gaming headset which delivers excellent sound quality. The 7.1 surround sound is a pretty nice feature which can make your gaming experience more immersive and fulfilling. All in all, it is one of the top pc gaming headsets you can find in this price range.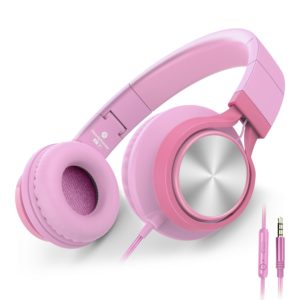 If you are looking for an affordable and yet wonderful pair of headphones for your girlfriend, daughter or sister, you must go for AILIHEN CR 8 Girls Headphone with Microphone. The headset is available in a number of colors such as pink and mint. AILIHEN C8 has a simple yet attractive design which matches the latest trends. It also delivers a solid sound for all kinds of uses. Other notable features of the headset include Hands-Free Talking, Foldable Design, etc.
Built Quality
The headset has a trendy design. The foldable over the headband offers better support and makes the headset extremely comfortable. There is enough padding both on the earcups and headband for extra comfort. Another great thing about AILIHEN C8 is the adjustable hinges which help you obtain the perfect fit and better flexibility. As a result, you can use the headphone for as long as you want.
It is very easy to fold the headphones literally in half. There is no chance of the joints breaking as well because they are made of high-quality metal. The headphone also has 47 inches long braided cable which does not tear away even after years of use. You can connect the headphone with any device having 3.5mm audio jack.
Sound Quality
The headset offers a great balance of bass treble. As such, it delivers impressive sound quality. The rich bass will meet the requirements of most of the users. It also features noise isolation technology which blocks the outside noise. As a result, you can listen to music, play games, and talk on the phone without any interruptions and distortion. Similarly, you can easily hear highs, crisp mids, and deep bass.
When it comes to controls, the headset covers everything you need. There are two volume buttons and one multifunctionality button.
One of the best features of the AILIHEN C8 is the hands-free voice calling enabled through microphone support. It has an advanced microphone which transmits only the necessary sounds to the receiver, blocking everything else.
Verdict
Available only for $19.98, AILIHEN C8 is a decent headphone for girls. However, people of all ages and genders will love this headphone. It offers all the basic functionalities such as noise isolation, foldable design, and hands-free calling. Similarly, it delivers quality sound and can meet the requirements of all and sundry.
7.    SteelSeries Arctic 5: The most comfortable gaming headset under $100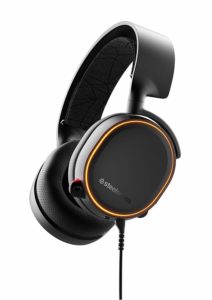 Launched in late 2016, the SteelSeries Arctic 5 RGB garnered immense popularity among gamers. The headset is not all about the excellent sound quality but it also looks great. Similarly, it is one of the most comfortable and the best pc gaming headsets under 100 dollars. It also has an amazing microphone which delivers crystal clear voice during games and audio calls.
Build Quality
The SteelSeries Arctic 5 RGB has a beautiful design. There are two color choices, black and white. The RGB LED lights also alternate colors, giving a very modernistic look to the headset. The left earcup houses the microphone and all the controls. The microphone is retractable which means you can remove it when you don't need it. There are also a volume wheel, inputs, and a mute button on top of the microphone.
The headsets fit your head right away as the headband immediately above the earcups is quite elastic which is always nice. The design is pretty sleek despite the fact that it is a large headset. Everything is simple and well placed.
It is also a very lightweight headset with ample padding on the earcups.
Sound Quality
Just like comfort and design, the SteelSeries Arctic 5 also hits the bull's eyes when it comes to sound quality. In fact, it delivers equally good sound for games and music. So, you don't have to buy a separate headset for playing games and for other needs.
The low end is somewhat weak compared to the high end but it is still quite good. It gives a little more oomph to explosions by offering punch and solid higher lows. But, it also means the bass is slightly higher than it should be but it is hardly noticeable. The well-tuned midrange is perfect for gaming whereas bright and crisp high ends impart a little more sharpness to laser sounds and guns shots, making Artic 5 the best gaming headset for pc, Xbox one and ps4.
The headphone also features 7.1 surround sound, offering truly immersive gaming experience.
The SteelSeries Arctic 5 is more than a capable microphone if you only want to chat with your teammates and friends on Skype. However, you will find it wanting when it comes to playing videos or podcasting.
Verdict
The SteelSeries Arctic 5 is definitely one of the best pc gaming headsets. It has a simple yet attractive design and it delivers high-quality sound for gaming. The 7.1 surround sound and a pretty capable microphone are just icing on the cake. In simple words, it deserves your attention if you are looking for a budget gaming headset.
8.    Sennheiser GSP 302: One of the best pc gaming headsets under 100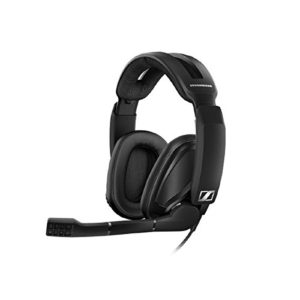 The Sennheiser GSP 302 is the best gaming headset for pc that is available at around $100. Sennheiser have been making exceptionally good headsets ranging from consumer to professional grade. Now, they have hit a perfect home run with the development of Sennheiser GSP 302. The headsets emit great sound with the frequency response of 15-26,000 Hz which is great for gaming.
Built Quality
Sennheiser headsets are known for brilliant build quality and the GSP 302 is no exception. The leather cushioned ear cups are big enough to cover your ears. The headband is made of sturdy plastic with plenty of foam for you to feel more comfortable. As a result, you can withstand hours of gaming sessions without headphones digging into your skin. Similarly, the earcups resemble human ears instead of having a traditional circular shape. This results in the perfect fit and extra comfort for the user.
You will also find a microphone, which is unfortunately not detachable, on the left earcup. However, it moves up and down and therefore, you can adjust it according to your requirements. The cord is almost 7 feet long with a splitter for the headset and the mic at the end.
The box also contains a 3.5mm attachment, making it a breeze to plug in the headset to your mobile devices or console party charts. It also enables you to hear gaming sounds and people simultaneously. The right earcup also houses a circular knob for adjusting the headset's volume.
Sound Quality
The Sennheiser GSP 302 delivers exceptional sound quality. However, the quality slightly drops on desktop compared to a laptop, MacBook Pro, smartphone, or gaming consoles. In fact, the headsets give a surround sound like the sound even in stereo when plugged into a laptop. The sound is also loud and clear on mobile and consoles. I can easily say that the headset is great for console gaming but not that good for PC gaming.
You can also easily hear the lowest and highest frequencies without any distortion. The built-in drivers actually favor the lower end. Therefore, the headset delivers deafening sounds in the middle of the game. It also has breezily low impedance and comes with a 3.5mm jack. Therefore, it also offers mind-blowing gaming experience on Xbox One, PS4, and smart devices.
Sennheiser GSP 302' microphone also works as expected. It cancels all the background noise while you play games, especially for the Xbox One. So, the people at the end of conversion cannot hear what is happening in your background.
Verdict
Sennheiser GSP 320 is the best gaming headset under 100 for Xbox One and for other devices as well. The sound quality is exceptional, the design is unique, and the comfort level is pretty high as well. In general, it is a great option for people looking for an affordable gaming headphone.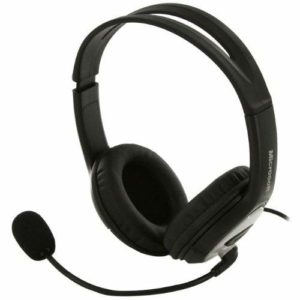 Microsoft rarely offers poor quality and faulty computer peripherals. The Microsoft LifeChat LX-3000 Headset carries this tradition forward in the best manner possible. It is almost a perfect headset which is very difficult to find nowadays. The LifeChat LX-3000 offers a combination of microphones and a stereo USB headset. It also integrates Windows Live Messenger in addition to offering incomparable sound quality.
Build Quality
The headsets excel in a lot of departments, such as design and sound quality. The leatherette ear cups are big and comfortable enough to wear for long gaming sessions. They also keep the external noise and distortion to the minimum.
The noise-canceling microphone is also covered in the foam, providing extra comfort and relief. The mic arm, extending from the left earcup, is also fully adjustable. The setup is also automatic. You just have to plug the headset in the USB port and the Windows will do the rest. However, you need to install Messenger Plugin and correct drivers if you want to integrate the Windows Live Messenger.
Sound Quality
Microsoft LifeChat LX-3000 provides you with crystal clear audio clarity which is unusual for such a cheap headphone. The Windows Live Messenger enables you to connect with various users across the globe. Even in this case, the headphone offers crisp and clear audio with extremely impressive quality.
The audio is sharp and easily understandable when you test it with various PC communication programs, making it the best budget gaming headset.
The voice emitted by the microphone is also clear and crisp. It cancels out all the noises in the background and therefore, you feel like you are sitting in a very calm and quiet room while playing games or talking to your friends.
Verdict
Microsoft LifeChat LX-3000 is one of the best gaming headsets under 50. It is easy to use, comfortable and delivers exceptional audio quality for all kinds of users. Messenger integration is an added bonus that some people may find very useful.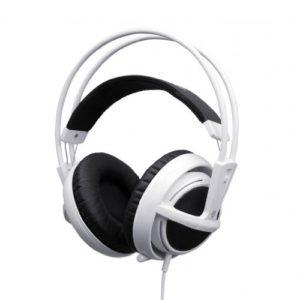 SteelSeries Siberia has been a very popular headset for Mac and PC. The SteelSeries Siberia, the newer version is also compatible with iOS devices, which is a big improvement in my opinion. The other important features the headphone offers include inline controls for muting or pausing sounds, adjusting volume and taking calls. Similarly, a single 3.5mm jack enables you to connect the headsets to most of the devices without needing any software.
Build Quality
The SteelSeries Siberia are very big headsets. They are solid and sturdy. The smartly built headsets have a very sleek design. The big, barebones frame is lighter than smoke and the large ear cups sit comfortably on your ears. The airflow to the ears is excellent and the earcups don't heat up.
The sturdy headband and the minuscule frame mean the headphone remains extremely comfortable for long periods of time. A wire-thin frame, essentially consisting of two flexible metal wires covered in rubber, connects both the earcups. Under the wires is the headset with plenty of padding.
You will also find the inline controls within the easy reach. The microphone is also perfectly positioned, making it easier for you to pick up calls in a jiffy. Then there are a 6 feet extension cable which attaches to a 3 feet auxiliary cable. It is the auxiliary cable which connects to the headset. One minor disappointment is rubber cabling, considering most of the modern headsets have braided cables.
Sound Quality
The quality of audio the Siberia V2 offers is excellent for most people at least. It offers a well-balanced sound with well-integrated bass, mid-tones and high-end frequencies. However, it is a rather underpowered headset which means the low-range sound is not as powerful as you would expect.
The noise cancellation is also very good. Siberia V2 offers enjoyable and soft audios at higher volumes. On top of that, the headphone delivers accurate sound no matter you are playing games, watching movies, or listening to music.
The retractable microphone also provides excellent voice quality during games and phone calls. There is no to little echo and ambient noise from earcups as well.
Verdict
SteelSeries Siberia V2 is an all-round headset which you should consider if you have a tight budget. It is big, comfortable and durable. As it is one of the best pc gaming headsets under 100 dollars, the sound quality is also great both for games and videos. However, there are many other headphones with a similar quality you can get for less money if you want a head for listening to music only.
PC Gaming Headset – Buyers' Guide
Top pc gaming headsets provide many things under one roof such as a microphone, noise cancellation or isolation, surround sound, and comfortability. There are actually thousands of gaming headsets in the market as with any kind of tech. Many of these headsets aren't a great and big waste of money.
The following lines explain what you should look for a gaming headset.
Comfort
The best pc gaming headsets under 100 dollars should always be comfortable. The gaming headsets can be very painful, especially if you indulge in long gaming sessions. As a result, you can't really focus on your game. Friction, sweat, and trapped heat build-up with the passage of time making you feel pretty dreadful. You can even have neck pains if the headphone is slightly heavier. Therefore, it is important to go for lightweight headphones with plenty of padding on earcups and headband.
Noise Isolation
You also need to have a headphone which offers excellent noise cancellation. Headphones with poor noise cancellation dampen the gaming experience because they totally change what you hear. Proper noise cancellation is especially useful in games with slight audio cues for directions.
Build Quality
Most companies use cheap plastic to manufacture their headsets. These headsets have the tendency to snap quite easily because they cannot withstand the slightest of pressure and tension. It is essential to buy a sturdy and solid headset than can last for years. In this case, headsets made of a wireframe or metal will do the job for you.
Surround Sound
The gaming headset under 100 ps4, Xbox One, and the PC will definitely feature 7.1 surround sound. It can make a big difference depending on the game you are playing. Such headphones have multiple speakers to cover each ear. Similarly, they also have a 360 degrees sound soundscape. It means if something is coming from the right, you will hear it from the right earcup. The surround sound can also give you a real competitive advantage in the games like Fortnite.
A Good Microphone
Most people totally ignore the microphone when they shop for a gaming headset. It can be really important if you play multiplayer games. Similarly, if you also play the games on the move, you should look for a headset with a detachable microphone. It is less of a consideration in case you are a homebound player. But, you must confirm that the headset is easily and sufficiently maneuverable. The call quality can increase considerably even if the microphone moves by an inch.
Conclusion
This is all we have to say about the best pc gaming headsets under 100 dollars. It is, in fact, not very difficult to find a good gaming headset for Xbox One and PS4 either. There are numerous models from well-known companies and brands from across the world which can exceed your expectations. We have tried to cover the 10 of the best pc gaming headsets, making it easier for you to buy one according to your own requirements.
We also encourage you to give your suggestions regarding the best pc gaming headsets in the comments section.
Related Buyer's Guides