Most of the television sets, regardless of their price and make offer pathetic sound performance. Therefore, you need to look for a soundbar that not only delivers excellent audio performance but is compatible with your TV or home theater as well. Finding an inexpensive one that meets most of your requirements is an even more cumbersome task. However, it is also ill-advised to spend hundreds of dollars on a soundbar, especially if you are on a tight budget. All you need to do is a bit of research and you will easily find the best soundbars under 300 dollars.
The Best Soundbars under 300 Dollars in 2021
The following are the best-rated soundbars under $300 you can purchase in 2021. These impressive soundbars will not only provide high-quality sound that matches superlative visuals of your television but you will also enjoy owning one of these models.
Jump to find out Best Wireless Speakers Under 100
JBL Bar 2.1 Home Theater Starter System: Most Affordable Soundbar from JBL
Sony CT290 Ultra-slim 300W Soundbar: Best Cheap Soundbar from a Premium Brand
VIZIO SB3821-C6 2.0 Channel: Best Budget Soundbar to Consider
Wohome TV Soundbar S9920 Pro: Best Soundbar under 100
Bose Solo 5 TV Sound System: Simple Soundbar to Improve Your Home Theater
Yamaha ATS-1050-R Soundbar: Best Factory Refurbished Soundbar
Samsung HW-K450 2.1 Channel: The Best Soundbar under 300
VIZIO SB3851-C0 Soundbar: Enjoy Premium Features at Low Price
LG SH4 2.1 Soundbar: Top Rated TV Soundbar
Polk Audio 2.1 Channel Soundbar System: One of the Top TV Soundbars

Just like Sony and Samsung, JBL normally produces high end and pricey home theater systems. However, if you desire to have something more affordable from JBL, you ought to try JBL Bar 2.1 Home Theater Starter System. It is the soundbar that offers the exact same performance as the more expensive JBL models without occupying your entire living room.
Sound Quality
The soundbar enables you to enjoy deep and rich sound thanks to its wireless subwoofer. The performance is excellent and uniform irrespective of you are playing games, listening to music, or watching movies. There is also a special Movie mode, the sole purpose of which is to ensure engaging special effects. In addition, it also delivers high-quality bass without compromising on sharpness and clarity of dialogs. The only problem with JBL Bar 2.1 is that the surround sound sometimes increases the overall volume instead of providing you with an immersive experience.
Just like Movie mode, there is also a Music mode that delivers brilliant sound quality. However, in the standard model, the bass starts to go high and the overall quality of sound deteriorates.
Design
The JBL 2.1 is a slim soundbar which carries a rectangular profile. Weighing only around 4 pounds and being reasonably small, it can easily fit even in the small rooms with limited space. The subwoofers also have a standard design and look.
Connectivity
Firstly, it is possible to stream music from any device which is connectable through Bluetooth. Other connectivity options include HDMI input/output with ARC. One of the best things about JBL Bar 2.1 is that it easily connects with a lot of current remote control models. Therefore, you can control your soundbar simply using your TV remote control. On the other hand, it is also possible to switch between sounds from your TV and mobile devices because of the JBL's SoundShift feature.
If you have a tight budget and are on a hunt for the best soundbars under 300 dollars than you have found one. JBL Bar 2.1 Home Theater Starter System is the ultimate cheap soundbar with all the features you expect from a high-end soundbar.

If you are looking for a high-quality soundbar with premium sound and bass, you should look no further. The Sony CT290 Ultra-slim is the inexpensive soundbar you have been looking for.
Sound Quality
The CT290 offers you the combined benefits of a wireless subwoofer and a soundbar at a price of one. It offers cinematic sound and excellent bass regardless of the type of space. It is a slim and compact unit capable of delivering powerful performance thanks to 300 watts of power and a 2.1 channel sound.
The subwoofer delivers extremely clear sound as it is fully capable of keeping the frequency range of your videos afloat. On top of that, listening to music is a delightful experience because of the integrated S-Force Surround Sound Technology.
Design
Sony CT290 has a slim and simple design, much to the happiness of users. No matter which TV model you pair it with, it will always look elegant. The subwoofer, on the other hand, is a bit bulky and that is the case with all the subwoofers you will ever come across. What makes it unique is the slot-in-2-way design which means it can sit upright as well as on its sides.
Connectivity
The soundbar offers a lot of connectivity options. For example, wireless streaming is not an issue as CT290 comes with the latest Bluetooth technology. Similarly, there are USB ports and an HDMI ARC port. Therefore, you can use a single cable to connect the device with your television. The soundbar also has an optical input slot in case your TV doesn't have an HDMI ARC slot.
In short, the Sony CT290 Ultra-slim 300W is the ideal soundbar if you want to enjoy the high-quality sound without spending much. It is one of the top TV soundbars under 200 dollars and worth your every penny.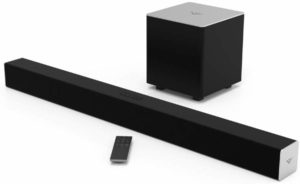 The best method to upgrade your TV's audio too superior quality is to buy a budget soundbar. In this regard, the VIZIO B2920-C6 perfectly fits the bill. The soundbar effectively normalizes the sound through DTS TruVolume technology. What it means is that you will always hear normal and natural sound even if the show you are watching has a sudden burst of louder sounds. This is one feature you won't find even in some of the best soundbars under 300 dollars.
Sound Quality
The soundbar performs quite well at low frequencies despite its small size. The wireless subwoofer delivers impressive bass offering you a great sound experience. The soundbar has the ability to enhance the performance of your home theater system by quite a margin.
The VIZIO SB2920-C6 particularly focuses on low and mid ranges and produces dynamic and clear sound in these ranges. The home theater experience is unbeatable because of the combined operation of the wireless subwoofer and powerful speakers. You can, in fact, place the subwoofer anywhere without worrying about the wires and you will still get the same thumping bass.
The sound for any regular TV program is very detailed and articulate. The DTS TruVolume and the DTS TruSurround maintain the comfortable volume level and produce a fake surround sound effect respectively.
The soundbar also comes with a built-in Dolby Digital decoder. The purpose of the decoder is to improve the overall audio and thus, it provides a mesmerizing listening experience.
Design
SB2920-C6 has a 38 inches long body with a modernized design. It fits quite comfortably in all sorts of places. It will look stylish no matter you mount it on the wall or place it in front of your TV. There is also a two-channel front speaker.
Connectivity
Just like all other best-rated soundbars under $300, the VIZIO B2920-C6 has plenty of connectivity options. It has coaxial and optical digital inputs, an RCA cable, one USB port, and one 3.5mm jack.
It is also one of the best soundbars under 300 with Bluetooth. You can, in fact, connect it with any compatible device using Bluetooth. The soundbar enables you to listen to any song from anywhere in your room without even moving.
Read more: 10 Best PC Gaming Headsets Under 100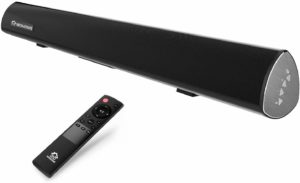 Not many people know about Wohome as a brand. However, the company has been making high-quality sound products including the S9920 TV Soundbar Pro. It is a brilliant TV home theater that packs a lot of excellent features and that too for a minimal price of $94 only.
Sound Quality
The Wohome TV Soundbar is equipped with 3D Surround-Sound technology, which is unheard of at this price range. As a result, it converts your home into a mini cinema delivering a dynamic sound experience in the process. In fact, the S9920 is the best soundbar for TV and movie dialogues because the 105db soundbar produces extremely clear sound. On the other hand, music lovers would love to have this device because it is capable of delivering powerful bass. Similarly, the device can easily cover mid to large rooms or spaces. The only drawback is that it struggles with lower frequencies. However, it offers satisfactory performance when it comes to mid and high sound ranges.
Design
The Wohome S9920 Pro has an attractive design. The slim and sleek soundbar has more of a circular design rather than the cliche rectangular one. Therefore, S9920 is quite a unique soundbar as far as design is concerned. It is also a compact albeit heavy soundbar which you can conveniently mount on the wall. The side of the soundbar houses all the control buttons.
Connectivity
First of all, you can choose from wireless and wired connections. You can prevent the hassle of connecting all those cables if you go for the Bluetooth connection. But, if you prefer the traditional method, you can use numerous input slots. In both cases, you are going to enjoy the sound of the highest quality. Some of the wired connectivity options include a digital optical cable as well as AUX, 3.5mm, and coaxial input slots.
Finally, Wohome S9920 Pro is the device for you if you are searching for the best soundbars under 100 dollars. It comes loaded with powerful and rather advanced features that are difficult to find at this price.

The Bose Solo 5 TV Sound System can infuse new life to any TV with a terrible sound system. It is a simple and straightforward soundbar devoid of fancy design and frills. It is essentially an entry-level budget soundbar designed while keeping the requirements of people with a limited budget in view. However, it still has a hefty price tag at around $175 dollars. You can actually get better soundbars with more features at considerably less price. But, it is still a very popular device for a couple of reasons.
Sound Quality
First of all, the audio quality in HD mode is superb. The soundbar also excels in providing crystal clear and extremely high volumes. The built-in speakers will actually fill the room with their thumping voice. The performance gets even better when you turn on the Dialog mode. When activated, this particular mode ensures you hear crisp and clear conversations coming from your TV.
The bass is also decent and the sound is relatively sharp when you play music on Bose Solo 5. In order to enhance the bass, we recommend setting the source device's EQ correctly. However, the bass is only reasonable even if you fine-tuned the device to the maximum level. Another problem with Solo 5 is that it mostly fails to optimize the sound in the case of the heavily compressed source audio file.
Design
Bose Solo 5 is an ideal choice for clutter-phobes or people with very small spaces. It is indeed one of the most compact and the smallest soundbar in the market with length and height of 55cm and 77cm respectively. It can sit flat on any surface due to its cuboid design. You can also mount the device on the wall. However, you have to buy a separate mount wall assembly.
Connectivity
When it comes to connectivity, the Bose Solo 5 is an example of minimal engineering. It is a plug-and-play device. It does have auxiliary, coaxial, and optical inputs. In addition, you can play the music wirelessly from any compatible device through an integrated Bluetooth option. However, it lacks an HDMI port which is a major disappointment for users.
The Bose Solo 5 has one of the simplest yet most effective remote controllers for a soundbar. There are many buttons for changing settings and adjusting volume. Similarly, the remote also has 6 preset buttons to control 6 external devices.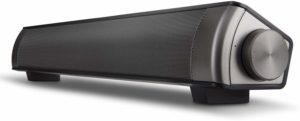 Yamaha as a brand needs no introduction. Yamaha's sound products are second to none in quality and the Yamaha ATS-1050-R Soundbar is no different. It is a factory refurbished item but delivers adequate sound quality. Similarly, it has a very attractive yet simple design offering improved sound quality over pathetic TV speakers.
Sound Quality
The sound delivered by Yamaha ATS-1050-R is rich and deep. You can easily hear minutest of vocals and mumbles. As a matter of fact, you will be able to hear the clear sound even if there is a lot of noise or chatter in the background.
As for bass, it is decent enough thanks in part to the dual built-in subwoofers. Fine-tuning is required if you want your subwoofer to give its best. You can always add an extra subwoofer if you crave for lowest, deepest bass sounds.
The Yamaha ATS-1050-R fails to deliver real surround-sound quality which is a shame. Similarly, the sound is brittle at highs whereas it also misses details at treble and midrange. However, the built-in Air Surround Extreme technology compensates for it a little bit by delivering reasonably good sound.
Design
The ATS-1050-R lacks an external subwoofer, making it one of the best soundbars under 300. It is an ideal choice for people who long to keep the clutter to the minimum. The soundbar is only 53mm high and will not block your view or infrared rays emanating from your TV remote. The structure is robust and therefore, the bodywork feels heavy.
Available for $200, the Yamaha ATS-1050-R is one of the best soundbars for under $300 and for good reasons. It is not only a durable soundbar but delivers amazing sound quality even for a factory refurbished item. The sound quality coupled with attractive design makes it a must-have for any true sound lover.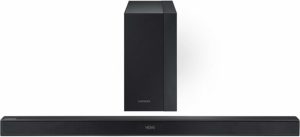 Many of Samsung's soundbars have a high price tag and a rounded design. But, the Samsung HW-k450 is different. It is an affordable soundbar with a rectangular design. Being an outstanding device, it can improve your TV's voice without busting your budget. It is a top-rated TV soundbar that has the ability to serve you for years as well.
Sound Quality
If you want your soundbar to deliver clear, sharp, and precise sound, you should not look beyond HW-K450. It works flawlessly at mid and high range frequencies, offering an extraordinary and immersive experience. It also has a broad soundstage and therefore, you can easily pair it up with up to 55 inches televisions.
The soundbar also has 6 different sound modes, each of which has a 'surround sound' effect to further enhance the sound a little. However, unfortunately, the surround-sound quality itself is quite poor, to say the least.
The accompanying subwoofer offers decent performance in terms of low-end foundation. Similarly, the bass is pretty good which combines with decent low range to deliver satisfactory overall audio experience. The subwoofer is only ideal for an average mid-sized room though.
Design
The Samsung HW-K450 has discarded the curved design in favor of more traditional design for soundbars. Despite being cheap, it does not look like a budget soundbar because the overall structure is robust and decent. In fact, you can easily pair it with any modern ultra-slim TV because of its compact design. It is also possible to mount the soundbar on the wall as it comes with its own mount-assembly. However, it is not high enough to block the IR receiver or your view anyway.
Connectivity
The HW-K450 has a lot of connectivity options which is simply amazing for a budget soundbar. For instance, it comes with HDMI input/output port. You can even pair the output with an ACR port. Similarly, there is also a Bluetooth connection allowing you to connect the soundbar to any external device. On the other hand, you can also connect the device wirelessly with any Samsung TV using the SoundConnect feature. In addition, you also get a wireless subwoofer, a power cord, an AC adapter, an optical cable, and of course, remote control when you purchase this product.
All in all, the Samsung HW-K450 easily finds its place in the top ten soundbars under 300 dollars. It offers astonishing sound quality and the attractive design is the icing on the cake. On top of that, you will get a soundbar from a premium brand without spending a lot of money.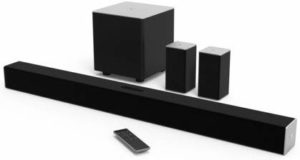 VIZIO SB3851-C0 is the only cheap soundbar that delivers true surround-sound quality. It also offers plenty of powerful and extremely useful features. For example, it ensures mesmerizing sound experience with the help of its wireless subwoofer and satellite speakers.
Sound Quality
The audio quality of the VIZIO SB3851-C0 will catch everyone's attention in addition to creating a room-filled vibe. The soundbar ensures you enjoy the real and original 5.1 surround-sound. It is definitely not on top of the high-end line but it can easily be declared as one of the best soundbars under 300 dollars for the feature it offers at this price. In fact, it can easily compete with overwhelmingly more expensive soundbars. It has a flawless design with immaculate mids and highs. However, its most striking feature is ground-shaking lows.
SB3851-C0 is a versatile and highly competent soundbar. It can easily handle all types of programs ranging from talks shows to gentle music, fast rap tunes, and highly intense TV dramas such as Game of Thrones. The overall performance is brilliant despite the fact that details can drop occasionally.
Design
The soundbar can easily blend with any house setting because of its sleek and minimalist design. The device comes with two satellite speakers, a central soundbar, and a wireless subwoofer. It is a 38 inches long soundbar that can further enhance the beauty of any modern ultra-slim television.
Connectivity
The VIZIO SB3851-C0 Soundbar has all the connectivity ports and options as that of VIZIO SB3821-C6 2.0 Channel. However, it also has an additional Ethernet port to hardwire the soundbar with a router.
Summing up, we reiterate that the VIZIO SB3851-C0 is one of the best soundbars under 300 dollars. It has all the features and functions which you expect from soundbars which cost hundreds of dollars more. The design is futuristic and the sound quality is fantastic.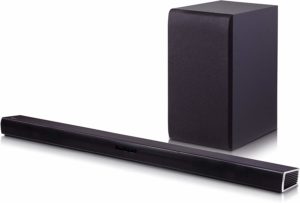 Against common perception, you can purchase many LG products at an affordable rate. The LG SH4 2.1 soundbar is one such product. It is a budget soundbar with a premium look, good sound system, and robust construction. The soundbar delivers blasting sound at the maximum power of 300 watts. It is more than enough to fill your room with thumping audio, making it a real delight to listen to your favorite tracks.
Sound Quality
The LG SH4 2.1 Soundbar considerably enhances your home entertainment system by generating 300 watts of sound power. What set the soundbar apart are the two sound modes that are Music and Cinema. As you can imagine, the Cinema mode optimizes the sound if you are watching movies. The Music mode performs the same duty when you listen to music. Similarly, the soundbar automatically detects which type of content you are listening to or watching thanks to its Adaptive Sound Control features.
Although overall sound quality is excellent yet the audio tends to distort at full volume. However, the sound at the full volume is ground jerking and can easily fill a standard size living room. The bass, on the other hand, is quite good as well.
Design
A beautiful metal grille covers the front of the soundbar. The soundbar is robust and has a slime, wireless design. The design gives you the freedom to place the soundbar or subwoofer anywhere you want in order to get the sound quality you desire.
Connectivity
Some of the connectivity options with LG SH4 2.1 Soundbar include Bluetooth, USB port, optical cable, and HDMI input/output ports. You can also directly connect a media player to the device through a mini stereo jack. You also have the option to playback audio or songs from a USB device, providing a much-needed upgrade to your lackluster home entertainment systems.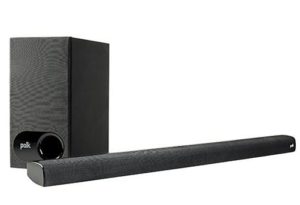 Although it is last on our list yet the Polk Audio 2.1 Channel should be the first budget soundbar you consider. It is a fairly popular modal known worldwide for its amazing sound quality. The soundbar considerably enhances your home entertainment system. It is one system that has the ability to make you hear what you actually want to hear from your television.
Sound Quality
Even a common person can realize how good Polk Audio 2.1 in terms of quality is. It is a reasonably priced soundbar that delivers exceptional performance, especially when it comes to music. It will serve you in the best manner possible irrespective of the type of music you are listening to.
However, unfortunately, the soundbar falls well short of expectations in the case of movie performance. The sound simply fails to pop despite the fact that dialogs tend to be pretty clear. Overall, Polk 2.1 offers a well-balanced, rounded performance considering its price tag. For example, you can listen to music or watch movies in the night without disturbing others in your house simply by activating the Night Mode.
Design
The Polk 2.1 Channel is a small soundbar with modest design. The overall design is a fine example of simplicity yet it looks a high-end device. It is the simplicity of the design which makes this soundbar so attractive for the users. The Polk 2.1 Channel does not block your view or remote signals as well as it is only 2 inches tall.
Connectivity
The Polk 2.1 Channel has a lot of useful connectivity options including the integrated Bluetooth technology. Then there are also optical and 3.5mm inputs. However, an HDMI port would have been nice. The soundbar also provides Dolby Digital support.
All in all, Polk 2.1 Channel is one of the best soundbars under 300 dollars for its reasonably good functions and features. It is an attractive device that offers excellent sound quality. Best of all, it is available for a fraction of the price of more expensive models.
Final Thoughts
We have come to the end of our list of the best soundbars under 300 dollars in 2021. We believe these are the best budget soundbars that can live up to your sound expectations without making you empty your pocket.