Are you thinking of starting a channel on YouTube? If yes, you would need the best cheap microphone for YouTube that is not only practical but affordable as well.
In this article, you are going to find the best microphone for recording YouTube videos in 2021. This guide will contain the following information as well:
Importance of microphone for YouTube
Varieties of microphones in different devices
Different uses of microphones
Conditions to ensure effective voice communication
Recommendations to choose the best affordable microphone
The microphones are mostly considered as a necessary part of electronic devices but they are not studied in much detail separately. However, their use is critical to ensure good online communication. So, let's dive into this guide to explore the world of the best microphone for YouTube!
What is a Microphone?
A microphone converts audio signals to electrical signals. There are different methods to do this conversion. The need for microphone (mic) emerged when speakers had to address large gatherings and people wanted the voice to reach everybody. The Romans developed horn-shaped devices in the 5th century. Over the next centuries, various methods originated to enhance the operation of mics. Today, we have exceptional microphones available in different forms. Social media applications like YouTube have become a worldwide platform these days and every person who makes or watches a video needs a good microphone. Therefore, let's find out about the good mics for YouTube.
Types of Microphones
People use different types of microphones today. The most popular ones are as below:
· Dynamic Microphones
Dynamic microphones are the most popular kind of microphones in the market. They operate according to the procedure of electromagnetic induction. A magnetic coil is placed inside a magnet which is attached to the transducer. As the sound is produced, the transducer which consists of a diaphragm vibrates. This makes the magnetic coil move inside the field of a permanent magnet which produces an electric current inside the coil. The overall design of this mic is very simple and long-lasting. This makes it a common choice for various devices.
· Condenser Microphones
Condenser microphones are one of the best microphones for recording Youtube videos. This is because they are extremely sensitive to sounds and have wide frequency characteristics. 2 metal plates are placed parallel to each other. As the sound hits the plates, the distance between them changes which produces an electrical signal. A battery or a preamplifier usually provides the power.
· Ribbon Microphones
Ribbon Microphones are made of a thin ribbon placed inside a magnetic field. The ribbon is made of metal like aluminum and its composites. The sound generated causes the ribbon to vibrate and produce an electrical output. Ribbon microphones can detect sound in different directions. The ribbon is very light which can cause problems due to airflow. The magnet used in modern models is usually very strong so that the output voltage signal produced is strong enough to be easily detected.
· Piezoelectric Microphone
Piezoelectricity means that some materials produce an electrical signal when pressure is applied to them. Special materials are used to construct them such as sodium tartrate. They are commonly used in musical instruments because they can produce sound when they come into contact.
· Fiber Optic Microphone
You may have heard that light can also act as a transmission medium. Fiber optic microphones work on the same principle. They observe the variations in light intensity and convert them into electrical signals. These types of microphones are resistant to noise and physical conditions. Therefore, these are good mics for YouTube if the content creators like to travel and explore strange places.
· Laser Microphone
This is a new technology in microphones. They use a laser beam to focus on a light-sensitive surface. As the laser hits the surface, it causes vibrations which in turn captures and turns the laser beam into an audio signal. There are many variations in this technology which are currently in development, expected to arrive in the coming years.
What is Noise Level in Microphones?
In terms of communication, noise is simply a distortion. Nobody wants noise in their microphones while they are recording. However, it is such a thing that cannot be eliminated. So, what is the solution and what is the accepted noise level? Let us find out!
First, it is important to note that the measuring standards in microphone manufacturers differ by a large amount. Most of the cheap microphones do not give accurate readings of their noise levels which often results in varying quality levels in mics. Ideally, a noise level of 10 dB-A is excellent for microphones and it is considered as negligible in communication. Many mics claim to have a noise level of 10 dB-A only but the manufacturers often test in an isolated environment where there is no noise present. According to standards, they need to be tested in normal rooms where they are subject to the normal background noises. Consider the following ranges:
The noise levels of 11- 15 dB-A are considered excellent because they are extremely low and cannot be heard when we use the mics normally.
The next range is 16-19 dB-A which is alright in most scenarios. Only if a person is recording in a quiet room, such noises can be heard but still, they are manageable.
The next range of 20-23 dB-A is where the problem starts. This is considered a relatively high noise level and users may hear a large deal of it when they are using a microphone. When the incoming sound level is very high, this self-noise may work but otherwise, it is not an acceptable standard.
The range of 24 dB-A and above is certainly unacceptable for a microphone and you cannot use the product in the right manner if the noise level is so high.
Uses of Microphones
Microphones have been using since ages but the development of social media applications has introduced many new ways to utilize these devices. Some of their uses are listed below.
1. Audio Recording in Videos
The most obvious use of microphones is that they record the audio in which you listen in videos or otherwise. After all, how will a video look without sound? Every camera, smartphone, and other recording devices have built-in microphones that serve this purpose. However, they are not always suitable for extensive use which calls for the need for external microphones. This is the reason that people need good mics for YouTube and other platforms where they need to post videos!
2. Podcasts/ Interviews
A podcast is a type of conversation between one or more individuals. It can be in audio as well as video format. When there are multiple people involved, it can be called as a type of interview because it consists of questions and answers. The trend of podcasts on YouTube has increased over the past 2 years as several prominent users have moved to this area. Needless to say, a microphone is an integral part of this process because the voice must reach the audience. Therefore, the best YouTube mics are designed to provide excellent performance in podcasts and similar activities.
3. Music/ Sound Recording
Everybody likes to listen to music. Whether you are recording music in a studio, performing on stage or just playing musical instruments, you make good use of microphones. Different types of mics are used in different situations. For example, dynamic mics are used in concerts or stage performances because they are tough and durable in operation. Similarly, studios use condenser type microphones because their sound quality and noise isolation are best and musical instruments like drum and guitar include piezoelectric mics because they work through pressure and have the ability to enhance the sounds produced easily.
4. Electronics Devices
Most of the electronic devices that you use daily such as smartphones, digital cameras and laptops have microphones inside them. They are used for recording purposes because everybody does not purchase an external mic for each of the devices. The mics inside electronic devices are mostly electrics type which has the same working principle as a condenser microphone. The power that they require is small enough to be supplied by the batteries and they require little circuitry for that purpose. In addition to these devices, smartwatches, automobile infotainment systems, televisions and many other devices use microphones so they have become an essential part of our life!
10 Best Cheap Microphones for YouTube
Now that we have seen the types of microphones and their working, we shall discuss the best microphones for YouTube videos. We have compiled a list of the 10 affordable options which we will explore in detail and find the pros and cons in each device.

This is a condenser type microphone that can be connected via USB and used for online streaming. The device has 3 capsules that can be used to record audio in different directions. It comes with a removable stand and can be purchased in more than 10 colors. The signal to noise ratio is 100dB which makes this mic ideal for YouTube podcasts, interviews, and musical equipment. The sample rate is 48 kHz. You can buy this mic at $130 which places it on the high-end range. However, the features and the Blue brand justifies it completely, also making it the best cheap microphone for YouTube.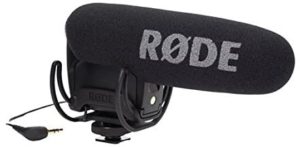 The Rode Video Mic Pro is a cylindrical microphone that can be attached to cameras and used to record audio in videos. The mic has a frequency response of 100 Hz to 20 kHz which is the normal hearing range of humans. The versatility of this device makes it one of the best microphones for YouTube vlogging. If you are a YouTuber and would like to buy a mic for your camera, this is one of the best choices. Costing $195, this is a premium microphone but its functionalities match its price.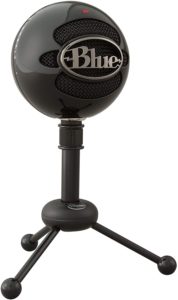 As its name suggests, this product is by the company "Blue" and it resembles a snowball in shape (if you purchase it in white color!). It is a condenser type mic which contains 2 capsules inside it. It comes on a 3 legged tripod stand which is adjustable and can be easily moved to different places. The connectivity is through USB and there is no separate software required for operation.
There are 2 modes in this microphone, called Cardioid and Omnidirectional. Cardioid mode is suited to a single person when a voice comes from one direction. It can be used in YouTube streaming, video calls or any type of podcast. Omnidirectional mode allows you and your friends to speak from all directions. This is ideal when there are lots of people present in a room who are sharing the mic. Costing only $80, this is one of the best cheap mic for YouTube so you must not miss it if you like features with style!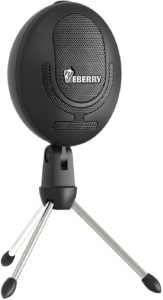 You must consider eBerry Cobblestone microphone if you are looking for the best cheap microphone for YouTube. It is a condenser type mic which can be connected to a PC via USB. It has an elliptic design that is placed on an adjustable tripod stand. The cardioids style inside isolates the outside noise from the central source. The frequency range is quite large (35 Hz to 35 kHz) which makes it suitable for a wide range of applications.
You can quickly mute the device by the button at the top and know the current status of the mic through the LED at the top. The actual speaker grill resembles a mic itself which is a nice quirk of this device. It costs only $28 which makes it a good, cheap mic for YouTube.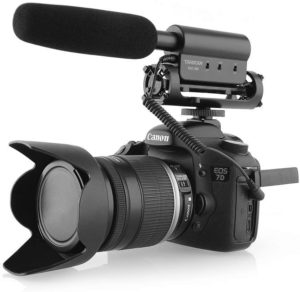 This is a cylindrical microphone by the TAKSTAR company which is attachable to Digital Single Lens Reflex (DSLR) cameras. It is a condenser type mic with frequency characteristics of 50 Hz to 16 kHz. It directs the sound waves in a cardioid style which enables you to hear a crystal clear sound. The microphone has a sensitivity of -32 dB and comes with a mount that is attached to the camera. The mic is powered by a simple 1.5V cell.
If you are a vlogger, then this is the best budget YouTube microphone because it costs only $21. This is an essential requirement for video creators because a good mic is a must-have, along with a good camera.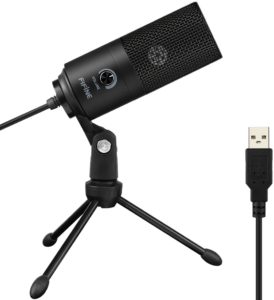 The Fifine Technology USB Microphone is a condenser style mic that can be used with a computer easily. It is rectangular and can be attached to a tripod stand. It has a volume knob at the front which can also be used to mute the mic quickly. The directive pattern is Cardioid which enables clear audio output. You can use the 6 feet USB cable to connect it with the PC from anywhere in your room. The current trends in live podcasts require a good quality microphone and if you are looking for a product in this regard, this is one of the best YouTube mic.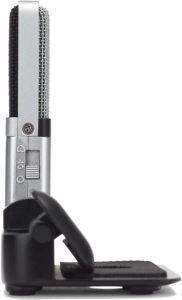 The Samson Go MIC Microphone is a condenser type portable device. It is a rectangular mic which is hinged at the bottom towards its base. This base can then be placed on computers and other areas which increases the versatility of this product. It can be connected through USB for charging and also a 3.5 mm headphone jack. Using OTG converters, you can connect this microphone directly to your mobile phone or tablet as well.
There are 2 different modes: Cardioid and Omnidirectional which can be used for single as well as multi-person use. The frequency range is 80Hz to 18 kHz in cardioid mode and 20 Hz to 20 kHz in omnidirectional mode. If you are a YouTuber, business person, online gamer, podcast host, interviewer or just a beginner in video making, this microphone can handle everything. Moreover, you can buy this for as low as $30 which makes it one of the best budget YouTube microphones.
Figure 7: Samson Portable USB Microphone| Source: Amazon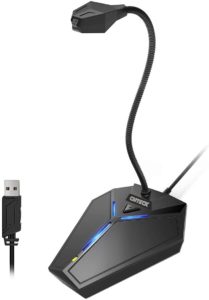 This product by CMTECH is a USB Condenser type microphone.  It comes with a hexagonal base that holds the mic attached to a 1.5m flexible cable. The mic has a small, sleek design and you can place it anywhere along with your computer or other devices. It works on an omnidirectional pattern that can pick sound from all directions. Powered by the CMTECH sound card, the noise cancellation is very effective. You can find a mute button on the base and a corresponding LED to show you the current status of the device. This is ideal for online content creators who do not wish to spend huge money on mics.  This microphone costs only $23 which makes it a cheap YouTube microphone.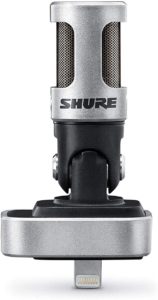 Shure digital stereo microphone is a portable, condenser type mic that comes with a lightning port that can be directly connected to Apple devices.  It is compact and hinged at the bottom towards the base which contains the USB connector. The mic itself is rectangular and is available in silver color. The mic can be rotated to 90 degrees to allow accurate positioning of sound. It follows a cardioid pattern that records audios in a single direction giving it a status of the best cheap microphone for YouTube.
With the MOTIV application, you can share, edit and control various other options for your recorded sounds. Several YouTubers start making videos with their mobile phones because they cannot afford expensive cameras at the start. Likewise, they need a good, affordable mic to record videos that can be directly connected to mobile phones and easily carried around.  Costing $150, this device is on the mid-level range in the price point but its features make it one of the best mics for YouTube.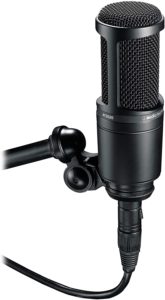 This product by Audio-Technica is a traditional style condenser microphone. It uses the cardioid pattern which allows better background sound deadening. The frequency response is 20Hz to 20 kHz which is more than enough for the normal hearing range. The accessories include a wall mount, charger, and pouch along with the device. The rod where the mic is to be mounted is not included so that the user can choose it separately.
The signal to noise ratio is 74 dB and highest sound level that can be input is 144 dB. You can enjoy doing podcasts and interviews on this mic along with other uses as well. The connector type is XLR with 3 pins. Overall, this is one of the best microphones for YouTube videos.
Frequently Asked Questions
1. What microphone do YouTubers use?
YouTubers need good quality microphones to record their videos.  As most of them use DSLRs for recording, Rode MIC and Shotgun microphones are a popular choice because they can be directly connected to the cameras. For podcasts, traditional microphones are preferred that can be placed on stands. These include Shure digital stereo microphone, CMTECH microphone, and Studio XLR microphone.
2. What are the best cheap mics?
If you are looking for a good quality microphone, you do not need to spend a huge amount of money.  Fortunately, there are many options available today. Some of these are listed below:
CMTECH USB computer microphone
Shotgun MIC microphone
Shure SM57
eBerry Cobblestone microphone
3. Do I need a mic for YouTube videos?
A good quality microphone is equally important to a high-resolution camera. Although cameras and smartphones have internal mics they are not very high quality and they do not isolate excessive background noise. Moreover, if you are an outdoor vlogger, you may find it difficult to fight with wind noise if you do not have an external mic. Therefore, a microphone is necessary for YouTube videos in most cases.
4. How much is a decent microphone?
Just like any other electronic device, you can purchase microphones for as low as $20 to as high as $200. However, it not always wise to spend more than $150 on a microphone because its functionalities are limited to audio recording only with some variations. Overall, you can get a decent microphone in $60-$80 and you should not spend more than this on a mic.
5. How do I get good audio on YouTube videos?
Follow these steps to get good audio in your videos:
Focus on the acoustics of your room. Do not record in a room where there is a lot of echo or noise. Avoid recording in large halls or open spaces.
Try to talk in a loud and clear voice if you want your sound to be conveyed clearly.
If you are using inbuilt mics on smartphones or digital cameras, try to speak close to the mic. This will help you a lot in voiceovers.
Invest in the right type of microphone. If you record mostly indoors, buy a USB microphone that comes with a proper stand. If you record outdoors with your digital camera, purchase a mic like Rode or Shotgun which can be directly attached to your camera.
Use software like Audacity and Adobe Audition to edit and boost up your voice according to your requirements.
Conclusion
The popularity of YouTube has grown dramatically over the past 5 years. The competition between content creators has increased as well. Every person wants the best equipment to record videos so that viewers are engaged towards them. Microphones are a critical component of YouTube videos because the voice recording can alone have a significant impact on the quality of videos. In this article, we have defined a microphone, explored the types of mics and their working and then found the 10 best cheap microphones for YouTube.
It is noteworthy that all of the mics in the review were of condenser type. This shows that the popularity of condenser microphones is very high when it comes to making YouTube videos or any other online activity. Moreover, the majority of mics had a USB interface which increases their versatility. A lot of good microphones are available under $30 so the young YouTubers who join the platform and do not wish to spend huge amounts of money on equipment can rejoice. We would recommend them to start with inexpensive mics because ultimately it the content that matters and there are numerous examples of people who have been successful on YouTube with limited resources.