Are you tired of your current earbuds and looking for a new albeit a cheap one? If budget is your main constraint, you may consider choosing the best earbuds under $50. You need to be honest here. Most of the cheap headphones are a total waste of your money.
They are poorly manufactured using substandard material. Similarly, they sound terrible and are very uncomfortable to wear. But, there is another side of the picture as well. Some of the best cheap are solidly constructed, have blasting sound and are very cozy to use as well.
The Best Earbuds under $50 In 2021
The following is a holistic list of the best earbuds under $50 you can currently find in the market. The list, compiled by our experts, is in no particular order. Each of these headphones offers a unique set of features that you will definitely find worth trying.
1More 1M301 Dynamic Earphones: The Best Earbuds under $50
Aukey Latitude Wireless Headphones: The Best Wireless Headphones under 50
Sony MDRXB50AP Earbud Headset: Good Earbuds under 50
MEE Audio M6 Pro 2nd Generation: Best earbuds for Musicians
JBL Live 100 in-Ear Headphones: Best Noise Cancellation Headphones under 50
Vogek Tangle-Free In-Ear Headphones: Best Earbuds under $10
Panasonic ErgoFit Earbuds RP-HJE120-KA: Best Headphones under 20
Phaiser BHS-530 Bluetooth Headphones: Most Comfortable Cheap Earphones
Boltune Bluetooth 5.0 IPX7: Best Cheap Sweatproof Earphones
Otium Wireless Bluetooth 5.0 Earbuds: Best Cheap Earphones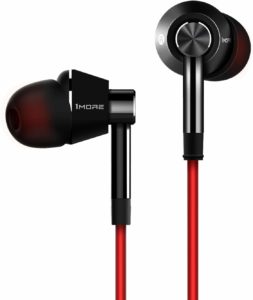 Although very few people have heard about 1More yet 1M301 Dynamic Earphones are easily the best headphones under 50 on this list. They come in very nice and high-quality packaging which is quite surprising, considering their price. The product itself can compete with earphones from more famous brands such as Panasonic and Otium and actually win the competition on many grounds.
To begin with, 1M301 has a simple design and the packaging contains an assortment of well-rounded accessories. Some of these accessories include four pairs of ear tips (L, M, S, and XS), a metal shirt clip, and a magnetic pleather hard-case. The body itself is made of lightweight aluminum alloy.
When it comes to performance, the earbuds offer exceptional midrange and high-end response time and clarity. Similarly, they deliver enhanced definition and bass because they also feature dual resonant chambers. The bass is, in fact, very clean and good. The highs are well-balanced as they are not too sharp nor too insipid. The mids are a little bit recessed but they do not adversely affect the overall voice quality.
People do complaint about fitting though. They are angled earphones and don't fit easily in your ears. This can be problematic if you are used to straight fitting.
Overall, 1More 1M301 is a great choice if you are looking for good yet cheap earphones. They deliver well-balanced, clear, and clean sound only for a fraction of the price you would pay for high-end earphones. In fact, they are the best earphones under 20 dollars as they are available for only $17.11.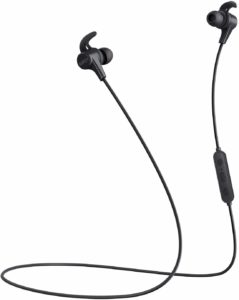 Aukey Latitude EP-B40 are also incredibly good earphones that you can get for under $30. The best thing about them is that a cable connects the two earbuds instead of a stiff collar or a very uncomfortable neckband, making it a perfect best wireless earbuds under 50 for gym use.
The overall sound quality is quite good, especially for the money you are going to spend. However, the sound was muddier in the guitar range as compared to 1More 1M301. The syllables are also a little more intense and bass is comparatively less defined.
They fit securely and comfortably in your ears. The earbuds also have magnets that allow you to clip the earbuds around your neck when they are not in use. The cable connecting the earbuds is quite short and can tug a bit. The EP-B40 are also capable of handling a huge amount of sweat as well because of their IPX4 rating.
The EP-B40 has a battery life of 8 hours. It means you can use earbuds for the entire day without needing to frequently recharge them. Similarly, Aukey offers two years warranty for the headphones which is more than enough in our opinion.
In general, Aukey Latitude EP-B40 is by far the best wireless headphones under 50. They have a great sweatproof design and 8 hours of battery life which gets you through your day with the utmost ease. The headphones offer decent sound and have two years of warranty as well.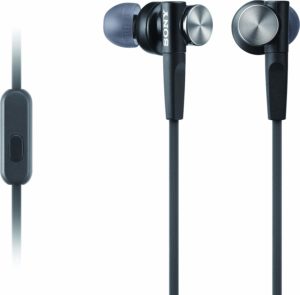 If you are the one who still wants to have a headphone with great overall audio quality, you must go for Sony MDRXB50AP Extra Bass Earbud Headset. As the name suggests, it is a great product if the genuinely high bass is your thing. The earbuds also look sophisticated and modern that is something you would expect from Sony. They do not only offer high bass for casual listeners but also low-end sharpness for audiophiles who favors certain genres of music only.
These sports and audiophile earbuds have an ergonomic design and they fit comfortably in your ears. The overall design conforms to the new chic design trend recently introduced by Sony. These are solid earbuds that can keep on working despite hours of daily abuse. The earbuds also feature a tangle-resistant flat cable which you don't normally find even in some of the best cheap earphones.
The headphones easily pick up your voice thanks to the omnidirectional microphone, making them the best earphones with microphone in this price range. Another great feature that impresses every user is the total absence of cable noise. As a matter of fact, you don't hear any hissing voice even if the cable rubs against your body or moves around. You won't find this feature even in the best earbuds under $50 from other brands.
Read Also:
10 Best PC Gaming Headsets Under 100
The Sony Extra Bass earbuds have especially been made for people who love high bass. The earbuds combine and bum only those frequencies that are available in the song, resulting in a fun and clear signature for certain frequency response. Moreover, mids also get their due share of attention. The vocals get center stage when they have to. The highs are a bit harsh because the treble is quite bland. Finally, Sony MDRXB50AP is the best quality earbuds which also cancels noise quite effectively, provided you use earbuds of the right size.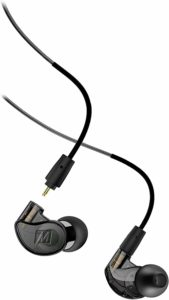 MEE Audio M6 Pro 2nd Generation is the best earbuds under 50 dollars for musicians. They are not only affordable but these in-ear and sweatproof headphones are extremely reliable as well.
The earbuds' design and construction are simply brilliant. They come with two cables, one each for mic and stereo. Similarly, the sweatproof over-the-ears chassis means you can wear them for long time periods without feeling any discomfort. In fact, the earphones fit comfortably in your ears thanks to their ergonomic design.  
M6 Pro also blocks the ambient noise quite effectively. As a result, the earbuds offer natural and clear sound even if you are in a crowded place. Combine the earbuds with Comply foam and you will not hear any external noise at all. The earbuds enable you to deliver your performance confidentially on stage as it is also among the best noise cancellation headphones under $50.
Unfortunately, M6 Pro does not have great bass as they are specially manufactured for musicians. Similarly, you may have to use a shirt clip because you can occasionally experience some cable noise or microphonics.
Finally, the headphones offer clear, sharp and natural sound to musicians. The only downside is the low bass which is not a deal-breaker as long as you need them only for stage performances. In fact, most people will be happy with the sound quality they are getting for the price.

JBL is hitting everything out of the park by introducing brilliant yet highly affordable audio products. Even their cheapest earphones, the JBL Live 100 in-Ear Headphones, are better than more expensive headphones, especially if you like heavy bass. These particular headphones promise to blow your mind as they feature 8mm drivers. In fact, these are JBL's most powerful headphones available for only around $40.
The headphones are light, super secure, and very comfortable. They might be the best fitting earphones in the market right now. One of the most impressive features of Live 100 is noise cancellation. The headphones cut out ambient noise as effectively and successfully as high-end earphones. Similarly, they also come with three different sized tips unlike most budget and standard headphones.
JBL 100 live has a simple design devoid of ostentatious details. However, the headphones get the job done for you. A wooden fabric, the purpose of which is to minimize tangling and increase longevity, covers the cable. You can also do activities like play, skip, and pause tracks and answer calls with the help of a remote. The earphones also come with their own mic, which is excellent for the price.
JBL Live 100 offers plenty of oomph which has become a major characteristic of all JBL earphones. The low end is also is brilliant much to the delight of electronica, hip-hop, and pop fans. However, you must look for a more balanced headphone if you dislike high bass. The lows also provide incredible richness and mass. Therefore, you would also love listening to rock music on this particular device, making them the best earbuds under $50.
Summing up, JBL Live 100 should easily be one of the top ten earbuds for rock and hip-hop fans, period.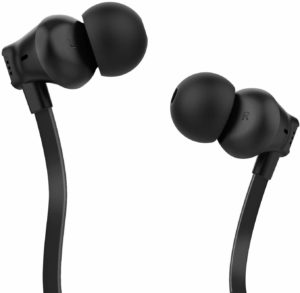 Vogek Tangle-Free In-Ear Headphones are ridiculously cheap. Available only for $5.99, they offer all the features and functions which you expect from costlier earbuds. For example, they come with ear tips which are compatible with both Android and iOS. They have an ergonomic design and fit beautifully in your ears as well.
Perhaps, their greatest feature is the dynamic crystal clear sound. They are actually stereo earphones which sensational stereo sound with high bass, making them the best earphones under 10 dollars as well.
Similarly, the headphones give you a comfortable and wonderful listening experience with the help of premium and soft ear tips. You also get three different sizes of ear tips that are small, medium, and large. You can also use the headphones without any hassle due to the fact that they have a very soft and tangle-free cable. The cable can last for a long time period, because of its durability and high resistance to damage.
Another great feature of the Vogek Tangle-Free earbuds is brilliant noise cancellation. The earbuds seal outside noise quite effectively and successfully, helping you clearly hear the music without any distortion. They also become the perfect travel earbuds because of their sleek and portable design. You can use them to enjoy the music and receive calls on the go.
All in all, Vogek Tangle-Free In-Ear headphones are one of the best earbuds under $50. you can currently buy. Although they do not support microphone and volume control yet they are quite capable to meet most of your primary sound requirements.
Panasonic ErgoFit Earbuds RP-HJE120-KA is yet another topnotch headphone available for under $10. It is a fact that earphones in the sub-$10 range are total crap. However, the headphone under discussion is an exception. The model is actually available in a variety of colors where some are more expensive than others. But, you can buy the earphones for under $10 regardless of their color.
You also cannot expect much from such cheap headphones. However, you ought to have high expectations from a product from Panasonic and we were not disappointed. They do look cheap but they also have a dash of stylish coloring and some design flair. They are also sort of hybrid earphones that look part soft earbuds and part Apple AirPods. The packaging also contains silicon tips of three different sizes. These tips not only make it comfortable to wear the earbuds but they also minimize external sound. As a result, they also help with maximizing bass output.
One disappointing aspect of the earbuds is poor cord construction. The cords connecting the earbuds are pretty thin. It is also somewhat difficult to plug the L-shaped pin in the smartphones with thicker protective casings.
However, the Panasonic ErgoFit RP-HJE120 earphones perform exceptionally well when it comes to sound quality. In fact, they can easily compete with headphones in $20-$30 range. The sound quality is excellent and you get plenty of detail and bass. They only struggle when you play more refined or quieter music and bass-heavy material, which is understandable because they are after all truly budget earphones.
According to Justin Yu, one of the editors on CNET, "Panasonic ErgoFit RP-HJE120 earphones are a more cost-effective replacement of stock Apple earbuds." You cannot expect much from a sub-$10 headphones but you don't have to lose much as well.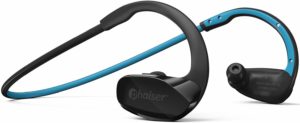 Phaiser BHS-530 Bluetooth headphones might be the best earbuds under $50 by miles. And this is our verdict after checking countless earbuds, headphones, and earphones. The Phaiser BHS-530 is indeed a champion headphone and it will blow your mind away for the features and functions it has to offer.
These affordable, lightweight, and high-quality headphones have especially been made for runners. Some of the best features include long battery life, built-in microphone and wireless audio. However, what makes these particular headphones standout are little extras which you only get with $100-plus earbuds.
For example, these are the most comfortable headphones to wear in our opinion. In fact, you will forget you are wearing them after a couple of minutes or so. No other earbud in this price range has been able to accomplish this feat.
Similarly, it is very convenient to skip soundtracks and adjust volume thanks to intuitive Bluetooth controls. You can also take hands-free calls when you are traveling or running with the help of a built-in microphone. The foam tips offer an immersive sound experience by not only providing comfort but also by canceling outside noise.
As of sound quality, it is brilliant, to say the least. Similarly, you can increase the volume to the maximum without breaking the sound. They offer a reasonable amount of bass in addition to clear and detailed midranges. The earbuds also produce a good treble response and decent highs. They can also play a wide variety of music genres without any problem, making them the best wireless headphones under 50 dollars.
Summing up, we highly recommend Phaiser BHS-530 Bluetooth Headphones because of their superb sound quality, great design, snug fit, and intuitive Bluetooth controls. They are indeed great earbuds which you can buy without busting your budget.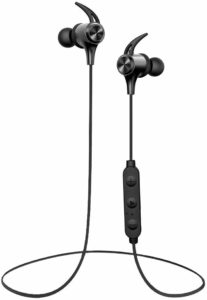 Boltune has been making high-quality audio equipment for long now and Boltune Bluetooth 5.0 IPX7 is no different. Featuring the most advanced 5.0 Bluetooth technology, these earbuds are a great purchase for what they offer and their price. They work continuously for 16 hours. On top of that, they have a unique and highly sophisticated charging technology which enables you to use them for 2 hours after just 5 minutes of charging.
The sound quality is wonderful which you can enjoy nonstop for hours. The high-quality stereo sound is second to none. We can confidently say that they are one of the good earbuds under 50 only for their sound. They also support almost all Bluetooth enabled devices such as laptops, smartphones, and tablets, etc. You get a more realistic and immersive sound experience as well due to 10mm dynamic drivers and significant noise isolation.
Having IPX7 rating means Boltune Bluetooth 5.0 IPX7 is exceptionally good at sweat and water-resisting. As a result, they also become ideal earbuds for traveling, exercising, and running. This is also evident from the fact that they have magnetic earbuds that you can easily clasp together.
The headphones also come with 3 pairs of secure-fit ear hooks and ear tips each. Moreover, the 18-Month warranty means you can't do any wrong by purchasing these earphones.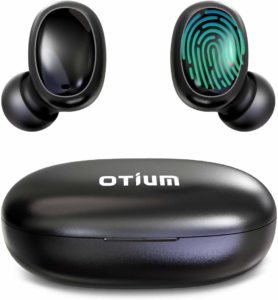 Otium is another name that flashes in our mind when we think of quality and durable earphones. They are also known for producing some of the best earbuds under $50. The Otium Wireless Bluetooth 5.0 earbuds successfully carry the tradition forward. Currently available for only $28.99 on Amazon, they easily become the best earbuds under $50 and for good reasons. For instance, Otium proudly claims that the earbuds have the latest and most advanced 5.0 Bluetooth technology. Similarly, free master-slave switching is another feature that you don't find in budget earphones.
The playtime on a single charge is 3-4 hours which is quite reasonable. However, the overall battery life is up to 30 hours which is fantastic. The headphones exert no pressure on the ears nor they cause any discomfort because they are lightweight and have very cozy eartips.
They also fit seamlessly in your ears thanks to the Snug Fit technology. You can also enjoy the sound of exceptional quality while choosing from 4 different sizes of earbuds. There is also a unique speaker driver that ensures sharp mids and highs as well as powerful bass.
Smart Touch Control and One Step Pairing also make Otium Wireless Bluetooth 5.0 earbuds stand apart from the crowd. They are the best wireless earbuds under $50 because they will automatically connect with the first available paired device as soon as you lift the lid of the charging case. Similarly, you can intuitively answer or hang calls, play or pause music, and skip tracks through a multifunction intelligent touch control button.
The earbuds also have IPX7 rating. As you can imagine, they are both water and sweat resistant and do their job remarkably well.
Otium Wireless Bluetooth 5.0 Earbuds are the best cheap earphones because they offer so many advanced features for such a small price.
Otium Wireless Bluetooth 5.0 Earbuds are the best cheap earphones because they offer so many advanced features for such a small price.
Best Earbuds under $50 Buying Guide
You need to consider many factors when buying the best cheap earphones. These factors include sound quality, cable quality, design, accessories, controls, and build quality. You must also determine whether you need a wireless or wired earbud. We will go through these factors one by one in the coming paragraphs.
1.    Sound Quality
Different earbuds in this price range offer varying degrees of sound quality. Some earbuds put more emphasis on the high end while others are ideal for the lower end of the spectrum. Then, some earbuds offer excellent performance throughout the spectrum. Similarly, some earbuds provide you with adequate sound for every type of activity while others focus on a wide soundstage. In short, you need to take both frequency performance and volume output into account. Headphones under 50 normally deliver good performance on only one or two aspects of sound performance while sacrificing on others. Therefore, we recommend trying different earbuds to find one which meets your requirements and sound taste.
2.    Design
Design is a matter of preference and it is not a big deal-breaker for most people. Most earbuds under $50 are not very eye-catching but they do their job. On the other hand, you will find some beautiful earbuds which fail to deliver on their promise. Therefore, do some thorough research if design or looks do matter to you. For example, some good earbuds under 50 are available in different colors, allowing you to at least choose the earbud in your favorite color. Similarly, some earbuds fit perfectly in your ears and do not fall off thanks to their ergonomic design.
3.    Cable
Earbuds' cable is the most overlooked aspect of not only cheap earbuds but of any headphone. You must pay special attention to the earbuds cable unless you are in search of a true wireless earbud. The cable is necessary for making your earbud easy to use and durable. For example, some earbuds feature anti-tangle cables which enable you to put the earbud in your pocket without tangling the cable. Some earbuds come with a detachable cable. Some earbuds also tend to last long as they feature a durable plug.
4.    Wired or Wireless
Gone are the days when wireless earbuds were expensive. Nowadays, you can buy some of the best earbuds under $50. It is not a bed of roses to choose between wireless or wired earbuds. Both these options have their merits and demerits which you should pay attention to. Wireless earbuds don't have a tangling wire and therefore, they are more comfortable to use. However, they usually have low battery life. They are not the best option if you use earbuds for hours every day. Wired earbuds, on the other hand, are a bit more uncomfortable to use but they will never shut off.
5.    Build Quality
Most earbuds in this price range have poor build quality, to be honest. You can't expect a pair of inexpensive earbuds last for decades, especially if you put them to rough use. However, you can find cheap earbuds made of high-quality material meant to last long. As a result, you don't have to buy a new earbud now and then, saving you a lot of money as well. The material used to manufacture an earbud is the most obvious indicator of its quality. In general, L-shaped plugs last longer while metal and aluminum are more durable.
6.    Accessories
Is there anyone who doesn't like extra accessories, especially if they come with the package? They also help you save a lot of money because you don't have to purchase them separately. Some of these accessories include carrying cases for additional portability and eartips in different sizes allowing snug and more comfortable fit. Similarly, you will also find minor items in the likes of shirt clips, cable clips, micro USB cables, and adapters extra useful. All these accessories make your earbud easy to use.
7.    Controls
Many headphones under 50 dollars come without any controls. Controls are necessary for adjusting the volume or skipping the tracks. You can ignore this category if don't bother doing so. However, we recommend looking for models that include controls, especially if you like listening to music while doing activities such as exercising, hiking, and running. For example, many wired earbuds allow you to skip the tracks or adjust the volume through controls present on their cord. Some earbuds feature a single button for play and pause. Surprisingly, you will also find incorporated touch controls on certain models of wireless earphones in this range.
8.    Extra Features
Many best earbuds under $50 offer some useful extra features as well. One such feature is waterproof certification. Some earbuds in this category have this certification, making them ideal for all kinds of outdoor activities. Similarly, certain models are perfect for people who do intense physical exercise due to their sweatproof design. Furthermore, you can also use many earbuds to take calls on smartphones as they feature a microphone as well.
Final Thoughts
We have now concluded our list of the most durable earbuds under 50 in 2020. However, this is not an exhaustive list by any means. We have only scratched the surface but we believe these are the best cheap earphones in the market at the moment. However, you are once again encouraged to send your suggestions regarding what are the best sub-$50 earbuds.