Believe it or not, you don't have to output audio to a single device on Windows. It is possible to connect multiple speakers or headphones to Windows 10. Yes, you have heard that right. In this article, we are going to explain how to use two headphones at once on Windows 10.
The article will contain the following sections making it easier for you to find the information you are looking for.
Connecting two headphones by enabling stereo mix
Playing audio on two devices from specific apps
How to use two headsets on pc using an audio splitter
By default, Windows 10 plays sound only on one device. Therefore, you can output sound to only one device even if you have multiple headphones or speakers connected at the same time.
If you are playing a melodious tune on your laptop or computer, everybody in your home would want to listen to it. What if all of them want to enjoy the music on a headphone. The problem will intensify if you have only a single voice output device. However, you need not worry. Windows 10 allows you to connect multiple sound devices at once. Therefore, you can enjoy the music on the headphone, and the rest of the people can listen to it on a speaker.
How to Use Two Headsets at once on Windows 10
So, let us start our guide on how to have speakers and headphones on at the same time on Windows 10.
Method # 1: Enable Stereo Mix
The first method of using two headsets simultaneously on Windows 10 is to enable Stereo Mix. It is disabled by default. However, you can follow simple steps to configure Stereo Mix to play audio from two devices at once.
Step 1: Connect both of the headphone, speakers or any sound devices you want to use. Also ensure that they are properly connected before proceeding to the second step.
Step 2: Right Click on the volume or speakers icon in the system tray.
Step 3: A dialog box will open with 5 options. Click on the Sounds options to open Sound Settings. You can also open the sound settings by typing mmsys.cpl in the Search bar.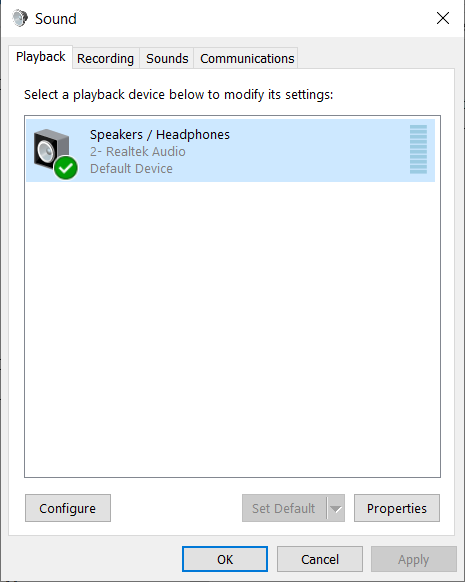 Step 4: There will be 4 different options under the Sound settings. You have to right click on Playback. Here you will see both of your connected audio devices. Right click on the Speakers set it as default. The speaker is already the default device if the Set as Default Device option is greyed out or missing.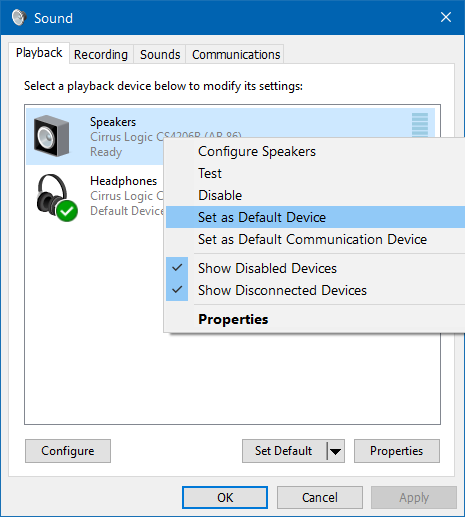 Step 5: Now click on the Recording tab in the Sound settings.
Step 6: Right click anywhere in the Recording tab and you will get two options. Click on Show Disabled Devices option. Once you click the tab, you will also probably see Stereo Mix in the Recording section.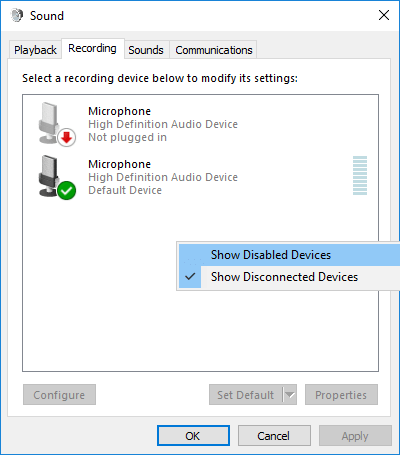 Step 7: Right Click on the Stereo Mix or Microphone and click Properties.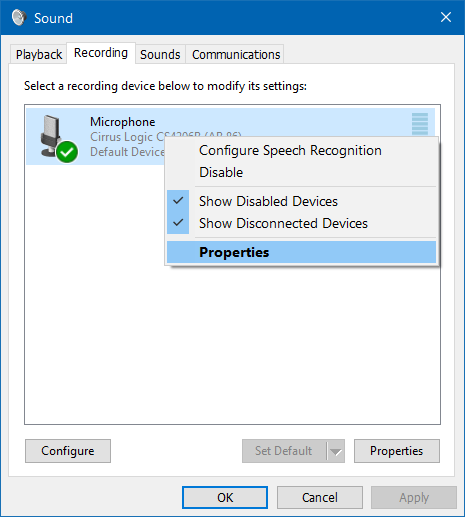 Step 8: Now, you will get 4 more options out of which you have to click on Listen tab. Now check Listen to this Device. You will see a Playback through this device option with a dropdown menu. Select your microphone from the menu.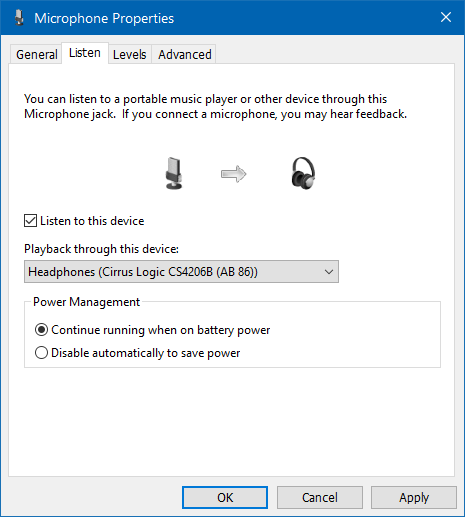 Step 9: The final step is to click on the Apply button.
You have successfully enabled double headphones or speakers on Windows 10.
Similarly, the process is exactly the same if you are looking for how to two USB headsets on pc.
Last but not least; always set your speakers as a default device not as Default communication device. Otherwise, you cannot play sound on headphones and speakers at the same time.
Method # 2: Playing Audio on Two Devices from Specific Apps
Another method to use 2 headphones on PC Windows 10 is to customize playback devices for certain software. For example, you can adjust your speaker or headphone for Skype only. Similarly, you can use you speaker to play music from Movies & TV App and headphones to play sound from Firefox or Google Chrome.
In simple words, it is possible to enable alternate sound output for individual apps to use double headphone or any playback device on Windows 10.
Step 1: Right Click the speaker icon on the left side of the taskbar.
Step 2: Click on the Open Sound Settings option.
Step 3: Open further options by clicking on the App volume and device preferences.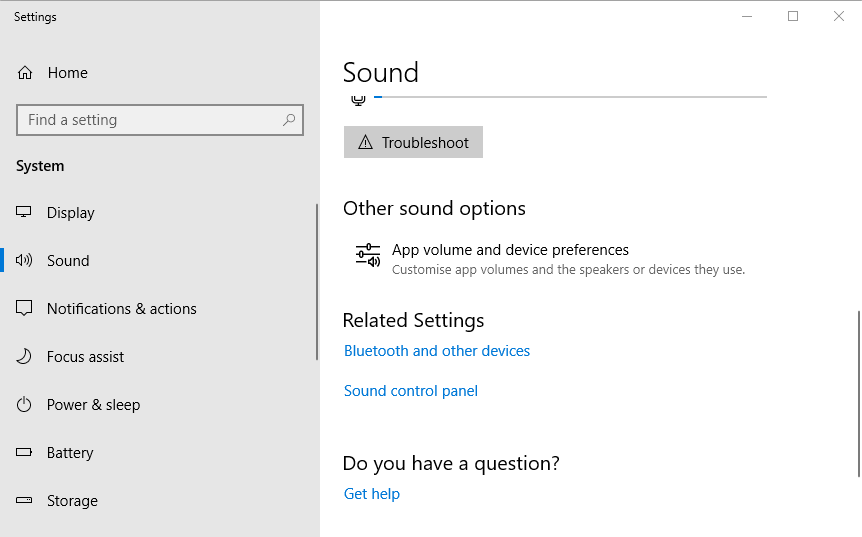 Step 4: It will open the Settings box listing all of your open apps. Find the software for which you want to change your playback device. You will find the Output dropdown menu right next to it as well.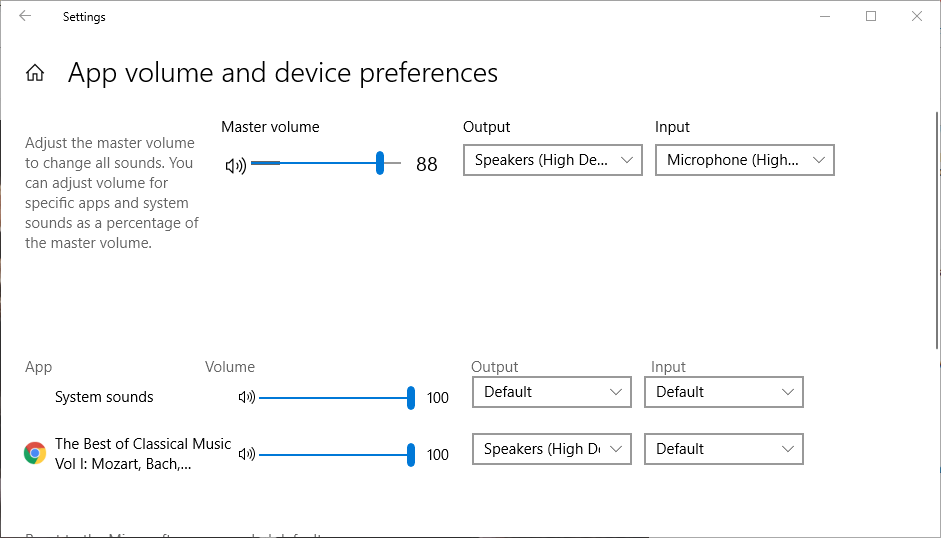 Step 5: The Output dropdown menu will show all the connected devices. Select the one you want to use for this particular software.
Keep in mind that Windows 10 will automatically save the selected playback devices for the software. Therefore, it will always output sound to saved headphone or speaker every time you launch the application.
This is how you can use two headphones at once on Windows 10 by selecting a playback device for alternative applications or software.
Method # 3: How to Use Two Headsets on Pc Using a USB Headset Splitter
Sometimes, the software alone cannot help you use two 2 headphones on 1 pc. This is where hardware like a USB headset splitter comes to your rescue. USB splitters come in many types both for USB devices and audio jacks. These devices are inexpensive and can save you from the frustration of going through all the steps, especially if you are not very tech-savvy. There are expensive models as well but a cheap USB splitter for some double headphones action is sufficient for a casual user.
However, you should try any of the two methods listed above if you don't want a USB headset splitter.
Final Thoughts
Third-party software like USB splitters are a good option to use two speakers on pc without changing anything. They also make it easier for you to connect two headsets on Windows 10 if the system's resources are not enough to complete the task. However, we always recommend using the above two methods when it comes to how to use two headphones at once on Windows 10.
With this, we conclude our article on how to use two headsets on pc. You can use the comment sections if you have anything to add to the article or if you want to something to tell us.