Are you are a musician who wants to save some money you would otherwise spend on expensive sessions at recording studios. Or, you simply don't have thousands of dollars for such kind of expenses. Well, you don't need to worry because you are definitely going to find the best portable recorder for musicians in this article.
It is seriously necessary for all the true musicians to carry the best music recorder with them wherever they go. Recording music in an instant is a wonderful method to let your creative juices flow. More importantly, you will keep your expenses to a minimum while getting the same audio quality you would get from the recording studios. However, digital audio recorders are also invaluable for everyone who needs one for any recording purpose.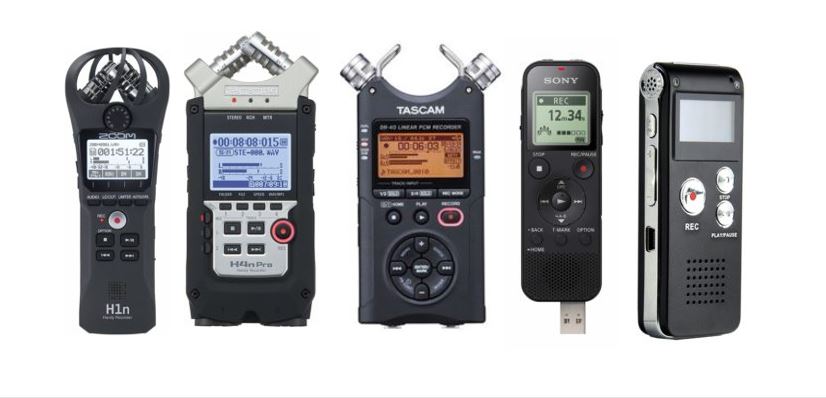 So, without further ado, we start our list of the best portable audio recorders on the planet.
Best Portable Recorder for Musicians
The following lines explain some of the best portable audio recorders for different kinds of use.
Zoom H1n Handy Recorder: Best basic portable audio recorder
Zoom H4n PRO: Best portable digital recorder for live music
Tascam DR-40 4-Track: Best 4-track portable sound recorder
Zoom H6 Six-Track: Best portable recorder for musicians
Roland R-05 Studio WAVE/MP3 Recorder: Portable voice recorder with simple design
Sony ICD-PX470 Digital Voice Recorder: Best portable recorder for live music
Aketek Multifunctional Rechargeable 650HR: Best activated voice recorder
Olympus VN-7200 Digital Voice Recorder: Affordable digital music recorder
Tascam DR-05 Portable Studio Recorder: Budget-friendly voice recorder
EVISTR 16GB Digital Voice Recorder: Voice recorder with useful features

Zoom H1n Handy Recorder leaves all other basic portable audio recorders in the dust. It has a simple body with a matte finish. The newly designed protective mic results in added efficiency and portability to the recorder.
The best thing about the Zoom H1n is that it can record high-quality sound irrespective of where you are. The recorder boasts a rugged and compact design, enabling you to easily carry it in your backpack or pocket. You can simply take it with you wherever you want without any hassle. However, the body is made of plastic and it is not very sturdy.
Zoom H1n Handy is an ideal portable voice recorder, both for professionals and novices. It is a multifunctional device, allowing you to record lectures, meetings, audio for film projects, and song ideas. Some experts also consider Zoom H1n the best portable recorder for podcast interviews, etc. The audio quality for beginners is exceptional, but professionals will find it wanting in this regard.
The recorder also enables you to record the sound without any distorting thanks to an advanced built-in limiter. The voice will be clear and distortion-free up to 120 DB pressure level. It simply means you can record band practices, concerts, and other loud sounds without any decline in audio quality.
It is also a breeze to transcribe interviews with poor audio quality because of the Playback Speed Control Option. Similarly, the A-B repeat is another great feature, which can especially be helpful for musicians whilst they rehearse songs.
Zoom H1n has also made it easier to add new sounds over existing sounds through an overdub feature. It also has options for self-timer, auto-record, and pre-record. The X/Y stereo mic primarily emphasizes on sound field's center, but it covers a wide area. This particular attribute enables you to record extremely clear sound almost anywhere.
Marking the start and stop points are also very convenient as the recorder features tone and slate generators. This is helpful when you sync the pictures and video with the audio.
2.    Zoom H4n PRO: Best portable digital recorder for live music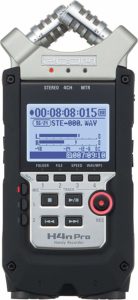 There are many reasons why Zoom H4n Digital Multitrack Recorder is the best portable recorder for musicians. The design and layout are very simple featuring a 1.9" LCD on the top panel. It is a backlit display, which displays all the recording options you select.
The portable music recorder has three distinct modes that are 4CH, stereo, and MTR. The device has three buttons, each for selecting these modes. Other buttons featured on the panel include play, recording, fast forward, and reverse.
The best thing about Zoom H4n is that you can mount it on your camera or tripod for the best sound recording results. However, it can easily capture the handled noise and thus, handled recording is not recommended.
You can easily carry the recorder to anywhere as it weighs only 300 grams. Furthermore, it is easy to use it in combination with the camera in the field due to its new ergonomic, rubberized body.
H4n is a portable audio video recorder with sound handling capability of 140 DB, making it an ideal recorder for capturing everything from music with a heavy base or extremely loud metal concerts.
Another great attribute of the H4n is that it is possible to change the angles of stereo microphones. By doing so, you will modify the directional range of the audio recording. Ultimately, you record the exact amount of sound or band you want to.
The four-channel or stereo recording is out of this world. You can record a myriad of music genres live as the recorder captures sound at a rate of 24-bit/96 kHz. Another thing which makes H4n the best portable digital recorder for live music is the X/Y microphone. These microphones allow sound capturing at room ambience by receiving a live feed from mixing consoles.
Studio quality emulators and instrument effects, punch-in-functions and overdubbing also make it easier to make full tracks regardless of your location. This zoom portable recorder can also serve as a USB interface for your computer.
If your DSLR camera has a microphone input, you can connect it to the H4n through a 0.125-inch stereo line out. The feature ensures time-coded high-quality audio. It also has a port to connect your earphones or headphones. One minor drawback, in my opinion, is a little longer boot time of around 30 seconds.
Summing up, Zoom H4n Pro is the best audio video recorder for musicians. It is a live music recorder which you can also mount on a tripod. The recorder is lightweight with brilliant audio video recording capabilities. 
3.    Tascam DR-40 4-Track: Best 4-track portable sound recorder: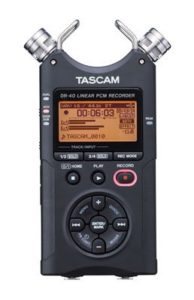 TASCAM is a well-known manufacturer of digital audio recorders and other portable music recording devices. TASCAM DR-40 is an unbelievably affordable audio recorder. It is a solid machine, which helps you record high-quality audio in any environment and at any time. The portable recorder features four-track recording, made possible through line inputs or XLR mic as well as high quality, built-in condenser. Other recording options include overdubbing and four-channel recording.
DR-40 is the best portable digital recorder for live music without any doubt. All you have to do is to connect it to the main feed from the mixing board. Subsequently, you will record the audience and band sound using the built-in microphones.
When it comes to video recording, you just need to plug the microphone of your shotgun to one of the input devices. In case you are using the condenser shotgun mic, activate the phantom power. Once done, you are guaranteed to have high-quality audio and video recording.  
This digital audio and video recorder also come with an automatic level adjustment, dual-mode recording, and a built-in limiter. Dual recording feature records the same sound at two different audio levels. Capturing two different stereo sounds simultaneously through four-channel recording is also possible. All these features ensure you get as professional, clear, and crisp recording as possible.
You can easily counter the sudden volume increases with the help of features like Level Align Function and digital EQ. Peak Reduction Function detects peaks and regulates them to the ideal level automatically.
There is also an integrated reverb and turner for the musicians, which means the recorder is also a great songwriting tool. The reverb effect, in particular, ensures full and rich instrumentals and vocals. Finally, the three low cut filters deliver low-frequency noise as well.
The connectivity options include 13.5mm Stereo Mini Output Jack and 2 ¼" Combo XLR Input Jacks.
4.    Zoom H6 Six-Track: Best portable recorder for musicians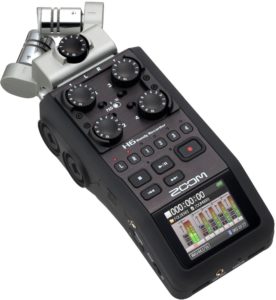 Zoom is a tech giant when it comes to manufacturing digital voice recorders. Zoom H6 recorder is yet another great product by Zoom packing all kinds of features to give an amazing quality of sound. These features include MSH-6 MS and XYH-6 X/Y mic capsules, 4 AA batteries, and a 2 GB SD card. The voice recorder is also equipped with a Windscreen, a Cubase LE software, and a USB cable.
You must be wondering why Zoom H6 recorder has two mic capsules. They are actually interchangeable input capsules for you to choose the best capsule depending upon the application. It is just like changing your microphone for different musical instruments. The two capsules, as mentioned above, are a Stereo mid-side capsule and a stereo X/Y capsule. The X/Y capsule helps you record live concerts as well as stereo audio recording in general. The other capsule directly mixes the room sound with certain instruments and board audio captured by external mics.
The Zoom H6 becomes a fantastic six-track studio when connected to a Dual XLR/TRS capsule. An assortment of on-board effects also lets you negate any acoustic restrictions and issues and create a more refined recording. Similarly, capturing vocal-instrumental pitches is a piece of cake because of the onboard guitar/bass tuner and chromatic metronome.
You also have the option to change the recording angle. This enables you to modify the directional range of the audio recording. Zoom H6 provides you with 6 tracks of multi-recording unlike the majority of portable voice recorders. This particular feature allows you to layer multiple sounds on it. For instance, you can add a keyboard, a stereo drum machine, and a bass in addition to a guitar and voice on the other tracks as well as take snapshots of your own song ideas.
Being a lightweight portable audio recorder (weighs only around 10 pounds), it is very easy to carry it anywhere without much of an effort.
The Zoom H6 also consists of four-line/mic inputs with XLR/TRS combo connectors. All of these connectors have dedicated volume control. A -20db pad and selectable phantom power are additional features of the recorder. Thanks to all the above features, the Zoom H6 Six Track easily becomes the best portable audio recorder for film as well.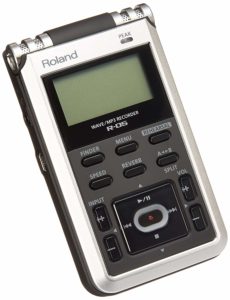 If you are looking for the best portable voice recorder with a simple design, you must go for Roland R-05 MP3. The recorder offers excellent sound qualities in addition to being an easily usable audio recorder. In fact, musicians, students, and journalists love this portable audio recorder.
Roland R-05 is the best digital audio recorder because it has a simple design. It is very intuitive and simple to use all of its functions. The exterior is metallic, strong, and attractive, which is also its major highlight. Then you will also get an integrated tripod socket for mounting recorder wherever you want. There is no plug and play functionality, but that is not a big issue for most people.
The portable sound recorder is a perfect choice for those who like to record amazing song ideas the moment they flash in their minds. On the other hand, you can also use it to leave a memo when you are away from your home or office.
The recorder has a built-in stereo mic you can use for recording high-quality stereo sound (96KHz/24-bit). There is also an input for connecting an external mic for recording purposes. In addition, it is possible to record either in WAVS or MP3.
Musicians will also find plenty of helpful features for practising. Some of these features include auto record start, auto song split, and loop playback. The device also allows you to adjust the music tempo without changing the pitch.
It is not recommended using the recorder for concert recording as it picks plenty of noise from the surroundings. It doesn't have a built-in memory as well, but you can always use a MicroSD card.
Roland R-05 is an excellent choice because it has a rugged, stable body, an integrated microphone, brilliant features, an impressive battery time of 30 hours, and excellent sound quality.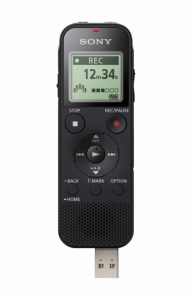 ICD-PX470 is a Sony Digital Voice Recorder with a lot of features for musicians, journalists, and students. To start with, it records in both MP3 and linear PCM formats. Therefore, it is an ideal device to record notes, meetings, lectures, and live music.
Some experts declare ICD-PX470 the best portable recorder for musicians because it wirelessly communicates with your computer. You can directly connect the recorder to the computer through a built-in USB port.
You get 4GB of built-in memory with ICD-PX470, but there is also a MicroSD slot in case you want to expand the memory. Finding your files is also easier than ever thanks to the calendar-search function.
A low cut-filter eliminates all the external rumble and noise to provide you with unbelievable audio quality. It is also a straightforward task to record mono or stereo sounds from any distance due to various adjustable options. Features like S-microphone system, which record quiet and distant sounds and Auto Voice Recording, which reduces background noise make ICD-PX470 a must-have for the true musicians.
Sony ICD-PX470 also has a Transcription Playback mode which facilitates the conversion of transcripts on the paper. Fast-forwarding, rewinding and marking the start and stop points is even easier and they help you get to the required place quickly. Ditch Pitch Control option will even slow down the playback for you to clearly comprehend the conversation.
The adjustable microphone range is another outstanding feature of ICD-PX470. For example, Focus mode only records a narrow field of sound from one direction and therefore, it is most suitable for capturing a single voice. Therefore, we can say that Sony ICD-PX470 is the best portable recorder with microphone. On the other hand, you will use the Wide-Stereo mode to record everyone in the room or meeting. Then there are four "scene" presets that are dictation, interview, meeting, and music for additional optimization options.
The battery lasts for a whopping 55 hours of continuous use. The Sound Organizer Software is also part of the package.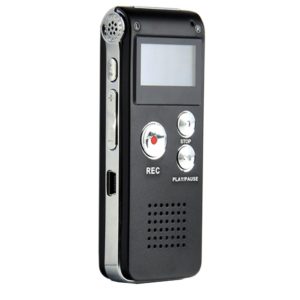 The name Aketek is synonymous with high-tech manufacturing, development, scientific research, and new experiments.
Aketek Multifunctional Rechargeable 650HR is a multifunctional digital device with one of the best and simplest interfaces in the word. Even if you have no prior experience of using 650HRr or any other digital voice recorder, you can easily record, delete and tweak settings. The user interface has 24 languages for you to easily fathom the multiple options provided by the recorder.
Being the best digital voice recorder, the Aketek 650HR supports both the WAVS and MP3 formats. Therefore, you can record high quality sounds even in places like jam-packed stadiums. On the other hand, it becomes particularly easy to record lectures as well, making it the best digital recorder for lectures. 
This portable MP3 recorder has a built-in memory of 8GB, allowing you to store longest of recordings without deleting existing ones. The Voice Operated Activated Recording makes 650HR the best voice-activated recorder and the real deal-breaker. This feature enables the recorder to automatically start recording when there is sound and stop recording when there is no sound.
It is also a rechargeable recorder, which means you don't need additional batteries to charge the device. As a result, you save a lot of money as well as play your part in protecting the environment. The built-in speakers and Sound Control Function are other great features of this digital music recorder. There are also separate keys for playing VOR and recording.
The digital recorder comes with the four recordings modes. It ensures high-quality recording free of distortions and noise. It has a sleek and ergonomic design, making it very comfortable to use as well. One of 650HR's best features is the capability to record phone conversations. To enable this functionality, you have to use the telephone adaptor to connect the recorder to the telephone.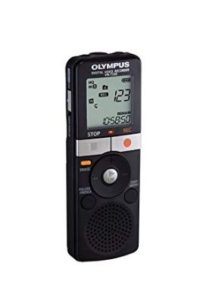 Olympus is one of the biggest sound and technology manufacturers in the world. Their products enjoy a worldwide frame. Olympus is particularly renowned for producing high-quality sound products such as the portable recorder for the musicians and the Olympus VN-7200 is one such product.
VN-7200 is an affordable "personal recorder" featuring an ergonomic and elegant design. It can discretely fit in your pocket and you can take it anywhere you want without much trouble. The recorder delivers enhanced sound quality. You just need a simple touch of the figure to play, stop, forward and rewind the music as it has easy-to-reach buttons.
The 7200's alarm feature reminds you of important dates. Similarly, it has four different folders, which can store up to 2000 different recordings.
Olympus VN-7200 digital voice recorder has large 2GB internal storage, allowing users to capture 1151 hours of music and sound. Similarly, users can choose from three different recording modes (HQ, SP, and LP), which allow them to maintain the equilibrium of capacity and sound quality. It is also the best voice activated recorder as the Voice Activated Recording attribute enables the recorder to start recording in the case of voice and stop recording when there is silence.
One of the best features of VN-7200 is the Noise Cancel Playback, the purpose of which is to eliminate annoying background distortions and noises, while in playback mode. There are also Fast and Slow playback modes as well. Moreover, it is easier than ever to locate important points in the file because of the Place Index Marks feature.
The battery life extends to 86 hours of continuous use after which you have to replace the batteries. It is quite impressive, considering the price of VN-7200. In general, it is the best portable recorder for musicians and students in this price range as it has a stylish design, an assortment of features, and it delivers superior sound quality.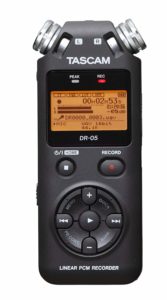 Although discontinued, the DR-05 is one of the best portable audio recorders by TASCAM. The model packs some powerful features, but it is still their most budget-friendly recorder. You get multiple mic configurations to begin with. For example, it comes with an omnidirectional microphone, which is the total opposite of the X/Y microphones featured in Zoom's devices.
Another great characteristic is the fantastic and intuitive LCD screen on the front. The screen makes it a breeze to navigate through your folders, music, and sound. Similarly, the Speed Playback feature lets you playback sound at different speeds without changing the pitch. The chromatic tuner also provides you with a digital EQ setting. The ability to loop and repeat sounds makes this recorder a must-have for musicians and students.
The portable sound recorder can connect via an adapter or a USB. It contains an AA battery, which can last for hours. It has a 2GB built-in memory, which you can expand by inserting a MicroSD card. A nice little stand also accompanies the DR-05. What it does is it makes it easier for you to mount your recorder on the table or any other surface. Therefore, it is an ergonomic recorder, which you don't need to hold all day long to record your music or sound.
Stereo recording capabilities of the Tascam DR-05 are superior and high quality. Even in loud recording environments, the DR-05 delivers a crisp and clear sound thanks to an integrated condenser with SPL sensitivity of up to 125db. It simply means the recorder can record every detail and modulation of your performance. The separate analog and digital circuit boards ensure enhanced noise reduction performance.
Other prominent qualities are adding markers, level adjustment, Variable Speed Audition, and Level Align Function. The Peak Reduction setting or function listens to the audio and adjusts it to the best level.
The Tascam DR-05 deserves your attention because it is about the same price as Zoom H1. It is a good and less expensive alternative to popular models.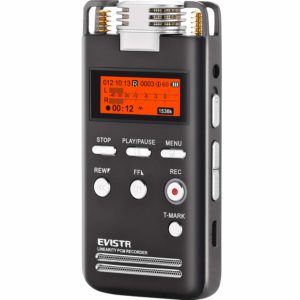 The EVISTER Voice Recorder 8GB L53 is a popular digital voice recorder, which offers a lot of useful features to the users. It is a low price recorder yet it is able to deliver superior sound quality in all the environments. It is particularly the best digital recorder for interviews. However, you can use it for all kinds of environments ranging from recording podcasts to music concerts and university lectures.
In fact, EVISTER L53 is a unique device because it uses pulse-code modulation, unlike other standard voice recorders. It is a very interesting technique, which represents digital bits by using spaces and pulses, which in turn digitally represent sampled analog signals. In simple words, you will always get close to the original recording, making L53 the best digital voice recorder in this price category.
L53 can also record sound in many formats such as linear PCM format at 16-bit/48KHz and WAVE files at 24-bit/48KHz. Other formats supported by the L53 include FLAC, APE, and MP3, etc.
The recorder has 8GB built-in flash memory. EVISTER claims that you can record 270 hours of sound without using the MicroSD card.
Being the best portable recording device for the musicians and students, it has three different recording functions that are Sectional Recording, Track, and Voice Activated Recording. The Sectional Recording function enables the recorder to automatically start a new recording, save that recording and start another recording. You can set the minimum and maximum recording time of 30 minutes and 2 hours respectively while in this mode. In Track-On mode, the recorder starts recording when it detects sound within 5 seconds.
You can also use this music recorder device as a music player by connecting it to a computer through a USB. The connection enables you to download the music directly to the voice recorder. L53's packing also contains a microphone, which you connect to the device's stereo microphone jack. The microphone records the sound in stereo. Last, but not least, it saves your files automatically when your battery is about to run flat.
The Best Portable Recorder for Musicians – Buyer's Guide
Having the best portable recorder can make your life easier no matter you are a TV reporter, musician, student, podcast creator, or a filmmaker.
If you have decided to buy the best portable recorder for musicians or for any purpose, don't forget to check the following features. Don't be fooled by the audio quality. The recorder should be easy to use and have high storage capacity. All these factors contribute to make an excellent digital voice recorder and ensure your satisfaction.
Recording Time
Portable music recording devices and audio recorders normally store data in a compact flash or a secure digital card. You must consider the audio format you need before making any decision because the storage capacity largely depends on the audio format. Therefore, choose the format that requires less storage if space is your priority. You may increase your recording time to more than 60 hours with this option.
Microphone Type
Best handled recorders come with built-in stereo microphones, which offer excellent voice quality. Most recorders also have a minijack and XLR ports, which provide enough power for a condenser mic. The digital recorder you choose should connect easily to a guitar, a keyboard on any other musical instrument.
Battery Life
Battery life is another important factor to consider when you decide to buy a professional portable recorder . You don't want your batteries to die on you in the middle of the recording. While voice recorders like Sony ICD-PX470 have batteries which can last for 55 hours, most recorders last for only 6 hours. It is actually a great idea to keep reliable and economical rechargeable batteries with you all the time to avoid any mishap.
File Transfer
Your digital voice recorder should have easy file transfer steps. In an ideal world, you should be able to plug the recorder to your computer using a common data cable or a USB port.
Concluding the article, I personally believe the Zoom H6 is the best portable recorder for musicians. But, I would also like to hear what is the best portable sound recorder according to you. So, do use our comment section to give vent to your voice and let us know what the best portable recorder out there is. 
Related Buyer's Guide: