Are you looking for the best 6.5 inch car speakers with outstanding bass and excellent sound quality? Cars speakers don't have to be insipid and lackluster.
In this article, we are going to present the 10 best 6.5 car speakers to choose from. These speakers have all the features to convert even the dull music into something extraordinary. Above all, they can save you from the agony of listening to music on factory car speakers.
The article will also provide the following information, making it easy for you to make a buying decision.
10 best 6.5 car speakers
Types of 6.5 inch car speakers
Benefits of 6.5 inch car speakers
How to choose 6.5" speakers for your car?
10 Best 6.5 Inch Car Speakers in 2020
The following are the best 6.5 inch speakers for cars according to our expert. We have chosen these speakers based on their sound quality. We have also considered crucial factors such as sensitivity, frequency range, peak power, RMS, and material while compiling the ultimate list. There is also a comparison table in the article for you to decide which one of these speakers is best for you.
Pyle PL63BL Three-Way Speakers: Our number one pick
Rockford Fosgate R165X3 3 Way: Top rated 6.5 car speakers in the price range
JBL Club 6520 2 Way Coaxial: Best budget 6.5 speakers
JVC CS-J620 2 Way Coaxial: Best sounding 6.5 speakers under $30
Pyle PLG6C 2Way Custom Component Speakers: Best component car speakers
Kicker DSC650 DS Series Coaxial: One of the best coaxial speakers for cars
Kenwood KFC-1653MRW 2 Way Marine: Best 6.5 inch marine speaker
Infinity Kappa 62IX Coaxial Speakers: Best 6.5 inch car speakers for bass
Focal KIT PS165FX 2 Way Component Kit: Best sounding 6.5 speakers
CT Sounds Audio 2 Way Component Speaker: Good overall quality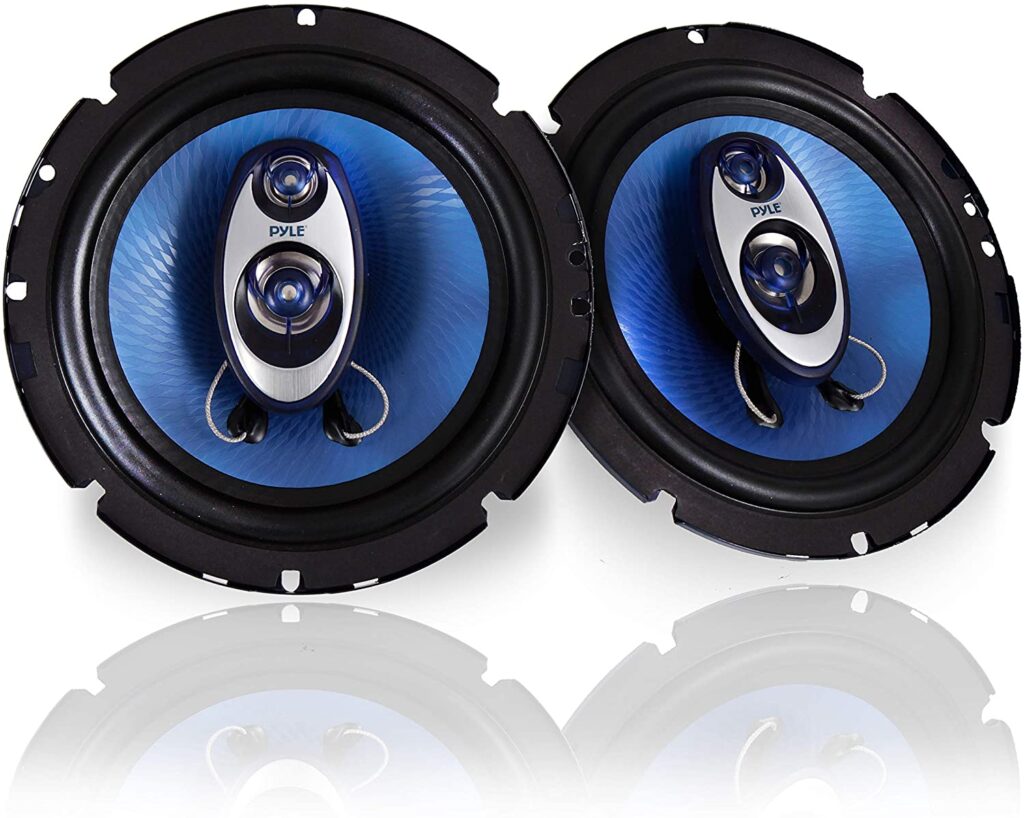 Features
PL63BL is from the Pyle's Blue Label series which is famous not only for brilliant sound but for its looks as well. The azure curves of the PL63BL are a feast for the eyes. The difference in sound between the factory-installed and PL63BL speakers is quite clear as well. Pyle PL63BL speaker makes the music reverberate with full power thanks to the blue poly injection cone in the woofer.
PL63BL are triaxial speakers with a peak power of 240 watts. Similarly, they have a maximum RMS power of 180 watts.
Perhaps the best feature of the speakers is the non-fatiguing Butyl Rubber Surround. This particular surround extends the life of speakers in addition to keeping them secure. The speakers also generate a very rich and powerful sound with low distortion owing to a 1" high-temperature ASV voice coil. Similarly, they also provide an open sound stage which is very impressive for a budget speaker.
PL63BL also has a frequency response between 95Hz to 20000 Hz as it has a balanced dome piezo twitter.
Our Verdict
Pyle PL63BL is one of the best 6.5 inch car speakers without any doubt. Don't be fooled by their price as they can give some of the more expensive 6.5 car speakers a run for their money.

Read more: 10 Best Rated Windshield Wipers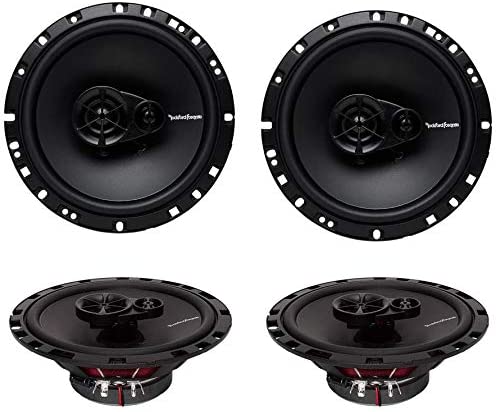 Features
Rockford Fosgate R165X3 comes with dynamic midranges in addition to vacuum polypropylene cones. Each cone also has a silk dome pole mounted piezo tweeters. The tweeters effectively handle the high-frequency range. They also ensure full-audio range thanks to an integrated speaker with a maximum sensitivity of 6 decibels.
The speakers have a peak power of 90 watts for each driver that are pretty powerful as well. The overall frequency response range is from 52 Hz to 20000 Hz. They have an RMS power handling of 45 watts as well as a meager impedance of 4 ohms.
Rockford Fosgate RI65X3 is a set of 4 speakers where each speaker handles the different frequency range. As a result, they produce a more natural sound compared to factory speakers.
6165X3 are also very beautiful speakers with attractive trim rings and grills. Weighing less than 10 pounds, they are also pretty easy to install.
Our Verdict
Rockford Fosgate R165X3 are the top rated 6.5 car speakers in this price range. They provide an excellent upgrade to factory speakers. They produce more natural sound without any muffling or distortion.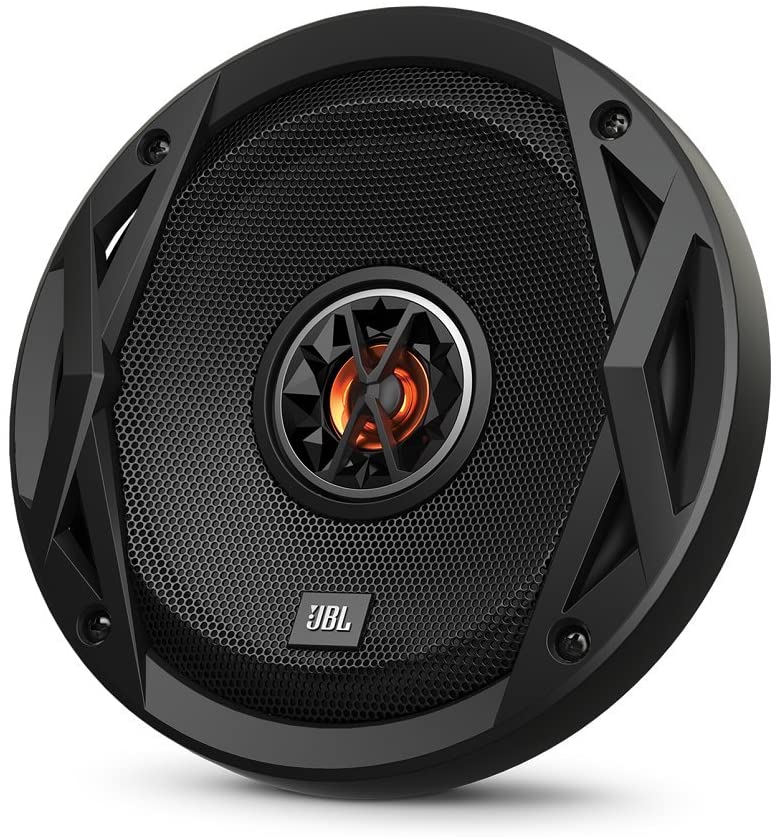 Features
JBL Club 6520 consists of One+ Woofer designed to minimize vehicle vibrations. Made of incredibly durable ultraviolet resistant polypropylene, they offer well-rounded high notes because of the PEI balanced dome tweeters. Similarly, they have a frequency response range of 55 to 20000 Hz.
With the peak power of only 150 watts, you cannot expect overwhelming power from JBL 6520 2 Way speakers. However, they are very beautiful speakers boosting JBL's signature red accent. They also have an attractive grill and are very easy to install as well. They can complement the interior of any vehicle quite easily. You can directly connect the speakers to your car audio as well.
Our Verdict
JBL Club 6520 is a very affordable 6.5 inch car speaker system. It offers reasonably good performance and looks amazing with any car or vehicle.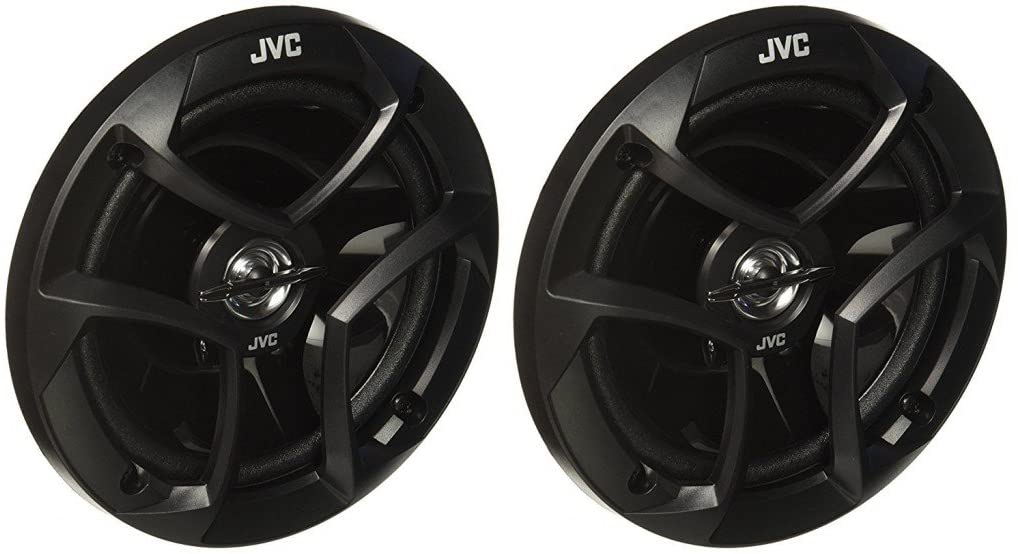 JVC CS-J620 2 Way Coaxial is the best 6.5 inch speakers for several reasons. Built into a steel stamped frame, they allow you to replace traditional OEM speakers without spending a lot of money. Rest assured, they will always exceed the performance of the factory-installed speakers.
Features
JVC CS-J6202 comes with Hybrid Surround and a Mica cone. They are a set of two speakers each of which has RMS power handling capacity of 30 watts. Therefore, you only need a modest amplifier to make the most of and get the best of this car sound system, unlike an OEM speaker.  
The speakers also feature a Neodymium Magnet-Tweeter and a Ferrite Magnet-Woofer. The dome tweeter successfully manages the highs which are impossible for a traditional speaker. They also have a peak frequency of 22000 Hz thanks to the Poly-Ether Imide material.
The Mica Cone as well as the Hybrid Cloth and Rubber surround enables the speakers to reach the minimum frequency range of 35 Hz, easily handling the low and mid-range as well. Moreover, the speakers produce a proper full range sound due to the combination of all these materials.
The installation of the speakers is also painless as it has a shallow 1-26/32 inch frame. You don't have to modify them to fit a particular vehicle because they have a pre-arranged hole pattern. However, JVC provides mounting tabs and screws for vehicles where you require a bit of modification.
Our Verdict
JVC CS-J620 2 Way Coaxial speakers instantly become a superb upgrade because of all the amazing features its offers. It is the best sounding 6.5 speakers under $30.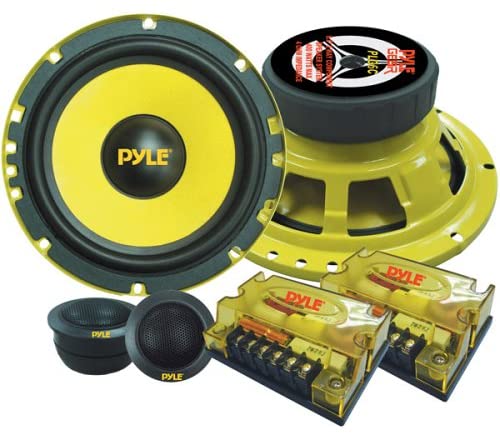 If you are looking for the best 6.5 inch component car speakers, you should opt for Pyle PLG6C 2Way speakers. Available in yellow, they are also the most elegant ca speakers you can currently buy. Belonging to Pyle's Gear series, these speakers provide unmatched sound to more frugal car owners.
Features
The component speaker kit comes with everything you expect from a quality car speaker. It includes 6.5-inch mid-bass speakers, a pair of passive crossover devices, and installation hardware. The speakers also incorporate a pair of 0.5-inch tweeters as well as supporting grills.
Pyle PLG6C is a perfect way to upgrade your factory car speakers without spending a lot of money. The dome tweeters have a frequency response of 1.3 Hz to 22000 Hz in addition to a maximum power of 100 watts. The speakers have a peak power of 400 watts and a frequency response of 50 Hz to 50000 Hz which is simply amazing at this price.
You can also get more accurate and richer sound by separating signals from tweeter speakers and the head unit using the passive crossover network. The non-fatiguing Butyl rubber surround and poly injection cone further enhance the sound. The electroplated steel basket and high-temperature aluminum coil are some other features of the PLG6C.
Our Verdict
With 5 kHz of sound clarity and maximum output power of 400 watts, they can put higher-end car speakers to the shame in terms of sound performance. They are also the best 6.5 inch car speakers because of the multiple mounting options.

Read more: The Best Backup Camera With Night Vision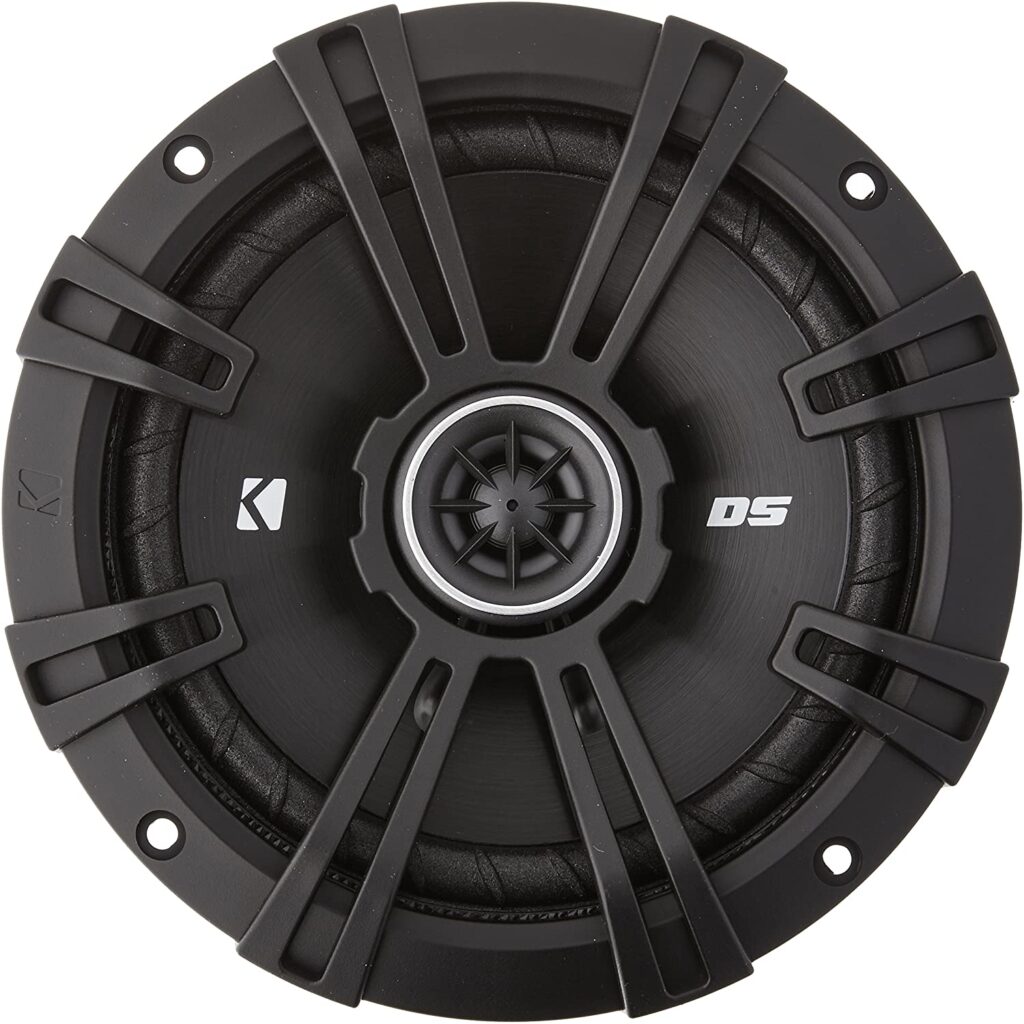 Kicker DSC650 is a giving a touch competition to 6.5 inch car speakers from some of the top brands. It is one of the best 6.5 coaxial speakers in the market at the moment.
Features
Kicker DSC650 is a set of two speakers each of which has a frequency response range of 40 Hz to 20000 Hz. with 89 decibels of sensitivity, they can set your car alight by producing tremendous sound without breaking the bank.  Besides, the RMS power handling capacity of 60 watts is not bad either. The speakers provide you with all the power and frequency range you want.
Kicker DSC650 ensures maximum sound stability and deep bass as they feature polypropylene woofer cones. As you may expect, each woofer has ribbed polyester foam surround as well. The vocal and music details are also as clear as a day sky thanks to ½" PEI balanced dome tweeter. As a result, the overall sound is well-balanced, sharp, and crisp.
You can connect the speaker to a factory radio or an aftermarket stereo. However, it is best to pair them with an external speaker for maximum performance.
Our Verdict
Kicker DSC650 DS Series Coaxial is a worthy replacement to your old and weary factory stereo system. They offer reasonable highs and excellent mid-range. Pairing them with a subwoofer will also considerably improve the lows as well.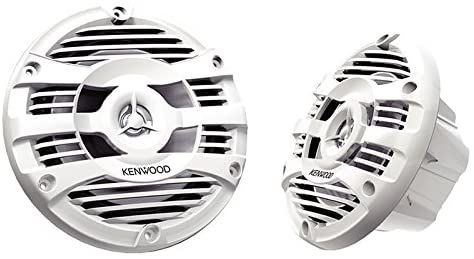 You probably know Kenwood for making refrigerators and air conditioners. However, the company also makes high-quality audio equipment including 6.5-inch car and marine speakers. KFC is perhaps their most popular speaker series and 1653MRW 2 Way Marine speakers are jewel on the crown.
Features
KFC-1653MRW are primarily marine speakers but you can use them in your car too. They have a frequency response range of 60 Hz to 20000 Hz which is outstanding. The woofer with the water-resistant PP cone which ensures excellent and richer sound quality. The speakers also come with 1" Balanced Dome Tweeters. The impedance is 4 ohms just like every other good car speaker.
KFC-1653MRW 6.5 inch car speakers instantly make a difference no matter you install them in your car, truck, or boat, etc. The sound quality is exceptional even at high volumes. They are, in fact, the loudest 6.5 speakers for the price. The speakers are, in fact, pretty loud even if you use them in the open. They also have nice lows and a very good range overall.
The construction of the speakers is also very nice.
Our Verdict
Kenwood KFC-1653MRW is a great option to improve your boat's sound system without breaking your bank. However, they become a terrific upgrade for your car speakers as well.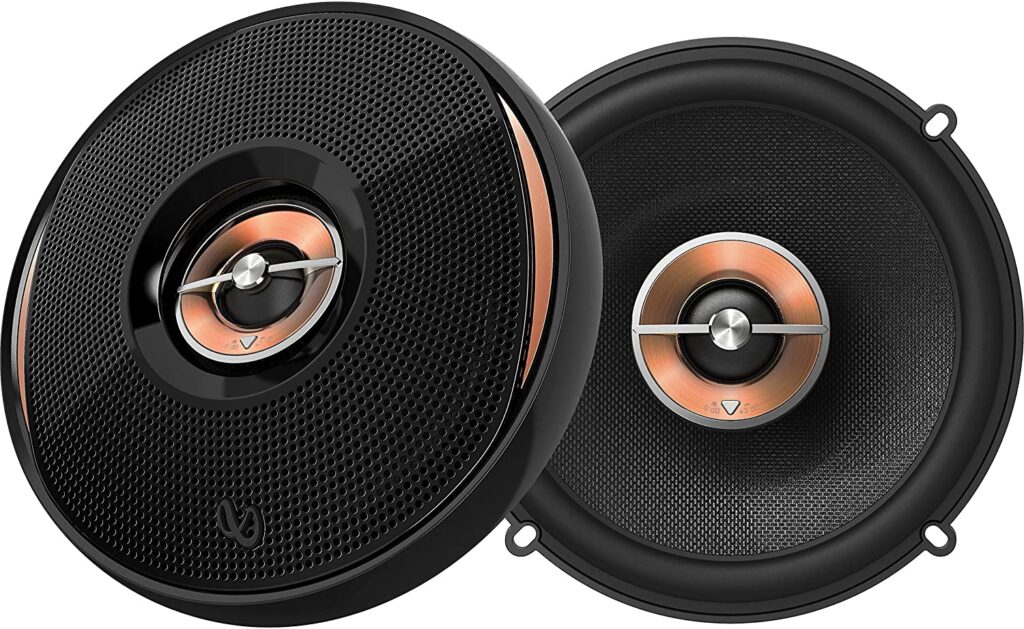 Kappa 62IX is arguably one of the best 6.5 speakers for car from Infinity. Thousands of people are already using them and are all praise for their amazing sound quality. They are very popular car speakers despite their high price and the following lines explain why.
Features
To begin with, Kappa 62IX has a sensitivity of 96 decibels, which is the highest of all the speakers on our list. On top of that, they can maintain 75 watts of power regularly without any signs of performance decline.
Kappa 62IX is an excellent option for stereo systems with low power because of their high sensitivity. However, they can perfectly complement a high powered sound system because of their ability to handle very high power in short bursts.
The speakers come with glass fiber woofers each of which features a hi-roll rubber surround. The woofers deliver exceptional performance even at high volumes while holding their shapes. You also don't need a lot of power to run the woofers because of the lightweight fiberglass material they are made.
Kappa 62IX is relatively bigger than most car speakers. The cone extends to the edge of the basket as the speakers employ the Infinity One+ woofer technology. As a result, the speakers have a bigger cone and greater surface area both of which means more bass. Therefore, these are also the best 6.5 inch car speakers for bass.
The speakers also feature 1" edge-driven soft dome tweeters. The tweeters also ensure very smooth midrange frequencies which is not the case with most regular tweeters. They also handle more power, delivering a clearly defined soundstage as well.
Our Verdict
Kappa 62IX offers exceptional sound quality for lows, mids, and highs. You feel like you are attending a concert rather than sitting in your car while the speakers are in operation.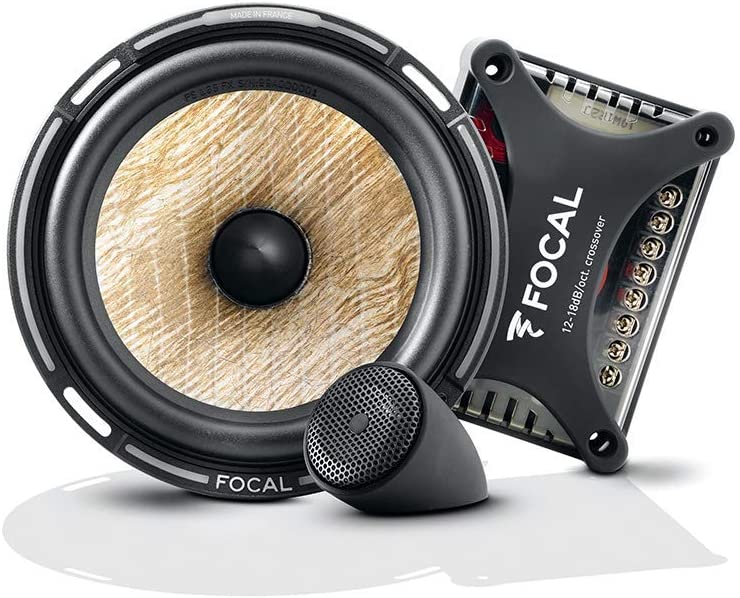 Focal KIT PS165FX 2 Way Component could easily have been the best 6.5 inch car speakers on our list if not for the price. They are high-end speakers costing more than $450 but they are worth every penny.
Features
Focal Kit PS165FX speakers provide you with more dynamic and natural sound by employing new technology. The speakers feature a lightweight cone placed and woven between ultra-thin glass membranes. A reliable butyl surround surrounds the cone. The cone provides unsurpassable strength and excellent resistance against distortion and unwanted resonance thanks primarily to the flax design.
Focal PS165FX also eliminates all kinds of frequency depression issues as it comes with a specially designed phase plug. They also produce brilliant natural audio in all conditions made possible by the combination of patented inverted magnesium alloy and innovative woofers. The inverted tweeters deliver crisp and rich audio because they disperse high frequencies across a wide area. The tweeters are also very durable as they are equipped with poron suspensions.
Focal PS165FX also includes bi-ampable crossovers to adjust the output of the speakers. You can customize the sound output of both tweeters and woofers to your liking using different amps. The crossover controls include midrange controls and 2-position tweeter level.
Our Verdict
Focal Kit PS165FX 2 Way Component speakers are the best 6.5 speakers for clarity albeit expensive. They are durable and feature innovative technology. They are the perfect choice if you want a crystal clear voice whenever you want with no distortion and depression.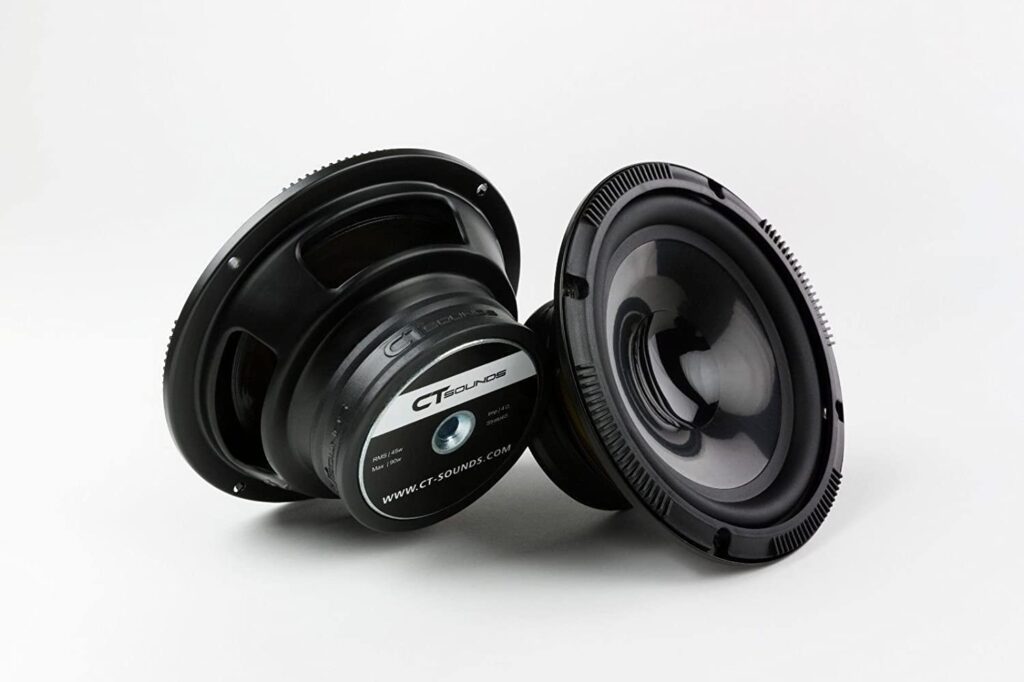 CT Sounds is another company that manufactures some nice 6.5 inch car speakers. The CT Sound Audio 2 Way Component Speakers have quickly made a name for themselves for offering a set of amazing sound features to the car owners.
Features
CT Sounds Audio Speakers are full-range speakers with 300W of peak power. They come with 1" voice coil and rubbery butyl surround tweeter, considerably improving the sound quality of your car stereo system. They also keep the distortion to the minimum in addition to delivering smoother and broader higher frequency response. The overall frequency response range is 90 Hz to 20000 Hz.
Our Verdict
CT Sounds Audio 2 Way is the best 6.5 inch component car speakers by a fair distance. They offer richer, more accurate sound at a full range of frequencies which is rare even for high-end car speakers.

Types of 6.5 Inch Car Speakers
6.5 inch speakers are available in two types that are Coaxial or Full-Range speakers and Component speakers.
Component Speakers
Component speakers are a complete sound system and heart and soul of your car stereo system. Such speakers include everything from mid-range speakers to tweeters, super-tweeters, and subwoofers. A component speaker will only offer ultra-low and ultra-high frequency ranges. They have nothing to do with mid-range frequencies.
Coaxial or Full-Range Speakers
Full-range speakers, as the name suggests, deliver ultra-low, mid-range, and ultra-high frequencies. They are more complex than component speakers. The speaker itself handles high frequencies in a full-range speaker. On the other hand, a subwoofer usually deals with low and mid-range frequencies. They also have a built-in tweeter to control unwanted resonance. Full-range speakers do not require any additional hardware to deliver excellent sound quality with crystal clear sound. Therefore, they are a better option than component speakers.
Benefits of 6.5" Speakers
Best 6.5 inch car speakers offer a lot of benefits compared to traditional factory speakers.
Compact Design
6.5 inches is the ideal size for a speaker. These speakers fit easily to any vehicle irrespective of its make or type. Furthermore, 6.5 inch speakers are circular, making them a perfect choice for classic vehicles and truck doors.
Realistic Sound
6.5" speakers are the best car speakers for sound quality. They have all the features, functions, and capabilities to complement the infotainment centers that are part and parcel of each modern car. People nowadays love to play music or watch movies while traveling. You can make a lot of difference to the sound quality and clarity by installing good 6.5 inches three-way speakers in your car.
Affordability
You will most probably pay less for a 6.5 inch speaker set than 6.9 inch speakers. Most of the speakers on our list are available for less than $100 whereas some of them are priced under $50. 6.5" speakers give you a more affordable option to boost your car sound system.
How to Choose 6.5" Speakers for Your Car?
You need to take several factors int consideration while choosing the best 6.5" speakers for car. Some of these factors or criteria are as follows.
Frequency Range
Every speaker emits sound between a certain range of frequencies, from low to high. The unit of frequency is Hertz, commonly referred to as Hz. Most 6.5" speakers have a frequency range of 20 Hz to 20000 Hz while some have greater and smaller frequency range as well. The greater the frequency range, the better for your car stereo system.
Sensitivity
The measure of how much sound a speaker can emit for the given power is called speaker sensitivity. Speakers with high sensitivity can generate more sound even with low power. You should look for speakers with a high sensitivity rating, especially if they are low powered. Always go for a low sensitivity rating for speakers with high power. Speakers with low sensitivity can easily handle high power and vice versa.
Power Handling
It is also important to learn what the maximum power a speaker can operate at is. Measured either in Peak Power or RMS, power handling measurement is given by the manufacturer to the speaker. Peak or maximum rating is how much power a speaker can handle during short periods of use. The RMS rating is how much power a speaker can handle while in continuous use.
Woofers
The overall sound quality and responsiveness of a speaker largely depends on its woofer. Best 6.5 inch car speakers come with woofers made of lightweight and stiffer material, making them more effective. The most common material for making woofer cones is polypropylene. High-quality speakers also incorporate woofers made of woven fabrics such as Kevlar. Many higher-end speakers have woofers made of titanium and aluminum.
Woofer Surrounding
Woofer surrounding is also a crucial part of any sound system. A surround made of free-moving, lightweight, and durable material enables the woofer to move easily without consuming much energy. A high-quality surround material also ensures durability as it prevents the woofer from developing cracks and breaks from wear and tear and humidity level as it gets old. The highest-performing and long-lasting woofer material is butyl rubber. Less expensive car speakers also feature cloth surroundings as well. However, they have a shorter life span and lower performance levels.
Crossovers
A crossover is an indispensable part of any 6.5 car speaker, especially the component speakers. You can considerably reduce the level of distortion by using external crossovers. Crossovers accomplish this important task by separating frequency inputs. A good crossover system is essential for minimizing distortion which every speaker has.
Final Thoughts
The best 6.5 inch car speakers are a wonderful way to improve your car stereo system. Read our 6.5 speaker reviews to find the sound system which meets your requirement and budget. We are sure you will be enjoying the most dazzling automotive audio experience ever in a few hours.