In this article, you are going to find out about the best affordable camera for landscape photography.
This guide will contain the following information as well:
Types of outdoor photography
Factors contributing to good landscape photography
Camera features required for outdoor photography
Types of cameras used in nature and wildlife photography
Recommendations for capturing the best landscape photographs
So, if you are a nature enthusiast and want to capture the beauty of the outside world in your camera, you have clicked on the best post.
Let's begin this guide to find out the best outdoor photography cameras!
What is Outdoor Photography?
Outdoor Photography means the pictures were taken outside in nature, wildlife or any other space that is not indoors. Landscape photography is an important part of outdoor photographs. Almost all camera companies and photographers try their best to excel in this category.
There are various factors that contribute to outdoor photography such as light, weather, terrain, local people and culture. A person who is into this profession has to consider all these factors to take the best landscape photographs. In this article, we will explore the best cameras for nature and wildlife photography including the DSLRs, film cameras, smartphones and compare them in terms of prices and results.
Camera Features Needed for Good Landscape Photography
All landscape cameras should have certain features for you to get the best results and beautiful photographs. The following list contains the essential ones:
1. Resolution
This is the most important feature needed to take high-quality landscape pictures. The camera in use must have a large megapixel (MP) count so that it can capture the tiniest of details in outdoor scenes. The pictures in landscape mode have to include all the details in clarity. If you have a low-resolution camera, this would not be possible. Therefore, when you decide to find the best camera for outdoor photography, the resolution must be the first thing to look out for.
2. Low Light Performance
There are numerous times we want to capture the falling sun, stars in the sky or night view of the buildings. In such conditions, it is critical for the camera to perform well in the low light. Modern cameras come with night modes which allow better low light photos. Still, the quality of such pictures depends on the model of camera in use. If you are on the lookout for the best nature camera, make sure to investigate its low light performance in detail.
3. ISO Range
ISO is a measure of the camera sensor's sensitivity. The choice of ISO settings depends on the conditions as it controls the noise/grain in images linked to the sharpness. Normally, you would use 100 ISO in most of the conditions. A higher ISO comes handy while capturing moving objects or in low light scenarios. The changes in ISO alter the shutter speed and lens operations. Most modern cameras have auto mode which adjust the ISO settings according to the scene.
Types of Cameras Used In Landscape Photography
People have been capturing the beauty of nature since the invention of the camera. Cameras have since improved a lot but the love to capture nature remains the same. Before the invention of digital cameras, people used film cameras to take photos which were then processed in albums and kept as memories forever.
Things have changed with the development of digital cameras and DSLRs which are now widely used for professional photography. Over the past decade, smartphone cameras have improved dramatically and have mostly replaced the need for a separate digital camera for a normal user. This is due to the advancements in camera lenses, size reduction, image processing capacity and other technologies. As a result, you can take excellent images only using your smartphone. Still, the professional photographers prefer high-quality DSLRs since their lenses, focal range and resolution is better than smartphone cameras.
10 Best Cameras for Landscape Photography
Now that we have discussed the necessary features of outdoor photography cameras, let us find out the best affordable camera for landscape photography.
Image
Product Name
Details
Check Price

Canon Power Shot SX710 HS

Features:
30x Optical Zoom (25–750mm)
20.3 Megapixel High-Sensitivity
CMOS sensor
DIGIC 6 Image Processor
1080p Full HD video
(60p/30p/24p options)



Check Price

Nikon D5600 DSLR

Features:
24.2MP DX Format CMOS
Sensor
EXPEED 4 Image Processor
3.2 inches 1.037m Dot
Vari Angle Touchscreen
Full HD 1080p Video Recording
at 60 fps
SnapBridge Bluetooth and
Wi Fi with NFC
18 55millimeter vr lens



Check Price

Fujifilm X100F

Features:
24.3MP X Trans CMOS III
APS C sensor
8 way focus lever
Built in Iso dial
AF mode(single / Zone /
wide tracking)
New np w126s lithium battery



Check Price

Sony Alpha a6000

Features:
24 MP APS-C CMOS sensor
179-point focal plane phase-detection
25 contrast detect points
Built-in Wi-Fi and NFC
Up to 11 FPS continuous shooting
OLED electronic viewfinder



Check Price

AbergBest 21 Mega Pixels

Features:
2.7" Tft LCD display
21 Mega pixels resolution
Anti-snake, face detect,
and smile capture



Check Price

Canon EOS Rebel T7i

Features:
242 Megapixel CMOS
(APS C) sensor
Built in Wi Fi, NFC
and Bluetooth Lens
High Speed continuous shooting
at up to 60 fps
Metering Range: EV 1 20



Check Price

Fujifilm X-E3 Mirrorless

Features:
24.3MP APS-C X-Trans
CMOS III sensor
High-performance x processor
New touch function controls
Extended ISO 51200
Shooting to 14 fps



Check Price

Sony a7R III Mirror less Camera

Features:
Shoot high speed subjects
at up to 10fps
Continuous, accurate AF/AE
tracking
A back illuminated Exmor R
CMOS sensor
An updated BIONZ X processing
engine
Clear 4K Video



Check Price

Kodak PIXPRO FZ53-BK

Features:
28mm wide angle
5x optical zoom
2.7" Lcd screen
16 megapixels
720P HD video



Check Price

Campark Trail Camera-Waterproof

Features:
14MP Clearer Image
1080P Sharper Video Resolution
Faster 0.3s Trigger Speed
120° Wide Angle Lens
Waterproof Sturdy Device



Check Price
This is a high-resolution digital camera by Canon, one of the best camera manufacturers in the world. It has a 20.3 megapixel resolution and up to 30x optical zoom. The highlight of this camera is that it has built-in Wi-Fi capability. Therefore, you can easily share images wirelessly to a computer and other devices. Apart from this, it has NFC feature as well which allows seamless transfer of images just by putting the two devices close to each other.
The Canon App makes connectivity very easy because you can transfer and share images on social websites in one go. With the 30x zoom, this device is one of the best canon cameras for landscape photography. You can record videos in full High Definition (HD) 1080p and the 3 inch screen is ideal for viewing them on the device at the spot. It comes with the DIGIC 6 image processor which improves low light images and captures moving items with greater clarity and precision. So, if you are a wildlife photographer, this camera will suit you as you can capture the moving animals easily. Priced at $200, the camera is relatively affordable as well.
Figure 1: Canon SX 710| Source: Amazon
This is a Digital Single Lens Reflex (DSLR) camera by Nikon with a 24.2 megapixel resolution and 18-55 mm focal length. You can purchase an extra lens according to your requirements as well. This is an entry-level DSLR but it is very popular among beginners. It is among good affordable cameras for landscape photography for many reasons.
The camera comes with a flip able 3.2 inch touch screen so that you can view and control settings easily while focusing on the subject in the image. It can record 1080p HD videos at 60 frames per second. The connectivity with smart phones is made easy with the Snap Bridge application. This camera is ideal for capturing outdoor images, especially in the night due to its Night Landscape mode. This particular mode improves the performance in low light by adjusting the IDO settings up to 6400. You can purchase this device at around $700 which places it in the range of mid-level DSLRs.  
Figure 2: Nikon D5600| Source: Amazon
The Fujifilm X100F is a digital camera that carries the old retro style of film cameras but has all the modern features inside. It has a 24.3 MP resolution camera with an updated CMOS 3 sensor that has a unique colour filter array. This eliminated the need for a low pass filter as used in most other digital cameras. The image processor is known as X- Processor used in Fujifilm's X-series devices. It has extremely fast processing and excellent focus capabilities.
Its handy design makes it one of the best compact cameras for landscape photography. The highlight of this camera is the lever which allows the user to focus on the object by moving it in 8 different directions. The camera also has a hybrid mode, simulation mode, parallax error correction, phase detection, ISO dial selection, and many similar features that offer great options for landscape photographers. However, it is a premium device with a $1000 price tag. The look of this device is best for those who like old school devices that are subtle in design but heavy in features.
Figure 3 Fujifilm X100F| Source: Amazon
The Sony Alpha a6000 is a mirrorless digital camera having a 24.3 MP resolution. It comes with a CMOS sensor that has an ISO range of 100 to 25600 and a lens size of 16- 50mm. There is a 3 inch display which can be moved and tilted to view the photos easily.  This camera has one of the world's fastest auto focus and thus, it can has the ability to capture 11 photos per second.  The auto focus uses a 179 point detection system to produce the best image possible. Sony's BIONZ X system is best known for its realistic images and crisp details. 
The Exmor CMOS sensor and diverse ISO range make this device one of the best cameras for landscape photography. It has all the functions of a regular DSLR in its compact size. You can shoot 1080p videos at 60 frames per second. Being a mirror less camera, it has an electronic viewfinder which sends the images and videos taken from the sensor in the form of live feed.  Moreover, Sony a6000 has built-in Wi-Fi and applications which allow the user to transfer and share the pictures to social media on the spot. The camera costs just shy of $450 placing it below the normal price range for most DSLRs.
Figure 4: Sony Alpha a6000| Source: Amazon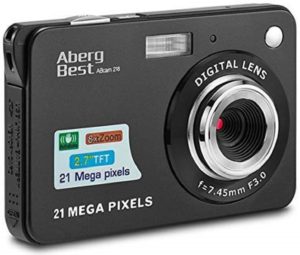 This digital camera is a simple and inexpensive device with a 21 MP resolution. Equipped with only 7.5 mm of the lens, it is a small device that it easy to carry around. It is an ideal device for students and travellers who wish to explore the intricacies of nature and capture the most out of every moment. There is a 2.7 inch LCD display and various other features like scene detection, 8x digital zoom, auto- stabilization and SD card support. It is powered by a 550mAh battery which gives it a life of one hour per charge. Costing only $40, this is certainly one of the best affordable cameras for landscape photography.
Figure 5: AbergBest Digital Camera| Source: Amazon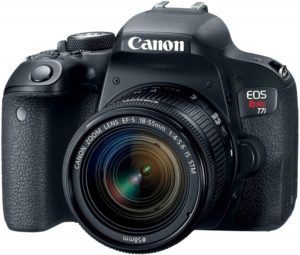 The Canon EOS DSLR is 24.2 megapixel camera which comes with 18-55 mm focal length lens and a CMOS sensor. It is a standard DSLR in terms of its shape and size and packs all the necessary features of a good outdoor photography camera. With 45 point auto focus and an ISO range of 100 to 25600, it can produce outstanding images in all types of conditions.
The 3 inch touch panel can be flipped and rotated to view the images from all angles. You can capture up to 6 photos per second with the quick shutter speed. Similarly, it is capable of recording videos at 1080p with 60 frames per second. The DSLR is fully packed in terms of connectivity options with Wi-Fi, NFC and Bluetooth all available to make sure you have no problem in sending and sharing photos to other devices. Available at $800, this is not a cheap device by any means and suits professional photographers only. 
Figure 6: Canon EOD DSLR| Source: Amazon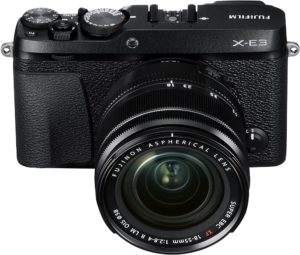 Fujifilm X-E3 is a mirror less digital camera which is conventional in design but packs a lot of features. It boasts a 24.3 MP resolution with CMOS 3 sensor like the one used in Fujifilm X100F. This means it does not require a traditional low pass filter for image processing. Instead, it uses colour filter array that produces excellent images and improves the shutter response as well. The X series processor is very advanced in terms of processing speed so if you want to capture the moving wildlife in detail, this is the best nature camera for it.
The device comes with a lever that you can use to manually focus on your subject in the picture.  The display screen has a touch interface which makes it easy for the user to select different options. The software used for auto focus and various modes is very advanced which makes this a good choice for outdoor photography cameras. Videos can be recorded at 4K resolution. Priced at $1000, this camera is a premium device but its brilliant features make it worth the price.
Figure 7: Fujifilm XE-3 Mirror less Camera| Source: Amazon
Sony a7R III camera is a 42.4 MP mirrorless device. It has a double autofocus feature, allowing you to take up to 10 pictures per second. You have the option to shoot in silent mode which is critical to capture the movements of wildlife. The high-resolution sensor combined with the advanced BIONZ X image processor to offer seamless photo and video recording experience. You can record 4K videos and view them on the movable display screen.
There is a choice of 54 lenses which you can purchase with this product depending on your requirements. All in all, this is one of the best cameras for nature and wildlife photography. However, this camera costs around $2500 which makes this one of the most expensive ones on the market as well.
Figure 8: Sony a7R III mirrorless camera| Source: Amazon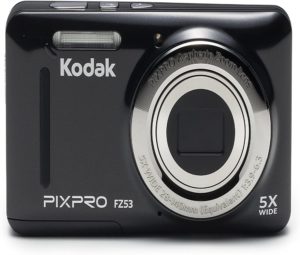 The Kodak PIXPRO is an entry-level digital camera with 16 MP resolution. It comes with a 28 mm wide lens and 5 times optical zoom feature.  The camera has a compact, rectangular design which makes this a handy device. You can find a 2.7 inch LCD display at the back. Videos can be recorded at 720p maximum so there is no full HD support. Priced at $70, it is a simple digital camera suited for normal use. Its affordability makes it a good choice for nature enthusiasts who are beginners in the field of landscape photography.
Figure 9: Kodak PIXPRO| Source: Amazon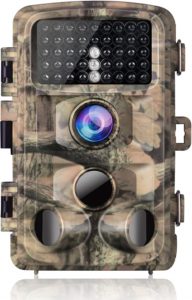 The Campark T45 trail camera is a rugged, waterproof device that has a 14-megapixel resolution. On the other hand, it features 3 infrared sensors that can detect motion from 120 degrees. The sensors also aid in night vision photography which is ideal to capture nature and wildlife at night. You can record videos at 1080p resolution, which is pretty decent.
The camera comes with a rectangular design. You can easily mount it on walls, tripods, or any other surface thanks to hooks at the sides. There is SD card support up to 32 GB.  Costing only $60, Campark T45 is certainly one of the best affordable cameras for wildlife and landscape photography. Its applications are not only limited to nature photography but it can be used as a security camera as well.
Figure 10: Campark Trail Camera| Source: Amazon
Can You Use Smart Phones for Landscape Photography?
Over the past decade, the smartphone has evolved from a single camera to 3-4 cameras on a device, significantly improving its functionality. Starting from one camera that was hardly a few megapixels in resolution, the mobile phone industry moved to cameras with were up to 40 megapixels resolution. However, the downside was that a single camera lens could not perform all the operations such as telephoto, depth effect, macro mode, etc. This particular problem led to the development of more than one camera on smartphones.
Most smartphone cameras have between 12-16 megapixels of resolution. However, the use of different sensors allows the users to capture the pictures in various effects. Combined with the improving technology in image processing and the role of artificial intelligence, smartphone cameras have now become one of the best cameras for nature photography.
Most conventional cameras lack the applications and feature smartphone cameras have to take, view and edit a photograph. It is, however, noteworthy to consider that premium smartphones like iPhone and Samsung Galaxy S series are above $1000 which is on par with the good digital cameras for landscape photography. However, you get loads of other features on a smartphone at that price point which is not present in traditional cameras.
Most mid-range phones nowadays come with at least 2 cameras with no less than 12 MP resolution. Almost all smartphones also have a separate selfie camera in front which offers brilliant results. Therefore, if we spend the same price on digital cameras, we only get the option to shoot photos and sometimes share them remotely if the camera has Wi-Fi. However, DSLRs and other traditional 'cameras' offer better resolution, shutter speed, autofocus, and night mode, etc, which you don't find in smartphone cameras.
Important things to consider in landscape photography 
Now that we have seen the 10 best cameras for landscape photography, let us summarise the important points to consider when you buy cameras for outdoor photography.
1.    Camera Type
Overall, we will divide cameras into four different categories..
·        Simple Digital Cameras
These are the traditional cameras developed after the film cameras. The AbergBest 21 and Kodak PIXPRO are 2 of these devices explored in this article. The main advantage of these cameras is their simplicity and affordability. They are usually available under $100 and come with basic features like autofocus, mode selection, display screen and reasonable processors. Therefore, they are ideal for beginners such as students who are fond of nature but have a limited budget to spend.
·        DSLRs
Digital Single Lens Reflex Cameras (DSLRs) are popular mostly among professionals. They have the advantage of a removable lens and use a mirror inside the camera to reflect the light onto the sensor. The variable focal range in their lenses and better flashlight enables them to capture crystal clear pictures in all conditions.  However, they are usually heavy devices and so they can be difficult to carry around.
·        Mirrorless Cameras
As the name suggests, mirrorless cameras do not have a conventional mirror inside them.  They use an electronic viewfinder to create a real-time feed for the camera sensor when capturing an image. This makes them light in weight and compact in size. Therefore, they are a good choice for nature and wildlife photography. The disadvantage is that their battery life is less than DSLRs.
·        Smart Phone Cameras
Smartphone cameras are the new trend in both indoor and outdoor photography. The small size of these devices combined with the fact that everybody uses them on a daily basis makes them a good choice for nature and outdoor photography. They have the benefit of having excellent software technologies embedded in them and the wide range of applications to choose from.  However, the lenses are not changeable and quality is still not on the level of high-end DSLRs and mirrorless digital cameras.
2.    Resolution
In order to capture the details in landscape photographs, high resolution is critical. Mostly, 24 MP resolutions is enough for various scenes in nature. However, there are cameras with higher resolution such as the Sony a7R III which has a 42 MP sensor. Overall, the megapixel count is recommended to be 20 and above to get good outdoor photos.
3.    Lens
There are lots of lenses to choose from when you are out capturing nature. Mostly, the wide-angle lens is preferred if you wish to take photos of large landscapes. Therefore, outdoor photographers mostly use the lens of lower focal length. However, it depends on the requirements so different photographers use different types of lenses.
4.    Auto Focus/Shutter Speed
When you are capturing the tiny details of nature and wildlife, you must have a camera with excellent autofocus. Moreover, the shutter speed must be high if you are taking pictures of wildlife because they can move rapidly. There are cameras with 11 frames per second shutter speed which means you can capture 11 pictures in 1 second. However, 5 frames per second suit most outdoor photographers as it is more than enough to capture moving wildlife.
Frequently Asked Questions
1. What's a good camera for photography?
There is a diverse range of good cameras for photography.  If you are looking for a DSLR, then Nikon D5600 and Canon EOS are good choices. For high-end mirrorless cameras, the Fujifilm X-E3 and Sony a7R are great devices. Other than that, there are lots of digital cameras like Kodak PIXPRO and AbergBest 21 which are suitable for day to day photography. However, in most modern smartphones, cameras are really good for photography so you do not need to purchase extra cameras at all if you have a good smartphone.
2. What is the best film camera for landscape photography?
There are many people who still prefer film cameras. Most old school people like to preserve pictures and related memories in albums. They opine that it is a better way to store memories rather than digital format.  In this regard, the 5 best film cameras are as below.
3. Is Canon or Nikon better for landscape photography?
Both brands make really good cameras. While the Nikon D850 is one of the most popular outdoor photography camera, the Canon EOD 5DS is a product of the same league and many users prefer it.  It is totally the brand perception in people which makes them choose Nikon or Canon.  
4. How many megapixels do I need for landscape photography?
Many people think that the higher the megapixel count, the better is the result. The lens quality, range, auto focus, shutter response, and ISO range are some other factors to consider for a good photograph. Generally, the megapixel count of 20 or above is enough for taking excellent landscape photographs. As such, most modern cameras come with more than 20 MP resolution.
Conclusion
In this article, we have looked at the 10 best affordable cameras for landscape photography. The importance of outdoor, nature photography has always been very high to professionals as well as amateurs. Everybody likes the beauty in nature and if we can preserve and share it in our cameras, it remains with us forever.
The main thing to consider in the case of landscape photography is choosing the right camera type. We would recommend DSLRs and mirrorless cameras to professionals only because they are costly. Similarly, you also need extra equipment to use them properly. They are also sensitive devices and therefore, only professionals have the required skills to handle them.
Simple digital cameras are a reasonable choice for novice landscape photographer. However, the introduction of high end cameras in smartphones has their charm considerably. Therefore, a person who likes nature photography and does not have the budget to spend on an expensive DSLR, we would recommend purchasing a mid-range smart phone.