The best wireless speakers under 100 dollars have garnered massive popularity of late. They offer an unbeatable combination of portability, affordability, and brilliant sound quality. Besides, they have become a preferred choice of people who want to enjoy music on the go because of their compact wireless designs.
The increasing demand has also resulted in the availability of a huge swath of wireless speakers in the market. The latest Bluetooth speakers also feature built-in voice assistants in the likes of Google Assistant and Alexa. You can, in fact, also use some of the wireless speakers as smart speakers. Therefore, wireless speakers tend to be very expensive nowadays, making it difficult to find a cheap but quality speaker. However, you need not worry because we have done all the research and come up with the best wireless Bluetooth speakers under $100 for you. You can also read our ultimate buying guide for 10 Best Bluetooth Speakers Under 200.
The guide also contains the following section, allowing you to directly jump to the information you are looking for.
Can you find good wireless speakers under $100?
10 best portable Bluetooth speakers under $100
How to choose the best wireless speaker under 100?
Frequently asked question
Can You Find Good Wireless Speakers under $100?
No one could imagine buying a wireless speaker with blasting sound quality for the price of a headphone just five years ago. However, things have changed dramatically since then and the audio quality of Bluetooth speakers has improved substantially. You still need to splash a lot of cash if you want to have a blistering sound experience. But, modern sub-100 dollars portable speakers can easily match the audio delivered by more expensive high-end headphones.
One of the best traits of the wireless headphones, apart from solid sound, is sturdy, portable, and outdoor-friendly construction. Many of the speakers in this price range are very tough with water-resistant certifications. You can take them with you to hikes, swimming, kayaking, camping, and other outdoor activities. They will successfully withstand all the abuse and weather elements you put them through. Similarly, their portable design also allows you to easily shove them in your backpack, side pocket, or travel bag and carry them anywhere you want.
Sound quality and portability are not the only two things to look out for. Cheap wireless Bluetooth speakers have much more to offer such as bigger bass than ever before, mono audio, stereo streaming, excellent battery life, and easy charging options.
We strongly recommend giving these speakers a try if you don't want to spend a fortune on expensive headphones or wireless speakers.
10 best portable Bluetooth speakers under $100
Our experts believe the following are the 10 best Bluetooth speakers under 100 dollars.
JBL Flip 4 Portable Bluetooth Speaker: The best wireless speaker under 100
Ultimate Ears WONDERBOOM 2 Waterproof: Best wireless speaker in its price range
Bose SoundLink Micro Portable Outdoor Speaker: Bluetooth speaker for classic sound
OontZ Angle 3 (3rd Generation): Unrivaled stereo sound at low price
XLEADER SoundAngle Louder Bluetooth Speaker: Best value for money
JBL Clip 3 Waterproof Portable Bluetooth speaker: Beautiful speaker with rich bass
JBL GO2 Ultra Portable Bluetooth Speaker: Lively and cohesive sound for money
AmazonBasics Portable Wireless Speaker: Ideal speaker for streaming news and podcasts
JBL Charge 3 Waterproof Portable Speaker: Among top bluetooth speakers under 100
Anker Soundcore Motion+Bluetooth Speaker: Loudest Bluetooth speaker under 100

JBL Flip is one of the most successful series of Bluetooth speakers ever. It includes some very popular wireless speakers but none is as popular as JBL Flip 4. It is an extremely powerful speaker with an earsplitting stereo sound. You can also connect the JBL Flip 4 to two smartphones or tablets at once and take turns enjoying excellent sound.
JBL Flip 4 has an IPX7 waterproof rating as well. It can work flawlessly even underwater. Similarly, you can use the speaker without any worries come the rain or spills. It also has party mode in which you can connect it to 100 JBL Connect+ enabled devices.
JBL Flip 4 features the most powerful dual external passive radiators. Therefore, it also has the best and strongest bass in the speaker kingdom. It is also a great speaker for conference calls thanks to the built-in echo and noise-canceling speakerphone. The speaker also enables you to activate Google Now with a simple button press.
JBL Flip 4 has an impressive playtime of 12 hours as well. It is an all-weather and all-purpose wireless speaker that helps enjoy music and amplify the party no matter wherever you are.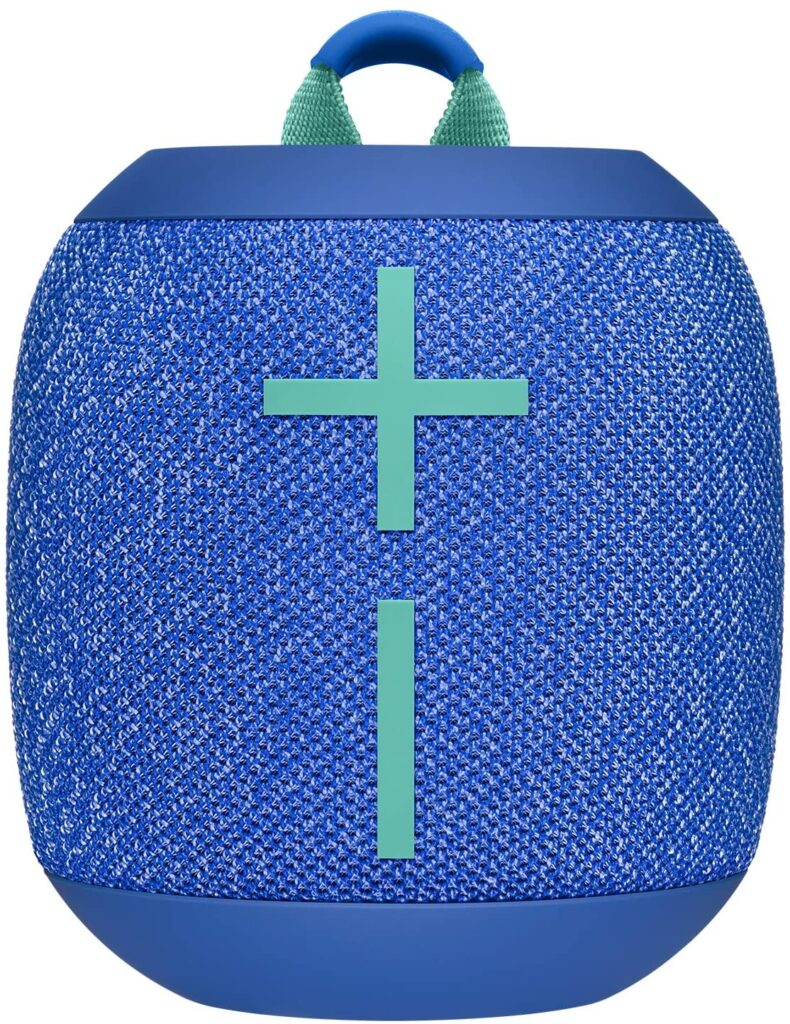 Ultimate Ears WONDERBOOM is one of the bestselling Bluetooth speakers under $100 and WONDERBOOM 2 is its worthy successor. It has everything you can expect from a cheap Bluetooth speaker. It has a whopping 15 hours of battery life, surprisingly great 360 sound, and IPX7 waterproof rating.
You can also create a stereo effect by connecting two Wonderboom 2 speakers. Wonderboom 2 also has a multidirectional sound. On top of that, the speaker can keep submerged in up to 3 feet of water for half an hour without any issues. Similarly, you can use it by the pool, in the washroom, and wherever you want.
Wonderboom 2 has a very sturdy design. It can withstand falls from up to 5 feet. As a result, it is a very durable speaker that can serve you for years. Just like JBL 4, Wonderboom 2 is also available in several exciting colors.
The speaker also features a new outdoor boost button to instantly increase volume and clarity when you are outsides. It connects with all the devices that support Bluetooth and A2DP.
All in all, Ultimate Ears Wonderboom 2 is one of the best wireless speakers in this category and price range.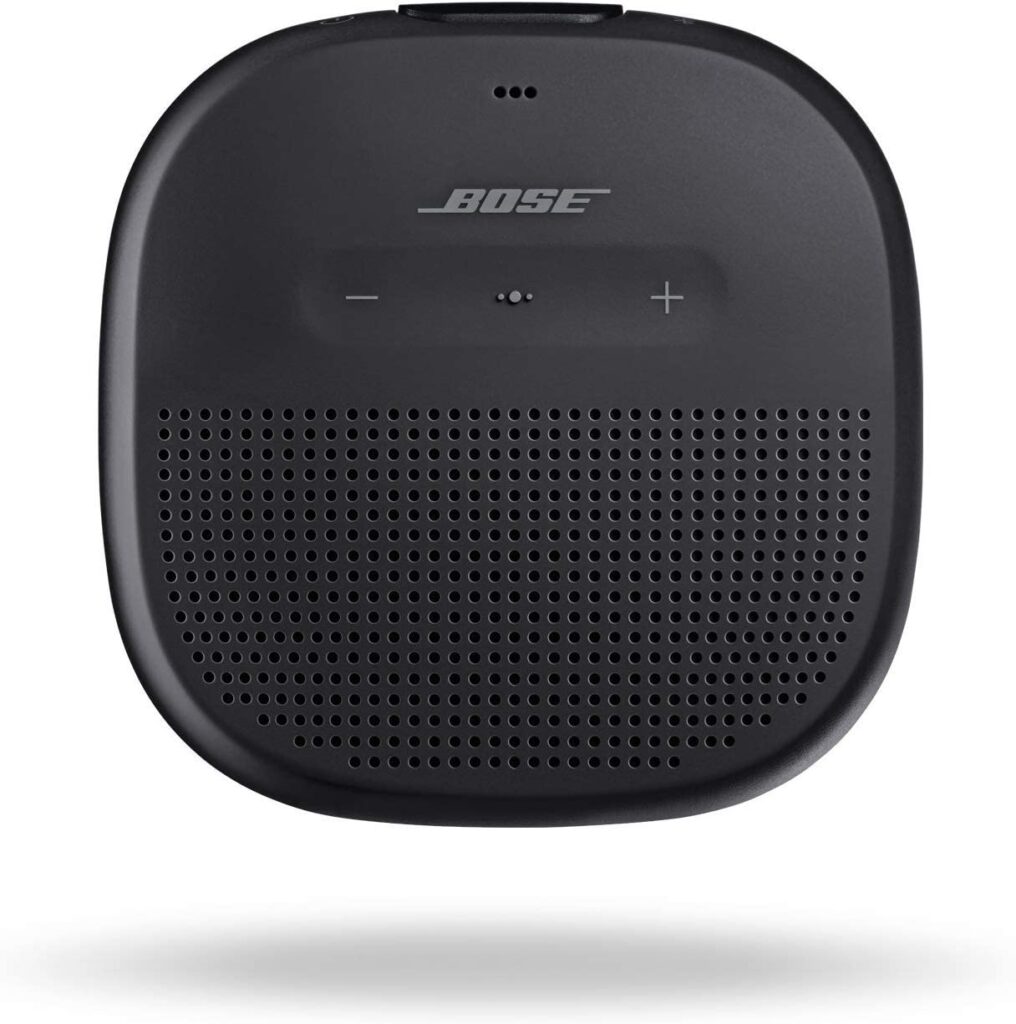 Bose is a reputed brand when it comes to manufacturing high-quality headphones and speakers. Bose has countless Bluetooth models in their collection and the Bose SoundLink Micro is best of them all. It is a petite package that offers the true Bose sound experience at a very reasonable price.
SoundLink Micro is an easily portable speaker thanks to a clip-on attachment for attaching it to straps, coolers, backpacks, or handlebars. It is also a very durable speaker because of its rubberized and rugged construction. You can also connect two SoundLink Micro speakers to create a stereo sound. Besides, it has an IPX7 waterproof rating and can withstand all kinds of weather.
SoundLink Micro also features a microphone for taking calls from your smartphone and accessing your personal voice assistant. Similarly, you can also connect SoundLink to any other speaker from Bose Smart Home Family series to play the same song simultaneously.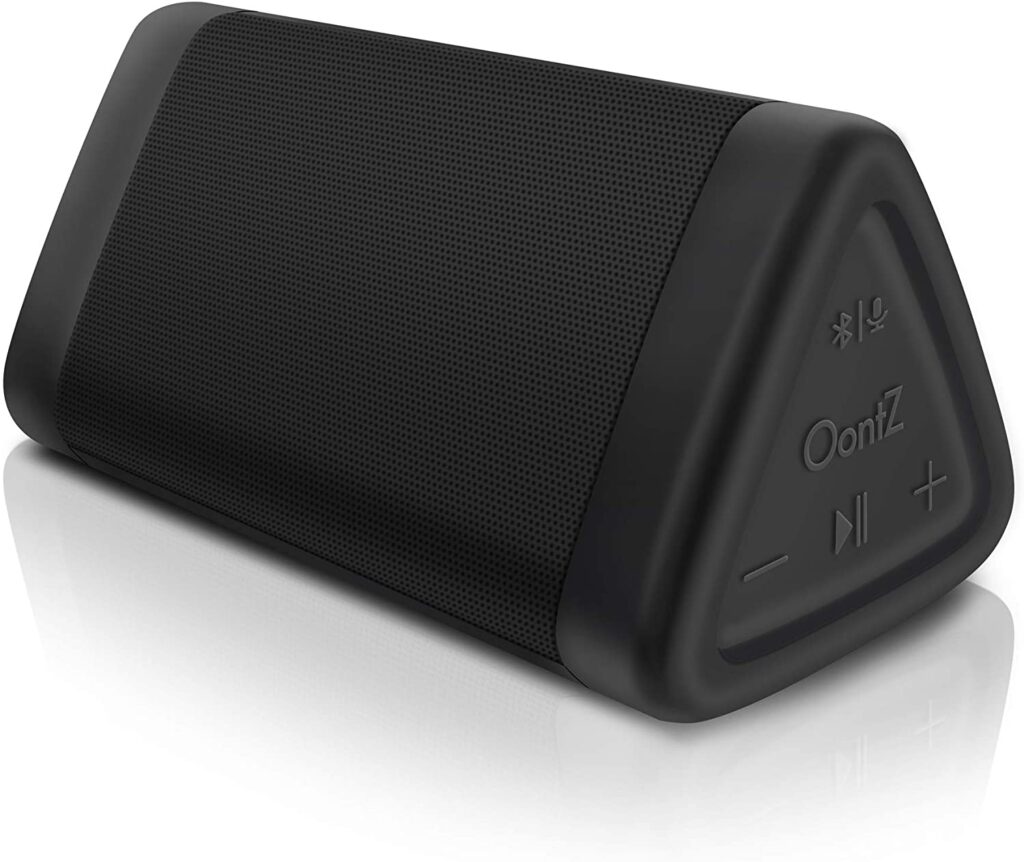 Available for just $26, OontZ Angle 3 is a small but mighty powerful wireless speaker. It provides you with unrivaled stereo sound at a low very price. The performance of OontZ Angle 3 is better than some of the more expensive high-end wireless speakers in many areas.
The speaker has excellent sound quality despite its small size. It also has a wireless range of 100 feet and 12 to 15 hours of battery life. It has built-in speakerphone as well as IPX5 waterproof rating which is a rarity at this price. IPX5 rating won't protect the speaker on beaches or pools but it does protect it from splashes.
The OontZ Angle 3 can survive hours of abuse thanks to its rubberized end caps. The speaker has a modest footprint but offers a surprisingly clear and loud sound and this is its strongest selling point. It is also a perfect wireless speaker for sharing YouTube or music videos when your tablet or phone's internal speakers are not up to the task.
The speaker also has a richer and fuller bass, especially when you stand it up on its ends. In short, OontZ Angle 3 (3rd Generation) is one of the top Bluetooth speakers under $100 you can currently buy.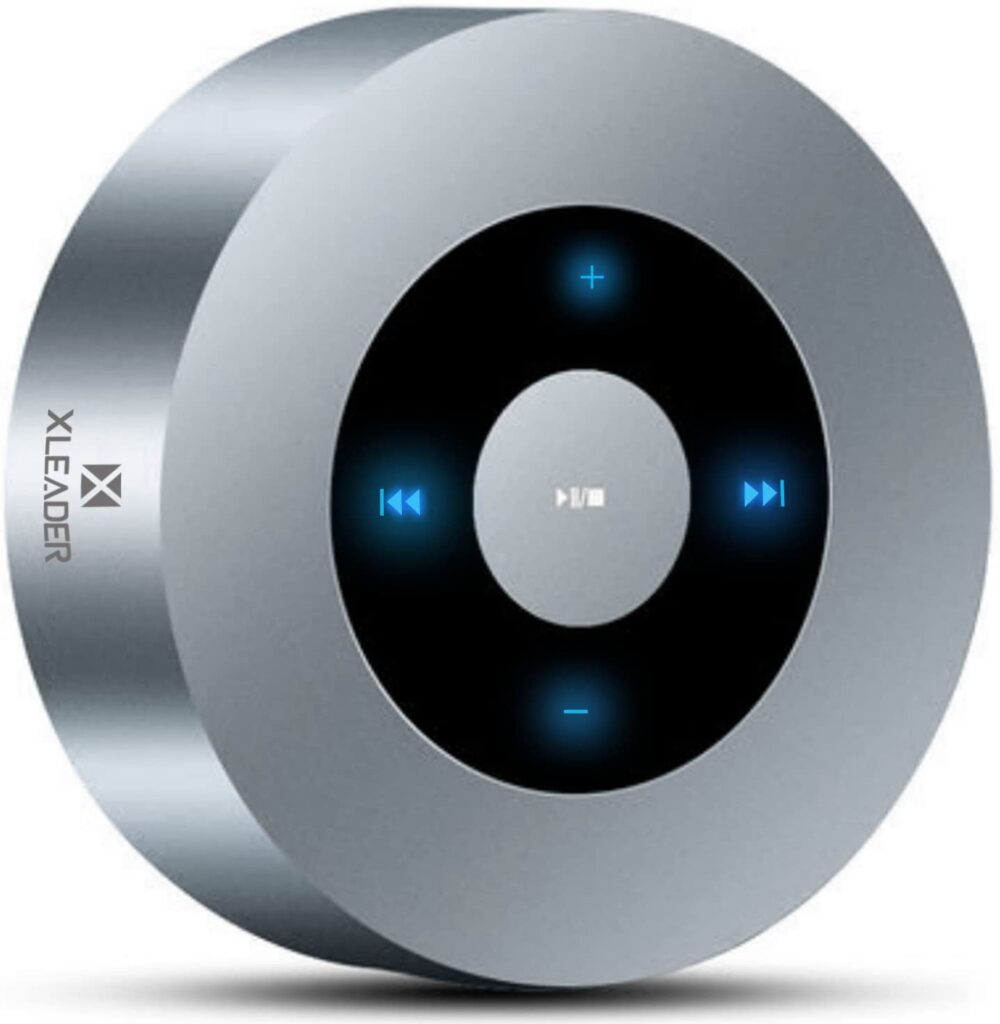 XLEADER SoundAngle 2 is one of the best portable wireless speakers under 100 for many reasons. Priced only at $20, it is a very, very cheap wireless speaker but offers an assortment of features and functions.
The speaker has a beautiful circular design with Smart Touch Screen Technology. You just have to gently touch the controls with your fingertips to play songs, adjust the volume, or take calls. SoundAngle 2 has full, high definition sound despite its small size thanks to 40mm and 5 watts sound driver. The high-fidelity speakers and 3D digital audio processor further balance the sound. The bass is also crystal clear.
The speaker also features the latest 5.0 Bluetooth technology. It automatically connects with the last device paired as well. It connects with all the compatible devices in less than 3 seconds. Similarly, it automatically switches off if Bluetooth remained turned off for 10 minutes.
SoundAngle 2 also has playtime of up to 15 hours which is outstanding considering its price. Small and compact design means the speaker is ultra-portable and easy to carry. Besides, it also comes with a waterproof case for added security.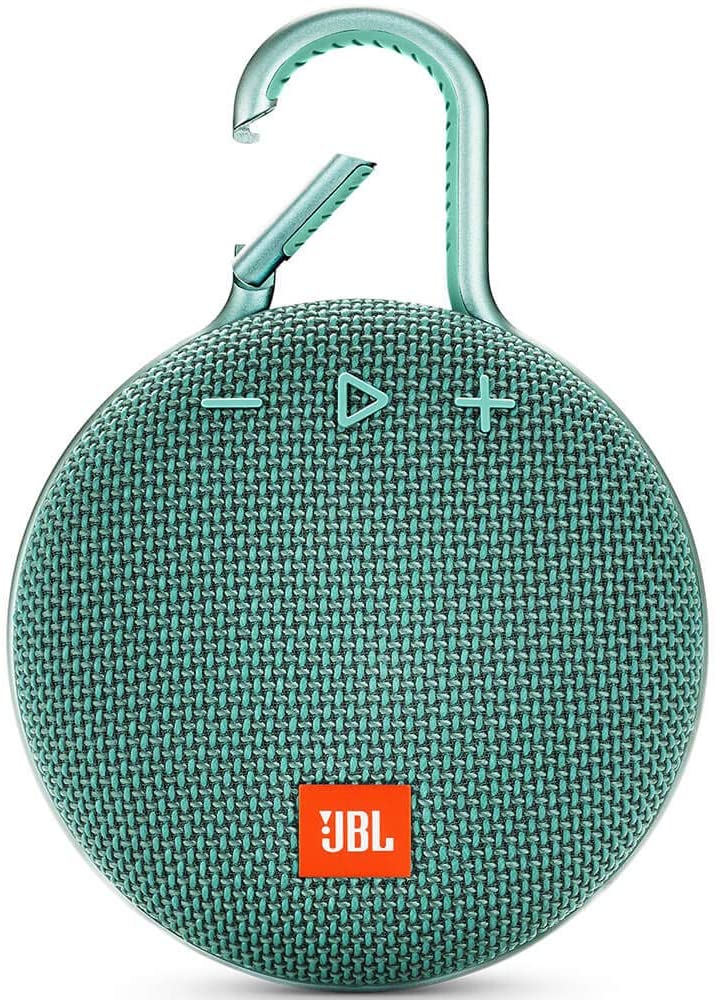 If you are still looking for the best portable speaker under 100, you must consider buying the JBL Clip 3 Waterproof Bluetooth speaker. It is a very beautiful and highly durable speaker that also offers blasting sound and extremely rich bass.
JBL Clip 3 allows you to stream high-quality sound from your smartphone, tablet, or all other Bluetooth enabled and compatible devices. Similarly, it has an IPX7 waterproof rating and therefore, you no longer have to worry about spills and rains while using JBL Clip 3. You can, in fact, immerse the speaker up to a meter of water.
You can easily protect your speaker from damages and falls by hooking the fully integrated metal carabiner to your backpack, straps, or even pockets.
JBL Clip 3 also comes with a noise-canceling speakerphone. 10 hours of playtime is also quite good.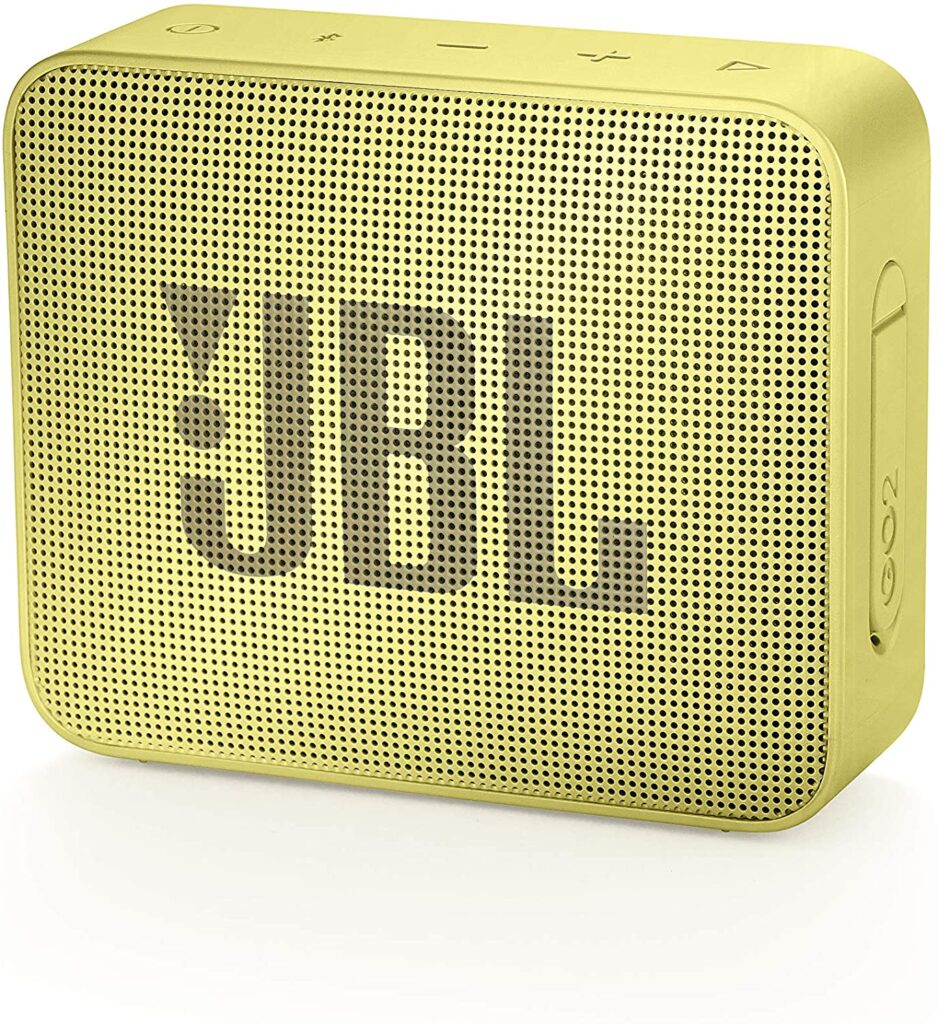 JBL GO2 Ultra Portable is also a very affordable bluetooth speaker. However, it is quite a powerful speaker with deafening audio despite its low price. It is also a perfect speaker for travel because of its tiny size. You can easily slip it into your pocket as it is smaller than a bar of soap. The speaker is available in 12 different colors, which is quite impressive for the price range.
The GO2 also comes with an IPX7 waterproof rating. Therefore, you can use it by the pool, on the beach, and by any other water body. Some other notable features include an integrated microphone for hands-free calls, a noise-canceling speakerphone, and an auxiliary input. However, the battery time of 5 hours after 2.5 hours of charging is a bit disappointing. Similarly, there is no WiFi connectivity as well.
GO2 delivers excellent sound even though it has an output of just 3 watts. It is a very cohesive and lively wireless speaker for the money you have to pay for it. It is also right up there with the best wireless speakers under 100 if you like to travel light.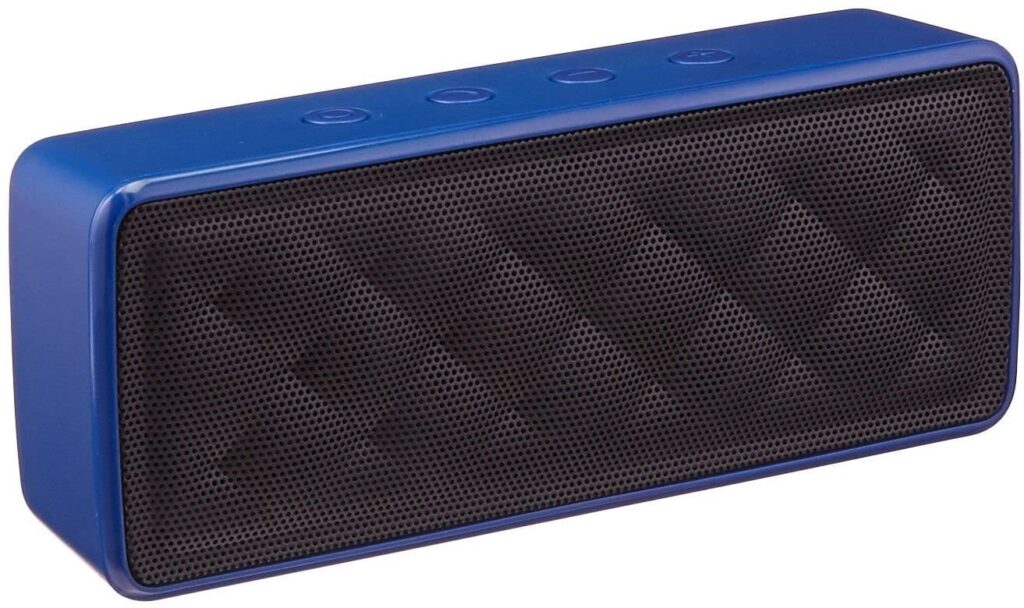 You have more choices at your disposal than you can imagine when it comes to best waterproof Bluetooth speakers under 100. A lot of companies have joined the race to make cheap yet high-quality wireless speakers and Amazon is one of them. The AmazonBasics Portable Wireless Speaker is worth considering if you have budget constraints.
Priced only at $21, it is an extremely cheap wireless speaker. However, it has much more to offer than low price. For example, the cordless speaker has a wireless range of 33 feet. Therefore, you can easily use it while hosting outdoor parties, camping, backpacking, or even working in the yard.
The speaker allows you to stream thunderous sound from all compatible devices through Bluetooth. It comes with advanced 2.1 + EDR technology. You can also connect non-Bluetooth devices through a 3.5mm auxiliary jack. Rest assured, you will enjoy rich bass and high-quality sound at any volume.
The ultra-compact speaker also slips into your backpack or shoulder back quite easily. It also offers a playtime of 8 hours at full charge.

The Charge series form JBL also offers some of the best speakers under 100 dollars. It is JBL's bestselling series for versatility and rigidity of its speakers. The JBL Charge 3 has been the crown in the jewel for quite sometimes now but it has not lost its charm.
JBL Charge 3 still has a lot of features to offer. For example, dual 10 watts drivers deliver excellent sound. Similarly, it is also a great speaker for pools and beaches as it has an IPX7 waterproof rating as well.
The speaker also has the longest playback time among all the Bluetooth speakers at a highly impressive 20 hours. You can also connect the speaker with 3 tablets or smartphones at the same time. The echo and noise-canceling speakerphones help you take calls with a touch of a button. Rest assured, the calls are distortion-free and crystal clear.
You can also amplify your party or listening experience by connecting JBL Charge 3 with other JBL speakers through Connect+. Charge 3 is, in fact, the best wireless speaker under 100 for you if you already have other JBL products.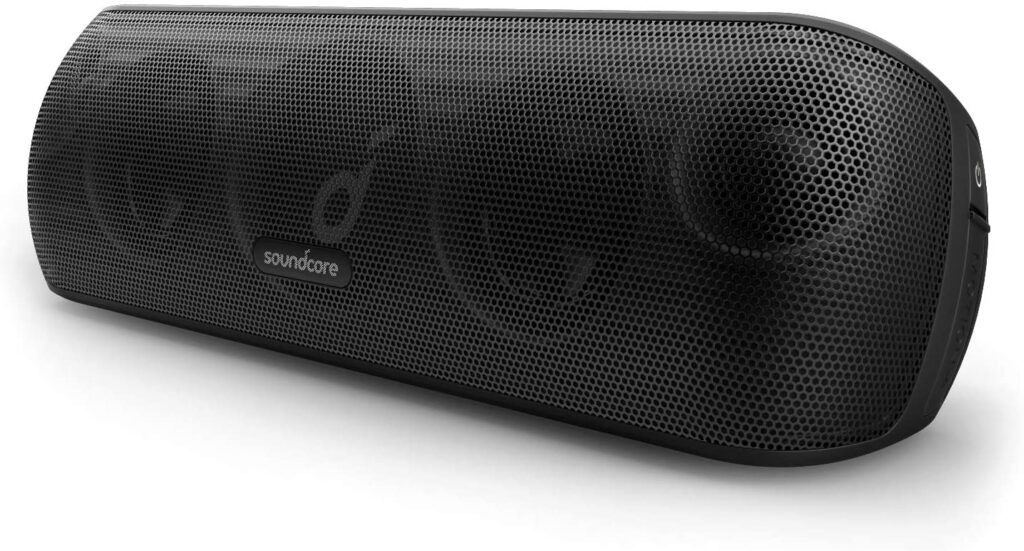 You must consider Anker Soundcore Motion if you are looking for the best speaker under 100. It offers a plethora of features even though it has a very generic design. The speaker comes with 5.0 Bluetooth in addition to AptX which you don't normally find in such cheap speakers. Similarly, the speaker has USB-C connectivity, making charging a lot easier as well.
As with any good Bluetooth speaker, you can connect two Soundcores to create a stereo effect. On the other hand, a massive 30 watts of power results in a very loud sound. The speaker can also increase the bass in real-time using its very unique BassUp mode. Anker Soundcore Motion lasts for 12 hours after a full charge. You can use the Soundcore app to customize EQ as well.
Soundcore Motion also comes with IPX7 waterproof. The sound is not only incredibly loud but it also has exceptional depth and clarity.
With the features like Bluetooth 5.0, powerful sound, and USB-C charging, it is hard for other speakers in the same category to beat Anker Soundcore Motion.
How to Choose the Best Wireless Speaker Under 100
Finding the best wireless speakers under 100 is a Herculean task as every other company seems to be making cheap wireless speakers. However, you can simplify the process by keeping a few factors in mind, some of which are as under.
Ability to Connect to Multiple Devices
The sole purpose of having a wireless speaker is to connect it to different devices. A speaker than can connect to multiple devices enables you to switch between devices without any hassle. However, do ensure that the speaker has the latest Bluetooth technology otherwise it will not be compatible with the modern smartphones, tablets, and other gadgets.
Rechargeable Speakers
You also need to go for rechargeable or battery-operated speakers if you travel a lot. These speakers are very advantageous when you are on long journeys, camping, backpacking, or just hanging out with our friends on a beach. Fortunately, you can easily find a rechargeable speaker as a vast majority of wireless speakers have this functionality.
Waterproof Rating
Naturally, you would also want to use your speaker by the pool or on a lake or beach. Therefore, it should have a sufficient waterproof rating. Most of the latest wireless speakers have IPX7 waterproof ratings. However, you should not settle for anything less than IPX5.
Built-Quality and Durability
You would also like to buy a sturdy wireless speaker with excellent built quality, durable components, and robust design if you always take it out with you. It is even better to have a compact and lightweight speaker that can easily slip into your backpack or pocket.
Dedicated Drivers
If you want a speaker with excellent sound quality, consider one with dedicated sound drivers for low, medium, and high-frequency spectrums. The sound will distort and buzz if the speaker cannot deal with bass. A dedicated tweeter, on the other hand, will result in a better high response.
Frequently Asked Questions
What is the best Bluetooth speaker under 100?
The following are the best Bluetooth speakers under 100.
JBL Flip 4 Portable Bluetooth Speaker: The best wireless speaker under 100
Ultimate Ears WONDERBOOM 2 Waterproof Speaker
Bose SoundLink Micro Portable Outdoor Speaker
OontZ Angle (3rd Generation)
XLEADER SoundAngle Louder Bluetooth Speaker
Bose speakers are really good but they are no match for JBL. JBL speakers offer high-quality sound even at the high end. Both JBL and Bose are rugged and durable speakers. However, JBL has better overall sound quality at all frequency spectrums.
Why JBL speakers are costly.
There are a lot of reasons why JBL speakers are costly. They are high-quality speakers incorporating careful designs and plenty of advanced features that cost money. They also have expensive or exotic materials which considerably raise the cost as well. JBL also markets its products quite rigorously which also increases expenses.
Final Thoughts
Concluding our guide of the best wireless speakers under 100, we declare JBL Flip 4 as the runaway winner. The Ultimate Ears WONDERBOOM 2 Waterproof Speaker takes the second position while Bose SoundLink Micro Portable Outdoor Speaker finishes at a close third.