Do you love backpacking but do not know which tent is good for you? Or, are you an avid backpacker looking for a new tent for your next trip to great outdoors? We are going to reveal the best 4 person backpacking tent in this guide, making it easier for you to pick the right one for you.
For your convenience, we have also divided the article into the following segments.
10 best 4 person backpacking tents
What is the right tent size for you?
Critical considerations while buying a backpacking tent
As a backpacker who spends a lot of time in the wilderness, you don't want a cramped, damp, and deplorable tent. Similarly, you would not like to spend a night in a tent that is easily torn apart by a slight rain. You also don't want a tent with torn rainfly, easily broken poles, and not enough space to even change your clothes.
On the other hand, you must be looking for a spacious, durable, and lightweight and yet high-quality family hiking tent for your next adventure. We will in particular help you find the tent which is easy to set up and at the same time, have plenty of doors for easy access, excellent ventilation system, and enough height for everyone to fit in. More importantly, you will only find tents which are worth their money irrespective of their price.
So, let us start our guide.
10 Best 4 Person Backpacking Tents
Whether you are planning to go backpacking with your friends or family, you should only choose the best lightweight 4 person backpacking tent. You will be able to shack up to four persons and even more in a single tent without sacrificing on budget or space.
The following are the best 4 person backpacking tents you should look out for according to our experts.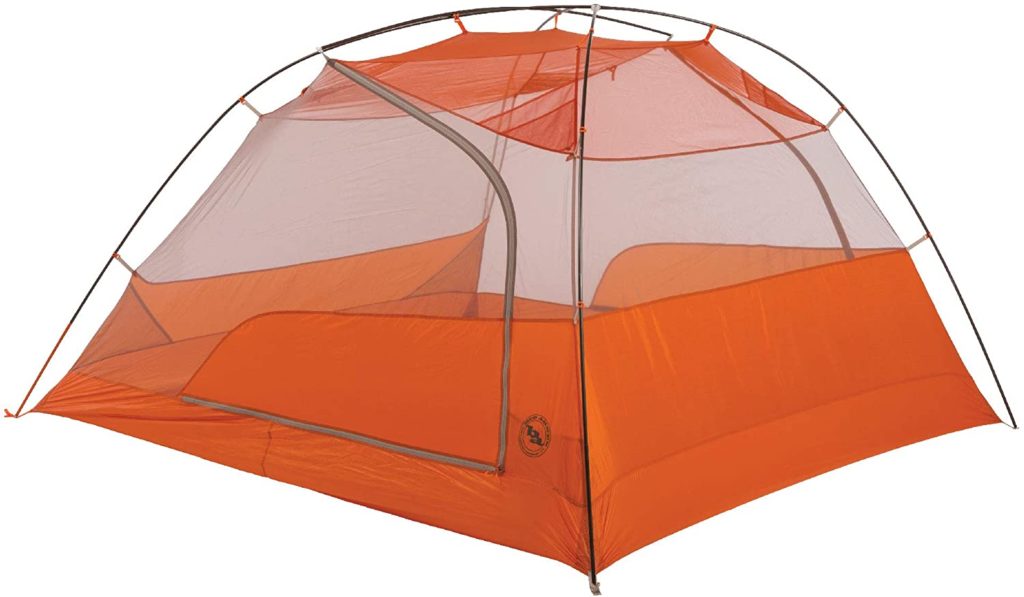 Big Agnes Copper Spur is the best 4 person backpacking tent by a fair distance. It is a winner of numerous backpacking, hiking and camping awards. It offers increased living space, premium features, and extremely high-quality materials, allowing you to have a memorable backpacking trip.
Features
Weighing only 5 pounds, the Big Agnes Copper is an ultra-lightweight tent. You would appreciate the attention to details as soon as you set your eyes on the tent. That is why it is one of the most popular backpacking tents at the moment.
Copper Spur is made of durable nylon fabric and can serve you for years. The fly and floor feature a high filament count. Similarly, they also come with one of a kind weave consisting of high tenacity yarn. Both these things combine to make the tent water-resistant, 25% stronger, and extremely lightweight.
A solvent-free waterproof tap seals all the seams as well. Similarly, the floor and fly also feature a 1200mm waterproof coating to provide extra protection against bad storms.
The best thing about the Copper Spur is that it increases living space without adding weight. It further maximizes the strength by employing a four-way high-volume hub. The tent remains stable and grounded with the help of superlight aluminum J stakes. Furthermore, it draws incredible support from several NSL and NFL poles.
The tent is also very easy to set up. It comes with webbing on tent corners, reflective guy lines, and super light plastic clips. The fly also has tensioners attached to it in addition to pre-cut guy lines.
Copper Spur's brilliant features do not end here. It also has huge dual zipper doors with discrete seams. You can also keep opened doors out of the way by putting them in the Quick Stash pockets. It is also perfect for stargazing on a clear night thanks to a two-tone mesh ceiling.
Our Verdict
Big Agnes Copper Spur should be your first choice if you are in search of a lightweight yet a sturdy, capacious, comfortable, and waterproof tent with all the premium features. The price is on the higher side but the tent is worth all the money.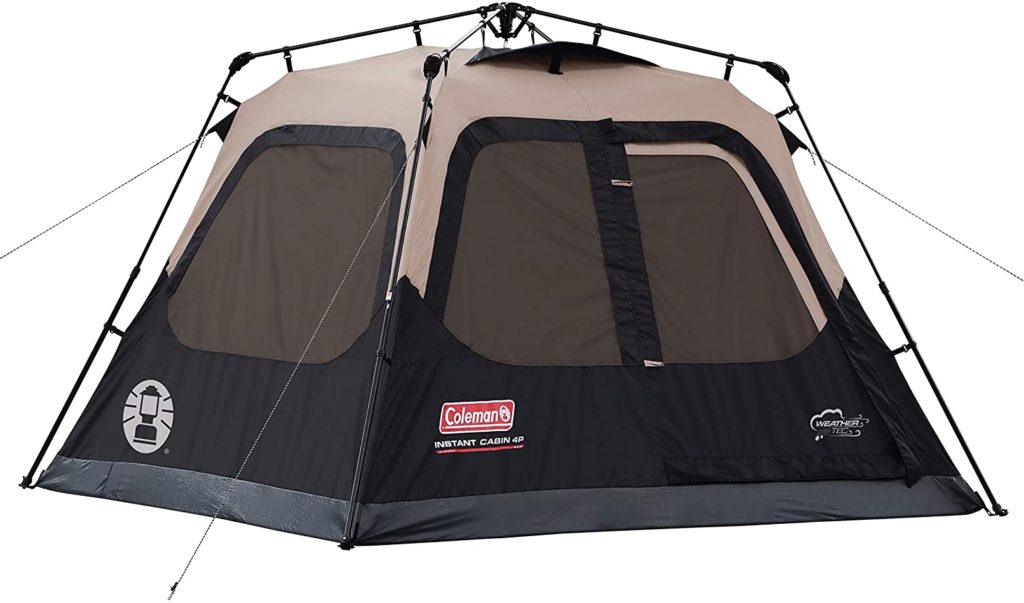 Coleman is a trusted name when it comes to manufacturing high quality, spacious, durable, and lightweight backpacking tents. The Coleman Cabin is a fantastic tent and quite popular among backpackers, and hikers for several reasons.
Features
The Coleman Cabin can easily accommodate an entire family. It has 56 square feet of floor space with length and width of 8 feet and 7 feet respectively. With a maximum height of 4 feet 11 inches, it also suits people with almost any height.
The most amazing thing about the tent is the super fast setup. In fact, only one man can set up the tent in 60 seconds. It comes with all the poles already attached. You just have to lock them into the place after extending them.
Another great feature of the Cabin is the Darkroom Technology which keeps the room cool and dark by preventing sunlight to come in. As a result, you can have quiet moments of rest even if the sun is at its peak.
The Coleman Cabin also has a mesh pocket on the interior to store your valuables. Similarly, it successfully keeps the water out on rainy nights thanks to the tub shaped floor, covered seams and patented corner welds.
You also get an expandable carrying bag for convenient storage of the Cabin. However, it is one of the heaviest backpacking tents weighing 18 pounds. Furthermore, using steel poles and double-sided linen can have its own repercussions.
Our Verdict
The Coleman Cabin is a great tent without any doubt. It is cheap, easy to use, fast to set up, durable, and big enough for a family or group of four. It is a bit heavier but if you are short of money, you must consider this tent.
Read more: 10 Best Binoculars For Wildlife Viewing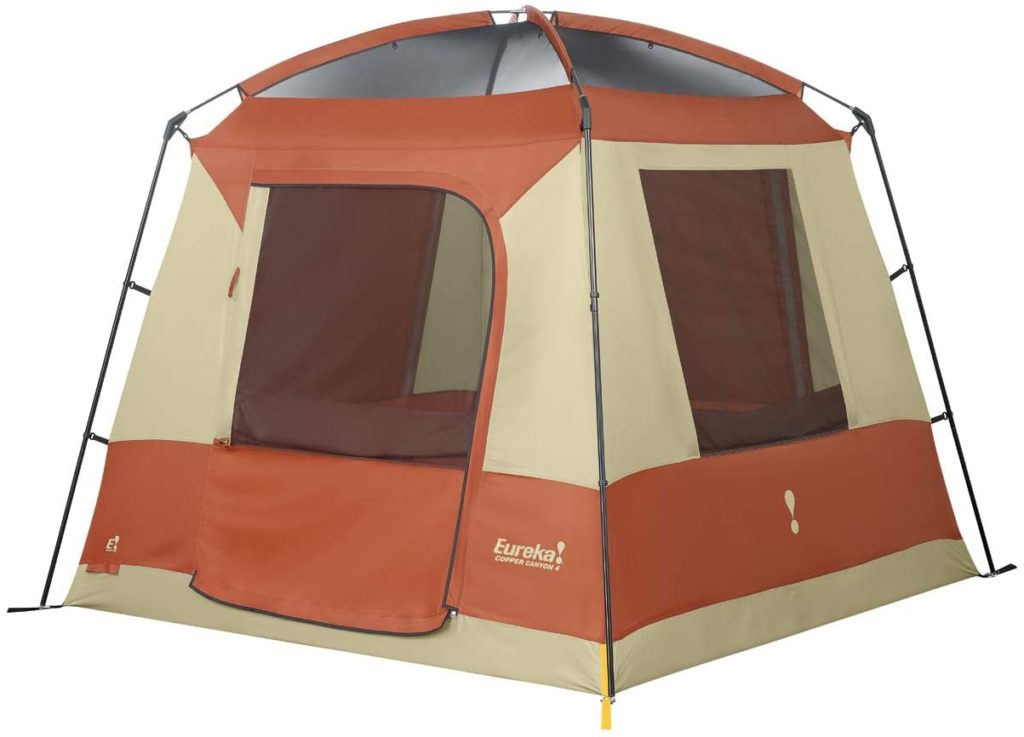 Eureka Copper Canyon is the best 4 person backpacking tent for the price. Measuring 8 feet by 8 feet at the floor, it is a large cabin style tent with ample sleeping space for your family or friends. Similarly, it is a well-organized tent with a lot of storage space as well.
Features
Eureka Copper Canyon offers great comfort to its occupants in addition to freedom of movement. Similarly, it has a clever gear loft for storing your gears. It is also a very sturdy tent because it comes with six poles made of fiberglass and powder-coated steel.
It has more poles than most other tents but they are needed to build such a big tent. The tent is also very easy to set up as it includes a ring/pin, hubs, and pole sleeves for easy assembly.
Eureka Copper 4 3-season tent also features a very robust rainfly which will keep you dry even in heavy downpours. You can also easily store the rainfly in the included guy lines.
The standout feature of the tent is the maximum height of the 7 feet, making it possible for you to invite even giants in your tent.
The tent also has a great ventilation system in the form of a full-mesh roof. As a result, it keeps you cool during daytime heat in addition to ensuring a comfortable and peaceful night's sleep.
Another exciting aspect of the Eureka Copper is the zippered E! Power Port. It allows you to power electrical gadgets by bringing in an electrical power cord.
Our Verdict
Eureka Copper Canyon is a good cheap alternative to more expensive backpacking tents such as Big Agnes Copper. It is large, comfortable, and quite sturdy to withstand all weather conditions.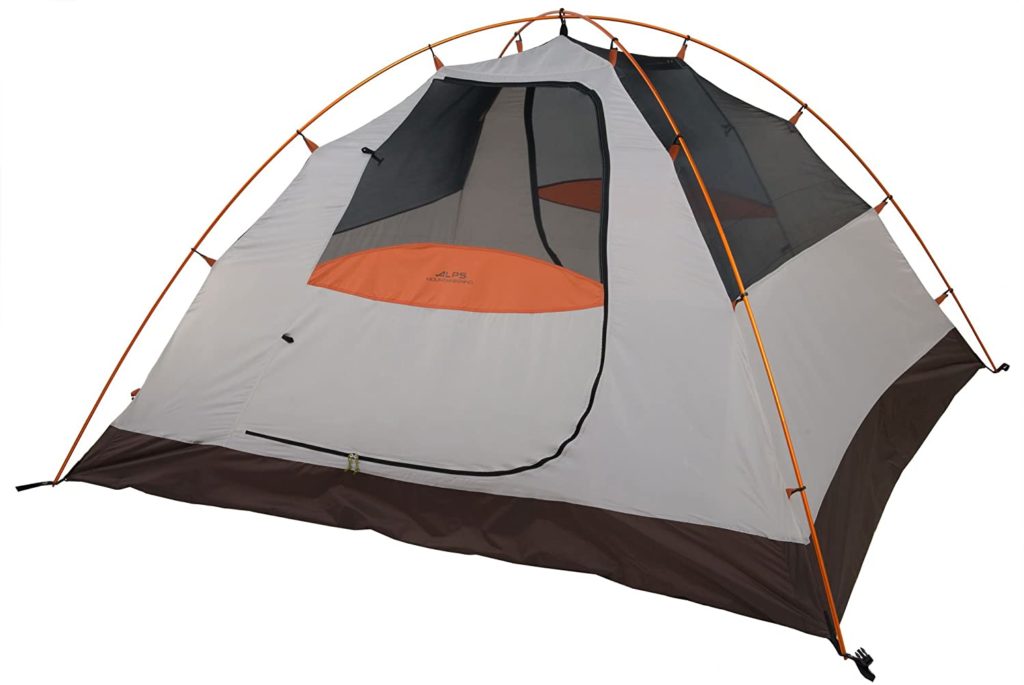 If you are looking for the best 4 person backpacking tent that offers reliable and consistent performance at a superb price, you must consider ALPS Mountaineering Lynx 4-Person tent. It is a freestanding tent which also saves you from the frustration of difficult tent assemblies.
Features
Starting with the setup, it is a breeze to assemble ALPS Mountaineering Lynx as it comes with aluminum poles only. The poles clip and therefore, you can erect the tent in less than 8 minutes. It is also very easy to store rainfly because of the 4 included guy lines.
The manufacturers also claim that poles can bend easily and hold up even in the worst of circumstances. There is no doubt that it can keep debris and moisture out during bad storms. The roof is made of No See Um Mesh which means nobody can see what you are doing inside. Besides, bugs cannot enter the tent even if you are not using a rainfly. The floor is also very thick and comfortable.
More importantly, the tent is made of durable and lightweight materials. You can use it during spring, summer, or autumn. The stakes are quite rugged even though they seem very basic.
The tent has a center height of only 52 inches which is a bit low. However, it is a spacious tent with a lot of space to sit and lie down. It offers ample space for four full-grown adults. The base size of 7 feet 6 inches into 8 feet 6 inches is pretty roomy, to say the least.
It also has two vestibules for extra storage and two doorways. Similarly, the tent also features with guy ropes, stakes, a gear loft, storage pockets, and 8 zippers.
Our Verdict
ALPS Mountaineering Lynx is a great 3 season backpacking tent considering its price. It is not only capacious but also lightweight. Made of durable material, it can keep you dry and cozy in bad weather as well.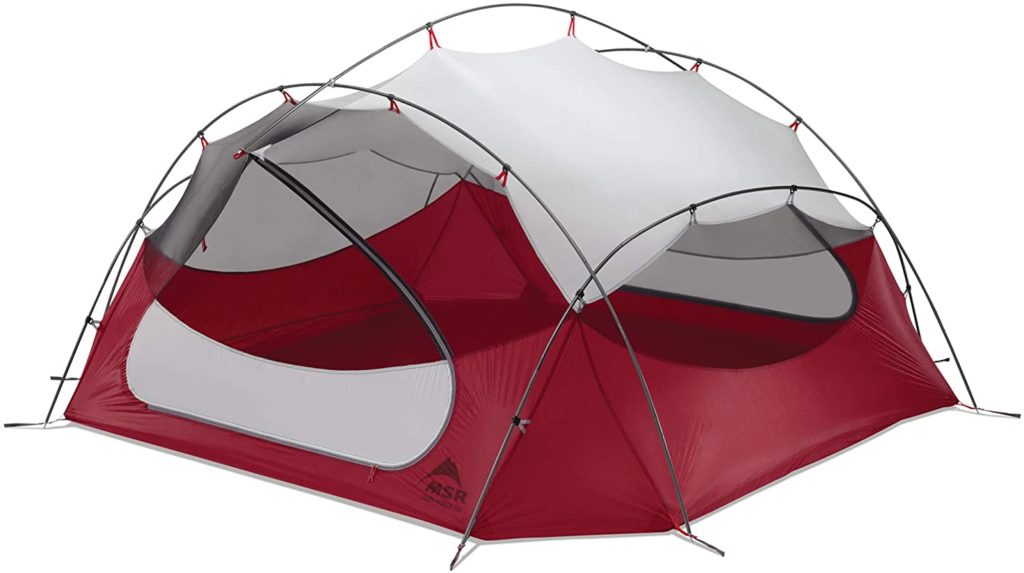 MSR Papa Hubba may be the best 4 person backpacking tent you would every buy. It is a lightweight tent which provides exceptionally big floor space. The tent offers more than enough space for a party of four no matter you are backpacking on a hiking trail or crafting the Grand Canyon.
Features
The tent has a peak height of 44 inches only. However, it is one of the most capacious backpacking tents with a floor area of 53 square feet. On top of that, the 22 feet of the vestibule area is not that bad either.
Papa Hubba NX-4 is made of "indestructible" poles having an extra-large diameter. They are made of cutting edge aerospace composite material. Similarly, the Xtreme Shield ultra-durable waterproof coating offers excellent resistance against all kinds of stick fabric. Rest ensured that no storm can uproot Pap Hubba thanks to StaryDry doors with built-in rain gutters.
Other features of Papa Hubba include rainfly kickstand vent, lightweight reflective guy outs, and integrated adjustable stake-out loops. The tent also features optimized symmetrical geometry, non-tapered floors, and large side windows.
Coming back to rainfly, you can easily roll the cross-ventilation fly cover up to view stars in the sky. On the other hand, it can as quickly and easily roll back down in case it starts raining.
As you can imagine, all these premium features will cost you a lot of money. You can expect to spend more than $400 to buy Papa Hubba NX 4-Person tent.
Our Verdict
The Papa Hubba has a lightweight freestanding design, becoming a home away from home. It is an expensive tent but it offers all the premium features you need during your backpacking expedition.
6. Kelty Grand Mesa Tent: Best lightweight 4 person backpacking tent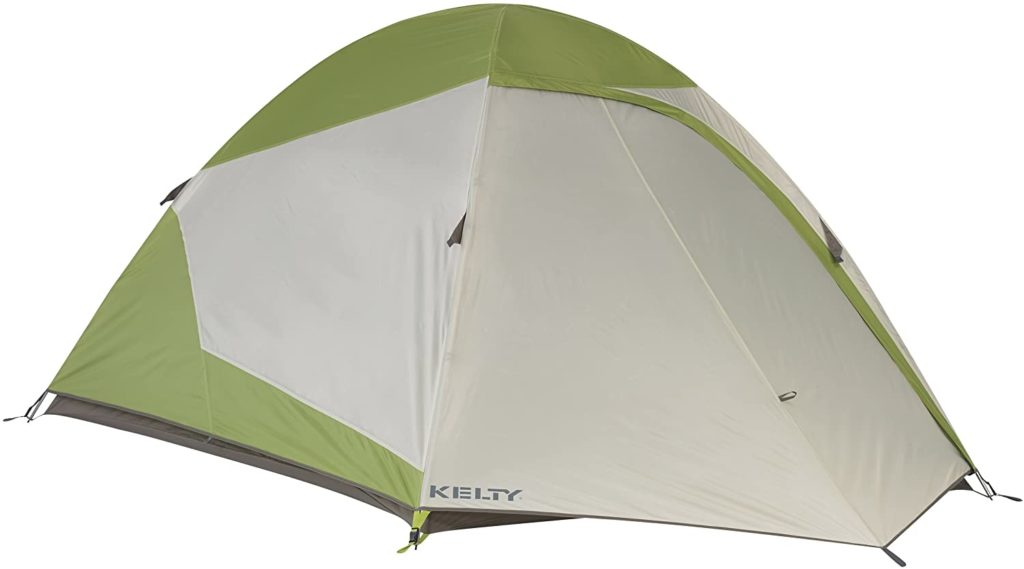 Kelty Grand is a very simple but popular lightweight backpacking tent. It is devoid of fancy features but it is an ideal choice for a short weekend backpacking trip with a group of four or less.
Features
One of the most important features of the tent is its packed size. Similarly, it has a huge D-shaped door, enabling people to enter or exit the tent without bending down more than half their height. A bigger door also allows you to easily shift the gears.
The bag also has an impressive storage bag to store small to medium gears. Another great thing about Kelty grand Mesa is that poles divide into smaller segments. As a result, the tent becomes even more compact and easy to carry. It is also very lightweight and easy to travel with.
Setting up the tent is also very easy because of the color-coded clip construction. The tent is perfect for campsite placement due to its freestanding design.
The tent is made of high-quality material. However, it cannot withstand the harsh weather due to its basic construction. It is a 3-season tent, perfect only for springs, summer, and fall.
Kelty Grand minimizes the condensation and keeps you cool in summer as it features mesh and fabric covers. Similarly, it also protects you from water seepage and rain thanks to a tent cover and waterproof flooring. Finally, the large flooring and vestibule areas of 54.5 feet and 14 feet respectively make it the best lightweight 4 person backpacking tent.
Our Verdict
The Kelty Grand is a simple and affordable but highly effective tent. It performs its duty of keeping you comfortable and dry in the wilderness remarkably well without costing you a fortune.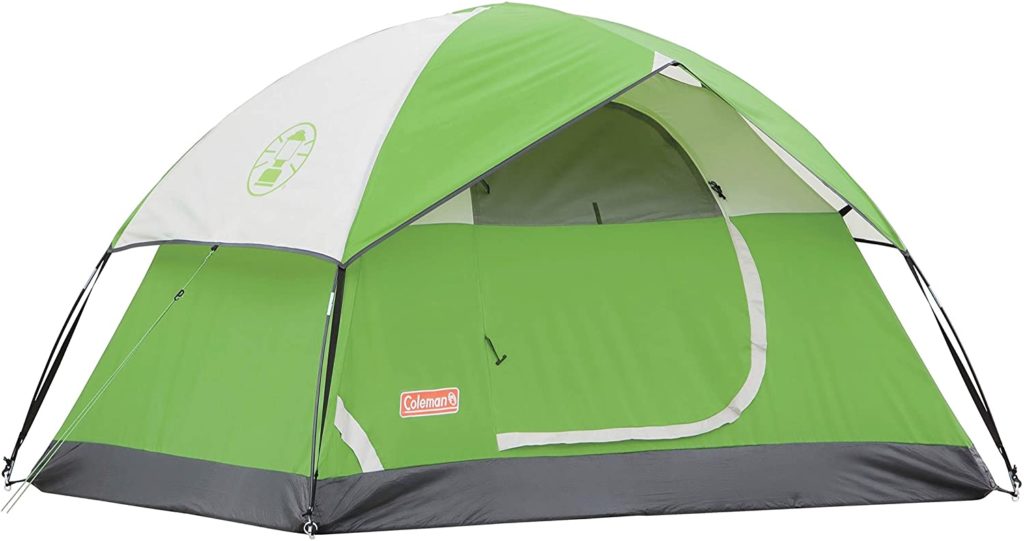 Coleman Sundome is the best cheap 4 person tent for people looking for a budget-friendly entry-level tent. Despite its low price, it offers the largest floor area of all the tents. It is a simple, lightweight tent that you can use for backpacking, hiking, camping, and other outdoor activities.
Features
Coleman Sundome has a tent area spanning over 63 square feet. Therefore, it can easily host four adult backpackers and even more. In fact, all four occupants have some extra space to sleep comfortably.
Coleman Sundome is a basic tent but does offer some advanced features. For example, the zippered e-port in one corner is a handy feature. You can bring an extension cord in and charge all of your electronics and gadgets.
The doors and windows also have mesh surfaces, considerably improving the airflow and thus, ventilation. The tent also features inverted seams and welded corners to keep water from entering the tent. The rainfly provides you with extra protection against rain and storm. The tent has a very strong frame that can withstand winds up to more than 35 miles per hour which is really impressive considering its price.
Coleman Sundome takes about 10 minutes to get assembled which is a bit slower. However, it is not very cumbersome to set the tent up. More importantly, it is made of highly durable double thickness polyester.
Our Verdict
Coleman Sundome is an affordable yet high quality and durable option. It is also the best 4 person family tent at this price range. It offers plenty of interior space, waterproof capability, easy access, and excellent ventilation, hence becoming a great tent that does not break the bank.
Read more: How To Pick A Pair Of Hiking Shoes

Coleman is the name of quality when it comes to making best 4 person tent for hiking and backpacking. The Coleman Hooligan carries the tradition forward. It is a cheap but a spacious tent which can easily accommodate 4 average sized adults.
Features
Coleman Hooligan provides plenty of space to every occupant to rest. Adults can also easily sit in the tent as it has a peak height of 4 feet 10 inches.
The tent is fully weatherproof thanks to Colman's patented WeatherTec system. Water cannot get through because of the fully sealed and inverted seams. Similarly, all zippers and corners have sufficient protection against weather elements. The bathtub shaped floor also keeps the moisture at bay.
As for storage, Coleman Hooligan features an extra-large pocket in addition to a fully covered vestibule. Therefore, storing your gears is not a problem at all. Similarly, the tent also has a rainfly that covers the entire tent providing you with extra protection against wind and rain. Most other tents in this price range have a smaller rainfly to cut the costs.
The Hooligan's set up system is exclusive only to Coleman brand. For example, the setup system incorporates one of its kinds Insta-Clip suspensions. Therefore, it is much easier to secure the tent to poles. More importantly, the system creates a more stable and durable tent. Similarly, the connections cannot fall apart because of the patented ring and pin system. The set up becomes even easier because of the included snag-free pole sleeves.
Finally, the tent has ridge vents and a mesh body, improving the airflow and making the tent cooler and more breathable for you.
Our Verdict
You must buy Coleman Hooligan if you are looking for the best cheap 4 person tent. It offers great value for money and plenty of great features which you normally expect from high-end tents.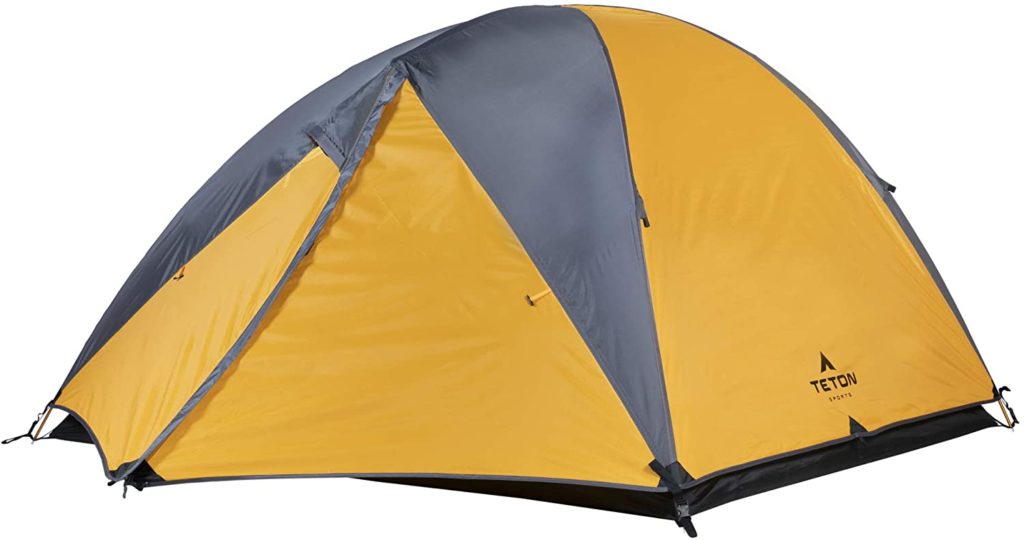 TETON Sports is a brand renowned for making high-quality hiking and backpacking equipment including 4 person backpacking tents. TETON Sports Mountain Ultra is a lightweight waterproof tent with an excellent 360 degrees ventilation system. It is a perfect backpacking tent for a team of four for a number of reasons.
Features
Mountain Ultra allows you to easily store your gears as it features many built-in gear lofts. Similarly, it has a big enough floor area to accommodate 4 sleeping bags. It is also the best budget 4 person backpacking tent as it weighs only 3.5 kg.
The most amazing thing about the tent is that it is mostly preassembled. You can complete the assembly just by clipping the tent on the poles. It takes only a couple of minutes to set the tent up.
The best feature of the tent is Stay Dry Waterproof rainfly. The rainfly enables 360-degree ventilation, keeping you incredibly cool in the summers. Similarly, the mesh covers the entire tent, further improving the airflow in addition to keeping bugs at bay.
It is pertinent to mention here that the tent is completely waterproof. You can secure the outer cover of the tent with the help of straps to keep the inner tent cozy and dry. The rainfly also prevents condensation through several vents. Besides, the full mesh inner tent means you can have a wonderful view of the night sky by rolling down the rainfly's zippers.
Mountain Ultra tent also has two vestibules and two doors to improve storage space and access respectively. The floor also has a footprint to keep you dry.
Our Verdict
Mountain Ultra is a freestanding 3-season tent with reasonably big dimensions. It is an affordable yet the best 4 person backpacking tent for everyone including novice and experienced campers as well as families.
10. NTK INDY GT 4 to 5 Person: One of the Largest 4 Person Backpacking Tents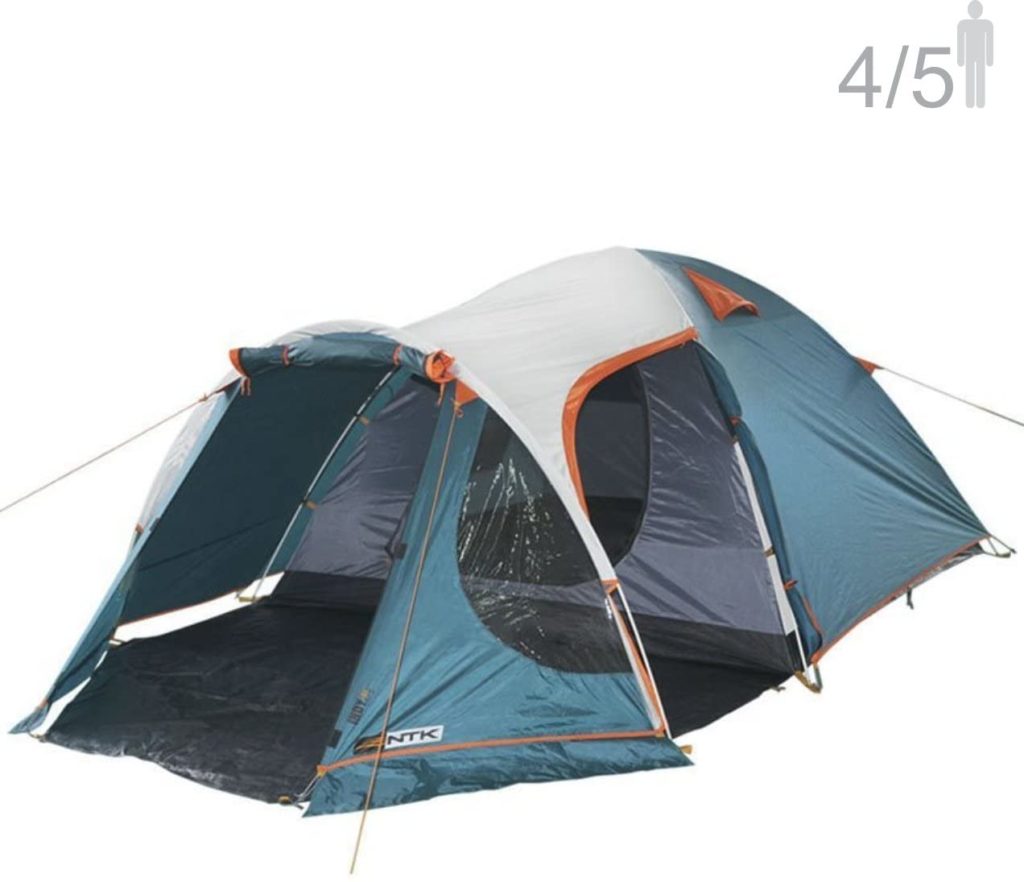 NTK is renowned across the globe for its impressive, feature rich and highly advanced backpacking and hiking tents. Their latest model, NTK INDY GT 4 to 5 person is yet another great backpacking tent. It also offers much more space than its competitors. You can count on it for having a comfortable and cozy backpacking experience.
Features
To begin with, the European design backpacking tent has one huge door. It is a waterproof tent made of high quality polyester. Similarly, the 2500mm water column rainfly combines with the polyester to keep the rain and wind out. In fact, it is a fully waterproof tent that will keep you dry even in heavy downpours.
However, the tent excels in hotter conditions. It absorbs the ultraviolet radiations thanks to heat-seamed thermoplastic coating. On top of that, it offers brilliant protection against pests such as mosquitoes and flies.
The tent comes with nano-flex fiberglass poles and therefore, it is very robust and sturdy. It is also a fireproof tent which is a very nice feature. Besides, the tent is extraordinarily hygienic making it a preferred choice of both families and backpacking groups.
NTK INDY is also a very lightweight tent as it weighs only 12.35 pounds. Therefore, it is also a great travel backpack and very easy to carry. If you don't put the rainfly on, you can also have a wonderful view of the starry night sky.
Our Verdict
NTK is a giant tent compared to others at this price. It is fully waterproof, fireproof, and extremely comfortable backpacking tent. You must choose this tent if you are traveling with a family or group of 4 or more people.
What is the Right Tent Size for You?
The first thing you need to keep in mind is that the most tents have less floor space than advertised. It simply means fewer people can sleep in the tent than manufacturers claim. It is a sad reality but you have to deal with it. For example, most 4 person tents can hardly accommodate 4 full grown adults. Therefore, you may consider a five person tent if you want more space for all the four persons in your tent.
However, the extra space will create its own problems. For instance, your backpack will become heavier. So, try to look for a lightweight backpack to keep your backpacking weight to minimum. Another issue you may have to face is price. Bigger tents tend to be more expensive and that is where we come to you rescue. We have only included backpacks from reputable manufacturers. These backpacks have as much space as advertised and even more in some occasions. More importantly, they are worth their price in terms of other features.
Critical Considerations While Buying a Backpacking Tent
You need to consider many different factors when you buy the best 4 person backpacking tent. The first one of these considerations is price.
1. Price
The best 4 season 4 person backpacking tent should not cost you a fortune. That is why, our list contains a wide range of tents falling in different price categories. It is also a good idea to spend more on a quality backpacking tent as it will offer you years of service. On the other hand, go for a budget tent such as Coleman Cabin Tent if you have a limited budget.
2. Protection
A backpacking tent is worthless if it does not provide protection against rain, snow, wind, and other elements. In fact, such tents are not only substandard but they can be very dangerous in the wilderness. Therefore, keep away from extreme budget tents available everywhere. Every backpacking tent on our list provides excellent protection against elements to keep you warm, dry, and safe.
3. Weight
You must only buy the best 4 person family tent which is also lightweight. A few ounces up and down do not make any differences. However, it is necessary to keep the weight to minimum to enjoy your backpacking adventures. Backpacking is all about often and it is only possible if you have a lightweight tent. The tents on our list are not only lightweight but they also ensure convenience and comfort.
4. Season Rating
There are two main types of season ratings. The 3- season backpacking tents and the 4-season backpacking tents. The earlier are the most popular types of backpacking tents. They are ideal for three seasons that are spring, summer, and fall/autumn. These tents have excellent ventilation to improve airflow and minimize condensation. Similarly, they are mostly waterproof to combat bad weather. 3-season tents are mostly made of mesh fabric to keep you cold and cozy in summers. They can handle a little snow but you must consider a 4-season tent if you want to backpack in winters.
5. Interior Space
Backpacking tents have limited interior space to reduce the weight. For example, you should buy a one person tent if you are a solo hiker looking to travel light and fast. Two person tents offer a great balance between interior space and weight and thus, they are the most popular. They have enough space for two backpackers and their gears. Some of them also come with vestibules for extra storage.
If you want more space for three or four hikers, you must buy the best 4 man hiking tent or even a bigger tent. Keep in mind that you have to compromise on weight if you want extra space.
6. Setup
A tent should be quicker to setup and easier to use. The freestanding backpacking tents fulfill these criteria and therefor, they are also the most popular. You can pitch these tents almost anywhere thanks to a fixed pole system. On the other hand, you need things like trekking poles, guy lines, and stakes to set non-freestanding tents. Such tents don't have tent poles and thus, they are lighter. However, it takes more space and time to set them up. They are also more difficult to pitch.
7. Design
Design is very important for any tent to serve you properly. The best 4 person backpacking tent or any great tent should have sufficient vestibule space, multiple doors, excellent ventilation to minimize condensation, and plenty of headroom. Similarly, they must have a lot of interior pockets for storage.
8. Doors and Vestibules
It is better to have multiple doors and vestibules if you intend to sleep multiple people in your tent. You will, in fact, not step over sets of gears or your tentmates every time you have to go out if you have separate entrances. Multiple doors and vestibules can offer you a lot of other benefits as well.
9. Wall Construction
Most tents on our list have a double-wall construction. Such a tent has two separate parts that are a rainfly and the inner mesh body. The mesh minimizes the condensation that usually forms underneath the rainfly. You can also choose a single-wall tent if you want to travel light. Such tents cut the mesh inner-tent to reduce the weight. However, they leave you vulnerable to weather elements and interior condensation. Unless you are backpacking in dry, arid area, we always recommend buying double-wall tents.
10. Footprint
Many backpackers who travel light deem footprint unnecessary. In fact, most backpacking have tents have totally discarded footprints for the sack of lightweight travel. However, a footprint provides extra strength to the tent floor. It keeps the floor dry and enables it to avoid abrasions and last long. Similarly, the floor will require fewer repairs, maintaining its shape for years. You must buy a footprint the size of your tent floor if you want to extend the life of your tent. However, you must be willing to carry some extra weight.
11. Durability
Lightweight tents are usually made of thin materials compared to heavy-duty tents. Obviously, they are less durable than their heavier counterparts. However, the lightweight tent will also accompany you for hundreds of backpacking trips if you treat it with care. A sharp rock or stick can puncture just about any tent, lightweight or heavy. Therefore, it is important for you to take special care of your lightweight tent and it will serve you for thousands of miles.
Frequently Asked Questions
How to reduce tent condensation?
There are several methods to reduce tent condensation. Try to cook and boil water in the open air. Roll up the sleeves of your rain fly. Leave the vestibule door open to let the humidity escape. Similarly, avoid camping near ponds, rivers, streams, and lakes.
A tarp tent is a lightweight single-walled tent. It has a floor, a beg netting, and a rainfly. However, a tarp tent combines inner mesh tent and the rainfly into a single wall, unlike the double-wall tents which have separate inner-mesh tent and rainfly.
Final Thoughts
Concluding our guide about the best 4 person backpacking tent, we can confidently declare that Big Agnes Copper Spur is the absolute winner. The MSR Papa Hubba NX 4-Person claims the second spot whereas Coleman Sundome Tent finishes at third.
We would also love to hear your suggestions and recommendations regarding the best cheap 4 person tent.