Are you are looking for a versatile bicycle that you can use for leisure and recreational riding as well as city riding and commuting? If yes, then you must go for one of the best budget hybrid bikes on our list.
We are going to reveal 10 best hybrid bikes by our experts for the money that you can currently buy. We have also tried to make it easier for you to find your required information by dividing the article into the following sections.
What is a hybrid bike?
10 best value hybrid bikes
Benefits of riding a hybrid bike
How to buy best budget hybrid bikes?
Frequently asked questions
What is a Hybrid Bicycle?
A hybrid bicycle is a combination of a road bike and a mountain bike. It brings the two different types of bicycles together to offer a more versatile bike able to encounter any type of terrain be it is grass, road, or mud trails. They are suitable for every kind of use ranging from leisure and recreational cycling too long-distance commuting and exercises.
Often referred to as fitness bikes, best hybrid bicycles offer a perfect balance of comfort and speed. On top of that, they are very lightweight with wider tires for greater control over wet and choppy pavements. Similarly, most of them have an upright riding position compared to most mountain bikes. They also feature disk brakes for greater safety, especially on sleek surfaces. Finally, it is comparatively easier to maintain a hybrid bicycle than a road or mountain bike.
Unless you are a purist who needs a specialist bicycle for various tasks, you seriously need to consider the best budget hybrid bikes. Of course, there are some really expensive hybrid bikes with additional features. In fact, some of these bikes such as Batch the E- Commuter can cost you more than $2000. However, you don't need to spend that much money on a hybrid bike. You can buy a top hybrid bike for less than $500 or even $300.
It is worth mentioning that some hybrid bikes incline more towards mountain bikes while others have features that make them close relatives of road bikes. Hybrid bikes tackle different terrains differently according to what end of the spectrum they sit.
Common Features of a Hybrid Bicycle
You can expect to have the following features in a hybrid bicycle.
All the hybrid bikes come with a relaxed seat and flat handlebars, allowing the rider to sit in a more comfortable straight back position.
They have tires that are narrower than mountain bikes but wider than road bikes. The common width of a tire is 28-32 c but they can have as wide as 42c tires.
You can expect a mountain bike to have disk brakes as well. Such brakes provide reliable and efficient stopping, especially in wet conditions.
Always lookout for a hybrid bike with mudguards and pannier racks if you want to use your bike for commuting or grocery shopping.
10 Best Budget Hybrid Bikes
The following are the 10 best hybrid bikes for the money in 2020. Our experts have based their recommendations after checking quite a few bicycles here at 10Wares.
So, let us try some of the top hybrid bikes available in the market today.
sixthreezero EVRYjourney Women Hybrid Bike : Our number one pick
Schwinn Discover Hybrid Bike: One of the best hybrid bikes under 500
Motobecane 2020 Cafe Latte Aluminum Flat Bar Road: The best performance hybrid bike
Schwinn Wayfarer Bike: The best women's hybrid bike
sixthreezero EVRYjourney Men's Single Speed: One of the best hybrid bikes for men
Schwinn GTX Comfort Hybrid Bike: Best for riding around neighborhood
Tommaso La Forma Lightweight Aluminum: The Best Versatile Hybrid Bike
Hiland Aluminum Hybrid Fitness Road Bike: The best fitness hybrid bike
Pure City Classic Step-Through Bicycle: The most customizable hybrid bike
Schwinn Volare Adult Hybrid Road Bike: The best road hybrid bike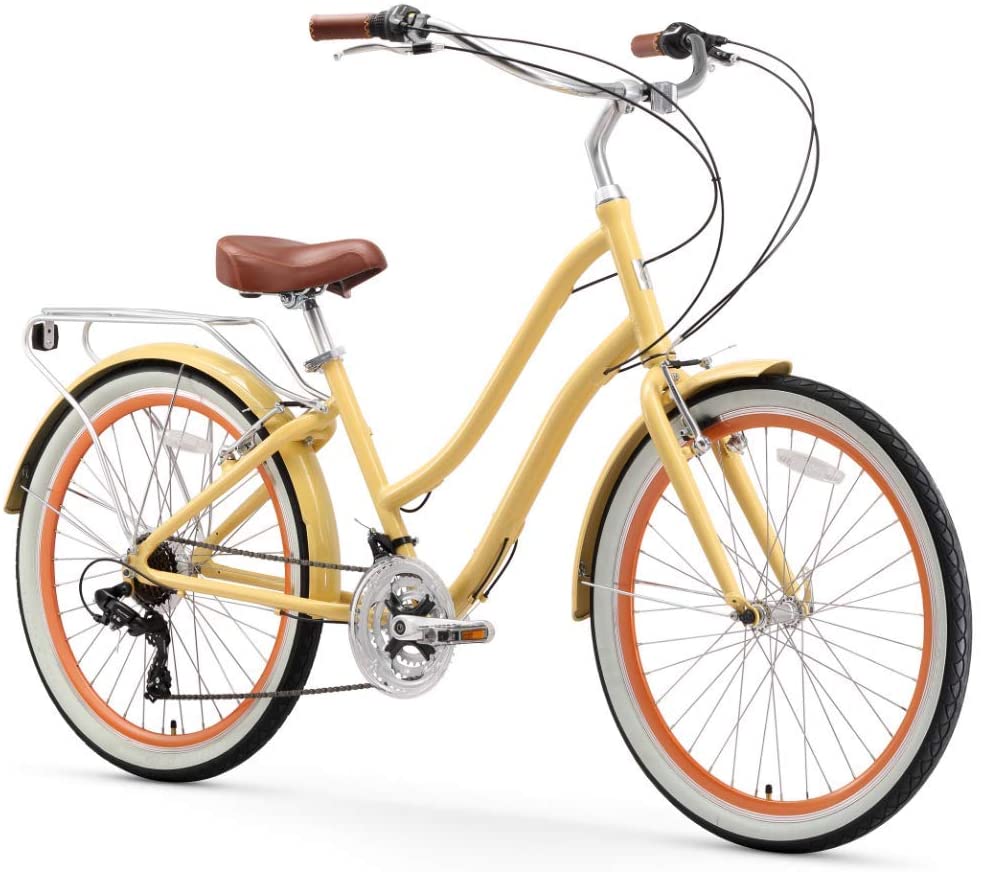 sixthreezero is relatively a new brand that has made a great name for itself in a short time. All of its hybrid bicycles including sixthreezero Women Step-Through bike are among Amazon's bestsellers. This particular bicycle brings classic style to the 21st century with a bang. It is a beautiful bicycle with a load full of features.
Frame
It is currently the best women's hybrid bike in the market by a fair distance. It comes with a 7.5-inch swooping step-through aluminum frame that is quite impressive for a budget hybrid bicycle. Similarly, the frame has forwarding pedaling geometry, allowing proper leg extension when riding. On the other hand, it enables you to put your feet flat on the ground when the bicycle comes to stop.
The foot forward glistening design with a low center for gravity also enables you to maintain an upright sitting position for long yet comfortable riding sessions.
Components
sixthreezero EVRYjourney Step-Through is a single-speed bicycle, great for leisure rides on flat terrains and riding in the neighborhoods. You get to enjoy a cushioned, stable ride and excellent role over thanks to 2-inch semi-slick tires and 26-inch wheels.
The bicycle also has a rear rack for pannier and other stuff as well as matching fenders to protect against rain and mudguard.
The brake options include a rear coaster brake and front handbrake for easy stopping. The stylish curvy bicycle also has a comfy dual-spring saddle. Finally, the bicycle fits the riders from 5 feet to 6 feet 4 inches tall.
Our Verdict
sixthreezero Step-Through is the best value hybrid bike offering true comfort to a wide range of riders. It has a stylish eye-catching design, ensuring comfort and ease while riding.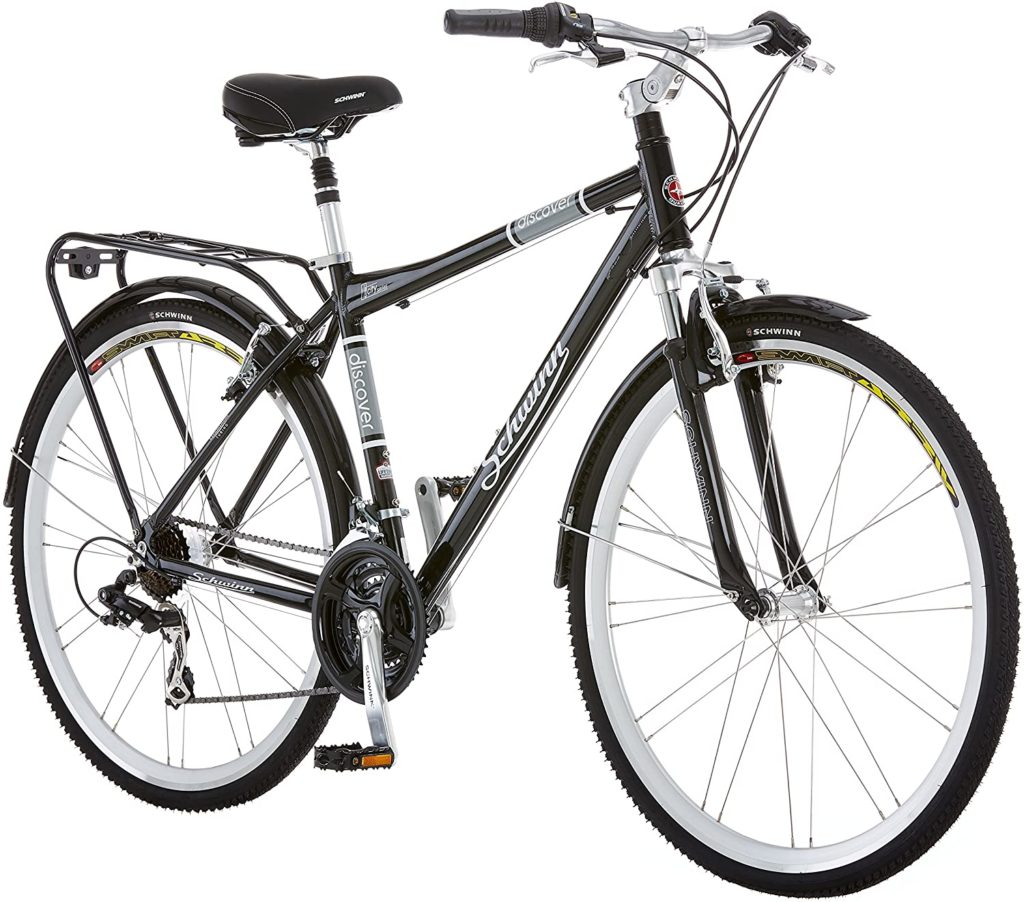 Schwinn Discover is one of the best hybrid bikes under 500 for both men and women. It has an exceptional build quality with an amazing set of features. It is a versatile hybrid bicycle with all the comfort details and features you require.
Frame
Schwinn Discover comes with an aluminum "city frame" that is perfect for rougher rides besides offering a lot of speed.
The bicycle also features a suspension fork that can easily tackle occasional mounds and potholes. It is not the most powerful of the suspension forks but it is will also hold up on sticks and stones whenever you want to venture off-road.
Components
The most amazing feature of Schwinn Discover is the 21-speed SRAM grip shifter gears. Similarly, it is also pretty easy to change the speed while riding because the gears are conveniently placed. Besides, most of the people will find their preferred speed with Schwinn Discover regardless of any challenge or terrain they are looking for.
The hybrid bike also has a padded saddle and a swept-back upright handle, making it quite comfortable as well. The frame is more suitable for the lower posture even though it is more upright compared to a road bike. A rear rack is a nice little addition to an already fantastic bike. It allows you to carry your briefcase, backpack, tools, or lunch with you with the utmost ease.
Our Verdict
It can be rightly said that Schwinn Discover inclines more towards a road bike. It is one of the best urban bikes for city rides and urban commute due to its overall construction. However, it has more than enough power and features to handle occasional off-road adventures without kids.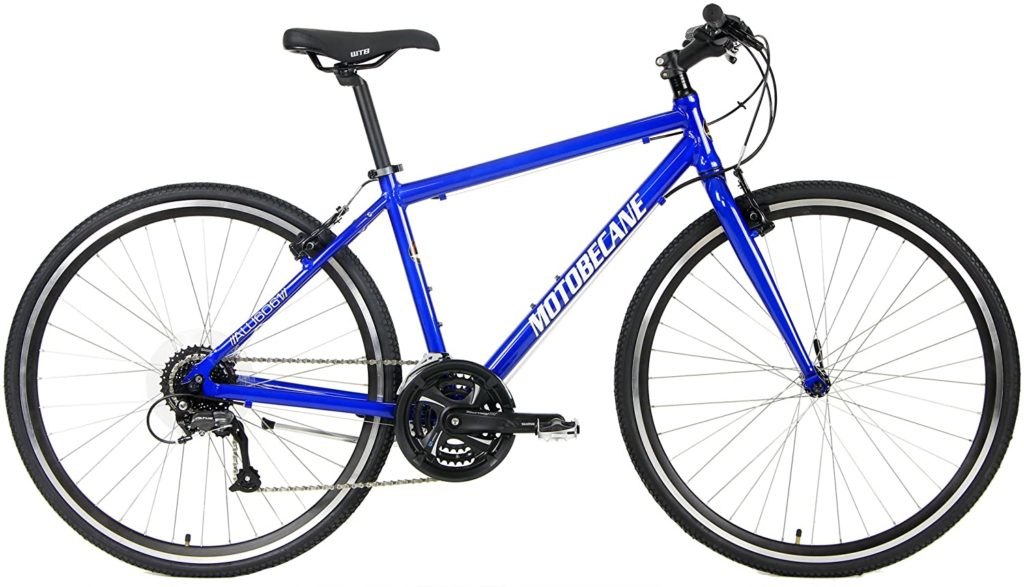 Motobecane 2020 Cafe Latte is the perfect example of the best budget hybrid bikes. It is not only attractive to look at but it is also a fantastic performance hybrid bicycle to buy.
Frame
The cycle features a lightweight yet sturdy aluminum frame. The triple-butted frame offers a perfect balance of comfort and speed. Similarly, the bicycle also has pretty strong fork made of butted Chromalloy steel. All in all, the overall design is quite rigid, to say the least.
Components
The best thing about Motobecane 2020 Cafe is 24 gears. This has been made possible by pairing Shimano Altus shifters with Altus /Tourney derailleurs. In general, the shifting and speed options are what you expect from the best hybrid bikes under 500.
However, it is necessary to tune up derailleurs otherwise they will not work properly. We recommend hiring a specialist to do the job if you are not biking savvy.
The bicycle also features 700c hybrid tires thanks to the pairing of Shimano hubs and double-walled alloy rims. In fact, the wheels are of reasonable quality considering the price of the bicycle. The tires are wider than that of a typical road bike. However, they also make the ride fun and responsive as they are pretty slick at the same time.
The tight V-brakes is another very nice feature of Café Latte. If tuned upright and properly, they can be quite snappy, stopping your bicycle without putting any pressure on your hands.
There is nothing wrong with saying that 2020 Café Latte can easily outperform some of the more popular bicycles from big brands. It is not a very flashy bicycle but has all the ingredients to become the best budget bybrid bicycle in the world.
Our Verdict
If you are looking for a performance budget hybrid cycle around or under $500, you must go for Motobecane 2020 Cafe Latte. It is versatile on pavement, snappy, fast, and attractive bike that is worth a try.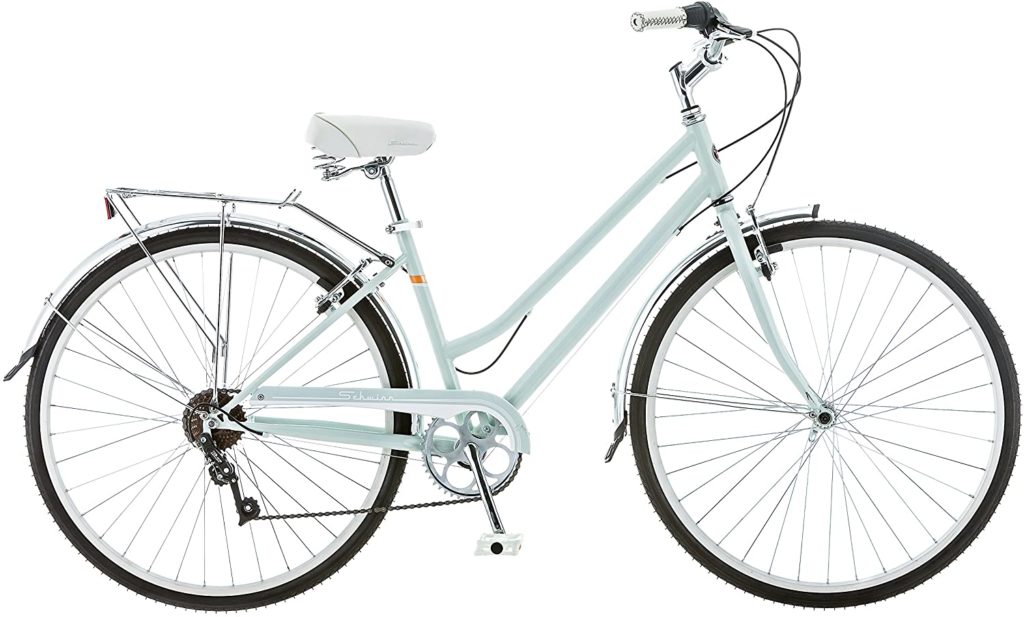 Schwinn is renowned worldwide for making high-quality bikes including hybrid bicycles. The Schwinn's Wayfarer is yet another great hybrid bike, designed especially for women. It is a stylish white bike offering a seamless balance of a mountain bike and a racing bike.
Frame
Schwinn Wayfarer is a beautiful and comfortable bike. It boasts a Schwinn's retro steel city frame. Similarly, it also has a coordinating fender that provides protection against splashes, rain, and debris. Similarly, the bicycle also features a back rack for easily loading your items.
Components
The Schwinn Wayfarer is one of the best budget hybrid bikes for many reasons. For example, it has a slightly more upright riding position, Schwinn 7 speed twist shifter, and dipped handlebars. The Wayfarer offers 7-speed variations that are more than enough to easily ride through the parks or town. However, it may find it difficult to get up and over grassy terrain or steep hills.
Similarly, it is an excellent bike for people who like to cruise around the city while enjoying the sights because of its upright riding position. Therefore, it is less suited to people who want more of a racing bike for speed riding or fitness.
The Schwinn Wayfarer offers a very comfortable and smooth ride for most parts thanks to the combination of slim wheels and upright position. In fact, the slim wheels also mean you don't have to put much effort while riding the bike.
Another thing going in favor of Schwinn Wayfarer is its "retro urban style" that is pretty beautiful to look at. It is a perfect choice for people that have a taste for retro objects or who simply want to look different while riding a bike.
Similarly, Schwinn offers a limited lifetime warranty for Wayfarer that is a bonus.
Our Verdict
Schwinn Wayfarer is one of the best hybrid bikes under 300. It is an ideal choice for people who like to take their time while riding. However, you should look for something else if you want a hybrid bike for fitness or speed.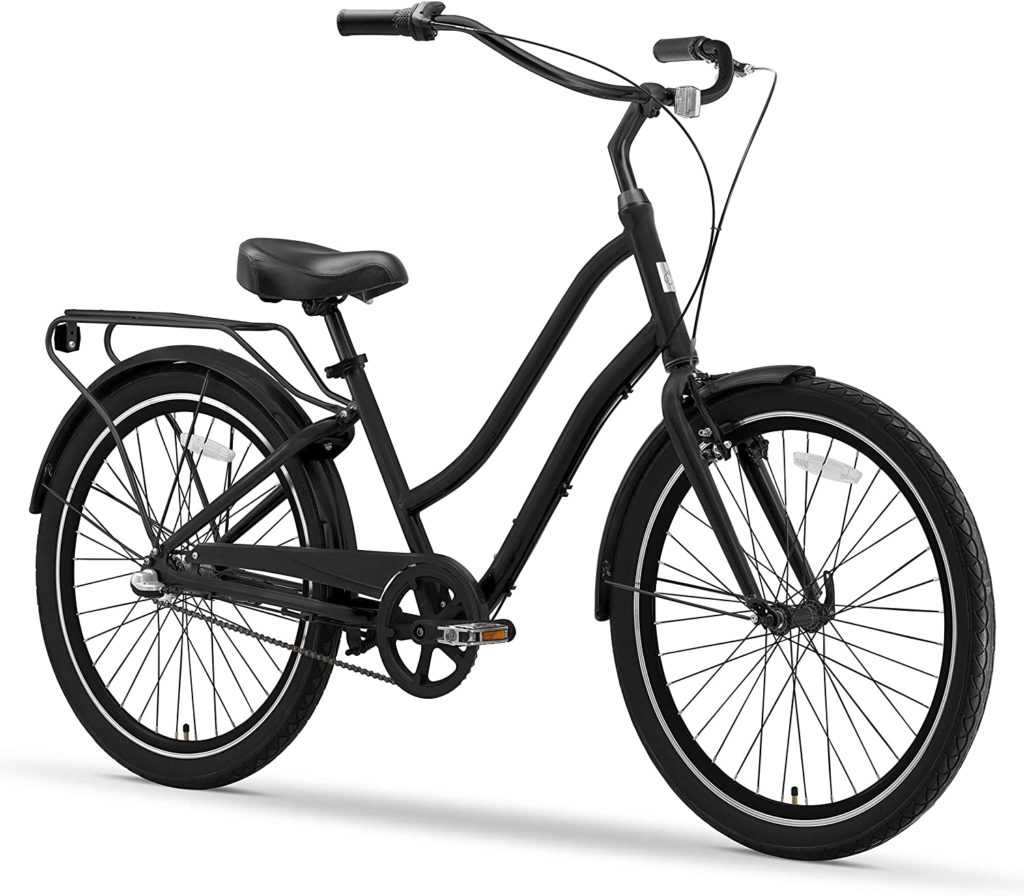 sixthreezero EVRYjourney Single Speed is one of the best hybrid bikes for men by a fair distance. It is a little bit more expensive than Schwinn Discover but is worth its price. The bike has a beautiful, unique design and it is packed with a lot of features.
Frame
sixthreezero Single Speed boasts a nice looking 19-inch swooping step-through aluminum frame. According to its description on Amazon, it is a versatile bicycle, especially suited to commute, leisure, and cruise rides. However, we don't recommend using it for offroad or fitness use.
Components
The bicycle enables the full extension of legs because of its foot-forward design. Your shoulders and back also remain comfortable while riding thanks to the upright riding position. It is a great bike for flat terrains such as pavements and paved roads. It is also easy to stop the bicycle as it features a rear coaster brake and a front handbrake as well.
Furthermore, comfy grips and dual-spring handle fully complement the black matte frame. Similarly, it also includes rear rack for optional panniers and baskets and matching fenders.
Finally, the white-walled semi-slick tires have dimensions of 26-inch and 1.95-inch. Therefore, they are fully capable of providing a cushioned but stable ride for cruising and recreational rides.
Our Verdict
sixthreezero EVRYjourney Men's Single Speed is more suited to city-dwellers because of its features like dipped handlebars, upright riding, and more forward feet position. It is more of an urban bike for men who are always in a hurry.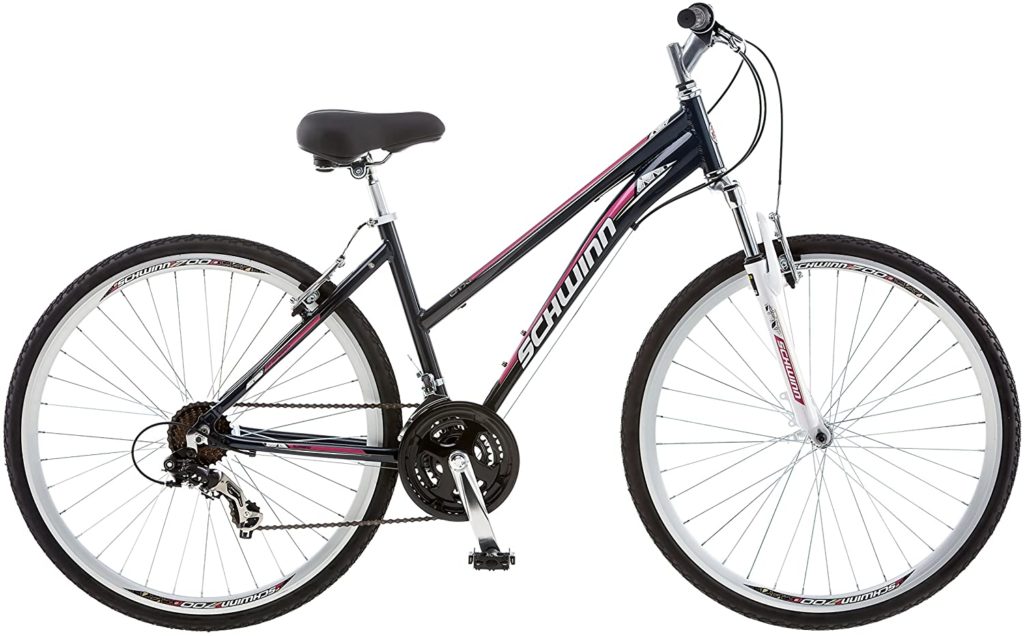 As the name suggests, Schwinn GTX Comfort is best for riding around the neighborhood, taking a day trip with your friends, and taking your kids to the store. It is a multi-sport hybrid bike that you can put to different uses.
Frame
Being one of the best budget hybrid bikes from Schwinn, it offers versatile riding through Schwinn aluminum dual sport frame. The frame size is 16" that means it is suitable for people with all kinds of heights. Similarly, Schwinn suspension fork further adds to your comfort while riding.
Components
Schwinn GTX comes with Micro shift 21-speed twist shifters paired with Shimano derailleurs. Both of these combine to ensure precise gear shifting. Similarly, the front and rear alloy V-brakes make the bicycle extremely secure as well.
Schwinn claims that 700C alloy wheels with Schwinn multiuse tires are perfect for both on and off-road use. However, the bicycle is more geared towards city use than anything else. Plus, the bike also has a limited lifetime warranty just like all other Schwinn bicycles.
Our Verdict
Schwinn GTX is one of the best hybrid bikes under 300 for a reason. It is a versatile bike with all the features for you to easily use it for different kinds of on-road and off-road purposes.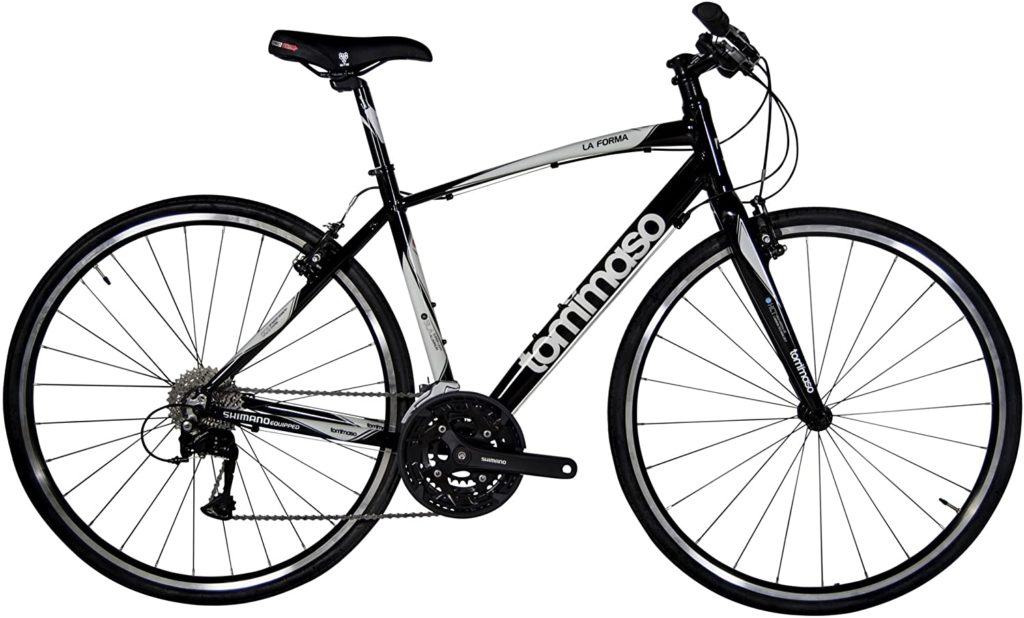 Tommaso La Forma Lightweight Aluminum is the costliest of all the hybrid bikes on our list. However, it is still a pretty affordable bike for people who are looking for an ultimate ride that allows the bikers to ride comfortably on all types of terrains including dirt trail and roads. The wide tires and up to 27 gears are very, very impressive as well.
Frame
The bicycle features a lightweight aluminum compact frame. Besides, an HTC carbon fork further decreases the vibrations and reduces the frame's weight. Similarly, the frame is rack ready. In fact, you can get a customized frame with rack shapes and sizes of your own choice as well. In general, the bicycle provides luxury and comfort even on the long commutes regardless of the terrain.
Components
Tommaso La Forma offers an inexhaustible range of gears despite the riding conditions and road variations. You can choose from 27 different gears according to the terrain and your speed requirements. The Shimano Acera Groupset provides you with powerful performance. On top of that, there is also a heads up display to know what gear you are in.
What makes it one of the best hybrid bicycles is 32m wide tires and 28 Spoke Migda Alloy Rims. The tires are wide enough to provide stability and traction in rainy weather. It is also a big plus for commuting purposes. However, the tires perform better on urbane terrain as compared to moderately rocky surfaces.
The bike also gives you full control whether you are riding on off-road or downtown with its Tektro RX1 brakes.
Our Verdict
It is one of the best budget hybrid bicycles to look out for if you long for versatile performance. You can use the bike both for city commute and riding on bike paths and backcountry trails. In short, you would love this bike if you give it a try.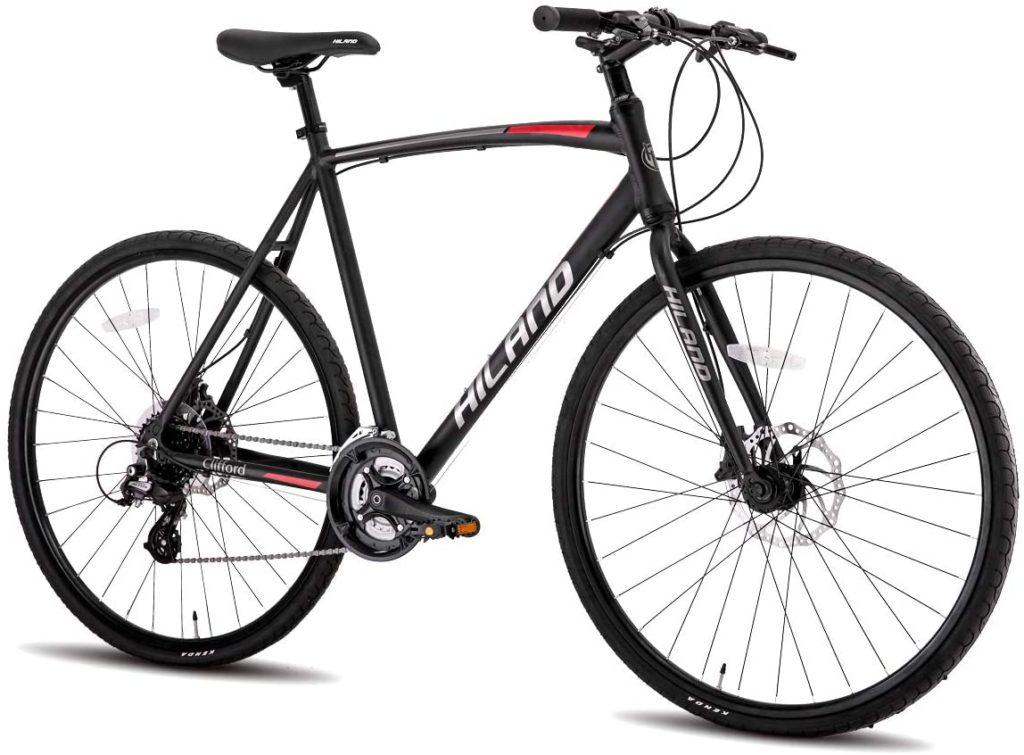 If you are looking for the best fitness bikes, you must consider purchasing Hiland Aluminum Hybrid Fitness Road Bike for Men and Woman. It is a great fitness bike that has been designed for fun and comfortable riding experience.
Frame
Made in Taiwan, Highland Aluminum comes with a matte black aluminum 58cm frame made of durable and stable steal. It can serve your years to come. Similarly, HH Hiland also offers a lifetime frame warranty as well.
Components
This particular hybrid bicycle features an impressive 24-speed Shimano gearshift. Hiland Aluminum also excels on hilly terrains thanks to well-matched derailleur, cassette, and rear derailleur. It is also very convenient and smooth to shift between different gears because of the extremely comfortable Shimano Thumb Grip.
When it comes to brakes, the Hiland Aluminum Hybrid has 160 mm and 180 mm radius rear and front mechanical brakes respectively. The brakes ensure precise braking and safe driving on any terrain and in all weather conditions. You exercise absolute control over your bike in all situations.
One of the best things about Hiland Aluminum is that it comes 85% preassembled. Similarly, you also get all the tools you need to assemble front wheels, handlebar, pedals, saddle, and brakes in some models.
Our Verdict
If you are looking for an all-weather, multipurpose and affordable hybrid bike with a hoard of other features, you must choose Hiland Aluminum Hybrid Fitness Road Bike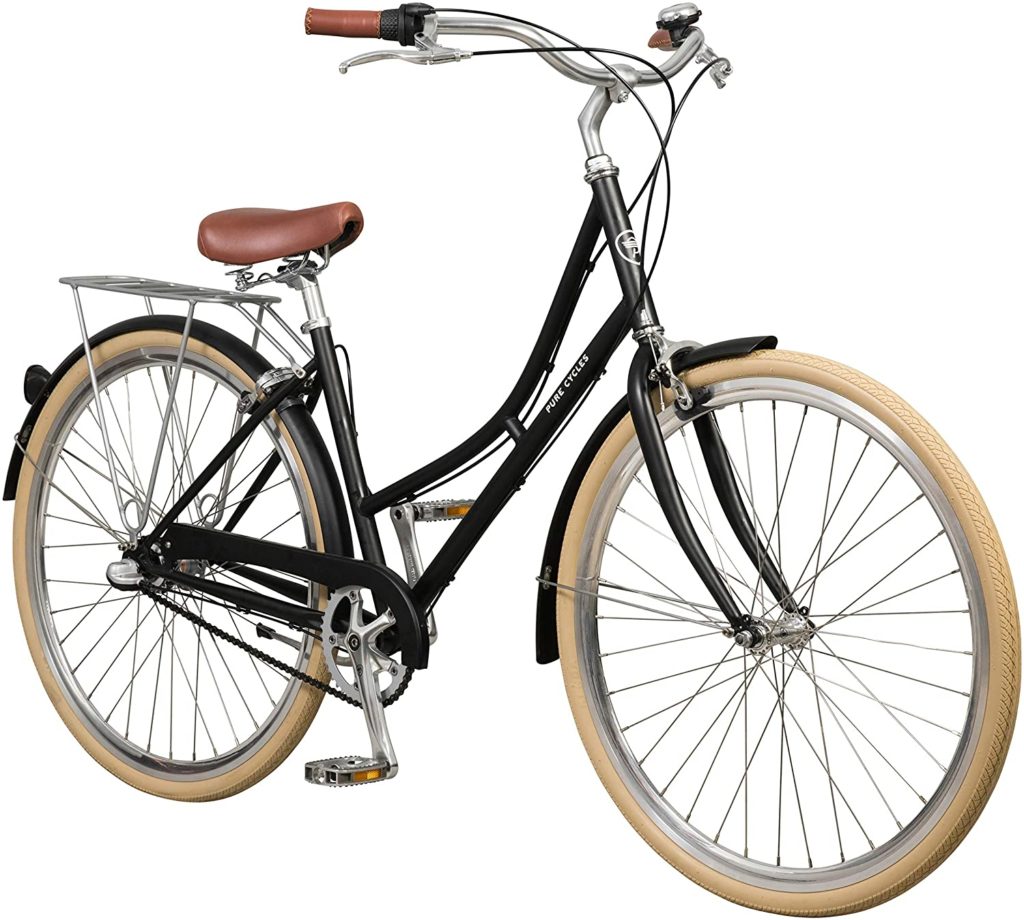 If you want an unforgettable riding experience by handpicking the components, you must go for the Pure City Step­-Thru bicycle. Designed with keeping the needs of city dwellers in mind, it is a versatile hybrid bicycle that you can use for many different purposes.
Frame
The bicycle has a classic curvy matte black super strong hi-tensile steel frame. The frame is stylish and beautiful to look at. Similarly, the Pure City Classic takes you to your destination in style. It is an ideal choice for riding within the city or in the countryside.
Components
This model comes with 3-speed Shimano Nexus Revo-3 gearing. Therefore, you have a small gearing range, perfect for urban use. It also makes your bicycle look minimalist and cleaner. Similarly, the bicycle is also much easier to use. However, there is also an 8-speed version if you like hauling heavier roads or challenge yourself on tougher hills.
One of the most interesting features of Pure City Classic is the bell that has quickly become a rarity. Furthermore, all the best budget hybrid bikes from Pure Cycles feature front and rear fenders, kickstand, and a versatile rear rack. Therefore, you can tackle everything the city puts in your way with the utmost ease and confidence.
Talking about tires, it comes with stainless steel spokes 700x35c tires as well as 30mm deep dish double-walled alloy rims. The tires provide enough traction to ride on any terrain be it is a pavement or a hilly trail.
As far as brakes are concerned, the bicycle ensures precise stopping through the front and end rear alloy brakes. Similarly, it has a relaxed urban geometry that you would simply love. On top of that, your ride will have upright handlebars, dual-spring design, and cushy saddle for a comfortable journey.
Our Verdict
The Pure City Class Step-Thru offers a lot of options in terms of speed, frame, geometry, and gears. It also features a myriad of accessories such as foot straps, and water bottle cages, that you don't find in such an affordable hybrid bike.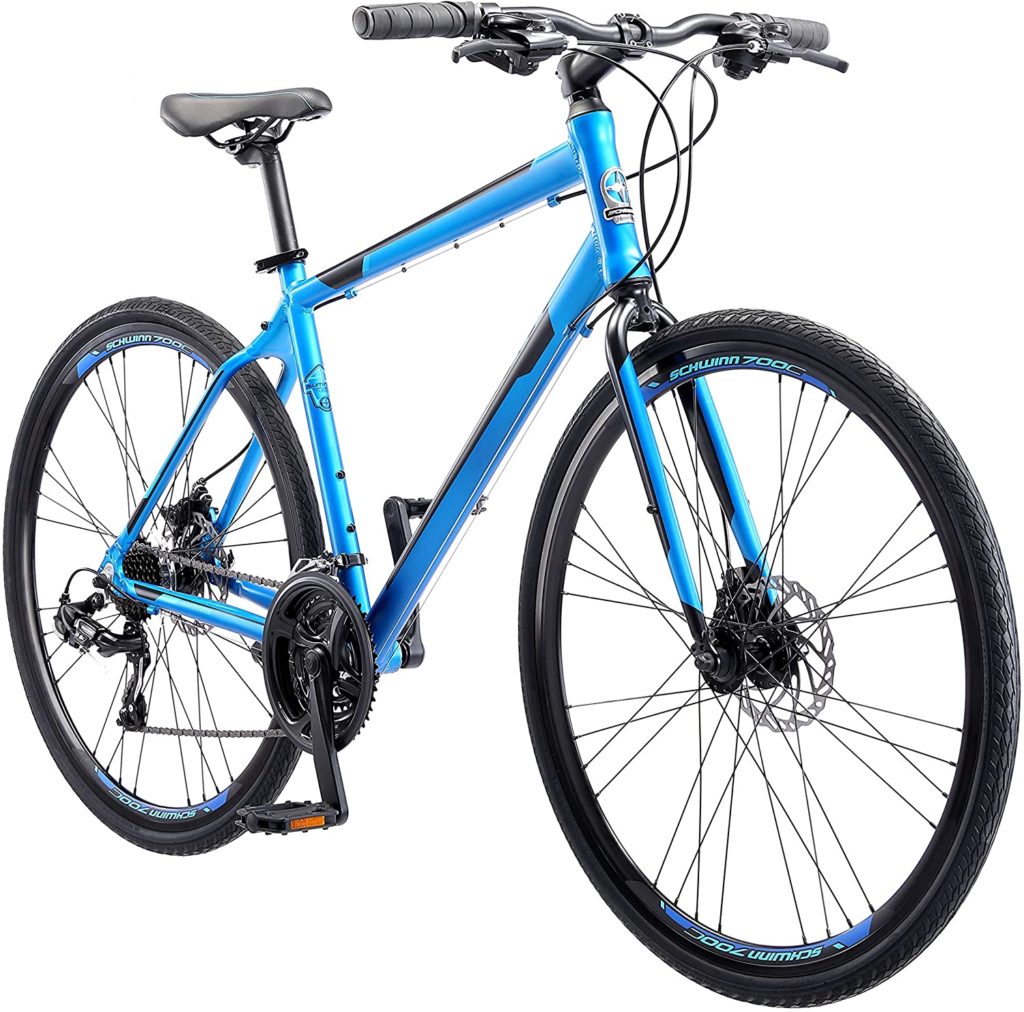 You will find a number of Schwinn hybrid bicycles on our list. Schwinn is the name of quality when it comes to manufacturing the best budget hybrid bikes for men and women. The Schwinn Volare Adult Hybrid Road Bike, as the name suggests, is more of a road bike than a mountain bike. Therefore, it is more suited for urban use or intracity commute.
Frame
Volare Adult can easily become one of the best fitness bikes as well thanks to its aluminum rigid fitness frame. The fork is also pretty rigid that provides extra strength and stability to the bicycle.
Components
To begin with, the bicycle has a sport riding seat that is a very nice feature. Furthermore, flat style handlebar ensures a smooth and comfortable ride. The blue frame with black tires and handlebar make it an eye-catching bicycle as well.
The biggest selling point of the Volar Adult is 21-speed Shimano gear that is an absolute bargain at this price. Similarly, the bicycle also comes with EZ Fire shifters and a Shimano rear derailleur that are just icing on the cake.
Stopping the bicycle is not an issue thanks to front and rear alloy linear-pull brakes. Similarly, the alloy wheels with high profile rims add necessary traction for you to avoid slippages and mishaps.
Finally, the Volare Adult has a limited lifetime warranty as long as you own the bicycle.
Our Verdict
Volare Adult is a product of the world's largest hybrid bicycle manufacturer. It has an alloy crank, alloy wheels, aluminum frame, and it boasts Shimano products. What else you can expect from a budget hybrid bike?
Benefits of Hybrid Bicycles
Apart from being versatile, hybrid bikes offer several other benefits as well. We are going to discuss some of these benefits in the coming lines.
1. Easy to Handle
First and foremost, hybrid bikes are very easy to handle thanks mostly in part to their lightweight components. As you may already know, pure road bikes offer a wide range of speed options but they tend to be very heavy. Mountain bikes, on the other hand, are lightweight but they have slower speeds. A hybrid bike offers a combination of the two. Besides, it has comparatively slimmer tires and a lightweight aluminum frame, delivering more speed as well.
2. Attractive Bicycles
As you have already seen, top hybrid bicycles come in a number of shapes, sizes, and colors. As a result, men, women, and kids can choose whatever bicycle they like after their own heart. The versatility of use and shapes makes them a very attractive choice for everyone.
3. Suitable for all Terrains
Best hybrid bicycles for men and women have tires that make them suitable for all terrains. They can easily tackle dirt trails, crush gravel, ride without difficulty in rocky areas, and even on wetlands and roads. On the contrary, you can never do so with a specialized bicycle that is suitable for specific areas only. Therefore, hybrid bicycles are quickly becoming a choice of all and sundry due to this feature alone.
4. Highly Comfortable
Most hybrid bicycles feature a brilliant suspension system both on the front wheel and under the seat. The suspension fork on the front wheel and spring-loaded seat absorb all the pressure caused by bumps, hurdles, and jumps. You will never experience any discomfort no matter wherever you go.
5. Upright Riding Position
You have to lean forward most of the time while riding ordinary bicycles. As a result, you cannot ride for long periods. Similarly, such a riding position can also result in severe back pain. On the other hand, even the best budget hybrid bicycles have an upright riding position due to brilliant coordination between the handlebar and the seat. No rider of a hybrid bicycle has ever complained of back pain.
6. Packed with Accessories
Manufacturers are adding more and more accessories to their hybrid bicycles to further facilitate the riders. For example, panniers, carriers, bottle holders, bags and baskets are becoming a common sight on such bicycles. They also help carry essential items without any hassle while you enjoy long rides.
7. Easily Affordable
Last but not least; hybrid bicycles are very affordable despite offering an assortment of accessories. For example, you can buy the best hybrid bikes under 200 dollars as well. Everyone can afford hybrid bicycles as they are even cheaper than the single purpose or specialist bicycles.
How to Buy the Best Budget Hybrid Bikes
You need to consider many things such as bike' frame, gears, brakes, size, and components when buying a hybrid bike.
1. Frame
Buying best budget hybrid bikes does not necessarily mean you have to contend with a poor frame. Every hybrid bike above $200 should have a lightweight aluminum frame. Some of the bikes even have rear racks and full and back fenders for added versatility. You can also look for hybrid bicycles with mounts that enable you to upgrade the bicycle later as well. Similarly, don't worry if the cycle has steel forks as they provide a lot of cushioning while riding.
2. Gears
Keep in mind that many budget hybrid bicycles feature fairly basic triple chainset to ensure easy peddling. However, this is not the case with every bicycle. For example, most of the hybrid bikes on our list come with high-quality Shimano gearsets that offer exceptional performance on every terrain. Similarly, some of the best budget hybrid bikes have the same gearset as more expensive road or mountain bikes. Therefore, they offer better or similar performance at a reduced price.
3. Tires
Always look out for the hybrid bikes that have 700C wheelbase and tires irrespective of the rim size. 700C tires are a standard these days by the way. They are designed to roll across cracks, small bumps, and hurdles without you even noticing. They also enable easy uphill travel and convenient increase in acceleration. Never fall in the trap of buying a hybrid bike with big mountain bike tires.
4. Brakes
What separates hybrid bikes from the rest is the choice of brakes. For example, most of these bikes come with lightweight V and cantilever brakes. They have incredible ability to handle wider tires and thus, they are better suited for riding on mixed terrains in all weather conditions.
On the other hand, some hybrids also feature caliper brakes that you normally find in specialist road bikes. These brakes are an ideal choice for dry roads but you cannot use them in wet conditions. Therefore, they cannot cope with grippier tires as well.
5. Size
Different hybrid bikes fit people of different heights. You need to choose the right size to ensure comfort and less back pain during long rides. It is fairly easy to pick the bike of the right size. Just ensure your feet are fleet on the ground when you stand over the frame. Similarly, make sure the saddle is lowered or raised exactly where you feel the most comfortable.
6. Comfort
Finally, the best budget hybrid bikes you are considering should be comfortable. It should not result in any discomfort, pain, or exhaustion no matter how long you drive and wherever you drive. Some of the things that make a bike comfortable are spring-loaded saddle, upright riding position, fully extensible legs, and appropriately raised or lowered handlebar.
Frequently Asked Questions
What is a hybrid bike?
A hybrid bike is a combination of a mountain bike and a road bike. Some hybrid bikes are more of road bikes whereas others are closer to a mountain bike in terms of features and performance.
What is a hybrid bike good for?
Best budget hybrid bikes offer the benefits of both mountain bikes and road bikes for a reduced price. They are very comfortable to ride due to their large padded seats and upright riding position. They are best for short distance commuting, casual riding, and fitness riding, and tackling medium level dirt trails.
How fast can a hybrid bike go?
The average speed of a hybrid bike is 13.5 mph.
Final Thoughts
Summing up our hybrid bike reviews, we can easily say that the sixthreezero EVRYjourney is an absolute winner in terms of price, design, specifications, and features. The Schwinn Discover finishes at a close second. The Tommaso La Forma has the best features of all but it claims the third spot just because of its high price tag.
We would love to hear your suggestions and recommendations regarding the best budget hybrid bikes in the comments section.