Are you looking for the best sleeping bag for cold weather? This article unveils some of the best sleeping bags for winter camping. Tried and tested by experienced hikers, campers, climbers, and adventurists, these bags will fulfill most of your requirements when it comes to sleeping comfortably in the incredibly chilly outdoors.
Camping in the cold has its own perks and rewards. For example, you don't overheat and sweat while hiking, days are very cozy, and there are little to no bugs. You can also see more wildlife besides having the entire site to yourself. Similarly, nothing is better than camping in the snowy mountains and taking coffee at the end of the day in your tent.
However, nights can get tremendously frosty in these places, requiring you to have the best and warmest sleeping bag. It should have all the features to withstand extreme cold otherwise you will keep shivering all night long. Not to mention, lack of proper sleep will leave you with a tired brain and body. As a result, you will be ill-prepared both mentally and physically to carry on rigorous hiking and camping activities the next day.
10 Best Winter Sleeping Bags
A good winter sleeping bag can also become a difference between life and death. However, it is not an easy task to find the right sleeping bag for you. But – you need not worry. We have covered up everything for you and come up with the 10 best cold weather sleeping bags for you.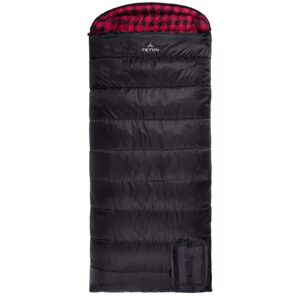 TETON Sports Celsius is the bag for you if you are looking for a warm, comfortable bag for family camping. It is a capacious bag with plenty of room for everyone to spread out. On top of that, it eliminates all the cold spots, enabling you to sleep comfortably through the night.
The bag has a soft poly-flannel lining that provides incredible warmth and comfort when you sleep outside. Your pillow also remains clean and you warm thanks to the half-circle mummy-style hood. The bag also unzips on each side as well as bottom and top for easy access and extra ventilation.
The bag ensures you remain toasted using features like thermal enhancing, shoulder and zipper draft tubes, innovative hollow fiber filling, and double-layer offset switching.
You also get a durable compressible sack with to easily pack and carry your bag.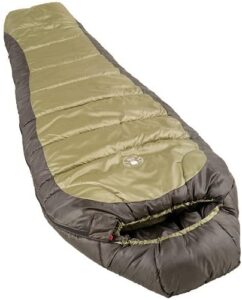 If you are a big individual looking for a very warm sleeping bag for cold weather, you must consider Coleman 0° Mummy sleeping Bag. It can easily accommodate a person with up to 6 feet 2 inches of height. As the name suggests, the bag can keep you warm and cozy at temperatures as low as 0° Fahrenheit.
The specially designed hoody also traps enough heat for you to stay comfortable and sleep through the night without trembling to death. You can always unzip the bottom of the bag on warmer nights for extra ventilation or if you get too warm inside the bag. This is also a great feature for people who like to sleep with one foot out. Other great things about the bag are the quilted shell and insulated foot box, ideal for people with cold feet.
All in all, Coleman 0° Mummy is the best 0-degree sleeping bag for larger individuals. It is not only affordable but also keeps you warm in extreme cold as well.

Marmot Ironwood 20° Mummy is a mummy-style down sleeping bag. It can keep you warm at temperatures as low as 20° Fahrenheit. It also has impressive resistance against water thanks to the Down Defender and certified 650 fill power down.
The bag provides maximum warmth because the ground-level side seams conform to your body shape. Similarly, there are little to no cold spots owing to the presence of stretchable tricot baffles. Similarly, the bag does not lose heat as well because of the nautilus multi-baffle head design.
The bag also comes with internal mesh pockets to keep small gears within your reach. Therefore, it is easy to organize the camp or your sleeping bag while camping.
In general, Marmot Ironwood 20° Mummy Lightweight Sleeping Bag helps you stay warm in very cool and damp conditions.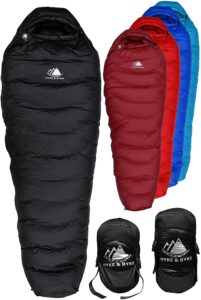 Hyke and Byke Snowmass 0 Degree is a mummy-style sleeping bag. It maximizes water resistance, warmth, and durability. All these are necessary features of a winter sleeping bag. Made of super-soft duck down, this high-quality sleeping bag provides sufficient warmth in temperatures from 10° to 40°. It has all the features to keep you warm from head to toe.
The bag is also easily transportable in the backpacks. It also resists all the moisture thanks to the hydrophobic down. It is a compact and lightweight bag as well as highly compatible just like all down sleeping bags. Therefore, you can take it with you on all of your hiking and camping trips. It also makes transportation and storage a breeze as it features compression stuff as well.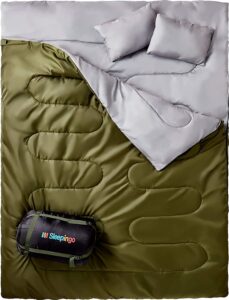 Sleepingo Double Waterproof is the best sleeping bag for cold weather for couples. The lightweight sleeping bags also comprises of two pillows, helping you get warm and cuddly during your next camping trip.
Having dimensions of 87"x59", it is a big enough bag for two people. Therefore, you don't have to fight for space while sleeping. You can also divide it into two separate sleeping bags if you prefer some personal space.
Made of rip-resistant polyester, it is a perfect bag for long-distance hiking. The waterproof bag also helps you remain toasty and dry even if it is raining heavily. Similarly, cotton filling maintains warmth no matter how long you use it. It can keep you warm at temperatures from 32 degrees to 50 degrees. However, you would require an extra blanket for cooler nights.
The bag folds down to 15"x12" which is pretty impressive for a large 2-person bag. It also comes with a carrying case, making it even easier to pack and carry.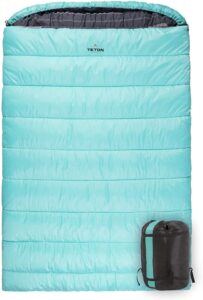 TETON Sports Mammoth is a 0° survival rated bag for camping. The bag helps you sleep comfortably and warmly in cold to frozen conditions, even well below freezing temperature.
As the name suggests, it is a spacious bag with enough room for two to three persons. You can easily stretch your legs, spread out, or sleep without disturbing others under the open sky.
The bag, just like all other best winter sleeping bags, leaves no cold spot thanks to thermal enhancing Double-Layer Offset Stitch Construction. The SuperLoft Elite Hollow Fill fiber maintains the original fill even though it gets very soft and compact.
The bag is non-allergic and the hollow fibers provide maximum warmth in addition to providing enough ventilation as well.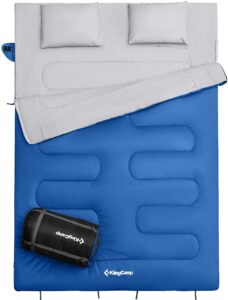 KingCamp Camping Sleeping Bag for Adults is one of the best cold weather sleeping bags in the market. Features like detachable design, thermal insulation, select materials, portability, and durability make it a necessary addition to your winter camping gears.
It is a one-piece but a very large sleeping bag, providing plenty of room for everyone to enjoy. It also comes with a quilt, blanket, and two pillows, further enhancing your camping experience. You also get more space because of its detachable design, making it the best cold weather sleeping bag for couples and families as well. Similarly, it also includes two pillows to make your night even more comfortable.
Other noticeable features of the bag include a waterproof shell, anti-snag zipper tape, Velcro design to prevent sliding, and unzipping bottom. The bag is also very lightweight and portable besides having two storage pockets.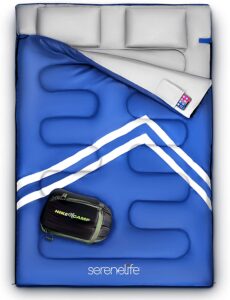 SereneLife Double Sleeping Bag is a super warm and comfortable sleeping bag. Available for less than $50, it is also one of the most affordable sleeping bags as well. It is quite a spacious bag, suitable for two teens or adults.
The bag comes with two pillows, making it perfect for traveling, hiking, backpacking, and camping. It is very lightweight, portable, and sturdy. It fits perfectly and easily into a compression sack.
The tough and durable outer shell protects you from harsh weather elements. Made of polyester fabric, the bag is extremely comfortable and warm thanks to hollow cotton making and soft pongee liner.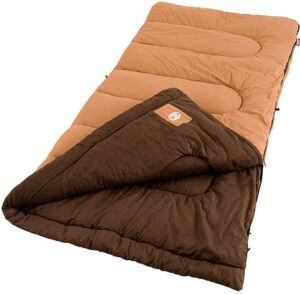 You must go for Coleman Dunnock Cold Weather Sleeping Bag if you are going for winter camping trip in a high altitude area. The bag enables you to sleep comfortably and warmly in as low as 20°. It also offers durability and zero cold spots as it features Fiberlock construction.
You also remain warm throughout the night because of the ultra-soft cotton flannel liner and a cotton cover. The heat can't escape through the zipper as well due to a Thermolock draft tube. On warmer nights, you can unzip the bottom of the bag for extra ventilation.
There are also zero chances of snagging owing to the 2-way patented ZipPlow system. Similarly, the bag is also very easy to roll and pack. It is very easy to clean this machine-washable bag. On top of that, it is a spacious bag with enough room for people up to 5 feet 11 inches tall. In simple words, it can accommodate most of the average sized persons.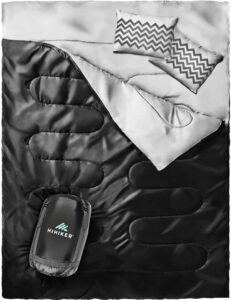 Finally, we have HiHiker XL Double Cold Weather Sleeping Bag on our list of the best sleeping bag for cold weather. The extra-large queen size bag is perfect for couples and families who like to explore the outdoors with their friends and relatives.
It is a very large but still very warm and comfortable sleeping bag. Therefore, you don't have to deprive your partner of sleeping space during the night. The bag delivers the strength of a high-quality sleeping bag but the warmth and softness of a blanket.
The lightweight and durable bag features a waterproof and sturdy outer shell. It makes you feel comfortable thanks to a soft interior lining with a thread count of 210. You get a comfy vibe of a blanket because of the cotton and soft tetron interior. As a result, the bag keeps you warm and cozy even in very cold temperatures. Rated at 32° Fahrenheit or 0° Celsius, it is an ideal bag for really cold nights.
The bag also comes with two traveling pillows and a nylon carrying bag. Therefore, it is very easy to pack and carry it with you as well. You can also convert it into two separate sleeping bags.
Best Sleeping Bag for Cold Weather Buying Guide
You need to keep many factors in mind while shopping for a sleeping bag for winter camping. Some of these factors are as below.
Temperature Rating
The temperature rating of a sleeping bag indicates the lowest temperature at which it can keep you warm. Most of the bags on our list are ideal for camping at 0° and even lower. However, you should not rely on temperature rating only. It is better to wear warm clothing and use a good sleeping pad as well. Temperature ratings vary from sleeping bag to sleeping bag and manufacturer to manufacturer. Similarly, not everyone has the same comfort levels. Therefore, you should look for a bag that has winter and summer temperature ratings of 10° or lower and 35° or higher respectively.
Hood
Sleeping bags with hoods tend to be the best winter sleeping bags. The hood will enable you to trap the heat that escapes through your head. Similarly, the bag should ideally have a quality draft color as well. You don't have to wear a hat while sleeping if the sleeping bag has a hood and a draft color.
Custom Shapes
Sleeping bags are available in different sizes and shapes to meet the needs of different people and body types. Some bags are large enough to allow you free movement while others are designed to trap heat. For example, you must choose a "mummy" sleeping bag if maximum warmth is your main concern. However, it won't offer you much of a space. The type or shape of the bag you choose depends on your comfort level and what makes you easy during camping.
Material
Manufacturers normally use three types of materials to make sleeping bags. Each of these materials has its merits and demerits.
1. Synthetic Sleeping Bags
Synthetic or polyester sleeping bags are the least expensive of all. These bags are hypoallergenic and offer good protection against dampness and wet conditions. However, they are a little bulkier and are difficult to pack.
2. Goose Down
Goose down sleeping bags are relatively more expensive but they are very durable. They enjoy immense popularity among cold weather campers. This is because they keep you incredibly warm and are easily compressible. Therefore, it is very convenient to pack and carry them. The only downside is they don't fare well against water and dampness.
3. Water-Resistant Down
Water-Resistant Down bags are best and thus, the most expensive of all sleeping bags. However, they will offer you the same benefits as a Down sleeping bag. The only extra advantage is that they don't get damaged in a rainstorm. These bags are also very warm thanks to excellent warmth to weight ratio.
Lining and Shell
All the sleeping bags on our list have lining and shells to absorb sweat from your body. Similarly, they have tough outer shells to repel the water as well. You must never ignore these two features while buying a sleeping bag for winters.
Pillow Pockets
Many sleeping bags come with single or double pillows. These bags are perfect for those people who don't want to drag a pillow along on their camping trips. Similarly, some bags have empty pillow pockets as well. All you have to do is to stuff some clothes in these pockets and you will get a pillow.
What about Sleeping Pad?
Most people forget to bring a sleeping pad on their winter camping trips. A sleeping pad is one of the important gears for camping, especially in the cold weather. You would make a lot of difference to your camping experience by investing in a high-quality sleeping pad. It plays two vital roles for you.
It protects you from the cold ground under your sleeping bag as well as ground frost.
It also ensures better insulation of your sleeping bag, resulting in a better sleep and rest.
Final Thoughts
Concluding our guide to the best sleeping bag for cold weather, we would like to say that you must buy a high quality, warm, and durable sleeping bag for lower temperatures. Otherwise, your camping trip will become a nightmare instead of a jubilation.