Are you an avid hiker who is in search of strong but comfortable hiking shoes? Every hiker, whether novice or expert, needs high-quality hiking shoes which also fits his feet? Finding a perfect pair of hiking shoes means you are going to enjoy your adventure whether you are staying on gentle terrains or venturing in difficult and challenging mountainous areas. In this article, we are going to explain how to pick a pair of hiking shoes for your next escapades?
The article will contain the following sections.
Important things to keep in mind
Different types of hiking shoes
Different materials hiking shoes are made of
Three main types of hiking boot cuts
How to check hiking shoes fitting
How to pick a pair of hiking shoes?
How to shop hiking shoes online
Takin care of your hiking shoes
Hiking is no doubt an incredible and engrossing activity. It enables you to experience the true colors of nature without any noise and bustle of big cities. However, it also demands real courage, stamina, determination, and of course right gears. Any hiker must be in the possession of right hiking equipment and gears including sturdy and compatible hiking shoes.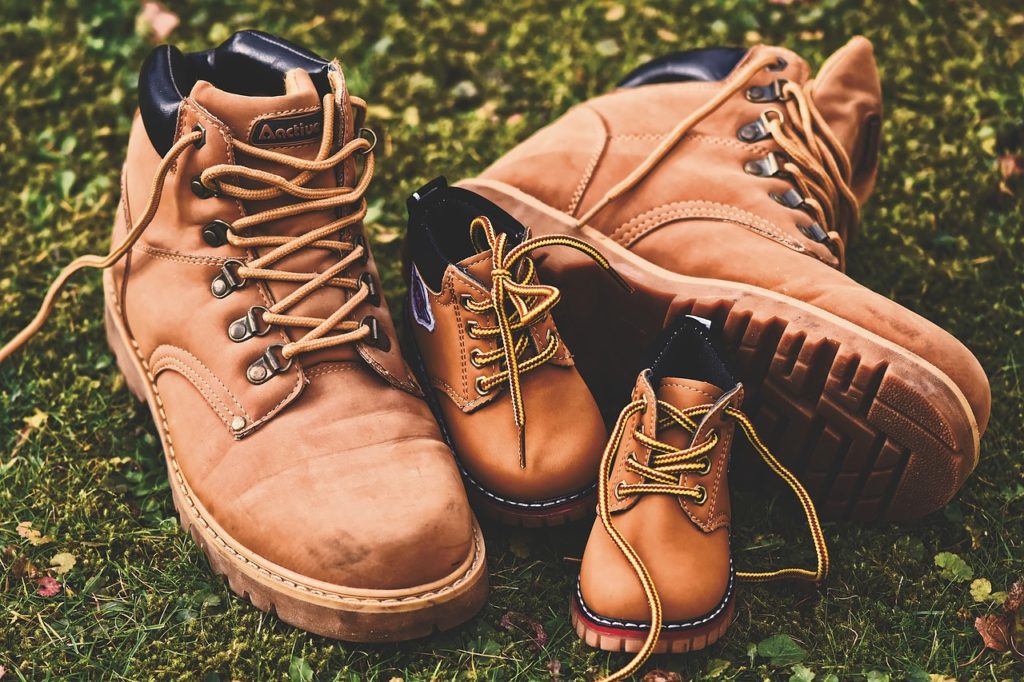 Important Things to Keep in Mind
Hiking is perhaps the most popular of all the adventurous activities people partake in. Unlike mountaineering and rock climbing, hiking does not require any major investment apart from specialized hiking shoes.
When you go to a shop to pick a pair of hiking shoes for yourself, you will come across different types, styles, and sizes of shoes. Therefore, it can become quite difficult especially for novices to select a pair of shoes that can meet their particular requirements. Shoppers should be able to explain different types of shoes and their functions. Similarly, you should also learn more about the features of each type of shoe and what features are important for you before going to the market. Moreover, you must learn how to find proper boot size for your feet so that you may not face any problem while hiking.
The process of choosing perfect hiking shoes is like matchmaking and the following lines explain how to pick a pair of hiking shoes which you need.
Different Types of Hiking Shoes
Before we learn how to pick a pair of hiking shoes that can at least fulfill your minimum requirements, you first need to learn about different types of hiking shoes and their particular features.
1. Mountaineering Boots
These are heaviest of the hiking shoes and feature a relatively stiff sole. They are specially designed for a variety of heavy-duty tasks such as accepting crampons for traveling in glaciers or carrying heavy loads. High-quality mountaineering boots will be durable, tough, and extremely supportive.
2. Backpacking Boots
Backpacking boots are an ideal choice if you are traveling for more than one day in the deep country. These typical hiking shoes can support loads with varying weights. Their sole is less stiff than mountaineering shoes but they are equally supportive making those perfect hiking shoes for both on and of trail trips.
3. Light Hiking Boats
These particular hiking shoes resemble the burly running shoes and are excellent for day hiking. They are usually low-cut models with flexible midsoles. Many seasoned and ultralight backpackers wear light hiking shoes, especially for long journeys. It is always nice to travel light and these exceptional hiking shoes provide you the opportunity to do so.
4. Hiking Boots
These mildly high cut shoes are specially designed for lightweight backpacking trips on weekends or day hikes. They often require modest break-in time and flex quite easily. However, the major drawback of these kinds of shoes is that they lack the support and durability offered by backpacking shoes.
5. Shoes Used for Variety of Purposes
It is also important to note that some of the shoes can work as all-in-one light hiking, hiking, or even backpacking shoes. Similarly, your particular style of hiking will determine what type of hiking shoes are perfect for you. For instance, ultralight backpackers like to wear low-cut hiking shoes whereas you can consider typical lightweight hiking shoes if you routinely carry light weights.
Different Materials Hiking Shoes are Made of
In addition to the types of hiking shoes, you should have sound knowledge of different types of materials used to manufacture these shoes before you go to any hiking shoe shop.
Upper Boot Materials
The materials of any shoe which will impact its price, durability, and water resistance. In this regard, different kinds of upper boot materials are discussed below.
1. Synthetics
Synthetic leather, nylon, and polyester are commonly used to manufacture modern hiking shoes. They are cost-effective, break-in pretty easily, dry faster, and are lighter than other materials such as leather. However, they have more stitching on the outside of the shoes and therefore, might wear relatively early.
2. Full Grain Leather
Shoes made of full grain leather are extremely durable and possess excellent water and abrasion resistance properties. Full grain leather shoes are most commonly used for rugged terrains, heavy loads, and extended backpack trips. As they are stiff and heavy, ample break time is required before embarking on a long trip again.
3. Split Grain Leather
Split Grain leather shoes actually "split away" smooth exterior of the shoes from the abrasive inner part of the cowhide. Split grain leather is usually combined with nylon or nylon mesh to make extremely lightweight and breathable shoes. They have one major drawback that they are not as durable and water-resistant as full grain leather shoes.
4. Nubuck Leather
Nubuck leather is the full grain leather that has been polished to resemble suede. They are relatively lighter than full grain leather shoes still they require sufficient break in time. These shoes are extremely water-resistant and durable.
5. Waterproof Lining
These shoes contain waterproof breathable membranes that keep your feet dry in wet conditions. However, the membrane may cause the feet to get warm on dry and hot summer days as compared to a ventilating mesh used in some non-waterproof shoes.
Midsole Materials
Laying between the upper and midsole of the shoe, a midsole determines the stiffness of the shoes. It also protects your feet from shocks by providing cushioning. The two most commonly used materials to make midsoles are as below
1. Polyurethane and EVA
Polyurethane and EVA that stands for Ethylene Vinyl Acetate. The later material is less expensive, bit cushier, and lighter. Different shoes have EVA in different densities to provide firmer support where needed. On the other hand, polyurethane is usually found in typical backpacking and mountaineering shoes as they are more durable and stiffer.
2. Nylon or Thermoplastic Polyurethane (TPU)
Similarly, some support components are used around the midsole to provide extra cushion and lessen the shock. For instance, shanks are 3-5 mm thick inserts that are placed between the outsole and upper of the shoe. These shoes are usually made of nylon or thermoplastic polyurethane (TPU). They vary in size greatly and their major function is to provide added stiffness to the midsole to carry heavy loads.
On the other hand, semi-flexible and thin plates are inserted between the outsole and midsole to protect feet from getting bruised from uneven rocks or roots.
Outsole Materials
Outsoles of all the hiking shoes are made up of rubber. Some additives such as carbon are usually added to rubber to boost the hardness, especially for mountaineering or backpacking shoes. Hard rubber outsoles offer durability but may feel slippery especially if you go off-trail in rugged trains.
Just like midsole, some supportive materials are used to strengthen the outsole. One such material is lug. Lug is mostly used in backpacking and mountaineering shoes and its basic purpose is to provide extra grip. Widely spaced lug shed mud more easily and offer good traction.
Similarly, heel brakes reduce the chances of slips and mishaps. Heel brake is a clearly defined zone that is distinct from arch and forefoot.
Three Main Types of Hiking Boot Cuts?
Alongside the types of shoes and materials used to manufacture them, the different types of shoes cut also determine which shoe is suitable for your particular requirements. Various kinds of shoe cuts are discussed as follows.
1. High Cut Shoes
If you are hiking on uneven trails and terrains, the high cut shoes can provide you much-needed ankle support and balance. Similarly, these shoes are also perfect for you if you go off-trail and carry heavier loads (more than 40k) quite regularly. However, you need to give them ample time to break in before setting on long journeys.
2. Mid Cut Shoes
The basic purpose of mid-cut shoes is to safeguard your ankle from debris. They wrap up around your ankles and are an ideal choice for short multi-day trips with moderate loads.
3. Low Cut Shoes
Low cut shoes are an excellent choice for lightweight travel. However, they do not provide much protection against debris as well as offer less roll resistance for ankles. These are reasonable shoes to wear for maintained trails and lighter loads.
How to Check Hiking Shoes Fitting?
In addition to other factors, the fitting of the hiking shoes is perhaps the most important factor you need to consider when you visit a hiking equipment shop. A shoe that fits you perfectly will address three major aspects of your feet.
1. Length
Your toes should be able to wiggle quite easily inside the shoes. It becomes imperative for you to choose the shoes with right depth or length if you suffer from some sort of sensitive toe condition such as neuroma or have hammerhead toes to avoid pain and misery once you are on the trail.
2. Width
You should not feel your feet are compressed by the sides. Similarly, you should not be able to move your feet from side to side inside your shoes.
3. Volume
When it comes to volume, the "major" part of your feet must be inside the hiking shoes that you have chosen for your adventures.
How to Pick a Pair of Hiking Shoes?
Now that you have learned sufficiently about the types of shoes, the materials used to manufacture them, the types of cut and other important factors; it is the time to discuss some important tips about how to pick a pair of hiking shoes for yourself.
1. Prepare Yourself
You need to prepare yourself before getting into any store. Try to visit that shoe store where you can prolong your hiking shoe selection process. You can make a good selection by spending some time with the REI sales specialist. It is even better to shop during less busy hours such as early morning, afternoons or evenings on weekdays. Also, bring your favorite pair of socks as well as any orthotics or inserts. Wearing familiar accessories will help you have a feel of new footgear and its fitting quite.
2. Speak to an REI Footwear Specialist
As discussed above, talking with an REI specialist increases your chances of selecting the right hiking shoes. Most of the REI salespersons have usually spent a lot of time in different shoe stores. They are in a better position to give you a sound and reliable advice about which pair of shoes fit your feet perfectly or is ideal for your specific needs. They will advise you considering how much hiking you have done before, what is the kind of terrain you like to hike on, or what kind of weather you are expecting once you get there.
Similarly, they can also ask about what is the total load you would carry. Do you have any medical or food condition? Most importantly, do you have likings for any special brand? REI salespersons have years of experience of selling shoes to people with different sizes and kinds of feet. Therefore, they can tell you what kind of shoe will fit your feet just by having a look at them.
3. Observe Your Naked Feet
You can measure the dimensions of your feet with the help of a foot measuring device. But when you are purchasing hiking shoes, you need to think beyond these things. For instance, you probably have what it is called as low-volume feet if you can see your veins and bones. On the other hand, you are very likely to have high-volume feet if they are round and soft. Similarly, you probably have medium to high arch feet if you can slide your finger under the arch. Even more, you might have flatfoot if you cannot slide your finger under your feet.
You must consider your feet type while shopping hiking shoes for yourself. It takes some time to find the right fit for each individual but for that matter, you should know which category your feet fall under.
4. Try At Least Three Pairs of Shoes
It is always advisable to try at least 3 pairs of hiking shoes that you think have the potential to serve you in the future. For instance, keen boots are extremely popular and worth consideration if you have high-volume or wider feet. Individuals with slender narrow feet might find some of the European brands such as Lowa and Zamberlan suitable for their feet. If however, the first three pairs of shoes do not work, keep on asking for more until you find the perfect fit.
In this regard, the shoes are too narrow if the sides of your feet are squished. Similarly, you should also check the lacing of your shoes and whether your socks fit smoothly if your toe moves easily inside the shoes or if the shoes pinch respectively.
5. Check Each Pair for Extended Time
It is also a good idea to spend some time in each pair of shoes. You can walk up and downstairs, stroll through the store or you can also walk on an inclined surface. Similarly, you can also use a stimulated area with abrupt inclines and rock terrains found in some of the REI sections of footwear stores.
It is quite obvious that you cannot check all the things in a short period. For example, why your heel is not staying in place when you walk uphill or why your feet slide forward as you walk downhill. However, these important moments will inform you about whether the shoes fit your feet perfectly or not. For instance, the shoe is not right and never will be if you feel slight pinching at the forefront.
Similarly, if you find a perfect fit, take it home and wear it for several hours and walk on the clean confines of your home. You have made an excellent choice if the shoes remain comfortable after hours of use.
How to Pick a Pair of Hiking Shoes Online?
Online shopping offers you many benefits such as you can choose from virtually endless variety while staying within the comfort of your home. You need to consider the following points while shopping for hiking shoes online.
Always choose the brand you have purchased before.
Again, try at least 3 pairs of shoes and send them back to the online store if none of them works.
Measure your feet size properly and compare your readings with sizing charts. You can easily find the charts on the specific shoe page of the manufacturer's website.
Always read customer reviews when buying a pair of hiking shoes from Amazon or eBay. You can get valuable information about the shoes you have shortlisted. Similarly, you will get to know their pros and cons.
Taking Care of Your Hiking Shoes
Finally, you must take proper care of your hiking shoes if you want to prolong their life and use them for a long time to come. It is not difficult at all to keep your hiking shoes in perfect condition. You just need to keep your boots clean of any debris and give them regular waterproofing treatment and your shoes will serve you for years to come. In this regard, it is also advisable to read special cleaning instructions easily found the manufacturer's website.
Final Thoughts
Hiking is an arduous but exciting and exuberating activity that keeps your mind and body fresh. You need to be mentally and physically prepared as well as well-equipped to make most of your hiking adventures. Hiking shoes are the most important gear for any hiker and the above lines explain how to pick a pair of hiking shoes which is perfect for your future hiking expeditions.