Can an affordable backpack offer quality and strength required for storing your stuff for hiking adventures? The consensus is yes. A best budget hiking backpack will maximize the benefits of such a rigorous yet fun and healthy activity.
In our definitive guide, we are going to reveal the top rated hiking backpacks which you can buy without spending a lot of money. The article will also contain the following segments, making it easy for you to derive your required information.
10 best backpacks for hiking and camping
Types of hiking backpacks
How to buy a budget hiking backpack
A cheap or affordable backpack does not mean a substandard backpack. Yes, hiking is a demanding and arduous activity. It warrants a backpack which is not only lightweight but strong and spacious enough for you to cover more miles while carrying extra luggage using less energy at the same time. You have every right to think that only an expensive pack can meet all these requirements. But the fact is that some of the budget backpacks for hiking are equally good. Although, they are devoid of frills yet they will support you throughout your adventures without breaking down.
Above all, they help you save a lot of money on hiking backpacks as well.
10 Best Backpacks for Hiking and Camping
So, let us dive right into our guide. The hiking experts at our panel have chosen the following best affordable backpacks for hiking to buy.
TETON Sports Explorer 4000 Internal Frame Backpack: Our number one pick
PANS Large Military Expandable Travel Backpack: Best large hiking backpack
AmazonBasics Internal Frame Hiking Backpack: Best backpack for heavy loads
MOUNTAINTOP 40 Hiking Backpack for Outdoor Camping: Most spacious backpack under $50
TETON Sports Scout 3400: Best adventure backpack
Osprey Packs Daylite Daypack: Best daypack backpack
OutdoorMaster Hiking Backpack 45L: Best multipurpose backpack
Osprey Fairview 40 Women's Travel Backpack: Best backpack for women
Venture Pal 35L Lightweight Travel: Best budget hiking backpack
Everest Signature Waist Pack-Standard: Best Waist Pack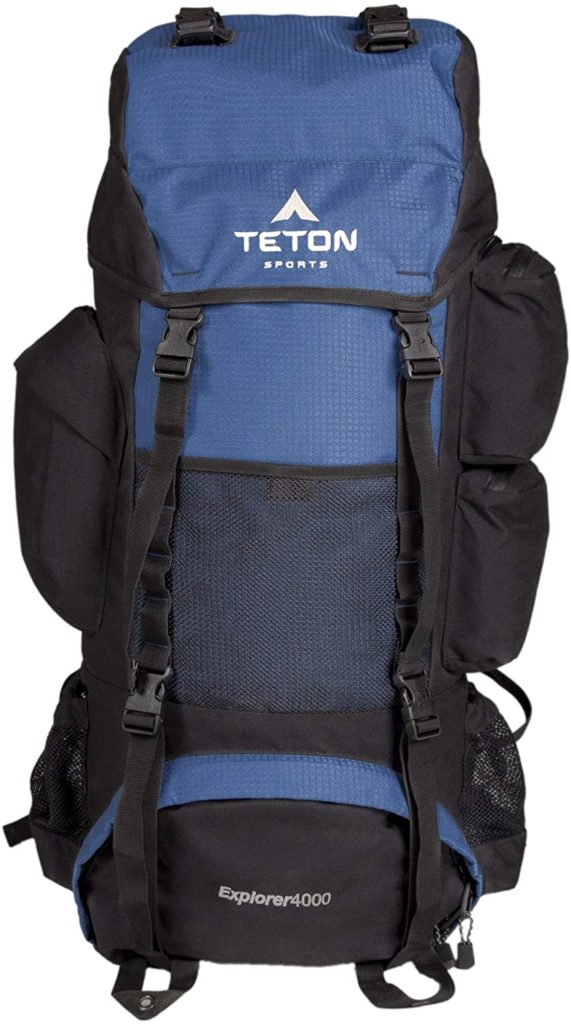 TETON Sports Explorer 4000 is one of the best hiking backpacks under $100 for a variety of reasons. It has excellent adjustable features in addition to an integrated rainfly. Above all, it is a large hiking backpack suitable for both men and women.
Features
Teton Sports Explorer 4000 has a capacity of whopping 65L which is the highest at this price range. It also has multiple storage compartments, including the main compartment and pass-through side pockets. They also make it easier for you to store long, awkward gears such as trekking poles and tent poles. However, you can store smaller items conveniently in internal and external storage spaces. The bag also has a sleeping compartment which is always nice to have on long hiking expeditions.
It is also the most comfortable hiking backpack thanks to you carry it. Also, the reinforcements at important stress points make it very comfortable for your back as well.
When it comes to adjustability, the TETON Sports Explorer is second to none. It has numerous adjustable features and that is why it is the preferred backpack of a vast variety of hikers. You can adjust the shoulder straps, hip belt, chest belt, and overall bag for all body sizes and shapes. It is also a great backpack for taller people because of the adjustable torso length.
Our Verdict
If you are in search of backpacks with good back support, the TETON Sports 4000 is the backpack for you. With a capacity of 65L, multiple storage options, a sleeping bag, and adjustable torso length all available under $100, you cannot go wrong with this backpack.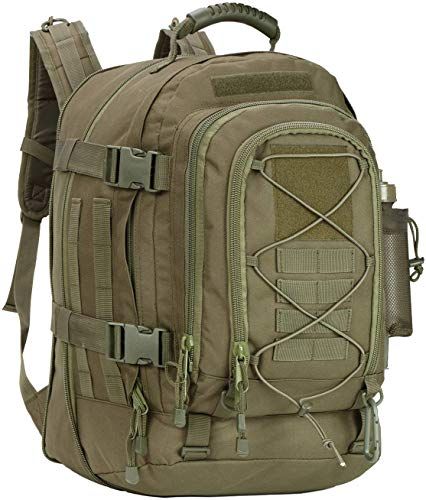 PANS Large Military Expandable backpack can meet most of your requirements if you require the best backpacks for heavy loads. It is a very popular backpack with plenty of applications such as hiking, travel, hunting, and tracking.
Features
Best for both men and women, it is the best day hiking backpack. However, you can add many different things to it such as a Velcron or small pouches because it also comes with a Molle system.
The backpack has an impressive capacity of up to 64L. There are four main storage compartments. The main compartment for storing your clothes, tent, or big laptops. You can store smartphones, batteries, notebooks, keys, chargers, and walkie talkies in the front compartment. Things like tablets and IPADs can go to the middle compartment. The back compartment can house blankets, clothes, and water bags, etc. The backpack also has a mesh pocket in the side for holding water bottles.
The backpack is also extremely flexible thanks to an adjustable chest belt. Then there is a customizable side buckle, making the backpack more comfortable and compact to carry. Several additional straps around the chest ensure the bag fits your bod in addition to better distributing the weight.
You can also use the side zippers to expand the backpack. It can hold more things than any other backpack on the market. On top of that, it is an all-weather waterproof bag.
Our Verdict
The PANS Large Military Expandable is the best budgeting hiking backpack just for its sheer size and a large number of items it can hold. It can be a bit heavy at times but you have to go for it if you carry a lot of items during hiking or travel.
Read more: 10 Best Coolers under 100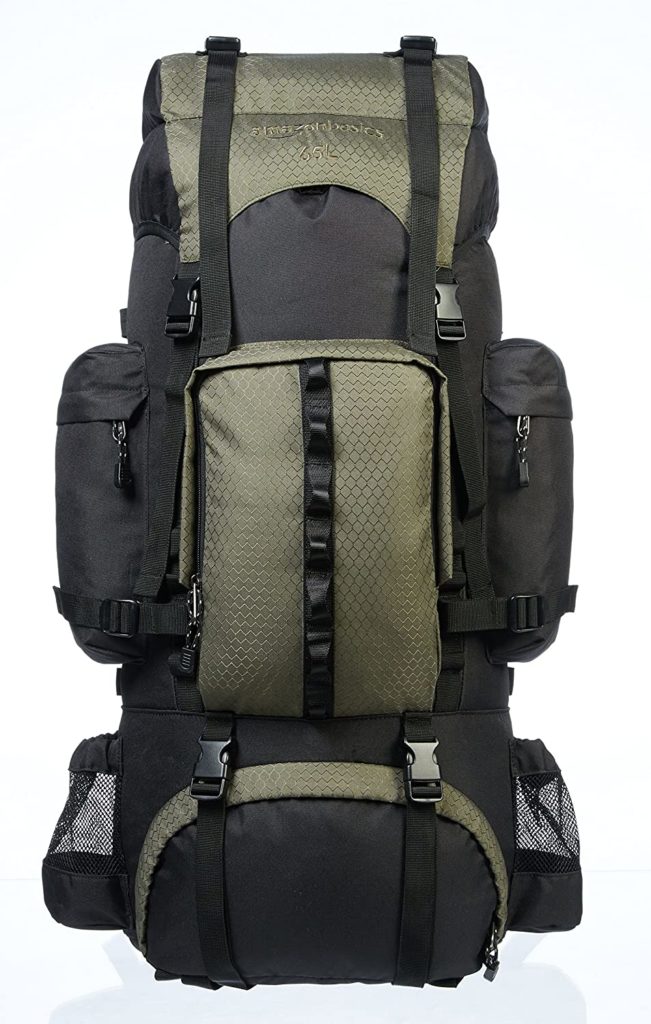 AmazonBasics Internal Frame is yet another extremely popular backpack on our list. It has been one of the best backpacks for camping and hiking for a long time now. It is a feature-rich backpack that also offers great value for money. The backpack has a durable and comfortable design. More importantly, it offers reliable performance in all kinds of circumstances.
Features
Starting with storage, AmazonBasics Internal Frame has ample storage space. It has a capacity of 65L but you can also choose other versions with 55L and 75L capacity. Similarly, there are multiple storage compartments for easy and organized storage of your items. The best thing about the backpack are the multidirectional compression straps. These straps prevent your gears from bumping around, securely holding them in their place.
The backpacks also have a water-resistant Rainfly which is a rarity in budget hiking backpacks. It also comes with a water-repellent exterior coating. As a result, you can continue hiking in case of drizzle or little rain. Similarly, the included waterproof cover will keep everything including your clothes, cameras, food, and electronic safe in case of heavier rain.
AmazonBasics Internal Frame suits all types of body sizes and shapes. It fits securely around your torso with a fully adjustable torso length. It also offers adjustable shoulder straps and waist belt for upper back support. For lower back support, there are molded channels and open-cell foam lumber. Both these things also improve the airflow. You can also carry heavier loads with the utmost ease thanks to thick padded shoulder straps, also making it one of the best backpacks for heavy loads.
Our Verdict
Made of durable polyester, AmazonBasics Internal Frame is an ideal choice for carrying heavy loads, hiking in wet conditions, and enjoying a great outdoor adventure. The backpack has a durable, comfortable design and it ensures reliable performance.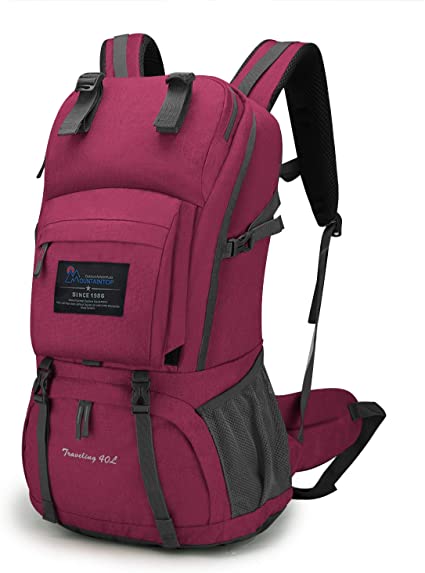 MOUNTAINTOP 40L is yet another brilliant yet cheap hiking backpack. As the name suggests, it is especially suitable for outdoor activities such as hiking and camping. It is a durable item with multiple storage options. Above all, it comes with a rain cover making it perfect for all kinds of weather conditions.
Features
It is one of the most capacious backpacks under $50 with a capacity of up to 40L. The backpack has multiple storage compartments. The main compartment is the size of the whole backpack. Similarly, there is a special compartment for holding up to 17 inches big laptop. Similarly, three zippered pockets including an inner and middle zipper pocket as well as a front zippered pocket featuring an internal mesh pouch.
You can also expand or tighten the backpack using 6 adjustable straps. As a result, the backpack fits the person of any body shape and size. You can also secure your gears using the same straps. It has also an adjustable hip belt suitable for waist sizes from 25 to 55 inches. However, you cannot remove the belly strap.
Finally, it is made of high quality and durable polyester fiber. You can also choose from a wide range of colors which is a nice bonus.
Our Verdict
The MOUNTAIN TOP 40 is one of the best backpacks for hiking and camping, especially for shorter trips. It is affordable, offers plenty of storage options, and has excellent storage capacity. However, you should choose another backpack if your torso is longer than 52 inches.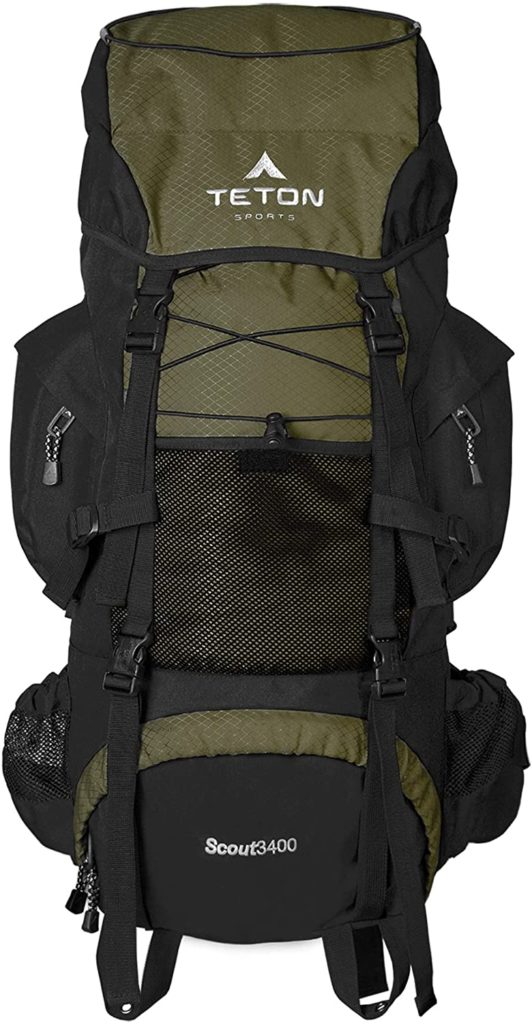 If you are looking for the best cheap hiking backpack, you must go for Teton Sports Scout 3400. It will not break your bank all the while offering topnotch features and functions.
Features
To begin with, Teton Sports Scout has a capacity of 3400 cubic inches that is 55 L. you can easily carry all of your hiking accessories with for you for up to 2 days. The main compartment is below the top cover whereas there are two other compartments on the top lid.
You can also suspend water bottles, ice axe, walking poles, and other accessories to the attachment loop on the hip belt's bottom.
When it comes to fitting, Teton Sports comes with two torso adjustable shoulder straps with minimum and maximum lengths of 15 inches and 19.5 inches. Similarly, it also has a waist belt which is adjustable by 26-60 inches. Therefore, it suits the people of all waist sizes.
Teton Sports 3400 is also a very comfortable backpack thanks to a well-padded hip belt. The belt ensures maximum fit in addition to allowing increased airflow.
As far as toughness is concerned, it is made of thick polyester fabric material. It is so tough that you can easily confuse it with canvas. The backpack is also very durable because of an internal frame system.
Our Verdict
Teton Sports Scout 3400 is the best adventure backpack that can last for days and even longer. It is lightweight, comfortable, expansive, and strong enough to bear the brunt of harsh hiking routines.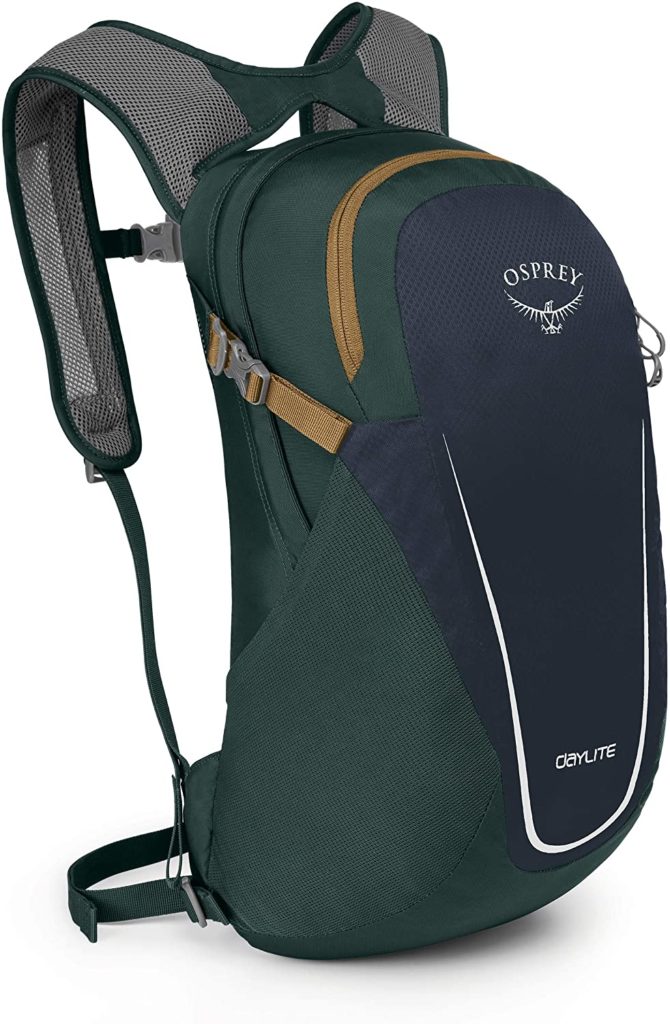 Weighing only 1.8 pounds, Osprey Packs Daylite Daypack is the best light hiking backpack on our list. It is a multipurpose daypack that you can use for almost anything. Whether you are hiking or visiting a local market, the Osprey Daylite will sever you in the best manner possible.
Features
It is a small backpack with a capacity of 13L. However, the most amazing feature of the backpack is that you can attach it to other travel bags and large backpacks from Osprey. Similarly, you can also use it for day trips where you don't have to carry heavy loads or too many items.
A large zipper panel makes it easier to access everything within the main compartment. The front pocket also has a key clip and mesh organizer to store small items in one place. The dedicated internal laptop pocket can hold small to medium-sized laptops. Similarly, the built-in hydration reservoir pocket enables you to store water bottles and other sundries.
The backpack is also very comfortable to wear. It has mesh-covered-die-cut foam back panel which provides ventilation and comfort. On the other hand, it also has space mesh shoulder straps with integrated handles. The shoulder straps are adjustable and thus, the backpack fits almost any body size.
Our Verdict
Osprey Daylite is the best small hiking backpack you can currently buy. It is an ideal backpack for small day trips. The backpack is made of durable important fabric and has enough storage compartments as well. On top of that, it is very affordable as well.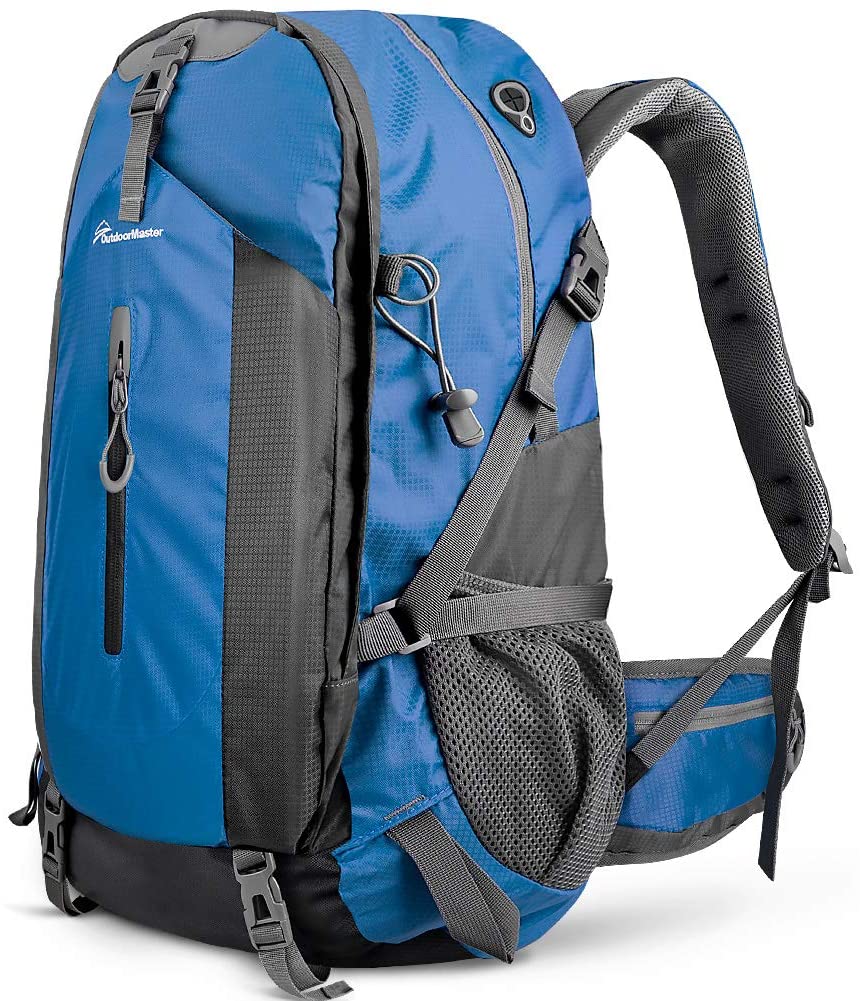 This is the best budget hiking backpack for people who love to hike in the day. It is a cheap but multipurpose backpack with plenty of storage space, pockets, and some great features. It is an ideal choice not only for hiking but for camping, travel and as a carry-on luggage bag as well.
Features
It is a spacious backpack with 50L of capacity for the main compartment. Then there are two other compartment one for storing the supplied rain cover and laptop each. You can also store smaller items in several other pockets. Similarly, water bottles can go to elasticized mesh pockets on each side of the bag.
There are also a number of external attachment points for trekking poles, tent, hydration reservoir, sleeping bag, and much more.
OutdoorMaster Hiking is a weatherproof bag because of its water-resistant fabric. The included waterproof rain cover protects the bag during heavy showers as well.
The back is made of durable material. It is very comfortable to carry as well. It comes with adjustable and padded S-shaped shoulder pads for comfort. Similarly, mesh ventilation makes it much more breathable. The backpack also boasts a top-mounted, reinforced haul handle.
Our Verdict
OutdoorMaster Hiking backpack offers plenty of space besides comfort and versatility. It is indeed the best day hiking backpack under $100.
Read more: 10 Best Binoculars For Wildlife Viewing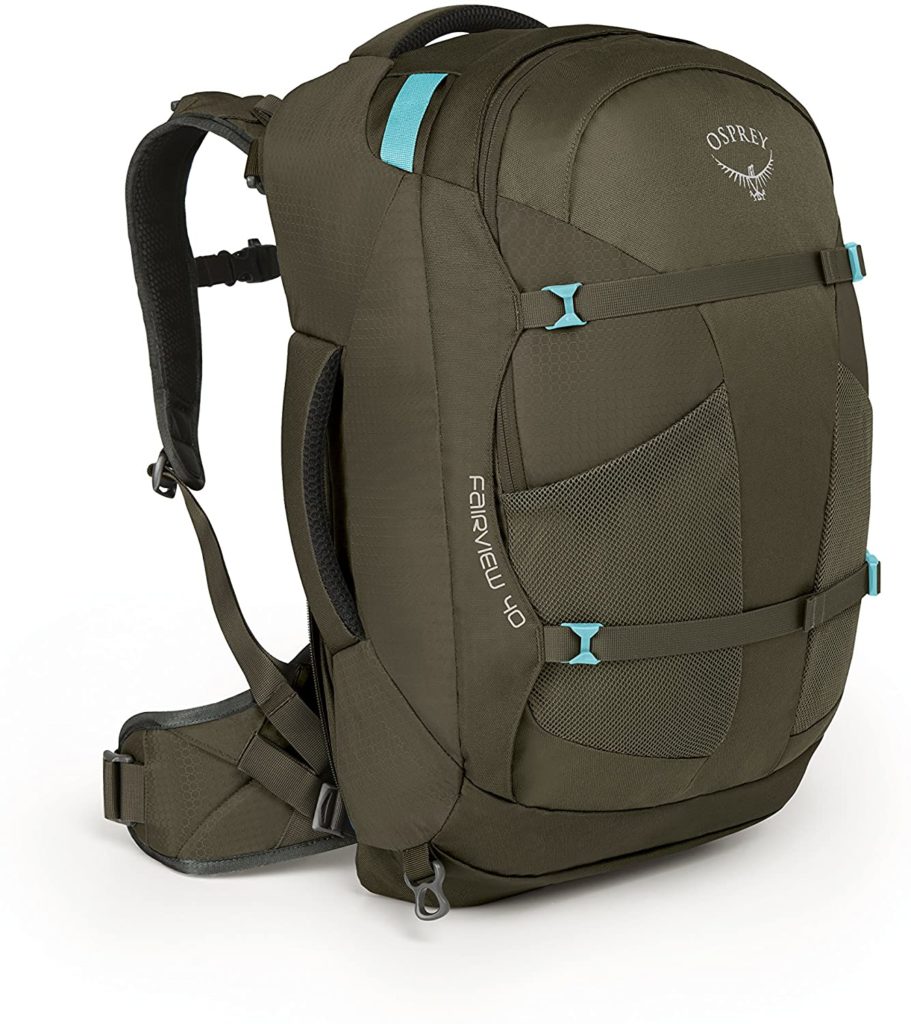 Osprey is one of the most renowned and respected backpack brands in the world. Their backpacks offer quality, durability, and reliable surface and Fairview 40 Women is no exception. Made of imported Nylon, it is a very comfortable and functional bag for women hikers, travelers, and adventurists.
Features
Perhaps, the best feature of Fairview 40 is that is it can easily meet the carry-on requirements of most airlines. Similarly, it is an ideal backpack for a weekend gateway either in the city or wilderness.
Features
The Fairview 40 has a total storage capacity of 40L. Your load will never jostle as it is secured by two internal compression straps. Therefore, you can add an extra pair of hiking shoes or sweater without any worry.
As it is a women-specific bag, it has especially been designed to accommodate slim profiles. You can stowaway and zip away the harness system and zip belt to suit your body type and weight. The removal of these two items makes the bag slimmer and better checked for women. The bag also shifts the load from harness to hip belt through an internal LightWire suspension system.
The bag also comes with front compression straps to keep your items stable while in use. Moreover, it also features padded shoulder straps for multiple uses.
Our Verdict
Osprey Fairview 40 is the best budget hiking backpack for women by a fair distance. The backpack is packed with travel-focused features in addition to having a durable and streamlined design. They are perfect for women with minimalist weights.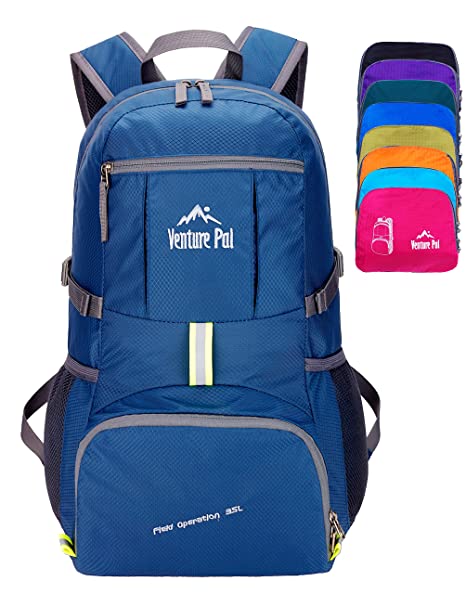 Venture Pal 35L is the backpack for you if you are looking for a compact and lightweight multipurpose backpack. It is a packable and durable backpack that you can use both for hiking and traveling.
Features
Weighing only o.7 pounds, Venture Pal 35 is a very lightweight backpack. Besides, you can easily store and unfold the backpack as it folds nicely into its inner zip.
Available for about $20 only, the backpack offers plenty of storage. The main zippered compartment has a capacity of 35 L. you can further divide it into different storage spaces using the two separators. The bag also comes with an elasticized mesh pockets on each side. Similarly, it has a large zippered outer pocket as well.
The backpack is also very comfortable to carry. The shoulder straps feature spongy padding. Made of breathable mesh, they are very soft and do not hurt your shoulder no matter how long you carry the backpack. The adjustable strap means you can also get your preferred fit. There is also a chest strap to prevent the backpack from swaying.
Venture Pal has used water-resistant, tear-resistant, and extremely durable fabric to make this backpack. All the major stress points have bar-tracks for additional support. Similarly, there are no chances of any wear and tear because of the double-layer piece at the bottom.
Our Verdict
Venture Pal 35 L is the best budget hiking backpack as far as price is concerned. However, it is a pretty durable and comfortable backpack with reasonable storage capacity. You should choose this backpack if you are short on cash.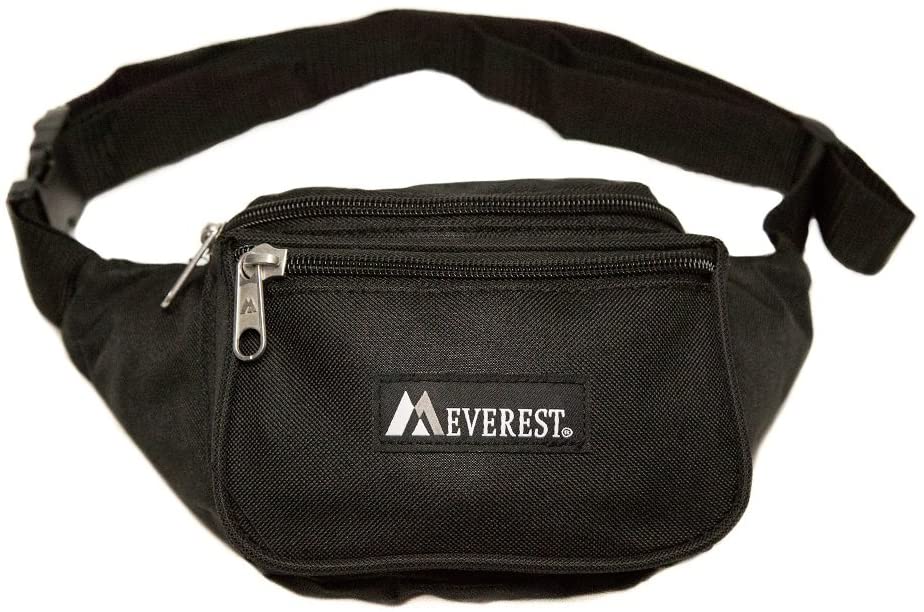 Last but not least; we have Everest Signature Waist Pack-Standard on our list. It is, in fact, the highest rated waist pack on Amazon right now. It is a great waist pack for everyday activities but you can also use it for day hiking or for a short journey.
Features
Everest Signature helps you organize and store small items whether you are on a day trip around the city, in the wilderness or to a festival. Made of high grade canvas, the waist pack is also moisture and mildew resistant. As a result, it can withstand the most extreme of conditions.
The waist pack has 3 zippered compartments for easy storage of your items. The front pocket also has a detachable key ring holder. Similarly, you can put your valuables in the secure back pocket. The large middle pocket is best for all other kinds of items.
The bag is also very comfortable to wear thanks to Everest imprinted snap buckle. There is no chance of the bag accidently coming loose because the buckle is quite sturdy. Moreover, you also get an extendable waist strap with minimum and maximum lengths of 24 inches and 42 inches respectively.
Our Verdict
Everest Signature Waist Pack-Standard is your best bet if you want to a bag only to store you valuables and small items such as sunglasses on a short day trip. It is made of high quality canvas and offers plenty of storage for such items as well.
Types of Hiking Backpacks
Although there are many different types of backpacks such as traveling backpacks, backpacks for laptops, biking backpacks and anti-theft backpack yet we categorize biking backpacks into three main groups.
1. Daypack Backpacks
These backpacks are perfect for day hiking or short trips to local markets and festivals. They can carry up to 10-15 pounds of load and thus, they are pretty lightweight as well. Daypacks also prevent pressure on your back while hiking because all of them feature adjustable hip belts.
2. Internal Frame Backpacks
These backpacks are for heavier loads, probably from 15 pounds and above. All of them have internal frames to properly disperse the load. These frames are mostly made of plastic frame sheet, curved Derlin rods, or aluminum stays. Sometimes, a combination of these materials is used to manufacture internal frames for backpacks.
The main function of the internal frame is to transfer most of the load to your hip area by fitting or adjusting to your back's contours. They bring the load closer to the hip where majority of people feel comfortable to carry the load.
Internal frames are perfect for hiking, climbing, skiing, bushwalking and other dynamic activities. They also become the best mountaineering backpacks as well.
3. External Frame Backpacks
External frame backpacks are the best backpacks for heavier loads. They usually have a simple exterior frame. These backpacks position the load away from your back. Their center of gravity is also higher compared to internal frame bags, offering you two main advantages. Firstly, you can walk in upright position. Secondly, they also transfer the weight to the hip area.
They are best for trail walking because of their ability to carry a lot of weight. Similarly, you can use them on long sweaty days for hours as there is improved airflow between your back and the pack. They also offer more storage due to the numerous pockets they have.
How to Buy the Best Budget Hiking Backpack?
The following are some of the factors to remember when you buy a best cheap hiking backpack.
1. Backpack Frame Type
We have already discussed backpack frame types. You need an internal frame backpack if you are hiking on an uneven trail. Similarly, external frame packs are best for carrying irregular, heavy loads. The daypacks are ideal for short day trips or carrying weight under 15 pounds.
2. Ventilation
Ventilation is a major considering, especially if you suffer from sweaty back syndrome. Look out for the backpack with suspended mesh back channel which improves ventilation to your back. Some backpacks also have built-in ventilation chimneys in back panels to improve airflow.
3. Storage
The best budget hiking backpack should also meet your storage needs. Choose a backpack which has plenty of compartments and pockets. They will help you carry your items such as water bottles, smartphones, food, tents, poles and more easily.
4. Sleeping Bag Compartment
You need a backpack with a big sleeping compartment if you hike for multiple days. It is often found at the bottom of the backpack. Similarly, you can also use the space for sleeping bag for holding other gears if you like.
5. Comfort and Padding
The hiking back should be comfortable to wear with enough padding on the back, chest and shoulder straps, and hip belt. If it does not, you can have sore spots on your back and hip. More importantly, your body will start aching very soon if you are carrying heavy load.
6. Body Fitting
The backpack should fit your body contours as well. It should be compatible to your waist size, torso length, and body shape. Almost, all the top rated hiking backpacks come with adjustable straps, hip belts, and torso length.
7. Attachment Points
Many backpacks also feature attachment points for holding items like trekking poles and ice axes. This can be a great option if you travel a lot with these tools. Every backpack offers at least one pair of tool loops. However, buy a pack which also has a daisy chain, a reinforced crampon patch, and gear loops for attaching gears.
8. Hydration Reservoir
Nearly all backpacks also have dedicated internal sleeves and pockets for hydration reservoirs. Similarly, some of them also have multiple hoses to place the sip tube. Keep in mind that hydration reservoir is sold separately 99% of the time.
9. Rain Cover
Rain cover is necessary if you go on long hiking or adventure tours. A best adventure backpack will always come with rain covers as an added accessory. These rain covers are made of water-resistant or waterproof fabric allowing your luggage to remain dry even during heavy downpours.
Final Thoughts
Choosing the best budget hiking backpack should be a no brainer if you know what you are looking for. In this regard, our guide helps you make the right decision and buy the backpack which you not only need but deserve.