If you are a novice or an avid adventurer or wildlife watcher, you need to have the best binoculars for wildlife viewing.
In this article, we are going to unveil the best binoculars for viewing wildlife. Besides, we will also include a detailed binoculars buying guide for you to know how to buy binoculars for your next wildlife endeavor.
Our guide or article will mainly consist of the following sections.
Understanding binoculars terminology
10 best wildlife binoculars to choose from
How to buy binoculars for birdwatching, travel, and stargazing
A right pair of binoculars is necessary to enhance your wildlife watching experience. It can help you easily watch both friendly and unfriendly animals in their full glory without intimidating or threatening them. Similarly, you need the best binoculars for safari and wildlife to bring really far off animals such as in the caverns, canyons, mountains tops, and hills closer to you. In addition, a good multipurpose binocular will also enable you to observe nature, stars, and witness one of a kind spectacular moments when you are outdoors.
Understanding Binoculars Terminology
Binoculars, just like all other optic products, have a confusing terminology for uninitiated users. It is important to understand these terms if you want to have a better idea of what you are getting for your money.
The following is a simple explanation of all the binocular terms which will turn you into an expert.
1. What is Binoculars Magnification?
Most companies refer their binoculars to different numbers such as 10 x 50, 12 x 42, 10 x42, and 8 x 40, etc. These numbers can be really confusing for a novice but they don't have to be. The first number is always the magnification. For example, a 10 x 50 binoculars will make a subject 10 times larger than you see it with naked eyes. Similarly, 20 x 50 doubles that magnification.
2. The Size of Objective Lens
You may be wondering what the second number means. It actually refers to the size of the objective lens. 12 x 42 binoculars mean they have 12x magnification and 42mm large objective lens. Present at the far end of the binoculars, objective lenses are large lenses. The larger the lens, the more light it will gather. In fact, you can quadruple the transmitted light by doubling the lens size. Binoculars with large lenses are the best binoculars for wildlife viewing, especially in low light conditions.
3. What is the Field of View?
The field of view means the total area you can see at once. It normally depends on the magnification of your lens. The general rule of thumb is that greater the lens magnification lesser the area you can see. The field of view is normally expressed in numbers or degrees visible at 1000 meters such as 300 feet/1000 or 7 degrees/1000.
4. What is Eye Relief?
Eye relief is the minimum distance in millimeters you can maintain between your eyes and binocular's eyepiece and yet see the whole field of view. This is especially important for people who wear glasses as their eyes are further away from the eyepiece. For example, you can only see the center of the image if the eye relief is less than 10mm. You will find most binoculars with the eye relief of 8-13mm. Some of them even have up to 18mm of eye relieve, however.
5. What is Exit Pupil?
The diameter of the actual light beam that leaves the binoculars is called Exit Pupil. It is another important consideration if you want your binoculars to perform well in low light conditions. You can calculate the exit pupil by dividing the diameter of the objective lens with its magnification. Therefore, the exit pupil of 10 x 50 binoculars is 5mm.
You actually need binoculars with an exit pupil of above 6mm for dusk (wildlife) and night (astronomy). However, it is not much of a concern in regular daytime light.
6. What are Prism Types?
There are two types of binoculars prism in vogue, BAK-7, and BAK-4. BAK-7 are made of less dense glass and therefore, they are cheaper as well. BAK-4 are made of dens glass and they transmit more light. Obviously, they are more expensive as well. Most of the general purpose, less expensive models will feature BAK-7 prisms. However, the majority of binoculars on our list have BAK-4 prisms.
7. What is Lens Coating?
The best binoculars for wildlife viewing have multiple coatings on their lens. Lens coating is what differentiates cheaply made binoculars from high-quality binoculars. The coating actually tries to minimize light loss and reflection. As a result, they increase the amount of light gathered by the lens and offer a sharp, crisp image without any aberration.
8. What is Diopter Adjustment?
Diopter is an adjustment ring to "fine focus" the binoculars. Most binoculars have a diopter for only one eyepiece to accommodate the vision difference between the two eyes.
10 Best Wildlife Binoculars to Choose from
Binocular is a piece of equipment any traveler, wildlife watcher, or adventurer cannot do with. However, it is also incredibly difficult to find the right one for you because they are thousands of binocular from hundreds of brands to choose from. Luckily for you, our comprehensive but short reviews will help you make a quick decision and buy the best item.
So, let's get started with our reviews. Expert wildlife watchers at our panels have recommended the following binoculars for outdoor activities.
Nikon 8252 ACULON A21 10-22 x 50 Zoom Binoculars: Our number one pick
AVANTEK Binoculars 10 x 50 with HD BAK- 4 Prisms: Best budget Binoculars
Celestron – SkyMaster Giant 15 x 70 Binoculars: Best binoculars for stargazing
Bushnell Falcon 10 x 50 Wide Angle: Most economical binoculars for birdwatching
SkyGenius 10 x 50 Powerful Binoculars: Best wildlife binoculars for beginners
Adorrgon 12 x 42 Powerful Binoculars: Best cheap binoculars for outdoor activities
Bushnell H2O Waterproof/Fogproof Prism: Best binoculars for high humidity areas
Gosky 10 x 42 Roof Prism Binoculars For Adults: One of the top binoculars in general
Celestron – Outland 10 x 42 Binoculars: Best binoculars for budget conscious people
Vortex Optics Crossfire HD Binoculars: Especially optimized for wildlife viewing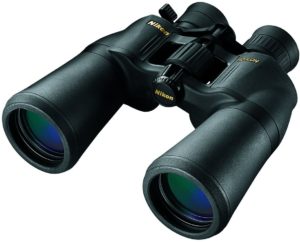 Nikon is the best binoculars brand in the word by a fair distance. They have introduced several high-quality and high-performance binoculars over time and the Nikon 8252 ACULON A21 10-22 x 50 Zoom is no different. It is a lightweight binocular with ergonomic design. They have multiple applications but Nikon has built them while especially keeping the requirements of hunters in the mind.
Features
Nikon 8252 is supper attractive binoculars to start with. Weighing only 2.54 pounds, they are also very lightweight and easy to handle. You can easily use them even in the wet conditions thanks to the ultra-protective rubber armor coating. Similarly, the body is also shock and abrasion-resistant, once again owing to the rubber armor.
The Nikon 8252 offers an extremely high range of magnification from 10 up to 22 power. The easy-to-reach fingertip zoom control makes it a breeze to adjust the magnification as well. The Interpupillary distance is 56-72mm which is just amazing, to say the least.
The image, lens and optics quality is what you expect from a top brand like Nikon. It features a multicoated eco glass lens which delivers clear, sharp, and bright image in all weather and lighting conditions. The field of view is incredibly wide 199 feet at 1000 yards, making Nikon 8252 the best binoculars for wildlife viewing. Similarly, the Apparent and Real field of view of 36.7 degrees and 3.8 degrees respectively is really impressive as well.
Nikon 8252 ACULON has a minimum focus distance of almost 50 feet and Exit Pupil of 2.3 to 5 mm. you can also use it for extended periods without getting tired as they also come with Turn and Slide rubber eyecups.
Our Verdict
Although Nikon 8252 binoculars are a bit heavy yet they offer the best combination of quality optics, versatility, and of course, affordability you can ever find. They provide you with an experience of a lifetime by bringing you even close to nature and wildlife. They are our number one pick as well.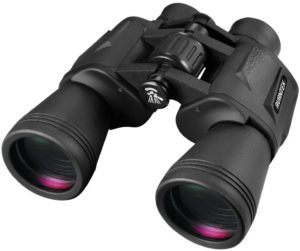 If you are looking for the best binoculars for wildlife viewing, you must consider AVANTAKE Bi10 x 50 Binoculars. People are madly in love with this product which is evident form hundreds of overwhelmingly positive views it received from users on the internet. Let's see what makes AVANTEK binoculars so popular among wildlife watchers.
Features
The best thing about the binoculars is that they offer 10x magnification, brining distant items 10 times closer to you. Similarly, they give you clearer and crispier images thanks to 50 mm diameter high quality objective lens and the multicoated optics.
The right diopter ring and the central focus knob offer plenty of convenience, helping you quickly and precisely adjust the focus. They binoculars are also easy to operate because of the soft-texture grips and non-slip rubber armor. They provide firm and easy grip and therefore, you can hold them for hours without developing cramps in your arms. They have an ergonomic design having just about right proportions. AVANTAK 10 x 50 is easily one of the best binoculars for wildlife viewing, hunting, travel, and sports because of 367 feet field of view at 1000 yards and 6.8 degree angular field of view.
Finally, the BAK-4 prisms ensure clear, bright and razor sharp viewing in addition to superior sharpness and crisp images.
Our Verdict
Some customers do complain that AVANTAK 10 x 50 create double vision effect. But, they are a great pair of binoculars for wildlife viewing just because it offers an amazing set of features at incredibly low price. Besides, it is built to last and can serve your for years.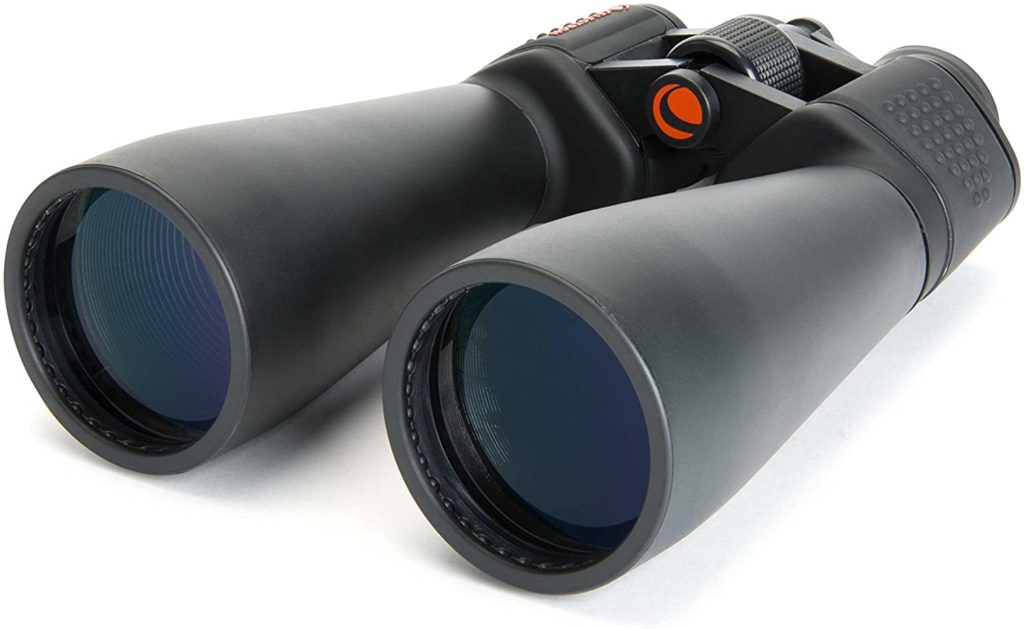 If you are looking for binoculars for stargazing, you should give SkyMaster Giant 15 x 70 Binoculars a try. They are the best binoculars for stargazing right now along with Celestron SkyMaster 25 x 100 Binoculars. As the name suggests, they are heavyweight binoculars and you may need a tripod to keep them steady. However, seeing distant night sky objects in spectacular details is the greatest reward you could even have.
Features
SkyMaster Giant binoculars are for serious sky enthusiasts only because of their premium build and robust construction. SkyMaster is a series of large aperture binoculars which you can also use for land, especially for long distance viewing.
They offer enhanced contrast thanks to multi-coated optics and high quality BAK-4 prisms. These two features are also its top selling points. People, in fact, judge a pair of binoculars based on these two measure.
An adapter to attach SkyMaster Giant with a tripod is also included in the box. We have to emphasize the point that a tripod is necessary steady these binoculars.
Although, SkyMaster Giant 15 x 17 is not as good as Fujinon 16 x 70 FMT-SX Binoculars, the best giant binoculars for stargazing, yet it has some benefits of its own. First of all, the SkyMaster is many times cheaper than Fujinon. Secondly, it offers remarkable contrast, brightness, and quality considering its low price. The overall image is also extraordinary despite the fact that outer 25% of the field is a little soft.
Last but not least; SkyMaster Giant have smooth focusing, unlike other inexpensive binoculars. They have no apparent wobbles or backlash and therefore, they don't cause the eyepiece to shift and tilt as well. They are also a good choice for people who wear glass as the stated Eye Relief is 18 mm.
Our Verdict
SkyMaster Giant 15 x 70 are the best inexpensive binoculars for stargazing. They offer great value for money in addition to some fantastic features. They are highly recommended for all the sky aficionados out there.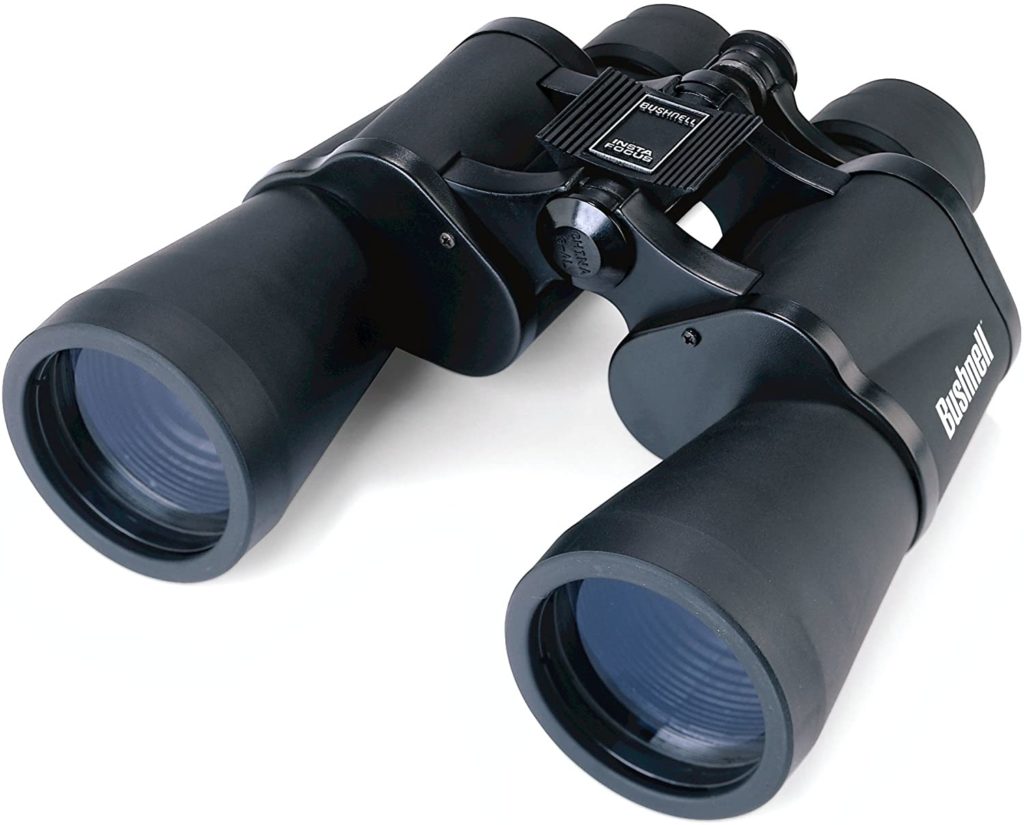 Bushnell is a leading name when it comes to manufacturing the best binoculars for wildlife viewing. It is no wonder that their 10 x 50 Wide Angle model is the most versatile and economical binocular for bird-watching, stadium sports, hunting, and a myriad of other outdoor activities.
Features
Bushnell 10 x 50 boasts a rubberized body which is also resistant to abrasions. On the other hand, it has a durable design with an InstaFocus lever, the purpose of which is to provide smooth feedback.
The binoculars provide sharp viewing and through a multi-coated lens and a Porro prim. The wide angle lens has enough tension to make distant objects 10 times closer that is 10 times the magnification.
One of the most amazing features of Bushnell Falcon 10 x 50 is clever fold-down eyecups. The eyecups prevents scratching on the lenses, making the binoculars an ideal choice for people who wear sun or eyeglasses on bright sunny days.
Weighing only 27 oz. the binoculars have a 25-feet close focusing distance and Eye and Pupil Relief of 9mm and 5mm respectively. Similarly, it has a 300 feet of field of view at 1000 yards.
Our Verdict
All the binoculars from the Bushnell's Falcon series including 10 x 50 Wide Angle model are not only economical but they offer excellent magnification, durable design, and amazingly sharp images. They are the best inexpensive binoculars for wildlife viewing, stadium sports, hunting, and other outdoor activities.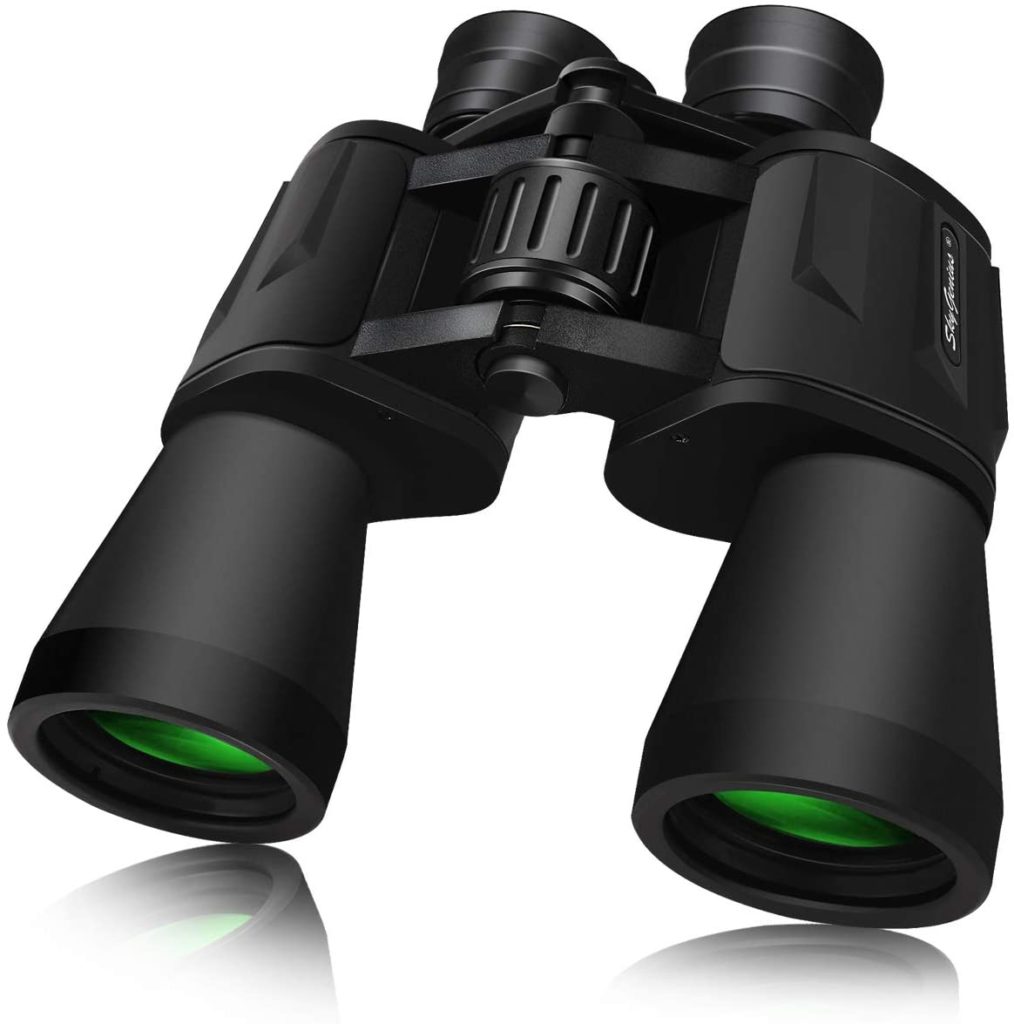 SkyGenius specializes in many different products. However, they are renowned worldwide for their high performance binoculars such as SkyGenius 10 x 50 Powerful Binoculars for Adults. In fact, this is one of their bestselling models with a huge fan base as well. It definitely deservers a place on our list because of its thousands of awesomely positive reviews and multiple bestselling awards.
Features
To begin with, the binoculars don't look cheap despite their low price tag. They have a nice rubber armor with thumb indents, offering firm yet comfortable grip. Overall, they have an ergonomic design with nice big features for easy handling.
Weighing only 28 oz. SkyGenius 10 x 50 are pretty lightweight binoculars which is unheard of for a high power device with 10x magnification. Unlike other binoculars in the similar price range, this particular binocular excels in low light conditions because of 50 mm objective lenses and 5 mm of exit pupils. Both these components enable the binoculars to attract plenty of light, helping you have a clear and crisp image as the day comes to close.
Similarly, the 367 feet field of view at 1000 yards is excellent for hunting, sports events, driving, bird watching, and all other fast moving subjects.
When it comes to image quality, SkyGenius 10 x 50 is second to none thanks to Porro prism, BAK-7 prisms glass, and multi-coated optics. It also comes with a lot of other accessories which is always nice, considering its low price. Some of these accessories include lens caps, a neck strap, a carrying case, and a lens cleaning cloth.
Our Verdict
Available at $40, SkyGenius 10 x 50 is the best binoculars for safari and wildlife under this price category, especially for beginners. It helps beginners have a taste of quality without spending much.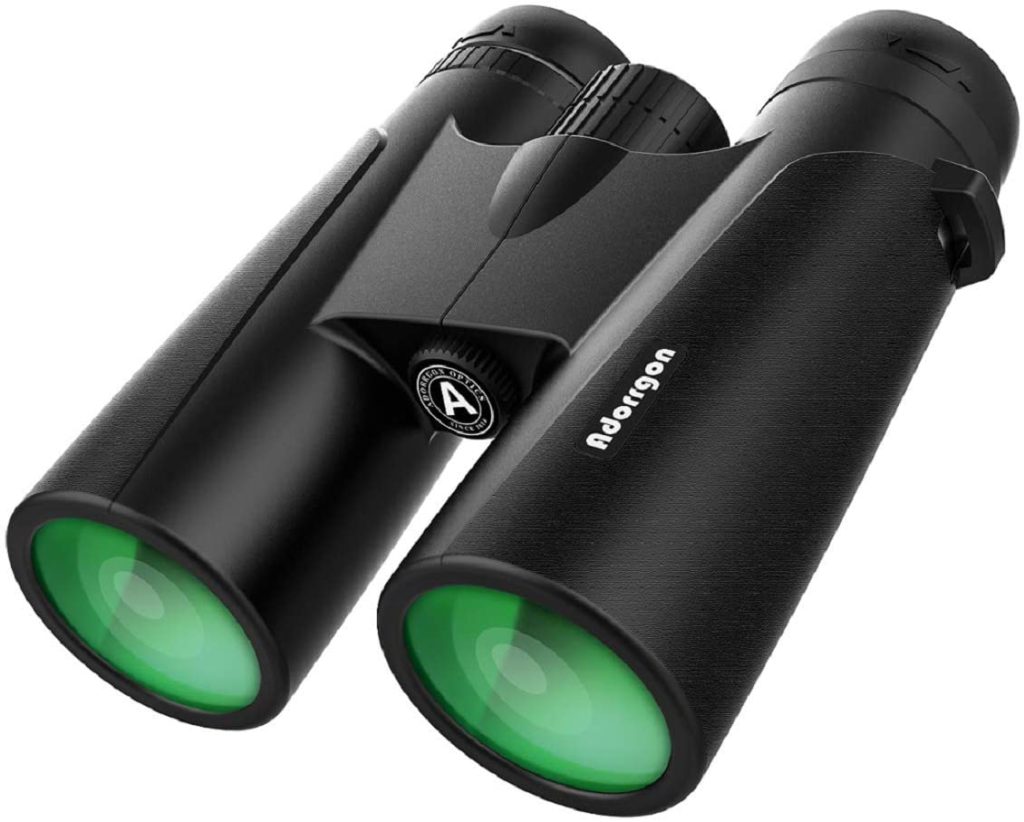 Adorrgon is an unknown brand compared to some other binoculars brands on our list. However, a handful of their modals including 12 x 42 Binoculars with Clear Weak Light Vision have garnered immense popularity. The binoculars come packed with amazing features such as 12x magnification, which is higher than all the other binoculars we have viewed so far.
Features
Apart from 12x magnification, Adorrgon 12 x 42 offers 367 feet field of view at 1000 yards. Similarly, the 42 mm large objective lens delivers crisp and clear image. We also have to agree with Adorrgon's claim that 12 x 42 delivers a clear face from as far as 650 feet.
It is a 12mm eyepiece binoculars enhancing the image size by 2.25 times for the user. The large BAK-4 prism, a large eyepiece, and fully multi-coated objective lenses provide crisp images, brighter view, and HD vision. As such, they are the best wildlife binoculars which you can also use for sports, concerts at night, sightseeing, climbing, driving, watching sceneries, and hiking, etc.
However, keep in mind that the binoculars deliver clear vision in weak or low light only. They do not offer clear vision in complete darkness.
When it comes to body, Adorrgon 12 x 42 is quite ergonomic and durable. It comes with an Anti-Slip grip and a rubber armor for shock resistance.
Adorrgon 12 x 42 also comes with an assortment of accessories such as a lens protection cover, an eyepiece, a carrying case, a neck strap, and a cleaning cloth
Our Verdict
If you are in search of the best wildlife binoculars for low price, you must consider Adorrgon 12 x 42. It offers 12x magnification in addition to clear vision in weak light. It is an ideal choice for all kinds of outdoor activities ranging from bird watching to hunting, climbing, and hiking, etc.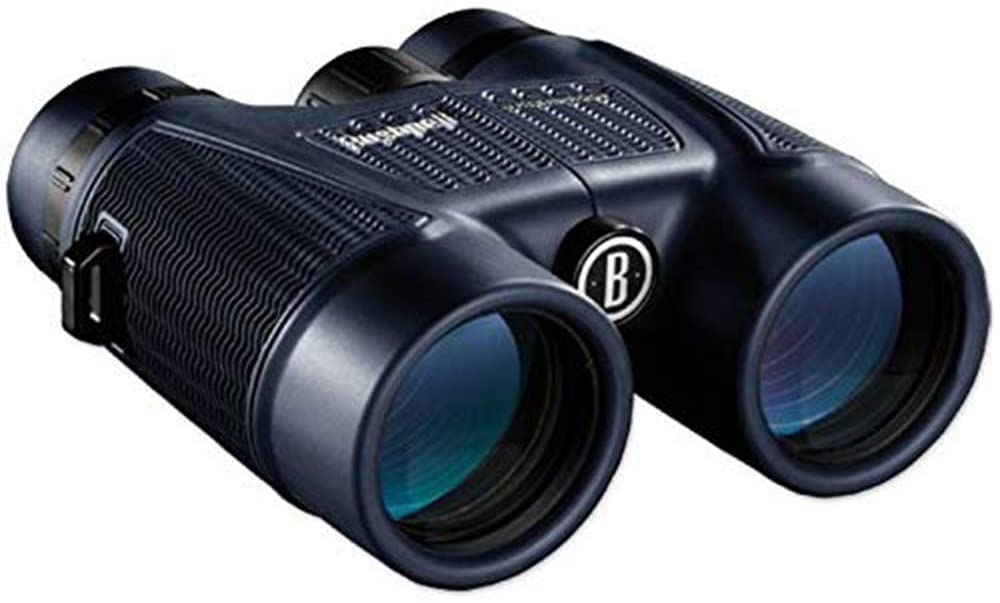 Bushnell always brings top of the line and excellent binoculars to the market. They tend to cater to the needs of different types of users and Bushnell H2O Is no different. The binoculars can easily hand harsh outdoor conditions and all kinds of weather.
Features
Bushnell H2o are waterproof and fogproof binoculars. As a result, they are perfect for kayaking, boating, wildlife viewing in rainforests and other places with high humidity. Nitrogen filled and O-ring sealed tubes keep water out of the binoculars. Similarly, they prevent extreme moisture condensation even if the weather fluctuates frequently.
Just like all high quality binoculars, Bushnell H2O are also shockproof thanks to non-slip rubber grip. The grip also ensures safe and easy handling of the binoculars.
Bushnell H2O 10 x 42 is also the most popular binoculars in H2O series due to many reasons. First of all, the 10x magnification in addition to whopping 102 m of field of view at 1000 yards is simply extraordinary. Therefore, you are able to see detailed and contrast-rich images even if the subject is too far away.
The twilight performance and the light transmission offered by H20 is outstanding owing to BAK-4 multi-coated roof prisms and 42mm large aperture respectively. As result, the binoculars give brilliant results in low light conditions both at dusk and dawn.
The focus works flawlessly and the soft rubber eyecups are rotatable and comfortable. Bushnell H2O are also a perfect option for people who wear glasses because of 17 mm Eye Relief. The binoculars are particularly lightweight as well weighing only 709 grams considering their format.
The only minor issue with H20 is occasional aberration near the image edge. However, it is common in most budget binoculars
Our Verdict
Bushnell claims that moisture condensation and fogging cannot affect the performance of H20 and we kind of agree with them. The waterproof binoculars offer good optical performance, sharp images with high contrast, and amazing twilight capability. They are the best binoculars for wildlife viewing, especially at places where exposure to water is frequent.
Located in the United States, Gosky is gradually rising to fame because of its high performance optic products including binoculars. Gosky 10 x 42 Roof Prism is not only their best binoculars but one of the best top binoculars in general as well.
Features
Gosky 10 x 42 has 10x magnification power and 42 mm objective lens. As a result, it delivers excellent power, wide field of view (307 feet at 1000 yards), and quality optics. Similarly, you enjoy real focus and sharp, clear images thanks to BAK-4 Roof prisms.
You can use the binoculars for a wide range of activities including birdwatching, traveling, stargazing, hunting, nighttime concerts, and hiking. The binoculars come with rubberized anti-slip grips and solid construction as well.
Gosky 10 x 42 offer 18 mm of eye relief and 56 to 74 m of Interpupillary distance. However, by far the best feature of the binoculars is the smartphone mount. You can get high quality crystal clear images by connecting the binoculars to your smartphone. In fact, it is possible to record the video of whatever you are watching through your smartphone even if you don't have a camera. The smartphone adapter works with all kinds of phones, both new and old.
Some of the accessories you get with the binoculars include a cleaning cloth, lens covers, a neck strap, and a carrying case.
The only problem with Gosky 10 x 42 is that they are only water-resistant not waterproof.
Our Verdict
Gosky 10 x 42 are the best binoculars for wildlife viewing because of its low price and amazing features. The fact that can it can be connected to your smartphone is a big selling point as well. The overall optic performance is excellent and the images are sharp and clear.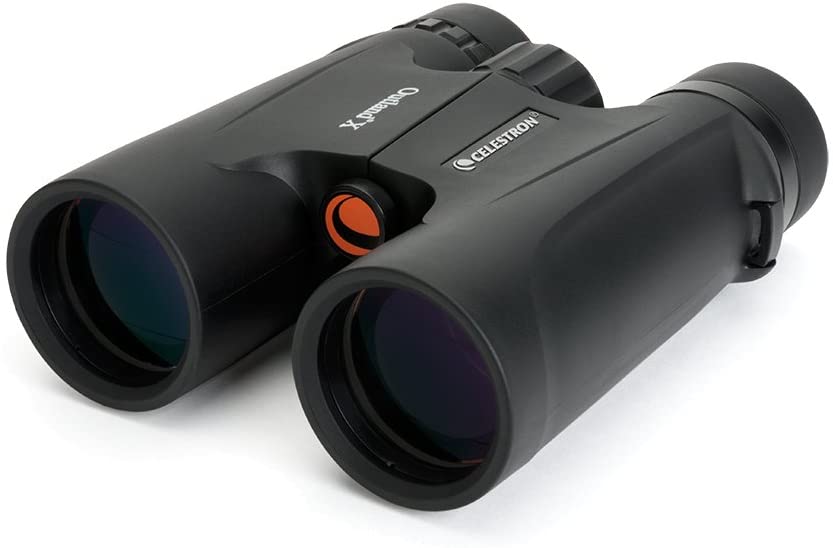 If you are looking for the best budget binoculars that deliver excellent performance for the money, you ought to choose Celestron Outland X 10 x 42. Celestron is a name of quality and it is not surprising that Outland 10 x 42 are such good binoculars for a variety of purposes.
Features
Outland 10 x 42 come with BAK-4 prisms, multi-coated optics, and 10x magnification. As a result, the image is crystal clear and sharp. The binoculars are also waterproof with robust polycarbonate build. Therefore, they are a preferred choice of the wildlife watchers and birders.
The binoculars have incredible light catching or transmission capabilities because of large 42mm objective lenses. They are also suitable to be used in low light and during twilight at dusk and dawn. However, they truly excel under regular daytime light.
Outland 10 x 42 feature a large smooth-feel focus wheel to easily adjust the focus. Besides, they are safe and convenient to use thanks to semi attached lens caps. 17.4mm Eye Relief also makes them comfortable for your eyes and suitable for people with glasses.
You can also mount them on a tripod if you want. The accessories you will get with binoculars include lens cloth, a neck strap, and a carrying case along others. Finally, what seals the deal for frugal wildlife watchers is the limited lifetime warranty.
Our Verdict
Celestron Outland 10 x 42 binoculars are what you need if you are budget conscious yet you want the best binoculars for wildlife viewing. Period.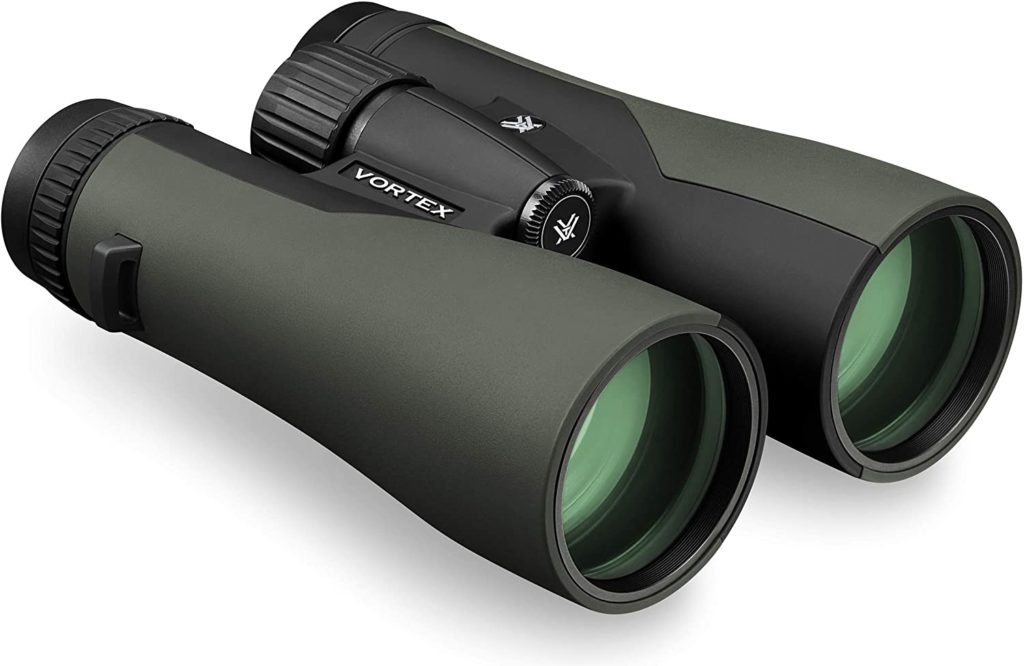 Vortex is one of the best binoculars brand known for making topnotch binoculars for different purposes. The Vortex Optics Crossfire 12 x 50 HD are versatile binoculars with many different applications. They offer exceptional resolution because select glass elements have been used to optimize them, especially for wildlife viewing.
Features
There are many variations of Vortex Optics cross fire such as 10 x 42, 10 x 50, and 8 x 42 binoculars. The only differences between them is range of magnification and the size of objective lenses. As expected, the 12 x 50 version offers 12x magnification and comes with 50mm high objective lenses. They are fully multi-coated lenses to increase the transmission of light to the binoculars.
Read also: The Best Budget Travel Tripod
One of the best features of the Crossfire is multiple anti-reflective coating on all air-to-glass surfaces. They also have a more compact size and greater durability as they employ Roof prism technology.
No matte you wear glasses, the viewing will always be comfortable because of the adjustable and rotatable eyecups. Similarly, the right eyepiece also houses a diopter which adjusts the difference in user's eyes.
They are fully waterproof binoculars. Similarly, rubber armor and anti-slip grip provide comfortable grip and long lasting protection. You can also mount the binoculars on a car window or tripod for enhanced viewing experience.
Our Verdict
Vortex Optics Crossfire HD Binoculars are an excellent choice for wildlife viewing. Available at $179, they are slight costlier than rest of the binoculars on our list but they are worth every penny. The overall image they provide is extremely sharp, has outstanding color fidelity, and no chromatic aberration as well.
How to Buy Binoculars for Wildlife Viewing and Stargazing
You may already have a good idea of what to look for in best binoculars for safari or stargazing after reading our 'Binoculars Terminology' guide. However, there are a few more things to consider.
1. Decide on Your Price Range
The price range of binoculars for wildlife, bird watching, and stargazing is $30 to $1500. Of course, the top-of-the-line binoculars are durable, comfortable, and offer pristine and crystal clear images. However, you can also find high quality binoculars for under $100 thanks to technological advancements in recent years. It all depends on your budget and requirements to be honest. Just read the binoculars' specifications to determine if it is a good fit for you or not.
2. Check Magnification
It is a personal preference to choose 8 x 50, 10 x 50 or 12 x 42 magnification. 10x is better at observing distant animals and stars. However, it also means slightly shadier image in low light and narrow field of view. The handshake will also be more noticeable. 8x, on the other hand, provides brighter and wider image. It is also easier to use them for finding and following fast moving subjects such as birds.
3. Look for Bright and True Colors
You cannot ignore the image quality when it comes to wildlife viewing. Are the binoculars bright enough to observe nature's spectacles? Do they offer crisp and true colors? How about a backlit image? Do they provide the minor details or not? Compare different binoculars at a dimly lit place at the time of buying one for wildlife viewing.
4. Clarity and Crispness of Image
The image provided by the binoculars has to be clear and crisp. It is also another test of the binoculars' image quality. We don't recommend any binocular with smaller than 30mm objective lens because of their poor image quality.
5. Don't Forget Eye Relief
Always go for the binoculars that have extendable eyepieces to provide shading to the people who don't wears glasses. At the same time, they should be able to retract to accommodate those who wear glasses. Always buy binoculars with multi-adjustable, rotatable, and durable eyecups. Ensure there is enough eye relief for you if you are a glass wearer. The best way to do so is to adjust the eyecups to their minimum position. There should be no black rings around the images as well.
6. Additional Features
The two important factors that determine how much you can see are close focus and field of view. Also keep waterproofing, fogproofing, and shokcproofing in mind. Other measures to consider are durability, rubberized anti-slip grip, and of course, warranty. In fact, all the best binoculars brand offer excellent warranties for their products these days.
Final Thoughts
So, which are the best binoculars for wildlife viewing? Our number one pick is Nikon 8252 ACULON A21 10-22 x 50. Gosky 10 x 42 Roof Prism Binoculars for Adults take the second spot. Finally, the AVANTEK Binoculars 10 x 50 finish on third because of the combination of affordability and amazing features they offer.