Bookshelf or hi-fi speakers are a great way to fill your room with earsplitting sound without spending a fortune. They are not only compact and lightweight but also deliver outstanding sound. They are also one of the most versatile speakers. Despite what their name implies, you can place them anywhere you want in your room. You can also use them as a part of the home sound system, desktop speakers, or any home music setup. Bookshelf speakers also offer better performance and efficiency compared to wireless and portable units. Therefore, we will unveil the best bookshelf speakers under 300 for you.
Best Bookshelf Speakers under $300 2020
It is difficult to get a speaker with flawless sound performance in the sub $300 category. However, bookshelf speakers will surprise you with their amazing sound quality and amplification. They may not have premium construction and sonic performance delivered by an expensive sound system. But – they will provide great value and quality for your money.
With this in mind, here is our list of the best budget Bookshelf speakers in 2020.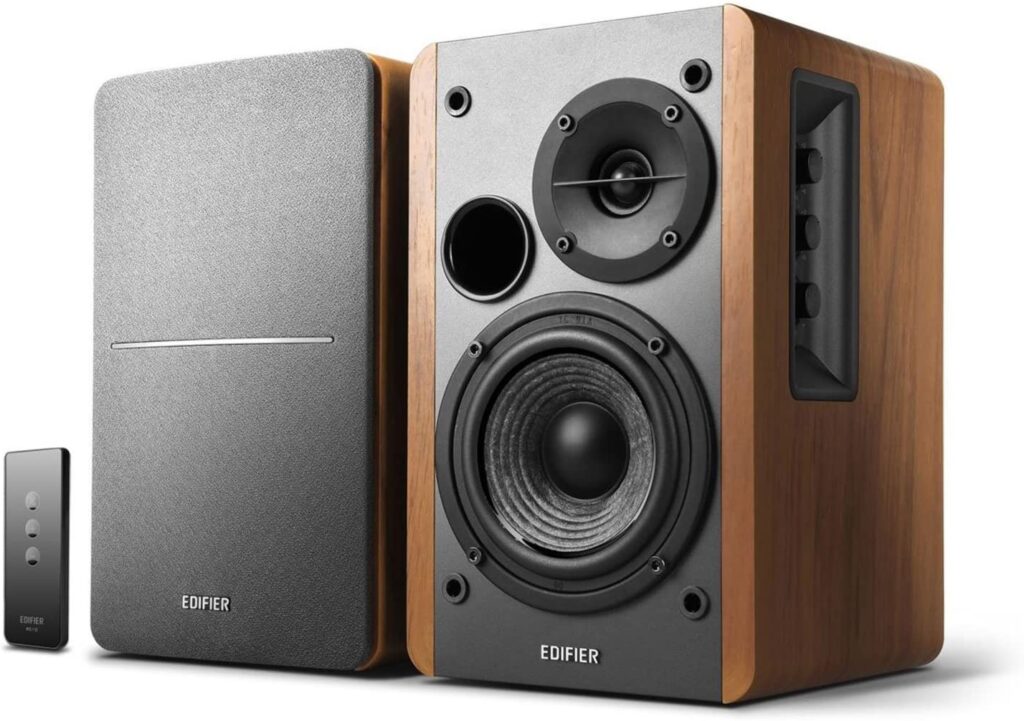 You would not normally regard Edifier particularly as a manufacturer of high-end speakers. However, they make some of the most amazing yet affordable headphones and speakers. In our opinion, The Edifier R1280T is one of their best models. It should be your choice if you are looking for decent speaker with excellent value and affordability.
Features
Edifier R1280T, as the name suggests is a powered set of speakers. Each speaker in the pair comes with its own amplifier. Therefore, you do not need a separate amplifier to connect the speakers to the playback source. All you need is a simple RCA cable to accomplish the task.
The speakers also feature built-in EQ knobs to adjust or fine-tune the sound. Similarly, you can also control the speakers using a remote.
The sound quality is not exceptional by any means but it is pretty good considering the speakers' price. The maximum wattage per channel is 21 watts which is enough to provide excellent detail and definition. Similarly, R1280T offers a versatile bass and spectrum, much to the delight of audiophiles with budget constraints.
The speakers are also very beautiful to look at thanks to their retro wooden vinyl finish. Similarly, they also have controls for volume adjustment, bass, and treble at the back which is a very nice feature.
Our Verdict
Edifier R1280T is the best powered bookshelf speakers. They are not only affordable but also offer excellent performance for their price.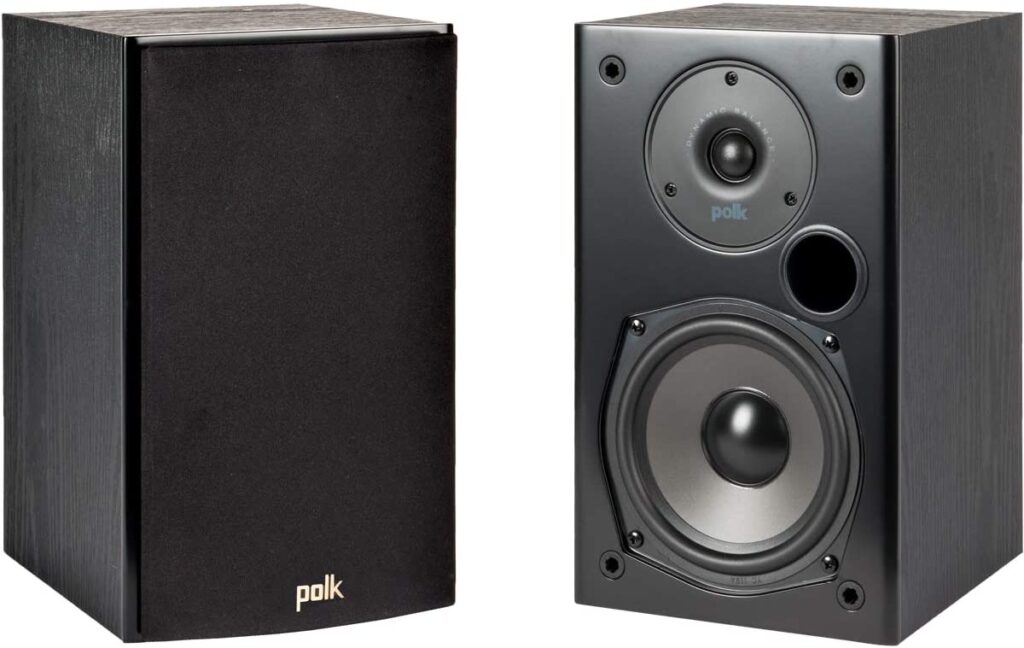 Polk Audio T15 is an outstanding pair of speakers. Despite their low price tag, they delivers extremely loud sound. The audio quality provided by T15 is on par with some of the more expensive speakers.
Features
The Polk Audio T15 features Polk's proprietary Dynamic Balancing Technology. The speaker offers the highest levels of versatility, necessary to further enhance your home theater experience. You will enjoy excellent bass, a full-open midrange, and very bright highs.
Another great thing about T15 is that it is compatible with most home theater processors, stereo imaging, and home theater systems. Similarly, it also supports DTS and Dolby. The installation is also very easy because of the keyhole mount at the back of the speakers.
Polk Audio T15 creates a rich and detailed sound all the while reducing resonance and distortion owing to its MDF cabinet construction. Not to mention, the speakers are very loud for their price. They offer a wide soundstage and produce full sound besides having a dynamic range.
Our Verdict
Polk Audio T15 is one of the best bookshelf speakers under 300 without any doubt. It provides excellent sound without emptying your pocket.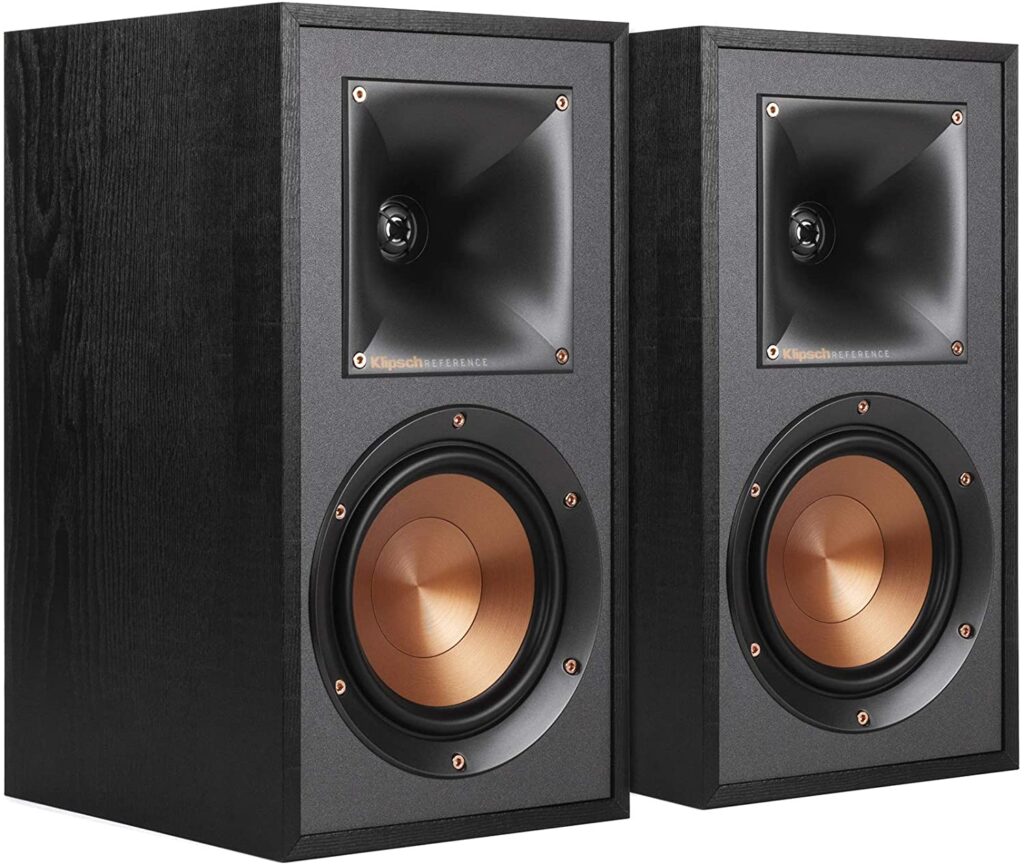 Klipsch normally manufactures more expensive high-end speakers. However, they have also introduced some models in the budget speakers' category. The Klipsch R-41M is a very powerful bookshelf or studio speaker to have.
Features
To begin with, R-41M offers maximum performance and versatility in a very small package. It is an elegant speaker with 4" spun-copper IM woofers. The speaker has plenty of clear and amazing bass response which is rare for a 4" woofer. The highs also make a very clear sound even though they are too high, typical of a Klipsch speaker.
R-41M does not need a subwoofer for a small room. However, you may consider having one if you wish for thundering bass or very low frequencies. It would also become a very good addition to any home theater system.
The speakers offer enhanced and detailed performance thanks to the 1" LTS aluminum tweeters. Similarly, they also minimize indirect bouncing of the sound from the wall and thus, considerably reducing artificial filtering and reverbing. As a result, the speakers aim their sound or high frequency at the listener only.
Finally, Klipsch R-41 speakers have a sleek design with low profile magnetic grilles and exposed fasteners. They have modern and polished looks because of the textured and scratch resistant wood grain vinyl.
Our Verdict
Klipsch R-41M Bookshelf speakers can become a great addition to your desk, especially if you are cheap or beginner audiophile.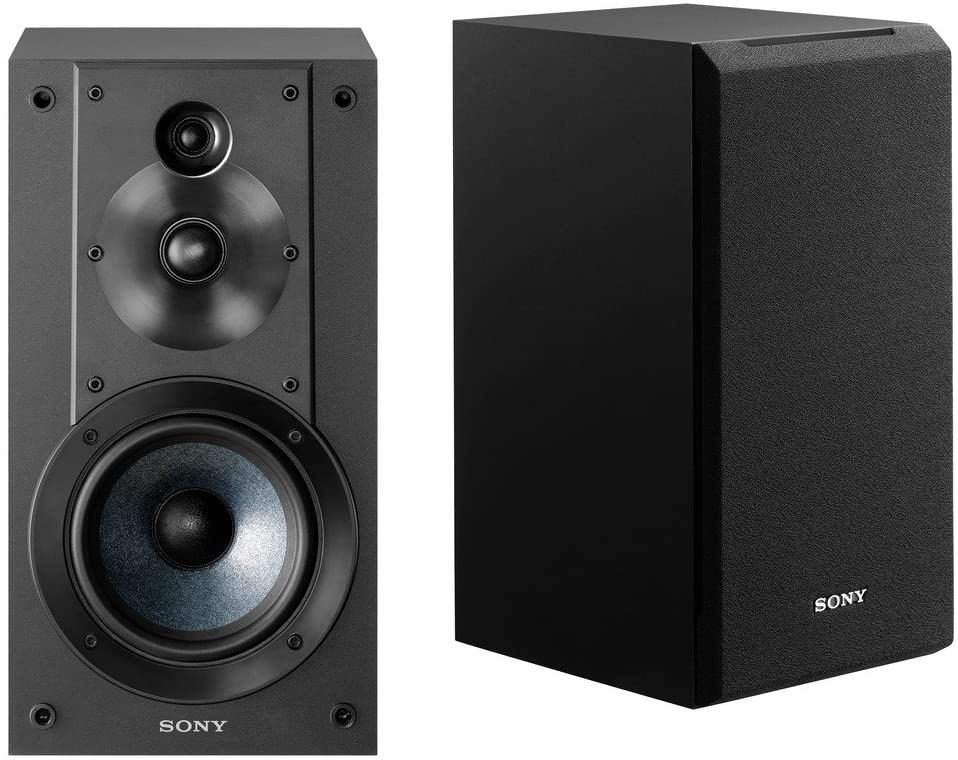 As implied by the name, the Sony SSCS5 has a 3-way design which is also a rarity for a sub $300 speaker. The speaker provides amazing sound experience along with enhancing the overall home theater's sound quality.
Features
The 3-way design means the speaker has dedicated tweeters for midrange as well as high range. The bass is also very snappy and strong thanks to the 5.25" foamed-mica reinforced woofer cone. Such type of bass is especially great for modern electronic songs. Similarly, the beats are also very powerful and responsive. However, the speaker has a very precise and nimble response because of the large 1" polyester main tweeter with a soft dome.
The tweeter also results in 50 kHz of the maximum frequency. Most speakers in this price range only have half of this frequency. Then there is also a ¾ inch Sony Super tweeter for immersive sound staging. The speaker also has a clear audio path due to the optimized crossover componentry.
Sony SSCS5 is a very lightweight and compact speaker. You can easily install them in any bookshelf and tight spots because they are small and space-efficient. The speakers are also well built and very durable.
Our Verdict
Sony SSCS5 3-Way speakers are the best bookshelf speakers for audiophiles in this price range.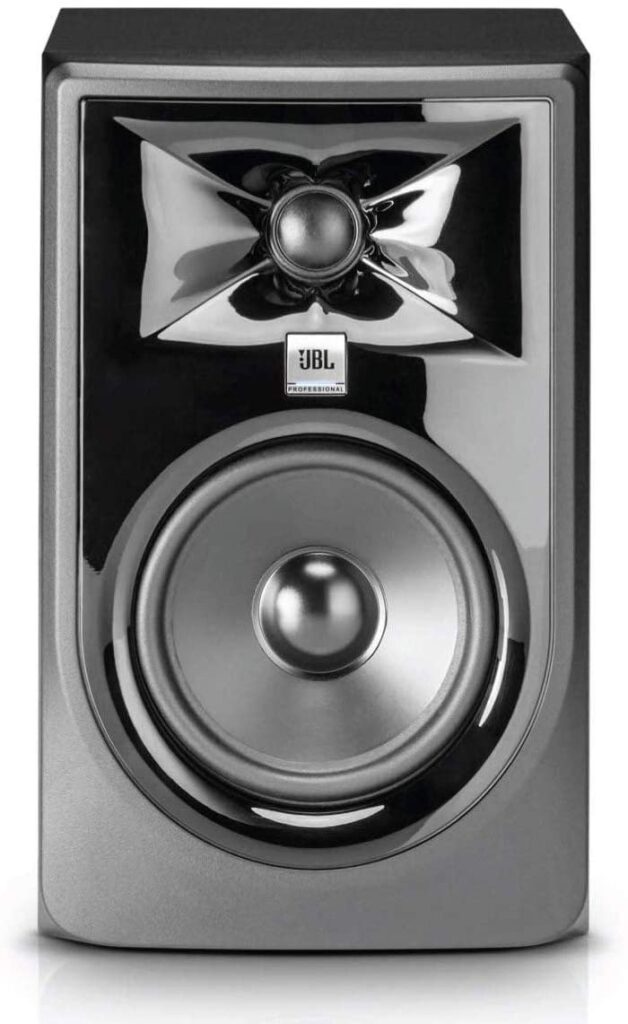 JBL Professional 3.5P MKII is the best budget bookshelf powered studio speaker in the market. It is not the most refined or the most well defined speaker but it delivers outstanding sound quality for a very small price.
Features
The speaker comes with a 5" midrange driver and a 1" tweeter, each of which has a dedicated Class-D 41 watts amplifier. The outcome is an even-handed and balanced sound which you normally expect from much more expensive sound systems. We may even take the liberty to say that the bass is much better than some of the more capable speakers such as Q Acoustics 3020i.
The 305P also has a unique design, especially around the tweeter. The speakers evenly disperse the frequencies around the room through this scooped out area. Similarly, it also helps the speaker to better integrate the lower frequencies emanating from the midrange driver. As a result, you are treated with brilliant sound no matter wherever you sit.
The sound has some audible resonance due to the cheap wooden box and the plastic fascia. However, the speaker distributes the sound in a very neutral and delicate manner. Similarly, it does not feel unbelievable and fake.
Our Verdict
JBL Professional 305P MKII 2 Way Powered is an absolute bargain considering its very low price and amazing sound quality.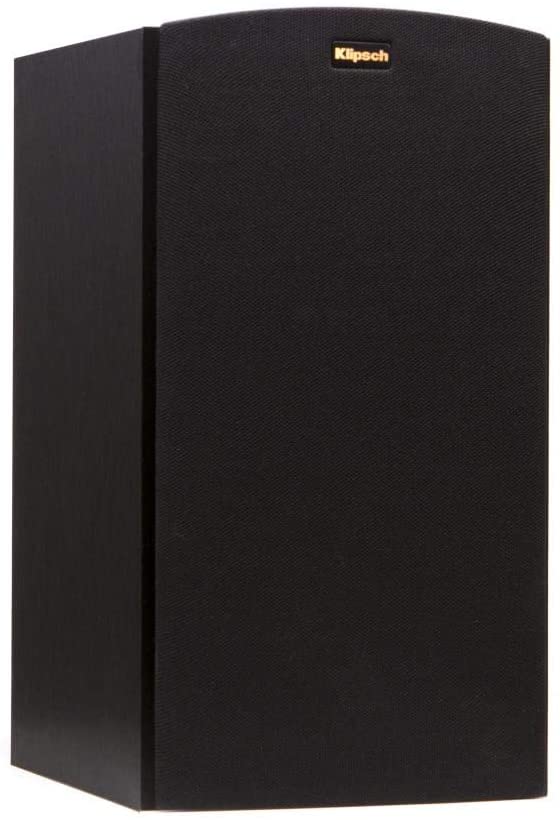 Klipsch is analogous with premium-grade speakers and high-quality audio equipment. As mentioned above, they usually deal with high-end speakers. However, they have managed to amaze us with their sub $300 bookshelf speakers as well and the Klipsch R-15M is no exception.
Features
R-15M produces extremely well defined and focused audio because of the 1" LTS tweeter. Similarly, the bass is deafening as the speaker also has a 5.25" copper spun IMG woofer. You can further improve the bass by pairing R-15M with a good AV receiver. The trebles are also crisp, clear, and extremely clean.
Available at just $150, you would be blown away by the quality of this speaker. It has a clean and elegant design. The speaker has a peak power of 430 watts with each speaker in the pair having a maximum power of 80 watts.
Our Verdict
Klipsch R-15M Bookshelf Speakers are one of the best bookshelf speakers under $300 by a fair distance. They produce immaculate sound and the audiophiles love it despite it being a budget speaker.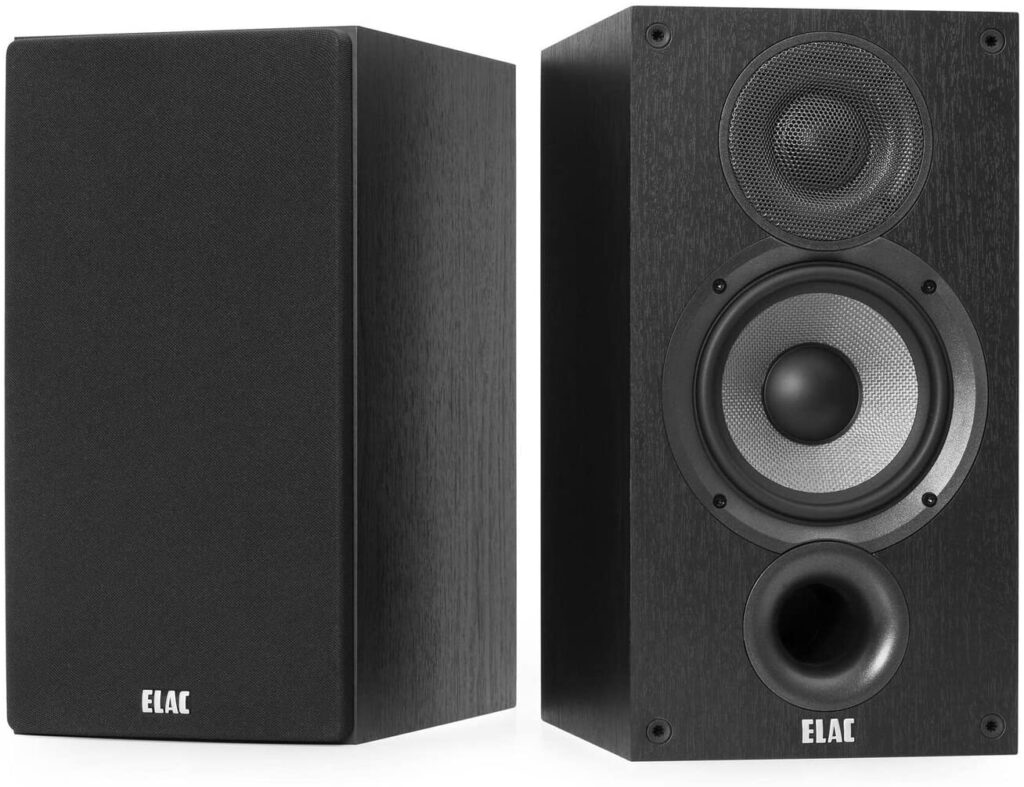 ELAC Debut 2.0 B5.2 is yet another brilliant budget bookshelf speaker to consider. The compact and lightweight speakers do not only have excellent assembled quality but they also fill your room with a resounding sound, something you don't expect from a budget speaker.
Features
ELAC Debut B5.2 is a single-wired speaker. With a height of 34cm, it features a 2.5cm cloth dome tweeter coupled with a 5.25cm aramid fiber mid cum bass driver. The speaker has only one color option that is the black vinyl finish but this should not be a deal breaker in our opinion.
Placements are not an issue with speakers in the ELAC Debut series. For example, you can further polish their rhythmic performance by combining them with a high quality entry level separates.
The best thing about ELAC Debut B2.5 is that it can easily handle all kinds of music genres. They offer expressive and dynamic performance regardless of the sound source as well. Similarly, the speaker deals with complex rhythms and dense instrumentation with the utmost ease.
Our Verdict
ELAC Debut 2.0 B5.2 provides you with a coherent and precise sound which is rare for speakers in this price range.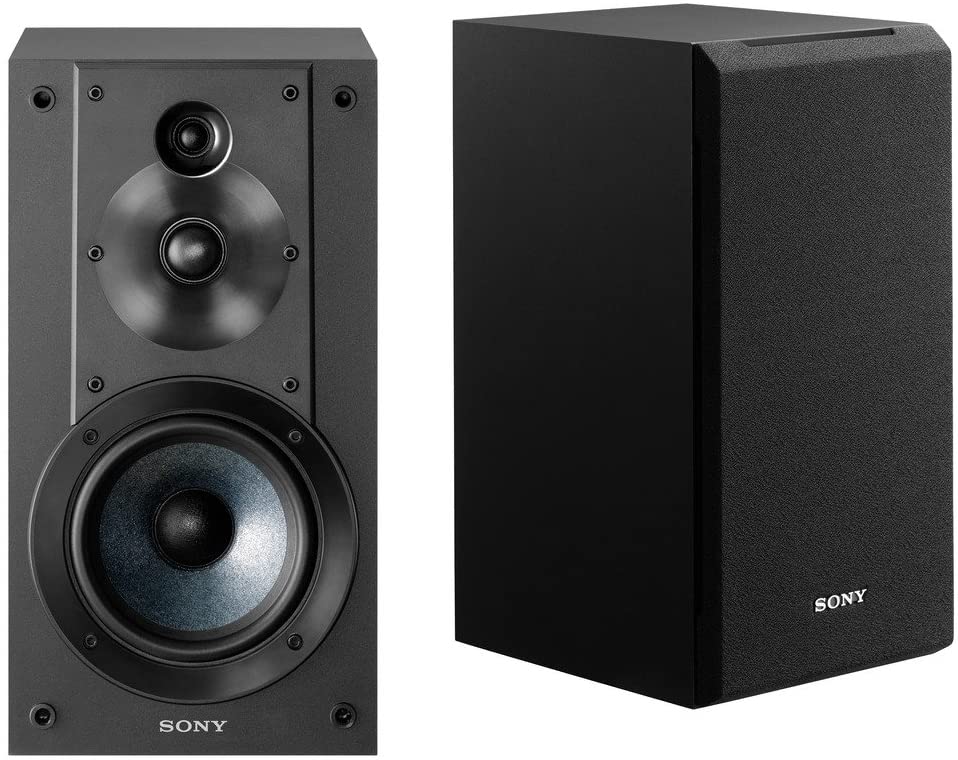 Polk Audio is one of the most recognized names in the audiophile fraternity. This particular series of speakers include some of the best bookshelf speakers under $300 such as the Polk Audio S20 Signature Series. It can easily match the audio fidelity of speakers like the ELAC Debut 2.0.
Features
The high frequency response of the S20 is crystal clear thanks to the low distortion 6.5" mica-reinforced polypropylene cones partnered with 1" Terylene tweeters. As a result, the sound is also more refined at higher frequencies compared to the punchier base of ELAC Debut speakers.
The S20 is also a very attractive speaker. They look even better when you remove the magnetic grills. However, the speaker is rather difficult to place because it is a rear ported device. However, you don't need to place it much farther from the wall because of its exclusive Polk Power Port design.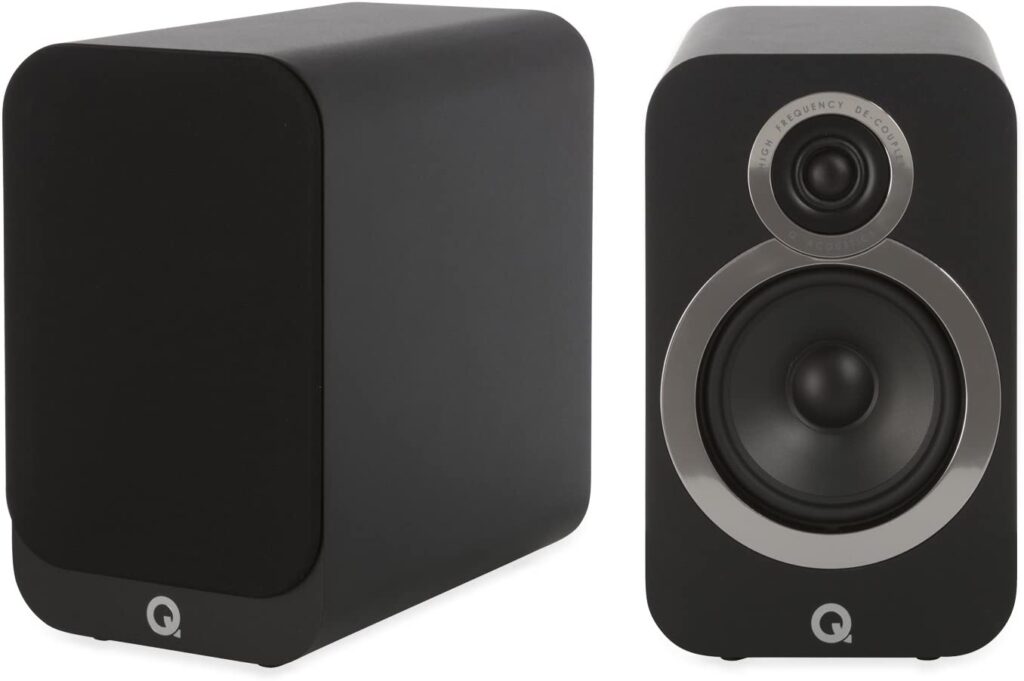 Q Acoustics 3020i Bookshelf Speakers offer a lot of improvement on the original Q Acoustics 3020 version. They are brighter and deliver solid sound performance.
Features
Q Acoustics 3020i produces cleaner and more refined high-ends compared to 3020. Similarly, the sound is excellent yet very muscular which is very uncharacteristic of most Q Acoustic speakers. However, they are an easy to use speakers with a smooth tonal balance and very impressive cohesive performance just like all other speakers in the 3000 series.
The speakers deliver well controlled and well integrated bass. The low end is quite decent considering the small size of the speakers. You would also enjoy impressive dynamics that remain composed even at very high volume.
The biggest benefit of using Q Acoustics 3020i is the easy placement. You can use them anywhere you want such as your desktop, tight bookshelf, or even on the bedside table. However, if the size is not a problem for you, you must choose ELAC Debut speakers that offer better performance at the same price.
Our Verdict
Q Acoustics 3020i can be a great addition to your home theater. They deliver detailed and rhythmic sound besides being available at a very good price.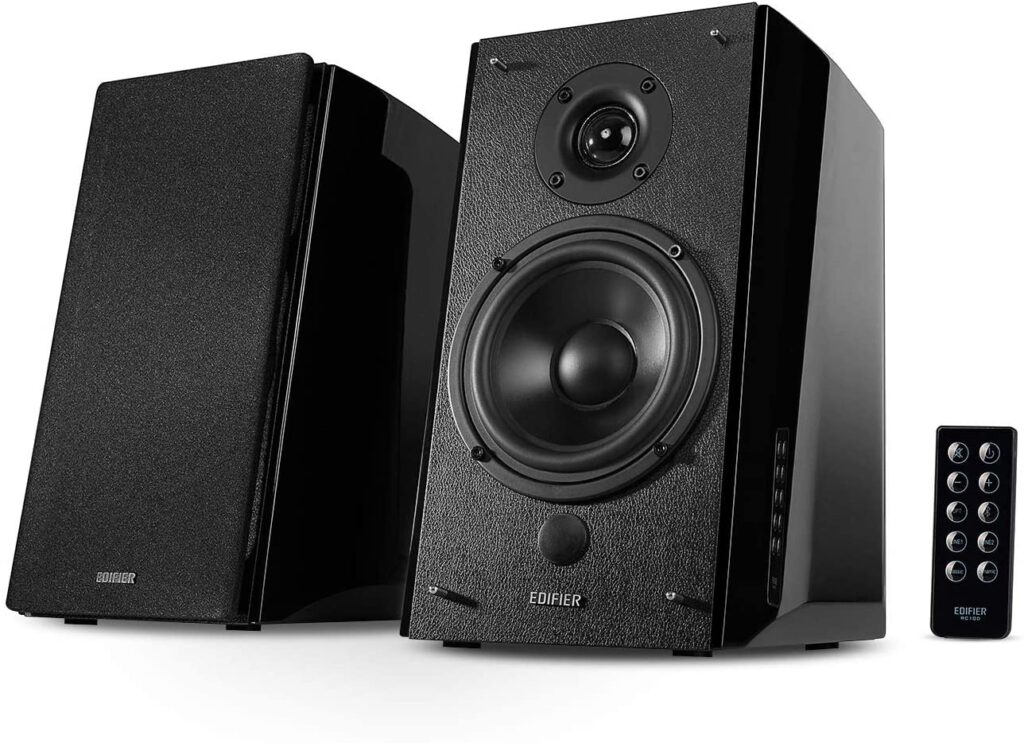 You must opt for Edifier R2000DB Powered Bookshelf Speakers if you are looking for wireless yet decent active speakers. The speaker offers excellent value for money along with some great benefits and features.
Features
To begin with, you can connect R2000DB with multiple audio sources at once thanks to two auxiliary optical inputs. You can also use additional audio input to plug in another device. It is also very easy to switch between these devices. The speakers also come with bass and treble dials as well as Bluetooth support.
Edifier R2000DB delivers 120W RMS which is not only very impressive but also a big improvement on R1700BT. The extremely high RMS value not only enhances treble resolution and bass extension but also makes the speakers much louder.
The overall listening experience is quite pleasant even though R2000DB has slightly colored signature sound.
Our Verdict
Edifier R2000B is worth a try and your money if you want powered bookshelf speakers. They offer excellent sound, can reach very high volumes and do not cost much as well.
How to Buy the Best Bookshelf Speakers under $300
You don't need any external speaker if you are content with your TV's built-in speakers. On the other hand, there is no point in buying cheap speakers because they will not improve your sound system at all. You have to upgrade from your TV's speaker to a true hi-fi speaker if you appreciate the real sound quality. You also need to keep some factors in mind if you are looking for the best speakers under $300.
Environment or Placement
The environment is one of the most important considerations. You need to be sure where you are going to place your speakers before you go shopping for them. For example, you will not do yourself a favor by buying a really powerful and big bookshelf speaker for a small room. Similarly, the performance of small compact speakers will suffer in bigger rooms. The speaker will be ineffective because of the weak sound.
Your Personal Preferences
You have to consider a lot of things here. The first of them is aesthetics. Some people don't care about the looks as they only need performance. Others require their speakers to complement their home decor.
We would recommend going for performance only. Just because bookshelf speakers are pleasing to eyes does not mean they offer the features you are looking for as well.
Sometimes, you may want to mount your speakers on the wall, especially if you have small desk space or rooms. It is very easy to install some speakers because they come with certain attachments and hooks. However, you may buy separate accessories for speakers whose design does not allow easy wall mounting.
Last but not least; the choice of bookshelf speakers depends on your music taste. For example, the speaker you choose should deliver clearer and cleaner midrange and higher frequencies if you love listening to jazz or classical music. Or, you must find a speaker with distortion free yet powerful bass if you are into techno and dubstep.
Bookshelf Speakers' Specifications
Bookshelf speakers offer a lot of benefits to its users. Some of the features which every speaker should have are as under.
Which type of amplifier do you need?
Are the speakers active or passive?
Total power output
The size of drivers
Input and output types
Impedance
Frequency range
You need to look into all these vital features. The overall sound quality of your speakers greatly depends on these features.
Frequently Asked Question
Does bookshelf speakers' size matter?
Yes, the size of bookshelf speakers matter depending on the size of your room. You need to buy a big and powerful bookshelf speaker for a considerably larger room. For the smaller rooms, tight spaces, and low desk space, you should opt for a smaller bookshelf speaker.
Do bookshelf speakers need a subwoofer?
No, bookshelf speakers do not need a subwoofer. However, you can add a subwoofer if you want to make low-ends a bit punchier.
Should bookshelf speakers be on stands?
You should put bookshelf speakers on a speaker stand for the optimal performance. However, there is nothing wrong with mounting your speakers on the wall, low down, or high up. Putting a bookshelf speaker on a bookshelf should be your last resort only.
Can I connect my Bookshelf speakers directly to a TV?
Yes, you can connect your bookshelf speakers directly to most TVs. They come with several audio outputs, making it easier to connect them to bookshelf speakers, a home stereo system, and a small external amplifier.
Final Thoughts
With this, we conclude our list of the best bookshelf speakers under 300. We also hope you have found the bookshelf speaker you have been looking for after reading our guide.