Do you spend a lot of time playing the best online games? If yes, then you also need one of the best gaming routers to enjoy a smooth and uninterrupted gaming experience.
Every online gamer has experienced the problem of the game lagging behind. It not only kills the enjoyment of playing a game but also adds to your frustration and this is where a good gaming router can come to your rescue. It guarantees that your online game is never interrupted, no matter how busy your internet connection is.
The best gaming routers in the world make online gaming a really wonderful experience. They use a clever little trick called Quality of Service (QoS) to prioritize network traffic to your Internet Protocol (IP) address, helping your game to run without any breaks and interruptions even if someone else in your home is watching Netflix or downloading Game of Thrones. Also, always lookout for the best router for gaming and streaming which incorporates a technology known as Multi-User – Multi-Input, Multi-Output (MU- MIMO) technology that ensures everyone in the home can play online games without any jitters and jumps.
Some Important FAQs about Gaming Routers
The following are some of the most common questions people ask about gaming routers and their answers.
[faq p=1350]
[faq p=1354]
[faq p=1357]
[faq p=1359]
[faq p=1363]
[faq p=1366]
[faq p=1368]
We hope you've got the best answers to your questions and queries.
There is no denying the fact that the best way to play online games is to use wired connections. But, a good router for gaming can offer enhanced gaming experience and a high level of entertainment as well. The best gaming routers come with a lot of Ethernet ports to accommodate multiple wired computer connections as well. You would also like your router to have a number of powerful antennas to boost the signal strength. Similarly, the router should also feature Wi-Fi 5 or Wi-Fi 6, which are the latest standards for Wi-Fi connections.
You may be thinking of a router having all these features has to be very expensive. To your surprise, you can get a really good router for less than $200. In fact, some of the best routers under 100 dollars can provide you everything you need have enjoyed the game to the fullest. 
10 Best Gaming Routers in 2020
The experts at 10Ware.com have compiled a list of the top 10 best routers for gaming in 2020 after taking various requirements of online gamers into consideration. Whether you are looking for gaming routers for PS4 or for general purposes, we have everything covered for you. The list contains the best affordable routers you can find in the market as well as some of the best high-end routers as well. Here are over the top 10 picks.
Image
Product
Details
Price

TP-Link
Archer AC5400

Features:
Enhanced speed with three WiFi Bands
Optimal Performance with SmartConnect
25% more speed through 4-Stream System
Benefits:
Alexa and IFTTT support
Enjoy bufferless 4K streaming
and online gaming



Check Price

ASUS AC3100
Dual Band

Features:
1024-Qam technology,
1. 4 GHz dual-core processor,
and Smart Connect feature
Benefits:
Automatically choose the best band available
and a wide coverage of up to 5000 square feet


Check Price

Linksys Max-Stream
AC5400

Features:
up to 3000 square feet of coverage
The combined Wi-Fi speed of 5333 Mbps
Benefits:
The unique roaming technology
detects strongest signals for your
system
Extremely large coverage area.


Check Price

ASUS
Dual-Band AC1300

Features:
2X2 MU-MIMMO technology
Four external 5dBi
antennas for extended range
blazing fast 802.11ac Wi-Fi
Benefits:
Budget gaming router


Check Price

Netgear
Nighthawk AC2300

Features:
AC2300 Wi-Fi technology
Three powerful
and adjustable antennas
Instant setup with Netgear Genie Setup wizard
Benefits:
Good close range speed
Terrific parental controls
MU-MIMMO Supported


Check Price

TP-Link
AC1900

Features:
an updated Qualcomm QCA9984 chipset
four super fast Gigabit LAN ports
Benefits:
Industry-leading free 24/7
IFTTT and Amazon Alexa supported




Check Price

NETGEAR
Nighthawk AX4

Features:
Supports latest Wi-Fi technology
Connect 16 Devices
through OFDMA technology
Benefits:
5 Gigabit Ethernet ports
for uninterrupted connections
Benefits:
Transfers extremely heavy
data quite easily
Offers more than 1 GB
of Wi-Fi connection


Check Price

Medialink
AC1200 Router

Features:
Comes with its own Universal Range Extender
Faster Gigabit ports
compared to traditional Ethernet Ports
Benefits:
Extremely cheap router
(Under $50)
Greater Wi-Fi Coverage


Check Price

NETGEAR
AC1000 Dual Band

Features:
Guest Network feature
for separate access
Two powerful adjustable
antennas for greater coverage
Benefits:
Best online gaming
and 4K streaming
Extended Wi-Fi Range


Check Price

Netgear Pro
Gaming XR500

Features:
Extremely absorbing hardware
Groundbreaking Geo-filtering
feature for connecting closest
possible players.
DumaOS software greatly
boosts the router's speed
Benefits:
One-Click Box
allocates fastest bandwidth
to one device


Check Price
Best Gaming Routers 2020
The following are the best gaming routers 2020 according to our specialists. 
TP-Link Archer AC5400: Fast router for gaming and streaming
ASUS Dual-Band Gigabit (AC3100): Best Wi-Fi router
Linksys Max-Stream AC5400: Best gaming router for busy households
ASUS Dual-Band AC1300:  Best cheap router for gaming (under $100)
Netgear Nighthawk AC2300: Best budget gaming router which delivers extreme speed
TP-Link AC1900 Smart Wi-Fi Router: Best cheap router for gaming
NETGEAR Nighthawk AX4 Wi-Fi 6 Next-Gen Router: Best Budget Home Router
Medialink AC1200 Wireless Gigabit Router: Best wireless gaming router (under $50)
NETGEAR AC1000 Dual-Band Smart Wi-Fi Router: Affordable gaming router with the latest technology
Netgear Nighthawk Pro Gaming XR500: The best gaming router 2020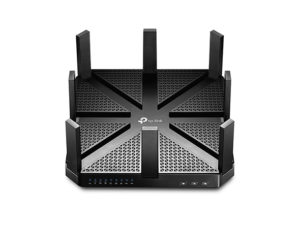 Only one name comes into mind when you think of the best router for streaming and gaming. TP-Link is the industry leader when it comes to manufacturing different types of routers for domestic and industrial use. In this regard, TP-Link Archer AC5400 is a perfect example of how to combine the design, speed, and performance in the right way to create a great product. This is actually one of the first products to take full advantage of MU-MIMO and beamforming technology. Some of its direct competitors such as Netgear Nighthawk AC2300 are just following suit.
It is also very surprising that a router which is barely bigger than an iPad is not only able to compete with bigger, more hyped routers, but to beat them when it comes to lightning fast and unrestricted wireless speed as well.
TP-Link AC5400 is a behemoth of a router despite its small size. It packs a number of smart home features in its tiny frame. It is the device which appeals to smart home enthusiasts, businessmen, online gamers and even casual users alike. Moreover, it is a smart router with Alexa and IFTTT support. The router is not very pleasing to eyes, but it is a very powerful and diverse device that can please almost every kind of user in terms of features and functionality.
Price and Availability
Currently, TP-Link Archer is available for $210.98 US dollars on Amazon but its list price is $299.99. The price is comparable to two other extremely powerful routers that are Synology RT2600ac and  Billion BiPac 8900AX-2400  that could have found a place of their own in our list. TP-Link Archer is currently the best budget router in the market in my opinion. 
Features
The TP-Link AC5400 Tri-Band Smart Wi-Fi Gaming Router offers some really great features which are quite impressive considering it is quite cheaper than the more hyped routers such as NETGEAR Nighthawk X10.
The TP-Link AC5400 runs three distinct Wi-Fi bands with the help of the latest multi-band technology.
The router increases Wi-Fi speed on all bands by a whopping 25% because it employs the 4-Stream and Advanced NitroQAM (1024-QAM) technologies. The maximum Wi-Fi speed the router can offer is 5334 Mbps.
The router lets you communicate with up to four devices simultaneously while achieving four times the efficiency thanks to MU-MIMMO technology.
The router lets the connected devices achieve the optimal performance through the Smart Connect, which automatically connects every device to the best available Wi-Fi band.
The router incorporates extremely powerful 3 co-processors and 1.4 GHz Dual-Core processor, providing stable yet fast overall performance.
The range is not an issue with TP-Link AC5400 due to its 8 external antennas. These antennas not only enhance the Wi-Fi connections but also maximize the Wi-Fi coverage, making it the best WIFI router for the long-range. 
The router, just like every other modern router, offers features such as IFTTT for smart home customization and Alexa for voice control.
Being the best router for gaming also means you can play online games and enjoy 4k videos at the same time due to lightning-fast 802.11ac and Wave 2 MU-MIMMO Wi-Fi.
You need not worry about the online threats because the TP-Link HomeCare employs techniques like parental controls, antivirus, and powerful security to protect every device connected to the router.
The router also has five Gigabit Ethernet ports (1 WAN and 4 LAN) as well as one USB 2.0 and one USB 3.0 ports for adding external devices such as media servers or external storage devices.
If you chose TP-Link Archer AC5400, you do not have to pay for VPN subscriptions. All you have to do is to use an OpenVPN client to set up a personal VPN server.
Design
TP-Link AC5400 is a very compact machine containing 8 antennas. All these antennas can fully fold outwards. It is not a very good looking wireless router either, but TP-Link has opted for functionality rather than aesthetics in the case of TP-Link Archer AC5400 router.
The simple design is what puts many people away. In my personal opinion, the design does not matter as long as the machine provides the type of performance you expect from high-end routers. AC5400 is the slimmest and smallest router (1.7 inches high and less than 10 inches wide) available in this price range. It means you won't find it difficult to put it on your desk behind your screen or tuck it into the narrow corners of your room.
You can also use AC5400 Archer while on the move, something you cannot accomplish with most other wireless routers and devices. I personally believe this router has especially been designed to give you something extra which, when it comes to design which no other router can match.
Installation
It is very straightforward to setup TP-Link Archer AC5400 router thanks to highly advanced and sleek desktop and iOS "Tether Application." The installation software has a friendly color scheme and extremely clear and clean lines. It provides you with tones of customization options ranging from managing the number of clients on your network to set up external storage and media servers.
You can also router all the router traffic to the VPN service of your choice. In addition, you can also install a 4G-connected USB modem if you are using the modem on the road.
Just download the tether application from TP-Link's website (www.tplinklogin.net) and follow the instructions. The second option is to attach the Ethernet cable to the router, plug in LAN cable to your computer and visit the website to start the installation process.
Performance
The TP-Link Archer AC5400 can easily compete with all the modern and highly advanced routers despite its tiny size. In fact, it is the best gaming Wi-Fi router available in the market right now. It offers blistering fast performance, recording a score of 108.11 Mbps down/103.86 Mbps up on 2.4 GHz frequency at 5 feet. No other router has been able to provide such speed at 2.4 GHz spectrum.
The AC5400 struggles slightly when it has data to transmit over a distance of 30 feet. In this case, the speed was roughly 270 Mbps up and 230 Mbps down. However, the router really excels when you move over to the 5 GHz frequency (up to a distance of 5 feet), offering speeds in the range of above 450 Mbps up and almost 370 Mbps down.
All in All, the TP-Link Archer AC5400 is the best wireless router for gaming, offering you everything you normally get from a high-end yet budget gaming router. It is a small but well-designed router having a compact frame which hides a lot of features, making it a beast of a machine.
The router provides unrealistically fast performance regardless of its small size. No matter what the band or distance is, AC5400 will offer blasting speed and performance, necessary for playing online games without any interruptions. The router only drops the ball when the transmitting distance is over 30 feet.
Finally, if you are a looking for a mid-price wireless router that can fit everywhere, works brilliantly under pressure, and comes with cutting edge technologies like MU-MIMMO and beamforming, you ought to go to TP-Link Archer AC5400 wireless gaming router.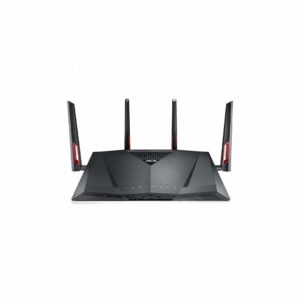 If you are looking for the ultimate best wifi router for gaming, look no further. Asus's Dual Band Gigabit AC3100 (RT-AC88U) pack tones of features and offers exceptional performance. Asus is the leading wireless router manufacturers in the world and AC3100 is best of the best the company has yet to offer. It is the best modern router for gaming, to say the least.
AC3100 is on the expensive side, but stunning features and functionalities it offers totally justify the price. It delivers bleeding edge performance with its eight super fast Gigabit LAN ports. Similarly, it also has another very cool feature that is 4X4 MU-MIMMO. However, you will be able to take full advantage of this feature in the future rather than using it immediately.
Features
Asus RT-AC88U has all the features you normally want to see it in a router. It is a bit expensive, but this is the router you should choose if you have extra money to spend.
The router employs 1024-QAM technology which means it gives speeds up to 1000 Mbps at 2.4 GHz (66% faster) and 2100 Mbps at 5 GHz (80% faster).
The router offers the widest coverage ever up to 5000 square feet because of its 4 transmit, 4-receive (4T4R) antenna design. That is 33% greater coverage than average wireless routers.
You can connect 8 compatible devices to AC3100 thanks to its 8 lightning fast Gigabit LAN ports.
You can achieve up to 1.8 Gbps download and upload speed with this router.
Similarly, the router provides up to 100 MB/s USB data transfer speed. It also features a powerful 1.4 GHz dual processor.
The router also selects the fastest band automatically for your device because of its Smart Connect feature.
It ensures you have a safe and secure online experience with the help of Asus Protection powered by Trend Micro.
Design
The new AC3100 or RT-AC88U has two USB ports and four detachable antennas. The USB 3.0 ports and USB 2.0 ports are on the front and back respectively. Some experts argue that the USB 3.0 port should also have been on the back because people prefer to host a permanent storage device with this port due to its much faster speed. Having this port on front results in more clutter, especially when you use your device as a network storage server as well.
The AC3100 is also the first ever router to have eight Gigabit LAN ports. As a result, it easily becomes one of the best routers for multiple devices. This is particularly beneficial for offices or homes where you have to connect multiple devices to the same router. It also means you can connect more wired clients such as a printer or a server to the router instead of using a switch. There is also more to these ports than meet the eye. For example, you can deliver an extremely fast 2 Gbps connection by aggregating the first two ports. Similarly, the remaining four ports can serve as an additional WAN port. This is especially important for users with a high-end NAS server.
Installation
Setting up AC3100 router is a piece of cake. The interface to set up the router is very straightforward and easy to use. The software also offers a lot of customization options such as restricting content by genre, setting up guest networks and setting a password for each of these networks. The AC3100 also supports Quality of Service (QoS) for gaming and makes it extremely easy to use this feature.
Performance
The AC3100 offers both 5 GHz and 2.4 GHz bandwidth. Well, it works admirably on 5 GHz but it rocks the competition at 2.4 GHz. In our tests, it provided speed up to 161 Mbps when we measured the performance at 30 feet with a solid barrier between the computer and the router and 230 Mbps at 15 feet with line of site.
In case of 5 GHz bandwidth, the AC3100 is the fastest router of all the routers with speeds falling somewhat in the middle of the benchmark spectrum. The router is able to catch the speed of up to 830 Mbps and 770 Mbps at 15 feet and 30 feet respectively. These scores are pretty decent but they were no match for the router's direct competitor, the Netgear R700.
The Asus Dual Band Gigabit Router is indeed one of the best internet routers for gaming because it features gaming specific Quality of Service (QoS). It is a very fast router and comes with high-quality admin software both for mobile and desktop. It is also exciting to have 8 LAN ports. The design is slick and it supports both MU-MIMMO and 802.11ac Wi-Fi connectors. It is slightly expensive, considering there are cheaper routers available that offer the same specifications and features.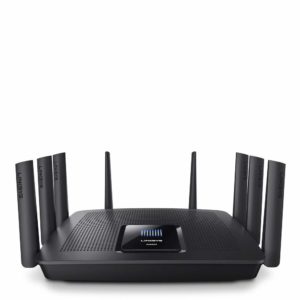 Linksys Max-Stream AC5400 combines stellar features with extraordinary performance. One of the best characteristics of this special router is seamless roaming. This is especially useful for people who want to extend their network beyond the standard distances.
Linksys EA9500 Max-Stream Ac5400 Tri-Band MU-MIMMO is one of the costliest routers on the planet right now.
However, if you have extra money to spend, it is also the fastest wireless router you can find in the market. In fact, it easily competes and on most occasions, outsmarts the speed champions in the likes of Netgear 8500 and Asus RT-AC5300. This alone makes it the best gaming router 2019 in the world. Another thing to consider here is the space. This is the router for you if you have large enough space to host it.
Features
With 8 LAN ports, Linksys EA9500 Max-Steam is a powerful yet very large router. Some of its main features are as under.
The router provides up to 3000 square feet of coverage.
It is a next-generation AC router which is very easy to set up through Linksys application.
It works perfectly with both the existing and new modems.
The router ensures you enjoy online gaming and 4K HD streaming in high quality without any buffering.
The router offers the fastest combined speed possible to all of your connected devices through its three different Wi-Fi bands.
The combined bandwidth speed of this tri-band router is 5333 Mbps.
The individual bandwidth speeds are 2166 Mbps for 2.4 GHz, 1000 Mbps for 5 GHz and 2166 Mbps for the other 5 GHz bandwidth.
You can connect multiple devices to the router through MU-MIMMO which also delivers the same speed to all of the devices.
Design
The EA9500 is the top gaming router you may have seen with dimensions of 2.6 by 10.4 by 12.5 inches. It is several inches larger than the second biggest router that is TP-Link Talon. The router holds no retractable but adjustable antennas. There are eight LED bars on the status panel which remains solid when the router is up and running but flash when it is upgrading firmware or booting. There are 8 Gigabit LAN ports, a WAN port as well as a USB 2.0 and USB 3.0 ports on the back as well. There is Wi-Fi (enable/disable) and a WPS button on the right side of the router.
The router has 802.11ac Wi-Fi circuitry in addition to a 1.4 GHz dual-core processor. Another important feature of the router is MU-MIMMO data streaming which helps the router to transmit data simultaneously to different devices. Similarly, the router does not send the data over a wide spectrum because it employs beamforming technology which enables it to send the data directly to the clients.
The seamless roaming technology, when combined with Linksys Max-Stream Range Extender, automatically detects the strongest signal and connect your device with it when you move from one room to another.
Installation
The Linksys Smart Wi-Fi Setup Utility makes it very easy and quick to install the EA9500 router. The set up enables you to configure basic wireless and internet settings. All you have to do is to connect your computer with the router and write linksyssmartWi-Fi.com in Google or any browser of your choice. Subsequently, follow the instructions and your good to go. The typical installation process takes less than five minutes.
Performance
The Linksys EA9500 leaves all its competitors in the dust in the case of real-world testing. At a close range of 15 feet, it provides sustained yet extremely fast Wi-Fi speed of nearly 700 Mbps at 5 GHz bandwidth. On the other hand, it scored a respectable 99 Mbps at 2.4 GHz in the same conditions. But, what about longer distances such as more than 100 feet with a wall between a router and the computer. Even in this case, the router performed brilliantly delivering the sustained speed of 500 Mbps (5 GHz).
Linksys Max-Stream A9500 is the best wireless router in the world if you are willing to spend top dollars to buy it. The router will easily exceed your expectations. It is an extremely fast router which also packs tones and tones of features.
However, it is an overkill for most homeowners who have limited requirements and budget.
ASUS Dual-Band AC1300:  Best cheap router for gaming (under $100)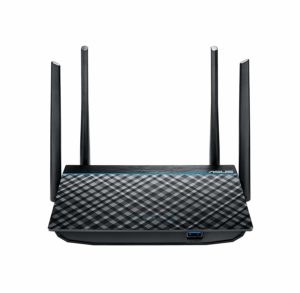 Launched in 2017, Asus Dual-Band AC1300 is the best gaming router under 100 dollars. Despite being a budget wireless router, it offers almost all the feature which are hallmarks of other more expensive and high-end Asus routers. It has the quality and features to meet the requirements of all and sundry.
Features
It is a dual band router which delivers a maximum combined speed of 1267 Mbps.
It has 2X2 MU-MIMMO technology for connecting multiple devices at the same time.
It has also improved Wi-Fi range because of its four external 5 dBi antennas.
The intuitive Asus app enables you to manage and monitor your network without any hassle.
The router has blazing fast 802.11ac Wi-Fi.
The concurrent speeds of 5 GHz bandwidth and 2.4 GHz bandwidth are 867 Mbps and 400 Mbps respectively.
You can easily share external flash or drives with the router through integrated USB 3.0 port.
Design
ASUS 1300 dual-band router has four extremely powerful antennas. As a result, the router can perform satisfactorily even in the case of long operational ranges. It is also the best router for streaming and gaming thanks to 802.11ac Wi-Fi technology. It has built-in support for major gaming consoles such as PlayStation® 4 and Xbox One®. The ASUS AiCloud enables you to not only stream files from your personal computer but to access and share them across the internet as well. The Multi-purpose USB 3.0 Port allows 3G/4G as well as hard driver and printing sharing with the utmost ease.
The powerful 128 MB memory and the MU-MIMMO technology spares you from the hassle of waiting for the sequential transmissions. On the other hands, they help you enjoy super fast Wi-Fi on compatible devices simultaneously.
The ASUS 1300, being the best gaming wireless router is also equipped with the latest quad-core A7 processor which has dramatically improved WAN to LAN speed, compared to earlier versions of the router. The router's performance has improved remarkably when it comes to bandwidth-sensitive tasks.
Installation
It is very easy to set up the dual-band Ac1300 router through the new ASUS router app, the ASUSWRT which works equally fine on both desktop and mobile. The app allows you to have full control over your network regardless of your location. The app further helps you diagnose connection issues, manage network traffic and even update your firmware.
Performance
ASUS dual band 1300 is a budget wireless router and therefore, offered mixed performance during our tests. It actually depends upon where you put your router in your home. In most cases, the Wi-Fi speed delivered by the router at 2.4 GHz was up to 87 Mbps. It is on the lower side but it does not mean it is a slow router.
We also transmitted a 350 MB file from one computer to another and measured the upload and download speed, which were 75 Mbps and 75.60 Mbps respectively. The router has one major drawback that is the 2.4 GHz wireless network can be unstable at times, experienced performance drops and variability in the process. However, it can be easily said that it is among the best wireless routers under 100 dollars.
In case of 5 GHz bandwidth, the router delivers a pretty respectable speed of 286 Mbps. Similarly, the download and upload speeds when we transmitted a 350 MB file were 257 Mbps and 236 Mbps respectively. The ASUS 1300 is quite comparable to ASUS RT-AC1200G+ and Edimax BR-6478AC V2 in terms of signal strength and Wi-Fi speed.
The ASUS dual-band 1300 is a useful router with a lot of promise. It is among the best budget gaming routers around. It performs exceptionally well on 5 GHz bandwidth because it features single-chip Wi-Fi system-on-chip (SoC), the first of its type in the industry.
However, the router does not live up to all the expectations due to some bugs in the firmware which manifest only on 2.4 GHz. Hopefully, ASUS will offer a solution to this problem in the future.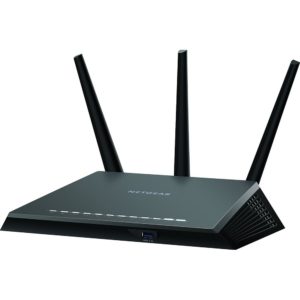 Netgear is known for manufacturing extremely powerful routers. Netgear Nighthawk series consists some of the best routers for gaming and general use in the world and the AC2300 (R700P-100NAS) is no exception. It is the successor of Nighthawk R700, one of the most popular dual-band routers ever. Just like R700, the R700P has the same iconic stealth-planed inspired design but the new router is based on 3X3 AC2300 class instead of AC1900. It also has the support for 1024 QAM modulation and MU-MIMMO technology. Similarly, it also has beamforming technology which transmits data directly to the clients instead of broadcasting it on a wider spectrum.
 It is, in fact, the first Netgear router to have a cloud-based security solution commonly referred to as Netgear Armor. Powered by Bitdefender, the armor aims at protecting all the devices connected to the router including home security systems, thermostats, and even smart door locks.
Features
Up to 1625+600 Mbps wireless speed through AC2300 Wi-Fi technology.
The router also offers Denial-of-service (DoS) attack prevention.
The powerful 1 GHz Dual Core processor ensures lag-free, uninterrupted gaming, high-quality 4K video streaming, and much more.
You can also set individual filters and block certain websites for children through Circle with Disney Parental Controls (paid subscription).
Design
The Netgear Nighthawk R700P has the dimensions of 1.9 by 11.2 by 7.2 inches. It only has three but mighty powerful as well as adjustable and retractable antennas. There are four Gigabit LAN ports on the rear panel which also hosts a USB 2.0 port, a WAN port, a reset button, and a power button. The front panel holds a USB 3.0 port just below the 7 LED indicators. A WPS button and a WI-FI on/off button also reside on the front panel.
The main body encloses a 256 MB of RAM, 128 MB of flash memory and 1 GHz dual-core processor.
Installation
Just like other Netgear routers, it is a walk in the park to set up Netgear Nighthawk AC2300 router through the web-based Netgear Genie Setup wizard. The wizard will launch automatically the moment you connect the modem with the router. You can choose between configuring R700P as an access point and the Router mode. Rest of the setup is a breeze as you just have to follow the instructions.
Performance
The Netgear Nighthawk displayed impressive performance at close range during our tests. At 2.4 GHz close proximity test, the router gives a speed of 103 Mbps. The Asus RT-AC86U which is the direct competitor of Netgear Nighthawk R700P scored 104 Mbps in the test which is just 1 Mbps faster the R700P. On the other hand, the R700P was faster than D-Link DIR-822 and TP-Link Archer C2300. However, R700P's performance declines considerably at a distance of 30 feet. R700P scored only 50 Mbps at this range which is 20 Mbps slower than D-Link DIR-822 and 50 Mbps slower than Asus RT-AC86U.
The R700P secured similar scores at 5 GHz bandwidth. At a close range of 15 feet within the same room, the router gave a lofty speed of 570 Mbps which is slightly slower than TP-Link Archer C2300. However, it comprehensively beat both the D-Link DIR-822 and Asus RT-86U. Once again, the Asus RT-86U outperformed the R700P on the 30 feet test with an impressive score of 310 Mbps whereas the later only scored 160 Mbps. Similarly, it fell a hair short of TP-Link Archer C2300 and D-Link DIR-822.
The results are almost similar in the case of MU-MIMMO and file transfer performance testing. While R700P performed better than both D-Link DIR-822 and TP-Link Archer c2300 in close range test, it fell well behind of Asus RT-86U. In the long-range test, the R700P only managed to beat TP-Link Archer 2300 but not the Asus RT-86U which left all other routers in the dust.
Netgear Nighthawk R700P is the router for you if you want a router with strong parental controls. It also comes with a free basic subscription of Circle with Disney Parental Controls and free 90 day trial of Netgear Armor cyber-security.
Similarly, it performs exceptionally well at the close range but fails to impress in the long-range throughput. Therefore, you may as well consider another budget gaming router such as RT-AC86U which offers similar security options and features such as gamer-friendly QoS settings at the same price.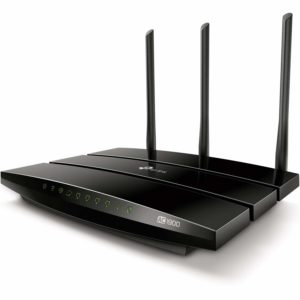 Available only for $78, TP-Link Archer A9 AC1900 is a good choice if you want to boost the efficiency and speed of your home network without busting your budget. It is actually TP-Links' latest mid-range router which offers all the features and performance we associate with its expensive models thanks to its updated hardware and better coverage. It looks very similar to another popular router, the Archer A7, but it has upgraded hardware and components which has significantly improved its performance.
The Archer A9, like all the other modern routers, allows you to connect multiple devices because of its support for MU-MIMMO. Perhaps, the router's best feature is the Airtime Fairness which enables the network to keep delivering super fast speed by preventing slow devices to slow down the entire network, making it the best cheap router for gaming as well.
Furthermore, beamforming technology enhances the efficiency of all the wireless connections by directing the Wi-Fi signals to nearby wireless clients. The router also supports Alexa which allows you to use voice commands to control the router. Similarly, IFTTT support lets you customize different devices when they connect or disconnect from the network.
Features
It is a dual band router with the speeds of 1300 Mbps on the 5 GHz band and 600 Mbps on the 2.4 GHz band.
The router offers new and highly effective security options such as a VPN server, access control and parental controls instead of relying on traditional cyber security measures.
The Smart Connect features automatically connects wireless clients to less congested Wi-Fi bands.
Works with IFTTT and Amazon Alexa.
Industry-leading free 24/7 and two years of technical support.
The USB 2.0 port lets you share storage device or printer over the network.
Design
The TP-Link Archer A9 is equipped with one internal and three external antennas. There are also four super fast Gigabit LAN ports, allowing you to connect various devices such as game consoles, TV boxes and computers with the router through Ethernet LAN cable as well. The high-speed Gigabit Ethernet WAN port helps you connect a DSL modem or cable without compromising the speed as well.
As far as the processing power is concerned, the A9 Archer comes with 128 MB RAM and Qualcomm Quad-Core processor. In addition, the 3X3 mode on 5 GHz bandwidth also features an updated Qualcomm QCA9984 chipset. This particular chipset gives a massive boost to the router's performance. There is also a noticeable improvement on the previous versions such as Archer A7 as well as AC18 by Tenda which does not support MU-MIMMO either.
Installation
Installing TP-Link Archer A9 AC1900 is a breeze. It has a built-in setup wizard which launches automatically when you connect the modem to the router. You can also use the TP-Link Tether app for remote monitoring.
Performance
The TP-Link Archer delivers surprisingly good performance, considering its price and specifications. For instance, it delivers speed up to 941 Mbps of speed on a 1 Gigabit internet connection, which is maximum possible speed on Gigabit Ethernet connection. You can further maximize the speed the router can support by using Ookla's speed test at speedtest.net.
When it comes to wireless speed test, the Archer A9 gives a good account of itself at the 5 GHz band. It reaches a speed of over 600 Mbps in a short distance test. It also gets the pretty impressive speed of almost 500 Mbps for longer distances.
Finally, TP-Link Archer A9 is a fantastic mid-range router offering decent performance and good network coverage. This is the best budget gaming router for people who are looking for an affordable router with good performance, also making it our favorite mid-range router.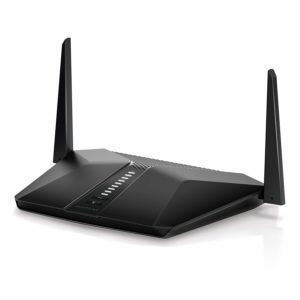 Netgear Nighthawk AX4 Wi-Fi6 router is the latest router among the Netgear's wide array of Wi-Fi 6 routers. Most of these routers are pretty expensive. Nighthawk AX4, however, brings the Wi-Fi 6 speed for the customers at the affordable rate of just $200, enabling everyone to meet their increasing data and Wi-Fi needs without any problem. AX4 is an extremely powerful router, especially been designed for areas which require super fast internet or Wi-Fi speed to work properly. Netgear's basic purpose of launching the AX4 was to let everyone have access to the latest networking standards without putting an extra constraint on their pocket. As a result, AX4, thanks to Wi-Fi 6 technology, has the capacity to deliver 4 times the speed and carry 4 times the data as compared to older or obsolete wireless routers.
Wi-Fi 6 technology also enhances the efficiency and performance of Wi-Fi. It also improves the reliability of connections. The router employs OFDMA technology which works in a combination of Wi-Fi 6. It means you can connect 16 devices with the router simultaneously without compromising data efficiency and Wi-Fi speed. However, all the devices should be 802.11ac compatible.
The maximum Wi-Fi speed is 3 GB, which is seriously fast. It allows people to operate all types of smart gadgets, chat with friends, and play online games and stream 4K videos on multiple devices at the same time as well.
Features
The Wi-Fi 6 technology considerably enhances the router's coverage, making it an ideal router for small to medium-sized homes. It can easily handle 20-30 devices without much trouble.
It is the best gaming router for PS4 and other consoles as well as mobile devices thanks to its powerful dual-core processor. It also ensures you enjoy bufferless and smooth 4K Ultra High Definition video streaming.
The Nighthawk app for tablets and smartphones allow you to securely access your router anywhere, anytime without any hassle.
The router can also support all of your existing Wi-Fi devices such as 802.11a/b/g/n/ac.
There are 5 Gigabit Ethernet ports for uninterrupted connections and easy and fast sharing of apps.
The Ax4 can achieve more than 1 Gigabit Wi-Fi connection for the devices which support 160 MHz bandwidth, making it future proof as well.
Design
The Netgear Nighthawk AX4 has a modern and distinct design and the best router for gamers. As a matter of fact, it is the slimmest and most compact routers in the entire Nighthawk series. There is an irremovable antenna on either side of the router with their range extended and maximized for greater coverage for both indoors and outdoors use.
The router only weighs 1.3 lbs with dimensions of 14.7X8.4X2.3 inches. On the back of the router are a DC power port, a power on/off button, a yellow WAN port and four Gigabit Ethernet LAN ports. There is also an LED on/off switch, a reset button and a USB port. The front panel hosts nine LED indicators for checking the status of network connectivity, power, and 2.4/5 GHz bands connectivity, etc.
The router chassis contains a pretty powerful 1.8 GHz 64-bit quad-core processor in order to deal with higher network throughput. It simply means you can transfer extremely heavy data, ranging in gigabits, from one connection to another without putting any load on your CPU. The CPU only starts feeling the heat when you connect more than a dozen devices simultaneously with the router.
The rest of the hardware fully complements the powerful process. With the 512 MB of RAM and 256 MB of flash memory, the AX4 is the most powerful mid-price router on the planet. Similarly, features like 1024 QAM and 160 MHz channels greatly improve the efficiency of your network.
Performance
The AX4 is built on the principle of four streams Wi-Fi network. It offers astonishingly fast Wi-Fi speed by combining a 600+2400 Mbps setup. Similarly, the router can provide an equally fast and formidable internet connection with the help of four additional Gigabit Ethernet LAN ports.
In simple words, the router can deliver 600 Mbps and 2400 Mbps on 2.4 GHz band and 5 GHz band respectively. However, the AX4 requires a direct line of sight to achieve the said speed with the 5 GHz band while it works seamlessly from room to room at 2.4 GHz.
Summing up, the Netgear Nighthawk AX4 is the wonderful and affordable router to have in your home. It is the best router for gaming and streaming because of the Wi-Fi speed it delivers. The other features such as processor and RAM are also topnotch. On top of that, it is compatible with all of your current devices. Netgear also offers 90 days of free tech support and one-year warranty with this router.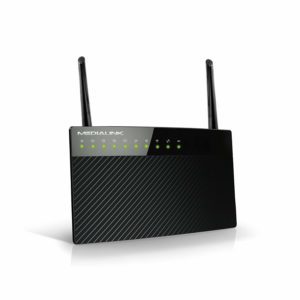 Medialink AC1200 Wireless Gigabit can be your next wireless gaming router for its extraordinary features and tremendous performance, all for a touch under $50. It is indeed our pick for the best cheap gaming router you can currently find anywhere in the world. More importantly, it is also a highly functional general-purpose router.
Now it is possible for you to extend the range of your router beyond traditional limits and keep all your devices on the same network as the Medialink AC1200 comes with its own Universal Range Extender Mode. You can add as many of these extenders to your current network to cover a greater area and enhance your Wi-Fi efficiency and load capacity.
Keep in mind that the Universal Range Extender Mode can only be used as an additional Wi-Fi access point for your existing router as it lacks the daisy chain functionality.
Medialink AC1200 has 10 times faster Gigabit ports as compared to "Fast Ethernet" ports which most routers in this price range have. These Gigabit ports deliver the speed of up to 1000 Mbps for uninterrupted online gaming and high-quality 4K video streaming.  
Features
The beamforming technology focuses the Wi-Fi signals directly to your devices, increasing the signal strength in the process.
The router ensures top security for your devices through a robust firewall which keeps out unwanted visitors.
The guest users can have a safe and secure connection of their own through the Guest Network option.
The router also gives you full control over all kinds of activities. For example, you can restrict the network access to only a few hours a day or dim the router lights if they are too bright.
You can connect up to 20 devices of any kind with this router.
Design
The AC1200 has two high powered antennas which significantly increases the coverage area for your network. The range extender capability also helps you connect multiple devices with the router without experiencing any interruptions and disconnections.
Medialink AC1200 only has 1 USB 2.0 which is a sort of letdown. All the modern routers have at least one 3.0 USB port. One of the major disadvantages of having AC1200 is the lack of MU-MIMMO functionality. Therefore, the router sometimes gets under extreme stress when it is serving multiple devices at the same time. Similarly, it does not provide any backup capabilities, unlike other low price routers by Netgear or Linksys.
Installation
It is very easy to install the Medialink AC1200 router even if you not tech-savvy. The router's packing contains an instruction manual which explains everything you need to know in a detailed yet simple manner. The router also works with all kinds of modems as well and therefore, you do not need to buy a new modem for this router.
Performance
The Medialink AC1200 wireless gigabit router delivers extraordinary performance at the 5 GHz band with speeds above 200 Mbps. Similarly, it performs better than similarly priced Nighthawks and TP-Link's routers at 2.4 GHz.
Finally, it can be rightly said that Medialink AC1200 has better features than other routers in the same price bracket. As a matter of fact, it is the best gaming router for people with a restrictive budget. Similarly, it can also fulfill your basic 4K streaming and other needs. This is what makes Medialink Ac1200 one of the best routers for 4k streaming. You normally don't find such an advanced feature in a low-cost router. It doesn't have MU-MIMMO capability which is acceptable, considering it is a very cheap router.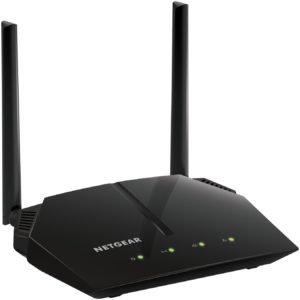 The Netgear AC1000 is second only to Asus Dual-Band AC1300 as the best budget gaming router. The Wi-Fi band technology allows for multiple access points and delivers Wi-Fi speed up to 1000 Mbps (300 + 700). The greatest feature of the Netgear AC100 is its extraordinary range. No matter how big or small your home is, AC1000 can easily cover your home, providing you with seamless gaming and video streaming experience. The router comes with 11ac Wi-Fi dual-band technology, making it an ideal router for both office and home use. Some of its features also put it on the list of best WIFI routers under 100 dollars. 
Features
The router can support all kinds of AC devices. You can also upgrade the Wi-Fi to keep your router updated.
The router is compatible with all AC, N600, N300 and N150 devices.
The Nighthawk app lets you easily set up your router.
The app also enables you to manage your router from your mobile with the utmost ease.
The dual-band router gives speeds of 300 Mbps at 2.4 GHz and 700 Mbps at 5 GHz.
There is also a Guest Network feature for separate and secure access
Design
The router has two adjustable antennas with four LED indicators on the top panel. You can set the antennas in any direction to maximize the router coverage. It has 8 Mb of flash memory, 64 MB of RAM, and it also supports the 802.11ac wireless protocol. The data transfer rate is 1000 Mbps. It also has eight super-fast Ethernet Gigabit LAN ports. It is a pretty small router with dimensions of 7.3 into 5.4 into 1.8 inches.
Installations
The Nighthawk app lets you easily set up your router. Just connect your router to the modem and power it up. The app will launch automatically, offering some really cool customization features as well. Just follow the instructions after the app launches and the rest of the process is very easy to complete.
Performance
The Netgear AC100 dual band performs quite satisfactorily both at 2.4 GHz and 5 GHz band. At 2.4 GHz, the router crosses the speed of 250 Mbps in the short distance test (15 feet). In the case of 5 GHz band, the maximum speed the router managed to get in the same test is 650 Mbps.
The results were rather different during the long distance test (30 feet). The router delivers the speed of 200 Mbps at 2.4 GHz and 581 Mbps at 5 GHz at this range which is quite decent given its price and specifications.
The Netgear AC1000 dual band is the best gaming router under 100 in my personal opinion. It offers the performance of the highest quality be it is online gaming or 4K streaming. Other things which make it a must-have for your home are extended Wi-Fi range and adjustable antennas.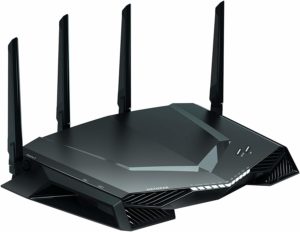 A Netgear gaming router will always offer lightning fast speed and interrupted WIFI. The Netgear Nighthawk Pro Gaming XR500 is a few years old router but it still retains its crown as the best gaming router 2020. The router has been designed while keeping the requirements of the online gamers in the mind. It does not have extraordinary specs. You can find routers with higher specifications and the latest technologies but it does not undermine the excellence of the Netgear XR500.
The router has the features and specifications that are perfectly compatible with the latest mainstream PC hardware. Furthermore, the router has an absorbing and easy to use software. Netgear is also planning to upgrade the router. It is working in collaboration with DumaOS to introduce a new software platform for XR500.
The Pro Gaming XR500 makes it easier for you to manage bandwidth allocation to different devices across your home. It also offers control to connect conveniently in multiplayer games. The router's price is on the higher side that is $309.45. There are definitely cheaper AC2600 routers in the market as well but XR500 has special appeal for gamers which no other router can match.
Features
Advanced Quality of Service (QoS) designates a separate express lane for your gaming traffic. In doing so, it reduces jitters, jumps, and lag spikes and bypasses network congestion.
The router offers superfast Wi-Fi speed of 2.6Gbps thanks to its powerful AC2600 dual bandwidths.
The router connects your device to the closest possible players and servers using its groundbreaking geo-filtering feature. It helps you quickly respond to the other players' tactics and dominate them.
It is also easy to find the device or application which is hogging your network through Nighthawk app.
The router has especially been optimized to reduce as many pings as possible for popular games like PubG, Overwatch, and Call of Duty: Black Ops 4, CS: GO, Fortline and many more.
NetDuma's DumaOS software has some really exciting features considerably, boosting the network's speed. For example, Quality of Service (QoS) prioritizes the bandwidth. For example, you can direct all the bandwidth to your game or equally divide it among all the connected devices. The best of all features is perhaps One-Click Box which gives the highest bandwidth status to one connected device of your choice.
The Hyper-Traffic mode helps you route the traffic to your gaming session. In simple words, it deprives the systems doing mundane tasks like music requests, web surfing and emailing of the bandwidth and put your system on top of the urgency list.
Design
The XR500 has four one Gigabit Ethernet port on the back panel which offers lag free and uninterrupted wire connectivity. The router has a powerful 1.7GHz processor and whopping 256MB of flash memory and 512MB of RAM. The dual-band router can reach the speeds of 1733Mbps and 800Mbps in 5GHz and 2.4GHz modes respectively. The theoretical speed limit of the router is 2.533Gbps.
There are also 11 LED indicators on the LED panel, each for four Ethernet ports, and one each for power and internet. The other LEDs are for two USB ports, 2.4 and 5GHz bands and for the guest network. There are also LAN and WAN ports on the back of the router which can enhance the data transmission speed to one Gigabit per second.
The router's backside also hosts four amplified antennas. You can adjust, swivel or aim the antennas to catch the strongest possible signals. However, you have to install antennas at the correct location as they are numbered. If you don't the router's performance will suffer.
Installation
You have to set up the Netgear Nighthawk XR500 via a web page instead of a tablet or mobile app. However, you can use Nighthawk or Netgear's Genie apps to manage and monitor the router.
It is extremely easy to install or set up the router. Just type "routerlogin.net" into the browser after connecting your router with the modem. As usual, just follow the instructions and the installation will be complete within minutes.
Performance
The Netgear Nighthawk is a gaming powerhouse as far as speed and connectivity are concerned. In our test, the peak throughput was above 700Mbps at 5 feet. Surprisingly, the throughput climbed to 720Mbps at 15 feet from the client. It simply means it is more powerful than its competitors such as Linksys WRT 32x which peaks at 540Mbps at this distance (24% faster to be precise). Similarly, it leaves all run of the mill routers in the dust quite comfortably. However, it clearly lags behind another speed king, the TP-Link Archer C2300 by 25% which delivers a speed of 940Mbps at 5 feet' distance. All these features have helped Netgear Nighthawk claim the title of the best wireless router for gaming. 
Quite obviously, the throughput of XR500 declines at a longer distance. For instance, it was 515Mbps at 50 feet, 525Mbps at 100 feet and 340Mbps at 150 feet. In comparison, the Linksys WRT 32X only managed to beat XR500 on the 50 distance with a speed of 540Mbps.
The router is also a good choice for homes with thick walls, mostly the older homes, because of its powerful Wi-Fi transmission. It enables you to play heaviest of the games without any jittering, lagging spikes, and jumps.
The Netgear Nighthawk XR500 is the best gaming router 2020 for the serious gamers. It has a low latency design but it ensures high-throughput. It is much faster than another excellent gaming router, the Linksys WRT32X.
The router includes features like 160MHz double-width data channels and quality of service. It also limits gaming opponents by distance, making it the best gaming router you can think of. Summing up, the Netgear Nighthawk Pro Gaming XR500 Wi-Fi Router delivers extremely fast data and performs brilliantly under pressure, which can decide who is the winner and who is the loser.
Final thoughts
Well, folks, we complete our list of the best gaming routers 2020 with Netgear Nighthawk XR500. Is there any other router you think we should have included in our list? We would also like to hear what's the best router for gaming according to you? 
Related Buyer's Guide