Are looking for the best waterproof digital camera that can survive a dip in the river?
A waterproof camera should not only be resistant to water but it should also be able to survive harsh temperatures, weather elements, shocks, and drops. You can use a waterproof camera for any of your outdoor activities such as scuba diving, snorkeling, hiking and camping trips, backpacking, taking photographs on the beach, or just casually using them in your home pool. Other types of cameras simply cannot offer all these features under one room.
In this article, we are going to present the 10 best digital waterproof cameras in 2021. It also makes it easier for you to decide which of these cameras you need by providing you with the following information as well.
10 best digital waterproof cameras
How to choose the best waterproof digital camera?
Tips for Improving Underwater Photos
Rise of smartphones with insane features and IP waterproof ratings have played a big part in reducing the number of point-and-shoots currently available to the general public. Modern high-end smartphones can remain submerged in water but only for a short time.
Extended use of expensive smartphones on the beach or in the water has demerits of its own. For instance, they offer no protection against the sand. It can get into strangest places permanently damaging your phone. Similarly, there is always a risk of losing the smartphone, which can especially put travelers in peril. You may have stored documents like hotel confirmations, boarding passes, and even your visa on your smartphone. Above all, a new phone will cost you a lot of money.
A waterproof camera, on the other hand, is relatively inexpensive. So, it won't make much of a difference if you lose one. Similarly, top waterproof cameras happen to be very sturdy and therefore, you can use them carelessly without fearing water, bumps, drops, and shocks.
10 best digital waterproof cameras
Experts at 10Wares have chosen the following waterproof cameras for your consideration. All these cameras offer superior performance and incredible sturdiness no matter wherever you use them.
Olympus Tough TG-6 Compact Camera: Our number one pick
Nikon Coolpix W300 Underwater Camera: Best deep-diving waterproof camera
Fujifilm FinePix XP140 Waterproof Camera: Best cheap waterproof camera
AKASO EK7000 4K Action Camera: Best waterproof digital camera under $50
GoPro Hero7 Black Action Camera: One of the top waterproof cameras
AKASO V50X Native Action Camera: Best waterproof digital camera under $100
Dragon Touch 4K Action Camera: Best budget digital waterproof camera
Fujifilm FinePix XP130 Waterproof Camera: Great value for money
YISENCE Underwater Camera FHD 2.7K: Best multipurpose waterproof camera
APEMAN A80 Action Camera: Best Underwater Camera for Scuba Diving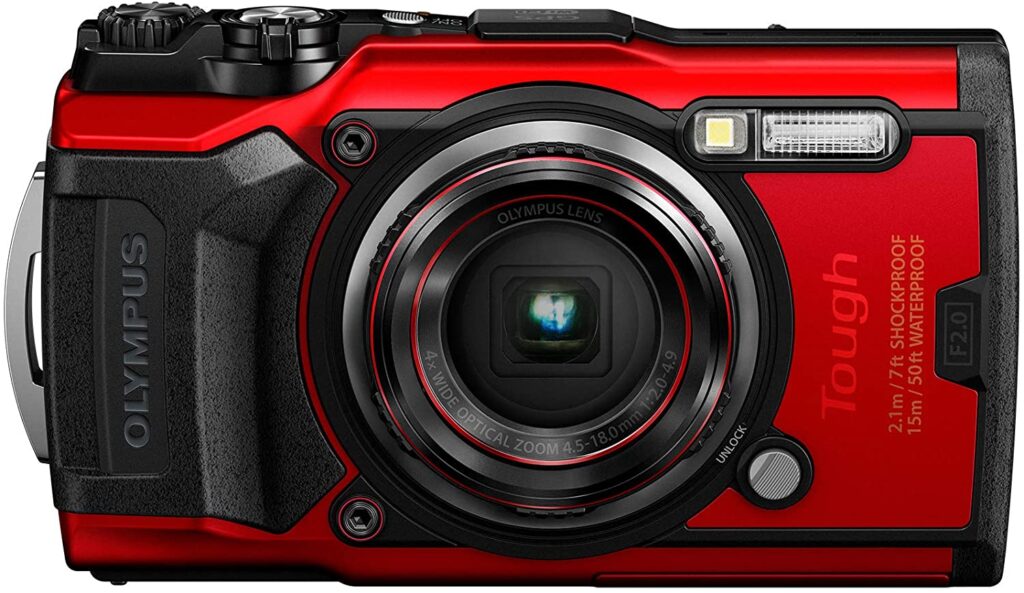 Olympus Tough TG-6 Compact Camera takes the first position on our list for several reasons. The 12 MP camera is not only extremely sturdy but boasts specifications you don't normally find in a waterproof camera.
Features
Olympus's Tough series of waterproof cameras are tried and tested cameras for any kind of use. The TG-6 is top of the line model with premium features. For example, it offers 4K video for raw shooting. It even has a built-in GPS for easy navigation. To top it all, it features the OM-D E-M1 X engine which we normally associate with hi-tech mirrorless cameras.
TG-6 is an outstanding camera for taking all manners of underwater and land-based photographs thanks to the maximum focal length of f/2. Similarly, the Underwater Microscope feature enables you to close-focus the nearby objects.
TG-6 is an upgrade of the TG-5 which enjoys a stellar reputation as the toughest camera in the m
arket. TG-6 comes with a new and much-improved LCD and allows shooting full HD video at super-slow-motion at 120 frames per second. You can also get extremely close to the action because the camera also has a 25-100 mm optical zoom lens.
What protects the lens from knocks and bumps is the internal zoom mechanism, not allowing the lens to protrude out of the body. The grip is also very secure because of the chunky handgrip.
The lack of an electronic viewfinder is a bit of letdown in our opinion. Similarly, the maximum depth of 50 feet is comparatively less than some of its competitors such as Nikon Coolpix 300.
Our Verdict
Despite a couple of downsides, the TG-6 is still the best waterproof digital camera there is. It is a straightforward but sophisticated, versatile, and easy camera to use.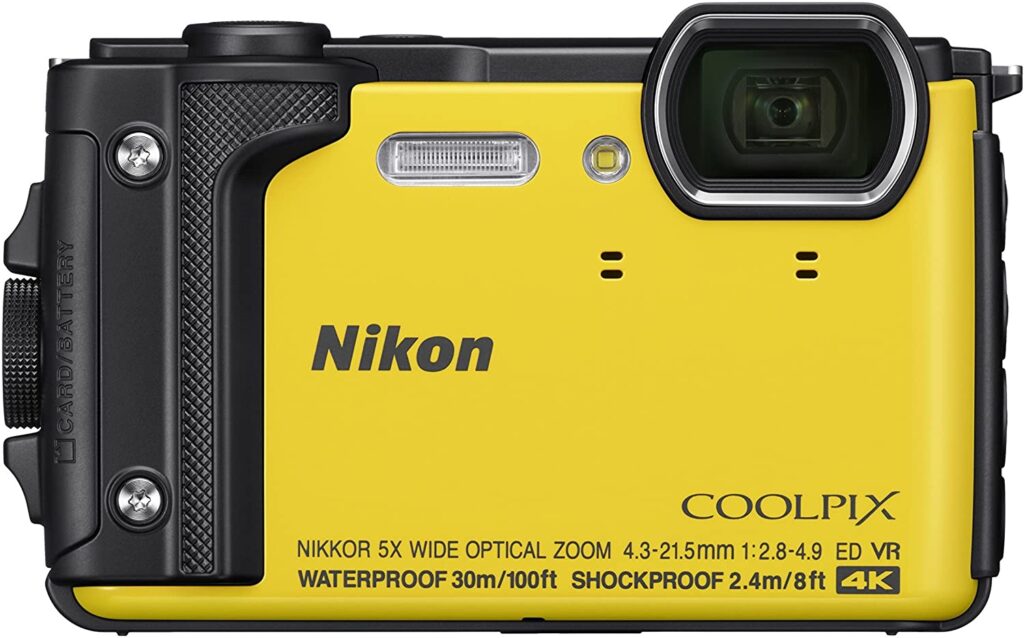 Nikon Coolpix W300 Underwater Camera should be your choice if love to go to greater depths. It has a maximum depth of almost 100 feet, making it particularly popular among deep-water explorers.
Features
The best feature of W300 is its capability to work up to a depth of 30 meters. Keep in mind that this as down as you can go even if you have an Advanced Open Water diving certificate.
However, the camera offers a lot of other excellent features ranging from a terrific GPS to 4K video at 30 fps, WiFi connectivity, and an interactive world map. On top of that, you also get an electronic compass to find your way underwater. Similarly, you can also collect useful underwater data such as your depth and altitude thanks to a barometer.
You can also take photographs at a very high resolution and view them at 921K dot OLED monitor. Connecting camera with the smartphone through Nikon's SnapBridge technology using the onboard Bluetooth functionality for fast image transfer is also very easy.
W300 also has a shockproof rating of 2.m which is quite impressive. As a result, the camera can easily withstand knocks and bumps from up to 7.9 feet.
The camera is second to none in terms of image quality. You can capture close videos and images without any distortion using its powerful 5x zoom lens (24 mm – 120 mm). Another great thing about W300 is that you can take stills while recording a video.
Our Verdict
Canon Coolpix W300 does not offer raw video support and slow-motion-features which is a shame. However, it is the best underwater digital camera for daredevil divers who are not afraid of going deep.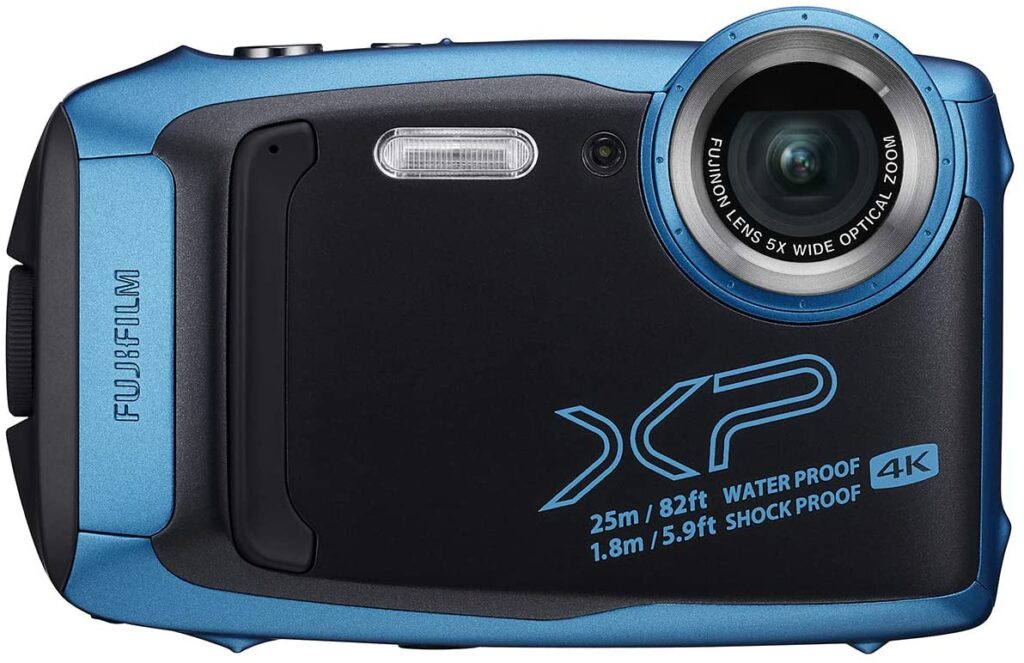 You may find Fujifilm FinePix XP140 a great alternative to Canon Coolpix W300 and Olympus Tough TG-6 if you have budget constraints. It is indeed the best cheap waterproof camera available for just above $150 at the moment.
Features
XP140 has a maximum waterproof depth of 82 feet which is much more than TG-6 by Olympus. Similarly, the camera can withstand extreme temperatures ranging from 14 to 104 degrees Fahrenheit. It can also survive drops and falls from up to 6 feet compared to 7 feet capacity of Coolpix W300.
XP140 also has an extremely powerful 5X optical zoom lens with a focal length of 28 mm to 140 mm. The 16 MP camera comes with an impressive ISO range of 100-12800.
The camera automatically takes photographs of a smiling person because of its Smile Shutter feature. You can also take photographs with moving elements thanks to a very useful Cinemagraph mode. However, the 4K videos tend to be a little choppy because you can shoot them only at 15 frames per second.
Bluetooth capability also makes it easier for you to transfer videos and images from the camera to your tablet, laptop, or smartphone.
XP140 also compensates for the lack of manual controls by providing the scene recognition mode which helps you access what you are photographing. The controls are also simple to understand and use. The overall design of the camera is also fun and quirky.
Our Verdict
Fujifilm XP140 is an absolute bargain at this price. It is never going to challenge Coolpix W300 and TG-6 but it is a very capable camera with an assortment of features.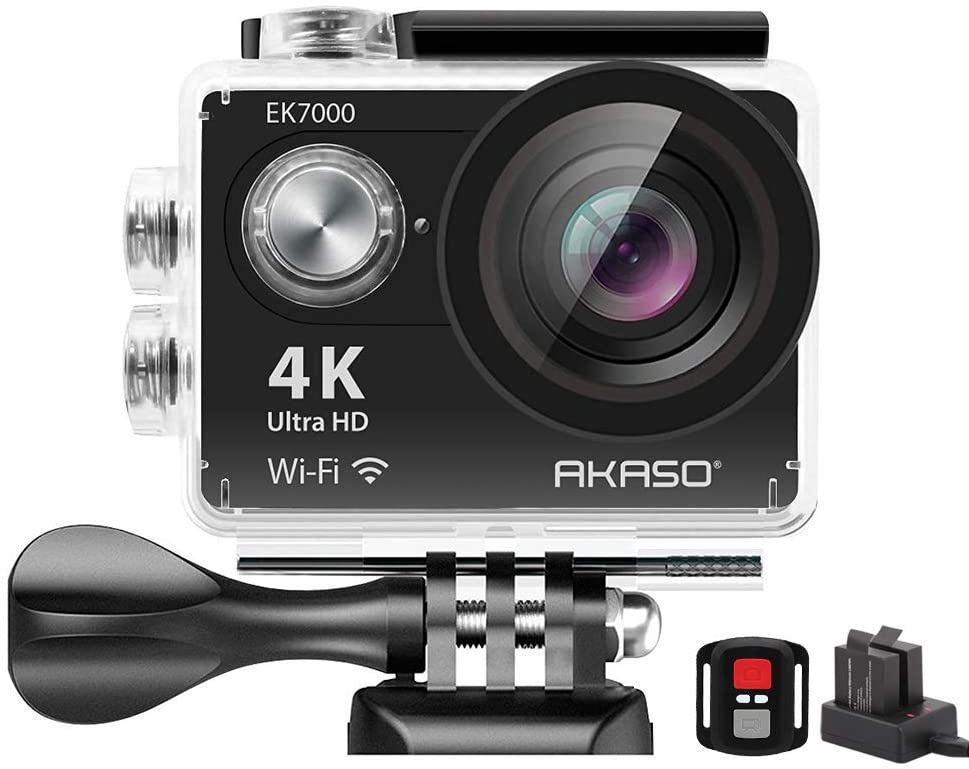 If you are looking for a true professional underwater camera, you must opt for AKASO EK700 4K Action Camera. Available for under $50, the camera is brimming with great features such as macro lenses, sports shooting mode, and loop recording.
Features
EK7000 is a versatile but compact camera offering exceptional performance underwater. You can also record stunning 4K at up to 60 fps. The camera comes with splashproof remote, allowing you to control it from a distance. It is also very easy to switch between video and photo mode. The Built-in WiFi helps you instantly share your videos and images with your phone and tablet.
The best thing about EK7000 is that it comes with a waterproof case. You can take the camera as deep as 98 feet, also making it the best underwater camera for scuba diving and snorkeling. It also has a 170-degree wide-angle lens whereas most of the action cameras have 90 degrees or 120-degree angle lenses. Therefore, you can capture a more expansive field of view with EK7000. However, the image tends to distort at wider angles.
The camera also has multiple shooting modes including time lapse, burst photo, and loop recording.
Our Verdict
AKASO EK7000 is the best waterproof digital camera under $50. It offers an assortment of features that you only expect from high-end waterproof cameras. Therefore, it is a must-have for everyone.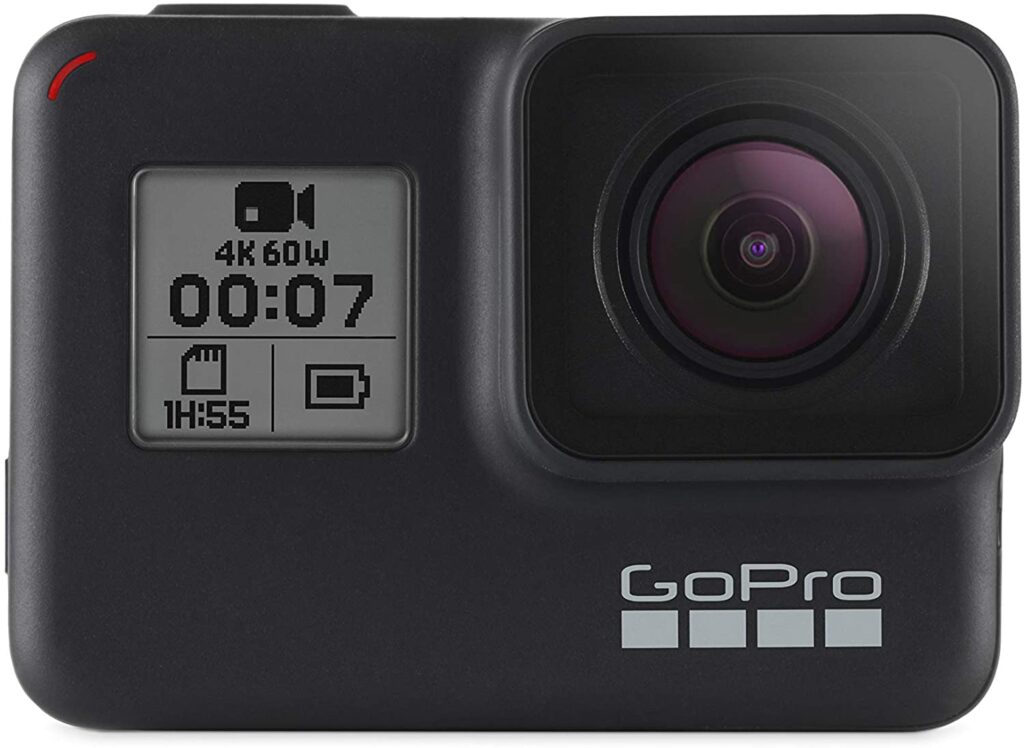 GoPro Hero7 Black belongs to the older generation of action cameras but it still is going strong. The 12MP camera was ahead of its time despite its simple design. That is why it is still one of the most popular waterproof cameras in the world.
Features
GoPro Hero7 Black delivers unbelievable smooth videos and images due to the HyperSmooth Image Stabilization technology. The TimeWarp function allows you to create time-lapsed videos. Similarly, you can convert longer footages into smaller videos by increasing the speed up to 30X.
The best feature of the GoPro Hero7 is the ability to Livestream at 720P. The camera is also up for any type of activity and adventure because of its ruggedness and a maximum waterproof limit of 33 feet.
You can also use up to 16 voice commands to control the camera, giving a much-needed relief to your hands and arms. Other important features of the camera include 4K video and slow-motion shooting up to 8x.
The SuperPhoto feature enables you to take brilliant photos without doing anything special. It intelligently applies HDR to every photo in addition to reducing noise and local tone mapping, resulting in the best possible photos.
Our Verdict
While you should go for GoPro Hero8 if you have the budget but Hero7 is also a worthy consideration. It will meet all of your underwater photography requirements albeit at a low price compared to Hero8.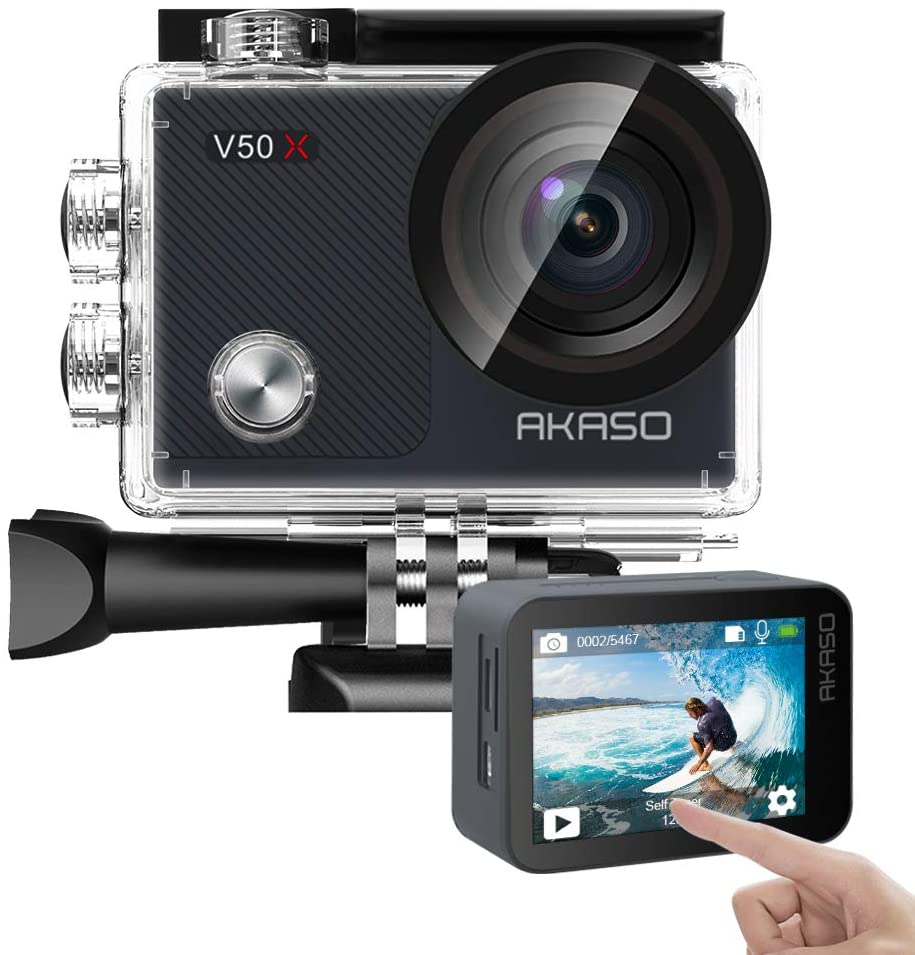 V50X Native is yet another best digital waterproof camera by AKASO. It offers some cool features and functions for just around $100, putting some of the more expensive cameras to shame as well.
Features
As you might expect, V50X comes with waterproof housing. It is waterproof up to 131 feet or 40 meters. No other camera, even the expensive ones, can match the waterproof capabilities of V50X. It is also a very rugged camera and provides effective protection against falls and shocks.
You can also shoot stunning 4K videos at up to 30fps. The camera also allows you to record breathtaking full HD video. Similarly, you can also record unique time-lapse videos as well. The built-in WiFi connection enables you to share the images and videos to your smartphone or tablet through the AKASO Go app.
The camera also delivers extremely smooth images by correcting the shakes and predicting your movements. You can easily control the camera through a wireless remote while surfing, cycling, skiing, and snorkeling, also making it the best underwater camera for snorkeling.
V50X also features a 2-inch touchscreen with an IPS display. You can also insert up to 64GB memory card (not included) for storing videos and images.
Our Verdict
AKASO V50X may be the best underwater video camera in this price range. 131 feet of waterproof depth alone is enough to make it a favorite among fearless divers.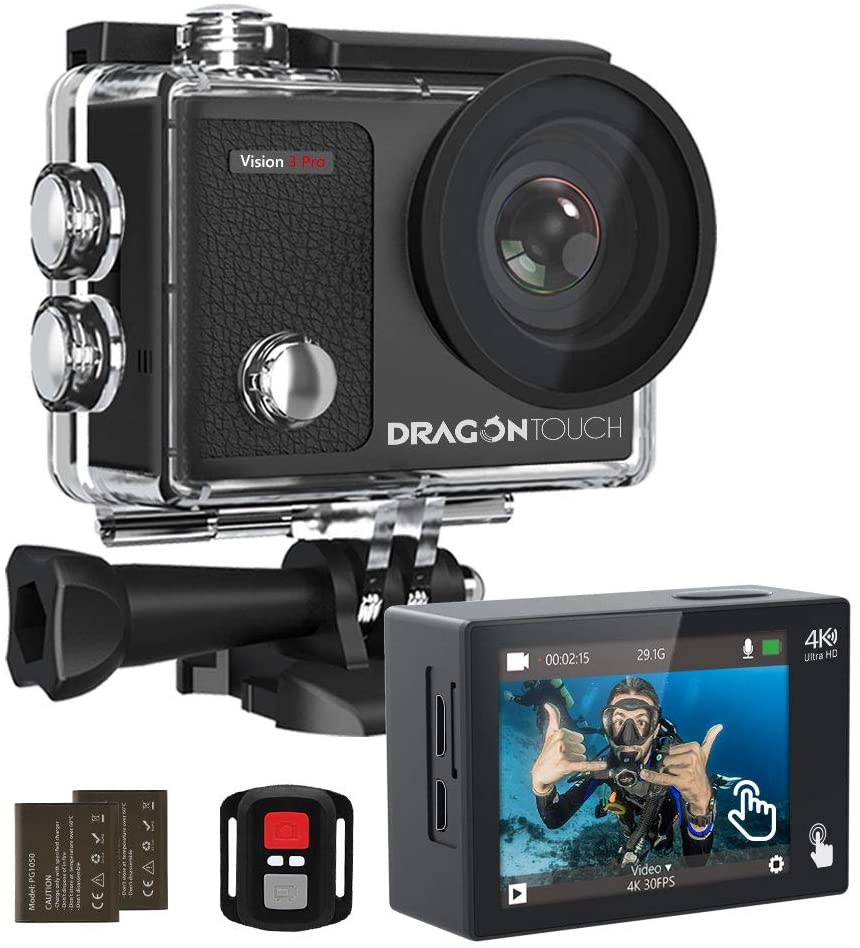 Dragon Touch 4K is a 100 feet waterproof camera with an assortment of features and functions. The camera also offers a great value for money, giving some of the high-end cameras a run for their money.
Features
The 16 MP camera boasts various features such as 4K Ultra HD videos, 4X zoom lens, adjustable viewing angles, and wireless remote control. Similarly, the camera also comes with a 2-inch IPS touchscreen, making it easy to use and operate. You can also adjust the viewing angles of the Vision 3Pro camera from 70 degrees to 170 degrees.
Dragon Touch 4K allows you to capture awesome moments and shoot stunning videos as it allows 4K shooting at 30fps as well as 16 MP of resolution. The camera is waterproof up to 100 feet and therefore, it is ideal for activities such as surfing, snorkeling, diving, and swimming, etc. The waterproof case also enables you to record spectacular sceneries underwater. Similarly, the camera also filters red right underwater when you activate the Diving mode.
Apart from a waterproof camera, you can also use Dragon Touch 4K as a dash camera. It has a dedicated Driver mode, loop recording mode, and Image Rotation function.
Our Verdict
Dragon Touch 4K Action camera should be your choice if you want to avail of all the premium features without spending a lot of money.
The previous version of XP140, the Fujifilm XP130 is quite a capable camera in its own right. It is one of the best budget compact waterproof cameras with a fun, cheerful, and kid-friendly design. However, it is no toy but offers an assortment of really great features to go after.
Features
First thing first, XP130 does not have the same credentials as Coolpix W300, TG-6, and even XP140. Therefore, you may decide against using it for extreme adventures such as scuba diving and snorkeling. However, it is an ideal choice for activities like a skiing holiday or a family weekend at a beach.
The camera lacks the GPS feature but offers WiFi connectivity and several fun filters. It is a durable point and shoot compact camera with a 16.4 MP CMOS sensor and a powerful 5X optical zoom lens. You can also extend the range of the lens to 10X using the Intelligent Digital Zoom function. The lens has a wide-angle setting of 28 mm as well. The camera also features a 3-inch 920K dot high definition LCD which is rare for sub $130 camera.
The camera is shock and waterproof up to 5.7 feet and 65 feet respectively.
Our Verdict
XP130 is a budget-friendly yet a very useful camera with an assortment of features. It also provides better value for money than XP140 even though the latter has more features and functions.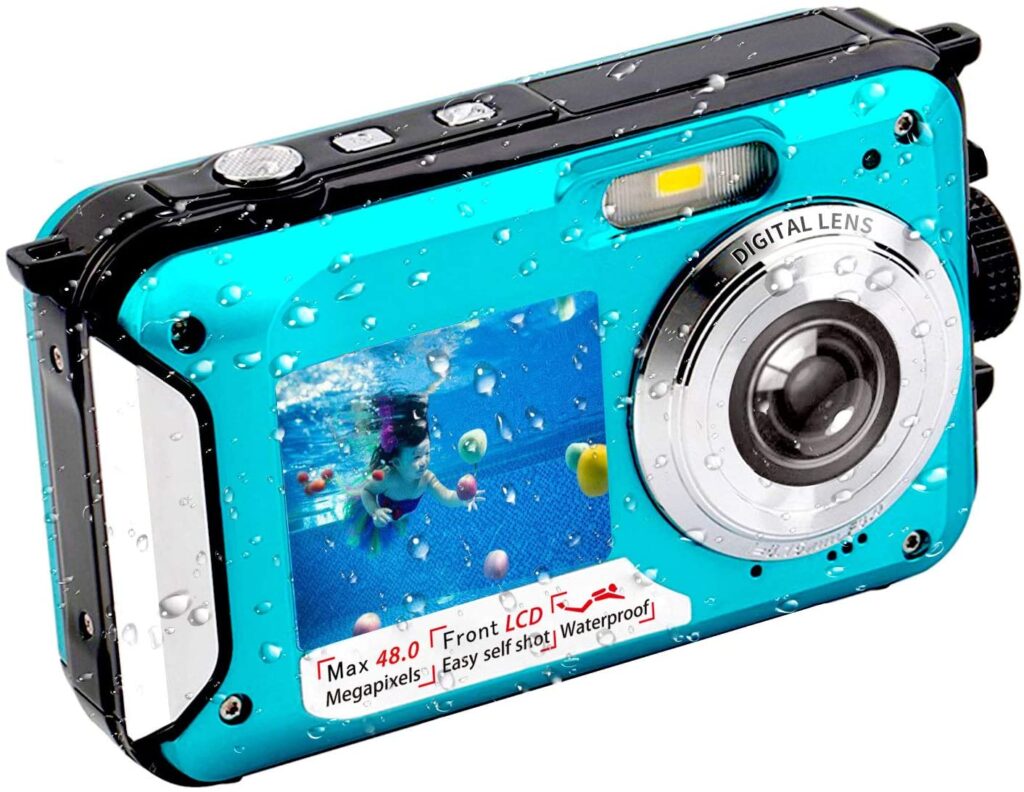 YISENCE FHD 2.7K is a multipurpose camera that you can use both on land and underwater. It is a lightweight, compact, and waterproof camera that delivers great performance in all kinds of circumstances.
Features
YISENCE FHD 2.7K is not an ideal camera for deep diving. It is waterproof only up to 10 feet. However, it is an ideal choice for your home or public pool, beach parties, family gatherings, and diving in the lakes and ponds.
Perhaps, the best feature of the camera is its resolution which is 48 megapixels. 16x digital zoom is quite brilliant, to say the least. You can also have a clear view of distant objects by changing the angle of view. No other camera on our list can offer such a resolution for under $100. Similarly, 6 Continuous Shooting mode allows you to take stunning pictures of your loved one without missing a shot.
The camera also features integrated Electronics Image Stabilization and anti-shake technologies. As a result, you always get clear and steady images.
YISENCE FHD 2.7K also features a primary 2.7-inch full-color LCD and a secondary 1.8-inch full-color LCD screens on back and front respectively. Therefore, it is a perfect camera for taking selfies as well.
The Flashlight mode also helps you take fabulous pictures in the dark or low light conditions.
Our Verdict
If you are looking for a camera that excels both on land and underwater, you must choose YISENCE Underwater FHD 2.7K camera.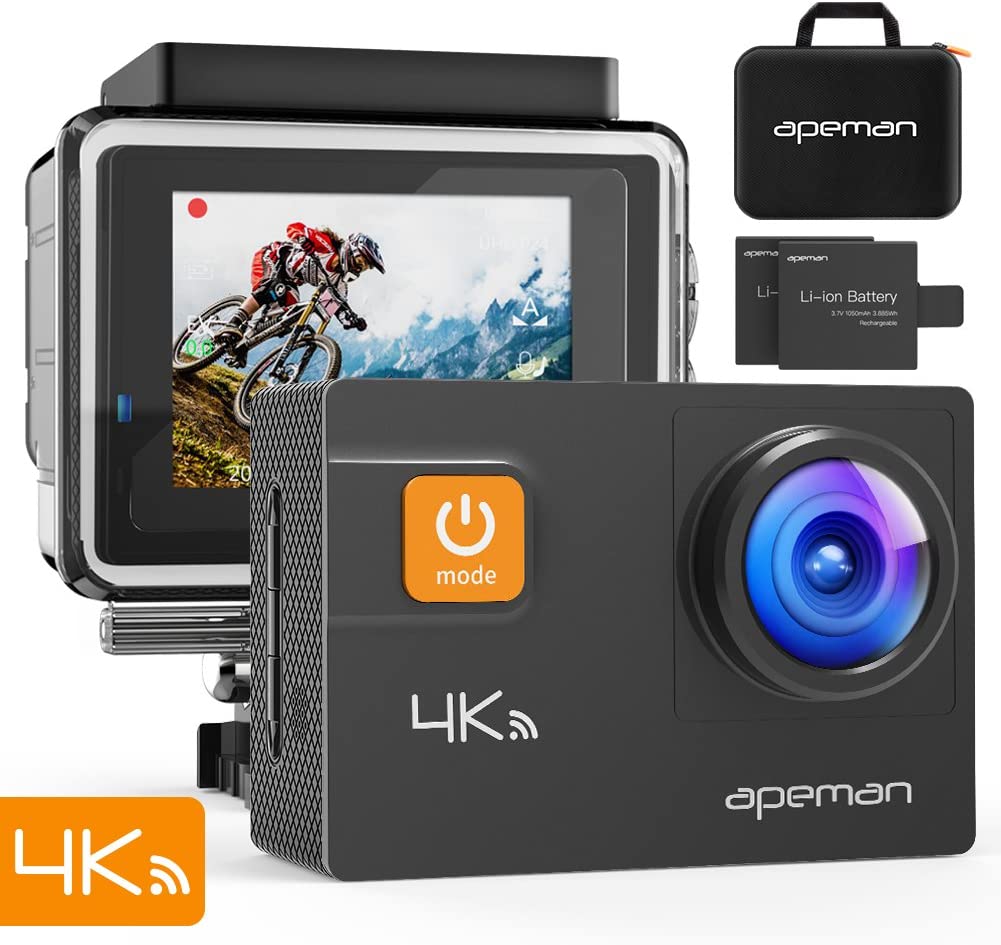 APEMAN is a well-known brand when it comes to high-quality waterproof cameras. The APEMAN A80 Action Camera is one of their best models and enjoys great popularity among the beachgoers and adventurists alike.
Features
The camera includes 19 accessories including dual 1050mAh batteries and a carrying case. The batteries can last for 1.5 hours after a single charge. The camera also has 4K capability in addition to having 4X digital zoom, shooting timer, and time-lapse video option.
APEMAN A80 also records smooth and stable videos and images through an electronic image stabilization system and a built-in gyroscope. Similarly, 4 different angle of views enable you to take great pictures of nearby and distant objects.
The 20 MP camera also has waterproof ratings of 1P68 and it is waterproof up to 40 meters or 131 feet. Therefore, it the best underwater camera for snorkeling, scuba diving, diving, swimming, and other water activities.
The camera also has a Dashcam mode. All you have to do is to connect it to the car charger and start the engine and it will automatically start recording.
The connectivity options include HDMI outputs and built-in WiFi, making it easier for you to share your videos and images.
A80 does have some problems such as no remote control and manual image stabilization. However, they are not a deal-breaker for most of the users.
Our Verdict
APEMAN A80 is a great choice for everyone who wants to have the best waterproof digital camera without breaking their budget.
How to Find the Best Waterproof Digital Camera?
Your budget should be your first consideration while buying a waterproof camera, as with any product. It is a matter of balancing price with the features. The top two waterproof cameras on our list – the Olympus TG-6 and Canon Coolpix W300 – will cost you more than $300 but they offer superior features and Performance. On the other hand, cameras like Fujifilm XP140 and XP130 as well as AKASO V50X and APEMAN A80 are available for less than $100. However, you will have to make some performance compromises if you buy them.
Another important factor is the place where or how you will use your camera. A camera that is waterproof up to 50 feet is enough for snorkeling. However, a camera with at least 100 feet of waterproof depth is required for activities like scuba diving.
Once again, Olympus Tough TG-6, Canon Coolpix W300, and GoPro Hero8 are the best for adventure sports. They offer the highest degree of image stabilization besides being compact. Similarly, you can mount them anywhere you want.
Tips for Improving Underwater Photos
Top waterproof cameras can help you take stunning underwater photos and videos. However, there are many tips you can implement to further take spectacular underwater photos.
Use a Carry Harness
Many cameras come with chest straps allowing you to use your camera hands free. The chest strap can help you capture some breathtaking point-of-view style videos and pictures.
Seal the Compartments
Water is your camera's greatest enemy and therefore, you should prevent it from entering the camera at any cost. You should read the user manual and instructions regarding waterproofing your camera before using it.
Use a Selfie Stick
A selfie stick provides you with multiple points of view and therefore, it should be a part of your underwater photography equipment.
Add a Flash Diffuser
You can considerably improve the illumination for smaller objects by adding a flash diffuser around your camera lens. This will further aid rugged and waterproof cameras, most of which already have impressive close-up or macro features.
Final Thoughts
Concluding our waterproof camera reviews, we can confidently declare Olympus Tough TG-6 as the best waterproof digital camera. Canon Coolpix W300 takes the second spot whereas the Fujifilm XP140 finishes on a close third.