The following are the best camera drones for aerial photography. Some of these drones are also great for videography.
Drones are no longer just toys you used to play with only a few years ago. Modern drones are highly advanced devices featuring sophisticated cameras fully supported by a power gimble. Both amateur and professional photographers use them for taking images and shooting videos in areas where regular cameras fail to work. They have eliminated the need for planes and helicopters previously required for videography and photography of certain events, buildings, and landscapes.
Why Do You Want a Camera Drone?
You may want to buy a drone for any of the two reasons only. You are either a hobbyist or being paid to fly a drone. Remember that you require a Part 107 Remote Pilot's License from the FAA in the United States if you are going to fly a drone commercially.
Moving on, all of us long for personal flight but the dream does not come true for most of us. This is where the best camera drones come to your rescue. Fortunately, they have evolved a lot since there were first introduced a decade ago. The latest advancements in the mobile phones, cameras, and lithium-ion battery technology mean you can buy the best camera drones for beginners in less than $500.
Even the low-end drones, available for around $50, have all the necessary features such as cameras and reasonable fight times. Therefore, they can also meet your basic requirements when it comes to drone flying. Similarly, you can choose from thousands of options, ranging from as high as $1000 to as low as $50. The video quality, combination of features, and flight time vary from drone to drone, depending on its price. However, there is something for everyone in the drone world.
What to Expect from Cheap Camera Drones or Toy Drones?
Devices at the bottom of the price spectrum will offer you at least a 2MP camera. However, they are only toy-class quadcopter camera drones with rudimentary features. On most occasions, you would only get an FPV camera at this range but they are not real "camera drones." FPV camera is perfect for flying if you are a beginner. But – there are no chances of getting HD cameras at this price.
What Hobby Drones have to Offer?
Stepping up a little, you can get an excellent hobby drone under $500. These drones even have 4K camera sensors but that is it. Devices in this price range can record videos and images that are worth sharing. However, they feature cameras that are only equivalent to GoPro cameras. Although GoPro cameras offer satisfactory results yet they are not made and optimized for drone photography.
What Middle Range Drones have in the Cards?
You have to spend more money if you want to take serious videos and photos from the sky. However, you can get excellent results from options available in the $600 to $1800 price range and there are many such options. Perhaps, DJI Mavic 2 Pro is one of the best camera drones under $2000. You may also consider DJI Phantom 4 Pro V2.0 if you are looking for more than just a camera at almost the same price. These cameras have advanced features such as OcuSync, autonomous flights thanks to premium object avoidance system, and of course, a 1-inch sensor with 4K video capability. [K1]
High-end Drones
The more you spend, the better will be the output and the same is the case with drones like DJI Inspire 2. You will have to splash at least $3000 for such an advanced drone. If you want the camera as well, be prepared to spend up to $6000. However, it has unbelievable capabilities such as hot-swapping dual batteries, 5.2k video, and 60 mph speed. Hollywood level powerful video streaming, and internal SSD storage are just icing on the cake. This is one of the best ready to fly video camera drones to get.
Professional or Flagship Camera Drones
Even though you can use any of the above drones for commercial purposes, it is better to get your hands on a dedicated professional drone. Keep in mind that these machines are well beyond the domain of any hobbyist or home user. Some of these drones carry highly advanced and sophisticated cameras such as RED 8K camera and 100 MP Hasselblad. As such, they are very expensive devices with prices ranging from $1000 up to $250000. Yes, that is right. Some drones can even cost you a quarter of a million dollars.
Getting one of these camera drones means you can even work on a Hollywood movie or shoot a commercial for the biggest brands in the world. The opportunities are simply limitless. As mentioned above, constantly improving thermal cameras, zoom lenses, sensors, and more will enable drones to replace helicopters soon enough.
Regulations and Safety
Different regions have different regulations and rules regarding drones flying. Both the United States and the United Kingdom have detailed rules to regulate drone flying. However, you must register a drone with FAA if it is heavier than 250 grams.
The DJI Mavic Mini, however, narrowly escapes the application of this rule. With a weight of 249g, you don't have to register it in the USA or UK. Similarly, it is also legal to fly it in other regions. It does not have obstacle avoidance though which is an important safety feature. But – it does fly safely as it comes with all necessary features such as automated-return-to-home and GPS. The automatic takeoff and landing option further ads to the inflight stability.
All the models featuring on our list have some sort of safety features. However, flyaways will happen no matter how advanced the safety tools your drone has. The cases will be far and few between if you are an expert pilot. The new pilots or beginners should learn from these mishaps and try to avoid them in the future.
You must abide by the FAA guidelines if you are flying within the USA otherwise you will have to face penalties or even jail time. FAA has also set up no-fly zones, such as areas near airports. You must inform the control tower before flying a drone close to an airport. Similarly, do not fly the device higher than 400 feet if you are in the middle of nowhere. Most drones are preprogrammed to take heed of these guidelines. However, you will have to pay the fine if you disobey the rules even if you don't know them.
Top 10 Camera Drones in 2021
You can still get a top-class drone under $100 on Amazon. However, it won't fit the bill if you are looking for a solid model that offers topnotch integrated camera and stability in flight. You can use most of the drones we review out of the box as they are ready to fly models. Some of these drones also stream video directly to remote control. However, you would need a separate iOS or Android device to stream the video for others.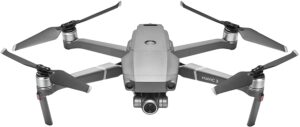 DJI Mavic is one of the best series of consumer class drones in the world. It consists of four different drones where Mavic Mini and Mavic 2 Pro are the cheapest and the most expensive models respectively. However, most people love the middle model that is DJI Mavic 2 Zoom for its outstanding capabilities and features.
Mavic 2 Zoom has an effective focal range of 24-48mm and a 2x optical zoom. Therefore, you can be as creative as possible when it comes to zoom compression. Another interesting feature of the drone is Dolly Zoom Quickshot with premade selfie clicks.
The drone also comes with a ½.3" 12 megapixel professional-grade camera with ISO 3200 ratings. It also offers brilliant 4K videos toping at 100mbs and 30fps. It also has 40% better autofocus accuracy because of the Hybrid Autofocus function.
It is also a pleasure to use this drone thanks to the DJI's app that provides an exquisite balance between power and functionality.
The major problem with DJI Mavic 2 Zoom is the high price. The lack of 60fps at 4K is also a bit of disappointment as well.
Key Features
31 minutes of flight time
12 megapixel still image resolution
4x Lossless Zoom FHD video resolution
45 mph maximum speed
5 miles maximum range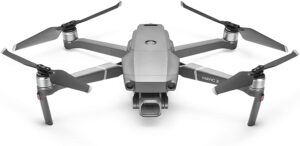 DJI Mavic 2 Pro offers a myriad of intelligent features and compact size. It has enjoyed immense popularity, especially among professional photographers for its 20 megapixel Hasselblad camera. The professional grade-camera also has a 1-inch CMOS sensor besides offering enhanced color sensitivity and HDR.
Apart from professional photography, DJI Mavic 2 Pro is also a great option for content creators, videographers, bloggers, and YouTubers to name a few. It also becomes a necessary tool for documentary compiles, travel bloggers, and commercial drone pilots for its small and portable design.
The drone can sense obstacles from five different directions thanks to Omnidirectional Obstacle Sensing. Other modes that enable both professional videographers and photographers to give maximum vent to their creativity are Waypoint, updated Active Track, and Point of Interest.
In general, you should not look anywhere else if you are looking for the best professional camera drones.
Key Features
31 minutes of flight time
20 megapixel still image resolution
4K 10-bit HDR video resolution
45 mph maximum speed
5 miles maximum range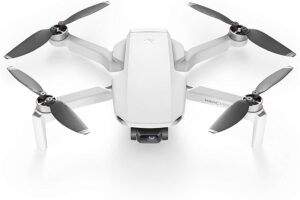 DJI Mavic Mini has been among the best camera drones for a long time now. As the name suggests, it is a very small drone which you can take anywhere you like. However, it still has a very good camera. Weighing only 249 grams, you don't need to register it in the USA, UK, and other regions, making it a very popular model among beginners.
The reduced weight also means a low price for the drone. But – compromises also require sacrifices which happens to be low video quality in this case. You can record video only at 2.k at 30fps which is almost half as much as Mavic 2 Zoom and Mavic 2 Pro. As a result, the videos seem to have higher compression artifacts as well.
Similarly, there is no collision sensing system on Mavic Mini as well. These compromises have allowed Mavic Mini to have lighter components, considerably reducing its size and weight.
Even though Mavic Mini dispenses with some important features, it is still a very capable drone. For example, the footages are super smooth as it has a 3-axis camera stabilization gimbal. It is also a good choice for Instagrammers and vloggers thanks to updated DJI's software. You can also start using this drone without taking any lessons because of the Quickshot mode with pre-programmed selfie-friendly clips.
The 12MP camera delivers decent shots as well. The resolution is also reasonable for online sharing.
In short DJI Mavic Mini is one of the best camera drones for beginners. However, professionals may want to go for higher models.
Key Features
30 minutes of flight time
12 megapixel still image resolution
2.7k at 24 or 30fps video resolution
47 mph maximum speed
2.5 miles maximum range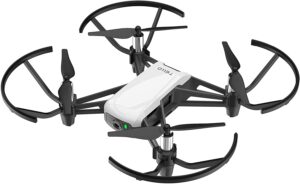 If you are looking for entry-level drones, you must opt for Ryze Tech Tello Mini Drone Quadcopter. It is a brilliant drone that proves size does not matter much. Available for almost $100, it is also a very affordable drone but offers a plethora of wonderful software features. "Proudly powered by DJI", it also has positioning sensors which is unheard of at this price.
It can give a new life to your YouTube and Instagram channels because of the exceptional video quality. On top of that, straight-to-phone saving features also save you a lot of time and trouble.
Low price means there is no GPS. Similarly, you have to use USB to charge the battery inside the drone. You will use your phone to fly the drone. However, you can also use add-on game controllers and a charging station as well. You cannot use a memory card as well because the drone saves videos and images directly to your phone.
The drone records video at 720P which is very good. You can also throw the drone into flight or launch it from your hand. It is also programmable if you are a geeky pilot.
The only complain people have with this drone is that you can stabilize the camera only in the software
Key Features
13 minutes of flight time
5 megapixel still image resolution
720P video resolution
18 mph maximum speed
100 m maximum range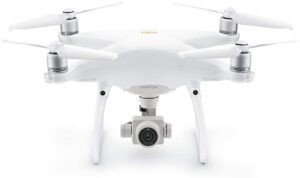 Experts consider DJI Phantom 4 Pro V2.0 the best camera drone for serious filmmakers and photographers. Before Phantom 4, people have to use their own gimble stabilized camera. It changed the trend by featuring its own camera with gimble stabilization. The drone has a rugged and thus durable body. It is not a preferred choice for consumes and beginners any longer. They can get folding drones with the same practicality and functionality at the same price. However, it is still a great drone for some professionals.
DJI Phantom 4 Pro V2.0, the latest version of this revolutionary drone, is an alluring model for many. It offers quieter flights through its redesigned propellers. Similarly, it can also display a 1080P video at monitors through the new OcuSync radio system.
The drone features a 20 megapixel camera, a 1-inch CMOS sensor, and it can record in 4K video. All these factors combine to make DJI Phantom 4 Pro V2.0 a very capable drone. It is highly in demand for aerial mapping and inspections because of its mechanical shutter. The advanced omnidirectional obstacle sensing ensures safe operation while enabling you to take perfect images and shots.
Key Features
30 minutes of flight time
20 megapixel still image resolution
4K at 24-60fps video resolution
45 mph maximum speed
4.3 miles maximum range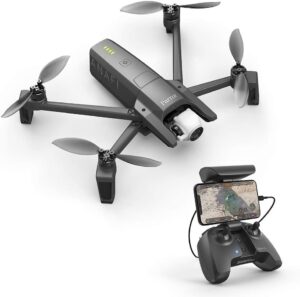 Parrot was not a big name in the best camera drones market before the introduction of Parrot Anafi FPV in 2018. Parrot leaves it to the users to avoid obstacles. But – it has managed to trim the prices and keep Anafi portable instead of adding substandard obstacle sensors to the drone. On top of that, you also get an excellent hard fabric zip case. Therefore, you can take the drone with you anywhere you like.
Parrot Anafi has the best and strongest frame in the market. The carbon fiber frame is quite sturdy and durable. Similarly, features like an exceptionally good folding controller, automatic GPS based return-to-home, and automatic takeoff and landing make it very easy to fly the device. The hinged phone-grip of the controller also feels more practical compared to that of DJI's controllers.
The only downside is that you have to pay extra for standard features like follow-me mode. Similarly, the drone handles sharp turns through the software as it powers gimble only on two axes. However, you can achieve an unobstructed angle by turning up the gimble. No other drone can manage this to be honest. To top it all, Parrot Anafi also comes with a zoom which is a rarity at this price.
Key Features
25 minutes of flight time
21 megapixel still image resolution
4K HDR at 30fps video resolution
35 mph maximum speed
2.5 miles maximum range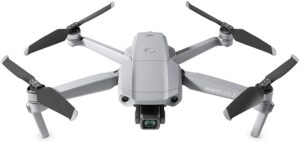 DJI has done another wonderful job by releasing DJI Mavic Air 2 Drone Quadcopter. The first of its type of consumer drone features AirSense technology to pick up on nearby drones, eliminating any chance of mishaps and accidents. Apart from AirSense, Mavic Air 2 brings a wide array of features to your table.
The highest tech camera drone in the market, the Mavic Air 2 carries the legendary portable design by DJI. Features like 8k Hyperlapse, 48 megapixel camera, and 34 minutes of flight time are testaments to the drone's incredible power and capabilities. The 48 megapixel half-inch sensor is appealing for videographers and photographers. You will find it difficult to find a comparable drone in this price range and size.
The drone comes with front, rear-facing, and downward distance sensors as well. Unlike other drones which only warn the pilot about the obstacles in their path, the Mavic Air 2 but also plots its course to avoid them.
The completely redesigned controller with a smartphone going above the controller is a pretty nice feature as well. You only find this kind of controller in more expensive high-end drones.
All in all, DJI Mavic Air 2 may be the only camera drone you need for a long time.
Key Features
34 minutes of flight time
48 megapixel still image resolution
4K HDR at 60fps video resolution
42 mph maximum speed
11.5 miles maximum range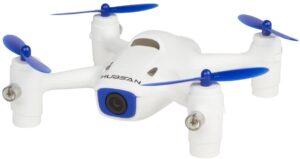 If you are looking for the best camera drones for learning the ropes, you must consider Hubsan X4 H107C+ Headless HD Drone. It is probably the best drone for beginners to start learning and flying a drone. Available for only $35, it is also pretty inexpensive and thus, everyone can afford it.
You should not be fooled by its low price. It offers quite a stable flight thanks to the superb Altitude Hold feature. Five to seven minutes of flight time is more than sufficient for newcomers as well. The bright LED lights also enable you to fly the drone in the night and to see its orientation. Similarly, you can control flight orientation easily through Headless Intelligent Orientation Control. The drone also offers stronger wind resistance and greater stability as it features the latest 6 Axis Gyro as well.
The 720P HD camera with video recording is an absolute bargain at this price.
Finally, the drone also includes four spare props, a USB charger, and an excellent gaming-style controller. It is indeed one of the best cheap camera drones in the market.
Key Features
5-7 minutes of flight time
5 megapixel still image resolution
720p HD video resolution
20 mph maximum speed
50-150 m maximum range

Parrot drones are quickly making a name for themselves due to their exquisite features and functions. The Parrot Bebop 2 offers a huge number of surprisingly advanced features without breaking your bank. The camera ditches the gimble stabilization in favor of a stabilization software. The fisheye lens is another refreshing addition to the drone.
The drone ensures judder-free video footage by having intelligently constructed chassis. The chassis reduces the in-flight vibration using rubber dampness. The outcome is smooth and distortion free videos and images.
You can also buy an optional FPV headset and flight controller to further improve the performance of Parrot Bebop 2. The former shows the first-person view of what the camera is actually seeing while the latter offers proper flight control by connecting to your smartphone.
The 12MP camera captures less of the sky and more of the landscape. Similarly, it also lets you take photographs at 90° without compromising quality. The fisheye lens ensures better clarity and exposure even in the darker conditions.
The only problem with Parrot Bebop 2 is that you have to pay extra money for features like "follow-me" and route planning. You may also need a spare battery because the built-in battery is somewhat week.
Key Features
25 minutes of flight time
14 megapixel still image resolution
1080P HD video resolution
38 mph maximum speed
300 m maximum range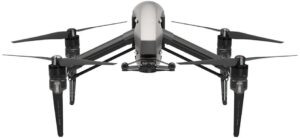 The original DJI Inspire became an instant success at the time of its release. It was the first real professional drone. The updated DJI Inspire 2 has reached the heights of technical achievements. It is the drone that shows what a professional drone should accomplish.
DJI Inspire 2 is arguably the best and finest flagship drone you would find in the market. It is a much beautiful drone compared to its predecessor thanks to a glossy metal composite frame. Similarly, there is no chance of the drone getting scratches or colliding against obstacles because of the more advanced obstacle avoidance technology.
The drone offers a 30 megapixel camera and a 5.2K video at 60fps. Both videographers and photographers exercise greater control over their videos and images because they can swap the camera lens as well.
The drone is very easy to control as it comes with an excellent dedicated remote control and feature-rich smartphone app. It also catches the imagination of the users by offering 360° articulation camera gambling and retractable landing gear. Not to mention, plenty of intelligent flight modes, obstacle sensing, and automatic landing/takeoff make this device a monster of a drone.
Keep in mind that DJI Inspire 2 is not for beginners and kids. It is an expensive drone designed for heavy-duty professional use only.
Key Features
27 minutes of flight time
30 megapixel still image resolution
5.2K HD video resolution
58 mph maximum speed
4.34 miles maximum range
What to Look Out for Best Camera Drones?
As mentioned above, the more you pay, the more features you get in a drone. Unfortunately, you cannot expect much from a sub $100 drones. They will only frustrate you with limited flight time, primitive controls, and a lack of necessary features.
The following are the few factors you need to keep in mind while exploring your options.
Controls
The Best drones with the camera usually have their own dedicated remote controllers. These remotes normally resemble gaming controllers. You can also use a smartphone app to pilot many drones. Some drones require a combination of the app and controller to fly.
Sensors
You must look for drones with air pressure sensors. These sensors enable the drone to maintain or hold its altitude, allowing you to concentrate on flying the drone without frequently adjusting the throttle.
Obstacle Avoidance System
It is tough to fly a drone in urban areas, parks, and other busy places unless your drone has an obstacle avoidance system. Most drones nowadays feature such a system but it is always better to check beforehand.
GPS Support
A drone with GPS support is better able to avoid crashes, takeoff and land without any problem and remain more stable in the air. Similarly, automatic return-to-home is another great feature related to GPS. It recalls the drone automatically if you get into any kind of trouble.
Flight Time or Battery
Lithium-ion batteries power most of the drones these days. They offer average flight time of 15 to 25 minutes after every charge. However, newer drones in the likes of Mavic Air 2 can fly for up to 34 minutes. If you want to extend the flight time, it is better to buy spare batteries which cost from $45 to $75 each.
Final Thoughts
At the end of our guide on the best camera drones, we must encourage you to learn how to fly a drone before buying one. Similarly, always abide by the safety and flight regulations of your area regarding drone flying otherwise you can get into serious trouble.
Flying a drone can be a rewarding hobby. It allows you to see your neighborhood, city, famous landmarks, tourist resorts, and events like never before. All you need to have is a good camera drone and a bit of skill to control it. If you manage to obtain these two, you are up for wonderful and memorable moments and experiences.
---