Do you love your garden as much as the rest of your house? Do you want to keep it in perfect condition devoid of tall grass and excessively dense shrubs? If yes, then you need the best inexpensive lawn mower there is.
We are going to unveil the top 10 cheapest lawn mowers for you in this guide. The guide will contain the following information you may be interested in.
10 best affordable lawn mowers
Best cheap lawn mower buying guide
Frequently Asked Questions
 Every lawn needs proper and continuous maintenance. You don't want the smelly tall grass growing all-around your home. An inexpensive lawn mower can be a sensible investment, especially if you have a massive lawn. Hand-held tools such as garden clippers are of no use because they cannot keep up with the quickly growing grass. Similarly, manually cutting all the grass will take a lot of effort, energy and time and this is where a budget lawn mower can come to your rescue.
It can become cumbersome for you to choose a lawn mower that you need as there are zillions of models available in the market. However, you need not worry. Our experts have done extensive research and come up with the best lawn mowers based on their features, price, reviews and personal experience of using them.
10 Best Affordable Lawn Mowers
Let's begin our low cost lawn mower review.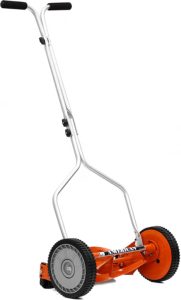 American Lawn Mower Company has been making high quality and affordable lawn mowers for years. Their 1204-14 model is the simplest of lawn mowers you would find on the market. However, it is a very effective yet affordable machine available only at around $62.
It is compact and lightweight, offering great maneuverability. It weighs only 20 pounds in addition to offering 3 height adjustments from ½ inches to 1 ¾ inches. That means everyone can use it easily. The operation is smooth and quiet thanks to easy-roll wheels and smooth spinning blades. The mower cuts the grass precisely and cleanly as it also features a bed knife blade and tempered allow steel reel.
Th most amazing thing about the American Lawn Mower is that you don't need any fuel to power it. It is also a popular machine among environmentally conscious people. As such, it also reduces your carbon footprint on your surroundings. The mower helps you groom your lawn without any toxic fumes or annoying cables.
The cutting width is limited to 14 inches only though. Therefore, you can use it to cut cool-season turfgrasses only. However, you need to look somewhere else if you have to deal with tougher, thicker and wetter grass.
Bottom Line
American Lawn Mower 1204-14 is a lightweight, effective and the best inexpensive lawn mower for small yards.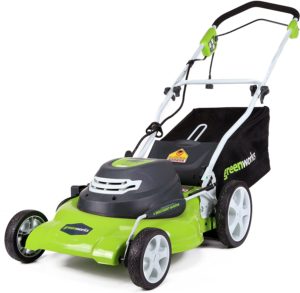 Greenworks is a name of quality when it comes to making topnotch lawn mowers. The Greenworks 25022 Corded Lawn Mower is a machine you need if you are looking for high-performance cutting across your garden. It comes equipped with a powerful 12 amperes motor as well as a durable 20 inches steel deck. The combination of the two can cut all kinds of grasses without any trouble.
Greenworks 25022 is a 3 in 1 lawn mower allowing a rear bag, side discharge, and mulching. On top of that, it offers 7 different height adjustments catering to the need of everyone.
The mower ensures compact storage through foldable handles. There is also a push-start button to turn on the machine. It is a corded electric mower weighing around 56 pounds. Similarly, all the users get a 4-year limited warranty.
Bottom Line
Greenworks 25022 is a reliable and trusted machine that comes with a generous 4-year limited warranty. It is the best inexpensive lawn mower in this price range offering good value for money.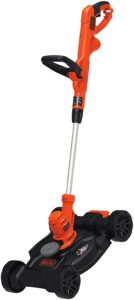 The BLACK+DECKER BESTA512CM Electric Lawn Mower is a compact electric lawn mower with a 3 in 1 capability. It has a 12 inches blade which enables you to trim, mow and edge the grass at the same time. Despite its small size, it can easily handle all kinds of overgrowths and toughest of weeds thanks to POWERDRIVE transmission and a powerful 6.5 amperes motor.
The BESTA512CM makes it a breeze and joy to take care of your lawn by providing you with an adjustable handle and Automatic Feed Spool. The Feed Spool prevents all kinds of jumps, allowing you to work continuously without having to stop frequently to adjust the spool.
It has a lightweight design and everyone can use it with the utmost ease. It also offers two different height adjustments. Similarly, the Cord Retention System eliminates the chances of accidental cord disconnection.
Bottom Line
Available at around $100, BLACK+DECKER BESTA512CM is a good cheap lawn mower. It offers 3 in 1 capability in addition to being lightweight and having a compact design. On top of that, you can use it to cut tough weeds and overgrowths quite comfortably.
Read also: The Best Mosquito Killer For Backyard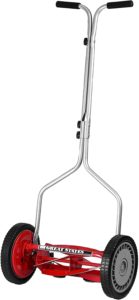 If you are in search of the best budget push mower, you must consider the Great States 304-14 mower. It is an environment-friendly choice because it requires no electricity or fuel to operate. However, it offers flawless results and high performance while reducing your carbon imprint. It comes with a T-style cushioned handle and achieves precise cut without producing any noise. The mower is not only comfortable to work with but it also offers the freedom to work anywhere as there are no cords.
Great States 304 consists of a 14-inch blade, a set of easy-roll wheels, and smooth-spinning blades. It is one of the best push reel mowers on the market. It always delivers exceptional results and perfection every single time. Besides, the mower is suitable for all people as it offers various height adjustments as well. Made of ally steel, the 304-14 is a lightweight and highly maneuverable machine. Great States also offers a one-year warranty with every purchase.
Bottom Line
Great States 304-14 is an ecofriendly machine helping you contribute towards the environment. Similarly, it is the best inexpensive man-powered lawn mower delivering perfection and precise cutting across your garden.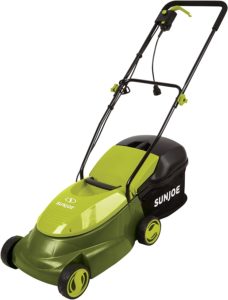 Sun Joe MJ401E is a highly efficient corded lawn mower which operates on a 12-ampere motor. It delivers excellent performance, ensuring quality cut across your lawn. You can use it in the biggest of yards thanks to 100 feet cord which also allows adaptability and offers versatility. It is a powerful machine which can cut all kinds of grass.
Being an electric mower, MJ401E does not require any gasoline or oil as well. It also features an easy to use push-start button. The mower is suitable for gardens having an area of up to ¼ acres. It offers height adjustments from 1.18 to up to 2.52 inches, making it ideal for people of all heights.
The best feature of the MJ401E is the detachable grass catcher. The catcher is removable for convenient disposal of grass clippings. It is also very easy to maneuver owing to all-terrain wheels.  Weighing only 28 pounds, it is a lightweight and compact lawn mower. Additionally, it comes with a full two-year warranty.
The ETL approved lawn mower also meets all the North American safety standards. The only downside is the narrow cutting width. As a result, it may take some time to clip the entire garden.
Bottom Line
Sun Joe MJ401E is a simple yet powerful and effective machine. It is the best inexpensive lawn mower for its versatility, manoeuvrability, and all-terrain compatibility.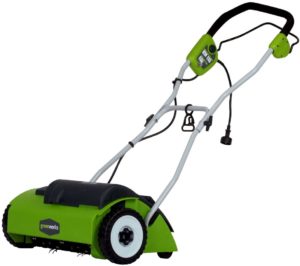 This is yet another brilliant corded lawn mower or dethatcher from Greenworks. It is also more efficient than most of the corded mowers on this list. Powered by a powerful 10-ampere motor, it also has zero carbon footprint which is the hallmark of all Greenworks products. Just like Sun Joe MJ401E, the 27022 mower requires no gasoline or fuel to work.
It has 18 14-inch wide stainless steel dethatching tines. The tines stay sharp for a long time, enabling the mower to offer matches and reliable performance. 27022 also has an easy to use push-start button. It is a plug-and-go machine with no batteries. The operation is fast and quiet much to the relief of your family and neighbors. Similarly, it features foldable handles for compact storage as well. On top of that, the mower ensures first grade grass clipping for up to 150 feet of area.
Bottom Line
Greenworks 27022 is a reliable and the best value lawn mower for its price and features it offers. It guarantees to provide dependable and constant power time after time.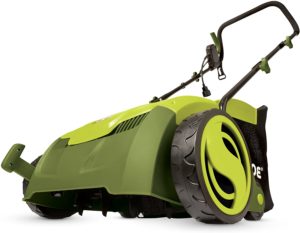 Sun Joe AJ801E is another very popular electric lawn mower by Sun Joe. It has a 13" wide cutting path and a powerful 12 amperes motor. The cutting path is slightly narrow but it moves in a single pass to make cutting easier and faster.
The best thing about the Sun Joe AJ801E is the Scarifier function which enables you to cut the grassroots. As a result, the turf grows thicker and healthier, making your lawn a true delight for everyone.
Another amazing feature of AJ801E is the 5-position depth control knob. It allows you to change the raking from -0.4 inches to 0.4 inches depending upon the dethatching and scarifying needs of your lawn. The mower also features Airboost technology which further enhances the raking ability of the machine. It comes with spring steel tines that not only maximize thatch pickup but stay sharp for years. As a result, they offer reliable performance for a long time.
Not to mention, the Sun Joe AJ801E starts instantly through an easy to use push-button, unlike ordinary manual rakes. More importantly, it does not pollute the air by emitting toxic carbons. It is a green product with a minimum carbon footprint as it requires no oil, gas, or tune-ups to work.
Bottom Line
Available for around $120, the Sun Joe AJ801E may be the best scarifier and dethatcher you can currently find.
Read also: The Best Above Ground Pool Pad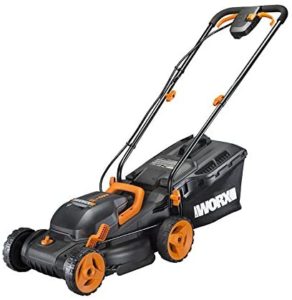 WORX WG779 40 is an excellent choice if you are looking for a cordless lawn mower to clip across a huge lawn. You can mow up to 5000 sq. ft. of an area in a single charge. It can work nonstop for more than an hour. It is powered by a 2-battery system that uses up to 40 volts of power. The Twin Power Share Module provides extra power, strength and extended runtime to the lawn mower.
WORX WG779 is a 2 in 1 machine, allowing you to use it either for bagging or mulching. Perhaps, the best thing about WG779 is the Intellicut technology which provides power on demand. What it means is that you can minimize battery usage and use the saved power when you need it the most.
The lawn mower also minimizes fatigue while cutting by providing a comfortable grip through foam-padded handles. It also offers three different height adjustments. Apart from two batteries, the WG779 also comes with a dual-port charger as a back charging option.
The only drawback in our opinion is that it is quite heavy. Similarly, it has limited height and cutting width.
Bottom Line
WORX WG779 is one of the longest running mowers on the market at the moment. It is also the best inexpensive lawn mower for huge lawns despite having a narrow cutting width and being heavy.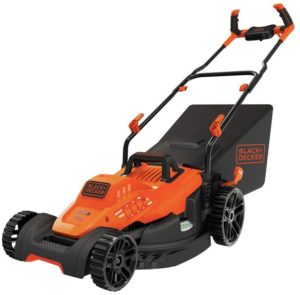 BLACK+DECKER BEMW482BH is one of its kind lawn mowers in a sense that it features winged blades, unlike most lawn mowers. Therefore, it offers 30% better grass cutting as well. Similarly, wheel treads it boasts are rugged and tough, making it an ideal choice for cutting long and extremely dense grass. Besides, the wheels also offer enhanced control and grip even in the thickest part of your lawn.
Unlike, most electric lawn mowers, the BEMW482BH offers six height adjustments ranging from 1 inch to 3 inches. Moreover, it is a corded electric mower which also means it is highly reliable as well. Weighing almost 39 pounds, it clips the grass evenly and precisely across the lawn. You also get a 30-day money-back guarantee and a two-year warranty for this product.
Bottom Line
It is a reliable and sturdy machine, perhaps the best inexpensive lawn mower in this price range. It helps you create an enchanting lawn by easily cutting through thick, long, and tough patches of grass.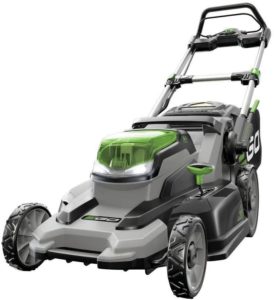 EGO Power 20-Inch Cordless Walk Behind Lawn Mower is the most advanced lawn mower in the rechargeable mowers category. It is a cheap lawn mower that offers the performance of gas without any fumes, fuss, and noise.
The biggest advantage of having Walk Behind lawn mower is its 20-inch cutting width. The cutting width is greater than all the mowers not only on our list but on the market as well. It also has a weather-resistant construction and therefore, you can use it in all kinds of weather conditions.
It is a 3 in 1 machine with bagging, mulching, and side discharge capabilities. Finally, the foldable design ensures easy and compact storage.
Bottom Line
EGO Power 20-Inch Walk Behind is the machine to choose if you prefer battery operated lawn mowers over manual or corded mowers.
Factors to Consider when Buying the Inexpensive Lawn Mower
There is a lot of lookout for when you decide to buy an affordable lawn mower.
1.    Comfort
First and foremost, you must never ignore the factor of comfort. You have to ride a mower or walk behind it for years to come. Therefore, you must buy a rower which is comfortable to use. For example, ensure that the seat is comfortable enough for you or it is easy to adjust the mower's height.
2.    Performance
The best inexpensive lawn mower should offer immaculate performance. It should at least meet most of your mowing requirements. Pick a mower that handles the task like cutting through tall, thick, wet and overgrown patches of grass easily without much trouble. Similarly, it should also be able to do bagging and leaf mulching. In short, you better buy a mower which as multiple capabilities.
3.    Durability
Cheap mowers don't have to substandard and low quality. You can easily find a durable lawn mower made of long-lasting material even in the low price category. Similarly, all the parts such as engine oil filter, pull cord, and tins should be replaceable and easily available.
4.    The Drive System should Match Your Terrain
The best cheap push mower is all you need if you have a small and flat lawn. These kinds of mowers are light, easy to handle, and more durable as they have fewer mechanical parts.
On the other hand, you cannot do with the best self-propelled lawn mower in case you have a large lawn, especially with hills.
5.    Do Consider Electric Mowers
Electric (corded or battery powered) mowers can be an absolute bargain if you have a small enough lawn.  Electric mowers run without gas and oil eliminating the need to start that annoying gas engine again and again. On top of that, they are quieter, faster and require less maintenance as well.
6.    Don't Forget to Check Reviews
Even some of the best inexpensive lawn mowers may have peculiar problems sometimes. Checking the product's reviews online is one of the best methods to determine whether or not the mower you are going to buy has a secret flaw. You can find the reviews on Amazon, eBay, manufacturer's website and anywhere else where lawn mowers are sold. If multiple people are complaining about the same problem about the mower, look for something else.
7.    Easy to Adjust Cutting Height
Most lawn mowers offer different height adjustments. You must ensure that it is easier and smooth to adjust the mower's height by trying all the height adjustments. There are mowers where a single wheel adjusts height for all the four wheels or a pair of wheels. Some mowers have a separate button or liver for all the wheels.
8.    Look for Push-Button or Electric Start
It is difficult for some people such as senior citizens or people with strength or shoulder problems to pull a starter rope to start a mower. Therefore, you go for a mower with an electric start. For example, you need not pull start a mower with a starter motor and built-in battery.
Frequently Asked Questions
How long a lawn mower takes to cut an acre of grass?
The time needs to cut an acre of land with lawn mower depends upon its cutting width. A 20" lawn mower will take around 2 hours to cut an acre of grass while a 16" mower will take about 2.5 hours to complete the task.
How long should a lawn mower battery last?
The battery of a lawn mower should last for at least 3 years.
How many times a month should you cut the grass?
It is recommended to cut you grass at least once a week if possible. Similarly, do not cut more than one-third of the grass height in any case.
Is gas lawn mower better or electric?
Electric mowers are more ecofriendly, quieter, and faster compared to gas lawn mowers. Gas mowers, however, are more powerful and convenient. A gas mower should be your choice if you have a very large lawn. It is better to buy an electric motor for a smaller lawn.
Do electric mowers need oil?
Electric mowers do not need oil or gas. As the name suggests, they only require electricity to operate.
Final Thoughts
Summing up, we can easily say that Greenworks and American Lawn Mower are the best inexpensive reel lawn mowers to choose from. On the other hand, BLACK+DECKER and Sun Joe make some amazing and cheap corded electric mowers including those present on our list. Last but not least; WORX is the best brand for the best inexpensive lawn mower in the cordless mower's category.