Do you love your garden as much as the rest of your house? Do you want to keep it in perfect condition devoid of tall grass and excessively dense shrubs? If yes, then you need the best inexpensive lawn mower there is.
We are going to unveil the top 10 cheapest lawn mowers for you in this guide. The guide will contain the following information you may be interested in.
10 best affordable lawn mowers
Best cheap lawn mower buying guide
Frequently Asked Questions
Every lawn needs proper and continuous maintenance. You don't want the smelly tall grass growing all-around your home. An inexpensive lawn mower can be a sensible investment, especially if you have a massive lawn. Hand-held tools such as garden clippers are of no use because they cannot keep up with the quickly growing grass. Similarly, manually cutting all the grass will take a lot of effort, energy and time and this is where a budget lawn mower can come to your rescue.
It can become cumbersome for you to choose a lawn mower that you need as there are zillions of models available in the market. However, you need not worry. Our experts have done extensive research and come up with the best lawn mowers based on their features, price, reviews and personal experience of using them.
10 Best Affordable Lawn Mowers
Let's begin our low cost lawn mower review.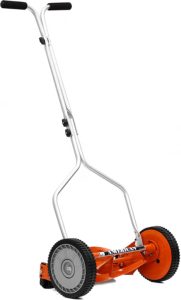 American Lawn Mower Company has been making high quality and affordable lawn mowers for years. Their 1204-14 model is the simplest of lawn mowers you would find on the market. However, it is a very effective yet affordable machine available only at around $62.
It is compact and lightweight, offering great maneuverability. It weighs only 20 pounds in addition to offering 3 height adjustments from ½ inches to 1 ¾ inches. That means everyone can use it easily. The operation is smooth and quiet thanks to easy-roll wheels and smooth spinning blades. The mower cuts the grass precisely and cleanly as it also features a bed knife blade and tempered allow steel reel.
Th most amazing thing about the American Lawn Mower is that you don't need any fuel to power it. It is also a popular machine among environmentally conscious people. As such, it also reduces your carbon footprint on your surroundings. The mower helps you groom your lawn without any toxic fumes or annoying cables.
The cutting width is limited to 14 inches only though. Therefore, you can use it to cut cool-season turfgrasses only. However, you need to look somewhere else if you have to deal with tougher, thicker and wetter grass.
Bottom Line
American Lawn Mower 1204-14 is a lightweight, effective and the best inexpensive lawn mower for small yards.