Bogged down in your home due to the extreme cold. The best electric fireplace heaters will provide you the required warmth and energy to function normally in harsh winters.
Fireplaces were a common part of every home once. Those days are long gone and you don't find them in most modern houses. However, you can still relive the past and bring in a fantastic source of heating by installing the electric fireplace heaters. These heaters don't require any venting as they run on electricity. They are also very easy to set up and in most cases quite affordable as well.
You can explore 10 best electric heaters as well.
Why Use Electric Fireplace Heaters?
Burning wood for heating inside your home can have drastic results for obvious reasons. Similarly, you continuously have to collect wood and remove ashes and soot. Not to mention, the burning logs require constant attention as well. Electric fireplace heaters, on the other hand, save you all this trouble. All you have to do is to plug in the heater and boom, your home will heat up in minutes.
Some fireplace heaters as also have a very realistic 3D flame. You feel like you are sitting in front of a traditional fireplace. Just think of that ambiance and heat.
Types of Electric Fireplace Heaters
Electric fireplace heaters come in many shapes, sizes, and types. For now, we are going to focus on the types. Having good knowledge of these types will assist you in making the right buying decision.
Freestanding Stoves
As the name suggests, freestanding electric fireplace stoves replicate the look of traditional freestanding wood stoves. They are the easiest to set up because all you have to do is to place them where you want. There is essentially no installation. Similarly, they don't require any hardwiring because you can plug them in any standard home power inlet.
Freestanding stoves or fireplace heaters pack a lot of advanced functions and features such as realistic flame effects and different heat ranges.
Inserts
Inserts are the fireplace heaters that you have to install or insert in an existing fireplace. They are also easy to install because they conveniently sit in the firebox provided the unit matches its size. Furthermore, they plug into a standard 120V power outlet.
You must go for the electric fireplace heater insert if you want to create the most "traditional" environment in your room.
Wall Mounted Fireplace Heaters
You have to mount these units on the wall just like you would mount a picture frame. You must also follow the instructions carefully and properly for effective and safe installation. These fireplace heaters include all the hardware you need to install them. However, they don't normally just plug into standard sockets. You may need more complex and elaborate wiring and therefore, you should better leave the installation to a professional.
Wall-mounted heaters offer you more space because they are mostly out of the way.
TV Stands
Some TV stands can also become the best electric fireplace heaters for your home. These stands offer the dual benefit of holding larger TVs and working as a mantle style fireplace at once. The larger TV stands can even serve as fully functional home entertainment centers. Many of them come with compartments and drawers to hold various items including AV components.
TV stands fireplace heaters are ideal for smaller rooms that lack enough space for separate TV stand and fireplace heater.
Mantles
Mantles units are fancier than freestanding stoves but they are equally easy to install. You would normally place them directly against the walls. Similarly, you can also decorate the mantle on the top for visual enjoyment. For example, it is a wonderful place to display your family pictures. Don't you think?
Mantles are also plugged and play units just like freestanding stoves.
10 Best Electric Fireplace Heaters
The following are the absolute best fireplace heaters according to our researchers. They have conducted independent research and tested these products thoroughly.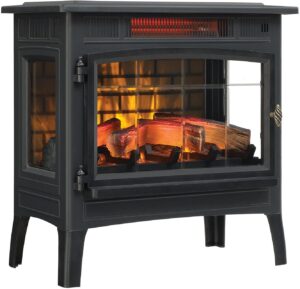 The number 1 fireplace stove or heater on our list is the Duraflame 3D Infrared Electric Fireplace Stove. The heater not only has a 3D flame but it also features a remote control which is rare for fireplaces.
The glass construction and sturdy metal impart a real wood stove like look to the heater. It creates a fascinating ambiance in your room thanks to the patent-pending 3D flame effect. You can also choose from five different levels of flame brightness. The 3d flame effect can also run independently of the heating function.
The heater does not increase the humidity in the room as it uses a quartz infrared heating element. As a result, you enjoy extra comfort and heating. It can also provide heat to larger rooms compared to the other 1500W fireplace heaters.
The biggest benefit of having Duraflame electric fireplace is SaferPlug fire prevention technology. This particular function automatically turns off the heater if there is a danger of overheating and fire.
Finally, you can accurately control the heating level through the digital thermostat. The 3-year limited warranty will also help you secure your money.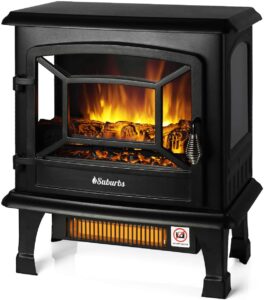 TURBO Suburbs TS20 is one of the best electric fireplace heaters on the market for many reasons. Firstly, it is an excellent freestanding fireplace stove. Secondly, it is incredibly easy to assemble and install. You only need to attach the four legs and plug it in the socket. It is as simple as that.
The TS20 gives a classic look and feel to your room. You can also adjust the temperature ranging from 68° to 95° using an adjustable thermostat. You also feel you are enjoying real fire thanks to a stunning three-sided glass door. The flame looks very realistic as well.
The heater has a heatproof exterior. Similarly, it also has an overheat auto-off function, ensuring the safety of your home and your loved ones. The flame control option allows you to enjoy the 3D flame effect without the heat, making it suitable for summer months as well.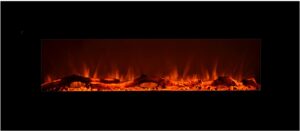 Touchstone 80001 –Onyx is a beautiful, elegant, and modern electric fireplace heater. It is also a very safe heater for children and pets as the exterior is always cool.
Similarly, there are myriad of lighting and 3D flame effects to choose from. It is also the most realistic electric fireplace on the market because of its highly realistic flames as well as crystals. There are other models of the fireplace as well such as onyx extra-large, mirror, and ivory. However, onyx is the best of all in our opinion.
It is a wall-mounted heater and therefore, you can install it anywhere in your home. You can also enjoy the 3d flames even if you switch off the heating. As such, it can become a major focal point in your room or a fantastic decoration piece.
The built-in timer helps you automatically switch off the heater. You can set the time from anywhere between half an hour to 8 hours.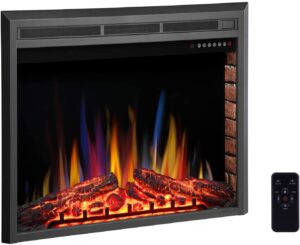 If you are looking for the best electric fireplace insert, you must consider R.W.FLAME 36" Electric Fireplace Insert Heater. It is an ideal choice for fireplaces with larger openings.
This excellent insert heater comes with a lot of functions and settings, all controllable with a conventional touchpad. For instance, you can change the heating range from 750W to 1500W. Similarly, the touchpad also allows you to choose from the five different colors for the burning logs as well as the five distinct settings for the LED flame effect.
The heater also spruces up the environment and visual appeal of the room through a unique automatic function that automatically scrolls through the color and changes them randomly.
Apart from the touchpad, you can also control all the functions using a remote control. Some of these functions include the speed of flame effects, timer, and sleep mode. The fireplace continuous to provide heat in the sleep mode despite being at a low lighting level.
The heater is available in a lot of sizes, making it easier for you to choose the right one according to the size of your room and firebox.
The overall operation is smooth and you also get a 1-year limited warranty coupled with integrated overheating protection.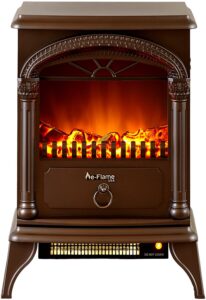 e-Flame USA Hamilton is an outstanding freestanding fireplace stove. Incorporating economical fan-forced technology, it reduces your heating costs by 90%. On top of that, it remains cool to touch no matter how long you use it.
The heater creates a welcoming ambiance in any room because of its classic design and shape. You also don't have to worry about the messy soot and ashes as well as the chimney fires. It also features an Edwardian drawer to store your accessories.
Of course, the heater also has a no-heat flame option for visual enjoyment throughout the year. It is also a very quiet, vent-free heater, further adding to your comfort and joy. The odorless and smokeless heater is ideal for children, the elderly, and pets.
The automatic shut off function prevents overheating while the fireplace stove heats the room quite quickly. It is small enough to fit in any space, also making it one of the best electric fireplace heaters.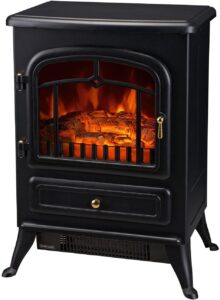 HOMCOM 21" 1500W Freestanding Electric Fireplace Heater is another excellent option to heat your room. Just like all other best electric fireplace heaters, it offers the benefits of the real fire without messing up your room with soot and ash.
It is a relatively small heater with the ability to heat up to 300 square feet of area. However, the visitors would never realize it is a "fake" wood stove thanks to the incredibly realistic log flame effect.
The heater also has two heat settings that are 750W and 1500W. It also features an adjustable thermostat to control the heat and other settings. You can choose from three different colors but the stylish metal finish with copper accents truly adds a lot of beauty to your room.
The heater also has a myriad of safety switches, ensuring safe and sound operation. These switches will automatically turn off the heater in case of tipping over or overheating.
Being the best energy efficient electric fireplace heater, it will also enable you to cut down your heating expenses.
e-Flame USA XL Denali Portable is another fantastic fireplace from the best electric fireplace stove heaters series by e-Flame. It has all the features and functions which make e-Flame fireplace stoves a success story.
You would enjoy the realistic wood burning effect with bouncing flames and flying ashes. The class design further accentuates the environment. The lightweight stove is very portable and easy to set up. Similarly, it is always cool to touch, and therefore safe for everyone in your home.
The heater distributes heat evenly throughout the home. Just like other heaters by e-flame, XL Denali also cuts your energy costs by a whopping 90%. It also heats the room very quickly and has two heat settings.
The 6-foot long cord plugs into any household socket. The heater provides heat for up to 400 square feet of the area as well.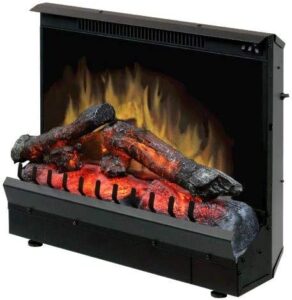 Dimplex Firebox 23" Insert is a modern and attractive fireplace insert. It allows you to reuse your forgotten fireplace to heat your living room. It is also very easy to install the insert as long as the size matches the opening of your existing fireplace.
Despite its size, it is quite a powerful heater with a power output of 1375 watts. Similarly, it also comes with remote control, enabling you to control it from anywhere in the room. You can also plug it in any wall socket. Therefore, you don't need special wiring or professional installation for this insert.
The Firebox Insert also features a built-in fan to disperse the heat to all parts of the room in seconds. You can use the insert throughout the year by choosing from different modes that are flame only, half heat, and full heat. The heater becomes a beautiful focal point for the room in the flame-only mode but it does not provide any heat.
All in all, it is one of the best electric fireplace inserts for heating.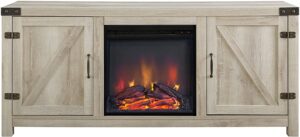 Walker Edison is a very popular fireplace stand for larger TV's. It functions both as an excellent source of heating and a TV console.
The major appeal of the stand is its incredible design, feel, and look. Some people do argue that it is a big stand that would cramp up smaller rooms which is far from true. It will never become a burden because of its multifunctionality. On top of that, the 4600 BTU heater can easily heat larger rooms up to 400 square feet.
Both LED fire display and heating can work independently of each other. You can heat the room without an LED display and vice versa. With a height of 25 inches and a length of 58 inches, it can also easily accommodate televisions up to 64 inches.
It is, in fact, a fully functional TV console with two storage compartments. You can stow accessories such as speakers, CDs, CD players, gaming consoles, and everything else you want in these drawers. The shelves are also adjustable, allowing you to use them as you require.
The setup is also sleek and hassle-free. It is a plug and play device.
The fireplace heater is available in 5 different colors that are reclaimed Barnwood, Barnwood, grey wash, white oak, and stone grey. Similarly, the rustic farm style design will revitalize the room environment as well.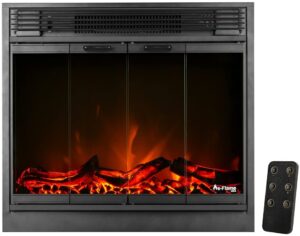 e-Flame USA Montreal is the best electric fireplace stove insert by e-Flame by quite a margin. Having a rusty feel to its body, the USA Montreal can revamp your home besides heating it in no time. Similarly, it has all the feature and functions which are characteristic of e-Flame.
Despite its size, it is a lightweight and very portable heater. Also, it reduces your energy costs quite considerably. The 1500W heater has 4605 BTUs and therefore, can heat larger rooms up o 400 square feet quite easily.
How to buy the best electric fireplace heater?
Focusing only on one aspect of the heater can result in purchasing the wrong fireplace altogether. Therefore, we have summed up some important considerations when it comes to buying an electric fireplace heater.
Room Size
Most people only consider the heating capacity of the heater when they think of the room size. You have to look for everything including the room shape and other items you already have such as a refrigerator and TV. For instance, a larger fireplace will further cramp up your small room. However, the unit should not to be too small to look out of the place.
Fireplace Location
Sometimes the ideal place of location is different from the chosen location. The heat generated by the fireplace should not escape the room. This is impossible to achieve if you place the fireplace right next to the door no matter how beautiful it looks there. Similarly, a larger fireplace will take more valuable space if you put it diagonally in the corner.
Make sure the fireplace also covers the heating ducts in the floor (if there are any) otherwise there is no point of having a fireplace.
Flooring, Insulation, and Ceiling Height
An electric fireplace will only work efficiently if your room is in perfect condition for them to operate. For example, your unit will work harder to heat the room if it is poorly insulated. Similarly, the ideal ceiling height for an electric fireplace is 9' to 10'.
Many people overlook the floor before placing the fireplace. You can set up most fireplaces on the carpet but it is still necessary to prepare the floor to ensure safety.
Energy Efficiency
The best electric fireplace heaters are known for their energy efficiency. However, they are only ideal for local heating such as heating a living room, kitchen, or basement. They are not the best option if you are looking to heat the entire home.
Heating Area and BTU's
The heating capacity of all heaters is measured in British Thermal Units (BTUs). As mentioned above, electric fireplaces are perfect for heating smaller areas, ideally up to 400 square feet. They are not as good as gas heaters when it comes to heating larger areas. However, you should always go for the fireplace with higher BTU's, ideally above 5000.
Safety Features
Most fireplace heaters come with several safety options these days. However, look for fireplaces with automatic shut off features to prevent overheating. It is necessary to avoid any kind of mishap in your home.
Final Thoughts
Concluding, the best electric fireplace heaters can provide warmth and comfort to you in the bitter cold. However, you need to choose one carefully to ensure safe operation and get the level of heat you are looking for.