Summer is just around the corner. You must be anticipating taking a deep, cold bath in your above ground swimming pool. However, the experience can be haunting if the pool is already filled with gunk and all kinds of rubbish. This is where the best above ground pool robotic cleaner can come to your rescue.
In this article, we are going to highlight the best above ground pool cleaners. The article will also discuss the following.
Why use the above ground robotic pool cleaner?
10 best above ground pool robotic cleaners
Types of Above Ground Robotic Pool Cleaners
Above ground pool cleaners buyers' guide
Frequently asked questions (FAQs)
Why Use the Above Ground Robotic Pool Cleaner?
An increasing number of people are installing above ground pools in their homes. An above ground pool is not only easy to maintain but it also costs less than constructing an underground pool. You still have to clean it regularly though. Wild summer parties or long winters when the pool remains unused can leave it with a lot of mess and dirt. Cleaning the pool manually is a cumbersome task and requires a lot of effort.
What if we told you that cleaning and maintaining your pool is as easy as ABC. All you have to do is to buy an intelligent and well-designed above ground pool vacuum robot. These vacuums or robotic pool cleaners come in different shapes and sizes. As the name suggests, they clean the pool automatically, ensuring easy and mess-free cleaning.
It is up to you to choose the robotic cleaner which can simplify the tedious task of cleaning an above ground pool for you.
10 Best Above Ground Pool Robotic Cleaners
We are going to share the details of 10 such vacuums in addition to comparing their pros and cons. Our experts have chosen these above ground pool cleaners based on their features, reviews, and personal experience of using them.
So, let's jump to our review without any further ado.
How To: Build An Above Ground Pool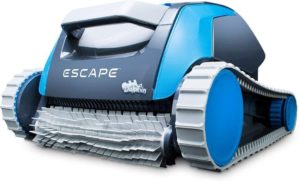 Dolphin Escape Robotic Above Ground Pool Cleaner is the first cleaner on our list. The first thing you notice about Dolphin Escape is its futuristic, sporty, and fresh design. Similarly, the cleaner offers a lot of exceptional features, which is impressive considering its price.
First of all, the Dolphin Escape comes with a smart navigation system. The vacuum tracks and cleans every part and corner of the pool. In fact, it leaves nothing uncleaned whether it is walls, drains, or ladders.
Made of groundbreaking technology, the robotic cleaner uses continuous rubber tracks instead of conventional wheels. The Hypergrip Continuous Tracks improve cleaner's grip and prevent slippage. It is, in fact, the unique selling point of Dolphin Escape cleaner.
The best thing about Dolphin Escape is its large cartridge that can collect all the debris in the pool, regardless of its size.
Two separate low voltage DC motors power the Dolphin escape, making it 90% more energy efficient than regular robotic vacuum cleaners. In fact, you end up saving a lot of energy as it requires just 180 watts of power. Not many above ground pool cleaners have this much capacity.
Last but not least, you also get SmartNav 2.0 technology for such a low price. It is a specially made robotic system which thoroughly navigates your pool. Over time, it optimizes cleaning patterns and develops some of its own.
In general, Dolphin Escape is the best automatic above ground pool vacuum you can get at this price.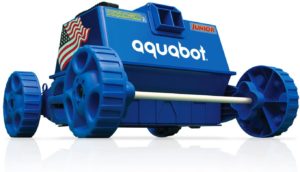 Aquabot is the name that flashes into mind when you think of the best pool cleaner for above ground pool and Aquabot APRVJR Junior is no exception. It is relatively smaller than its siblings yet it is the pool cleaner to choose if you have a budget of $200-300.
One of the most impressive features of Aquabot Junior is the built-in 2-micron fine reusable filtering bag. It is an ideal machine for medium-sized above ground pools thanks to its 40 feet long floating power cable. Made mostly of plastic, the vacuum cleaner is lightweight yet durable and sturdy. Therefore, it is quite easy to place it inside or remove from the above ground pool.
More importantly, Aquabot Junior above ground pool vacuum robot cleaner can rollover any surface as it features extra-wide non-marring wheels. The wheels help the pool cleaner clean every type of above ground pool without any difficulty.
When it comes to power, the Aquabot junior uses a single pump motor. The motor provides power both for vacuum suction and jet-drive propulsion.
Another brilliant feature of Aquabot junior is a 2-hour timer. It means the robotic cleaner will automatically shut off after two hours. This is really a blessing for forgetful people who often forget to switch off their above ground pool cleaners. Similarly, the auto shut off feature not only removes the debris from the pool but also keeps the power bills to the minimum.
The only downside in our opinion is that you have to clean the filtering bag after every use which can be a bit of hassle. Otherwise, Aquabot Junior may be the best designed electric pool vacuum for above ground pools.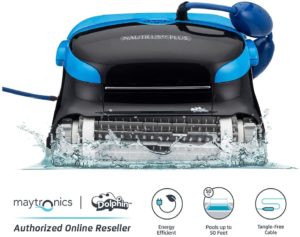 If you want an above ground pool cleaner with the latest cleaning technology, you should go for Dolphin Nautilus. The robotic cleaner makes cleaning your pool a breeze because it offers a wide range of tools and features.
Dolphin Nautilus is much lighter than Aquabot Junior as it weighs only 14 pounds. However, it also has the two-hour cleaning cycle which means it cleans the pool relatively quickly compared to other cleaners.
It is pertinent to mention that Dolphin Nautilus is the best above ground automatic pool cleaner for larger pools. In fact, it can easily clean pools having an area up to 50 feet. The robotic vacuum cleaner moves on continuous tracks just like Dolphin Escape. However, it is a more robust cleaner than Dolphin Escape.
The cleaner comes with Dual Scrubbing brushes that don't let dust particles, dirt, and all other kinds of debris escape their clutches. Furthermore, it employs a smart navigation technique and as a result, cleans the above ground pool more effectively and efficiently irrespective of its size. It also devises the most efficient path to clean your pool by utilizing the CleverClean scanning technology. The cleaner can scan the walls vertically in addition to scrubbing and filtering the pool at the same time.
You also don't need to connect the cleaner to the pool's filtration system as it has an internal pump and filter system. Similarly, Dolphin Nautilus does not separate fine and coarse debris in filtering bags. Finally, you can also create your own cleaning schedule utilizing an advanced timer.
All in all, Dolphin Nautilus is a rightful candidate for the award of the best above ground pool robotic cleaner in the market.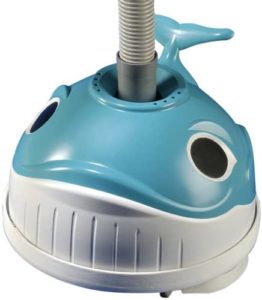 Hayward 900 Wand is a brilliant automatic pool vacuum cleaner. Perhaps, it is one of the cutest and most fun-looking outdoor pool cleaners. It converts the dull task of cleaning a pool into a fun and jolly affair. It is also a very popular cleaner among children because of its appearance. After all, a little wander scrubbing your pool floor is a great sight for the eyes.
Hayward 900 Wanda is not all about its beauty though. It does have some tricks up its sleeves. For example, it ensures a balanced and constant flow of water utilizing a unique gearing or turbine system. As a result, it also moves gently and quietly across the pool floor. Similarly, Hayward 900 Wanda completes the steering pattern in minimal time due to its contoured and advanced head design.
The automatic vacuum cleaner comes with 5 sets of filters, especially for pool skimming. Hayward 900 Wanda utilizes the patented Hayward SmartDrive technology to move around in the pool. Therefore, it cleans the entire pool without missing any spot. Similarly, you have to integrate it with the existing filtration system of the pool.
Hayward 900 Wand is the best vacuum for the above ground pool because it also features a deluxe bumper ring. The ring ensures smooth movement of the vacuum by removing the friction. It means the vacuum will continue to follow the programmed steering pattern and keep away from the walls.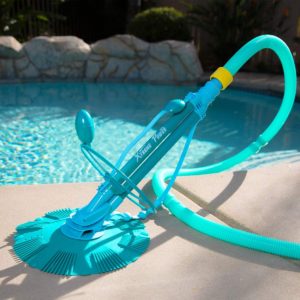 You should consider ExtremepowerUS 75037 if you are looking for a reasonably priced green product. This robotic pool cleaner cleans pools floors as well as walls. Similarly, the product does not require any tool or power to function. It can clean up to 30 feet large pool thanks to the ten inbuilt water hoses.
It connects to the pool's existing filtration system and thus, it is much more energy efficient than other pool cleaners. On top of that, ExtremepowerUS sports a silicon ripple cleaner which enhances its cleaning power. In fact, this above ground pool cleaner can clean all kinds of surfaces including fiberglass, concrete, vinyl, and tile. However, it cannot clean the stairs. Similarly, the machine can move at a speed of 8 to 12 feet per minute if you install everything properly.
The cleaner also features a seal clip that ensures appropriate directional adjustments. On the other hand, the bumper strap allows the cleaner to move freely when in operation.
ExtremepowerUS needs a 1600GPH or 1 horsepower pool pump to function properly. This is probably the only point that goes against this amazing machine.
All in all, ExtremepowerUS is the best automatic pool cleaner for above ground pools if you prefer energy efficient, low cost and lightweight products.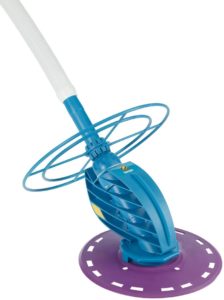 Zodiac Ranger Suction may be the most cleverly designed above ground pool cleaner on this list. It happens to be a very quiet yet efficient machine because it has a very unique one moving part technology. You don't have to assemble or install the cleaner as it comes pre-assembled out of the box.
Zodiac Ranger Suction is an ideal choice for smaller pools as it also has a 32 feet hose. On top of that, the cleaner sports deflector wheels and thus, it does not get caught on corners and steps. Not many outdoor pool cleaners have this feature. However, we recommend arranging a ladder guard or removing them while cleaning the pool.
The one of its kind one moving technology also eliminates annoying flapper noise or humming. It also ensures the Ranger Suction operates silently, quickly, and efficiently.
Other unique attributes of the Zodiac Ranger Suction include insta-skim compact self-adjusting flow control valve and Flowkeeper valve. Both these valves automatically regulate the water flow. Similarly, they also make the vacuum clean the entire floor.
Zodiac Ranger Suction vacuum cleaning unit is very easy to use as well. It works quietly, effectively, and efficiently. Similarly, it can clean the steps and ladders as well, also making it the best electric pool vacuum for above ground pools.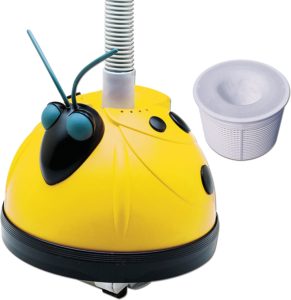 Hayward regularly introduces some of the cutest yet high-quality suction cleaners that are built to last. One such suction pool cleaner is Hayward 500 Aqua Critter. The above ground pool cleaner is not only efficient but it is easy to use as well. Similarly, you do not have to spend money on expensive items such as booster pumps.
You can connect this cute pool cleaner to the pool's existing filtration and pumping system with the utmost ease. It automatically cleans all kinds of outdoor pools including dished-out and flat surfaces. Therefore, it is not a problem for Hayward Aqua Critter to remove debris, dirt, sand, and bugs from the pool.
Just like Hayward 900 Wanda, The Aqua Critter also features Hayward's patented SmartDrive Technology. The inbuilt turbine or gearing system ensures constant water flow, enabling the machine to establish the best cleaning pattern. Besides, it is a small but powerful pool cleaner that can complete suction pool cleaning in around 2 hours.
You also get reusable filter saving nets with Hayward Aqua Critter. These nets serve dual purposes. First of all, you can cover skimmer baskets with these nets. The combination of the two will catch all kinds of debris, pollen, dirt, leaves, and small bugs, leaving nothing inside the pool. Secondly, they also increase the Aqua Critter's lifespan considerably. The packing contains a skimmer cone, a 32 feet hose, and 5 sets of filter savers.
You can install and start using Aqua Critter in less than 10 minutes. It is quite easy to use and maintain as well. However, you need pumps above ¾ horsepower to operate this cleaner properly. Other than that, it is the best above ground pool robotic cleaner for its amazing features.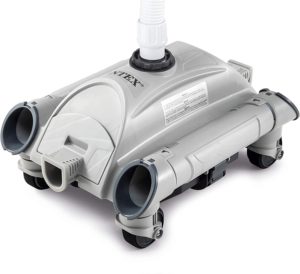 Intex above ground automatic pool cleaners have garnered massive popularity in recent years. Most of them are very easy to install and cost only a few bucks. Understandably, we have to include Intex Above Ground Automatic Pool Cleaner in this list.
Manufactured by one of the best brands in the world, you would only be getting the best if you buy this automatic pool cleaner. It comes with a 24 feet 7 inches hose that connects to the pool's own filtration system. The hose fits nicely with 1 -1/2 inches hose for Intex above ground pools. It has especially been designed for the Intex pools as well.
Intex Above Ground Pool Cleaner requires a filter pump with a flow rate between 1600-3500 to function properly. Similarly, the automatic vacuum cleaner cleans the pool surface silently, and efficiently thanks to a compact brush. However, it is not ideal for uneven or wrinkled surfaces. There are four plastic wheels under the base but none of them is powered. Therefore, the cleaner may find it difficult to move around in case of a bumpy surface.
Having said that, Intex Pool Cleaner is indeed one of the best above ground pool robotic cleaner for Intex pools.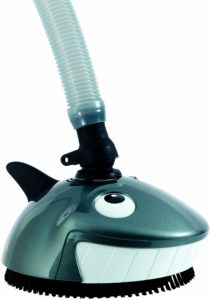 Pentair 360100 is the most eye-catching above ground pool cleaner you would ever come across. It is, in fact, the cutest and the most attractive of all the cleaners on our list. Pentair has been making above ground robotic pool cleaners for a long time now but this is their best model by a fair distance.
First of all, Pentair 360100 has a simple design and features only one moving part, making it a truly durable cleaner. On top of that, it has a dual-band of bristles which scrubs loose the debris and dirt. Subsequently, the powerful vacuum whisks the debris away in no time.
Pentair 360100 works on the principle of programmed cleaning. Therefore, it provides complete coverage of your pool. It leaves no spot behind, cleaning every nook and corner of your pool. Similarly, it thoroughly brushes the pool surface by cutting a 10 inches path for quick cleaning.
Finally, the "Kreepy Shark" does not require any assembly. Just connect the shark to the pool's hose and you are good to go. This lightweight automatic pool cleaner is also very affordable as it is available for only $124.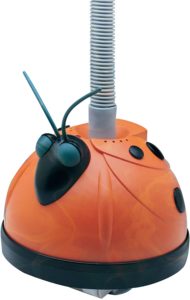 Finally, we have Hayward 500 Aquabug on our list of the best above ground pool robotic cleaner. It is yet another brilliant pool clear which works well with both on the ground and above ground pools. Similarly, it automatically cleans pools of all sizes and shapes without any trouble.
Just like all other pool cleaners from Hayward, the Aquabug is very beautiful to look at. It ensures quick and thorough cleaning utilizing the Haywards famous patented SmartDrive Programmed Steering System. Similarly, it provides a constant and balanced flow of water with the help of a unique turbine/gearing system. The turbine also assures gentle movement across the pool and quiet cleaning operation. Not to mention, all the Hayward pool cleaners feature both these technologies.
The Aquabug also comes with a 32 feet hose. It does not require any tools because it connects directly to the pool skimmer. The cleaner continues its cleaning cycle without any stoppage thanks to the Deluxe bumper ring. The ring guides the Aquabug away from ladders, steps, and walls in addition to reducing friction. You can install this best above ground automatic pool cleaner in less than 10 minutes.
Types of Above Ground Robotic Pool Cleaners
You must maintain and clean your above ground pool. It removes all kinds of debris, insects, and dirt from your pool, eliminating the chances of infections. Similarly, you will get an ideal setting for playing, partying, bathing, or simply relaxing.
However, most people are at sixes and sevens when it comes to choosing a robotic pool cleaner for their pool. They usually have no idea which type of cleaner they need.
Pool vacuums are obviously preferable for above ground pools. But, what is the exact type of vacuum or pool cleaner you need?
It is thus appropriate for us to discuss the three main types of above ground pool cleaners.
1. Robotic Pool Cleaners
Robotic pool cleaners are the most common types of robotic vacuum cleaners. You would find them in every second home in your neighborhood. They obtain robotic power from the circulation system of the pool and thus, operate automatically.
Each of these pool cleaners features an internal collection bag. The bag enables them to collect even the tiniest of the dirt particles, resulting in highly efficient pool cleaning. They also reduce cleaning time and cost through a small internal pump. Therefore, they are the most energy-efficient above ground vacuum cleaners when it comes to power consumption.
Some robotic pool cleaners also have other exciting features such as four-wheel drive and remote control. Similarly, you should get one of these devices if there is no skimmer basket in your above ground pool.
Finally, robotic pool cleaners assure easy and efficient cleaning as they are automatic and easy to use.
2. Pressure Pool Vacuums
Also known as pressure-side pool cleaners, this particular type of pool cleaners draw power from the pressure generated by the flow of the filtered water when it's pumped into the swimming pool after filtration.
As the pressure vacuum cleaners are dependent on the pool filtration system, they considerably increase the cleaning speed and cycle. Just like robotic pool cleaners, these pool cleaners also feature a collection bag. As a result, the entire cleaning process tends to be convenient and fast. Similarly, they requires less maintenance as well.
Pressure vacuum cleaners make cleaning tasks faster and efficient in general. Therefore, they are perfect for larger swimming pools.
3. Suction Pump Pool Cleaners
Suction pump pool cleaners include some of the best automatic pool cleaners for above ground pools. Also referred to as suction-side pool vacuums, they are relatively less advanced than both pressure pool vacuums and robotic pool cleaners.
They carry on the cleaning process by utilizing the pool's filtration pump in combination with its pump section. They are automatic pool cleaners nonetheless. They run on electricity and require the pool pump to be running as they remove the debris and gunk from the pool.
Suction pump pool cleaners also require more maintenance to work properly. For example, you have to clean the filter frequently besides performing other maintenance tasks.
Perhaps, the biggest advantage of suction pump pool cleaners is that they are the most affordable automatic above ground pool cleaners in the market.
Above Ground Robotic Pool Cleaners Buyers' Guide
There are a few factors you need to consider when you decide to buy an above ground robotic pool cleaner. Remember that different automatic pool vacuums and cleaners have different functions and they suit different types of pools. Some will perform better than others in certain conditions. Similarly, if one cleaner performs exceptionally well in your neighbor's pool, it does not mean it is also ideal for your pool.
Therefore, the following are the main points to keep in mind while making a purchase.
1. Pool Size
The pool size is a big consideration. Automatic pool cleaners have restrictions when it comes to the area of the above ground pool. In general, you should go for pressure vacuum cleaners if you have a large swimming pool. Similarly, the robotic pool or pump suction cleaners will suffice in smaller pools.
2. Type of Swimming Pool
Sometimes, your pool has many obstacles such as special contours, ladders, and steps. Similarly, some pool surfaces are uneven or bumpy. Such pools will put robotic pool cleaners with the so-called "intelligence cleaning system" to a stern test. On the other hand, you may consider suction pump pool cleaners for non-standard shape pools as they only have one moving part. Therefore, it is easier for them to roll over any type of surface.
3. Power Consumption
It is also imperative for you to buy an automatic pool cleaner which offers a great balance between operation time and power consumption. It will help you considerably reduce your maintenance costs.
Suction based systems such as Zodiac Ranger and Hayward Aqua Critter consume less power than most robotic cleaners such as Aquabot and Dolphin. The latter in particular have sophisticated software and electronics. As expected, they are rated at relatively higher 180 watts.
4. Filtration Rate
The pool cleaner's filtration rate is also a major factor. The quality of pool water after cleaning depends upon the filtration rate. A filtration rate of 70 to 75 gallons per minute is the minimum you should look out for.
5. Weight
The weight of automatic cleaners has a direct effect on their stability and maneuverability. Of course, it will be difficult for you to place a heavier cleaner into the pool and then pull it out. Some of the best above ground automatic pool cleaners weigh from 15-50 pounds. However, you should always buy a cleaner which can endure all kinds of wear and tear as well as conditions irrespective of its weight.
6. Ease of Use
The automatic above ground pool cleaner you are considering should be easy to use. For example, the Hayward W3500 Aquabug takes less than 10 minutes to install without requiring additional tools. Similarly, it is extremely lightweight and portable as well. Once again, choose a cleaner that is not only easy to use but fulfills most of your cleaning requirements as well.
7. Price
Last but not least; you have to pay special attention to the price. Don't just go for the base price of the robotic pool cleaner. You must also consider whether or not you need a stronger pump, an additional hose, other spare parts or extended warranty. All these things can cost you an extra amount of money.
In this regard, the best above ground pool robotic cleaner strikes a great balance between its price and features. At the same time, don't succumb to the temptation of getting the pool cleaner with the latest features. Most of these features are unnecessary and come at a higher price as well.
Frequently Asked Questions
What is the best above ground pool vacuum?
The following are the best above ground pool vacuums.
Dolphin Escape
Zodiac Ranger Suction Vacuum
Hayward 500Y Wanda
Hayward W3500 Aqua Bug
Pentair Kreepy Krauly Lil Shark
How often do you use a robotic pool cleaner?
You should consider using a robotic pool cleaner once in a day if you use your pool a lot. It is ideal to run it only once a week if you don't use your pool regularly.
Can you leave your robotic pool cleaner in the pool?
Ideally, you should leave your robotic pool cleaner in the pool only when it is in operation. You should remove it from the pool when you are using the pool such as at the time of bathing or a quick swim.
Conclusion
At the end of our article, we can say that the "Dolphin Escape" is the clear winner in terms of price, function and operation time. The Aquabot Junior and the Hayward Wanda are our joint runner ups. All the cleaners reviewed above have distinct features.
What you need to do is to choose the cleaner which meets your prioritized needs while offering the best price/value trade-off.