One thing you want more than anything else in freezing winters is to sleep in a warm and cozy bed. However, too many comforters and blankets will only make your bed chaotic and rather uncomfortable. You even get the feeling that you are drowning in a sea of fluff. So, what is the best way to keep your bed tidy, warm, and comfortable? The answer is to use the best heated mattress pads.
Keeping your room and bed warm in winters can be a costly affair. Traditional heating apparatuses like electric heaters can push your electricity bills to the maximum. On the other hand, heating mattress pads enable you to control the temperature and thus warmth, resulting in lower electricity bills. Similarly, they provide incredibly immersing warmth which you cannot achieve even from electric blankets.
Best heated Mattress Pads 20202
It is not an easy task to find the ideal heated pad for your bed. While some of them are comfortable and durable, others can be a thorn in the flesh when you are laying on them. Therefore, we have come up with only the best heated mattresses. These pads are from the top brands besides having unique features and designs. Similarly, we have also considered users' reviews while compiling our list.
Keep in mind that you should only invest in a luxury pad if you wish to enjoy unparalleled warmth for years to come.
Without any further ado, here are our heated mattress pad reviews.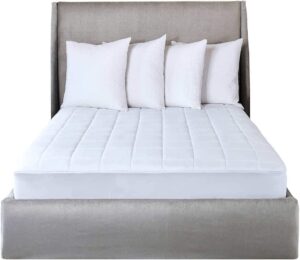 If you are looking for a heated pad with the right balance of comfort, heating, and safety, you must go for Sunbeam Premium Queen Quilted Heated Mattress Pad.
As it can cover a 21" mattress, it is also the most generously filled mattress pad you would ever find. As a result, you cannot detect the heating wires at all, making it even more comfortable.
The 100% cotton top with 250 thread count also draws the moisture more effectively. The pad also has a preheat function for you to warm the bed before going to sleep. Similarly, 10 heat settings for either end of the pad warms up the bed quite quickly and efficiently. The ThermoFine heating system delivers consistent warmth throughout the bed as well.
Sunbeam Premium Quilted also has a reassuring auto-off function in case it overheats. The pad also remains safely and securely in place owing to the solid locking mechanism. The dual control pad only requires one outlet to work as well.
The pad is machine washable and comes with a 5 years manufacturer warranty.

Chili Technology ChiliPad Cube 3.0 is different from all the other heating mattress pads on our list. Instead of wires, the ChiliPad Cube 3.0 uses a warm water system to provide warmth during the winter.
Keep in mind that it is a luxury product with a price above $1000. However, it is worth every penny for many reasons. The pad contains water in silicon micro-tubes. You can cool or heat the water according to your requirements and season.
The pad also offers an impressive temperature range of 55-115° Fahrenheit. Therefore, you can use ChiliPad all year round. As you might expect, the larger sizes also have dual heating zones, making them a great option for couples and partners.
The actual padding easily disguises the tubes. It is made of cotton and polyester and fits any bed without any problem. Similarly, the pad is very easy to clean as well. It also gives you greater freedom of control because you can adjust the temperature directly from the Cube or using a remote control.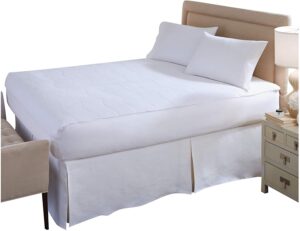 There are not many heated mattress pads that comply with the UL standards of non-hazardous low voltage. The SoftHeat Micro-Plush Electric Heated Mattress Pad is one such pad. It is also a very elegant topping for your bed because of its beautiful design. It is also among the best heated mattress pads thanks to the customizable temperature settings and numerous size choices.
Having a micro-velour top also means it is the most user-friendly and safest heated pad in the market. The top has a velveteen texture and therefore, the mattress offers a very plush, soft, and cozy feel. The 18" deep pad is available in Twin, Queen, and King and California King sizes.
Two important features that contribute to the safety of users are over-temperature protection and auto power-off after 10 hours. Unlike Sunbeam, the SoftHeat mattresses consist of very thin resistance wires. Spaced 3" apart, these wires distribute heat more evenly than all the comparable models.
Other notable features of the mattress include pre-heat settings, 10 heat settings in total, and dual controls for two heating zones.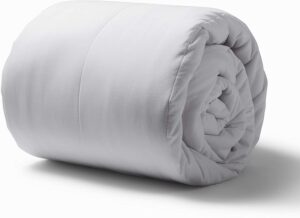 Sunbeam Heated Quilted Mattress Pad is a simple, easy to use, and a very efficient electric mattress pad. It anticipates all of our heating needs and intuitively delivers the right amount of warmth. The mattress has a lot of temperature settings, allowing you to use it throughout the year.
The mattress provides extra heat as it is filled with 5 ounces of polyester. Instead of horizontally, the quilting pattern runs vertically from top to bottom. It is also a 19" deep pad which means it has a generously long skirting. It is a good looking pad with a nice presentable texture. Made of 100% polyester with a thread count of 140, it is very soft and cozy as well.
As with all good mattress heated pads, Sunbeam Quilted also has two heat-zones with separate controls. Therefore, it is also an excellent choice for couples. Similarly, it has 10 heat settings as well as preheat settings. Temperature controls work quickly, changing the temperature within a couple of minutes.
The mattress also saves power as it features the 10-hour automatic power cut-off as well.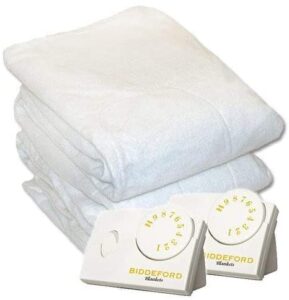 Biddeford Blankets Polyester Electric Heated Mattress Pad is the perfect option if you live in a warmer area. It helps you reduce electricity costs besides being very lightweight and affordable. Similarly, it is also an ideal mattress for aching neck, back, and legs as it provides therapeutic heating to your body.
The mattress remains fresh and new for years even though it does not require constant maintenance. You can choose from 5 different sizes that are twin, Full, Queen, King, and California King.
When it comes to design, the mattress is pleasant to the neck because of its soft microfiber topping. Made of 100% polyester, the skirt of the pad easily covers the sides of the mattress. You don't feel the wires even though the pad is not very fluffy. The queen and king size heated mattress pads have two heating zones whereas twin and full models only have single zones.
The pad has 10 heat settings. The controllers also save power by shutting down on their own. Similarly, the pad also a power button.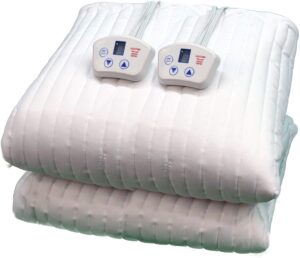 What makes Electrowarmth Dual Control Pad one of the best heated mattress pads is a wide range of sizes. It is, in fact, available in 19 different sizes ranging from standard twin to extra-large twin. Not many brands offer as many size choices with their mattress pads.
Similarly, it has 11 heat settings, more than any other pad on our list. Perhaps the best feature of the pad is rapid heat function which helps you adjust the temperature only after it has heated the pad to the highest settings.
There is little to no chance of a mishap because of the safety cut-off and 10-hour auto shut down features. These features also enable you to reduce electricity costs. The pad has dual heating zones for larger sizes, enabling your partner to adjust the temperature on his or her side only.
Electrowarmth heated pad comes with an easy to use remote control with clear settings. The relatively high price is a downside. Probably, this is the best pad for someone looking for a rare size pad.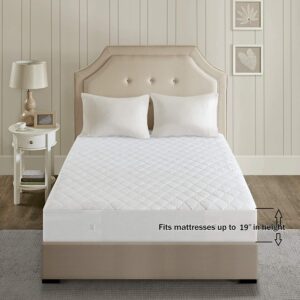 Beautyrest Cotton Blend is yet another excellent heated mattress cover or pad. The pad employs the secure comfort technology to help you remain cozy and warm during winters. The pad also eliminates Electromagnetic Field emission because of its unique design.
The pad ensures your safety through 5 different heat settings and 10-hour automatic shut off. It features a quilted top and soft flexible wires to provide matchless comfort. The skirts have a drop length of 15" and they can cover a 19" deep mattress.
Made of 40% and 60% polyester and cotton respectively, the Beautyrest Cotton Blend Heated pad has dual heating zones for larger sizes. The preheating feature also allows you to enter only in a snuggly warm bed.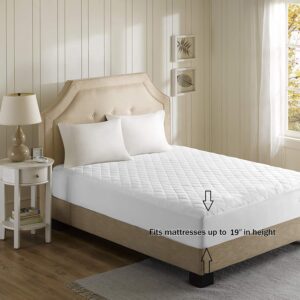 Beautyrest 3M Scotchgard is made of 100% polyester soft-brushed microfiber. The microfiber is an affordable yet equally effective and comfortable alternative to cotton. It is also the best material for people who sweat a lot while sleeping.
The Beautyrest 3M ensure comfortable and deep sleep for the night even if the temperature is high thanks to the moisture management treatment system. It also offers a wide range of sizes in addition to five temperature settings.
Not to mention, the 10-hour automatic shut off and preheat features are also available. You can place the pad on mattresses up to 19" deep. It also has a thick substantial feel. Similarly, you will find it very pleasant to get into a bed on a chilly night because of the radiant heat. All in all, it is one of the best heated mattress pads currently available.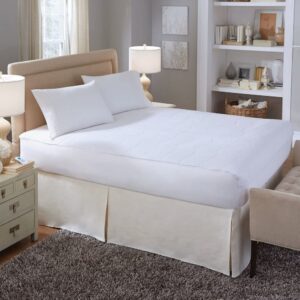 Serta Silky Smooth Plush Velour is a unique heating mattress cover in the sense that it is made of 100% coral fleece velour fabric. This very fabric offers incredible comfort and heat, enabling you to have an excellent night's sleep.
Similarly, the pad has 10 heat settings which have become a sort of standard for heated pads. Similarly, the preheat function is also very common. However, the pad comes with programmable digital controllers that you can use to achieve the desired level of heat. You can program the temperature to automatically adjust during a time window of 12 hours. As a result, you don't have to get up during the night just to change the temperature.
The mattress pad has two temperature zones, each with its own digital controller. The controller's power cord is 19 feet long. Therefore, you can place the pad at some distance from the power outlet.
Some of the safety features include 10-hour automatic shut off and overheating protection.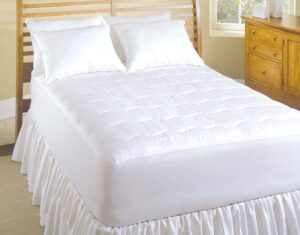 Perfect Fit SoftHeat Smart Electric Pad is an affordable heated mattress pad that offers excellent performance. It has 10 heat settings which are unheard of at this price. For instance, you can use the preheat feature to warm your bed before getting into it. Another unique feature of the mattress pad is stain and water resistance. You would hardly find a mattress pad with these attributes.
You would also enjoy even warmth throughout the bed thanks to the ThermoFine temperature system. The system contains micro-thin wires to distribute heat evenly without bulkiness. Similarly, couples have greater control of temperatures on Queen and King size pads as they come with dual controllers. As a result, both the sleepers can set different temperatures on each side of the pad.
Made of 80% polyester and 20% cotton with a thread count of 233, SoftHeat Smart Heated Electric Mattress Pad is a very durable and comfortable device. It offers a cushioning and plushy feel. On top of that, the mattress does not emit any dangerous or harmful chemicals. Therefore, you can rest through the night peacefully.
Why Purchase a Heated Mattress Pad?
There are many reasons people buy a heated mattress pad. The first and foremost is the temperature control and regulation. The best heated mattress pads not only make your bed warmer but also allows you to regulate the temperature. Some of them can even cool your bed as well. Similarly, the pad keeps the heat closer to your body as it goes underneath top beddings including bedsheets. This particular configuration helps you go to sleep quicker and better. Most heated pads also have a preheat function, warming your bed before you jump into it. As a result, you never have to climb into a freezing bed.
Heated mattress pads are also cost-effective. They are cheaper to use compared to traditional heaters when the temperature starts dropping. Moreover, they dramatically reduce your utility bills.
Another benefit of having an electric heating mattress pad is pain relief. Some of these pads are designed to provide relief to aching necks, legs, and back. The heat emanating from the pad also soothes ailments like joint and back pains. Keep in mind that a heated mattress pad is not the ultimate remedy but it will alleviate your pain to a considerable extent.
How to Buy the Best Heated Mattress Pad?
You need to keep many factors in mind while shopping for the best mattress heating pad. Mattress pads can vary in features, construction, and price.
Materials
Manufacturers normally use a wide range of materials to make a heated mattress pad.
Pad Cover
Different pads are made of different materials, the most common of which are as below.
Heated pads made of cotton are the most comfortable. They are very soft and excellent absorber of moisture as well. It is also the reason why you tend to sweat less on a cotton pad. You should go for a cotton pad if you sweat a lot at night.
Polyester is not as absorbent as cotton. It tends to stretch more but offers a great level of breathability. If you want a plusher feel, you may choose a microfiber pad. Microfiber is also a type of polyester but with smaller strands.
If you want to enjoy the characteristics of both cotton and polyester, you should opt for pads made with a blend of both these materials.
Heating Element
The heating element is tiny wires that go through the heated mattress pad. It is these wires that heat the pad. You can specify their maximum or minimum temperature using the controllers. These wires are normally very thin and therefore, you are not likely to feel any bulkiness through the pad. Pads are better able to equally distribute heat if the wires are several inches apart from each other. You would find electric wires in most pads. However, some pads also have microtubes to carry heated water.
Controllers
Controllers allow you to adjust the temperature of the pad. Some pads have dual heating zones, one for each side of the bed. In this case, you will get two controllers. Although some pads have remote controllers to regulate temperature yet most of them are connected to the controllers through a cord or wire.
Skirt
Skirt holds the pad in its place by going around the corners and sides. Most skirts are made of polyester because it is highly stretchable.
Fit
You must ensure that the heated mattress pad you are going to buy fits the mattress. You should consider the depth and size of your mattress. It should fit tightly to your mattress otherwise it will clump and overheat.
Ease of Use
There is no point in having an uncomfortable mattress pad. It will only disrupt your sleep rather providing the warmth and comfort you are looking for. A mattress pad should be cozy and easy to use. You need not to adjust it frequently during the night.
Two of the most important things that make mattress pads easy to use are simple controls and clear and obvious buttons. Digital controls in particular enable you to achieve your desired temperature easily besides adjusting overall settings.
Personalization
The best heated mattress pads allow you greater personalization over others. How much personalization you need depends on your requirements. For example, most heated pads have up to 10 heat settings. However, there are pads with more basic as well as fewer settings. You can determine how warm a bed should be from these settings.
Similarly, you must also look for a pad with preheat settings. These settings preheat your bed even before you get into it. As a result, you don't have to lay down in a cold bed.
Some pads also have both heating and cooling capabilities. They are particularly good for you if you sleep cold in some seasons and sleep hot in others.
If you are a couple using the same bed, it would be nice to have your own heating zone with its own controls. Larger mattress pads usually have dual heating zones with dual controls. It allows you and your partner to have one end of the bed warmer and the other one colder.
Some pads also feature timers allowing you to set the pad to turn off or turn on after a specific time. Similarly, they also have auto shut-off function (10-hours is the most common) forcing the pad to automatically shut off after a specific period. These features not only make your bed more convenient and safe but also reduce electricity bills.
Safety
The safety of a heated mattress pad is a big concern among many people. There is nothing to worry about because they are very safe in general. However, there are some features which give you peace of mind, helping you to sleep more soundly. Some of these features are as under.
Overheating Protection
A mattress pad will be able to detect it is overheating and automatically shut off if it has an overheating protection system.
Automatic Shut Off
Sometimes, you may forget to turn off the pad. As a result, it will remain working for hours. You don't want that for two reasons. Firstly, it will increase your energy bills. Secondly, the pad can overheat and burn. Automatic shut off ensures the pad shuts off after a set period.
UL Certification
UL certification is a standard various products and manufacturers have to comply with, especially in terms of design and safety. Heating bedding has its own standard that is UL 964. An independent testing team has tested the unit and declared it safe to use if it has a UL certification.
Cleaning
Many people ignore this very important aspect of heated mattress pads. The pad should be easily cleanable as with most beddings. For example, most pads on our list are machine washable. Some pads also require spot-cleaning which is rather difficult. You should also carefully follow the manufacturer's instructions regarding cleaning if the pad has any.
Frequently Asked Questions
Are heated mattress pads bad for you?
Heated mattress pads offer unmatchable heating and comfort to you while sleeping. However, they emit electromagnet radiations just like all other electronic appliances. Experts recommend limiting your exposure to these radiations. Scientists have not been able to determine the long term effects of these waves as yet.
Also, old electric mattress pads can overheat causing painful burns and blisters. Modern heating pads pose a fewer risk of these safety hazards as they come with overheating protection and automatic shut off features. However, you should never use these pads for heat-sensitive adults, children, and infants.
Finally, check if the mattress pad has UL 964 standards to verify whether or not it is safe.
How long does it take for a heated mattress pad to heat up?
A common heating pad takes up to 9 minutes to fully heat up. However, pads may take longer to heat if they have self-limiting wire technology.
Do heated mattress pads use a lot of electricity?
A typical heated mattress pad with dual heating zones consumes almost 120 to 180 watts that are 60 to 90 watts on each side. Therefore, it will cost you 2 to 3 cents if you use it for the entire night.
Final Thoughts
Concluding our heated mattress pads reviews, there are some other things you need to consider while buying a heated pad. For example, some companies allow you to test the pad at your home for a certain period. Subsequently, you can return the product for a full refund if you don't like it. Similarly, also look out for the warranty period. It can help you protect your purchase because a heated mattress pad consists of a lot of electronic components. Most manufacturers offer a 1 to 5 years warranty for their products.