Are you trying to find a way to cool down in the scorching summer heat? Personal or portable fans are the best way to combat the heat in your home and office, especially if there is no wall air conditioning. Ceiling fans are also a good option but they cannot provide the cool breeze to all parts of your room. What you need is the best personal fan which you can mount on a desk or even fold in your pocket.
In this article, we are going to discuss the 10 best desk fans in 2020 and how they can help you stay cool and cozy in this summer. The article will also provide the following information for you to find your required fan easily.
Why use personal fans?
10 best desk fans in
How to buy the best personal fan?
Why Use Personal Fans?
Personal fans are the best fans for summers for several reasons. For example, these fans are very portable and you can take them anywhere you want unlike pedestal fans or cooling towers. Furthermore, Desk fans are lightweight, small, and can easily cling to your desk or fit on your bedside table. Above all, you can easily pack them in your traveling bag.
The best part about personal fans is the wide variety of styles and shapes you can choose from. There are battery-operated personal fans, mini portable fans, small desk fans, handheld fans, wearable fans, and the list goes on and on. It can be easily said that personal fans can meet all of your cooling requirements regardless of wherever you are.
Keeping reading the article if you are still interested in buying a personal fan for yourself.
10 Best Desk Fans in 2020
Experts at 10Wares have tested hundreds of personal, desk, and portable fans to compile the list. We have done all the hard work for you, saving you from the hassle of going through numerous articles, guides, and reviews to buy only a single fan. Now, you can read the guide and easily find the right personal fan of any kind of use.
So, let us get to the actual business without any further ado. The following is the list of the best personal fans in 2020.
Top Personal Fans Quick Summary
Vornado 630 Mid-Size Whole Air Circulator Fan: The best personal fan
OPOLAR Battery Operated Handheld Desk Fan: Best handheld battery operated fan
O2COOL 10-Inch Standard Base Personal Fan: A very quiet fan for sleeping
SkyGenius Battery Operated Clip On Mini Desk Fan: Best personal fan for bedroom
COMLIFE F170 Clip On Stroller Fan: Best battery operated personal fan
Vornado Pivot Personal Circulator Fan: Best small personal fan
Vornado Flippi V6 Personal Air Circulator Fan: Good choice for smaller rooms
TRUSTECH Portable USB Fan: The best fan for home
Aluan Handled Mini Fan: Best mini portable fan
OPOLAR Portable Travel Mini Fan: Best travel min fan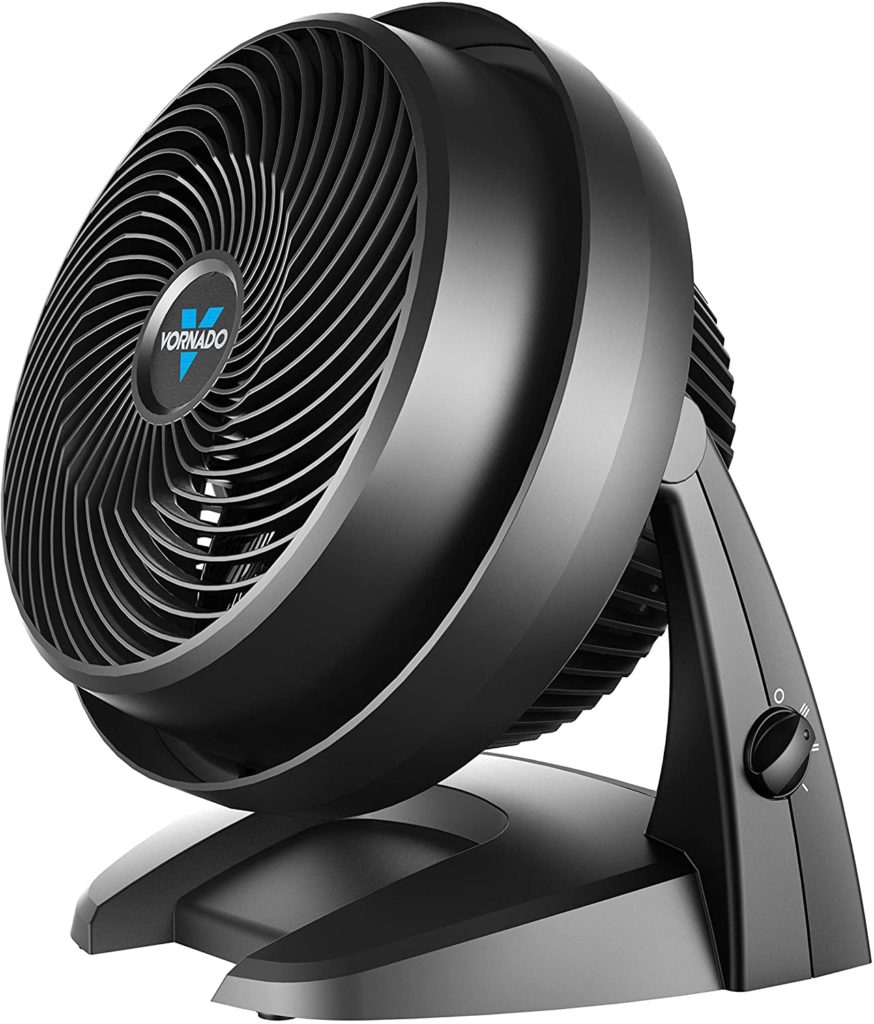 Vornado 630 Mid-Size is the best personal fan for circulating the air throughout your room. Vornado is a renowned and reliable brand and 630 is one of their best models so far.
Features
Vornado 630 employs Vornado's signature vortex air circulation technology to circulate the air throughout the room more effectively. The fan also has 3 speed options with a very easy to use manual controls.
You can also move the fan head thanks to 360-degree swivel. As a result, you can direct the air wherever you want. Above all, the fan can throw the air up to 70 feet high because of the deep pitch blades, enclosed air duct, inlet air accelerator, and AirTensity Spiral Grill. The grill also creates a spiral effect making the air to reach all parts of your room. The deep pitch blades increase the amount of air being circulated. The grill is also removable for easy cleaning.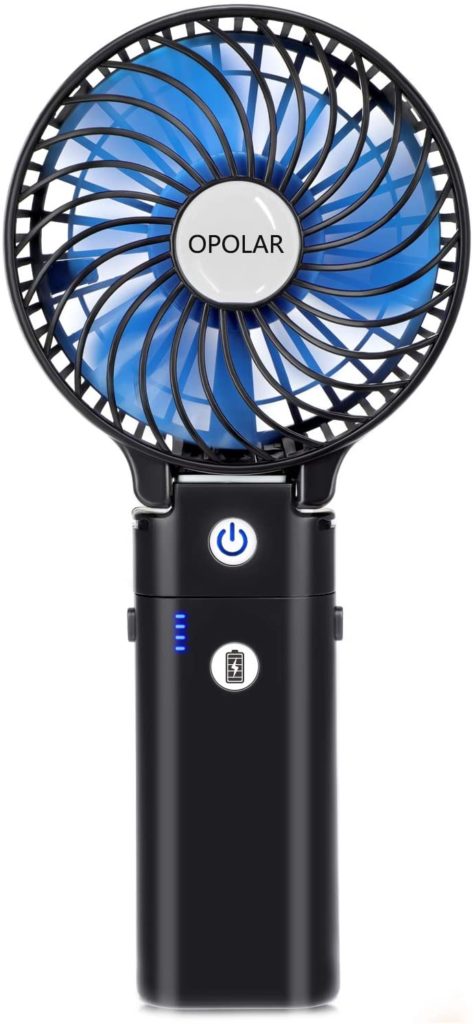 OPOLAR Portable Battery Operated Handled Fan is a great option for you if you are looking for a multipurpose fan.
Features
The fan has a battery life of 5-10 hours depending on the speed. Three different speed settings are speed 1, speed 2, and speed 3.
The fan can last for a whopping 20,000 hours thanks to its extra powerful batteries. The 5200 mAH batteries provide strong airflow which is enough to keep you cool during the hottest of days.
It is one of the best handheld battery operated fans a long term investment. The price is also difficult to beat. Weighing only 6 ounces, the fan has a lightweight, compact, and foldable design. You can carry it with you anywhere you like without any pressure. The palm-size fan easily fits in your hand as well.
The best thing about the fan is that it covers only a small place on your desk. Therefore, you can easily use it while studying, playing, sleeping, working, and playing computer games. You can also attach it to things like a calendar or office board using the included metal clip.
The fan offers ease of use in the form of multiple charging options. You can run the fan on the batteries or connect to your computer through a USB.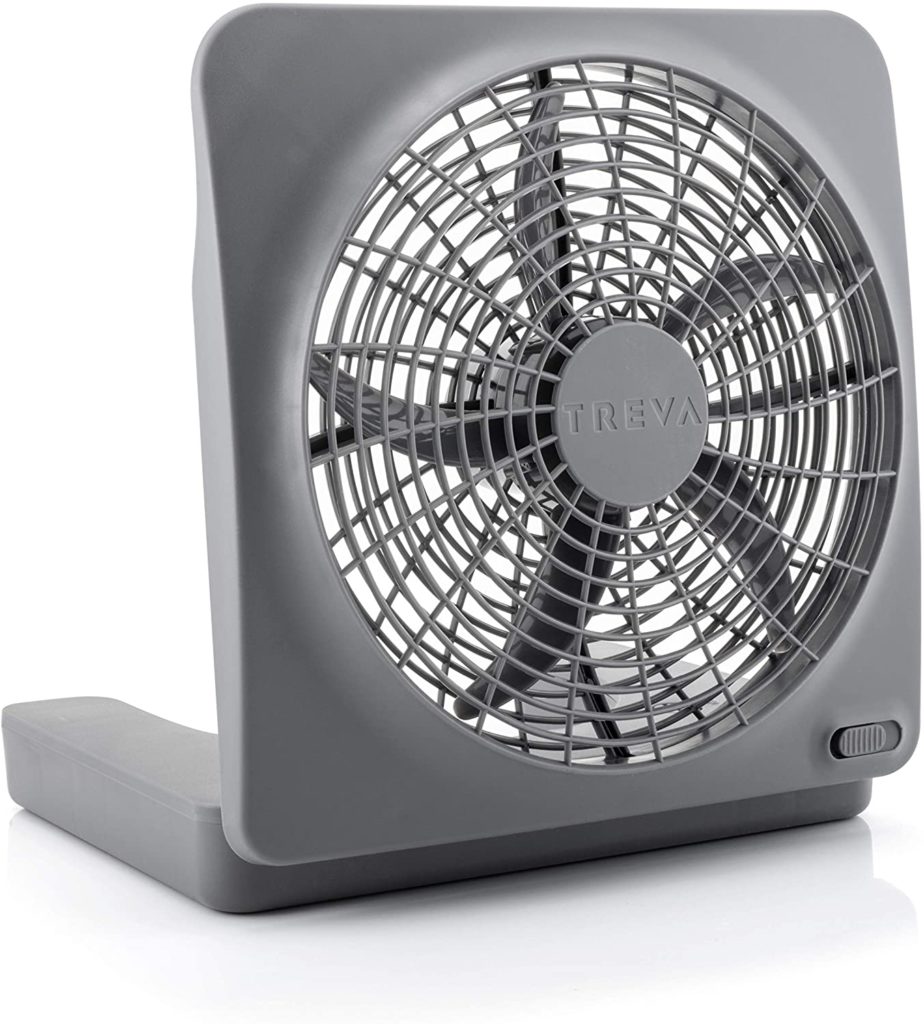 O2COOL 10-Inch Standard is an excellent mini portable fan for different kinds of uses. It is the perfect fan to cool off at home, outdoors, and at work. You must also consider this fan if you are looking for quiet fans for sleeping.
Features
The fan offers incredible strength and durability because of its sturdy construction. It has large 10-inch plastic blades that provide very strong airflow as well as two different speed options. The fan does not produce any noise and therefore, it also minimizes distraction and noise.
The fan comes with an AC adapter. Similarly, you can run the fan using six D-cell batteries which you have to buy separately. Multiple charging options means you can use the fan anywhere you like. The fan has a convenient folding design making it 100% portable. The adjustable tilt head also enables you to change the direction of the airflow.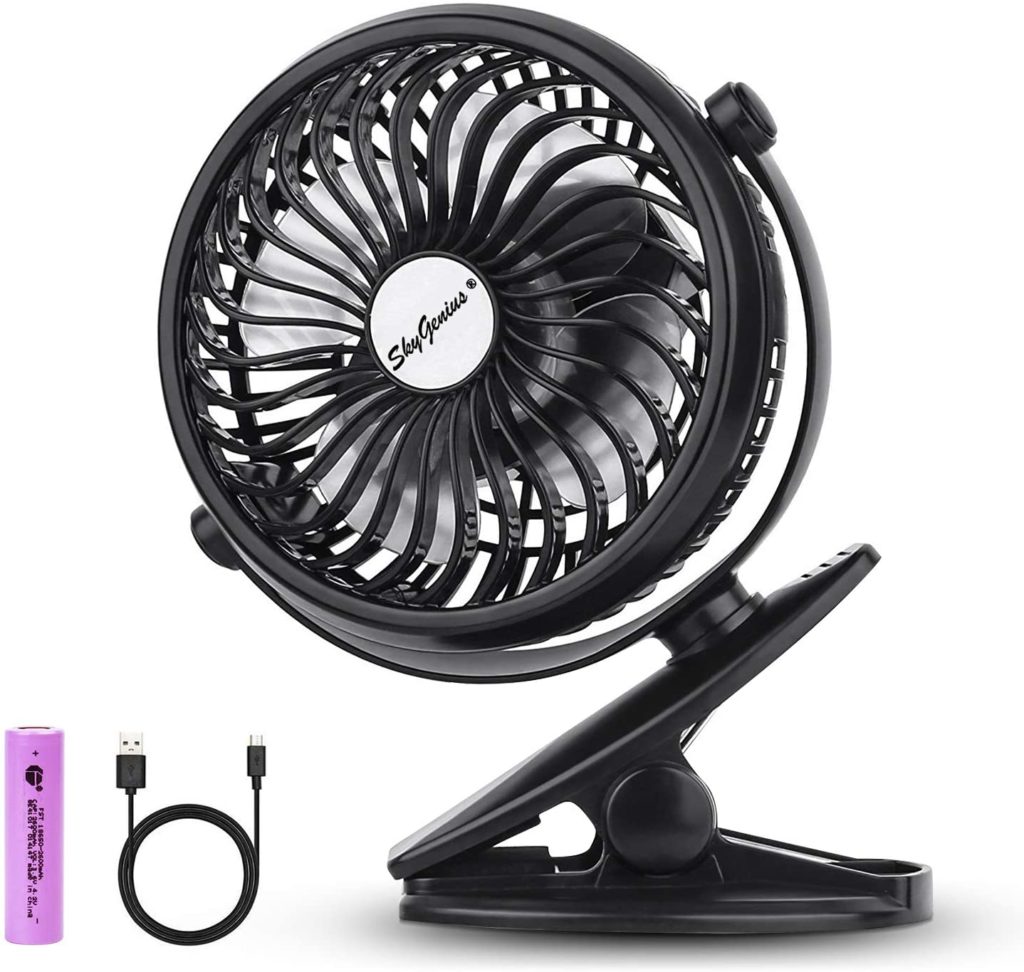 SkyGenius Battery Operated Mini Desk is an incredible fan for keeping yourself cool and comfortable on your bed or desk. However, you can attach it to almost anything be it is a lawnmower, car's sun visor, baby' stroller or a clipboard, etc.
Features
The first thing you observe about the fan is its unique and fashionable design. It is a small, lightweight, and handy fan and a very portable one as well.
The fan includes a high-quality motor with a maximum wind speed of 10.5 feet /second. It delivers high airspeed at extremely low noise.
The best feature of SkyGenius Mini Desk fan is the stepless speed regulation. Similarly, the fan runs on rechargeable and replaceable batteries which further enhance its life. However, you can charge the fan with literally anything such as a USB, power hub, a computer, and a USB power source.
The fan also has 3 speed settings with 360 degrees horizontal and vertical rotation. It is the best personal fan for the bedroom for its powerful but quiet operation. However, the clip style design also makes it a perfect choice for camping trips, outdoors, car backseat, office use, and gyms, etc.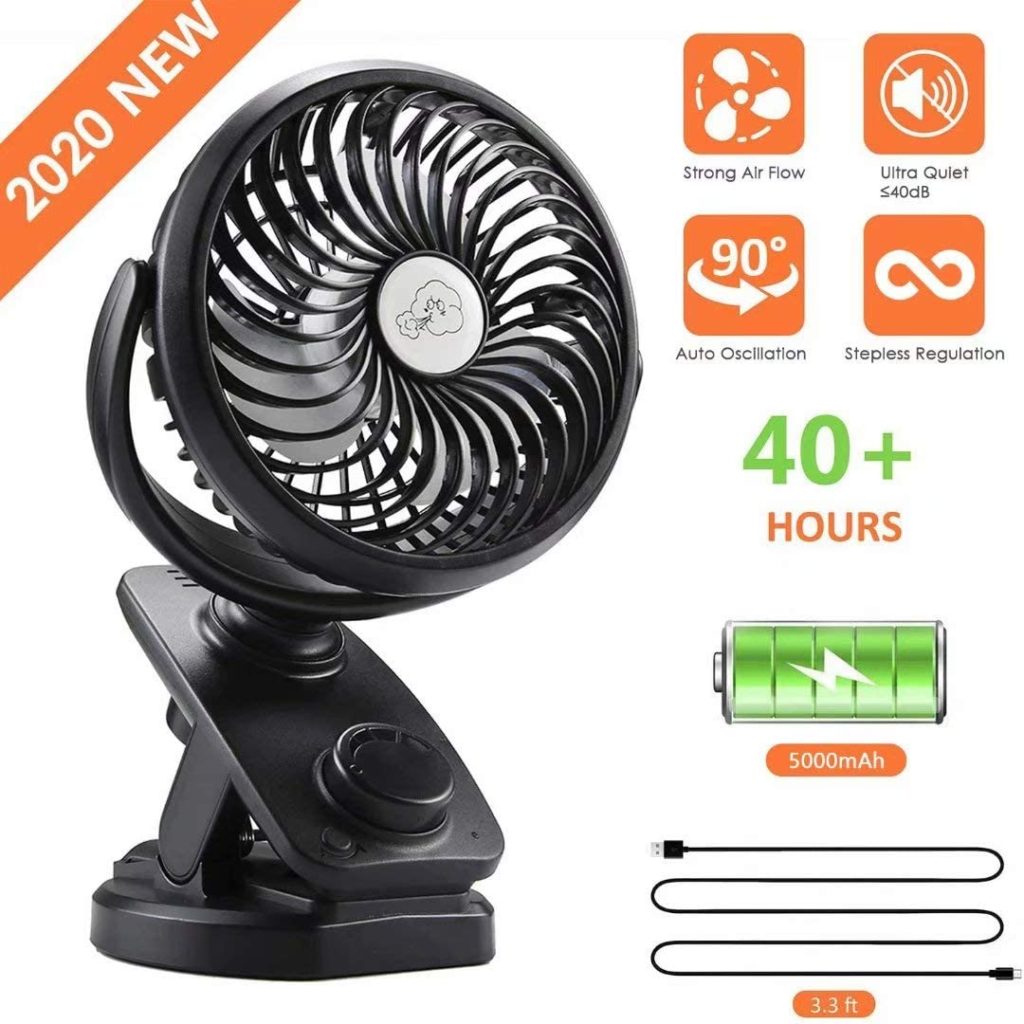 COMLIFE F170 Clip On Stroller Fan is the best personal fan for those who want a very strong airflow. It is a small oscillating fan that can keep you cool during the summers with the utmost ease.
Features
The COMLIFE Stroller Fan has larger blades compared to average desk fans resulting in extremely powerful airflow. It comes with a metal clip making it a breeze for you to attach the fan to desks, car seats, headboards, and baby strollers.
The fan can also be turned and tilted by a full 360 degrees because of the included swivel attachment. It oscillates in an 80-degree span once you have set it on your preferred position. On top of that, the fan also comes with a built-in-diffuser tank which serves as a bug repellent in addition to holding essential oils.
The COMLIFE 170's batteries can last for up to 40 hours after a single charge. Stepless Speed Control option and auto and manual oscillation selection make this fan one of the best battery operated personal fans.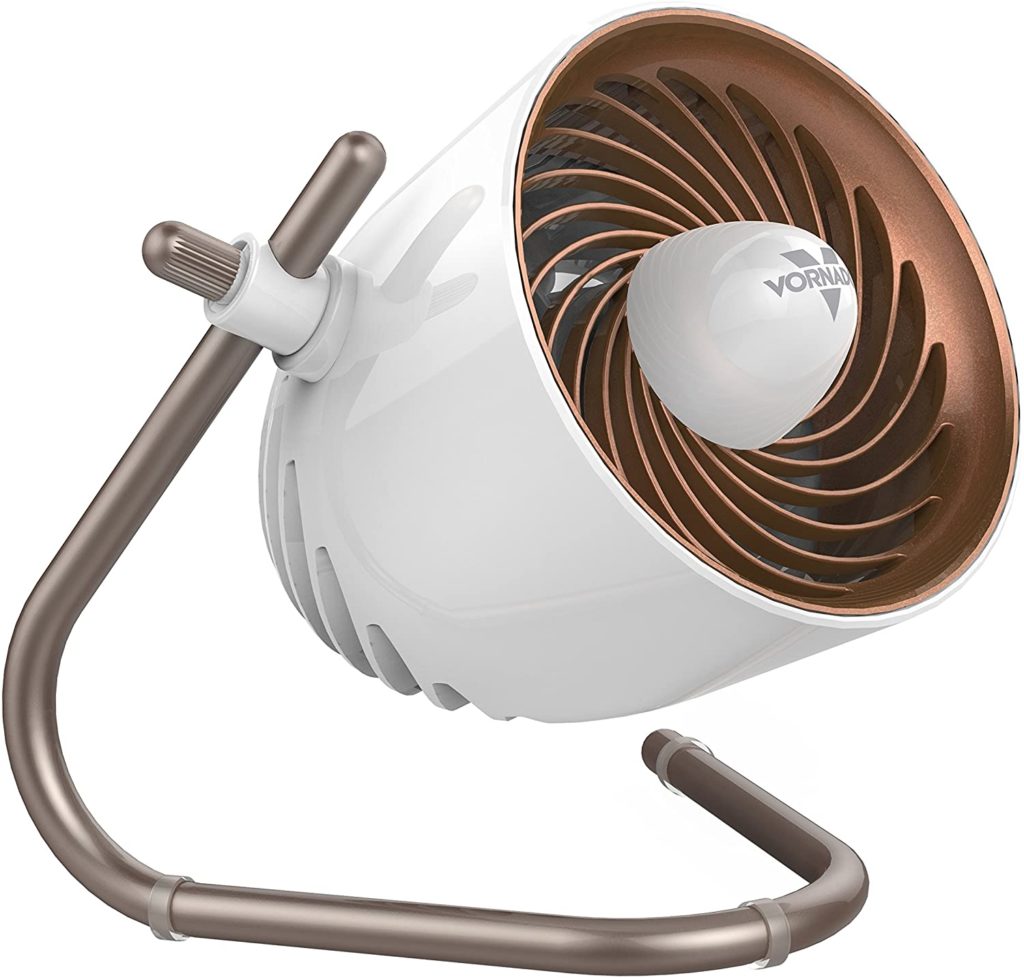 Vornado Pivot Personal Circulator is a very beautiful fan. It gives a mixture of futuristic and industrial look because of its copper color. However, it is available in three other colors that are storm gray, ice white, and champagne but coppers look the best.
Features
Just like Vornado 630, the Vornado Pivot also has 3 speed settings and Vornado's signature vortex circulation action. It is a very versatile fan that you can use for a nightstand, tabletop, desktop, bed, kitchen counter, and laundry room, etc. Similarly, it is very lightweight and very easy to move around. You can even use your hands to adjust the fan horizontally. The best feature of the fan is the impressively long 6-feet power cord. As a result, you can easily change it in any position.
The 3-year satisfaction guarantee makes this small personal fan worth a try.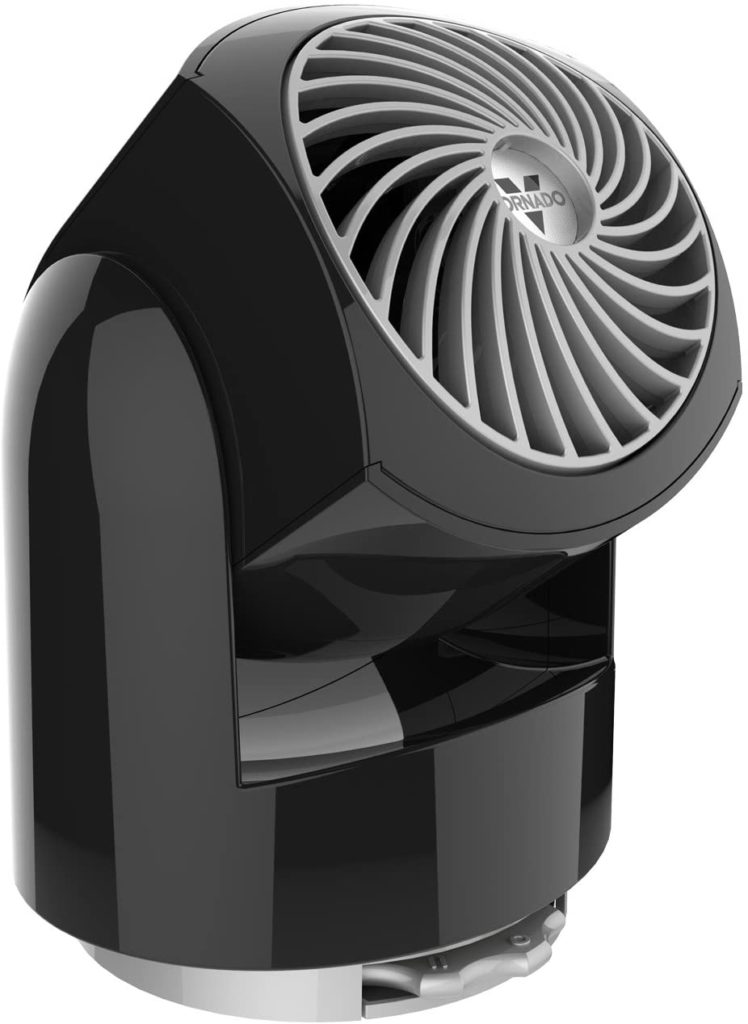 Vornado Flippi can easily be the best personal fan you need right now. It looks more like a coffee machine than a fan but this little fan is a great product to have.
Features
To begin with, Vornado Flippi is available in 6 different colors. You can choose the color which complements other gadgets in your room or on your desk. If placed in the right position, the fan can provide enough power and breeze to keep you cool and calm no matter how high the temperature is.
For example, you can blow the cold breeze only on your chest or face as the fan can adjust horizontally. However, it fails to circulate air throughout the room as it cannot move from side to side. It is a lightweight and low power fan which does not need to oscillate by the way. Its task is to provide enough breeze for your desk which it accomplishes quite exceptionally.
The fan comes with two speed settings. You will also find a cute little dial at the bottom to control the speed. All in all, it is a great personal desk fan at a reasonable price as well.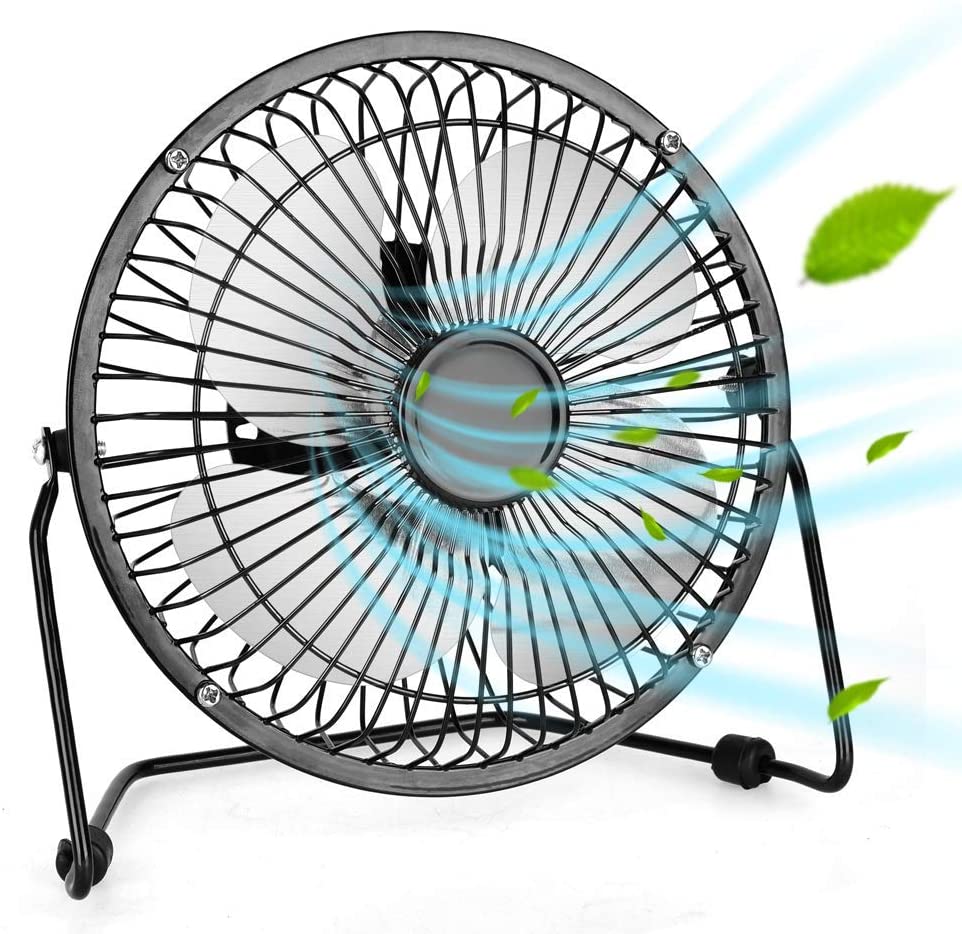 TRUSTECH Portable USB fan is yet another brilliant yet affordable personal fan to have. The 6-inch mini portable fan comes with a 1.4m USB cable, easily becoming a great personal fan for hot summer days.
Features
First and foremost, the fan operates quietly and effectively thanks to highly advanced aerodynamic design. The design also ensures the wind moves fast and smoothly.
Despite its small size, the fan produces a very cool and strong breeze to keep you cool in your home, game room, dorm, library, office, and anywhere else you want to use it, also making it the best fan for home. Similarly, the fan does not take a lot of space but still offers the highest standards of performance.
TRUSTECH Portable USB fan has 360 degrees of swivel in all directions as well. It consumes 95% less power than traditional desk fans. You can also charge the fan with a power bank, laptop, and a DV 5V adapter. It also enables easy operation by featuring an On/Off switch on the back.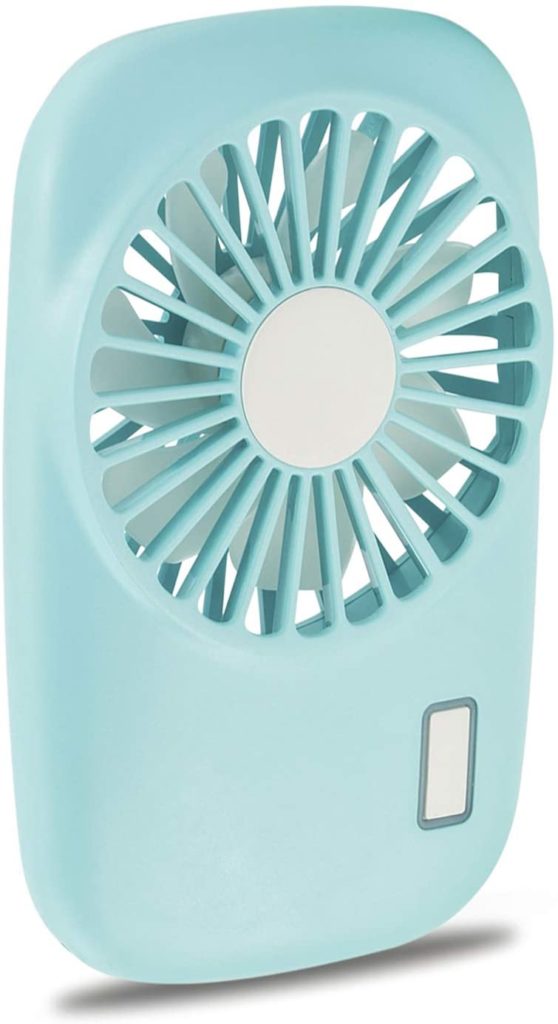 Aluan Handled Mini Fan is the best handled personal fan currently available in the market. It is a perfect fan for adults and kids alike because of its miniature size and powerful performance.
Features
Despite its small size, the fan can circulates the air up to up to 1 meter away. It is a cute little fan with 2 speed options. You just simply have to press the button to adjust the speed. Press once for low speed and twice for high speed.
When it comes to charging, the fan runs on a polymer lithium battery. It runs longer than most of its counterparts because the battery happens to be long-lasting. Besides, the fan also includes a USB cable that you can plug in any USB port to charge the fan.
Aluan Handled mini fan is a very small fan that you can put in your bag or pocket to carry it with you the entire summer. You can even use it when you are waiting in lines, traveling in buses, doing sports, and reading a book on a beach.
The camera like unique design also makes the fan very popular among people of all ages.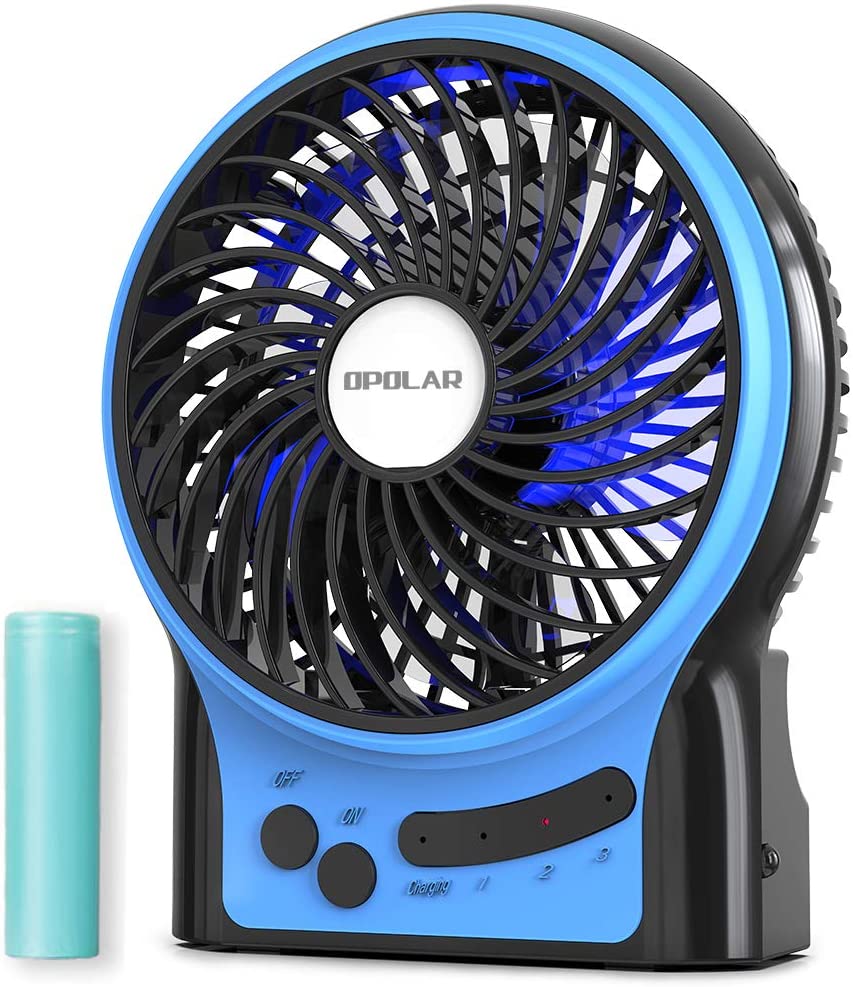 OPOLAR Portable Travel Mini Fan is another option to consider if you are looking for high-performance, lightweight, and portable mini fan for the summers.
Features
Starting with the battery, the fan runs on 18650 lithium battery. However, it also runs on any USB connection. Similarly, the small size means you can take it with you on your travels without any problem.
The fan also features an internal and side blue light, making it an ideal choice for outdoor use. The powerful wind and rechargeable feature further add to its versatility. It also has a very handy and compact design which also means you can easily pack it in your bag.
OPOLAR Portable Travel Mini fan has a running time of 3 to 13 hours depending on the speed. There are 3 speed options and very good speed controls as well.
How to Buy the Best Personal Fan?
You need to keep a few things in mind when you decide to buy the best personal fan.
Weight and Size
The weight and size are the two most important considerations when you think of buying a desk or personal fan. You may have to use your fan outdoors or for a bedtable, desk, library, kitchen, or a laundry room. Therefore, a personal fan has to be lightweight, compact, and ideally small. You must be able to carry it around without any hassle.
Airflow
The best personal fan should deliver strong airflow. Similarly, the air should circulate throughout the room. Fans like Vornado 630 utilizes a system known as the vortex circulation system to ensure the air reaches every nook and corner of your room.
Speed Options
Most personal fans come with two or three speed options to meet everyone's requirements. You can either set your fan on low, medium and high speeds. Remember that how much power your fan consumes depends on the fan's speed.
Battery Life
Desk fans have battery lives ranging from a minimum of 3 hours to a maximum of 40 hours. The more the battery life, the better. For example, you may find it difficult to find a power source when you are camping in the jungle.
Multiple Charging Options
Best desk fans offer multiple charging options. They mostly run on batteries but you can also charge them using a USB cable, a power bank, and even a traditional power cable. These options may come in handy when you are enjoying outside where there is no power source other than your laptop for example.
Final Thoughts
The best personal fan can make your life easier in the hot summer days no matter you are traveling, camping, waiting in line, sleeping, working, or just reading a book. Such fans not only provide a powerful and cool breeze, but they also help you save a lot of money which you would spend on wall air conditioning.
Summing up, we can also confidently say that Vornado 630 Mid-Size Whole Air Circulator Fan is the best personal desk fan right now. The Vornado Pivot Personal Circulator Fan takes the second spot whereas the OPOLAR Battery Operated Handheld Desk Fan finishes on a close third.
We would also love your suggestions regarding the best battery operated personal fans which should have been on our list. You can use our comments section to give vent to your ideas.