Playing games on big screens is exhilarating. The screens are also getting bigger and bigger with the passage of time but their prices have dropped significantly. Gone are the days when we had to play games on 13-inch color cathode ray tubes.
However, no flat panel screen can compete with a good projector when it comes to the really immersive gaming experience. If you can get your hands on the best gaming projector, you would enjoy all the benefits associated with the latest television sets such as the latest HDR standards as well as up to 8K resolution. On top of that, you will play the game on a really giant screen.
Keep in mind that the best gaming projector market is really crowded. It can become really cumbersome to find a projector that is not only cheap but also fulfills most of your screen size requirements. Therefore, we have extensively researched the market and thoroughly checked some of the most popular as well as up and coming models. Subsequently, we have compiled a list of the 10 projectors for gaming to look out for in 2021.
10 Best Projectors for Gaming in 2021
If you are indeed looking for the best gaming projector, look no further. Here are the top 10 gaming projectors you should try out at the earliest for an amazing and unforgettable gaming experience.
LG CineBeam HU80KSW 4K projector: The Best 4K Projector for Gaming
BenQ 1080P Short Throw Projector: The Best Short-Throw Projector
ViewSonic 1080p Projector: The Best Projector to Replace a Standard TV
Optoma UHD60 True 4K UHD Projector: The Best Optoma Gaming Projector
Bomaker Wi-Fi Mini Projector: The Best Projector for Gaming and Movies Alike
LG PF1000UW Ultra Short Throw Projector: The Best Gaming Projector for PS4
QKK Mini Projector with Tripod: The Best Cheap Gaming Projector
BenQ HT350 4K Home Theater: The Best HD Gaming Projector
Epson Home Cinema 2150 Projector: The Best Affordable Projector
Optoma HD142X 1080p Projector: The Best Gaming Projector for Smaller Spaces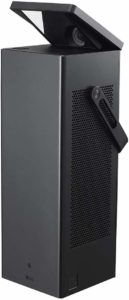 If you are after a brilliant all-in-on five start projector, you must give LG CineBeam HU80KSW a try. It is the best 4K projector for gaming as it delivers a sharp 4K HDR picture. The system is also more compact than the average smart TV at your home. Moreover, the color pallet is more neutral as compared to some projectors that offer more vibrant colors. However, you cannot expect much better from a projector which promises high quality and an all-round package.
What to Expect
LG CineBeam is a well-designed and tidy projector. It houses everything ranging from powerful plug to speakers inside its own body. As a result, it is incredibly portable and easy to move. Similarly, you get access to the LG Smart Platform that enables you to stream directly from any of the connected apps. But, you can also connect external media players through different physical ports.
The projector's lamp has a total lifespan of 20000 hours after which the picture begins to fade. The projector boasts 2500 lumens which are impressive to say the least. As a result, the image is sharp, crisp, and clear. You also get pretty standard quality for audio thanks to the built-in Harman Kordon speakers.
In general, LG CineBeam is indeed among the best gaming projectors around. It performs its job of delivering high-quality visuals both for games and videos remarkably well. The projector offers true 4K and it is an extremely compact and genuinely innovative projector which you can also upgrade from time to time. It is not only a projector but a complete home cinema system that is truly worth the money.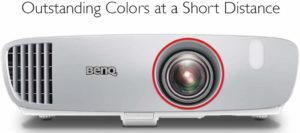 If you are willing to splash some cash on your next gaming projector then you must definitely go for BenQ HT215OST. This is an award-winning and the best projector for gaming by BenQ, the largest and bestselling DLP projector brand in the world. The projector ticks all the right boxes when it comes to immersive gameplay. For example, you can clearly watch the 100 feet giant screen just from five feet away. Similarly, it is very easy to install it in any kind of room and set up thanks to vertical image keystone and 1.2X optical zoom.
What to Expect
As far as colors and videos are concerned, there is no distortion no matter you are playing in 2D or 3D. The massive and impressive contrast ratio of 15,000:1 and 2200 brightness lumens result in a vibrant and bright image.
The projector has a 100-inch screen but low input lag which is particularly great for gamers. Therefore, You can play your favorite activities, sports, and racing games in real-time without experiencing any lag. Then there are customized gaming modes that make playing games even more fun and entertaining. For example, you have the option to get the best cinematic experience by seeing the brightest details and the darkest shadows. Finally, the colors are rich and accurate.
The only downside, in my opinion, is the below-par sound for a projector. Although, HT215OST has two 10-watt built-in speakers their sound is comparable to a small TV. Therefore, you may need to install external speakers. Similarly, the 1080P resolution is also on the lower side.
In general, the BenQ HT214OST is the ultimate BenQ gaming projector for gamers who care about low latency and picture quality above anything else.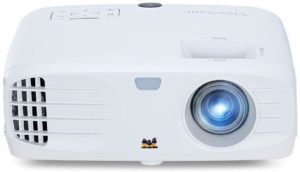 ViewSonic PX700HD is a relatively cheap gaming projector that packs some really advanced features. However, you need some space to see the picture clearly as it is not a short-throw projector. However, this is indeed the best projector for gaming and videos if you have enough space in your bedroom or living room.
What to Expect
The projector has a screen size of up to 300 inches which is quite good, to say the least. Moreover, it offers a resolution of 1920x1080P which is sufficient for most gamers. Similarly, the video is very clear even in the daylight due to the 3,500 lumens of brightness. Remember that some of the more expensive models such as BenQ HT215OST only have up to 2500 lumens.
The PX700HD is also an ideal choice if you want to replace a standard TV set with a projector. Its lamp has a total lifespan of up to 15,000 hours made possible by the View Sonic's power-saving mode. Moreover, there are also two HDMI outputs for concurrently plugging more than 1 gaming consoles.
The PX700HD also offers a smooth gaming experience because of its very short response time. However, it can also become a great projector for all kinds of media consumption. For example, you can easily identify different players on the screen by activating the dedicated sports mode. What this mode does is that it enhances details, making it easier for you to identify what is happening on the screen.


It is very possible that you have stumbled upon an Optoma projector while shopping for the best gaming projector. Irrespective of the specifications, the company make really high-quality projectors for every kind of use. The Optoma UHD60 is their latest model which also offers 4K resolution. However, it really stands out from the crowd for many reasons. For example, you enjoy true 4K resolution up to 3840 x 2160 resolution unlike some others projectors that claim to have 4K resolution but display a downscaled video.
What to Expect
The brightness is truly amazing thanks to 3000 lumens and 8.3 million pixels. This is more than enough for your gaming needs I suppose. This particular Optoma gaming projector offers a really impressive color gamut as well. Similarly, it features everything you would expect from a REC2020 set. In fact, sumptuous cinematic highlights, really deep blacks, and truly rich colors make your game shine. Therefore, you can fully indulge in the stunning 4K gaming experience even if you are sitting at more than 10 feet away.
The projector also employs UltraDetail Technology to ensure exceptional picture quality. Similarly, it is also capable of folding in the shift, thrown and flexible zoom. As a result, it will nicely cope with awkward room layouts and angles and fits nicely in every type of setup. The two 4-watt stereo speakers mean the voice is surprisingly loud as well. The design is a bit bulky but sleek and upscale. All in all, it is a brilliant and the best gaming projector and worth your consideration.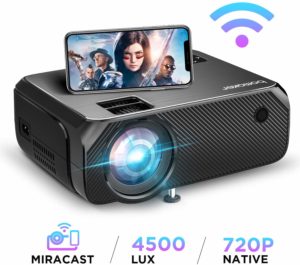 If compact and wireless projectors are your thing, the Bomaker WIFI Mini Projector can be a good option. It is also the cheapest portable projector you would find in the market. Available for only $149.97, it offers good picture quality which is better than even some of the more expensive projectors. Similarly, it can meet most if not all of your gaming requirements quite easily.
What to Expect
The projector features an easy to connect WIFI port. Therefore, you can connect all the media devices such as laptops, game consoles, and smartphones, both Android and iPhones, without using any cable at all. In fact, you can connect all types of Android and iPhone devices and mirror the image within seconds because the projector also supports Airplay and Miracast functions. As a result, it is the best projector for gaming and movies.
The Bomaker WIFI Projector also delivers sharp and crisp images thanks to 20000:1 contrast ratio and highly impressive 3900 lumens of brightness. However, the projector performs better in dark rooms compared to lit ones. The best thing about the projector is the dynamic contrast. It means the projector turns bright areas lighter and dark areas even darker as the movie or game plays.
The projector also offers a full 1080 pixels content and 720P native resolution which is brilliant for such a cheap projector. Obviously, the image quality is very, very good as well. However, you might have to connect external speakers for more sound if you think the 3-watt built-in speakers do no fulfill your requirements. Some other features which make Bomaker WIFI Mini Projector such an amazing projector are 50000 hours of lamp life, keystone correction angle of +-15%, and 45db noise level which is particularly low.
In general, Bomaker Mini is the best gaming projector you can find in this price range. Therefore, It is easy to set up and use and offers great value for the money.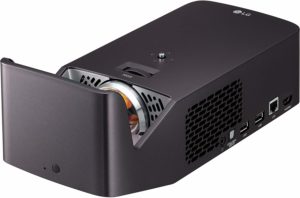 LG PF1000UW is no doubt the king of projectors considering its amazing features and functions. For instance, it has further revolutionized the short throw model. Similarly, the price and the unique farm factor hard press us to declare PF1000UW the best gaming projector on this list as well. It is also the perfect projector if you want to replace your flat screen TV without even a single cable or cord.
What to Expect
The PF1000UW has a projection size of up to 100 inches which you can clearly see from a ridiculously close distance. For example, you can get a 60 inches screen from at a distance of 5 feet. Moreover, the screen sharing with the projector is also incredibly simple because the projector also features LG's award-winning Smart TV Platform. As a result, it is a breeze to share App, Hulu, Amazon, and Netflix with PF1000UF as well.
The project also helps you have a legitimate gaming experience regardless of your location or position. You can even play games on the go using consoles like PS4 portable and Nintendo Switch without compromising or sacrificing quality. Unlike some other gaming projectors, it is lightweight and portable. In fact, it is the best gaming projector for PS4 and other popular game consoles. You will actually feel you are playing the game on a television set.
The LG PF1000UF is very responsive and the contrast ratio of 150000: is out of this world. Therefore, you are guaranteed to enjoy brilliant deep rich colors. The only downside is the high price which not everyone can afford. However, you cannot go wrong with this projector if you can spend some extra money.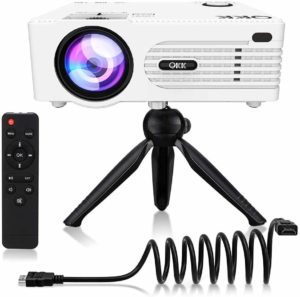 QKK Mini Projector with Tripod is one of the best mini projectors in the world for a variety of reasons. First of all, it is extremely cheap as it is available for negligible $79.99. Secondly, it offers Full HD 1080P of resolution even at this price. The projector also comes with its own tripod which is simply icing on the cake. It is well designed and has plenty of other features and great battery life.
What to Expect
QKK Mini Projector delivers reasonably good colors thanks to its contrast ratio of 2000:1. More importantly, it can play all the latest games and movies without any letterboxing as it also features an aspect ratio of 16:9. Similarly, the lamp life of 50000 hours is simply outstanding considering its extremely low price. The 5-watt built-in speaker also means you will enjoy blasting sound quality as well.
The projector has garnered immense popularity among people, especially those who like to use flash drives frequently due to its Double USB ports design. It is also possible to connect all kinds of devices and controllers with QKK Mini Projector because it supports ports like SD Card, HDMI, and VGA.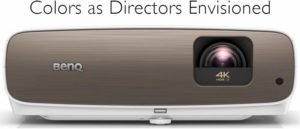 BenQ HT3550 4K Home Theater should be your choice if you want to play games while enjoying hyper-realistic cinematic visuals. HT3550 is a high-end model with a high price tag. However, it offers such amazing features and functionalities that you won't regret spending that much money on a projector. For example, it has 2000 lumens of brightness. Similarly, the projector's maximum screen size is 120 inches and it can zoom up to a whopping 1.3 times of the original picture.
What to Expect
The 8.3 million pixels per second coupled with the 4K UHD 3840×2160 resolution produces a picture of the highest and unsurpassable quality. The projector truly brings your favorite games to life because it has a contrast ratio of 30000:1. It also means you can see minutest of details both in dark and light and even the subtlest of differences in shades and shadows.
Unlike some other projectors on the list, HT3550's built-in speaker delivers blasting, clear, and textured audio. However, you may need a higher-end model if you are a hardcore gamer and looking for full immersion.
The HT3550 is no doubt more expensive than other projectors but it is the projector for you if you want to become a part of your game not just play it.
Pros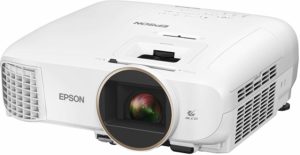 If you crave for excellent color quality while playing games, you must consider Epson's Home Cinema 2150 Projector. Epson is arguably the biggest and the best projector manufacturer in the world. They mostly make projectors for movie lovers and businessmen. However, Epson Home Cinema 2150 is one projector which all the gamers can buy without any hesitation and for good reasons. For example, it offers an astounding color contrast ratio of 60000:1 which makes it one of the best HD gaming projectors as well.
What to Expect
The color contrast is important because modern games are not only fun but a wonderful work of visual art as well. Therefore, it is important to have a project which delivers rich and accurate colors as well as stunning color contrast for you to fully admire and treasure these pieces of art. The high color contrast also means you can choose from tones of colors ranging from whitest of whites to blackest of blacks which is great for a mid-tier projector. Also, remember that many projectors in this price range peak at a contrast ratio of 15000:1.
The Epson 2150 projector offers a minimum short-throw of 11 feet. Therefore, you can play games at a screen 4 times larger than a 60" LCD. The video resolution is 1080P which is acceptable for a midrange projector. The projector also has a single built-in 10-watt speaker. Therefore, you might as well consider attaching an external speaker. It is also possible to easily stream any HD media as the project also supports Miracast. As a result, you can use the projector for a variety of entertainment purposes as well. Finally, the low price and rich color spectrum make it a must-have for people looking for an affordable but the best gaming projector.


Optoma HD142X has garnered a lot of popularity among the gamers and video lovers alike. It offers a unique balance of high-quality video and nominal prices. It can easily fit into a relatively smaller farm factor despite the fact that it has a huge screen space. It is a massive throw projector and therefore, you need at least 8 feet of space to start this giant. However, the picture is bright and clear even from this distance. More importantly, it also expands to a total of 107 inches if you move outwards.
What to Expect
The screen resolution of Optoma HD142X is 1080P which is quite sharp. In fact, it is sufficient enough for most "at home" gamers with small space or set up. Similarly, the projector can also become a brilliant home theater should you decide to use it for watching videos and other entertainment purposes.
The image offered by Optoma HD142X is rich and full which should also be your first consideration while choosing the best projector for gaming. It also becomes one of the best gaming projectors because it performs exceptionally well both in light and dark settings. Moreover, you don't have to replace the bulb annually as it has a total lifespan of 8000 hours. However, the 10-watt built-in speaker is pretty standard but this is the case with most mid-level projectors.
Optoma HD142X has a reasonable contrast ratio. It means the projector can easily show deep blacks required to play the latest survival horror games. Moreover, it also does not disappoint if you want to watch dim-lit movies. All you have to do is to keep the light pollution to the minimum.
The high refresh rate also ensures that screen tearing is kept to limited and the projector responds quickly. This factor alone makes HD142X the best projector for gaming, especially for PC gamers who would no longer be bothered by slow refresh rate issues.

How to Pick the Best Gaming Projector?
It is a pretty difficult question to answer. Most people have no idea what projectors are and how do they work. There are in fact, three main factors that determine which gaming projector you should choose.
The first one is your platform. You do need a projector that offers 4K video and something equal to or more than 1080P resolution if you play games on modern gaming consoles such as PS4. The next thing to take into account is your environment. If you play games outdoors, you need a high-quality projector with high contrast ratio and high luminosity. This is because outside light can adversely affect the performance of your projector. On the other hand, you may need dimming switches, curtains and much more if you play games indoors. Therefore, your environment plays a huge part in your decision.
The setup space is the last but most important factor to consider. Different projectors need different setup space to perform correctly. Some projectors may need up to 10 feet of space from the wall just to set up correctly. However, others may work seamlessly even you put them really close to the wall.
It really becomes easier to choose a projector once you have thought through your environmental factors, resolution requirements, and set up space size.
Major Features to Consider
Apart from the above considerations, there are also some key features you need to look out for while shopping for the best gaming projector.
1.    Resolution
Resolution maybe the single most important factor to consider while choosing a projector. Keep in mind that different consoles work better on different resolutions. For example, 720P resolution is enough for older consoles such as PS2. However, if you want to buy the best gaming projector for PS4 or Xbox One, you should go for one with 1080P resolution or preferably above.
2.    Refresh Rate
Some of the latest and the best PC games run properly only at 144 Hz. However, only a few projectors in the world can achieve 144 Hz of refresh rate. That is why projector manufacturers rarely promote the refresh rate as the main feature. Try not to go below 30 Hz because this is where your game start to tear and you experience visual artifacts.  
3.    Bulb Life
There is no worse feeling than switching on your projector and finding out that the bulb is dead. In fact, you need to replace the lamp and other projector parts after a certain period of time. If you don't want to indulge in this frustrating activity annually, try to buy a projector with at least 6000 hours of lamp life. Also, keep in mind that some of the best projectors for gaming have a lamp life of up to 50000 hours as well.
4.    Viewing Distance
In order to project properly, projectors need a minimum distance. The video may look blurry and squishy if you are too close to the projector. The image is dim and starched out if you are too far. Therefore, It is better to buy a short-throw projector if you have a small setup space. Such projectors can project correctly even from a very short distance of 5 feet. Moreover, they can also deliver a large projection or picture size in very small spaces.
5.    Input Lag/Response Rate
These two terms are often intermixed but they are totally different from each other. The input lag is how quickly the projector produces the output in response to your input such as the mouse click or controller movements. It is a very, very important factor to consider while purchasing a gaming projector. Your game will always be behind your commands, even 2-3 seconds in some cases, if the projector's input lag is high. It results in awkward and infuriating unresponsiveness. If you want to play the game smoothly without any delay, you need to buy a projector with a limited lag or preferably a natural rate.
The response rate is the rate at which the pixels change form one color to another. The older images usually appear ghostly and blurry if the response rate is too high. A best 4K projector for gaming often has a high response rate and therefore, you should look only for such a projector.
6.    Built-in Speakers
Most modern speakers have dual built-in speakers as well. Although they offer satisfactory performance in a room yet they are not that loud. Onboard speakers happen to be really useful if you don't have enough space for external speakers or you just want to enjoy ambient music. They are useful for a variety of purposes even if they are not very powerful. Therefore, always purchase a projector with onboard speakers.
7.    Luminosity
You must never forget luminosity when you go shopping for the gaming projector. You will find it difficult to make the room dark enough if the projector lacks high enough luminosity. The obvious outcome is broken and low-quality visuals. The quality of visuals depends upon three things, the viewing distance, the screen size, and of course, luminosity which is measured in lumens. Therefore, you should always choose a projector with a high number of lumens if the supreme visual quality is your number one requirement. Do not purchase a projector with fewer than 2000 lumens.
Well folks, this is the end of our comprehensive list of the best projectors for gaming and videos. We have tried our best to include only the best projectors in this list. However, to err is the human and if you think we have missed any best gaming projector which deserves a place on this list, you are most welcome to send your suggestions.