Astronomy is an amazing hobby and what better way to live your passion than having a great telescope. A telescope allows you to watch majestic starts, mesmerizing comets, and explore the splendid Milky Way galaxy along with other galaxies. You don't have to spend a fortune to get a reasonable telescope. In this article, we are going to the present the best telescope under 500 dollars in addition to some other budget-friendly yet amazing telescopes to go about your hobby.
The article will also contain the following pieces of information.
10 best telescopes under 500 dollars
Main types of telescopes
How to buy the best cheap telescope
A telescope is a wonderful piece of equipment for any astronomy lover. It helps you observe stars, galaxies, comets, asteroids, and other space objects which is not possible with the naked eye. A telescope enables you to appreciate the grandeur and beauty of the endless universe. However, you can also use a telescope for other purposes such as birds watching or seeing any distant object in greater detail.
So let us get to the main part of our article.
10 Best Telescopes under 500 Dollars
It is a Herculean task, especially for a beginner, to choose the right telescope just for the sheer number of them available in the market. We have written this guide to help you out and make the right decision. Our list contains only sub $500 telescopes but one.
The following are the pros and cons of the 10 top telescopes.
Celestron NexStar 130SLT: Best telescope under 500
Orion 09007 SpaceProbe: Best telescope for beginners
Celestron Omni XLT 150: Best telescope for night sky
Orion 8945 SkyQuest: Best telescope for viewing planets
Celestron PowerSeeker 127EQ: Best cheap telescope for beginners
Celestron 70mm Travel Scope: Best telescope under 100 dollars
Gskyer AZ Astronomical Refractor: Powerful Home Telescope
Orion 10016 StarBlast 6 Astro: Best portable telescope
Meade Instruments Infinity Portable Refractor: Great performance on a budget
Celestron 11069 NexStar 8SE: Best computerized telescope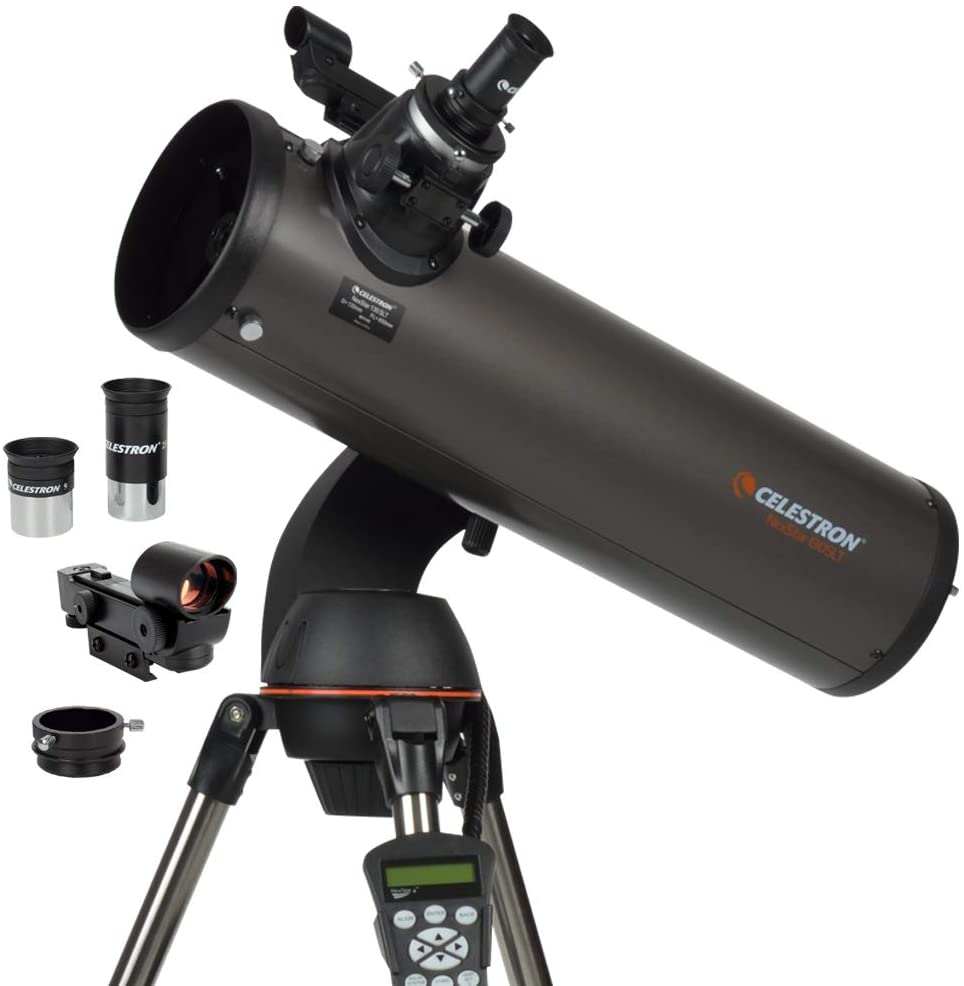 Celestron is perhaps the biggest telescope manufacturer and the NexStar 130SLT is the jewel in the crown. It is a computerized telescope that has a lot of features to offer. It is also very easy to use telescope and a perfect telescope to have no matter you are a beginner or a pro.
Features
First and foremost, you can set up the telescope in minutes as it comes with a preassembled tripod. Similarly, it tracks and locates more than 4000 celestial objects through computerized hand control which is a very handy feature.
The telescope features 130mm Newtonian reflector which collects and reflects light to a focal point using the classic mirror technology. The best part of the telescope is the SkyAlign which ensures quick and easy alignment of the telescope. Similarly, the StarPointer finderscope further facilitates the alignment process, helping you start watching the stars in no time.
The Newtonian design and mirror provide color-corrected views, making it the best cheap telescope for astrophotography as well.
It is worth mentioning that 130SLT is also a very beginner-friendly model because of its ease of setup and use. The telescope offers flawless optics and crystal clear images. On top of that, it is very lightweight and easy to carry around. It also has a CD-ROM with the Skyastronomy software containing printable sky maps and general information about celestial objects.
The only problem with 130SLT is the fragile mount. The telescope may hobble even due to the slightest of winds, making it difficult to focus on the objects.
Our Verdict
Celestron NexStar 130SLT delivers superb images, excellent software, and a great price. It treats you with excellent views of the cosmos and helps you to take brilliant photographs of the stars, galaxies, planets, and everything else you want.
Features
Aperture: 130mm
Focal Length: 650mm
Focal ratio: f/5
Magnification: 26x/72x
Motorized Altazimuth mount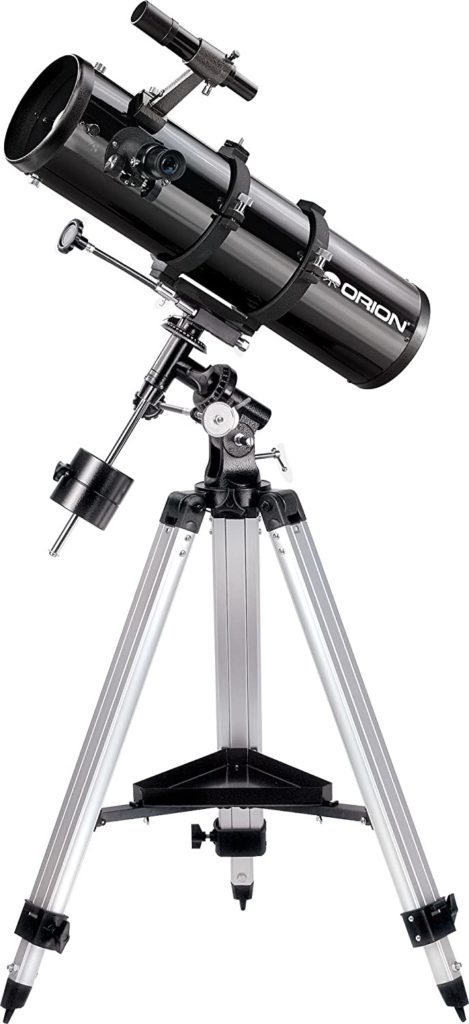 Orion 09007 SpaceProbe is easily the best telescope for beginners for maintaining a great price-performance balance. It makes exploring planets and galaxies and stargazing a real delight. Let's see what this telescope offers to its users.
Features
The telescope allows watching multiple objects as it has a wide field of view made possible through focal ratio and focal length of f/5.0 and 650mm respectively. Similarly, it comes with a 130mm aperture which collects plenty of light for you to have a crystal clear view of distant objects. Above all, it considerably enlarges those objects using two Sirius Plossl eyepieces of 10mm and 25mm.
Orion 09007 is the best portable telescope on our list, weighing only 27 pounds when fully assembled. You just have to put it on an adjustable tripod and EQ-2 equatorial mount (both included). Both the mount and the tripod enables subtle adjustments as well as easy and fast-tracking of the objects.
The telescope also comes with 6 x 30 finder to scope out stars, planets, and other heavenly bodies. Similarly, you can locate more objects using integrated dual setting circles by dialing their coordinates.
Orion 09007 also offers a lot of accessories including a manual, a rack and pinion focuser, and an accessory tray. You also get a Starry Night Astronomy Software and a collimation cap which provides more accurate focus by aligning the mirror.
Orion 09007 SpaceProbe is the best telescope under 500, especially among reflector telescopes. However, it is somewhat confusing to set up due to vague instructions in the manual.
Over Verdict
Orion 09007 SpaceProbe offers great value for money despite not having many advanced features. You must have this telescope if you are short of cash but want clear optics in addition to easy and fast alignment.
Specifications
Aperture: 130mm
Focal Length: 650mm
Focal ratio: f/5
Magnification: 26x/72x
Equatorial mount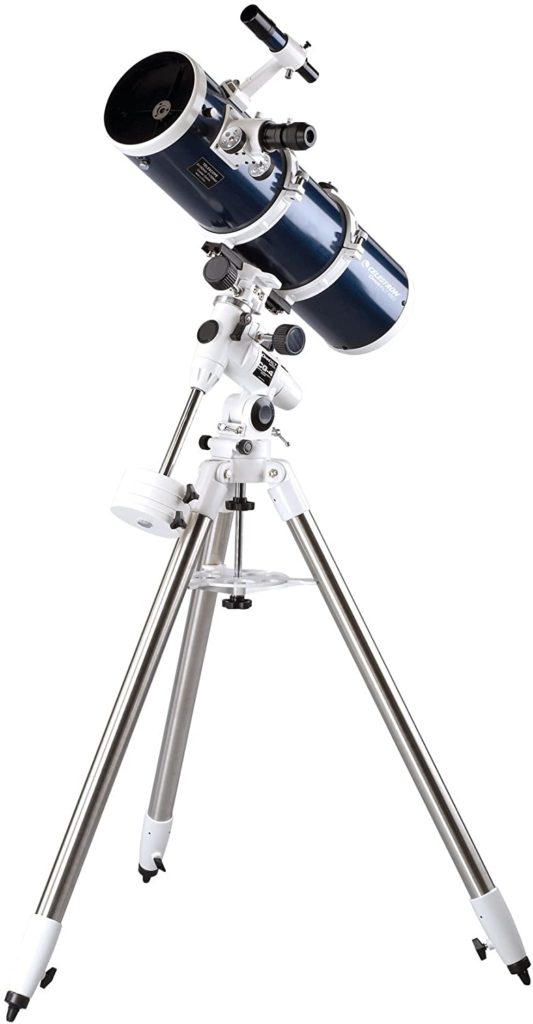 Celestron Omni XLT150 is the telescope you need if you love to explore the night sky. You are always in control of the XLT150, unlike fully computerized models, thanks to a classic manual equatorial mount.
Features
The telescope enables you to learn the secrets of the sky the right way in the absence of fully automatic controls. You will how to manually find the locations of your favorite celestial objects and learn what the constellations are all about in time as well.
It is very fast and easy to assemble both the 6" Newtonian telescope and the equatorial mount. The 6" wide aperture enables you to find a plethora of star clusters, nebulae, and galaxies which is a thrilling experience. Not to mention, the Celestron Omni XLT also helps you explore Venus, Mars, Jupiter, and more celestial objects.
It is always a scintillating experience to discover and track an object in the night sky yourself. However, you can always add the optional Celestron CG-4 Dual Axis Drive System to the manual equatorial mount. The additional motor enables the telescope to track the movement of an object across the sky as well as compensate for the Earth's movement. The result is a rollercoaster ride of exploring the fun and exciting world of astrophotography.
The telescope is quite heavy weighing 45.5 pounds which is also its only major downside.
Our Verdict
Celestron Omni XLT150 is a perfect combination of durability, affordability, and capability. The classic equatorial mount coupled with 6" wide aperture helps you acquire real knowledge of the sky and disclose the mysteries of the universe on your own, giving you a sense of accomplishment.
Specifications
Aperture: 152.4mm
Focal Length: 750mm
Focal ratio: f/5
Magnification: 21x
Equatorial mount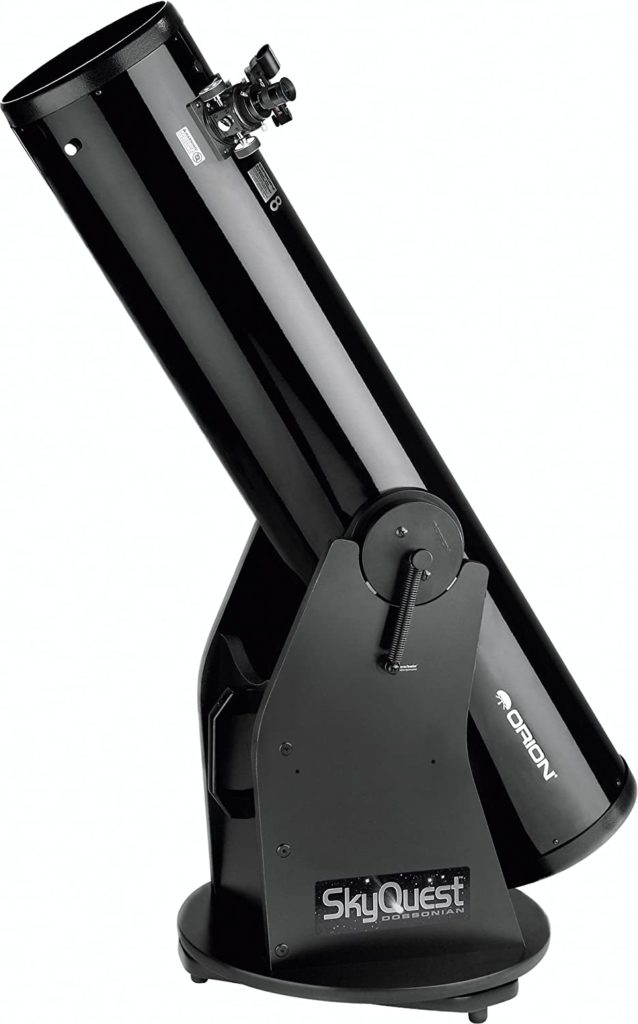 SkyQuest is a very popular series by Orion among the astronomy community. The Orion 8945 XT8 SkyQuest is carrying the tradition forward by offering some amazing features for a very good price.
Features
It is a Dobsonian telescope with an altazimuth-mounted Newtonian aperture. It has an aperture size of whopping 203mm offering superb optics and a wonderful view of the sky without spending a lot of money.
It is the best telescope for viewing planets only because of its amazing optics. You will be mesmerized by how beautiful all the planets, especially Jupiter look.
The best feature of the telescope is a very high aperture, considering its price. However, you may experience some sort of color distortion which is not a deal-breaker in my opinion. The telescope delivers very sharp and crystal clear images. What you can do is use an image enhancing software to correct the colors later on.
The performance of the red dot finder is not as good as some of the other models on our list. However, the overall performance is excellent and the telescope in an absolute bargain for the price.
Our Verdict
You should go for Orion 8945 XT8 SkyQuest if you are looking for a Dobsonian telescope but are also willing to do some manual adjustments. It is an affordable telescope that offers "great bang for the buck."
Specifications
Aperture: 203mm
Focal length: 1200mm
Focal ratio: f/6
Altazimuth Mount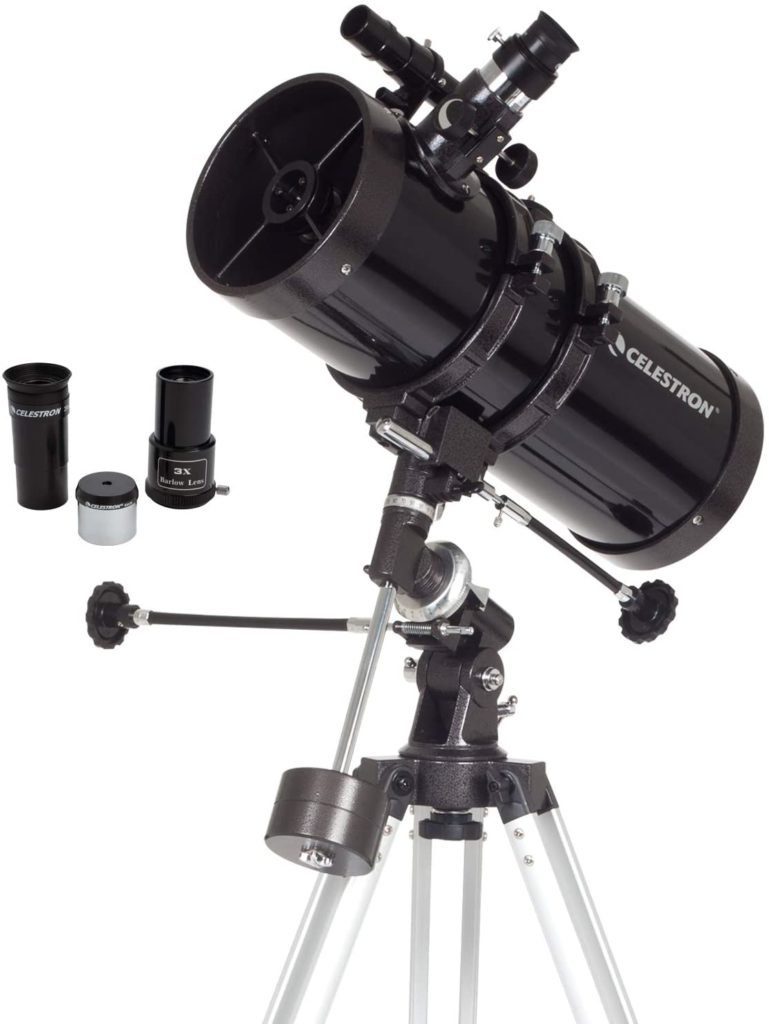 If you are an aspiring astronomer looking for the best cheap telescope, you must consider Celestron PowerSeeker 127EQ. It is a very popular model both among beginner and intermediate astronomers. It has a 127mm wide aperture, making it one of the top telescopes in this price range.
Features
One thing which is for sure when you buy 127EQ is the quality. Having a Newtonian reflector, the telescope is also very easy to setup. You just have to place it on a preassembled mount and tripod.
127EQ amazes its users through its very long 1000mm focal length provided only by a 20 inches tube. Therefore, it is also a very lightweight and portable telescope.
The telescope also enables accurate start tracking as it features slow-motion controls. There are also different magnification options thanks to a 3X Barlow lens. It also comes with two eyepieces with the lengths of 4mm and 20mm.
The telescope uses a mirror to gather and reflect light as it is a beginner telescope. 127mm aperture is, in fact, the perfect size for a novice. It is capable enough to provide a close vision of the moon in addition to other brighter bodies including star clusters, planets, and nebulae.
Celestron has used high transmission aluminum-coated glass for 127EQ. As a result, the overall image quality is excellent, to say the least.
Such a cheap telescope also requires some sacrifices and 127EQ is no different. For example, images have some distortion in addition to optical aberrations because of the spherical mirror.
Our Verdict
Celestron PowerSeeker is the best telescope under 500 for beginners. Where else you can find 1000mm focal length, 5" aperture, equatorial mount, and 3 magnification options for less than $200.
Specifications
Aperture: 127mm
Focal length: 1000mm
Focal ratio: f/7.87
Aluminum German Equatorial mount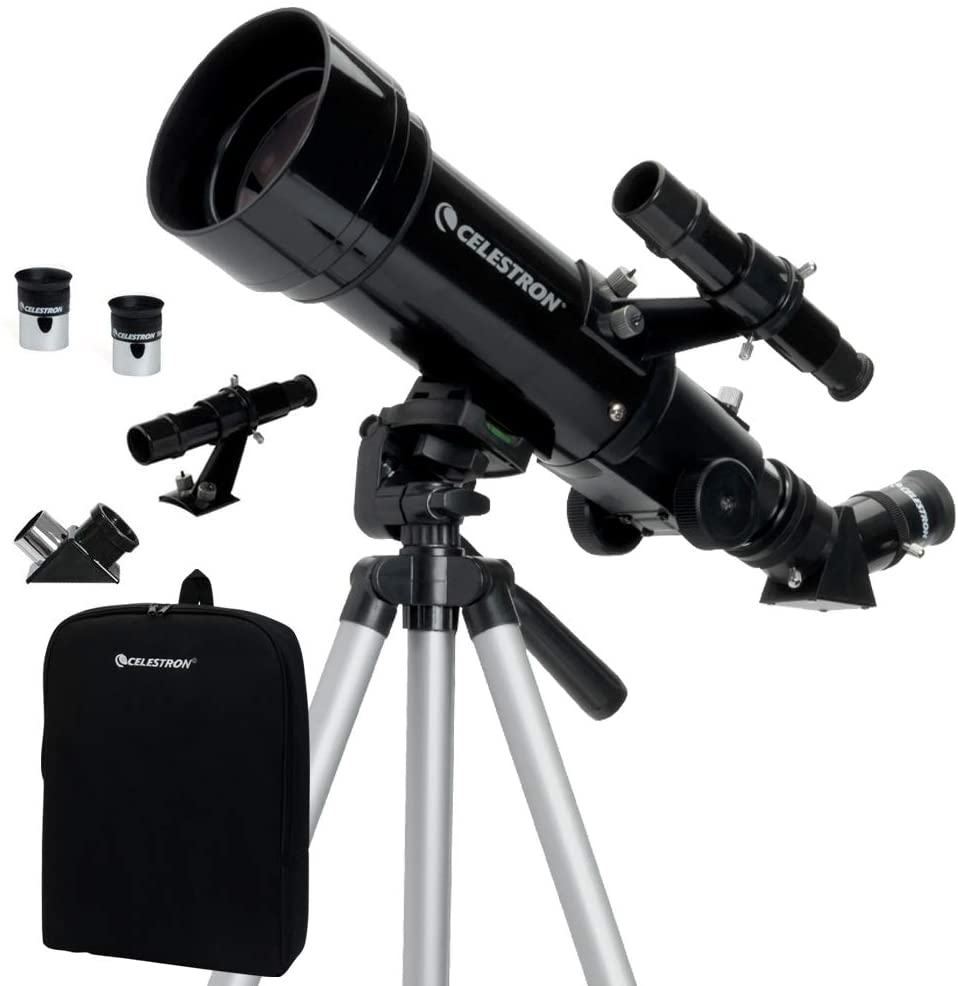 Celestron's Travel Scope series contains lightweight, compact, and portable telescopes that you can take long on your adventures and 70mm is no different. It is a brilliant telescope for serious stargazers who like to explore the sky on the move.
Features
The telescope enables you to have a wonderful view of the galaxies, star clusters, nebulae, and planets in the great outdoors. You also get a backpack when you buy the 70mm travel scope, making it ideal for hiking, adventuring, and other outdoor activities.
The experience is not as good as with some of the other Celestron telescopes but it is always difficult to pack high optical specifications into a lighter and smaller tube. However, the telescope offers reasonable quality in terms of magnification, lens, and tripod stability.
The telescope comes with a fully coated 70mm glass lens which is outstanding for a $90 device. It also comes with two high-performance eyepieces (10mm and 20mm) ensuring powerful up-close viewing of terrestrial and celestial objects in the day and night respectively.
70mm Travel Scope also includes a top astronomy software for learning more about the sky. It is also very easy to navigate the sky using the panhandle. You can mount the manual alt-azimuth telescope on a 1.25" steel tripod.
Our Verdict
Celestron 70mm Travel Scope is a great alternative to expensive Celestron models, especially for travelers and beginners. It has all the features which you need to clearly view the celestial bodies from your backyard, park, or great outdoors.
Specifications
Aperture: 700mm
Focal length: 400mm
Focal ratio: f/5.71
Aluminum German Equatorial mount
7. Gskyer AZ90600 Astronomical Refactor: Powerful Home Telescope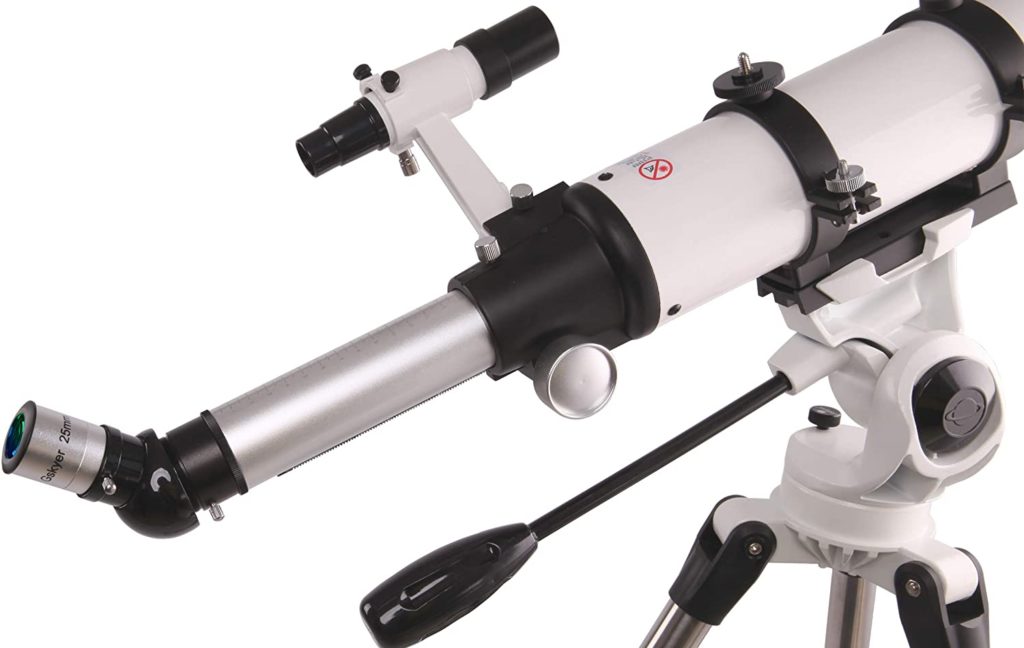 Gskyer is also a well-known name when it comes to manufacturing high-quality telescopes. The Gskyer AZ90600 is a traditional German Equatorial telescope. Available for less than under $300, it offers some cool features, making it the best telescope under 500 for general use.
Features
The telescope provides you with multiple magnifying options as it has 3 lenses having sizes of 24x, 60x, and 120x. A 3X Barlow lens further enhances the performance of the magnifying lenses.
You also get an adjustable tripod whose height you can adjust to a desirable level. However, you have to buy a separate carrying case to use it on the move.
Although the telescope is very easy to use yet it is not ideal for novices. For example, it tends to slowly move away from the focus point as it struggles to stay put. However, the hottest selling points of the telescope are 90mm aperture and 600mm focal length. Similarly, it also has 3 different eyepieces. The combination of features ensures high-quality optics both during day and night.
Specifications
Aperture: 90mm
Focal length: 600mm
Focal ratio: f/6.7
AZ Altazimuth Mount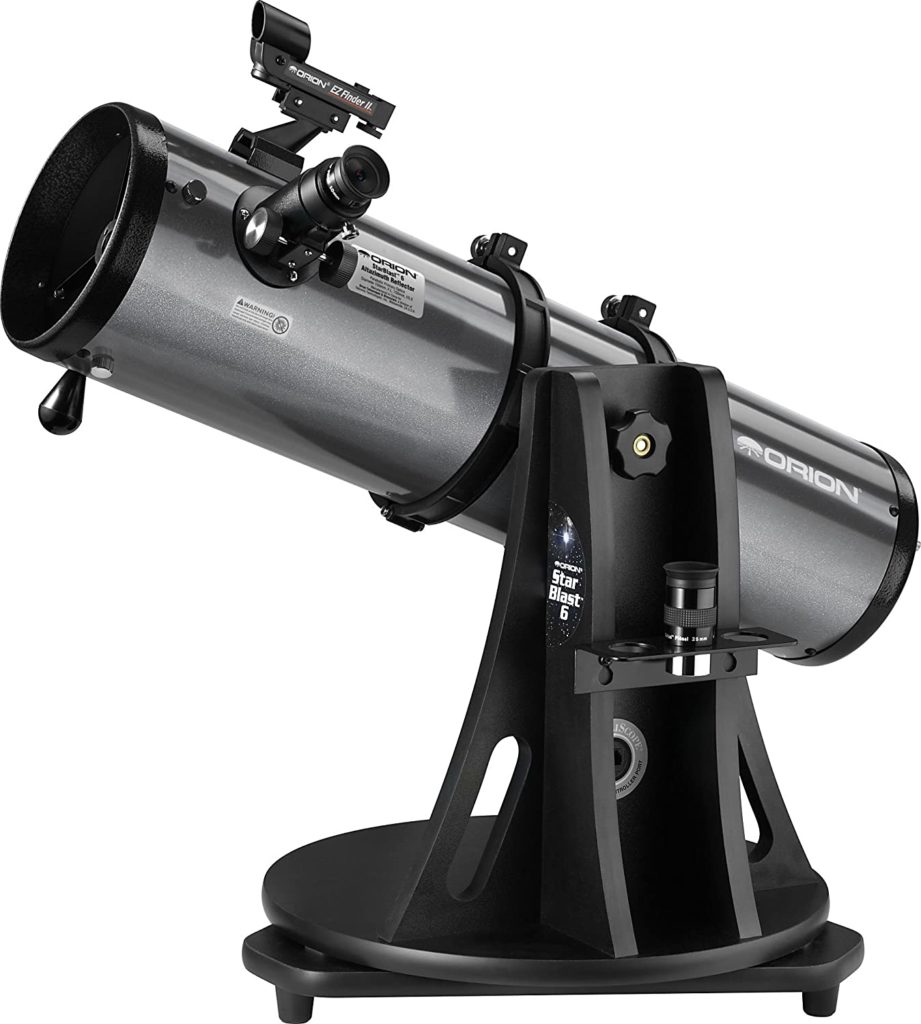 The StarBlast 6 Astro is a very popular model from Orion, another renowned telescope manufacturer. The telescope aims at beginners but everyone can use it with utmost ease and for great results.
Features
First and foremost, StarBlast 6 Astro is devoid of all the problems that other cheap telescopes present. It gives beginners an exhilarating experience when it comes to stargazing. The telescope provides highly detailed and crisp images thanks to a 6" aperture. It has a focal length of 750mm which is more than enough for beginners in my opinion.
Novice astronomers would love this telescope for its ease of setup and use. Even a person who has never seen a telescope before can start using StarBlast 6 Astro in a minute. You can also it in youe home without any hassle due to its tabletop design. However, using it in the outdoors requires some creativity and improvisation on your part.
Conclusion
You must buy Orion 10016 at the earliest if you are looking for an ideal but cheap beginner telescope. It is the best telescope under 500 for things like ease of use, reasonable aperture width, and focal length as well as high-quality optics.
Specifications
Aperture: 127mmmm
Focal length: 750mm
Focal ratio: f/5.0
AZ Altazimuth Mount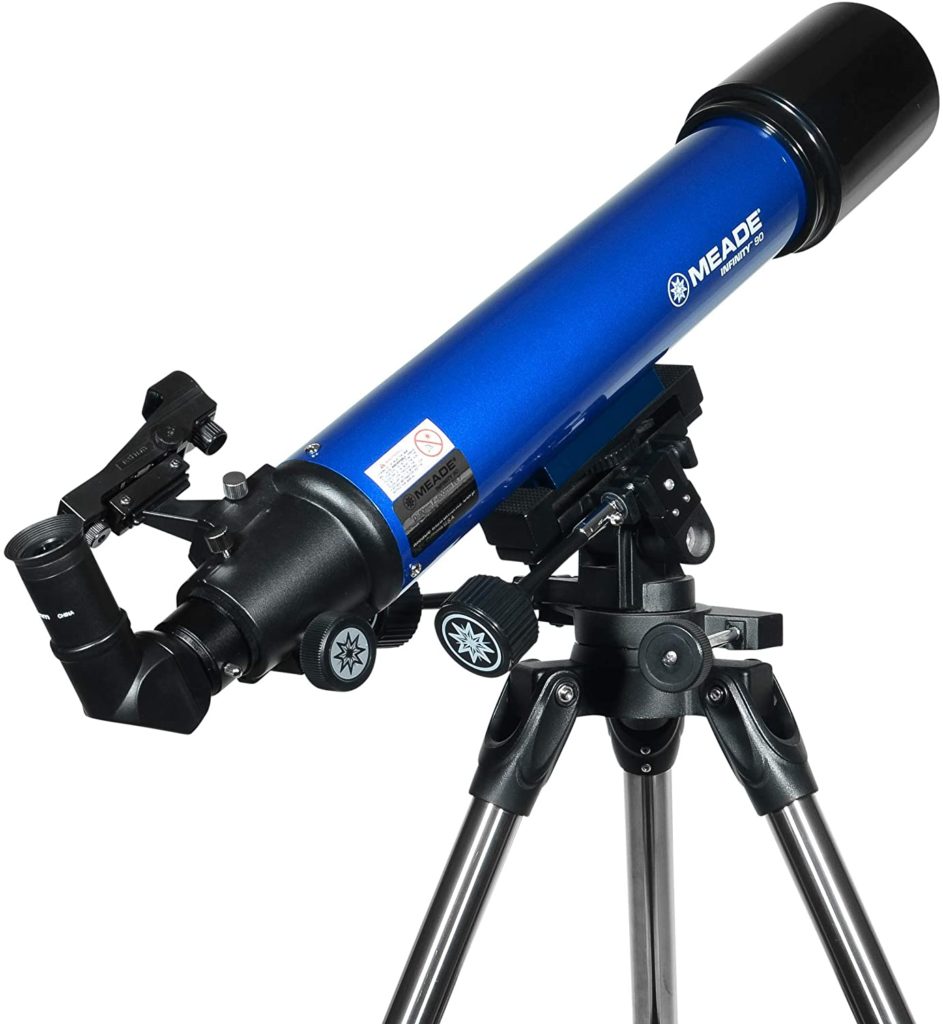 Meade Instruments Infinity Portable Refractor 90mm is yet another brilliant beginner-friendly telescope on our list. The altazimuth mouth telescope delivers high-quality images along with an assortment of other features for only around $200 which is an absolute bargain, especially for new astronomers.
Features
The telescope contains 3.5" or 90mm aperture which is on the shorter side but quite adequate for beginners. The focal length of 600mm and a focal ratio of f/6.7 are acceptable as well.
The Infinity Portable Refractor makes it easier to track objects as it ensures precise tracking through slow-motion controls and a panhandle. It has 3 eyepieces offering different levels of magnification that are 6.3mm, 9mm, and 26mm. Similarly, the 2x Barlow lens doubles the magnifying power of each lens.
The red dot performance is also quite good which is rare in cheap telescopes. The telescope also includes an instructional DVD and astronomical software. It also has an optical viewfinder for enhanced performance.
Our Verdict
Meade Instruments Infinity Portable Refractor Telescope is a great option if you are a beginner astronomer with a limited budget.
Specifications
Aperture: 90mm
Focal length: 600mm
Focal ratio: f/6.7
AZ Altazimuth Mount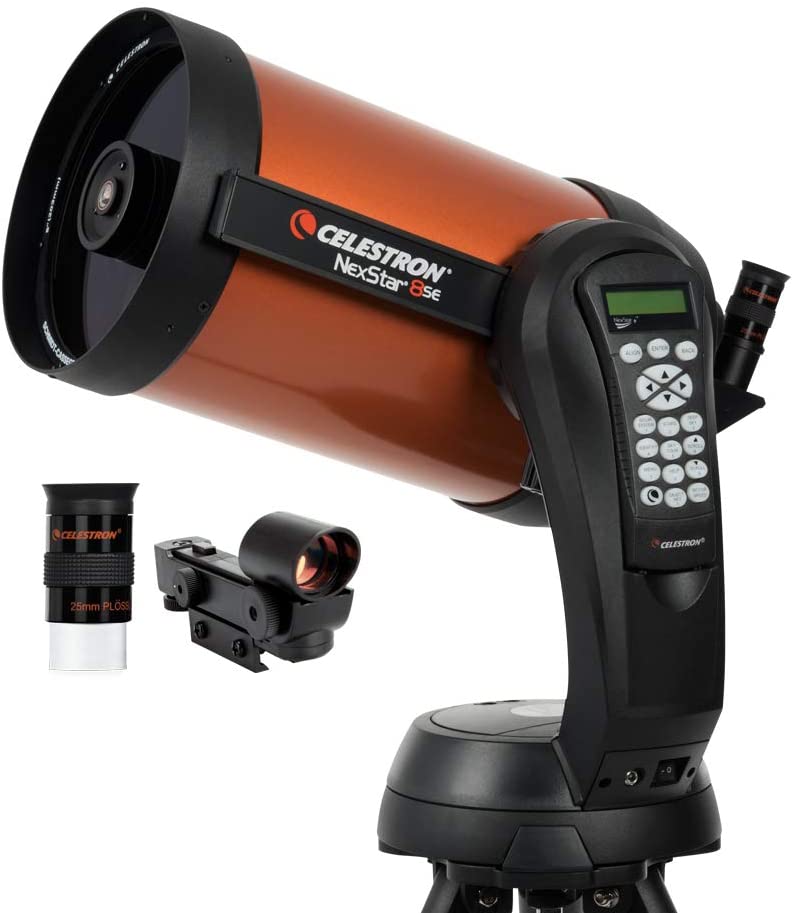 The last telescope on our list is Celestron 11069 NexStar 8SE. It is the best computerized telescope you can currently buy. Similarly, it is the latest and the most advanced telescope on our list. We even have to break the rule of including only the best telescope under 500 as NexStar 8SE is priced at around $1000. However, it is worth all the money and the following paragraphs explain why.
Features
First and foremost, 8SE is as good for professionals as for beginners. It could easily be declared as the best professional telescope in this price range for its ridiculously advanced features if not for the high price tag. For example, the telescope features an onboard computer that does all the hard work for you. You just have to punch a few keys and it will find more than 40,000 objects for you in an instant.
The light-gathering ability of NexStar 8SE is second to none. Similarly, it has a wide 8" aperture. As a result, you will always get the crystal clear view of countless celestial objects no matter how deep in space they are.
It is worth mentioning that lower and cheaper versions of the telescope including NexStar 4SE and 6SE give you almost similar views. However, 8SE is the best telescope for deep space if you are interested in that part of the cosmos.
The StarPointer finder also enables you to align with celestial bodies and accurately locate the starts. Similarly, the SkyAlign automatically aligns the telescope with three brightest objects in the sky.
Our Verdict
Celestron 11069 NexStar 8SE is a behemoth of a telescope, ideal for both beginners and pro. It could easily top our list of the best telescopes if not for the price. However, you should only choose this telescope if you have a $1000 to splash on your hobby or profession.
Specifications
Aperture: 203mm
Focal length: 2032mm
Focal ratio: f/10
AZ Altazimuth Mount
Types of Telescopes
Telescopes usually come in three types including reflector telescopes, refractor telescopes, and compound telescopes.
1. Reflector Telescopes
Reflector telescopes catch and reflect images using a mirror. These kinds of telescopes require continuous maintenance to work correctly. If not, their optics get misaligned and there is no other option but to align them manually. However, some of the best telescopes under 500 are reflector telescopes as they are the most economical telescopes.
2. Refractor Telescopes
Instead of a mirror, a refractor telescope uses a lens to catch the light and display the image. The size of the lens determines the price of such type of telescope. The bigger the lens, the more expensive the telescope. However, they are very easy to maintain.
3. Compound Telescopes
A compound telescope uses both lenses and mirrors to gather light for displaying images. They are comparatively smaller and thus lightweight and compact, making them the best portable telescopes as well.
How to Find the Right Telescope
Finding the right telescope according to your budget and requirements is never easy. As a beginner, you may not have enough information about the telescopes. Similarly, a large number of choices can baffle even the most experienced users. However, you can simplify the buying process by keeping certain things in view.
The best telescope under 500 dollars has certain features such as a good mount, reasonable mirror, an optical tube, and of course, a good eyepiece. Let us discuss each of these items one by one.
1. Mount
You will find only two types of mounts in modern telescopes namely altazimuth mount and an equatorial mount. The earlier is the more common and is usually found in Dobsonian telescopes. This type of mount allows the optical viewfinder to move in perpendicular as well as the horizontal direction.
The equatorial mount tends to align its axis with the rotation of the earth and thus, it is more complicated. However, it can easily track objects in the sky exactly for this action. However, larger telescopes cannot use the equatorial mounts as they are not very sturdy.
2. Objective Lens
The mirror or objective lens catches and reflects the light entering the telescope. The features of the telescope directly depend on the alignment and types of lenses.
Light gathering and magnification ability are the two of the most important features of any lens or mirror. Similarly, the image clarity and the amount of color distortion should also be considered.
The reflecting telescopes mostly use the objective mirror whereas the objective lens is normally found in refractor telescopes.
3. Optical Tube
The optical tube is the part of the telescope which encloses everything inside. It is circular and rests on the mount. The type of telescope you are using determines the position of mirrors, lenses, eyepieces, and other items in the optical tube.
4. Eyepiece
Top telescopes usually come with 2 to 3 eyepieces. An eyepiece is actually the ocular of a telescope. It assists the lens or mirror to enhance the magnification. It also improves the telescope's field of view without requiring additional attachments.
5. Focuser
The focuser further improves and sharpens the images created by the telescope. Located outside the optical tube, the focuser also houses the eyepiece. The best focuser is the one that provides crystal clear image by allowing tiny and subtle adjustments.
Final Thoughts
In the end, we can confidently say that Celestron NexStar 130SLT is the best telescope under 500 by a fair distance. The Orion 09007 SpaceProbe takes the second sport for being the best scope for beginners. The Celestron 11069 NexStar 8SE takes the third spot despite having the best features but the highest price.