Are you looking for an inexpensive mouse that delivers amazing performance and has an ergonomic design for comfort? You may be wondering what we are talking about. After all, gaming mice tend to be very expensive but they don't have to. You can easily find the best gaming mouse under 30 dollars as well.
In this article, we are going to provide you with the following information.
10 the best cheap gaming mice under $30
How to choose the best budget gaming mice?
Which gaming mouse is good for you?
Frequently Asked Questions
A good mouse is necessary for unleashing the true gamer inside you. No matter you are an amateur gamer or a professional, you need the best gaming mouse to have in an immersive and exhilarating gaming experience. More importantly, it is vital for keeping up with you rivals in highly competitive games and competitions such as eSports. You will not be able to give your best if you don't have a good gaming mouse. It does not matter how skilled a gamer you are or how advanced are your PC peripherals.
However, not everyone can afford expensive gaming mice and this is where we come to your help. We have compiled a list of the best gaming mouse under 30 for all the people who are short on cash but want a high quality, durable, and powerful mouse. The mouse that can take on all the challenges that the game and your rivals throw in your way.
Our guide will help you conveniently choose the best mouse for yourself from the vast ocean of cheap mice available in the market.
10 The best Cheap Gaming Mice under $30
Enough of the prologue. It is time to start our guide. The number one gaming mouse on our list is Logitech G402 Hyperion for making a quick decision.
The following are the best mice under 30 at a glance.
Redragon M901 Wired Gaming Mouse: Our number one pick
Logitech G402 Hyperion Gaming Mouse: The world's fastest gaming mouse
VicTsing 2.4 GHz Wireless Gaming Mouse: The best wireless gaming mouse under 30
SteelSeries Rival 110 Gaming Mouse: Competition ready gaming mouse
SteelSeries Rival 3 Gaming Mouse: Cheapest among all Rival gaming mice
HyperX Pulsefire Core RGB Gaming Mouse: Best cheap mouse for beginners
PICTEK Gaming Mouse Wired: Best gaming mouse under $25
Logitech G203 Prodigy RGB Gaming Mouse: The most comfortable gaming mouse
Redragon M719 Invader: Best gaming mouse under 20
CORSAIR M55 RGB Gaming Mouse: Ideal gaming mouse for left handers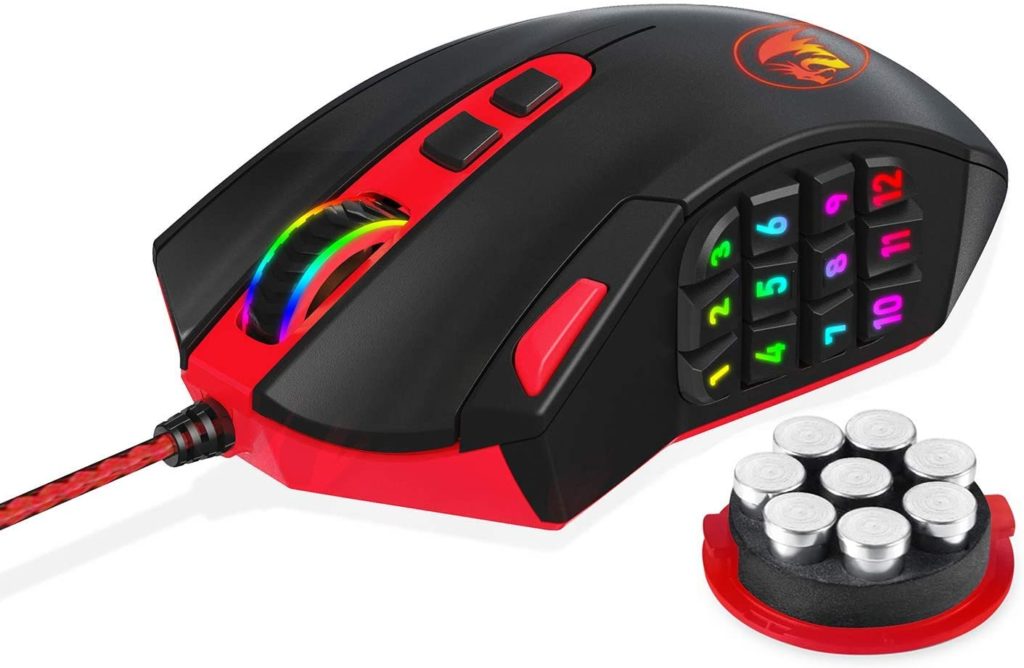 If you are looking for a highly advanced Massive Multiplayer Online (MMO) gaming mouse without spending huge amount of money, you must go for Redragon M901. It is a behemoth of a gaming mouse despite its low price tag. It features whopping 19 customizable buttons in addition to DPI levels from 1000 to 12400.
Design
To begin with, the mouse has 19 customizable buttons out of that 7 are mouse buttons and 12 are MMO buttons on the side. Similarly, you cannot miss your intended button because all of them are intuitively places as well. In fact, M901 makes it easier for you to click the exact button you want to use by angling each of the 12 MMO buttons.
Similarly, you cannot change the DPI accidently as DPI button is on the top of the mouse. The contoured smooth ergonomic design also makes the mouse extremely comfortable for gamers. Both casual gamers and eSports professionals will have comfortable gaming experience during long and extremely testing gaming sections.
The most important design feature of M901 is the Quick Fire button. The button enables you to activate the quick burst option, giving you a definitive advantage in thrilling and high-octane first person shooter battles.
Features
The DPI of up to 12400 is simply great for a budget mouse. Besides, you also get five different gaming profiles. You can access your profile on any computer you are playing your game on. Similarly, you can also allocate different light to every profile thanks to customizable LED lighting.
The mouse also comes with Micro Switches that ensures greater durability and longevity. These button offer swift actuation that means you don't have to push buttons all the way to be able to click faster. You can, in fact, click ahead of your competitors and catch them by surprise.
The mouse ensures greater control and reduced friction by using Teflon feet. These feet never weary away or fall off before the mouse's lifespan comes to an end. You can use the mouse for hours without having a hot and slippery mouse base.
The moue also has 6 feet long USB cable. Similarly, it is compatible with all the operating systems including Mac OS.
Our Verdict
Redragon M901 Perdition is an excellent MMO mouse. It helps you always win the completion with its 18 programmable buttons. Similarly, you can play games on different computers while being still able to access your profile. It is indeed the best gaming mouse under 30 dollars in our opinion.
Read also: 10 Best Gaming Routers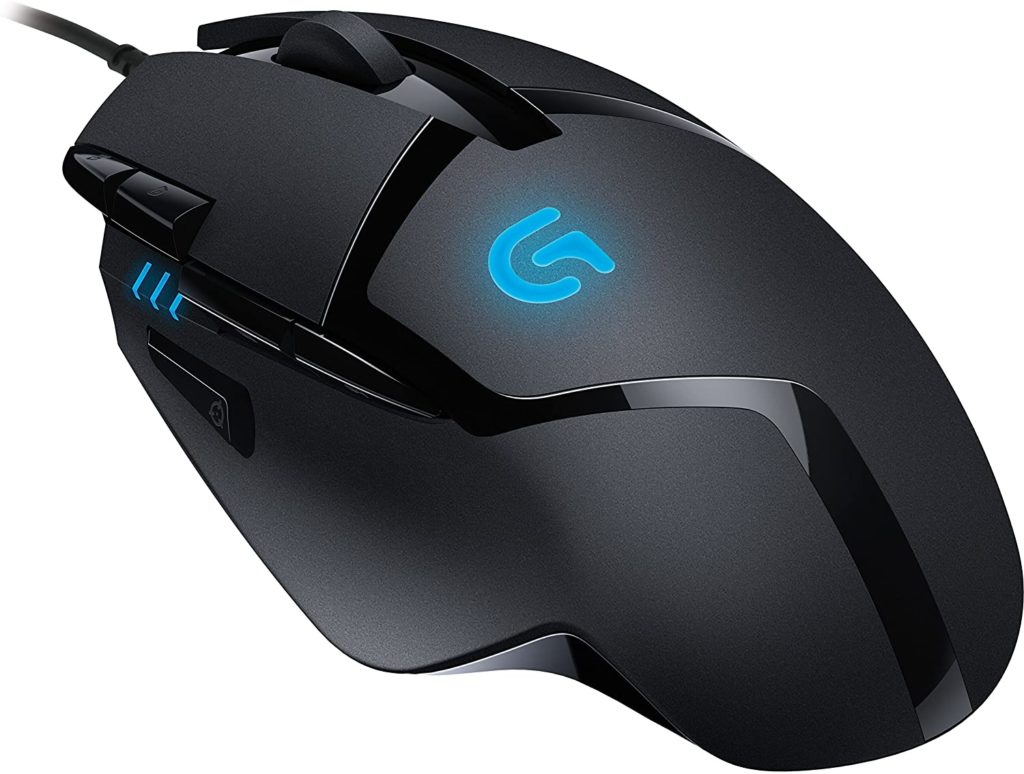 Logitech G420 Hyperion has been around for quite some time now. Introduced back in 2014, it is still one of the most popular gaming mice by Logitech. Often dubbed as "the world's fastest gaming mouse", it can instantly and precisely track your movements irrespective of how quickly you move the mouse thanks to the high sensitivity laser sensor. Besides, it packs an assortment for other gaming features such as 8 programmable buttons.
Design
The Logitech G402 Hyperion is a really comfortable mouse despite its unique design. You can rest your hands across the whole device, making it an ideal choice for gamers with claw as well as palm mouse grips. Similarly, the G402 comes with 8 programmable buttons including a pair of DPI sensitivity buttons, a clickable scroll wheel, left and right buttons, a "sniper button" on the thumb rest, and two thumb buttons.
G402 is also very pleasing to touch because of its mildly coarse texture. However, a glowing "G" logo beneath the palm look slightly out of the place.
Features
When it comes to features, the major highlight is 500 inches per second (IPS) speed, indeed making it one of the fastest gaming mice in the world. It is an ideal mouse for playing first shooter games where speed is the difference between life and death. The G402 attains this unbelievable speed by combining a highly sensitive laser sensor with a gyroscope and accelerometer.
Similarly, the G402 comes with 32-bit ARM processor and on-board memory. It can report intervals as low as 1 millisecond thanks to 4,000 DPI rating. It is not very competitive but it just enough at this price. It is a plug-and-play mouse even on Mac OS X. however, Logitech Gaming Software is only available to Windows users.
Performance
Logitech G402 Hyperion offers flawless tracking performance. Although it is not as good as Logitech G502 or other high end models yet it is an extremely fast mouse. It is a brilliant First Person Shooter mouse as well. Therefore, you can play games such as Watch Dogs, Heart of the Swarm, Call of Duty, and Titanfall because of its streamlined design and quick response time.
Our Verdict
If you are looking for an excellent FPS mouse, you must go for G402 Hyperion. Although it is no match for CORSAIR Vengeance M65 yes it has user friendly software and plenty of other features. Most importantly, it is available for only $25, also making it the best gaming mouse under 30.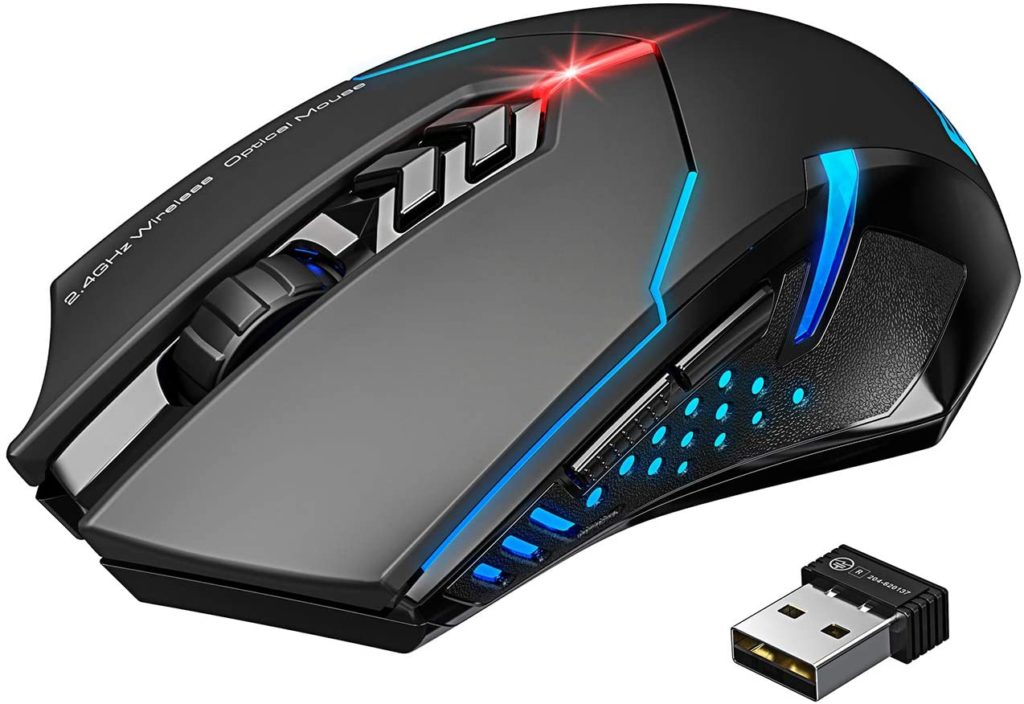 VicTsing is yet another company that makes excellent gaming mice. Some of their mice such as MM057 2.4G are top rated products on Amazon. However, their bestselling model is VicTsing 2.4G 2400 DPI. As the name suggests, it is a wireless gaming mouse that helps you play the game anywhere you want. You don't have to sit on your table for hours to enjoy playing games.
Design
VicTsing 2.4GHz is a specialized gaming mouse that you can use for other purposes as well. It has an ergonomic design and therefore, you can use it for long periods. It also comes with a button to adjust DPI settings and two other buttons that default as backward and forward buttons. However, you can customize them to perform any function using VicTsing gaming software.
Similarly, the left and right buttons produce little to no noise. As a result, you can use it at different public places such as offices, libraries, dormitories, and wherever you like without disturbing others.
Features
Available for $16 only, it is the cheapest gaming mouse available in the market. Even at that price, it has 5 different DPI settings ranging from 800 to 2400 DPI. It operates on 2.4G technology and thus, gives you stable gaming experience. The data speed is quite fast up to 30 meter working distance. The mouse ensures high sensitivity and precise tracking over any kind of surface. It eliminates delays, interference, and dropouts while playing your favorite game.
One of the best features of VicTsing is multi-stage power saving mode. If you don't use the mouse for 8 minutes, it will go to the sleep mode. You can wake it up by clicking any button.
Keep in mind that it is only an ideal gaming mouse for casual or beginner gamers. Similarly, Mac OS X does not support its programmable functions.
Our Verdict
VicTsing is a wireless gaming mouse that means you don't need to remain tethered to your desk. It ensures fast connectivity in addition to having an ergonomic design. Finally, you cannot go wrong with this mouse as it costs only $16.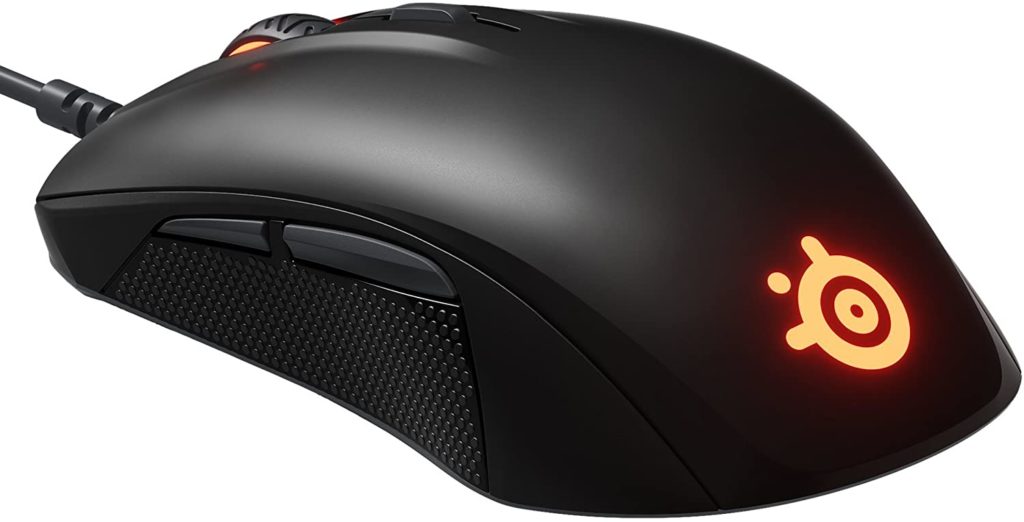 SteelSeries Rival 110 is a force to reckon with when it comes to the best gaming mouse under 30. It is from one of the best gaming gears manufacturers in the world. On top of that, it a competition ready and nice looking gaming mouse. Similarly, it can serve you for a long time due to its solid and durable construction.
Design
SteelSeries Rival 110 has an ergonomic design. Besides, it is a comfortable mouse regardless of your grip style. The gaming mouse offers most accurate and natural mouse movement thanks to a TrueMove1 sensor. The sensor ensures there is little to no latency and rapid response to your movements. The TrueMove features also helps you use the mouse on all surfaces without dragging.
The mouse weighs only 87.5g because it is made of lightweight yet durable material.
Similarly, the left and right buttons guarantee 30 million clicks in total, giving the mouse lifelong durability. As such, the mouse can also meet the rigorous standards of gaming industry. It has 6 programmable buttons as well.
Features
The mouse has high speed flicks and DPI levels of 240 and 7200 respectively that is an absolute bargain at this price. It is an ideal choice for games where you need balanced speeds and optimum accuracy such as MMO and RPG games.
Another exciting feature of the mouse is PRISM RGB lighting. It enables you to choose from 16.8 million colors. Similarly, it responds to in-game events such as low ammo, kills, health, and more. This particular features enhances the gaming experience without having to pay extra for RGB lighting.
You can also save all the lighting and game settings directly to the mouse. Therefore, you don't need to use any software to save your settings and key remaps, making it the best affordable gaming mouse for LAN events.
Our verdict
SteelSeries Rival 110 is the best cheap mouse with a lot of features. It is durable, comfortable, and suitable for most games. It offers multiple mouse grip options as well as an incredibly high DPI levels for a budget mouse. In short, you should buy Rival 110 if you have budget restraints.
Read also: Best Cheap Gaming Laptop Under 400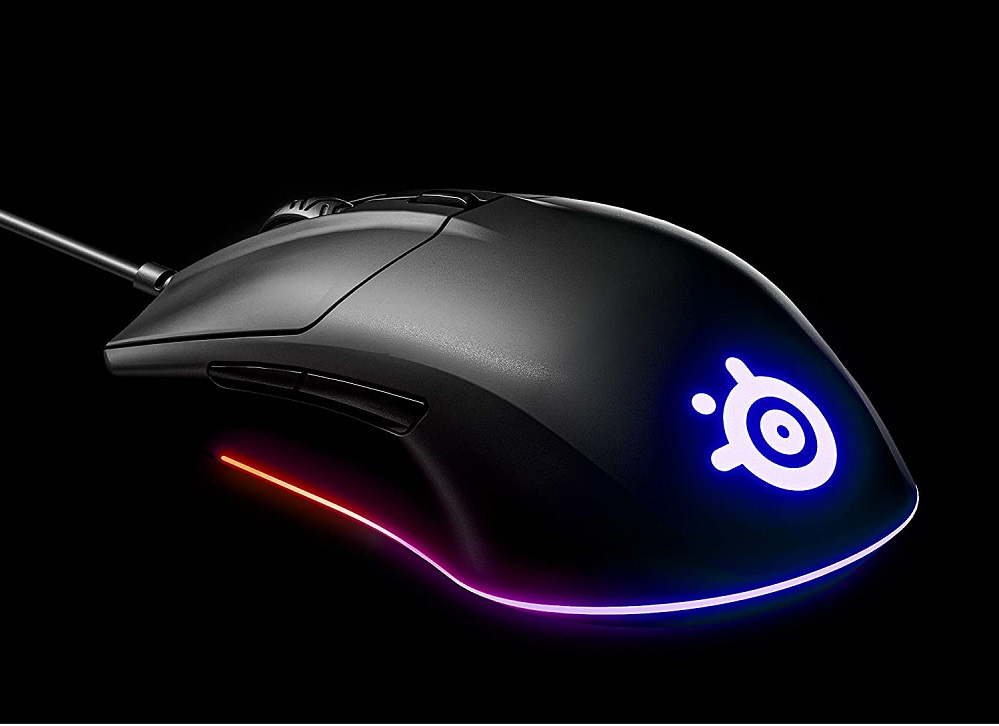 SteelSeries Rival 3 Gaming Moue offers great value for money yet incredible performance. It is one of the best gaming mice under 30 for many reasons. It has simple but attractive looks with super accurate sensor for precise movements. The mouse also has highly advanced features that you normally find only in higher-end peripherals.
Design
Rival 3 belongs to the same Rival family that has produced some brilliant mice such as luxury-forward 710 and competitively priced 310. Priced at only $30, Rival 3 is the least expensive of the group. However, it does not falter on any aspect including the design and performance.
The mouse has an ergonomic ambidextrous body with six programmable buttons. The body is a bit small but it feels comfortable. It is perfect for fingertip and claw mouse grips. The side buttons on the left are within your thumb's range. Similarly, you don't have to fumble for the DPI switch present on the top of the button despite its small size.
One minor quibble in terms of design is rubberized and low profile scroll button. It is particularly noticeable during intense FPS games where you have to switch weapons frequently. However, the mouse is durable in general. Weighing only 77g, the SteelSeries Rival 3 is pretty lightweight as well.
Features
Lighting is by far the most outstanding feature of the mouse. It has excellent RGB lighting, especially at the bottom. The RGB lighting creates a floating effect that is pretty amazing. Apart from the light show, you can also set your preferred transitions and colors for three different lighting zones. In fact, light customization options are quite robust in this price range.
Similarly, the mouse has a DPI range of 10 to 8500 that is quite decent considering its price. Rival 3 works on the TrueMove Core principle that is a low tier but highly sensitive sensor. It supports 1to-1 tracking, making Rival 3 pretty a fast mouse as well.
The mouse glides incredibly easily on the mousepad thanks to its smooth gliding feet. The 1-to-1 tracking also plays a vital role in Rival 3's smooth gliding. The switch button on the face allows setting the DPI levels and the mouse's polling rate as well.
Our Verdict
The SteelSeries Rival 3 is an impressive mouse with a variety of highly advanced features. It has minor quibbles but it is hard to complain when you get such a great mouse for only $30. All in all, it is the best gaming mouse under 30 you can currently buy.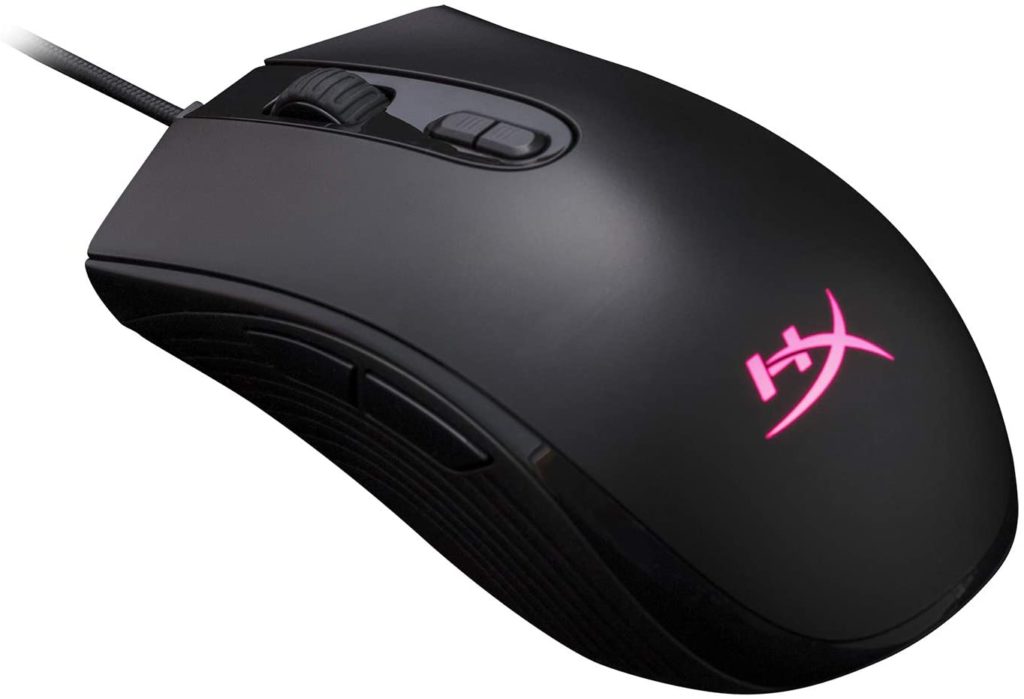 HyperX is trusted name in gaming industry solely for their high quality, high performance gaming mice. HyperX Pulsefire core is one of their most successful models by far. It is has simple yet eye-catching design and the features it offers are truly word class. For example, you will not find Pixart 3327 Optical sensor in any other gaming mouse in this price range.
Design
The mouse has a symmetrical shape and ergonomic design and thus, it fits nicely to palm and claw grips. It ensures non-slip grip as it has textures on its side. The mouse features 7 programmable buttons. Similarly, it also has Micro Switches for crisp tactical feedback. Similarly, the left and right buttons have a combine lifespan of 20 million clicks.
Just like any other best and cheap gaming mouse, the Pulsefire Core also has customizable RGB lighting option. One of the best things about the mouse is two-buttons DPI switch on the top. Therefore, you can go up and down quickly instead of cycling through DPI sensitivities.
The Pixart 3327 may be an old sensor but it is the most reliable sensor for the price you are paying. The mouse weighs only 87 grams. There is no visible wobble and the overall construction is robust.
Pulsefire Core has another great selling point that is it is ambidextrous. As a result, the mouse is equally suitable for both right and left handed gamers.
Features
Pulsefire Core has native DPI of 6200 that is comparatively low but it is still quite reasonable for a budget gaming mouse. Similarly, Pixart 3327 ensures smooth and precise tracking without a hint of hardware acceleration. The high-quality switches provides crisp tactical feedback as well.
Finally, you can also customize the RGB lighting and DPI levels through HyperX NGenuity software. The software also allows you to create more marcos as well.
Our Verdict
HyperX Pulsefire Core can give a tough competition to SteelSeries Rival 3 and Logitech G402 when it comes to the best cheap gaming mice. It is a solid and budget friendly mouse, especially for beginners. It offers accurate tracking as well as RGB and DPI customization options that is a bonus at this price.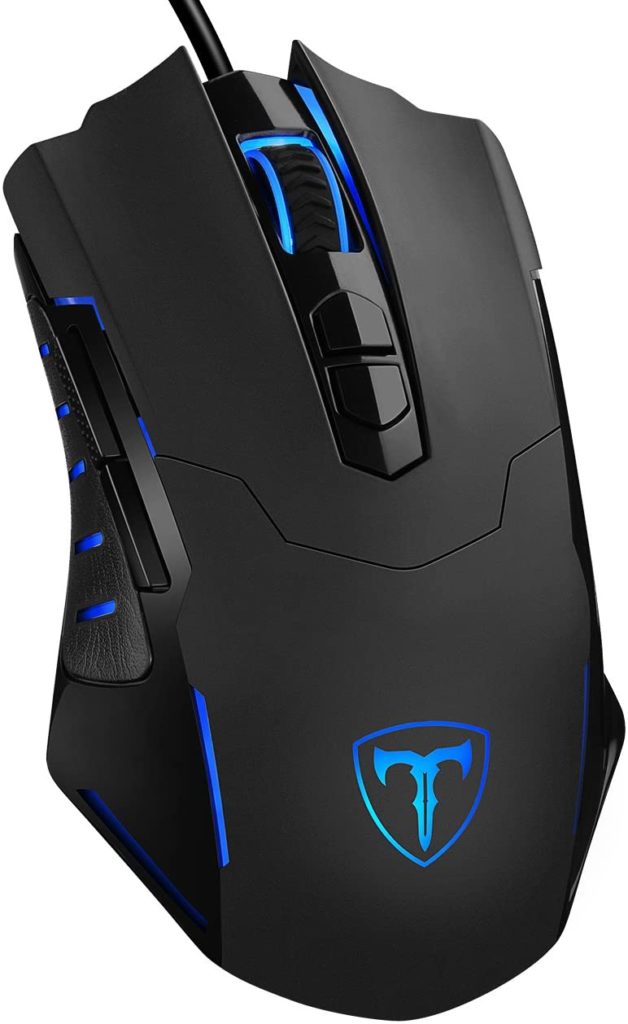 PICTEK Gaming Mouse is one of the cheapest alternatives to high-end gaming mice. It offers all the essential as well as advanced features that are normally reserved for more expensive gaming mice. You get a great a mouse for only about $20 with features like 7200 DPI.
Design
PICTECK T7 has a streamlined and symmetrical design perfect for claw grip. The design's ergonomics means you can use it for hours without any fatigue. The mouse ensures you keep your grip during your gaming sessions, making it a popular choice among both amateur and experienced computer gamers. However, it is perfect choice for casual gamers.
The mouse comes with 7 buttons that you can program using PICKTEK Gaming Software. The programmable buttons enhance the mouse's intelligence. As a result, it can easily fulfill the requirements of different types of gamers. It is an excellent mouse for FPS games but you can also use it for RTS/MOBA games.
The moue has an impressive lifespan of 30 million clicks. It can serve you for years because of its meticulous assembly and intricate polish construction.
Features
PICTEK T7 delivers excellent gaming performance, considering the needs of new gamers. It has a polling rate and native DPI of 4 and 7200 respectively. You can choose from 5 default DPI levels ranging from 1200 to 7200. Irrespective of the speed, the mouse offers consistent responsiveness and high accuracy at all DPI levels. It is also more accurate and faster than ordinary mice thanks to adjustable 4 polling rate that also ensures high speed yet smooth movement.
Finally, the PICKTEK 17 is compatible with Windows 7/8/10 and even Windows XP and Vista. It also works with Linus but not with Max OS, unfortunately.
Our Verdict
PICKTECH 17 is, in fact, the best gaming mouse under $25 in the market at the moment. The mouse is comfortable to use and offers great responsiveness and tracking. It is also pretty fast and compatible with almost all operating systems. All in all, it is a great bargain mouse to have.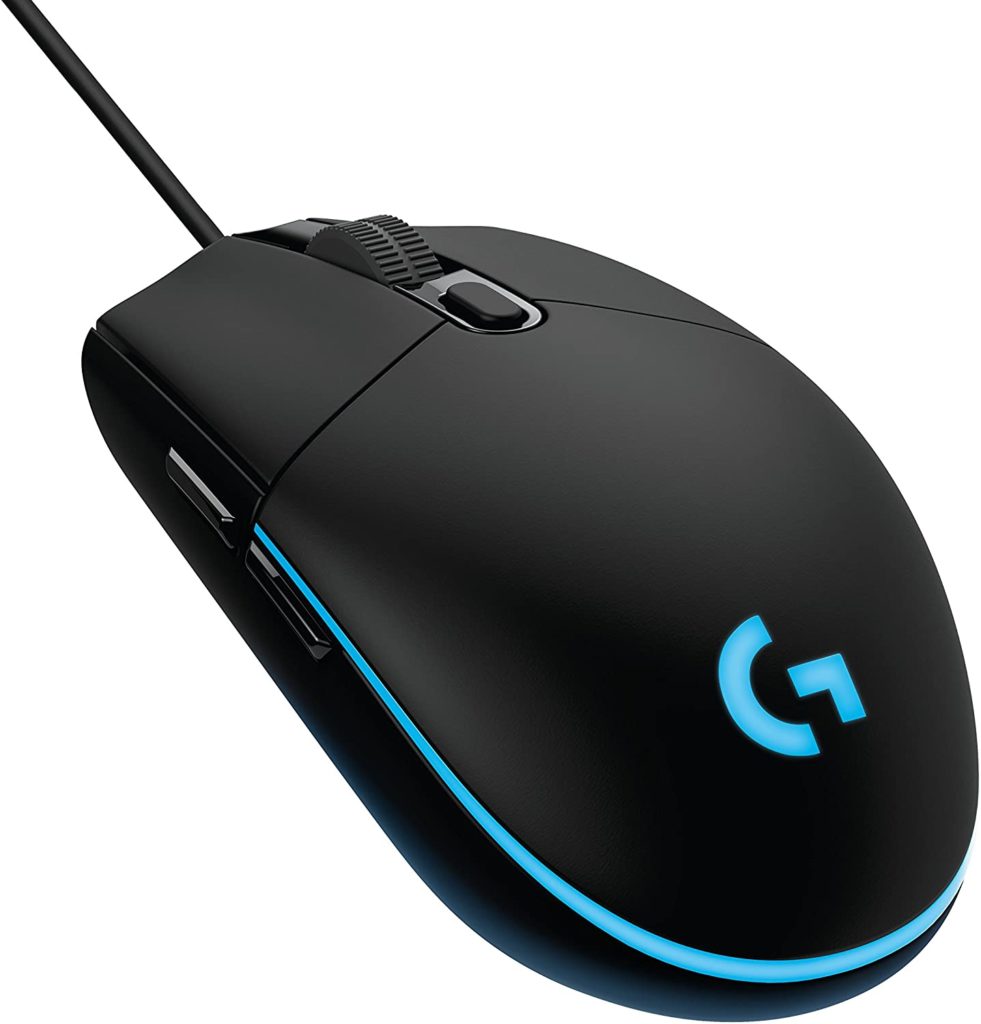 If you have to choose one gaming mouse under 30 dollars, we recommend the Logitech G203 Prodigy. The mouse has enjoyed immense popularity ever since it came to the market. It has classic eSport design inspired by the Logitech G100s, the most beloved Logitech gaming mouse ever. G203 is, in fact, a prodigy of its mighty successor. Logitech has re-engineered it in every aspect for added durability, comfort, and versatility.
Design
The Logitech G203 is by far the most comfortable gaming mouse I have ever used. Furthermore, it has 6 customizable buttons. You can use the Logitech Gaming Software to customize the buttons for multi-action maneuvers or game commands.
As with all Logitech gaming mice, the G203 also comes with excellent RGB lighting options. Similarly, you can also customize the lighting with Logitech Gaming Software. In fact, you can choose from various brightness levels and 16.8 million colors to suit your style. More importantly, you also get access to game-specific lighting effects for more than 300 games.
The Logitech Gaming software also enables you to switch between 4 DPI settings ranging from 200 DPI 8000 DPI for snipping and lightning-fast gameplay respectively. On top of that, the G203 also has onboard memory to save your preferences directly to the mouse. Therefore, you don't have to reconfigure your settings or install custom software while using the mouse on any computer.
Features
As mentioned above, the mouse has maximum DPI levels of 8000 which is pretty decent for a budget gaming mouse priced under $30. Similarly, the mouse offers consistent and exceptionally sharp click feel thanks to a metal strip that keeps both the left and right buttons primed to click. As a result, you don't have to exert much force to click the buttons.
The G203 Prodigy is 8 times faster than an ordinary mouse as it communicates at up to 1000 reports per second. In fact, the mouse ensures instantaneous on-screen response. It also helps you play more accurately and faster, delivering gaming-grade performance. Now, you can move more quickly, target more precisely, and kill more opponents.
Our Verdict
The Logitech G203 Prodigy might be the best gaming mouse under 30 you would ever need. It helps you be more accurate and 8 times faster than an ordinary mouse. G203 delivers gaming-grade performance and enables you to unlock your true gaming potential. Above all, you can use it for long gaming sessions without getting tired.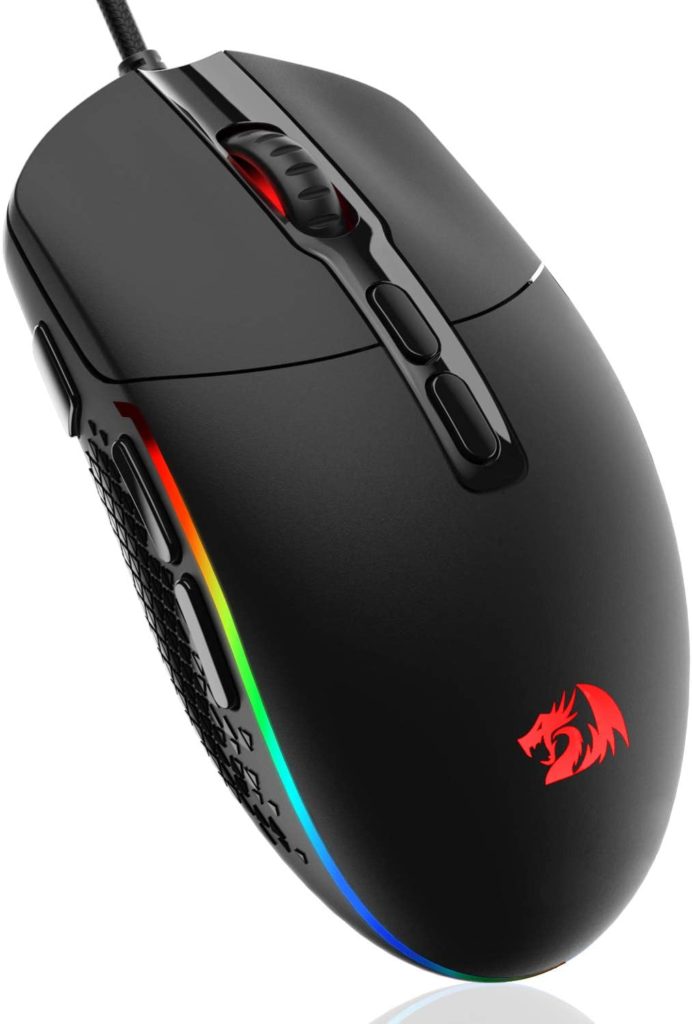 Redragon M719 is another cheap but excellent wired optical mouse for gaming. It also has a very simple and classy design with several customizable buttons to meet every gamer's needs. The mouse also ensures precise control by providing high-speed motion and advanced tracking.
Design
The simple yet stylish mouse has 8 buttons out of that 7 are programmable. Therefore, you are able to fulfill your gaming needs in addition to having superior efficiency and productivity. It is also a great mouse for FPS games thanks to a rapid-fire button. M719 can become you the best weapon if you are a die-hard gamer. It is a professional gaming mouse that can make a real difference whether you are aiming, targeting, slashing, firing, or attacking.
Redragon M719 also comes with RGB backlights, adjustable in 7 different lighting effects. It helps you create a unique gaming atmosphere as you can choose from 16.8 million colors.
Features
The moue has a rolling rate of 4 and 5 different DPI adjustment levels. You can adjust the DPI from 100 to 10000 using the Redragon professional gaming software. High DPI ensures accurate tracking whereas the high rolling rate results in the fast and smooth movement.
Redragon M719 is also compatible with Windows XP, Vista, Win 7, 8, and 10. Similarly, it is also supported by Mac OS X.
Our Verdict
Redragon M719 Invader is the best gaming mouse under 20 without any doubt. It has a stylish body with plenty of customizable buttons. The tracking is accurate and the speed is fast. Moreover, it is compatible with all operating systems that is a bonus at this price.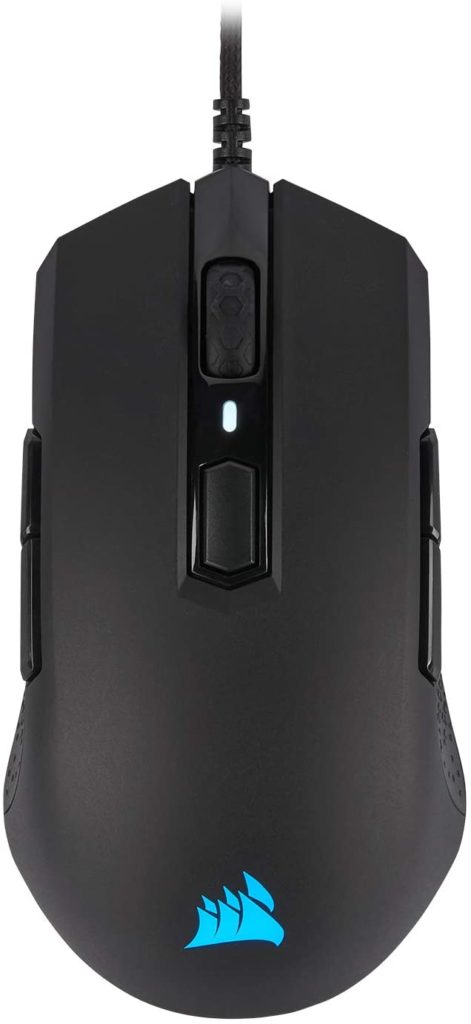 The last mouse on our list is none other than CORSAIR M55 Pro Ambidextrous Wired gaming mouse. It is a multi-grip gaming mouse that means you can play with either hand. As a result, it is suitable for lefties as well that is a rarity in the field of gaming mice.
Design
CORSAIR M55 is a lightweight mouse with a versatile design. Therefore, it will accommodate your preferred grip quite easily. Similarly, it has thumb grips on either side to prevent slipping. The mouse remains comfortable for a long time.
M55 comes with premium braided cable enabling it to serve you for years. On the other hand, it also features the Omron switches, each with a 50 million click rate. It has eight fully customizable buttons, enabling you to have powerful Remaps and macros for in-game advantage.
The only design flaw in our opinion is that clicks are rather stiff but it is not a big detriment.
Features
With a DPI of 12400, it is one of the best mice under 30 for fast-paced First Person Shooter games. The high DPI results in highly accurate tracking necessary for action-packed fighting scenes.
The mouse also comes with vivid dynamic RGB lighting control as well as full system synchronization with compatible CORSAIR products including fans, coolers, and more.
Weighing 86 grams only, the mouse is extremely lightweight. You can use the mouse for hours without having any fatigue. It is a plug-and-play mouse allowing you to start playing immediately.
Finally, the CORSAIR iCUE software allows you to shift hand models, customize buttons and RGB lighting, and manage 3 DPI settings.
Our Verdict
CORSAIR M55 Pro Ambidextrous can be the best cheap mouse for gaming because of its versatile design, affordability, and ease of use.
Read also: 10 Best Gaming Console for kids
Which Gaming Mouse is Good for You?
After going through the pros and cons of all the gaming mouse, we can say that Redragon M901 is the absolute winner. It has highly advanced features for a negligible price. Logitech G402 Hyperion gives it a tough fight in second place whereas SteelSeries Rival 3 finishes at number 3. If you are looking for a mouse with simple yet attractive and comfortable design, we recommend choosing from CORSAIR M55 Pro Ambidextrous and Logitech G203 Prodigy.
How to Choose The Best Budget Gaming Mice?
Now it is time to discuss how to choose the best gaming mouse under 30 dollars. The choice of mouse depends upon 3 main factors that are your budget, your preferred gaming genre, and extra feature you need in the mouse.
The Type of Mouse
There are different types of mice for different kinds of games. We explain each one of them in the following lines.
1. First Person Shooter Mice
These kinds of mice are the best for games like Call of Duty, Counter-Strike, and Battle Field. All the specialized FPS mice will have a distinct "sniper button." Usually available under the thumb, it helps you easily line up difficult shots by slowing down the DPI. Therefore, gaming mice like CORSAIR Vengeance M65 and Logitech G402 Hyperion are what you need if you play FPS games individually or competitively.
2. RTS Gaming Mice
Unfortunately, you will not find a single mouse especially optimized for Real-Time Strategy games. It is better to buy an all-purpose mouse if you play games like StarCraft. Make sure the mouse you choose does not have too many extra buttons. For the games like League of Legends, a MOBA mouse such as Logitech G302 Daedalus Prime is your best bet.
3. MMO Mouse
For Massive Multiplayer Online games like Star Wars: The Old Republic, Final Fantasy XIV, and Word of Warcraft, you need to have an MMO mouse. These gaming mice have plenty of buttons to rotate between complex skills with exceptional accuracy. Some of the best MMO mice you can choose from are Roccat Kone XTD, Razer Naga Chroma, and Logitech G600. Although these mice cost more than $30 yet they are worth the money when it comes to playing MMO games.
4. All-Purpose Gaming Mice
These are the most common kinds of gaming mice. Available in all kinds of sizes and shapes, they are versatile mice able to handle almost all kinds of games.
5. Customizable Gaming Mice
Customizable gaming mice are the most expensive and flashy. You must buy one of these mice if you have extra dollars to spend. They will always deliver when it matters most such as a fierce battle or fight to win. You can fine-tune them as much as possible according to your gamin needs. Two of the most popular customizable mice you should consider are Mad Catz R.A.T. Prox and Razer Ouroboros. They let you customize almost everything ranging from left to right click to palm angle, and feel of the buttons.
Price
Price is a major consideration at the time of buying a budget gaming mouse. Gaming mice can be as expensive as $200 and as cheap as $15. However, even the best mouse under 30 can let you have immersive gaming experience. But, you should not expect a top-of-the-line mouse at $20. You will get a decent gaming mouse at around $100. If you are looking for a high-end mouse with the most sophisticated features, you should be ready to spend more than that.
In our guide, we have covered the top 10 best budget gaming mice for you. These are the mice that can meet the requirements of all the gamers, whether novice or professionals. Also, you can play even the latest and highly intricate games such as Call of Duty and World of Warcraft using mice such as Redragon M901 that are available only for $30.
Other Features
Apart from type and price, there are some other factors to keep in mind while buying the best budget gaming mice.
1. Weight
The weight of the mouse can affect your style of playing a video game. You will have to adjust if the mouse you buy is too light or heavy. Unfortunately, you cannot adjust the mouse weight. However, mice like Logitech 502 Proteus Spectrum do allow you to decrease their weight by removing extra material, also enabling you to fine-tune the mouse for precise placement.
2. Illumination
Most gaming mice feature RGB Lighting nowadays. Keep in mind that color or lighting options do not affect your game. However, they help you create a unique and exciting gaming environment. For example, gaming mice with customizable RGB lighting help you select a light color for every game profile. Besides, some of them also sync with the game you are playing.
3. Connectivity
Mouse connectivity is another important factor to consider. It particularly comes into play if you have bought other gaming devices from the same company. For example, you will have enhanced gaming experience if you buy a headset, keyboard, mouse, and everything else from the same company. All the major companies such as SteelSeries, Razor, Logitech, and HyperX have unified gaming software. It is comparatively easy to sync and run three devices from the same company than having multiple devices from different providers.
Final Thoughts
It is always cumbersome to buy the best gaming mouse under 30 even in the best of circumstances. It is futile to search for the "the best mouse" for a certain game or gaming category because none exists. However, buy the one that is perfect for by narrowing down your choices by price, mouse grips, genre, and bells and whistles.