Decorating a bedroom is not as simple as it seems. It involves careful thinking, concentrated effort, and sometimes, a lot of money. But what if you are short of money. You need not worry. We have provided you with a lot of tips on how to decorate a bedroom with no money in this article. We have also got you covered if you are looking to decorate your room on a budget.
We will mostly focus on easy "Do IT Yourself" ideas which you can easily implement over the weekend. By the way, you don't need to wait for weekends these days. You are already home and it is better to spend all that free time doing something positive including your revamping your bedroom.
Easy DIY Projects for Bedroom
The following are simple bedroom ideas that will transform your bedroom from an ordinary habitat to a spectacular living space. Let us get going then.
Idea # 1: Hang Photos on the Walls
Handing pictures on the walls is a tried and tested method of revamping your room. However, use some clips or strings to put them up instead of framing them. It is an inexpensive decorating idea you can use to personalize not only your bedroom but any part of your house.
Idea # 2: Bring in Some Bookshelves
Bookshelves don't have to be in the reading room only. You can also bring them in your bedroom albeit a small one. Similarly, you need not restrict to the standard way of displaying books. For example, you can scatter them on the bookshelf along with accent pieces. Books arranged this way become much more eye-catching, imparting a captivating look to your bedroom as well.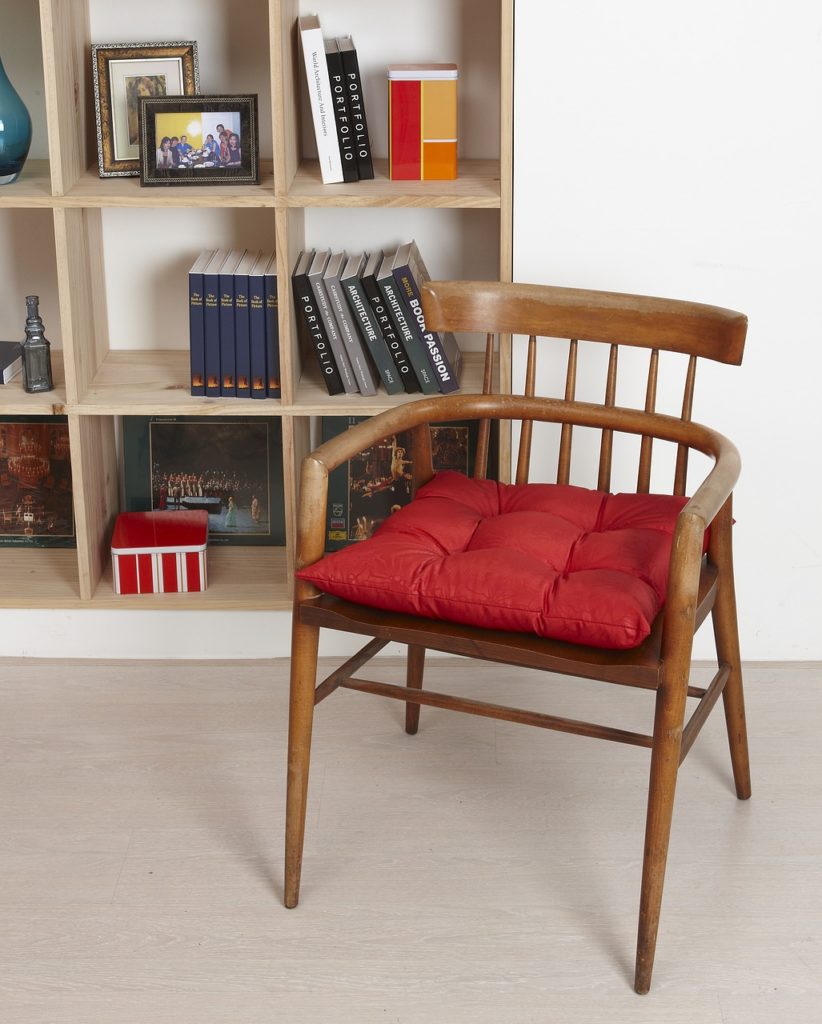 Idea # 3: A Cinderblock Nightstand
If you are looking for cheap bedroom ideas, make a cinderblock nightstand for things like books, vases, and pots. You don't need to go berserk here. Only two to three cinderblocks are enough to create a fascinating look. Place two of them vertically on the ground half a feet apart from each other. Put the third one horizontally on top of them and you have a unique and beautiful nightstand. You can further complement the ambiance by placing a black and white rug on the floor.
Idea # 4: TV Console Made of Cinderblock and Stacked Wood
Continuing with a cinderblock, it can also help you build a beautiful yet simple TV console cum bookshelf for your bedroom. All you need are four cinderblocks and two wood planks. Stack the planks within the blocks and bingo, you have created a sumptuous TV console without spending heaps of money.
Idea # 5: Rolling Cart as a Nightstand
Sticking to nightstands, you can convert a bar cart into an awesome nightstand. Paint the nightstand in gold and complement it with many different colors such as pink, red, and white, etc. Similarly, keep a catchall basket and extra linens on the bottom shelf. Glasses and carafes can go to the middle shelf. The top shelf will host an alarm clock and a lamp. As a result, you will have everything you need within your range.
Idea # 6: Pile on Pillows
Many people complain that their bedroom does not feel inviting. The easiest solution to this problem is to pile up as many pillows on your bed or sofa as possible. Employing this technique will enable you to add charisma and color to your room. Similarly, the room will also look much more comfortable. Try to go for a mismatched look by gathering pillows of different colors and patterns.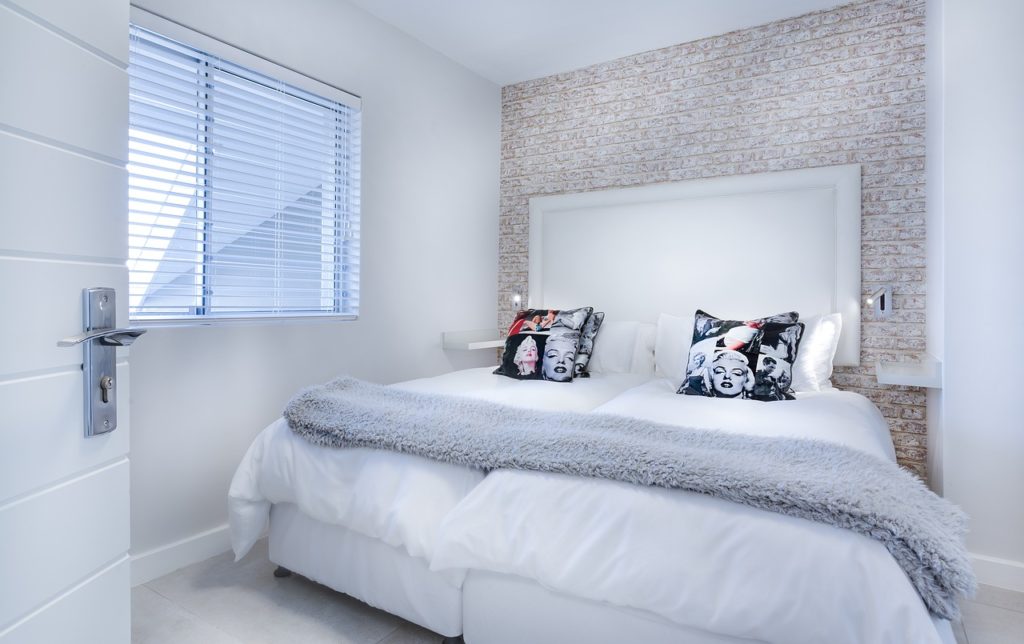 Idea # 7: Choose Your Colors Wisely
Sometimes, your room is too bland and monotonous. You can easily solve the problem by creating a sort of window seat and throw a pile of colorful pillows and throws on it. How do you choose the perfect color? Always look for the predominant color in walls, bookshelves, photos, and dust jackets and repeat the pattern in the pillows and throws. It is, in fact, one of the most creative bedroom ideas you can implement even if you have no money.
Read more: How Often To Mow Lawn In Different Seasons
Idea # 8: Go for Odd Numbers
Do you want to know how to decorate your room with things you already have? The answer is to arrange everything in your room in odd numbers. For example, place objects and frames in groupings of three, five, or seven for a wonderful eye-catching display. Remember that people take more interest in odd number groupings compared to even groupings.
Idea # 9: Headboard Build of Wooden Pallets
Almost every home has heaps of extra wooden pallets in its garage, neighborhood, or old buildings. You can put these pallets to very good use. Building a headboard with wooden pallets is an incredible bedroom decoration idea. A wooden headboard looks much more beautiful than cliché cardboard or steel headboards. The wood will also make your room feel comfortable and cozy. More importantly, you have to spend little to no money to successfully pull these looks.
Idea # 10: Take Help from Nature
On most occasions, you don't have to spend a penny to decorate your bedroom using nature. Bring any organic ingredient you can put your hands on such as pine cones, branches, and freshly cut flowers inside your room. Similarly, you can even collect river rocks, pebbles, and seashells if you live near a river or sea. Display the pebbles and rocks on large glass bowls, trays, and platters. Use tall vases to showcase branches and flowers. Strategically place these natural objects around your room.
Idea # 11: Pellet Beds
The best thing about wooden pallets is that are available for free. However, they can help you in many different ways when it comes to how to decorate a bedroom with no money. For example, you can create a nice looking bed frame if you can get eight to ten of these wooden pallets. If you don't mind sleeping on a lower bed, four pallets will also do.
Idea # 12: Make a Pipe Bed
 A bed should necessarily not be made of wood. You can try many exciting DIY projects for bedrooms if you need a new bed. For example, beds made of steel water pipes have garnered immense popularity in recent years. You can also build one for your room if you can find several of these pipes. It will also allow you to impart an industrial look to your room if you are a fan of this style.
Idea # 13: A Removable Wallpaper
A removable wallpaper will not cost you much but it will replace that old bland wall paint. It also does not require a lot of commitment. You can easily put the wallpaper on the wall. Chose a bold wallpaper with intricate patterns to make a strong room décor statement.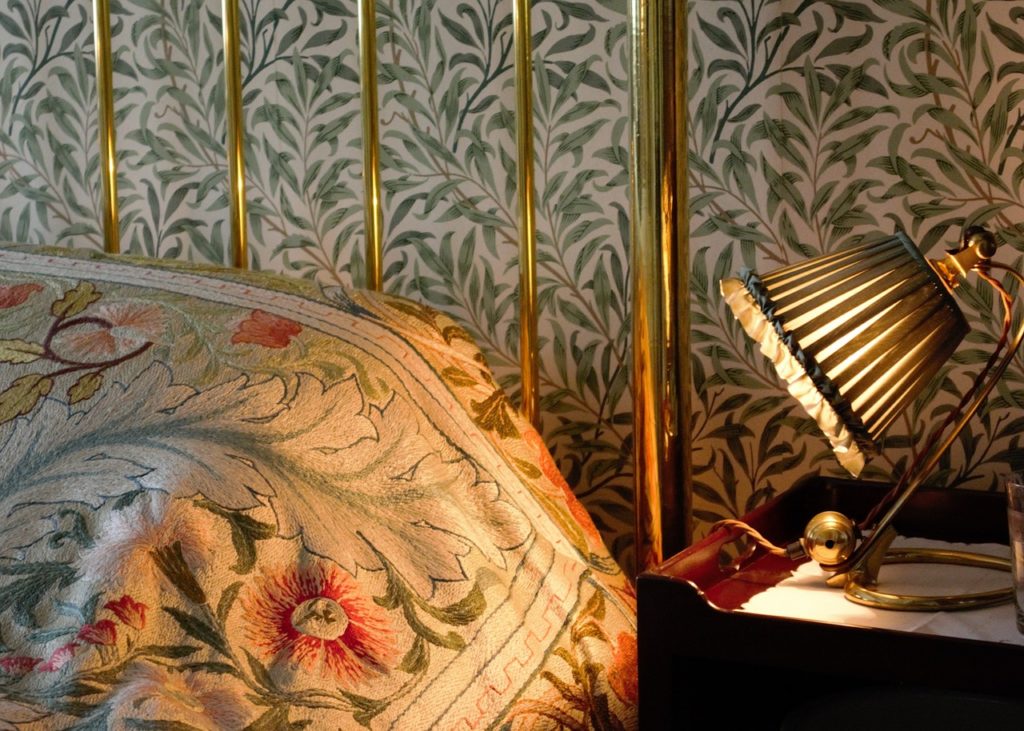 Idea # 14: Bring in more Chair
A bed is always the main the focal point of your room. However, you can make your room feel complete by putting a reading chair at the end of your bed. On the other hand, a bench beside the window will not only add to the unique finish of your room but it will look appealing at its own as well.
Read more: The Best Inexpensive Lawn Mower
Idea # 15: Mirrors on the Walls
It is yet another wildly used and one of the most cost-effective and simple room ideas. In fact, you don't have to spend any money if you already have big, oversized mirrors in your home. Adding such a mirror to your room's décor will bring in more natural light, further opening up your room. Similarly, large mirrors look simple and elegant. They only have to rest on the mantel or lean against a wall to spruce up your bedroom.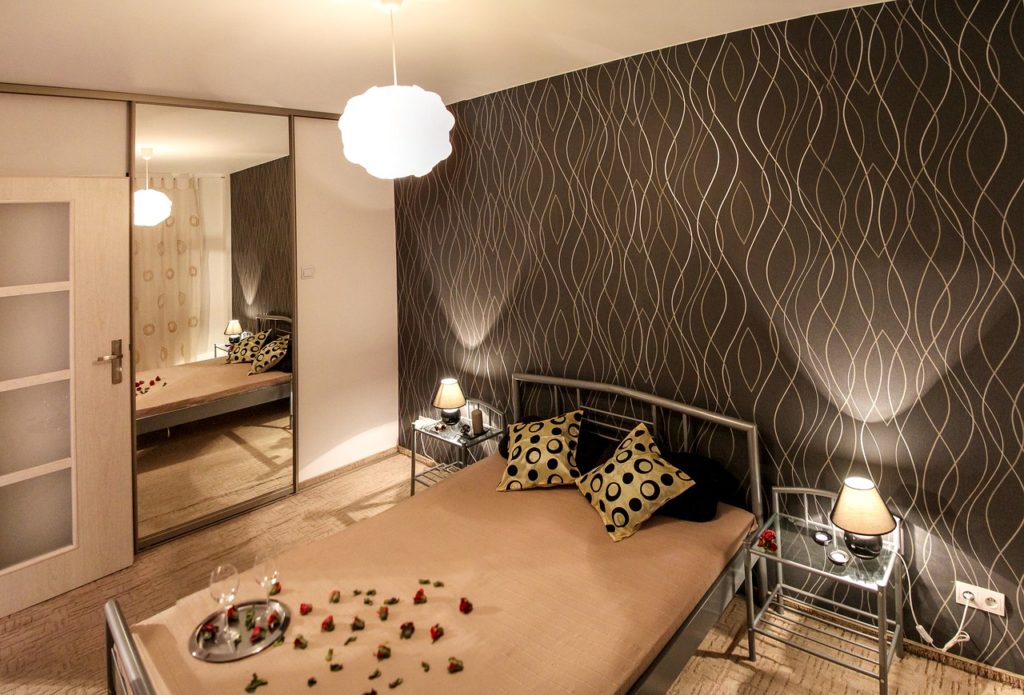 Idea # 16: Find the Perfect Light
Lighting should always be your priority when you think about how to decorate a bedroom with no money. One of the best methods to lighten up your room is to attract as much natural light as possible. However, you should also employ other techniques to improve the light such as using a sconce. Any lighting source which can easily swivel will offer you perfect angles to read in the bed in addition to enhancing the overall light quality.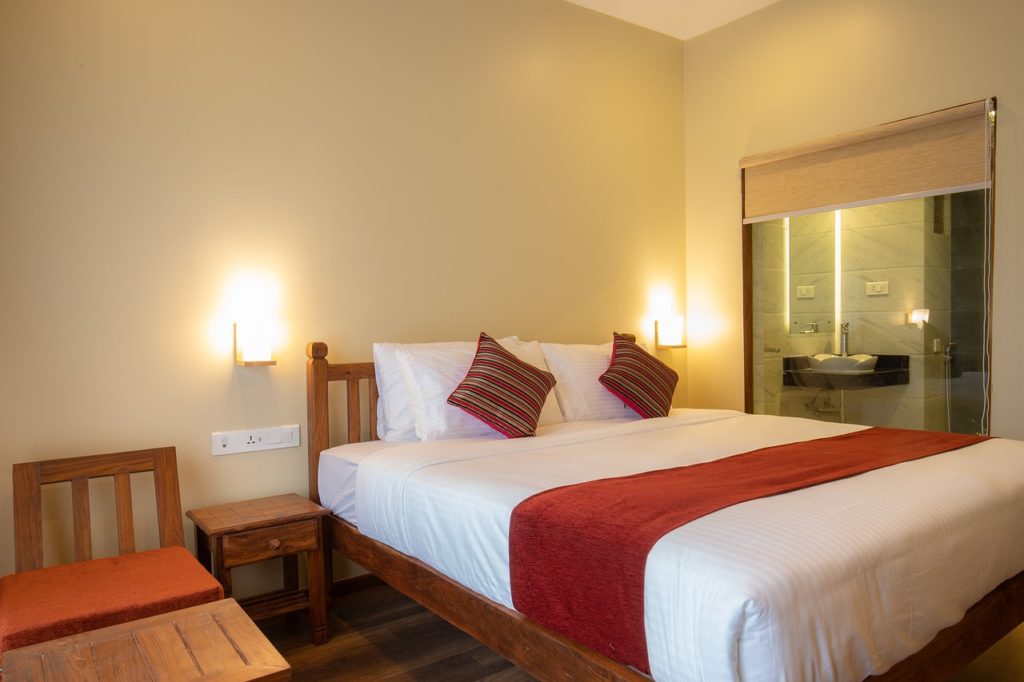 Idea # 17: Use Your Fireplace
Unfortunately, most people don't use the fireplace to its maximum potential. It is a natural focal point that you have to make most use of. It is imperative to spruce the greatest asset in your room. For example, you can use bold or bright colors to paint the interior of the fireplace. Similarly, fill the space by placing antiques, artifacts, stone busts, or large plants. You can also utilize coffee table books, relics, art pieces, and collectibles to create a vignette or a small scene. Create a lovely and warm atmosphere by placing and lighting large candles on each side of the fireplace. The underneath of the fireplace can also become a great storage place where you can store a large wicker basket as well as extra books and pillows.
Idea #18: Rearrange the Furniture
Among the cheap bedroom decorating ideas, rearranging the furniture is hard to beat. No home decorating idea is as simple as this one. Simply moving your bed, table, couch, or dresses will make a world of difference to how your room looks. You will be amazed by how fresh and clean your room feels. It will even start looking bigger and brighter. However, try to enlist someone's help while moving bigger pieces such as beds and sofas.
Read more: The Best Handheld Vacuum for Stairs
Idea # 19: don't Forget Curtains
If you have a bedroom with a low ceiling, the best bet is to use window curtains strategically. They will not only fake a high ceiling but will splash a bit of color as well. Always install the curtain rod above the window frame as it will make your room appear taller. On the other hand, draperies should reach the floor or at least the window sill's bottom.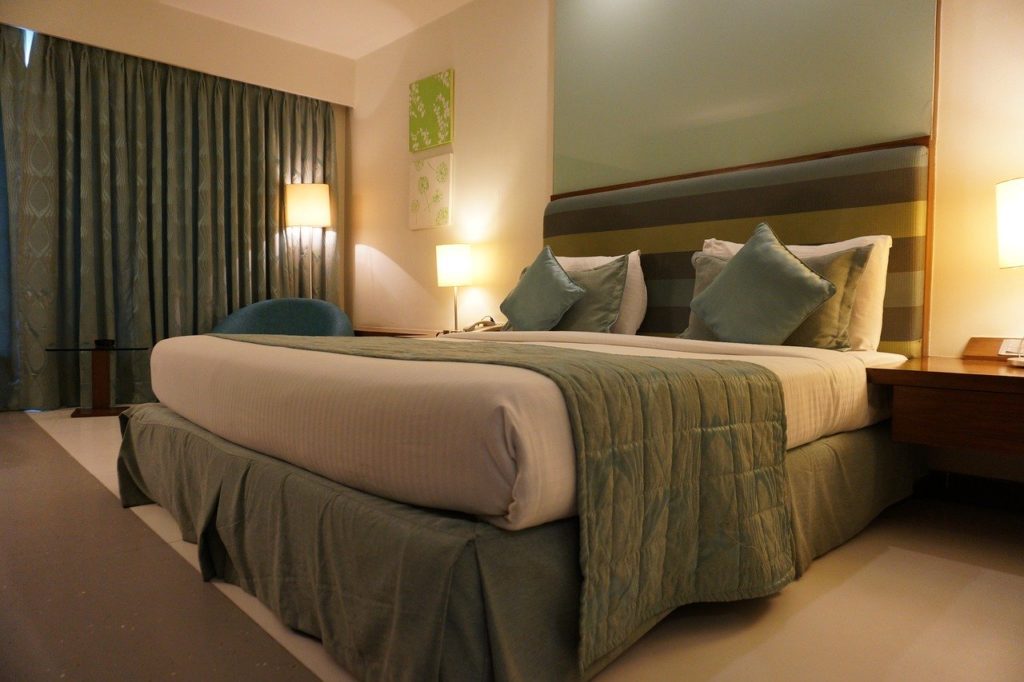 Idea # 20: have a Focused Design
Many people complain that their room is devoid of any focal point such as a television or fireplace. You can, in fact, create one with things you already have. For example, a pair of a console table and artwork or mirror will act as a spectacular attention grabber. You can also pair a bookshelf with a bench to achieve the same effect.
Idea # 21: A Fabric Canopy
This is perhaps one of the most exciting yet cheap DIY projects for your home. A makeshift tester or canopy made of old sheets or curtain panels will effectively solve the problem of angles in the eaves. Find the canopy in the colors or patterns you like the most. Attach it to the wall and the ceiling using curtain rods. This method is particularly suitable for the attic room as the hanging canopy accentuates its architecture.
Idea # 22: Mix in Different Patterns
You no longer need to wonder how to decorate a bedroom with no money. Adding patterned textiles will have a big impact on your room, no matter its size. Plaids, dots, and strips will create the effect you desire. However, balance a larger print with a tight print if you want to mix patterns.
Idea # 23: Hang String Lights
Put your string lights to good use by hanging them in your bedroom, especially behind your bed. They will look charming and lovely in your bedroom as task lighting. Similarly, you can use your favorite string lights throughout the year instead of waiting for Christmas.
Idea # 24: make use of Old Fabric Swatches
If you are thinking about how to decorate on a budget, consider putting old fabric swatches to some use. For example, you can convert them to single or multicolor bolsters and pillow covers by using them individually or collectively respectively. Besides, you can also create a flamboyant and exciting wall art by framing the most interesting swatches together. Another option is to create a beautiful patchwork pattern.
Idea # 25: Proudly Display Your Collectibles
Another method of revamping your bedroom without money is to proudly display your collectibles. Make room for them on the bookshelf or fireplace. If you don't have any of these, buy a small multipurpose shelf to showcase anything from travel gears, a ticket or toy collection, rare books or movies, and travel knick-knacks. Display items that show your real passion and hobbies.
Idea # 26: Fairy Light Show
You most probably have fair lights already stored somewhere in your house. You can add a lot of drama and charm to your bedroom by installing fairy lights permanently on the walls. Similarly, start an emotional and cute light show by hanging a bunch of family pictures on the lights.
Idea # 27: Remove the Clutter
A bedroom full of clutter is not ideal for relaxation, rest, sleep, and romance. For example, television is one of the biggest hindrances to sleep. Try your best to keep television out of your bedroom. Similarly, dedicate a stylish corner for all the stress-inducing clutter if you cannot clear it from the room.
Read more: The Best Multi Position Ladder
Idea # 28: Install a Hanging Shelf
Making a hanging shelf can answer the question of how to decorate a bedroom with no money once and for all. It is also a very unique room décor idea which you probably won't come across anywhere else. You can make a hanging shelf by using some rope and a piece of driftwood. It can replace your old, weary, and cliché nightstand. Provided you have the hook and the rope, the idea will not cost you a penny but the shelf will look incredibly stylish and chick.
Idea # 29: keep Drawer in Mind
Are you struggling with overflowing drawers? The best solution is to make a beautiful display on top of the storage. For example, hanging a painting above the drawers will make a real statement, drawing the eyes away from drawers. You can also place things like brace bookends, small fans, and vases on the storage. However, framed family photos, collectibles, antiques, and artifacts will also do the trick for you.
Idea # 30: Lay Down a Rug
Last but not least; adding an area rug is one of the best small room design ideas. It can make your small room look more pulled together and bigger provided it is properly-sized. You can also place it on top of carpeting without any worry. Just ensure that the rug is large enough to be tucked under at least one piece of furniture other than the bed.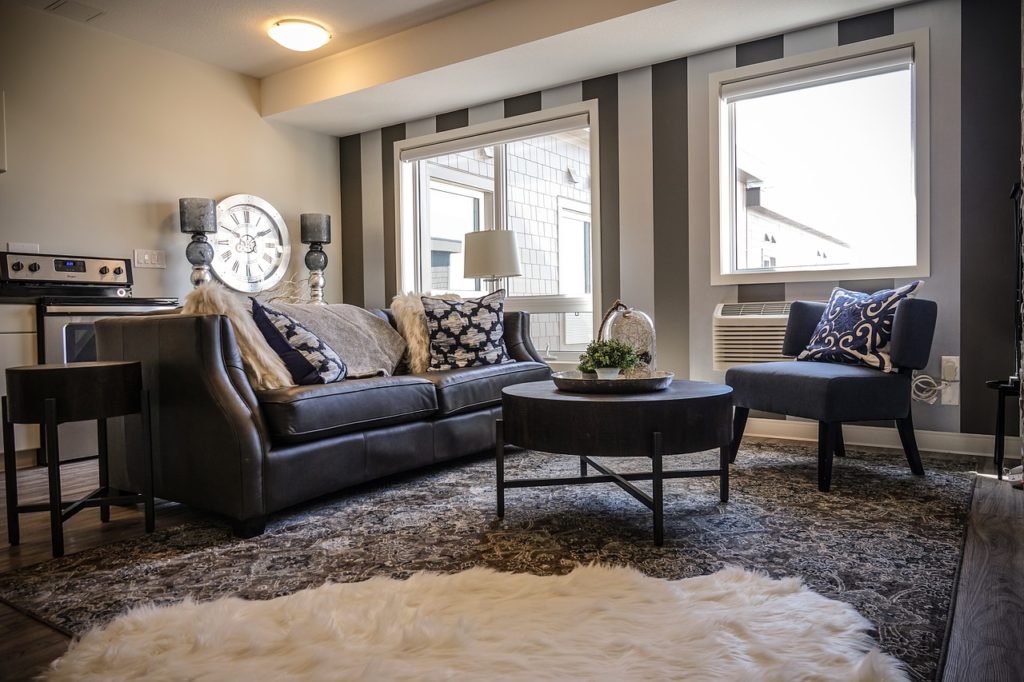 Final Thoughts
With this, we conclude our guide on how to decorate a bedroom with no money. Remember that we have only scratched the surface with this guide. There are, in fact, hundreds of creative bedroom ideas you can implement to decorate your bedroom. You just have to continue researching and a little bit more creative. Only this way, you can revamp your bedroom the way you want without emptying your pockets.
We also encourage you to give your suggestions and tips on how to decorate a bedroom on a budget in the comments sections.