Are you sick of vintage glass table lamps that put your eyes under extreme stress and fatigue? You may be looking for a solution to the problem, especially if you spend a lot of time on your desk at night. If yes, you have come to the right place. Our comprehensive guide will reveal the best desk lamp for eyes for you.
The article or guide will also provide the following information, making it easier for you to choose the best desk lamp for computer & laptop or the best reading lamp, depending upon your requirements.
10 Best desk lamps to consider
Benefits of buying an LED Lamp
Few things to consider before buying a desk lamp
Frequently Asked Questions
Using a classic desk lamp for a prolonged time can result in eye dryness and tiredness. To make matters worse, your eyes can develop permanent shortsightedness or get damaged in the long run. The best method to protect your eyes in this age of internet and information overload is to use a modern LED lamp with more natural, less punishing light for the eyes.
Keep reading the article if you are looking for the best desk lamp for eyes. These lamps will enable you to complete your tasks in a brighter, cooler, and more soothing light, safeguarding your eyes in the process.
Read more: The Best Personal Fan
10 Best Desk Lamps for Eyes
So, let's begin our review of the best desk lamps to consider without any further ado. Our experts have chosen these lamps based on their height adjustments, range of angles, price, type of light they emanate and a few other features.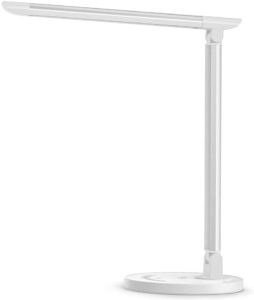 If you are looking for a contemporary take on classic lighting, you must consider this extremely simple yet beautiful table lamp. Available for only $40, it is an eye-friendly lamp which emits a non-flickering, stable, soft, and calming wash of light. As a result, it protects your eyes from fatigue and dryness caused by harsh glare and flickering light.
Features
This particular TaoTronics LED desk lamp has 7 brightness levels and 5 light color modes. Therefore, it creates a perfect ambiance for working, studying or reading. Similarly, you have endless lighting possibilities when it comes to combining light and color modes
The LED desk lamp also has a convenient built-in charging port. It keeps the phone within your reach in addition to keeping your phone at full charge. The built-in touch controls also help you easily set the color modes and brightness levels.
The best thing about the TaoTronics desk lamp is its adjustable design. The head swivels by 90 degrees and tilts up by 135 degrees, providing you with the freedom to cast the light wherever you want.
Last but not least: it is a highly energy-efficient table lamp, reducing electricity consumption by up to 70% compared to traditional desk lamps.
The only downside is that the bulb is irreplaceable. Therefore, you have to use it very carefully.
Bottom Line
TaoTronics LED Caring Desk Lamp is an affordable option to have a fully adjustable, flicker-free, and energy-efficient table lamp that also protects your eyes from fatigue and stress.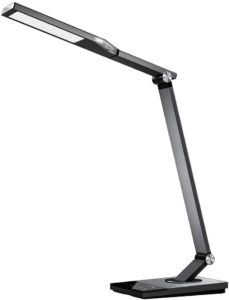 TaoTronics TT-DL16 is a marvelous piece of technology. The lamp not only protects and serves your eyes, but it also combines all the modern features and functions in one unit. It is a highly versatile and efficient desk, featuring a minimalist, metallic design. It will impart a classy yet modern look to your desk or workstation.
Features
The lamp has stellar features such as a memory function that allow you to convert the lamp into your personal device after a single use. Offering the best light for reading and studying, the lamp does not strain your eyes.
You can easily adjust the light to your vision thanks to 6 brightness levels with up to 1200 lux. Besides, the lamp also offers five different light or color modes. You can put the lamp to different uses such as a night light or office lamp due to the versatility of its light modes. The light is also easier on your eyes because of glare and flicker-free illumination.
The TaoTronics TT-DL16 also features a fully adjustable multi-angle head and arm. It also ensures better consistency and long-lasting service thanks to the aluminum heat sink which disperses the heat quickly.
Bottom Line
Made of sturdy aluminum with a matte finish, it is one of the best adjustable desk lamps on the market. Some users encounter isolated problems such as faulty LED lights but this is the case with all the lamps. You can easily resolve your issues by contacting customer support.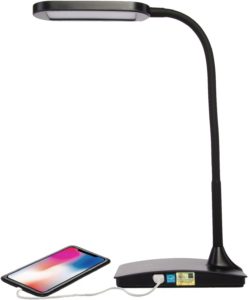 TW Lighting IVY-40BK is yet another best table lamp for study and other purposes. It has one of the coolest and most stylish designs of any table lamp on the market. On top of that, the touch dimmable brightness feature makes it really comfortable and relaxing for the eyes.
Features
The lamp features an inbuilt USB port that makes it very easy to charge in addition to keeping it in your range. Similarly, it has a space saving structure which means it does not occupy much desk space. It also has a 3-level dimmer allowing you to dim the lamp from task to ambient light.
It is also a high energy-efficient lamp as it consumes only 3 watts of power per hour. It comes with a Nichia High Efficiency LED that helps you save up to 65% on your power bills. However, it delivers up to 500 lumens of power.
The swingarm style neck enables you to adjust the lighting in any position you want.
Bottom Line
Available for $25 only, TW Lighting IVY-40BK is the most affordable yet the best desk with USB port and outlet. It is also perfect for all kinds of uses including homes, schools, offices, and bedside tables, etc.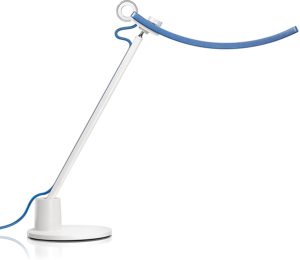 BenQ Genie E-reading Lamp is the best reading lamp for eyes and for good reasons. It is the lamp for you if you want to read and work in a proper light devoid of any kind of flickers and flares.
Features
BenQ Genie is an eye catching lamp with excellent design and ergonomics. For example, it easily lights your entire desk thanks to its curved head design. The advanced lighting technology also eliminates eye fatigue and stress, much to the relief of your sore and tired eyes.
Just like TaoTronics DL-16, BenQ Genie also has a memory function. The lamp will remember your preferred setting after only one use. Besides, it also has adjustable brightness and color features. You can control the brightness level and choose between warm and cool temperatures through an adjustment knob.
The most amazing feature of the lamp is the auto-dimming mode. It automatically adjusts the brightness level by detecting the ambient brightness levels. As it has an adjustable design, you can adjust its height and angles without any hassle. It also depends on where you want the light to focus on.
BenQ Genie E-reading is also a high energy-efficient lamp. It only uses 18w of power per hour which is amazing, to say the least. One more thing to celebrate is that LED Lighting has an unbelievable lifespan of 17 years.
Bottom Line
BenQ Genie E-reading is the best desk lamp for eyes for many reasons. It has 17 years of lifespan, sturdy framework, and it removes flickers and glares. On top of that, it is a sturdy lamp with awesome looks and feel.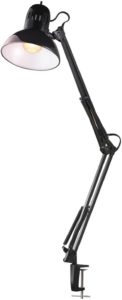 Globe Electric 32" Swing Arm is perhaps the best desk lamp for instructors, students, and professionals alike. It is an extremely budget-friendly lamp that brings the classic clamp-on-lamps to the 21st century with style.
Features
The Globe Electric Architect features an on/off switch at the top instead of a touch button. However, the bulb glows at a very soft, and warm 3000K. The biggest advantage of having this LED lamp is that it emits no heat whatsoever, keeping your workstation cool and comfortable for long periods.
The 10-watt LED desk lamp has a lifespan of 25,000 hours and offers 806 lumens which are an absolute bargain at this price. Similarly, the low wattage consumption also helps you save a lot of money on power bills. It also comes with one 10W A19 bulb and 6 feet long cord. Therefore, you can place the lamp anywhere you want irrespective of the location of your power sockets.
Another brilliant feature of the lamp is an easily adjustable spring-loaded arm which enables you to direct the light wherever you want. Similarly, you can mount the lamp at your desired height or position thanks to variable mounting metal clamps.
Bottom Line
Globe Electric Architect 32" is the best desk lamp for eyes if you want to have a very cheap classic lamp with modern features and functions.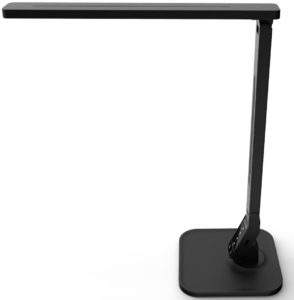 If you are in search of the best table lamp for reading at a reasonable price, you must go for Lampat LED Desk Lamp. It is a pretty good lamp that always emanates natural light. Therefore, it protects the eyes from fatigue and strain. It is made of plastic yet a sturdy material meant to last long.
Features
The lamp offers five levels of brightness and four lighting modes. Thus, it is an ideal lamp for studying, reading, working, painting, and crafting, etc. The dimmable feature allows you to dim the light according to your work requirements and lighting needs.
The flicker-free lamp comes with a fully rotatable head. Similarly, it is easy to adjust its height as well. Both these features help you direct the light wherever you want. As a result, the light will never shine right into your eyes.
The USB charging port is another feature that makes this lamp an attractive choice for many people. You can charge your gadgets by plugging them int the USB port without affecting the light quality. The LED light bulb has a lifespan of 25 years, which is simply amazing.
The lamp also saves a lot of desk space with an assembled height of 2.5 inches and a width of 7 inches. Besides, it has a modernistic looking design thanks to its plastic and black color construction. Additionally, it leaves no glare on your screen.
Perhaps, the only downside is the lack of switched charging ability.
Bottom Line
Lampat Dimmable LED Desk Lamp is the best computer desk lamp for its anti-glare and flicker-free features. It is a brilliant table lamp which can meet most of your lighting requirements.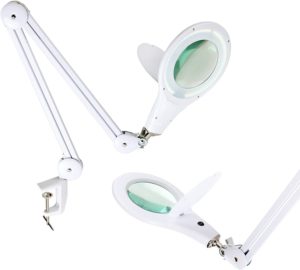 Brightech LightView is the best magnifying glass desk lamp on the market without any doubt. Best for close work and reading, it is a very comfortable desk lamp, unlike ordinary magnifying headset or glasses. You can put the lamp to all kinds of uses such a reading books and newspapers, sewing, knitting, painting, and drawing despite poor eyesight.
Features
Made of genuine diopter glass, the Brightech LightView has a lens with 3 inches of diameter. Similarly, the 9 inches focal point magnifies up to a whopping 225%, helping you do every kind of task even if you have problems like molecular degeneration. Unlike cheap acrylic magnifiers, this lamp is heat, wrap, and scratch resistant as well.
The best thing about the lamp is that it emanates natural light, enabling you to see small stitches and minor contrasts as if you are working in the daylight.
The lamp also comes with a gooseneck like a swing arm and a stand. Therefore, you don't have to hold the magnifying glass while using it. More importantly, you can modify the height from as low as 4 inches to as high as 33 inches. Similarly, the outward reach of 42 inches helps you adjust the lamp anywhere and any way you like on the table.
Brightech LightView is also very portable as it only weighs 6.5 pounds. The table only takes 2 inches of desk space as the clamp opens up to just two and a half inches.
The lamp has an easy to use on/off button located on the lamp's head. The built-in LED light has 800 lumens and only 9 watts of power.
The only drawbacks in our opinion are no dimmable feature and irremovable dust cover for the lens.
Bottom Line
Brightech LightView is the best desk lamp/magnifying glass combination you would ever find. It is particularly a great table lamp for elderlies and senior citizens.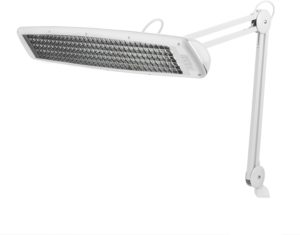 If you want the best desk lamp for eyes which also emanates extremely bright light, look no further. Daylight U32500 is a bright desk lamp which has especially been designed, keeping the requirements of professionals in mind.
Features
Daylight 32500 brightens the whole workstations by generating 250 watts of pure white light. It is the perfect lamp for lighting up large paintings, drawing boards, and workstations alike. You can horizontally, vertically, and laterally adjust the 24 inches into 4.3 inches large shades. As a result, you can get the lamp in any position you want and direct the light to wherever you want. Similarly, the lamp offers an astounding 42w pool of light through integrated 3 into 14 watts energy-saving Daylight tubes.
It is an incredible lamp that helps you better see inspiring colors and finer details with the utmost ease. It is pertinent to mention that both jewelers and printers widely use this lamp to inspect precious gems and stones and books and paintwork respectively.
Daylight 32500 also offers the best light for color rendering. It also reduces glare and remarkably improves contrasts as well.
Bottom Line
Daylight 32500 Triple Bright Lamp may be the best working lamp you may every use. It features anti-glare and flicker-free technology. Besides, the lighting tubes are replaceable that means you can use it for years to come.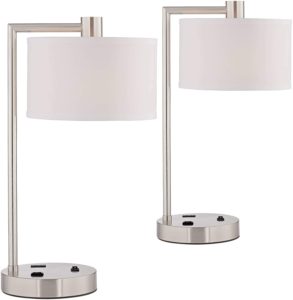 Colby Modern Desk Table Lamp may be the most attractive lamp you would every buy. You actually get two identical lamps for the price of one which is pretty cool. Paired with white lined drum shades, they are an ideal choice for offices, workstations, nightstands, bedside tables or study tables.
Features
Each of the two lamps is 23 inches high. Similarly, drum shades have a width and height of 10 ½ inches and 6 ½ inches respectively. The width of the base is 8 inches. You have to buy a separate 150-watt standard-medium base bulb for each lamp. The switching button is an on/off rocker switch situated at the base.
The best things about Colby Modern Table Lamps are 2.0 USB ports and a built-in outlet. Both USB ports and the outlet enable you to charge the lamp or smaller gadgets.
As the bulb is not included in the box, you are recommended to use only CFC, halogen, LED or incandescent light bulbs with these lamps. You can use dimmable bulbs with compatible dimmers as well.
Bottom Line
Each of the Colby Modern lamps can become the best table lamp for reading and study. They stem natural light and thus, protect your eyes from fatigue and strain. They have a crisp, clean, and modern design that you can use for many different purposes.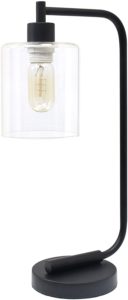 Simple Designs LD 1036-BLK is worth considering if you love antique style items. As the name suggests, it has an antique style lantern glass shape. As such, it may be the most beautiful desk lamp on our list.
Features
The lamp uses a 40 watts standard medium based bulb instead of LED lights which. The bulb is not included in the box, unfortunately. However, you can use a Type 45 Edison bulb to further compliment the vintage look.
The LD-1036-BLK is not all about its vintage design though. It features a convenient on/off cord switch in addition to a clear glass shade. It can also become a perfect desk or bedside lamp as it has a matte black finish and clear, smooth lines. It will also add to the beauty of any shabby chic home décor.
The lamp has a maximum height of 18.75 inches and a width of 9.75 inches. Similarly, the glass shade has a diameter and height of 5 inches and 5.75 inches respectively.
Bottom Line
The lamps make a perfect ensemble thanks to their simple design that combines a clear glass shade with a curved arm and a simple base. However, it is also a pretty solid desk lamp having a natural and calming influence on your eyes.
Benefits of Buying an LED Lamp
There are many benefits of buying an LED lamp instead of traditional lamps with incandescent bulbs. Some of these benefits are as under.
1. Sustainability
The LED lamps are more sustainable than all other kinds of lamps. They use 95% of the energy they receive to generate light. Similarly, it is much simpler to produce light in an LED bulb than any other kind of bulb. As a result, they are also very sustainable. In fact, some of the LED lamps can last for up to 20 years.
2. Less Maintenance
Some of the LED lamps can last up to 50000 hours or 25 years. Therefore, you don't have to bother about replacing light bulbs frequently, allowing you to save a lot of money, trouble and time.
3. Performance
You can always count on LED lamps when it comes to quality performance for long periods. In fact, there are fewer chances of them breaking down. Similarly, the light they produce is more natural, less harsh and, more comforting to eyes than any other light bulb.
4. Cooler Temperatures
All LED lamps have multiple applications. You may use a single lamp for reading books, do some painting, and play video games in dim light, and so on. You will get a wide range of cooler temperatures with LED lamps. It is also possible to choose from different temperatures and color modes according to the work you are doing, the ambient light and your personal preferences.
5. Good for Eyes
As LED lamps offer an array of cooler temperatures, soothing lights, and color and light modes, they are also perfect for eye care. You do need the best desk lamp for eyes with LED lights, especially if you suffer from problems like shortsightedness or molecular degeneration. Such a lamp will result in lesser eye strain and fatigue.
How to Buy the Best Desk Lamp for Eyes?
There are quite a few things you need to consider before buying a desk lamp for eyes.
1. The Color of Light
The color of light is perhaps the biggest consideration. Different desk lamps produce different colors of light. The best desk lamps available in the market offer customizable light intensity and colors. Therefore, you can adjust their light according to your requirements. As such, they will not hurt your eyes as well. They also allow you to adapt the light to the ambient light or absence of the same.
2. Height
Home offices' and study tables are usually spacious and large. Therefore, you need a table lamp with enough height to brighten up the whole desk. A tall lamp will leave no less luminous spots or dark corners.
3. Angle
Similarly, the lamp you are considering must offer more than one angle adjustments. It is necessary to perform different types of tasks such as reading, writing, painting, sewing, and crafting, etc. Flexibility is not desirable but essential if you want to save your eyes as well. The more adjustable the angle is, the lesser it will strain and fatigue the eyes.
4. Design
You should buy a desk lamp that can offer years of uninterrupted service. Some of the best desk lamps are quite expensive but they are worth the money. Also, choose a lamp that is not only comfortable but pleasing to eyes as well as you have to look at it for decades. A lamp with good design and functions, no matter how pricy, will turn out to be more cost-effective in the long run than cheaper lamps.
5. Friendly to Eyes
You should always choose the best desk lamp for eyes. Figure out what the lighting requirements of your professional or hobby are. What are some of the features which your lamp should have? Give it a long and hard thought instead of buying in a haste.
6. Price
Price is one of the most important factors to consider. Don't succumb to the temptation of buying the cheapest desk lamp available online. It could be the biggest mistake you can ever make. A cheap lamp will help you save a lot of money for time being but it may not provide you with the brightness and adjustability you need.
7. Customer Reviews
Try to get as much useful information about lamps as possible. Amazon is the best place to check user reviews and suggestions. You will get plenty of information about the technical as well as practical aspects of your favorite lamp as well.
Frequently Asked Questions
What is a gooseneck lamp?
Gooseneck lamps have flexible necks which you can rotate in any direction. They help you put a greater spotlight on certain details and thus, they are perfect for larger spaces.
What are the adjustable desk lamps?
You can put these lamps in the perfect position because they can rotate and bend. These lamps help you inspect your work from a different perspective. You can also make the light source follow you.
What are organizer lamps?
Organizer lamps are those lamps that have a storage space to organize your instruments, pens, and items. They allow for better organization of your table by removing clutter.
What are the clip-on lamps?
Clip-on lamps come with a clip to attach the lamp to the edge of your table. They are perfect for tables, desk, and places which don't have extra space to install a lamp.
Final Thoughts
Fatigued eyes due to the poor or nonadjustable light source can result in shortsightedness and other eye problems. You need the best desk lamp for eyes to keep these maladies at bay. In this regard, the above mentioned are some of the best desk lamps to keep your eyes healthy and maintain a 6/6 vision despite the type of your work or age.