What is the best keyboard for writers? Every writer should find the answer to this question. A good keyboard is not only necessary for improving efficiency but it is also vital for taking care of your hands during long writing sessions.
In this article, we are going to unveil the top 10 keyboards for writers to choose from. You will also find the following information in the article.
10 best keyboards for writers and gamers
What to look out for in a writing keyboard?
Writing is not a bed of roses. Sometimes, you have to sit in front of your laptop or computer and pound the keyboards for hours to produce a single article or a blog. If you are a novelist, you may even lose track of time while creating that brilliant piece of fiction. Writing is no doubt a lovely profession and a high level of dedication can pay rich dividends. However, you also need to take care of your hands which receive a lot of abuse when you get lost in your work.
10 Best Keyboards for Writers
The best way of protecting your hands while writing is to find the best writing keyboard. A comfortable keyboard is an obligation if you regularly immerse yourself in lengthy writing sessions. You also have to be very careful while choosing a keyboard because not all of them are ideal for writing. There are only a few keyboards that are up to the task and we compare the pros and cons of some of them in the following lines.
So, here is our ultimate list of most awesome keyboards for writers.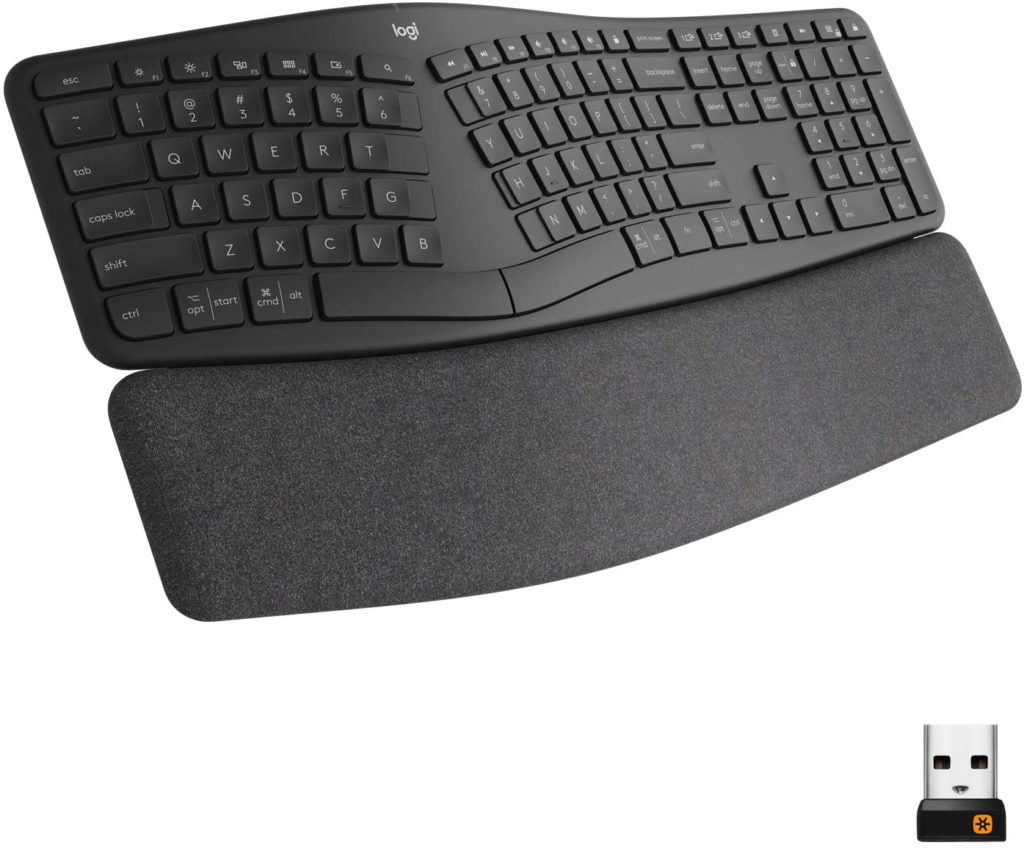 Logitech Ergo K860 is the best keyboard for writers you can currently buy. It is a fantastic ergonomic keyboard that helps you maintain a natural writing position. The integrated wrist rest further ensures you don't get tired while noting down a blog, article, essay, or a feature story.
Features
The Logitech Ergo K860 has a very unique yet impressive design. It has especially been designed for writers. Reverse incline settings and a split keyboard mean you don't experience any muscle tension while maintaining the best typing posture.
Similarly, the high-quality premium built-in rest wrist is covered with a soft fabric and it is well padded. The keyboard also has scissor switches that offer smooth and pleasant typing experience.
The Logitech K860 has the most responsive keys because of the low pre-travel distance and highly pronounced tactile bump. It also makes it easier to multitask as you can connect to multiple devices at once. Similarly, you have to press a button to pair between connected devices through Bluetooth or unifying USB receiver.
You can also program the keyboard's function keys through Logitech's Options software. However, this option is only available for MAC and Windows users. Similarly, the keyboard does not have backlighting as well.
Our Verdict
Logitech Ergo K860 is the best keyboard for writers who prioritize ergonomics over anything else. However, it also has some amazing functions and features which make it a very good typing keyboard for every writer as well.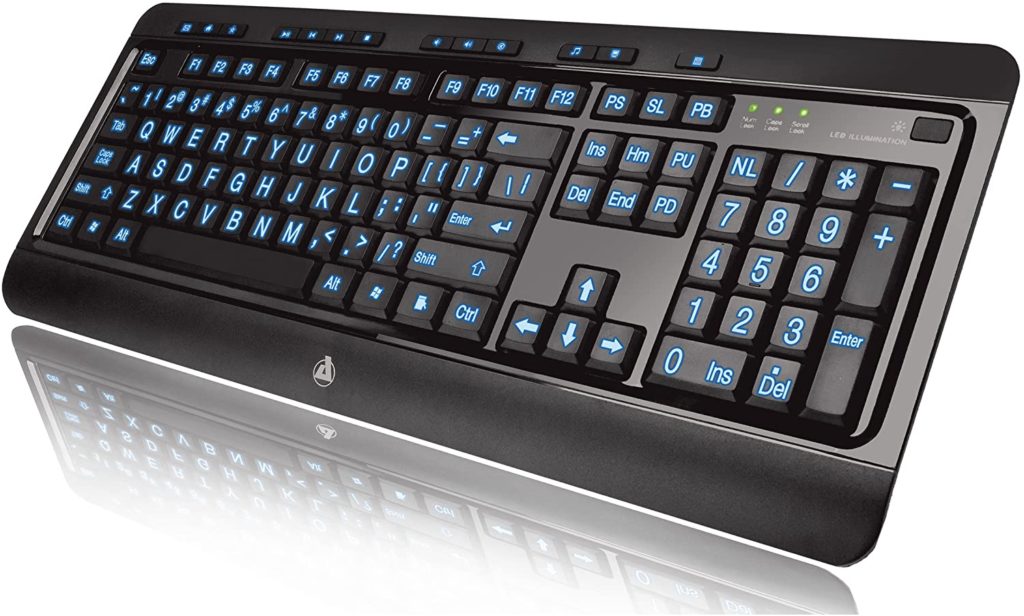 If you are still willing to use a wired keyboard, Azio Large Print Tri-Color should be your choice. It is a very sleek keyboard with a stunning design. Azio Tri-Color has managed to give a very tough competition to AmazonBasics wired keyboard. On top of that, it is one of the most affordable keyboards on our list, available only for around $30.
Features
Azio Tri-Color Wired Backlit Keyboard is the best keyboard for typing all day, especially if you like to work in dimly-lit conditions. The keyboard discards traditional RGB lighting in favor of the more soothing and calming triple-phase backlighting. This is, in fact, the top selling point of the keyboard as well. You can also adapt the backlighting to your own preferences.
Being a membrane keyboard, Azio Tri-Color makes typing easy and smooth. You can easily identify everything written on the keys because of the oversized letters. As a result, there are also fewer chances of typos. The larger fonts also reduce eye strains in addition to enhancing writing speed and productivity.
Shortcut switches are perhaps the keyboard's most important features. These switches allow you to easily navigate between your favorite software and online activities.
Our Verdict
Azio Large Print Tri-Color is the best keyboard for writers under $30. It is an excellent writing tool with streamlined design and sophisticated features for writers. It offers ideal readability and comfortable keys, perfect for your home office.

Nowadays, every company tries to have its own customized switches on their keyboard. However, DAS still features traditional Cherry MX switches. The keyboard offers excellent writing experience through gold-plated high-performance mechanical key switches.
Features
DAS Model S Professional ensures unique tactile feedback and thus, fast and accurate typing. It also has dedicated media switches to control some of the most common media functions. Your fingers will love the keyboard as you can choose from either soft or click tactile experiences.
The keyboard is also great for gamers and typists alike as it allows N-Key rollover. Furthermore, it includes 6 keys with USB and a PS2 adapter.
The best thing about the DAS Keyboard Model S Professional is laser etched key inscriptions. Such inscriptions provide ease of use with no chances of fading as well. The keyboard also has a high-speed USB hub to sync and charge your electronic gadgets. Similarly, it features an extra-long 2-meter cable for easy connectivity.
Our Verdict
DAS Keyboard Model S Professional is the best keyboard for writers with traditional Cherry MX switches. Period.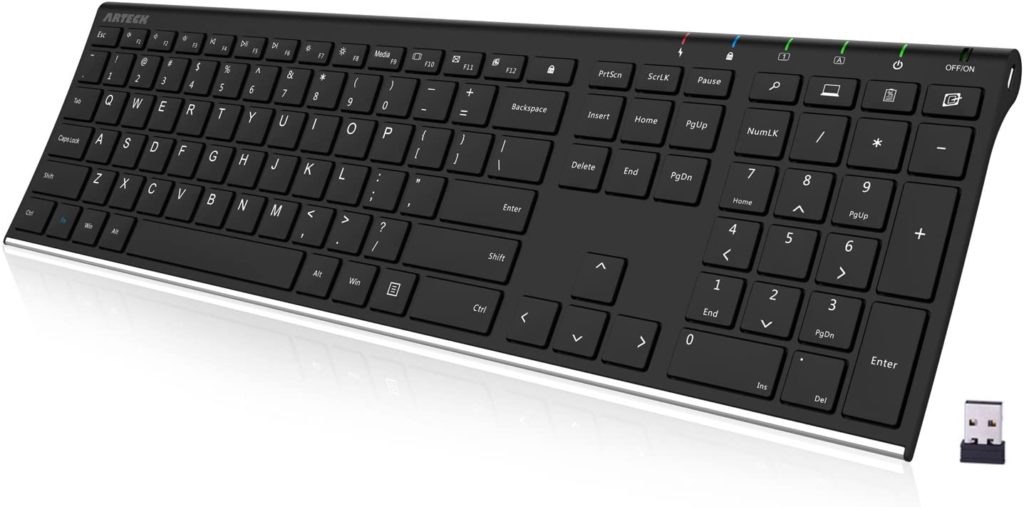 If you want to upgrade your typing experience without spending a fortune, you must go for Arteck 2.4G Wireless keyboard. It is a sleek keyboard with very quiet keys and expansive layout, perfect for typing.
Features
Contrary to what name suggests, the keyboard is stainless steel only on its lower part. The keys and upper parts are made of plastic. However, it is a very durable keyboard unlike most of the lightweight and sleek models.
The keyboard operates on a single lithium rechargeable battery. It connects to your computer or laptop via a USB dongle. It has primarily been made for Windows systems but you can connect it to the MAC.
The keyboard has 12 function keys which also serve as multimedia keys. Similarly, there are 6 dedicated buttons for different functions such as battery check, pause, and screen lock, etc.
When it comes to typing Arteck 2.4G is second to none. It is quite a big keyboard with a lot of room between the keys. As a result, you don't feel cramped while typing. It is the best quiet keyboard currently available in the market. Touch typing is also natural and smooth. More importantly, the keyboard feels similar to your laptop's or computer's native keyboard.
Arteck 2.4 is also a very comfortable keyboard with enough incline to keep your fingers in a natural position while typing. Similarly, the low profile keys bounce back quite quickly as they have less distance to travel. The keyboard also offers soft tactile feedback.
Our Verdict
Arteck 2.4 G Wireless Stainless Steel is a thoroughly modern keyboard. Although it does not have multimedia compatibility or a stylish design yet it is the best keyboard for writers because of its soft and comfortable keys.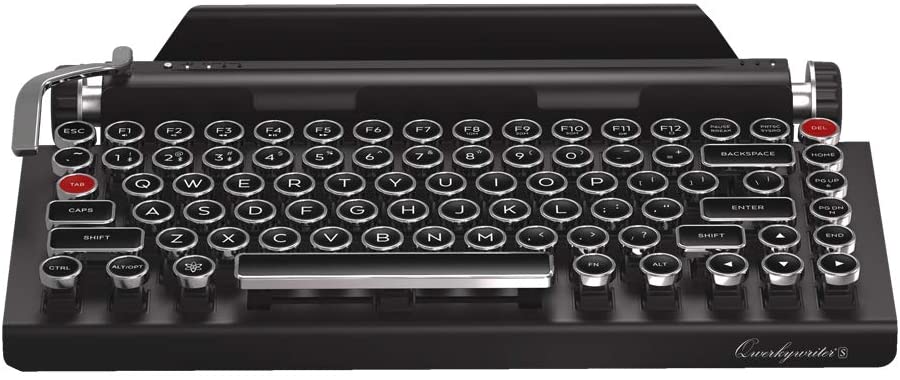 Qwerkywriter takes full marks for deviating from the two standard design aesthetics that are neon stealth fighter and boring black slab. The keyboard emulates old fashioned typewriters and thus, has a very unique and retro look. However, it is a modern keyboard with all the features you can expect from a keyboard in 2021. It also offers dual connectivity options including a Bluetooth connection and a wired USB connection.
Features
Many people don't like Qwerkywriter Keyboard because it is smaller than the average keyboard. However, you should not judge anything by its size or looks only. It still uses a 75% layout which is very common among the keyboards. You get all the important keys such as modifiers, alpha keys, a function row, and a number row.
The typewriter offers a very ergonomic and efficient layout, especially if you don't need a numeric keypad. Similarly, you don't have to stretch fart to reach all the keys. You may miss dedicated multimedia keys and a number pad because of the keyboard's small size.
Keeping in with its retro style, the Qwerkywriter Keyboard features old standby clicky Blue switches. You get the exact feel you expect to form a clicky switch and mechanical keys. As such, the keys tend to be very noisy as well. The keycaps are also rounded just what you see on retro typewriters. The inscriptions are laser etched and therefore, they are least likely to fade with time. There is also has a 6-key rollover which is a very nice feature.
Our Verdict
If you are willing to pay more than $200 on a keyboard, you should buy Qwerkywriter. It has a very distinct style in addition to having Bluetooth connectivity. The rounded keys are comfortable with enough space between them. However, you may need some time to get used to them.
6. CORSAIR K55 RGB: Best Budget Mechanical Keyboard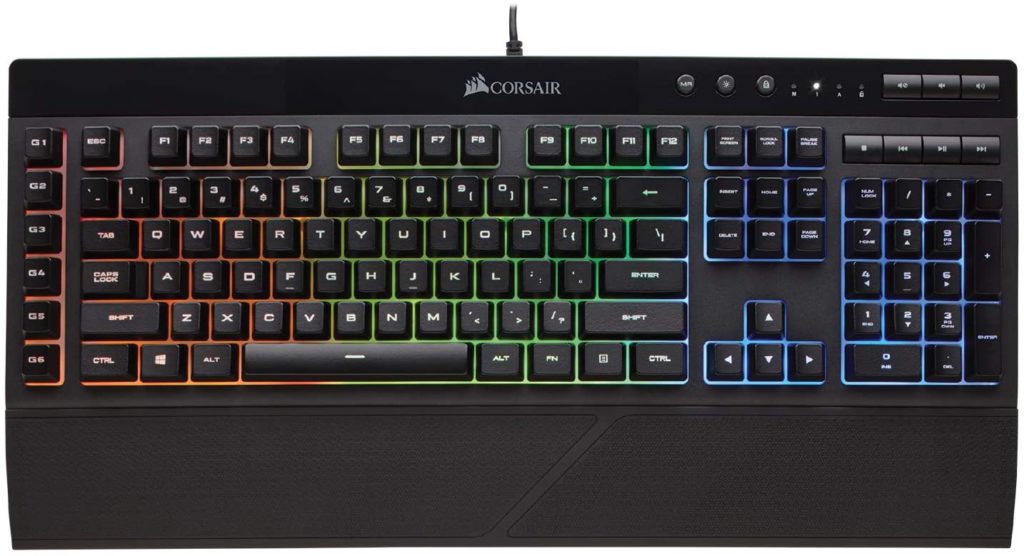 CORSAIR K55 RGB is primarily a gaming keyboard. However, it has garnered immense popularity among writers for several reasons. For example, it offers keys customizable software and wrist rest, making it the best keyboard for writers.
Features
The most striking feature of the keyboard is its build quality. It is slightly heavier than other keyboards because of its sturdy steel frame. It may not be an ideal keyboard of people who like lightweight keyboards. However, it does not bump around in case you have a lightning-fast typing speed or you just want to finish your work quickly.
Similarly, the keyboard has been designed while keeping in the requirements of both gamers and writers in mind. It is the perfect keyboard for writers who also like a bit of color while working.
The best feature of the keyboard is the customizable macro keys available on the left side. You can also reprogram all of these keys as keyboard shortcuts. CORSAIR also offers the best software in the industry to reprogram these keys.
When it comes to lighting, the CORSAIR K55 offers 10 predefined effects to users. More importantly, you don't have to see the typical raindrop or rainbow patterns as you can add many more yourself.
The membrane keys are also very soft to touch. You don't get a characteristic mechanical keyboard vibe because the keys are more subtle and less tactile. Furthermore, the wrist rest ensures you continue typing for hours without getting cramps. The keys also work accurately even if you press multiple keys at the same time due to the integrated anti-ghosting multi-key technology.
Our Verdict
CORSAIR K55 RGB is the best keyboard for writers on a budget. Having fully customizable keys, it is the closest you can get to a mechanical keyboard without spending a lot of money.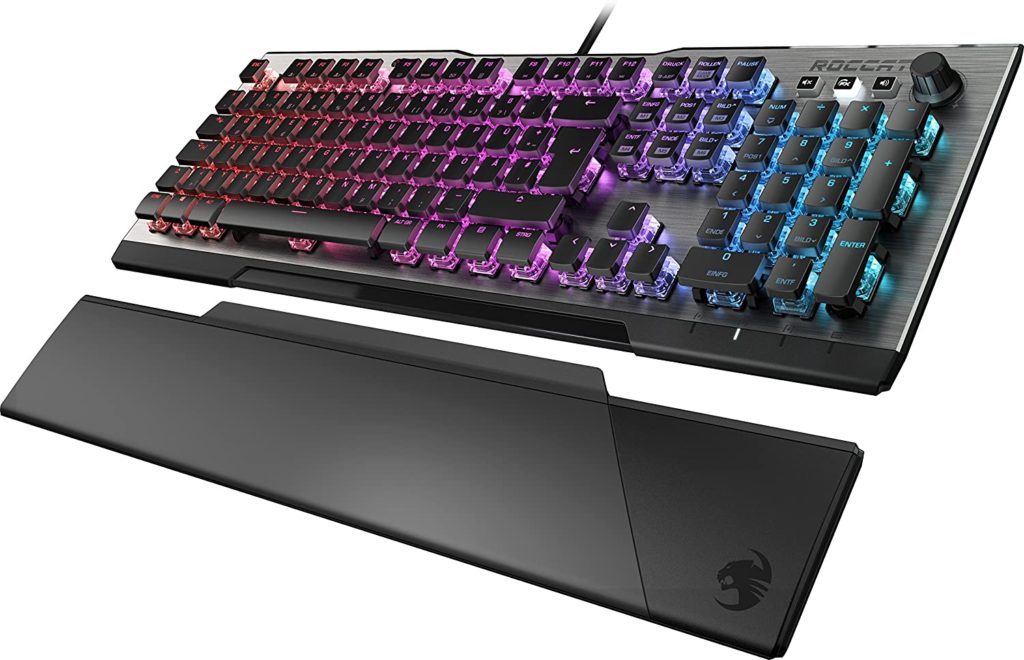 Roccat Vulcan 120 Aimo is a futuristic-looking keyboard with Roccat's custom keyboard switches. The keyboard has a beautiful design and it is the best keyboard for gaming and typing, to say the least. What separates Vulcan 120 Aimo from the rest is its Titan Switches which make it a good typing keyboard for marathon writing sessions.
Features
Roccat markets Vulcan 120 Aimo is a gaming keyboard. However, it has high-quality Titan Switches, and therefore, you can also use it for writing to a great effect. The keys also bounce back quite quickly, enabling you to have comfortable writing experience, no matter how long you write. Titan Switches are 20% faster than the Cherry MX switches. As a result, the keyboard will offer tremendous performance even if you type uncontrollably fast.
Roccat Vulcan has the most beautiful design of all the keyboards on our list. Although the entire design is mind-blowing yet there is one element that helps 120 Aimo stand out. Unlike other keyboards, the 120 Aimo has keycaps on tops of the keys only leaving the rest of the keys exposed. The half-naked keys serve two purposes. They enhance the beauty of the keyboard in addition to returning to their position in no time.
Unfortunately, the Vulcan 120 Aimo does not have macro keys. However, you can reprogram F1, F2, F3, and F4 keys to work as macro keys.
The keyboard also comes with a wrist rest which is a very nice inclusion.
Our Verdict
The Roccat Vulcan 120 Aimo could be the best mechanical keyboard for typing you would ever need. It has a beautiful design with Titan Switches both of which make it a delight to type on the keyboard.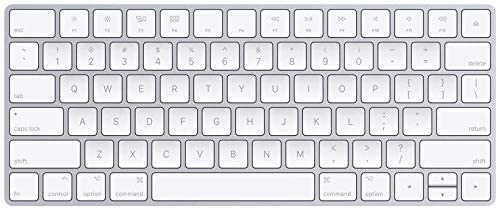 Everyone knows how good apple products are. They manufacture some of the sleekest devices in the world including keyboards. The Apple Magic Wireless keyboard, as you would expect, is one of the best typing keyboards by a fair distance.
Features
To begin with, the Apple Magic Keyboard has very quiet and extremely sensitive key, which is characteristic of all Apply keyboards. Your fingers will glide smoothly on the keys without any hassle.
It is a wireless keyboard and therefore, you don't have to remain tethered to your table to use it. However, you can connect the keyboard using a USB charging cable as well.
The keyboard offers a precise and comfortable typing experience through well-optimized key travel, stable scissor keys, and low profile design. It has enhanced key features and interchangeable battery which further improve its functionality and increases its life respectively.
The keyboard connects automatically with all the Apple devices. You can also connect it with Windows with the help of a USB charging cable.
The Keyboard does not have a numeric keypad which may be a deal-breaker for some people.
Our Verdict
Apply Magic Wireless Keyboard is the most comfortable keyboard you would ever find. It has very smooth, comfortable, and quiet keys. You can also use it on both MAC and Windows.
9. Logitech MX Keys: Best Non-Mechanical Keyboard for Writers

If you are looking for a non-mechanical wireless keyboard, you ought to go for Logitech MX Keys. It is a full-size keyboard with very comfortable keys that help you write accurately. The wireless connectivity is exceptional. On top of that, you can connect it to three devices simultaneously thanks to the multi-device pairing feature.
Features
It is a joy to type on Logitech MX Keys as it features scissor switches. Similarly, the chicklet style keys ensure you don't make any mistake while typing. It is also convenient and seamless to switch between different connected devices.
You can also download the Logitech Options Software to reprogram the device's keys to other functions. However, there are no dedicated macro keys and therefore, you cannot set any macros on the keyboard.
One of the best things about the Logitech MX Keys is its compatibility with all the operating systems. You can also easily connect the keyboard with any Bluetooth enabled devices as well. Furthermore, you can also use the keyboard in the dark as it has an excellent backlighting option as well.
The only downside is the lack of incline settings and a wrist wrest. It is a low profile and a very comfortable keyboard that you can use for marathon typing sessions. Finally, the keyboard is also ideal for quiet environments as it does not produce a lot of noise as well.
Verdict
Logitech MX Keys is a great alternative to mechanical keyboards. It is a decently comfortable keyboard with multitasking features. All in all, it offers an exceptionally smooth typing experience.

Logitech K400 Plus may be the best keyboard for the work you are looking for. It is small enough to be used on your lap and big enough for common productivity. More importantly, it features dedicated multimedia keys and an integrated touchpad, eliminating the need for a separate mouse.
Features
Logitech K400 Plus Wireless Keyboard has many buttons that allow you to stream music through a connected large screen or personal computer. You may necessarily not need this feature as a writer but it is always nice to have a versatile keyboard.
It is also a very lightweight and sleek keyboard. The keyboard replaces the traditional numeric keypad with a touchpad. It is a great addition if you are sick of dragging your mouse on uneven surfaces such as couches, pillows, and computer tables.
The keyboard has chick-style keys which are very comfortable and smooth to press. However, they are a bit cramped because there is no separating frame. It is also not a backlit keyboard which is acceptable considering its low price.
As far as connectivity is concerned, the keyboard comes with a wireless receiver that you can plug in your PC's or TV's USB port. The keyboard can be connected with up to 6 Logitech devices as it uses Logitech's Unifying Wireless Technology. Logitech also offers free SetPoint software to customize keys but only for Windows devices.
Our Verdict
If you are looking for good value for money, you must consider Logitech K400 Plus Wireless Keyboard. It is indeed the best keyboard for writing if you don't have extra money to spend on a keyboard.
What to Look Out for in a Writing Keyboard?
We have already ascertained that you do need a good keyboard as a writer. But, what are the characteristics of the best keyboards for writers? Let us break down each of these features in the following lines.
1. Ergonomics
I believe ergonomics should be your top priority as a writer. Keep in mind that most keyboards offer a specific layout. However, every keyboard is different when it comes to key angles, number pad or touchpad placement, or spacing between the keys.
It is up to you to decide which kind of keyboard you need. Do you like a traditional keyboard you often get with laptops or computers? Or, you want a fancy keyboard with advanced features or a wrist or palm rest. Remember that you cannot ignore ergonomics, especially if you tend to burn the midnight oil while working.
2. Power
Modern keyboards offer a wide range of power options ranging from rechargeable batteries to solar power and USB cables. Once again, it depends upon you what kind of power option you want to choose.
3. Connectivity
The best keyboard for writing also has diverse connectivity options just like the power options. Keyboards can connect to your computer using a USB cable, wireless USB, or Bluetooth. The USB cable plugging in your computer offers the most stable connection. You also don't need to worry about batteries and all that stuff. However, cables can cover a lot of desk space in addition to being very clunky.
The wireless USB connection is still a USB connection sans a USB cable. You get a USB receiver that you plug into your computer. The keyboard transmits a wireless signal which the USB dongle receives. The lack of clunky cables is the biggest benefit of this type of connection. The downside is that the USB dongle occupies a USB slot whereas the keyboard still needs a separate source of power.
Finally, Bluetooth is a very common and appealing option these days. You don't have to deal with any cables or USB dongles. Everything is neat and straightforward. However, connectivity outrages and losses are pretty common with Bluetooth though.
4. Backlighting
Every best keyboard for writers features some sort of backlighting, the RGB backlighting being the most common. For some people who like to work in the dark, lack of backlighting is a big deal-breaker while others don't care about it at all.
5. Mechanical or Membrane Keyboards
Currently, only two types of keyboards are in vogue that are mechanical keyboards and membrane keyboards. Mechanical keyboards have old-fashioned thicker keys you would normally find on older typewriters or keyboards. They keys also make a clanking sound when pressed. The membrane keyboards, on the other hand, have quieter and softer keys which feel very smooth on touch as well.
You have to decide how much tactile feedback you like when you press a key at the time of buying a keyboard for writing.
Final Thoughts
Above mentioned are what we think the best keyboards for writers. They have all the features and functions which a writer needs in a keyboard. They offer brilliant connectivity, impressive power, unmatchable comfort, and superior ergonomics. More importantly, all of them but two are pretty affordable for everyone as well.
However, you are more than welcome to suggest other best keyboard for writers in the comments section.