Electric wall heaters are increasing in popularity due to many reasons. They are an affordable and excellent heating option, especially for specific areas in bigger homes. Electrical heaters can easily heat your bedroom, living room, kitchen, and even bathroom without switching on the central heating system. This not only saves electricity bills but a lot of valuable space as well. Therefore, we are going to present the best electric wall heaters for you to choose from in this article.
Electric heaters work similarly to space heaters. The only difference is that they act as supplemental heating for targeted areas of your home. Secondly, they become a permanent hardware fixture to your room because they are wall-mounted on most occasions.
10 Best Electric Heaters 2020
It is a cumbersome task to find the right wall-mounted electric heater. Different heaters have different builds, features, and specifications. Prices of these heaters also vary and therefore, you must buy a heater that is not only affordable but of the highest quality as well. It should easily and effectively warm your room. Luckily for you, we have included some of the best wall mounted electric heaters in our guide.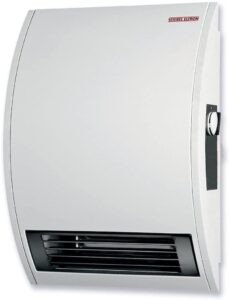 Stiebel Eltron 074058 is one of the best small electric wall heaters for smaller rooms such as bathrooms. It can independently heat the area up to 215 square feet. You can also pair the heater with a wall thermostat if you have to heat a room greater than 215 square feet.
Boasting German technology, Stiebel Eltron does his job very quietly. On top of that, it is quite a powerful heater with a maximum wattage of 2000 watts and a thermostat range of 41-8F. The design of the heater is also very beautiful and elegant. The surface mounted heater will be hardwired into your wall. Therefore, you require spare enough room for the installation.
One of the best features of Stiebel Eltron 074058 is the Time Controlled Boost. The heater will provide you with maximum heating output for a full 60 minutes before returning to the original thermostat settings. The built-in thermostat, ultra-quiet fan, the power switch, and frost protection setting are some of the other notable features of this brilliant heater.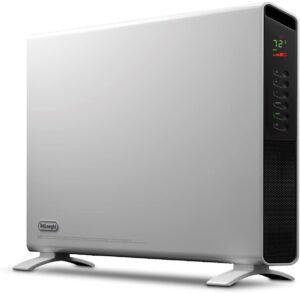 De'Longhi Convection is a slim, sleek, and stylish panel heater that can complement any home décor and application. It can heat coldest of rooms in a jiffy by employing unique dual fan technology and instant heat settings.
You can place the De'Longhi Convection anywhere you want due to its convenient wall mountable options and slim design. Similarly, it is an ideal heater for your office, living room, bedroom, or any other part of your room as long as you use it as a spot or supplementary heater.
The heater also features three heat settings and an adjustable thermostat, allowing you to personalize your heat settings. Not to mention, the heater works silently as well.
When it comes to safety, the heater never overheats because it has a safety thermal cut-off switch. You can use this switch in case the power/caution indicator lights up or the heater becomes unstable.
Another excellent feature of De'Longhi Convection is the Automatic Saves Energy option. The heater provides the most economical yet comfortable warmth by automatically adjusting power and heat settings.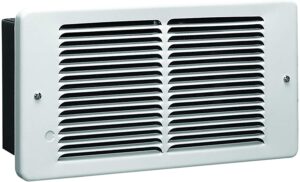 King PAW2422-W is the best electric heater for larger rooms by a fair distance. You can also customize the heater's design and features to meet your room's needs. For instance, you can select maximum voltage, wattage, and thermostat range during the installation. Similarly, the heater is a perfect choice for larger rooms, such as furnished basements and family rooms, spanning up to 400 square feet.
King Paw2422 is a very small heater with dimensions of 13.5 x 7.5 x 4. It also installs only 4 inches above the ground. Therefore, it looks more like a wall outlet for your home's central cooling system rather than an independent wall heater.
You need to connect a thermostat (sold separately) with the heater to control the temperature. You can choose from many different thermostats by King for this very purpose. The heater itself comes with a grill cover, interior heater element, a fan, and a wall can.
The steel heating element is very durable and long-lasting. It also distributes heat equally to all parts of the room.
The King Paw2422 is also a very safe heater. It completely shuts down in case of overheating thanks to the built-in overload protection. Subsequently, you can manually restart the heater once it has cooled down.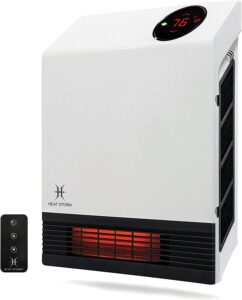 Heat Storm Deluxe Infrared Wall heater is different from other heaters in the sense that it uses an infrared system to warm up your room. It can independently heat an area up to 500 square feet. More importantly, it is also a very affordable heater and therefore, everyone can buy it.
Heat Storm Deluxe is a small electric heater with dimensions of 13" x 13.6" x 16.5". Weighing only 6 pounds, you should always use it only as a supplementary heater. Therefore, you can install it in any room despite its size. However, experts recommend installing this powerful heater in areas like bedrooms, living rooms, and larger offices. As it covers up to 500 square feet of area and produces a lot of heat, you should refrain from using it in smaller rooms.
The NOM and ETL certified heater does not consume a lot of electricity as well. It is an energy-efficient device that is also available with feet if you want to place it on the floor.
Perhaps, the best feature of the heater is Wi-Fi compatibility. There are not many electric heaters that offer this functionality. You can use your smartphone, tablet, or any other device to control the temperature and adjust settings.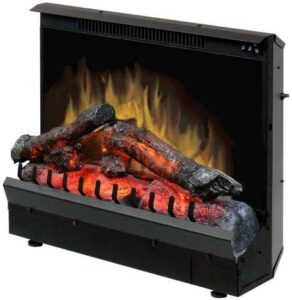 Dimplex Electric Fireplace Insert allows you to relive the unforgettable memories and charm of the past. Designed like a traditional fireplace, you can easily install it into an existing wooden fireplace opening. Similarly, it draws power from any standard household outlet.
The electric heater has a maximum power of 1375 watts which is more than enough to heat up to 400 square feet of area. The operation is also quite economical, costing you only about two cents per hour. The heater also comes with a built-in fan that distributes heat equally and quietly to the entire room.
You should also choose Dimplex Fireplace Insert for its matchless realism. You will enjoy a genuine fireplace experience because of the patented pulsating ember technology and LED inner glows. Both these things glow in tandem to create a very realistic flame.
The Fireplace Insert is also a very practical and safe choice for your home as no emissions or flame heat are come out of the fireplace. It is also 100% more efficient than comparable models besides being a green alternative, also making it one of the best electric wall heaters.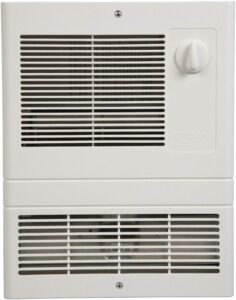 If you are looking for a well-designed, versatile, and reliable supplemental heater, you must consider Broan-NuTone 9815WH Grille Heater. What sets this heater apart from others is the unobtrusive installation. Therefore, you can easily use it in the bedrooms, living room, and any other room you want.
It is also very easy to control the temperature as the thermostat is located on the front. The thermostat reads the room temperature accurately as well. Therefore, the heater maintains a very comfortable temperature despite how cold it is outside.
The heater also comes with lots of safety features. For example, it automatically shuts down when there is a sudden rise in temperature. As a result, the heater seldom overheats, also preventing any mishaps at home.
Broan-NuTone is an energy-efficient electric wall heater. The heating element produces more heat compared to other heaters with similar wattages as it converts more electricity into heat. However, you should only use it as a secondary heating source as it is not a high-powered heater.
The heater does not require regular maintenance as well because of the already lubricated motor.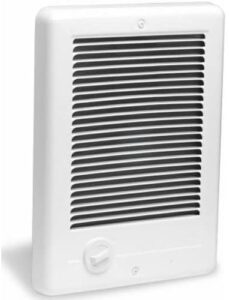 Cadet has been making some of the best electric wall heaters for sometimes now. The Cadet CSC152W Com-Pak Wall Heater is a great choice if you are looking for an ecofriendly wall heater with excellent performance. It is a lightweight and compact heater with modern style, elegant design, and glossy white finish. It can blend seamlessly with any home décor, traditional or modern.
The heater provides uniform warmth throughout the room thanks to a very quiet built-in fan. There are no cold spots in your room which are normally the case with substandard heaters. The UL listed heater also features an adjustable thermostat to control the temperature. The thermostat also enables you to efficiently use the heater while minimizing energy wastage.
The heater can be a bit noisy which can put some people off. However, all the fan forced heaters tend to produce some noise and therefore, it should not be a deal breaker for you.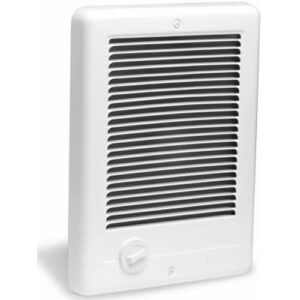 You must opt for Cadet 67507 Com-Pak Plus Fan Heater if you are in search of a flawless heater for a small to medium sized room. The heater does not only reduce the energy bills but it quickly heats your room as well.
Cadet 67507 is one of the best wall mounted electric heaters for many reasons. It is a powerful and energy-packed heater. It is the best for a small 200 square feet of space due to the power and voltage of 2000 watts and 240V. The compact design of the heater means it does not cover a lot of living space as well. Therefore, you can easily use it even in the smallest of places.
Made of high-quality steel, the heater is meant to last long. Similarly, you can also mount the heater both horizontally and vertically. It also has safety features for overheating and built-in adjustable thermostat. You can easily control the temperature using the thermostat. Similarly, the heater will shut off automatically if it overheats before doing any serious damages.
The fan also provides the heat for a long time. As a result, you achieve perfect room temperature and optimum comfort.
Cadet 67507 is a very safe device for children thanks to its nicely rounded edges.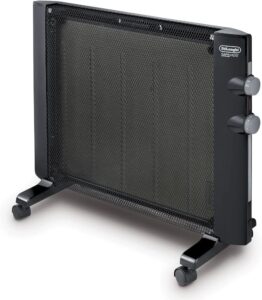 You can use the De'Longhi Mica Thermal Panel Heater both as a standalone heater or a wall-mounted device. It can easily become a focal point of your room because of its compact and sleek design and contemporary looks.
The heater is also very convenient to use. You can place it anywhere in the room you want if it is not mounted on the wall. Similarly, the 1500 watts heater provides full warmth to the entire room up to 300 square feet big. The multiple heating settings and the adjustable thermostat also enable you to personalize your comfort. Castors and a carry handle also make it very easy to transport this heater.
Made of high-quality metals, the heater protects its internal components from any kind of damage in case you knock it down while shifting it from one place to another. It also does not overheat as it comes with a thermal safety cut-off.
As the heater warms up your room using a mica panel, it does not require any fan as well. Therefore, the overall operation is very quiet and comfortable.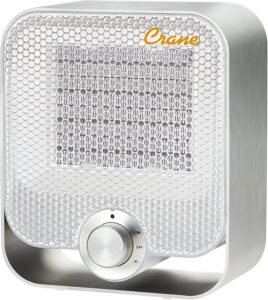 Crane Personal Ceramic Space Heater is available for less than $50. However, don't be fooled by its ridiculously low price. It is jam packed with lots of highly desirable features when it comes to heating your room.
First and foremost, it is an ideal heater for smaller rooms or tight spaces. It is only 7.5 inches tall and 5.5 inches wide and therefore, you can use it even in the smallest of rooms.
Perhaps the best feature of the heater is the Cool Touch. The heater's exterior always remains cold which is a sigh of relief if you have children or pets at home. Crane Personal also heats your room quickly by effectively circulating heat and air.
Just like all other good heaters, the Crane Personal also has overheat safety protection. It shuts off automatically in case of overheating. The Whisper Quiet operation also means the heater will not disturb you while you are working, studying, or sleeping.
You can also choose from two different colors that are black and white.
How does Electric Wall Heater Work?
Electric heaters work on the principle of converting electricity into heat energy. The more energy they produce, the warmer will be the room. However, electric heaters operate in a much more complicated manner than this simple explanation.
Most electric wall heaters feature heating elements. Mostly made of ceramic, these heating elements either produce ultraviolet radiation or heat a liquid using electric energy to produce heat energy. The heaters which use a liquid to generate heat are known as convection heaters.
The fluid in the heater is a heat sink. It absorbs the cold air currents that come in contact with the heater and transfers heat energy to them before releasing them. The electric heater continuously takes in cold air and releases hot air. Some heaters also have a built-in fan to expedite the heating process.
Electric heaters that produce ultraviolet radiations to heat your room are known as radiant heaters. These heaters are better than convection heaters because they provide heat very quickly and reliably.
Benefits of Electric Wall Heaters
Best electric wall heaters offer a lot of benefits to the users. The following are some of the features which make electric wall heaters better than traditional heaters.
Safety
One of the biggest benefits of an electric wall heater is safety. Traditional wall heaters are unsafe for your home and family because they use different types of highly inflammable fuels. Although they seldom catch fire if you use them properly and carefully yet there is always a chance of a mishap. Electric heaters do not pose any such danger. You just have to install them in the existing HVAC system of your home and you are good to go. Some heaters plug into the standard power outlet, making them even safer and easier to use.
Provide Heat Quickly
As compared to traditional heaters, electric heaters provide heat relatively quickly. A good electric wall will heat your room in just 20 to 30 seconds. As such, these heaters are very energy efficient as well.
Temperature Control
Temperature control is yet another excellent feature of electric wall heaters with thermostat. You can control the maximum and minimum temperature of the heater using the thermostat. Your heater can overheat causing serious damage to your room if you cannot control the temperature. Similarly, you would simply unable to achieve optimum comfort as well.
Supplemental Heating
Small electric wall heaters are an incredible source of supplemental heating. They can help you heat a certain part of your room instead of turning on the central heating system. This also helps you considerably reduce your electricity bills because you seldom use all rooms of your house simultaneously. Electric wall heaters allow you to heat only the room that you are currently using.
No Regular Maintenance Required
Central heating systems and traditional heaters require regular maintenance which can be a bit of hassle. However, this is not the case with electric heaters. They require little to no maintenance to work properly. You don't have to worry about annual services or maintenances. Just install your heater in the wall and enjoy carefree heating for years to come.
Convenient to Place and Use
As the name suggests, you can easily mount electric wall heaters on the wall. This is perhaps their best feature because you can save plenty of precious floor space, especially if you have a smaller apartment or office.
Cost Effectiveness
Cost is one factor that you should always consider before buying any heating system. Electric wall heaters are cheaper and more affordable than traditional heaters. Their overall operating cost is the lowest as well. For example, they consume very little energy to produce heat and therefore, they do no result in high electricity bills.
How to Choose an Electric Wall Heater?
It is a cumbersome task to find the best energy efficient electric wall heater for your home. Such heaters come in different shapes and sizes. Similarly, there are zillions of brands in the market, making heaters with different features. You will be able to make the right decision only if you are fully aware of your home's heating requirements. The following are a few factors you need to keep in mind while buying an electric wall heater.
Area of Coverage
The area of coverage is one of the most important considerations. It refers to the total area in which the heater will effectively provide heat. It is the size of the area within which you will be able to fully enjoy the warmth. Most electric wall heaters easily heat up from 200 square feet to 500 square feet of area. It also depends on how powerful the heater is. Some models have a smaller or larger area of effectiveness.
It is better to measure the area in which you want to install the heater. It will give you a good idea of which heater you should buy.
Size
Here, we are talking about the physical size of the heater. Although the size of electric wall heaters varies greatly yet they are mostly between 2 feet to 3 feet long. Naturally, some of them are smaller and others are a bit larger. You should go for a small heater if you have a small room or apartment. On the other hand, you can choose a larger heater in case you have unlimited space.
Usage
You also have to determine how you are going to use the electric heater. Is it going to be a supplementary heart or an independent one? Once again, you should go for a larger and more powerful heater if you intend to use it independently for larger rooms. However, a smaller heater will do as a supplemental heating source for smaller areas.
Thermostats and Timers
Best electric wall heaters mostly have thermostats and timers. You can set an ideal heating temperature for your room using a thermostat. Similarly, the timer allows you to decide how long a heater should operate. For example, you can program some heaters on our list to operate for up to 8 hours using the built-in timer. Electric heaters that feature thermostat and timers are more convenient to use compared to those which don't have them.
Safety Features
You must always buy heaters with advanced safety features such as automatic shut off in case of overheating and cool-to-touch. Heaters that come with these functionalities are very safe to use. For example, a heater will not cause serious damage if it automatically shuts off when it overheats. Similarly, children and pets will not suffer from any burns if they accidentally touch a heater with a cool-to-touch feature.
Wattage and Power
All electric wall heaters have wattage ratings. Wattage is directly proportional to the heater's coverage area. The more the wattage, the more area it will cover. Heaters with up to 2250 watts of power will easily heat the area up to 400 square feet. Similarly, a heater will only cover up to 250 square feet if it has a wattage of 1500 watts.
Design and Aesthetics
You would also like to consider the overall design and aesthetics of the heater. Does it complement your home's décor? How does it look within your room? Ideally, the heater should not be an eyesore to the viewers while offering excellent performance. You can even install some of the electric heaters horizontally as well as vertically. Rest assured, they will cover less space compared to traditional heaters.
Price and Warranty
Price is an important consideration not matter whatever you buy. Luckily, you don't need to spend a fortune to get a quality electric wall heater. In fact, you can get one for as little as $50.
You must also pay special attention to the warranty. You don't want to buy a new heater if anything goes wrong. Therefore, you should purchase a heater that at least has a one-year manufacturer warranty.
Final Thoughts
Concluding our electric wall heaters reviews, we can confidently say that electric wall heaters will be an awesome addition to your home. They are not only affordable but easy to install and highly effective as well when it comes to heating a single room or part of your home.