Are you looking for the best canon printer for home? If yes, you don't need to look any further. This article unveils some of the top Canon printers that you can use both in your home and office.
The article will also contain the following sections, allowing you to make the buying decision quickly without having to think long and hard.
Why Use Canon Printers?
10 best Canon printers for home
Types of printers
Main printer brands from Canon
How to buy a Canon printer for home?
Frequently Asked Questions
Why Use Canon Printers?
It is not an easy job to buy a reliable and durable printer. There are thousands of printers available in the market. And, the majority of them are from companies you have never heard about. Buying a printer from any such company will only result in sheer agony and a waste of money. It will probably not last for a couple of months, nothing to talk about serving you for years. These printers may be cheap but also substandard and unreliable. You may have to spend more money on their maintenance and repairs than you would spend on a brand new printer from a reputed brand such as Canon. 
Buying the best Canon printer for home use can save you a lot of frustration and trouble. Canon is a tech giant, especially when it comes to making high quality, durable, and reliable printers. The printing quality of Canon's printers is second to none. Similarly, some of the most popular Canon models are quite affordable as well. As such, Canon printers offer superior features and great value for money.
Canon printers stand out from the crowd for many reasons. They deliver excellent text printing quality, fabulous photo printing quality, and superb scan quality. On top of that, Canon offers a wide variety of products and brands to the customers, each of which has premium features and solid value.
10 Best Canon Printers for Home
In this Canon printer review, we have checked and evaluated hundreds of canon printer models to find the right printer for your home printing requirements.
Here is a list of all the printers that have made their way to our list.
Canon TS9120 Wireless All In One Printer: The best Canon printer for home use
Canon PIXMA TS6220 All In One Wireless Printer: Best PIXMA Canon printer under $200
Canon Maxify MB5420 Wireless Inkjet Printer: The best Canon Inkjet Printer
Canon PIXMA TR4520 All In One Wireless Printer: Best budget Canon printer for home
Canon Color ImageCLASS MF644Cdw All In One Printer: A good option for business and home use
Canon MX 922 All In One Wireless Printer: One of the best canon printers
Canon PIXMA Pro-100 Wireless Inkjet Printer: Best Canon home printer for photos
Canon PIXMA iX6820 Wireless Business Printer: Best Canon printer under $300
Canon TS202 Inkjet Photo Printer: Best cheap canon printer for Home
Canon TS 5120 All In One Wireless Printer: Simple and compact printer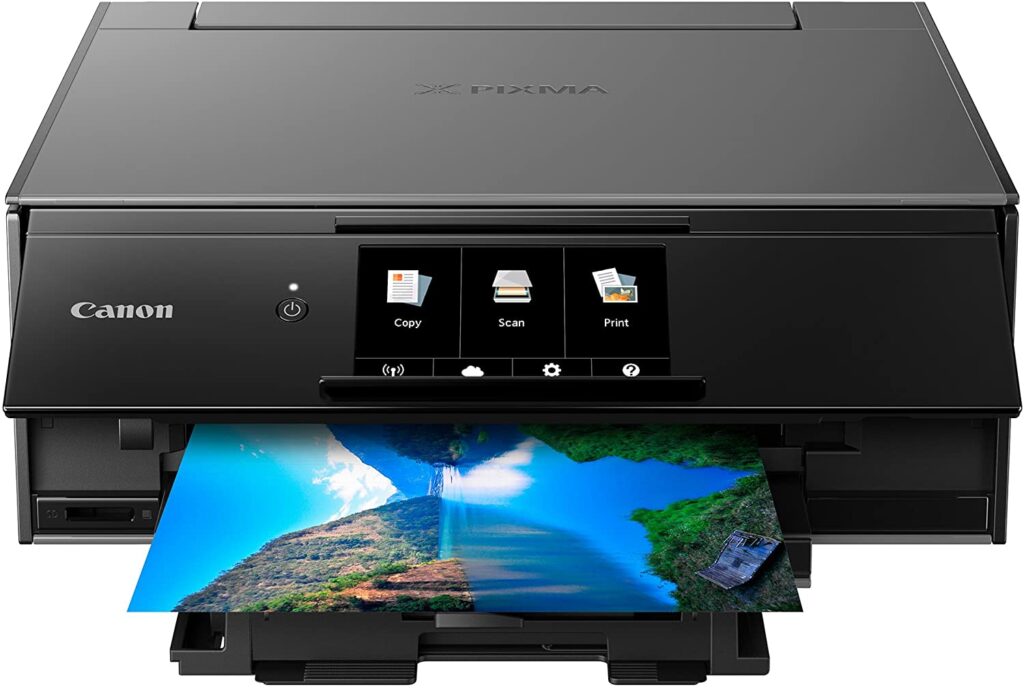 Canon PIXMA TS9120 is the best Canon All in One printer for home use. The printer delivers outstanding print quality both for photos and text. The color quality is also the best you would ever get thanks to six individual color inks also including Photo Blue ink specifically for photos. The connectivity options are also quite flexible allowing you to connect the printer using either WiFi or Bluetooth.
The best thing about TS9120 is that it can print from any device be it is a smartphone, tablet, laptop, desktop, and even from cloud. It even prints labels on CDs and DVDs. What more you can ask for?
The printer also offers some exciting features such as built-in creative filters to make your photos even more beautiful. Similarly, Canon TS9120 is available in three two-tone color options which are quite rare for printers.
Canon PIXMA T9120 is the best Canon printer for home use. It offers all the premier photo and text printing features as well as scanner and copier options for a very reasonable price.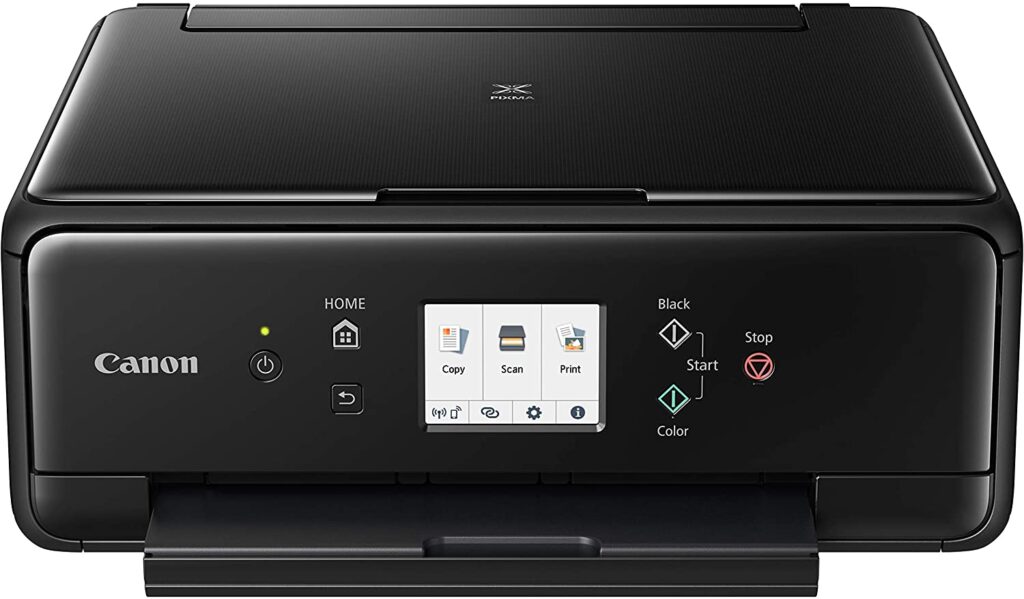 Canon PIXMA TS6220 is another fantastic home printer from Canon. The printer comes with a 3-inc LCD which enables you to intuitively choose between printing, scanning, copying, or other controls. The printer has printing speeds of 15 ipm and 10 ipm for black and color printing respectively. It is an all-in-one printer with a built-in copier and scanner.
Just like PIXMA T9120, you can print your favorite moments directly from Facebook, Instagram, and other cloud-based programs using IFTTT technology. Besides, you can also print personalized 7" into 10" greeting cards for various occasions such as birthdays, Christmas, and weddings. Similarly, the printer also allows you to print photos on 5" x 5" Canon Glossy papers.
PIXMA TS6220 provides a 5-color individual printing system. It also means you have to replace or refill only the cartridge that has run out of ink. Speed and quality of prints are always exceptional as well.
TS6220 also offers duplex printing and therefore, you can print on both sides of the paper.
Canon PIXMA TS6220 is the best Canon PIXMA printer in this price range. It can easily meet all your home printing needs without costing you a lot of money.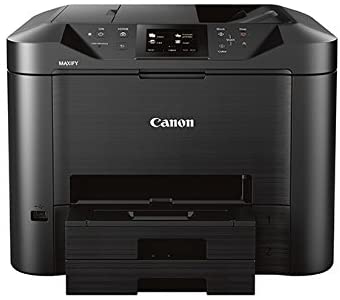 Inkjet printers by Canon offer many advantages such as excellent print quality both for text and images. However, speed has not been their main selling point but not anymore. Canon Maxify MB5420 and other inkjet printers in the Maxify series have been designed to deliver fast yet quality prints.
MB540 is a multipurpose printer that you can use both in your home and office. However, it is primarily an office printer because of its large size. According to Canon, it can support an office with up to 9 employees. However, you should opt for Maxify MB5120 if you need a printer solely for your home.
Canon also claims that MB5420 has a printing speed of 24 ipm and 15.5 ipm for black and white and color prints respectively which is brilliant, to say the least. The ink cartridges also last long with a low cost per print. The printer also allows one-pass duplex printing. MB5420 has a peak duty cycle of 30,000 pages per month, also making it the best Canon wireless all in one printer for the office.
When it comes to print quality, MB5420 delivers excellent results, especially with color prints. It also gives a good account of itself for photos even though it is not a photo printer. Price is a bit on the higher side but this is what you expect to pay for a high-end product.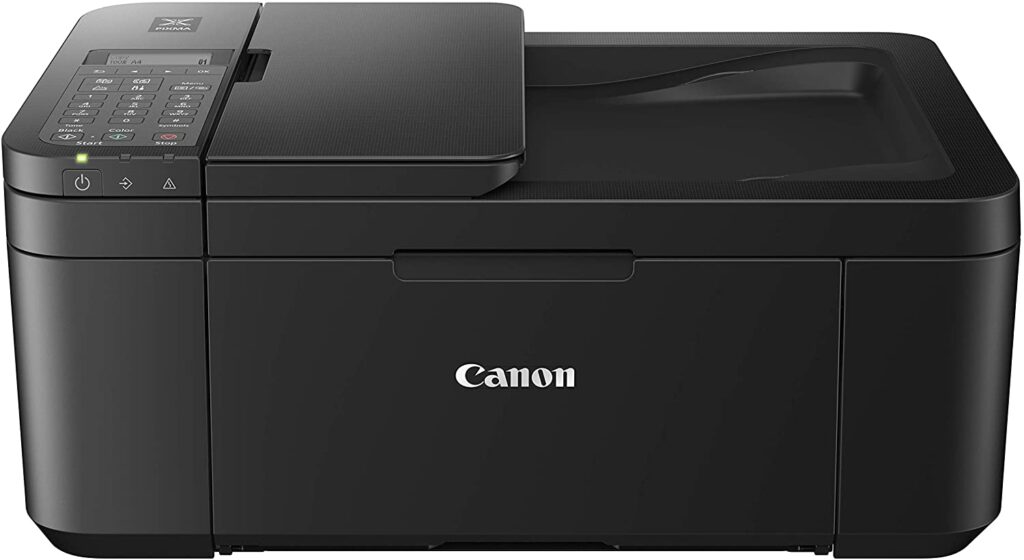 Canon PIXMA TR4520 is one of the best Canon printers for everyday use. It is available for less than $100 but offers all the functions and features you expect from a PIXMA printer.
First and foremost, the printer is very easy to set up. Secondly, you can print directly from your smartphone or tablet using the Canon Print app. It is also very easy to use thanks to the features like WiFi, Auto Power On/Off, Mopira Print Service, AirPrint, and built-in ADF. TR4520 also has automatic printing mode just like all other PIXMA printers. You can also connect the inkjet printer through a USB connection.
TR4520 is an all-in-one but a very compact printer which is a rarity. Usually, all-in-one printers tend to be huge and bulky. However, it is a budget printer and therefore, has comparatively low printing speeds of 8.8 ipm for black and 4.4 ipm for color printing. It also comes with a Full Dot Matrix LCD and enables auto duplex printing.
The Canon PIXMA TR4520 is the best Canon printer for home if you only want a printer for smaller printing jobs.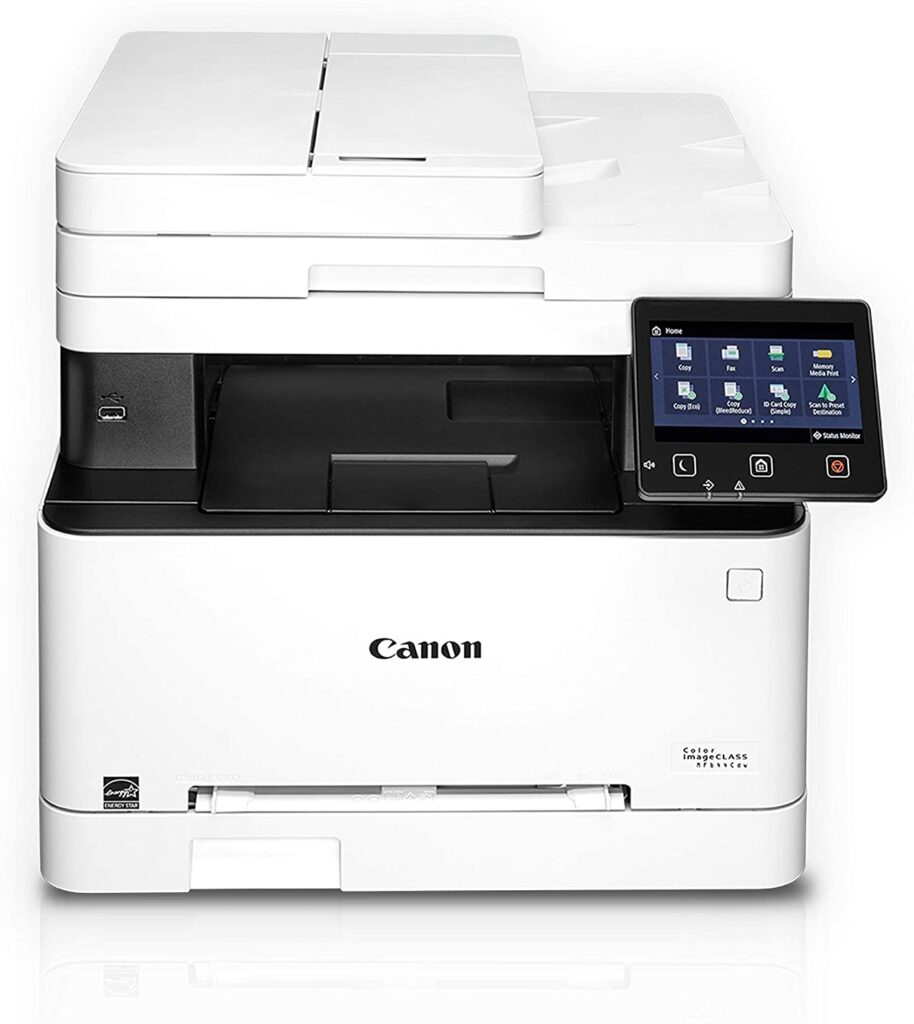 Canon Color ImageCLASS MF644CDw offers a customized and unique printing experience. It helps you complete many different tasks such as printing, scanning, copying, and Application Library under one roof.
The printer features a smartphone-like 5-inch color touchscreen with intuitive controls. You can directly connect it to the smartphones, tablets, and laptops just by creating WiFi hotspots. Therefore, you don't need to use any external router at all.
MF644Cdw is a highly reliable printer which also decreases imprint on the environment while maximizing productivity. The One Pass Scan technology converts the documents into searchable digital files as well. The duplex document feeder is an added advantage. The printer prints a document in less than 10 seconds thanks to the First Print Time technology.
The connectivity options include the standard Apple AirPrint, Canon Print Business app, and WiFi. The printer has a paper capacity of 250 sheets and a maximum of 5 people can use it at any time.
Canon Color ImageCLASS MF644Cdw is an ideal choice if you want a good business and home printer for small printing tasks. It is reliable, highly productive, and efficient and thus, it also considerably reduces the printing costs as well.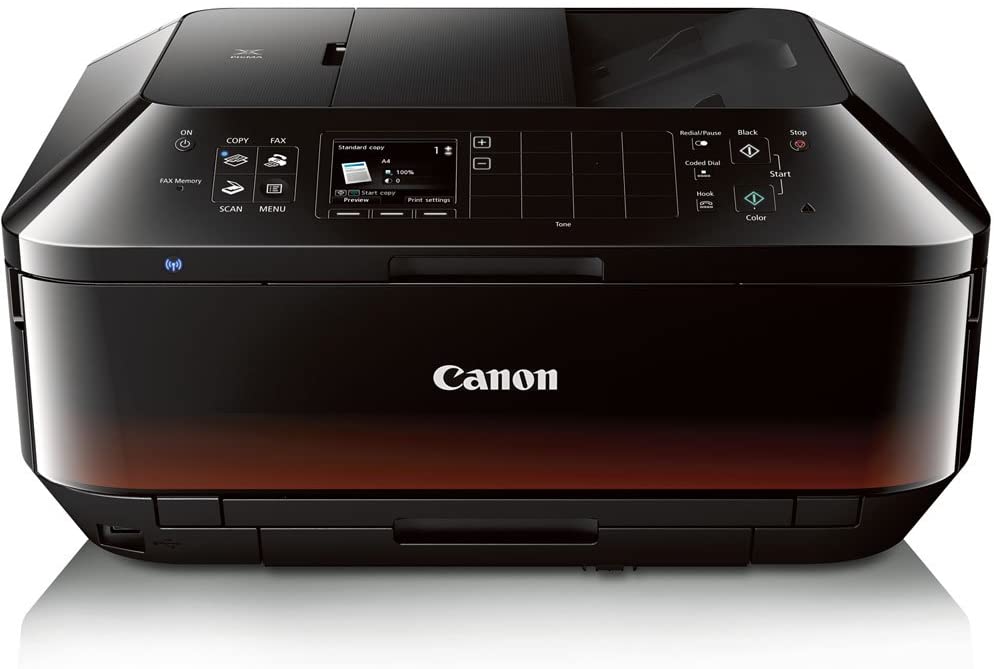 Canon MX922 is one of the best Canon printers for business and home use. It makes printing easier than ever before by offering an assortment of great features.
As you may expect, the connectivity options include everything from Google Cloud Print to Apple AirPrint, Wireless Lan Printing, USB 2.0 High-Speed ports, and Mobile Device Printing. The printer comes with a 35 sheet duplex auto document feeder. As a result, you don't have to load one page at a time for tasks like copying, scanning, and printing.
The printer is compatible with all the operating systems. It is very easy to set up and use. The 20 feet power cable means you can place it anywhere in your room.
MX922 has a 6-color printing system. The ink cartridges also include a Photo Blue cartridge which considerably reduces graininess. The 5-inch touchscreen also allows you to add filters to your photos.
MX922 is a stylish and compact printer offering stunning print quality both for text and photos. With a printing speed of 15 ipm for black and white, printing is also fairly fast.
Canon All-in-One printers have set an unmatched quality standard and MX 922 is the crown in the jewel. It is arguable among the top canon printers for business and offices but you can use it in your home as well.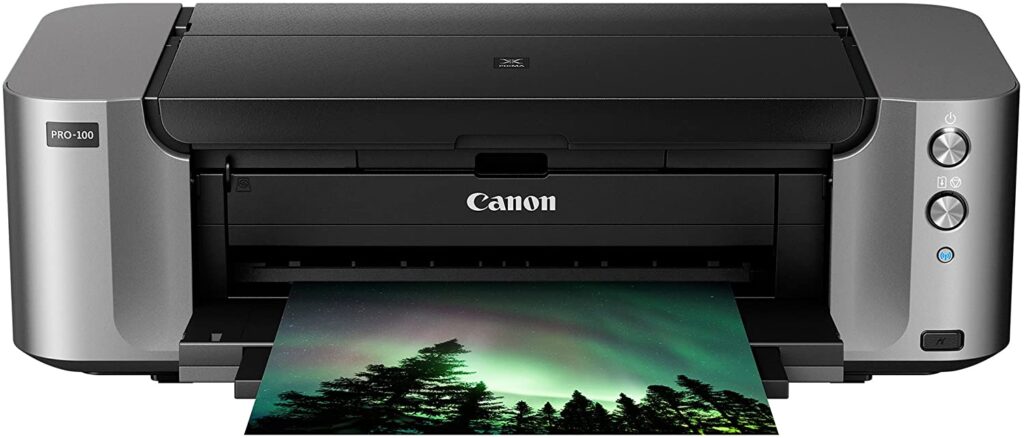 You have to include the Canon PIXMA Pro-100 Wireless printer on the list of top rated Canon printers, for only one reason. It allows you to print photos from compatible digital cameras, camcorders, and smartphones through PictBridge connection. Not to mention, you can also print documents and photos from any devices such as tablets and laptops you like using the built-in WiFi feature.
Another excellent feature of Pro-100 is the 8 dye-base
d inks. As a result, you achieve amazing colors and gradients in your photos. 3 out of 8 dye-based inks are dedicated grayscale inks to produce excellent black and white prints. The remaining 5 inks are used to deliver exceptionally good photos. As each ink is in a separate tank, you can individually refill or replace the tank that has run out of ink.
PIXMA Pro-100 has front and back trays to handle the papers. The build-in CD and DVD printing, computer-free printing, Hi-speed USB, and Pro Printing are some of the other highlights of this amazing printer.
Canon PIXMA Pro-100 is the best Canon printer for printing photos. Therefore, you must go for it if you want a printer specifically for this purpose.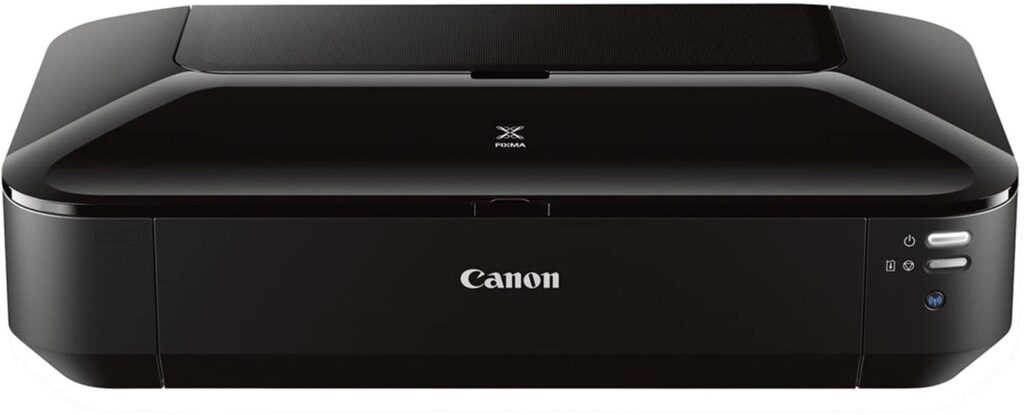 Canon PIXMA ix6820 delivers crystal clear and crisp text thanks to a 5-color printing system including 4 dye-based inks. However, the printer is equally good for photo printing.
As you may already know, all PIXMA All-in-One printers enable you to print wirelessly using WiFi connection. The auto power feature also improves the printer's performance. The printer automatically wakes up the moment you send a photo or document for printing. It also features 150 sheets auto sheet feeder which means you don't have to individually feed every single page to the printer.
Of course, the printer also has all the standard features such as the Quiet Mode, borderless printing, full HD movie print, built-in wireless, and PIXMA Printing Solution app, etc.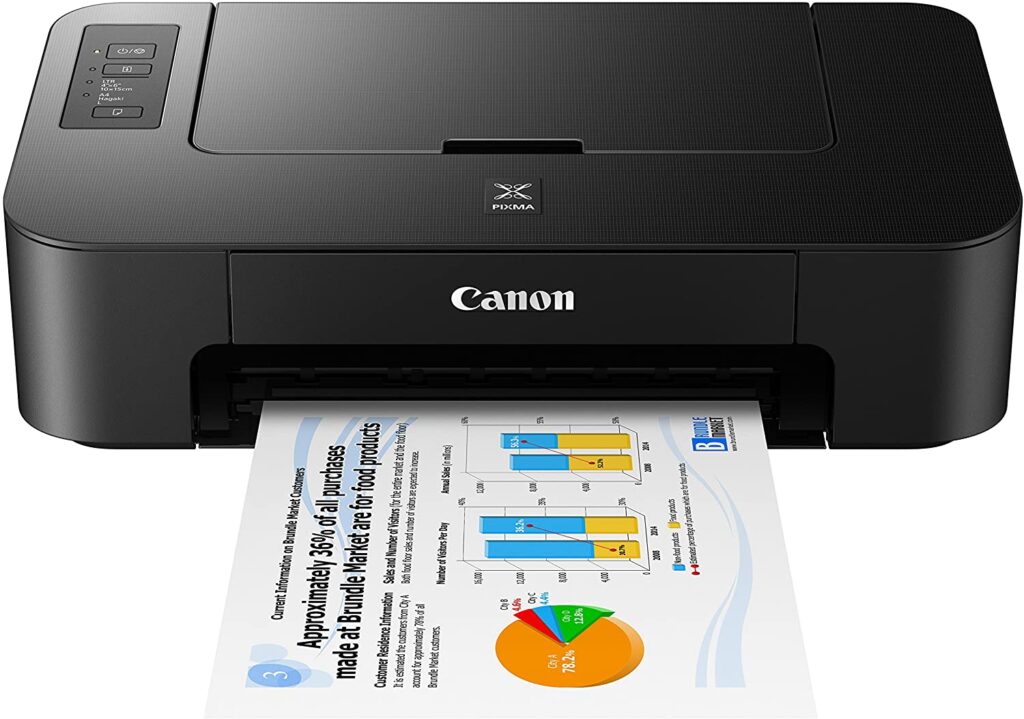 Canon TS202 is perhaps the cheapest and the simplest of inkjet printers from Canon. However, don't be fooled by its price because it packs a lot of amazing features such as a fine hybrid ink system for detailed, crisp, and sharp photos and documents.
The printer also comes with a dedicated rear paper tray for quickly refilling papers. You can place it anywhere in your room because of its small and compact size. With a paper capacity of 60 sheets, the TS202 is quite a capable printer, particularly for home use. The printer also helps you save a lot of money as it is also compatible with extra-large ink cartridges.
Canon TS202 is a bit noisy but you can't expect much from such a cheap printer.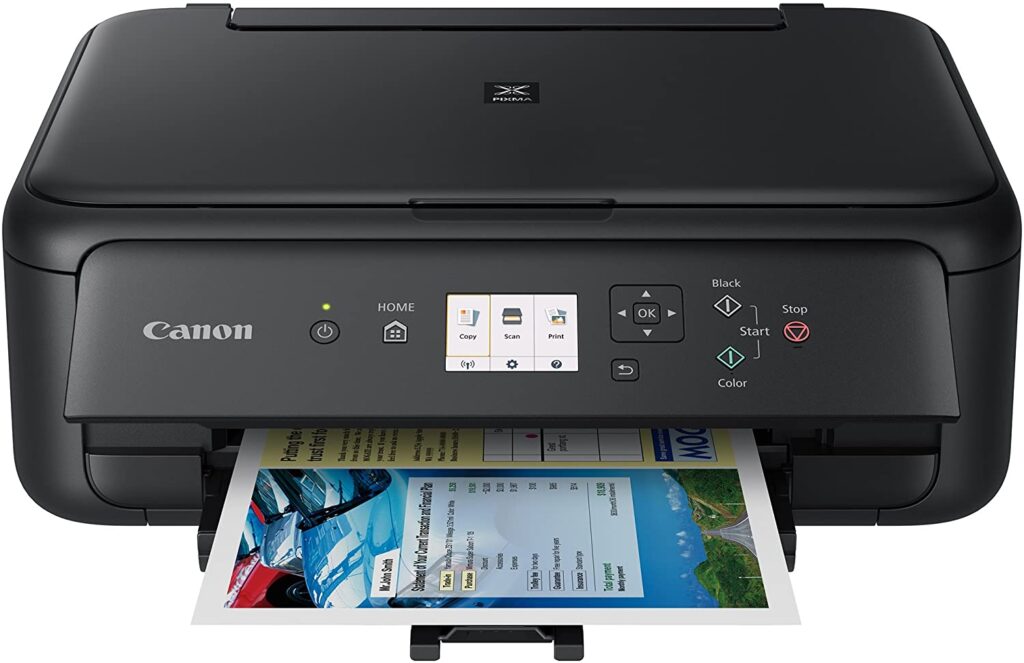 Finally, we have Canon TS5120 All in One Printer on our list. It offers all the features and functions which you expect from a Canon printer. For example, it can print directly from the Cloud, social media, smartphones, tablets, and other devices through connectivity options like WiFi, AirPrint, and Google Cloud.
TS5120 is a multipurpose printer and can meet all of your daily printing needs. It can print everything from borderless photos to forms, photos, documents, CDs and DVDs, and even concert tickets. The duplex printing features cuts down your printing costs by almost 50%.
Document Removal Reminder is perhaps the best feature of TS5120. Thanks to this feature, you will never misplace or lose the original document while making a copy. The printer also has rear and front trays for rear and front paper support.
Finally, you can put it anywhere you want due to its compact design.
Main Types of Printers
You need to keep the types of printers in mind while shopping for the best Canon printer for home. Determining which technology you need beforehand will always help you find the right printer for your needs.
Print-only vs. All-in-One Printers
When you compare Canon PIXMA printers or other printers, figure out whether they are print-only or all-in-one printers.
Print-only Printers
As the names suggests, these printers can only print photos and documents. They cannot copy or scan documents even if they have wireless connectivity options.
All-in-One Printers
All-in-One printers cannot only print documents and photos but they can scan and copy them as well. Some of them have advanced features such as the capability to save the documents as searchable digital files onto flash drives and memory cards.  Similarly, some printers can also share these files across a server or a network. Older all-in-one printers could also send and receive the fax but that feature is quickly becoming a thing of past. Half of the Canon printers in general and all printers on our list are multifunction machines.
Inkjet Vs Laser Printers
Printers also differ in terms of their printing technology. The two most common types of printers in the world are as under.
Inkjet Printers
Inkjet printers spray hundreds of small droplets of liquid ink onto the paper through a series of nozzles. You can use Inkjet printers for black and white as well as full-color printing. They are particularly a great option for photo printing.
Laser Printers
Laser printers create an image by fusing a toner onto the paper. The printers spray the toner in hundreds or even thousands of pixels per inch as with Inkjet printers. Laser printers deliver sharp and detailed text documents but their performance with photos is poor. However, laser printers are much faster than Inkjet printers.
Main Printer Brands from Canon
Canon offers a wide range of both laser and Inkjet printers under various brand names. The company categorizes printers into these brands based on their distinctive features. Knowing what you are looking for will simplify your search and enable you to find the best printer to meet your requirements.
Here are the top four printer brands from Canon
PIXMA
PIXMA is perhaps the best and most famous printer brand. These printers are known for providing exceptional printing quality and equally fast printing speed. Canon primarily makes these printers for use in homes and small offices.
Some of the PIXMA printers are high-quality photo printers. However, most of them are all-in-one printers. PIXMA is also the largest Canon printer brand with the most number of printers.
ImageCLASS
If you are looking for top printing speed and high-quality prints, you should look for any of the ImageCLASS printers. These are huge printers suitable for both home and office use. Many ImageCLASS printers have all-in-one capabilities while some of them are monochrome only.
Selphy
Selphy series of printer consists of small printers which you can use on the go. They are the best option to print documents or photos from mobile devices.
Maxify
Maxify printers are an ideal choice for busy homes or small offices as they offer incredible printing speed. They also enable you to take prints from Cloud or mobile devices. They also offer the lowest cost per print compared to all other Canon printer brands.
How to Buy the Best Canon Printer for Home?
There are several factors to consider when buying a new printer for your home. You need a printer with excellent print quality and high printing speed. However, there is much more to a printer than printing documents in a quick time.
Price
Price should be the biggest consideration. The best Canon printer for home should not only be excellent but it should be affordable as well. You can buy an all-in-one Inkjet printer for as low as $60 and a laser printer for as high as $150. Similarly, some of the more advanced high-end printers can cost you above $300 and even more. However, they do offer durability, better printing quality, and an assortment of other features. You should never forget the cost of ink and toner as well. They can cost you anywhere from 1 to 5 cents per page. Photo printing is more expensive compared to document printing.
Style of Printer
You also need to determine which kind of printer you want to buy. If you are looking for a full range of colors, you should go for an Inkjet printer. They are a great choice for printing photos and graphics. Laser printers, on the other hand, are perfect for delivering professional text documents. On top of that, their printing cost per page is lower than Inkjet printers.
Cost per Page
Printers will start costing you more money over time regardless of their type. Therefore, you need to figure out how expensive a printer will be in terms of operating costs over the years. It is a good measure of their affordability as well.
Connectivity
Connectivity is also a very important detail to keep in mind. The best Canon printer for home will always come with a range of connectivity options such as WiFi, Ethernet, Bluetooth, USB Ports, and the ability to connect with Google Cloud and Apple AirPrint. You should also be able to share the printer with the network. Similarly, you can connect several PIXMA printers to your smartphones or other mobile devices as well.
Speed
You should never ignore speed as the fast printer will always come handy if you regularly print a large number of documents or photos at a time. You may consider buying a laser printer if speed is your primary requirement. Most Inkjet printers simply cannot live up to the speed expectations even though they are advertised to do so.
Besides the above factors, you should also look for things like paper capacity, paper size support, and borderless printing, etc. Check our top 10 picks of top rated Canon printers for choosing the right printer quickly.
Frequently Asked Questions
Which is better, Inkjet or laser printer?
Both Inkjet and laser printers have their advantages and disadvantageous. Inkjet printers are ideal for photo printing but they have average printing speeds. Laser printers are fast and deliver professional-grade documents but they are not suitable for photo printing.
Which printer brand is the best?
Canon is arguable the best printer brand in the world. Its printers are not only durable but also offers some great features. HP also manufactures fantastic printers, specially designed for small businesses and offices. However, it is better to compare individual printers from different brands to find out how they differ from each other.
How to find the best canon printers for printing photographs?
The best printer for photographs should be able to handle different sizes of paper. It should also have a dedicated ink tank for photos, a feature that has garnered special attention in recent years. Photography printers have up to 8 ink tanks as compared to four tanks in traditional printers. Dedicated inks produce more realistic colors both in black and white and color photos.
What are the hidden costs of using a printer?
There will always be ongoing costs apart from the initial cost of the printer. For example, you will have to replace toner or ink tanks from time to time. How often you use the printer and what you print will determine the replacement frequency. Another ongoing cost is paper.
Final Thoughts
Concluding our guide, we declare Canon TS9120 Wireless All in One Printer as the runaway winner. The runner up is Canon Maxify MB5420 Wireless Inkjet Printer. The third position goes to Canon PIXMA iX6820 Wireless Business Printer.
Please let us know whether or not our ranking is justified in the comments sections below.