Label printers have become an indispensable part of offices and home businesses. After all, you need to label all the products for shipping, especially if you are running a small business. And – it will take a lot of time and effort to write every customer's name and address manually. Not to mention, you may commit mistakes while writing shipping labels yourself and this is where the best label printers for shipping can come to your rescue. They not only help you save a lot of time and money while creating shipping labels but also enable you to work flawlessly and efficiently as well as organize your office.
It is a shame most people don't have any idea of how to buy a label printer. Despite their growing use, they have not become a common sight in offices yet even though they have been around for years.
Therefore, you may find it hard to buy the right label printer to meet your label printing requirements. However, you need not worry because we have got everything covered for you. This guide lists the best label printers for shipping so you don't have to sweat. We have chosen these printers based on their printing method, connectivity options, software quality, speed, and versatility.
You will also find the following pieces of information in this guide.
Types of label printers
10 Best shipping label printers
How to choose a label printer for shipping?
Frequently asked questions
Types of Label Printers
Primarily, there are only two types of label printers, the standalone printers, and the desktop printers. The standalone printers come with their own keyboard and a display. You can print labels using the keyboard and view them in the LCD. Sometimes, these printers are also referred to as Label Makers.
The desktop printers, as the name suggests, work more like regular printers. You have to connect them to the computer to adjust their settings. Furthermore, you will use the computer's keyboard and display to print the tags. These printers connect to computers through Ethernet, RS-232, USB, and other types of wireless connections.
Some models of label printers also have built-in automatic cutters, making your job much easier.
Now, we move to our top 10 label printers without any further ado.
10 Best Shipping Label Printers
Here is the list of the top shipping label printers compiled by our experts.
DYMO LabelWriter 450 Thermal Printer: Best thermal shipping label printer
Brother QL-800 Professional Label Printer: Best label shipping printer for offices and warehouses
ROLLO High Speed Thermal Label Printer: Best shipping label printer for small business
Arkscan 2054A Shipping Label Printer: Best label printer for eBay
Brother P-touch PTD210 Label Maker: Best cheap thermal printer
Brother P-Touch Cube Plus Label Maker: Best wireless shipping label printer
Zebra GK420d Thermal Desktop Printer: Best commercial label printer
Brady BMP21-Plus Handheld Label Printer: Best handheld label printer
DYMO 1752267 LabelWriter 450 Due: Best label printer for printing multiple types of labels
DYMO LabelManager 160 Portable Label Maker: Best budget label printer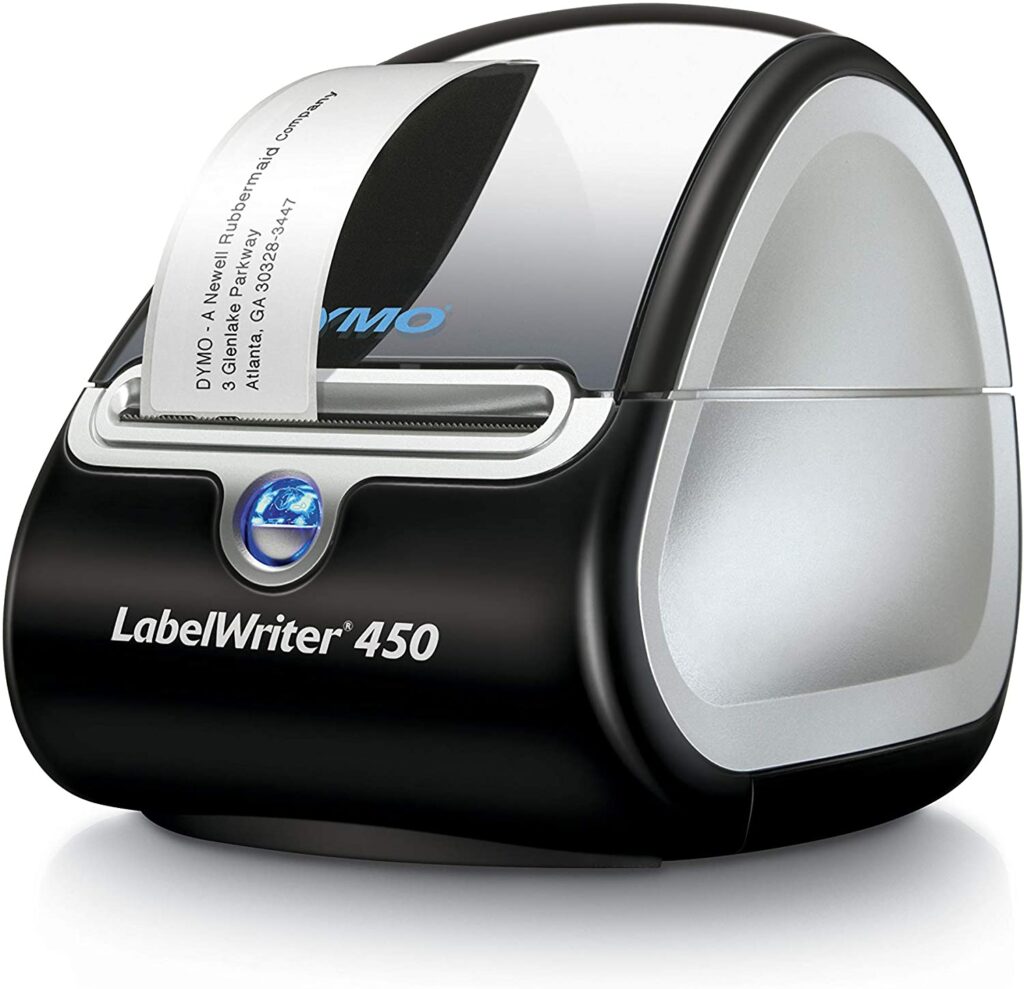 DYMO is a reputed name when it comes to the best label printers for shipping and LabelWriter 450 is no exception. It is not only ideal for printing customized shipping labels but for printing addresses, graphics, marker badges, filing, mailing, barcodes, and creating folders as well. Similarly, it can also create labels in a variety of sizes.
The best thing about DYMO 450 is that it prints labels directly from Outlook, MS Excel, MS Word, Card Scan, and other similar platforms. On top of that, thermal printing eliminates the need of buying ink, reducing the operational costs as well. The "new sleep" model also helps you conserve more power.
DYMO LabelWriter 450 is quite a fast writer as it can print up to 51 labels per minute. You can further enhance its speed and efficiency by using the included DYMO software. Finally, the operation is hassle-free thanks to easy-to-load labels.
All in all, DYMO 450 is the best thermal printer for shipping labels for its ease of use, versatility, and cost-effectiveness.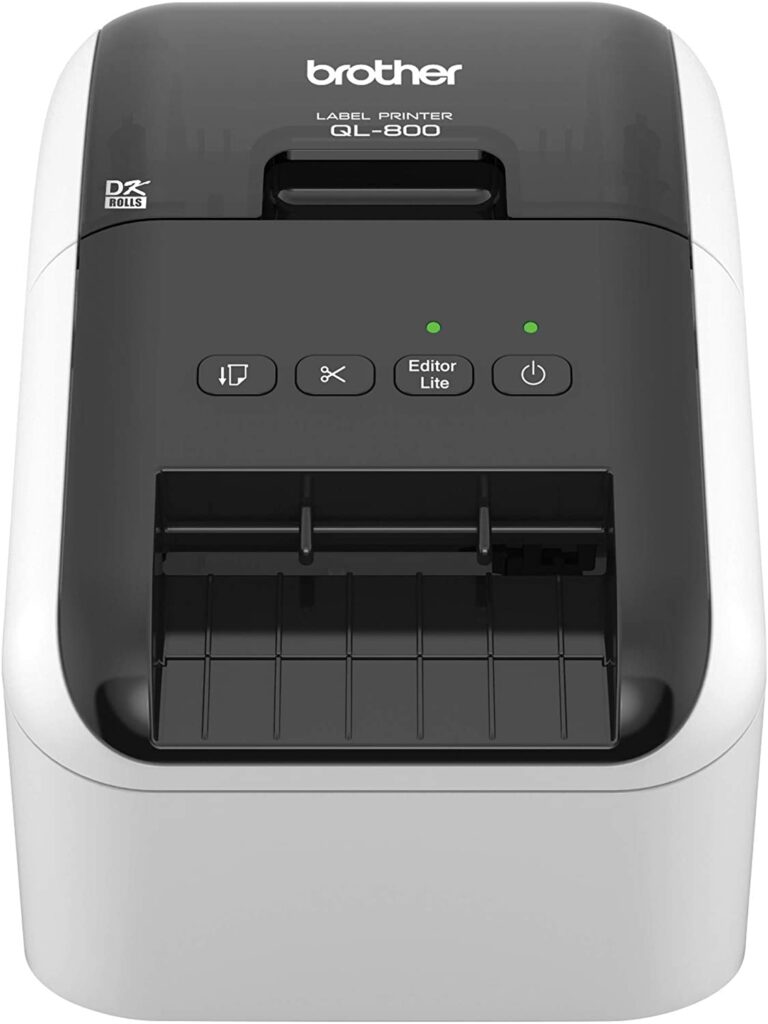 Brother QL-800 Professional is the ultimate label maker. It will surpass your expectations by offering super-fast speed (up to 93 standard labels and addresses per minute) and exceptional printing performance. For example, it is the only office label printer that allows you to print two colors (red and black) over the entire label.
This very brother label printer enables you to complete big projects in quick time by printing crisp black text and graphics at 300 dpi. The fast speed and thermal printing also result in cost-effective printing of envelopes, files, packages, name badges, folders, addresses, postages, and more. Similarly, you can also use Brother QL-800 to print postages for envelops and packages right from your computer.
Perhaps, the best feature of the Brother QL-800 is continuous length film taps and paper printing. For instance, it can create signs and banners up to 3 feet long owing to the integrated automatic paper cutter. The wireless printer is "plug and play" which means you don't need to install any software for Windows. No to mention, you can print labels directly from Word, Excel, Outlook, and other similar platforms.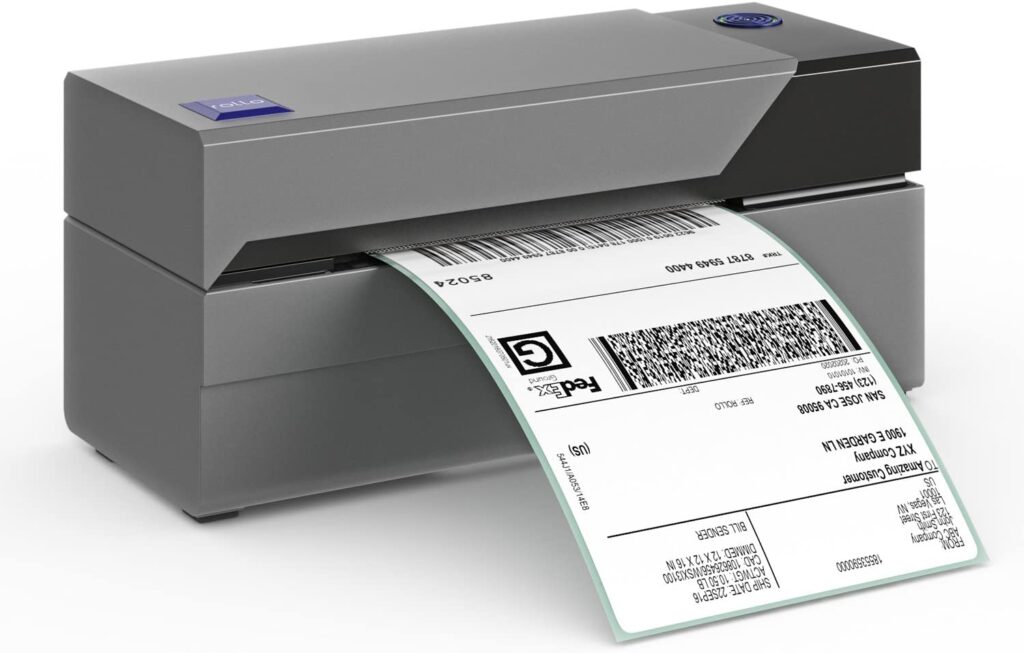 Rollo High Speed Thermal Label Printer is on our list for many reasons. To begin with, it is very easy to use. Secondly, you don't need any toner or ink because it employs thermal printing technology to print labels. This is especially advantageous for businesses that print a huge amount of labels.
ROLLO High Speed is a highly portable printer as well. You can easily take it with you anywhere you want. Rest assured, portability does not impair its capabilities or performance at all.
The printer also offers excellent performance. It is also the fastest label printer at the moment with the whopping print speed of 150 mm/s, also becoming the best cheap 4×6 label printer. Similarly, you can print labels with a width of 1.57" to 4.1." However, there is no restriction on the height.
The printer is also sturdy and durable and therefore, it can withstand hours of abuse, falls, and shocks.
A major benefit of having this printer is the Automatic Identification feature. In simple words, the printer requires a simple push of a button to automatically identify the category, characteristics, and weight of the package.
ROLLO also ensures large savings as it is compatible with any direct thermal label. As a result, you don't have to purchase printer-specific labels than can be quite costly. Finally, it printers crystal clear labels, which is the requirement of major couriers such as FedEx, USPS, UPS, and others.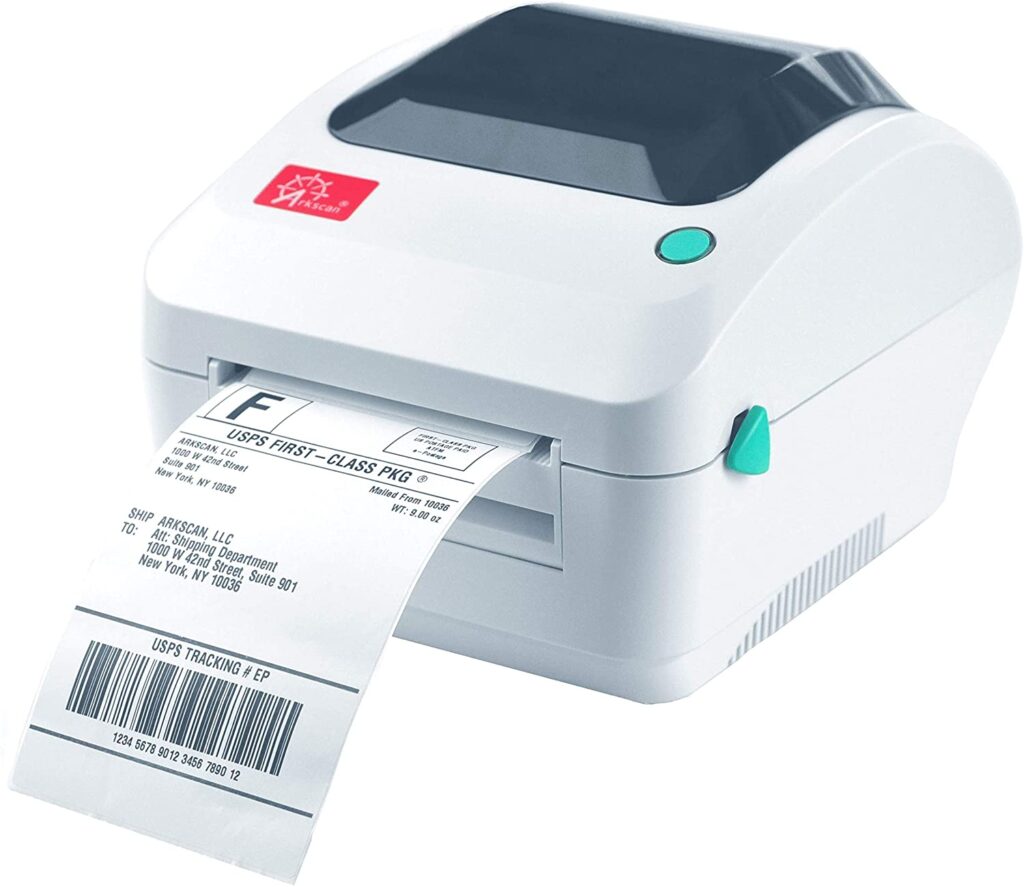 Arkscan 2054A is perhaps the most versatile label printer to have. It prints everything from product labels to barcodes, graphics, name badges, addresses, and labels for other purposes. Similarly, it supports all types of paper. Therefore, you don't need to purchase thermal paper for printing your labels.
Arkscan 2054A also offers the most commonly used features for designing labels. For example, it has full capabilities for graphics, barcodes, and text. On top of that, the printer can also serialize your labels as well. It also comes with free software (Windows only) to easily make your labels.
Arkscan is also a pretty fast printer with the ability to print one 4" x 6" shipping label in 1.2 seconds. As it is a thermal printer, you don't require a toner or ink as well. The resolution of the printed labels is also very high at 203 dpi.
Finally, Arkscan 2054A is one of the best label printers for eBay, PayPal, Easy Sport (EA), Shopify, ShipGator, UPS, and other major shipping networks.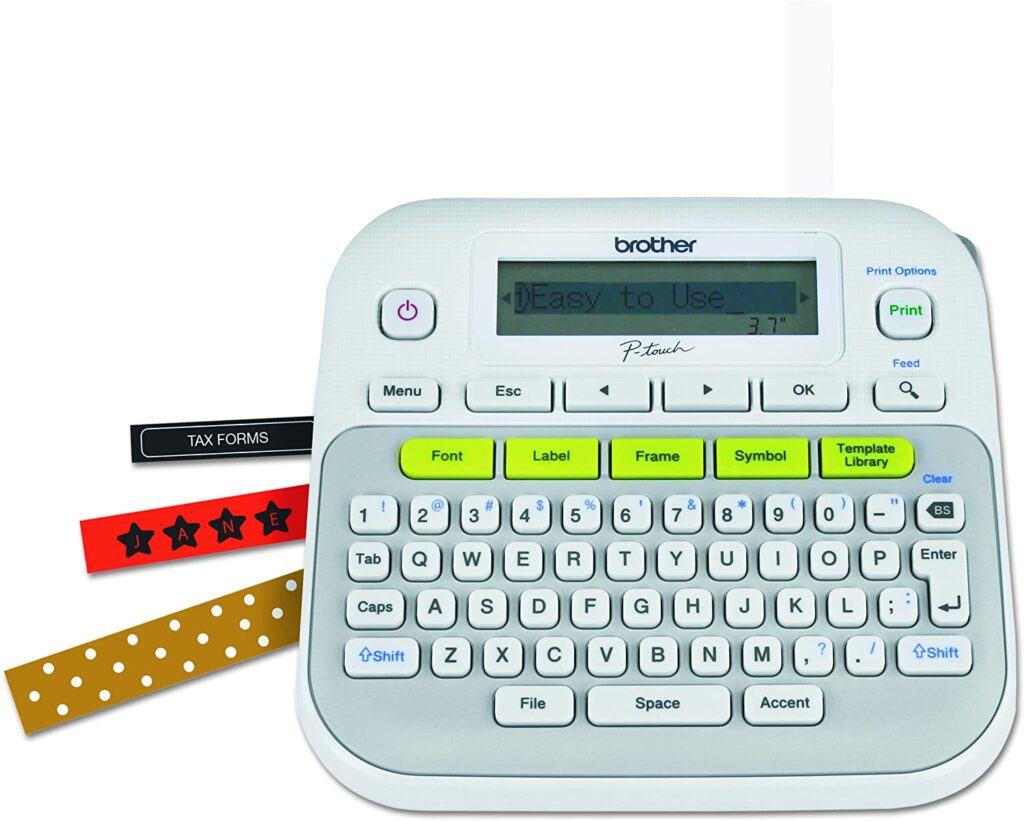 You must consider Brother P-touch PTD210 Label Maker if you are looking for a cheap printer with a lot of functionalities. For example, it offers 27 pre-designed label templates to choose from or you can design custom labels of your own.
Similarly one-touch keys provide easy access up to 600 symbols, 97 frames, and 14 fonts. You can also add up to 30 of your personalized labels to the collection and easily access them in the future. The printer also allows you to design decorative labels using different shapes such as polka dots and flowers. The pattern designs look great on scrapbooks, gift tags, water bottles, school bags, and other items. It also comes with a preview window to see what your label will look like.
The P-touch PTD210 is also a very lightweight and portable label maker. Mainly powered by six AAA batteries, you can also run it on an optional AC adapter. Furthermore, you can safely and easily store it in the provided protective case as well.
The printer also creates waterproof and fade-resistant labels using Brother's patented Laminated Tape. Last but not least; Brother P-touch has so many uses including labels for file folders, food storage, tools, supplies, clothes, and decorative tags for toys and gifts, etc.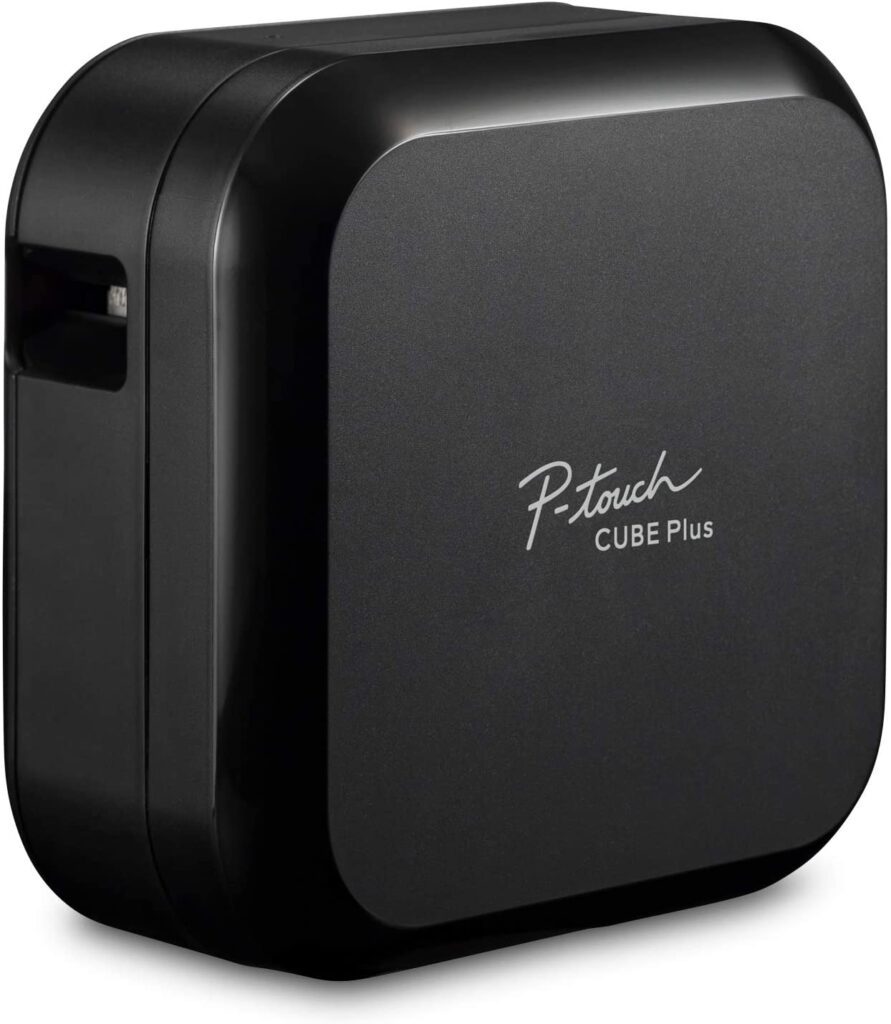 The Brother P-touch Cube Plus PT-P710BT is a great option if you are looking for a good wireless label printer. It offers several features for printing labels in your home and office despite being small, lightweight, and compact.
Just like P-touch PTD210, this Brother label printer also provides you with several pre-designed labels, symbols, and fonts, all of which are accessible through one-touch keys. Similarly, you can also design custom labels and upload them to the P-touch Cube Plus library. It is also compatible with Brother's glitter and mate tapes, allowing you to add a bit of color to your labels. The tapes also help you create funny decorative labels for gift wrapping and crafts.
The P-touch plus connects seamlessly to your computer or smartphone through Bluetooth. It has, in fact, the most powerful wireless technology among all the label makers currently available in the market. The printer is powered by a built-in Li-ion battery. Therefore, you can print labels on the go as well. The automatic cutter also lets you print customizable labels.
The only minor downside of the printer is one inch of maximum label width. However, it is sufficient to label kitchen items, office folders, or toy bins. Finally, it is very easy and rather fun to use Brother P-touch Cube Plus.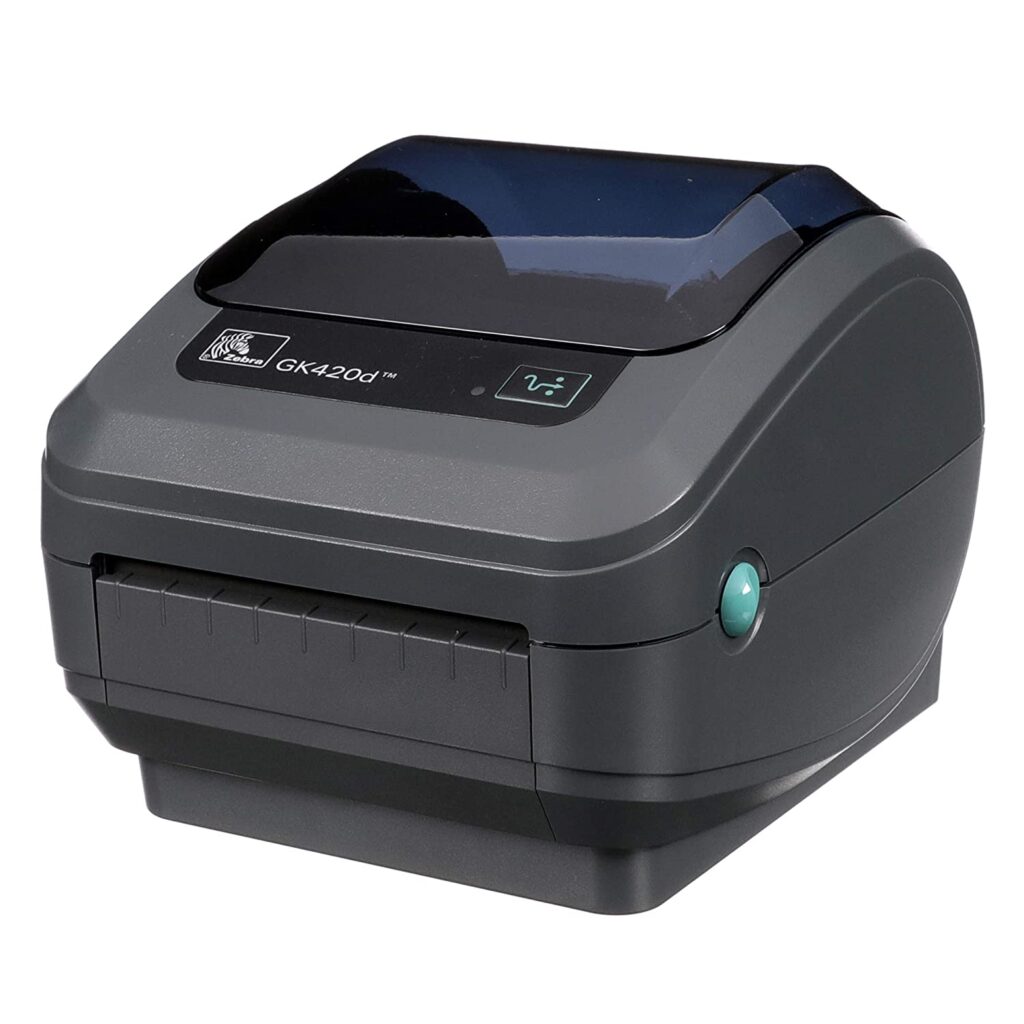 Zebra GK420d Thermal Desktop Printer is one of the best label printers for shipping, especially for commercial use. It is very easy to connect to any computer or tablet via parallel port, serial, or USB. Similarly, the printer is compatible with direct thermal label rolls. Furthermore, it prints labels with 4.25" maximum media width and 5" of maximum diameter.
Zebra GK420d allows frequent use and offers durability because of its enterprise-grade quality and construction. It can create waterproof, fade-resistant, and long-lasting mailing and shipping labels, addresses, barcodes, file folders, and binder labels. Similarly, it can print receipts, wrist bands, and name tags as well.
You can also print exact quantities of labels using the on-demand printing feature. As a result, there is no wastage of label sheets, helping you to reduce operational costs and conserve energy. The Energy Star approved printer saves time and money by printing 5 inches of labels per second at 203 dpi.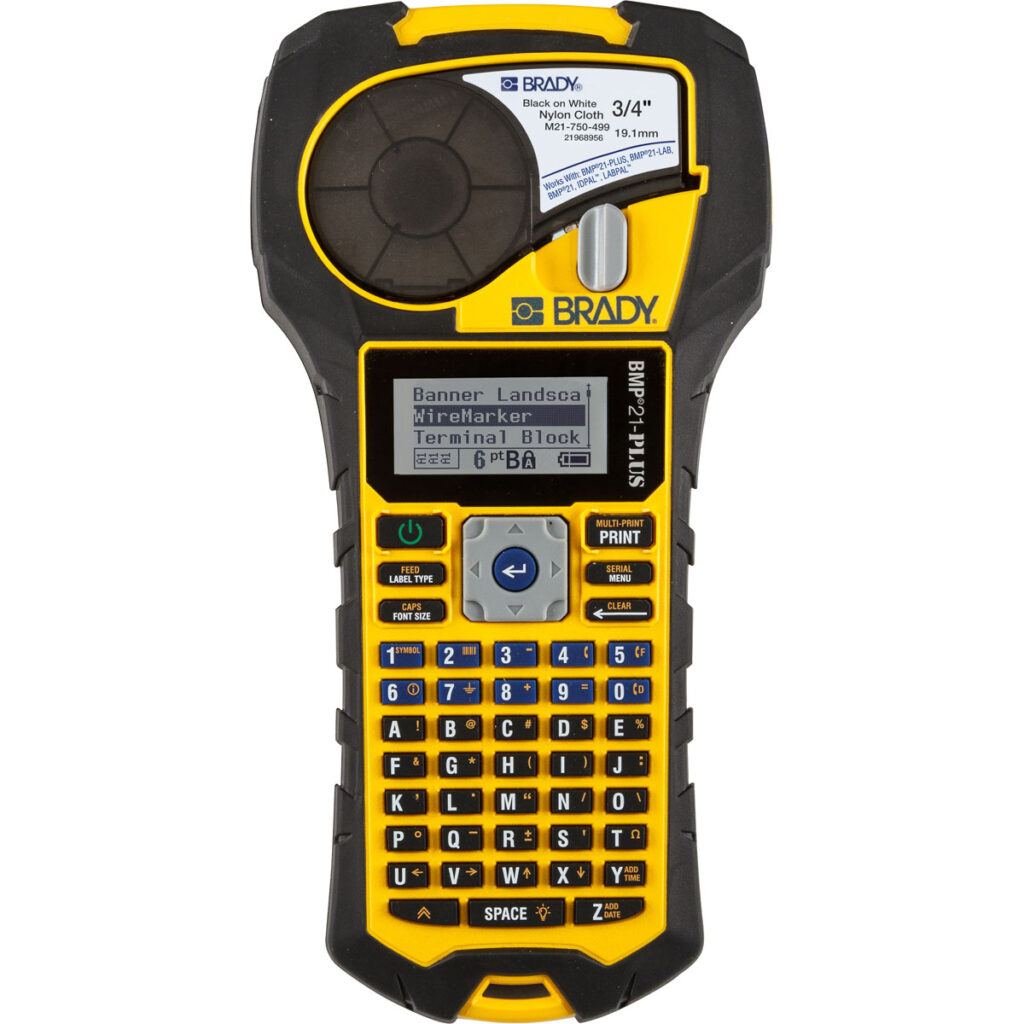 Brady BMP21 comes with a tough exterior, perfect for warehouses and stores were bumps, drops, and accidents are quite common. However, the printer is not only about toughness. It is a very reliable printer with an alphabetical A-Z keyboard. Therefore, you can print straight from the standalone device.
Similarly, it is an ideal printer for labeling things like electronic cabling, hardware, circuits, panels, boards, and wires. The printer will meet most of your warehouse label printing requirements even though the prints are limited to only four lines per label.
The LCD also displays the text as you write. You can also choose from up to 6 font sizes and more than 100 built-in symbols. Similarly, the printer allows you to print labels of various widths as it is compatible with continuous tape cartridges.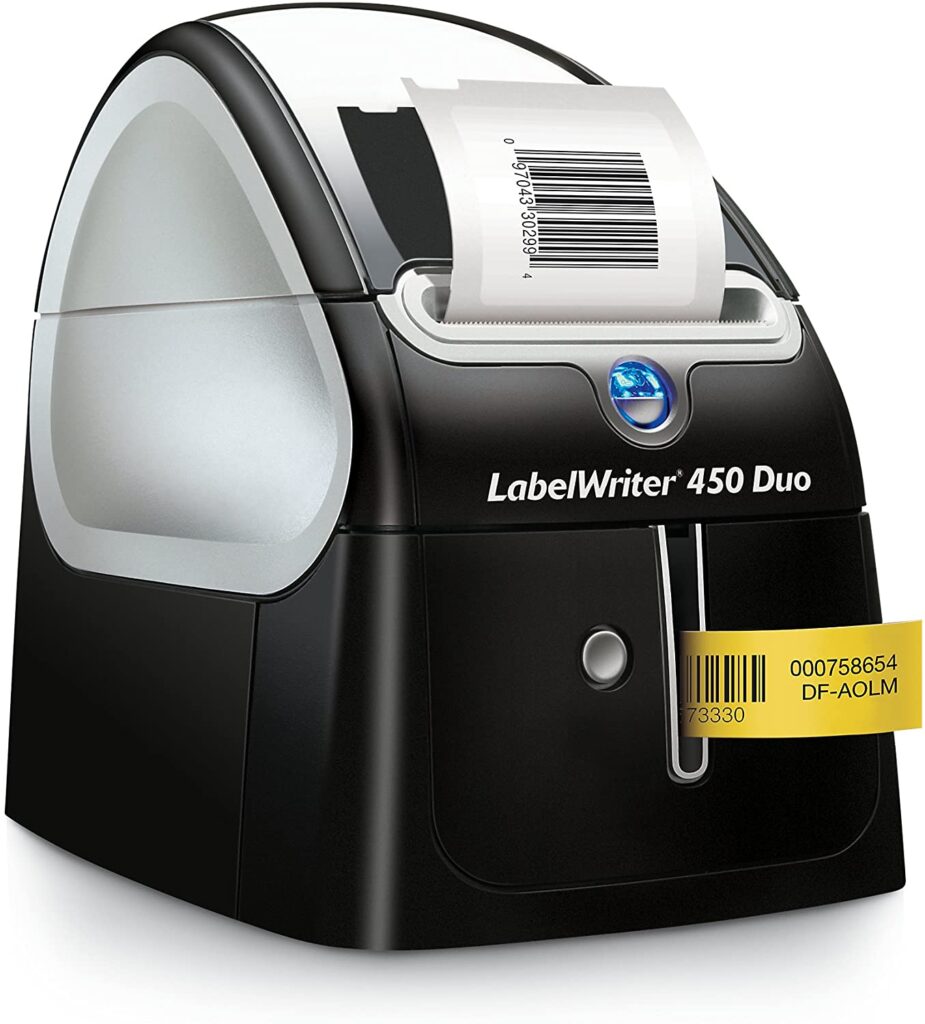 DYMO LabelWriter 450 Due is a versatile label printer. It printers every type of label you can think of such as durable IND labels, plastic D1 labels, and LW labels. Similarly, you can also use DYMO label software to create customizable labels. On the other hand, you can connect the printer to your computer to print labels directly from different programs.
450 Due also reduces your costs because you don't need to buy ink for printing. It is also very easy to load printing rolls in the printer, ensuring hassle-free and easy operation. It is also a pretty fast printer with a speed of 71 labels per minute. The DYMO stamps software (included) also allows you to print UPS approved postages without any monthly charges, contracts, or fees right from your computer.
If you are looking for a label printer that does not cost you a fortune but offers all the necessary features, you must consider DYMO Label Manager 160. It is a budget portable label maker and prints labels in a wide variety of sizes.
The keyboard also features the familiar QWERTY style keyboard, enabling you to instantly start writing your labels. Similarly, you can quickly customize labels using the fast-formatting keys as well. You can choose from over 200 clip-arts and symbols, eight text styles, six font sizes, and four boxes. You can also further organize your packages and labels by color-coding the background and texts. Not to mention, it is also possible to format text with underlining, italics, bold, and many other styles.
The DYMO label printer features large LCD screen to preview the labels you have created. You can power the DYMO 160 LabelManager using six AAA batteries or an optional AC adapter. Another great feature of the label maker is the automatic-off functionality which prevents the battery from drainage when it is not in use.
How to Choose Best Label Printers for Shipping
Label makers or printers generally have multiple applications. You can use them in your home, office, warehouse, store, or for any other purpose. For example, you can print shelf and bottle markers as well as file folder labels if you are using a printer at home.
When it comes to commercial use, you can use a label maker for printing barcodes, retail prices, packages labels, shipping tags, bulk management labels, and warehouse labels. Similarly, they also help you print stamps and postal addresses.
Regardless of its use, you need to keep a few factors in mind while shopping for the best shipping label printer. You must narrow down your choices because the market is brimming with similar products offering the same features and benefits. This will help you make the right purchase instead of wasting your money on the wrong printer.
Your Label Printing Needs
First and foremost, you must consider your printing needs while choosing the best label printers for shipping. Similarly, you must take your client's requirements into account if you are buying a printer for commercial or business use.
If you buy a label printer carefully, it can help you track products, items, patients, orders, and so on. In short, it is necessary to decide beforehand how you are going to use the labels. Only this way, you can buy the right label printer according to your required specifications and needs.
Printing Workload
Apart from the purpose of the labels, the printing workload will also dictate your purchase. It is an important consideration. For example, you must go for a printer with a printing speed of at least 100 labels per minute if you print a lot of labels every day. Similarly, you need a printer that can print roughly 500 labels a day if you run a small business.
Size of Shipping Labels
You must always buy the printer that matches the size of the labels you use. The labels' size mostly depends on the shipping company you use and its requirements. Therefore, should have full knowledge of approved label sizes of your preferred courier to buy the right printer.
Printing Performance
Printing performance refers to a printer's functionalities and features. For instance, you must clarify whether or not the printer you are going to purchase is compatible with your computer and applications. Similarly, you must also verify if it allows the printing of multiple types of labels or not. Other things you need to worry about are printing speed, printing resolution, the ability to print customizable labels as well as the number of label templates and symbols you can choose from.
Printing Resolution
The best label printers for shipping will print high-quality labels despite their types and use. However, always look for a printer with as high resolution as possible. In simple words, a low density printer with up to 203 dots per inch (dpi) produces brilliant labels. On the other hand, dots per inch should be higher than 203 if you require a high density printer.
Frequently Asked Questions
What is the best shipping label printer?
All the printers from the DYMO LabelWriter series are ideal for printing all types of labels. They are pretty fast printers with features like thermal printing, automatic paper feeding, customizable prints, countless templates, and compatibility with all types of labels.
What is the best label making software?
The following are the 10 best software and programs to make labels.
Adobe Spark
Microsoft Word
Canva
Label Factory Deluxe
Aulux
Maestro Label Designer
Avery About
Acoustica
BarTender
Disketch Disk Label
Disk Labeler 7
Can you use a regular printer for shipping labels?
Yes, you can use a regular printer for shipping labels. However, it would have limited features and functionalities in this respect. For example, a regular printer only allows printing 2 labels per standard letter-size paper with dimensions of 8.5" x 11". You can also print a certain number of labels on standard paper. Subsequently, cut the excessive paper before pasting the labels on the package. Finally, you can also make things easier for you by purchasing the half-sheet sticker paper.
What is the easiest label maker to use?
The brother P-touch PTD210 is the easiest printer to use. It allows you to print all kinds of labels with the utmost ease. The printer is very convenient to use with a simple keyboard interface, numerous templates, styles, symbols, and an LCD to preview the label content.
Final Thoughts
Concluding our guide, we would declare DYMO LabelWriter 450 as one of the best label printers for shipping. The Brother P-touch 210 takes the second spot for being a very cheap and easy to use printer. The third position goes to Rollo High Speed Thermal Label Printer.
You can also share your opinion in the comment section below if you disagree with our rankings or want to add another printer to our list.