Shooting a video with a smartphone is much easier and convenient than holding a camcorder in your hand. However, even the most advanced smartphones cannot offer the same video quality as a camcorder when it comes to shooting an events, creating a YouTube video, or just using a camera for professional purposes. It is also a fact that quality 4K cameras made by industry giants such as Nikon and Sony can be very expensive. However, you can easily find the best 4K camcorder under 500 dollars if you dig a little deeper.
You may not have heard of some of the camcorder manufacturers on our list of the best cheap camcorders. However, these camcorders offer the same features, functions, and services which you expect from Nikon, Canon, Sony, and other big companies without costing you a fortune. Some of them easily compete and even beat more expensive models in terms of video quality, battery time, lens, controller, and viewfinder.
10 Best Budget Camcorders for 2021
The following are the best cheap camcorders you can currently buy from the market without breaking your bank.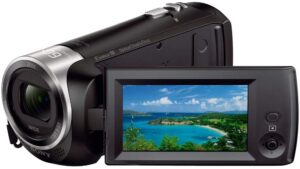 Can you get a Sony camcorder under $300? Yes, you can. The Sony HDR-CX405 is an extremely affordable camcorder. However, you should not be fooled by its price. It is one of the best budget camcorders in the market at the moment.
Best Features
The camera has a resolution of 1920 x 1080 at 24/60 fps. It can record still images at a whopping 9.2 megapixels and XAVCS at 50 Mbps. It also has MP4 and AVCHD modes which are unheard of at this price. It also enables easy editing and fast record time while saving files in MP4.
You can get extremely close to the action thanks to the 30x and 60x optical and clear image zooms respectively. The 26.88mm wide angle lens captures a very wide field of view as well.
One of the best features of the camera is the Highlight Movie Maker mode which automatically creates highlight clips in MP4. It also minimizes camera shakes using Optical SteadyShot Image Stabilization. These particular features ensure stunningly smooth vides no matter you are in a telephoto mood or shooting from a wide angle.
The list of amazing features doesn't end here. The camera also boasts Sony's Face Detection technology to distinguish between children and adults. It automatically adjusts white balance, exposure, focus, and flash according to the age of the individual.
The camera can also record videos and take images simultaneously as it also has a Dual Recording mode
It allows file transfer through USB. It also comes with all the necessary accessories you can think of.
What We Don't Like
The camera mount is a little problematic for a few people. It mounts on the case rather than on top. You have to mount it on the base to mount it on the tripod as well making it harder to hold. The battery life is also on the lower side. However, you get two batteries and a car adapter. Therefore, it is not a big deal breaker.
Our Verdict
Sony HDRCX405 HD Handycam Camcorder is the best affordable camcorder. You must only go for this camera if you have budget constraints.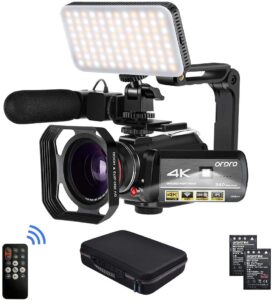 If you are looking for the best 4K video camcorder under 500, you must consider ORDRO Camcorder 4K 1080P Video Camcorder. The camcorder offers several features such as 4K videos of the highest quality, an adjustable touchscreen, and the ability to shoot video while charging.
Best Features
You can also use the touchscreen to adjust filters to record excellent videos. Best of all, the camcorder also comes with infrared night vision, making it easier for you to shoot at night or in darker places. However, the night vision is in black and white only.
You can also connect the camcorder to the WiFi, further boosting its capabilities. Your smartphone converts into a remote controller for the camera. All you have to do is to install the ORDRO app. Time Lapse is yet another brilliant feature of the ORDRO 4K camcorder.
The camera has a bigger view field thanks to the wide-angle lens. It produces more lively and realistic images because of the 13MP Sony CMOS sensor. The sensor delicately handles complex light by accurately sensing the surrounding environment.
What We Don't Like
Not everything is perfect and the same is the case with this camera. The most common complaint is about the quality of the microphone. Similarly, the lighting adjustments are limited and the apparent lack of white balance is disappointing as well.
Our Verdict
ORDRO Camcorder 4K 1080P Video Camcorder is an ideal camera if you want to make shorter videos. Similarly, it comes with all the necessary accessories, making it worth the price.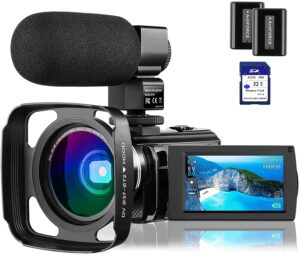 Rosedeca 4K Camcorder 48MP Video Camera offers a plethora of features for a very reasonable price. It features a 48MP video camera besides a 13.0M sensor, a 3-inch IPS touch screen, wide angle lens, and a microphone.
Best Features
The wide-angle lens enables you to record a wide view. Being a macro lens, it also allows you to shoot small thorough view. The 4K video is what you expect from a budget camcorder. It is excellent but not extraordinary, to say the least. If you want exceptional video quality, you might as well consider buying Panasonic 4K Cinema-Like Video Camera Camcorder.
You can also rotate the IPS touchscreen up to 270°. Similarly, you can use your smartphone to control the camera by installing the "NovaCam" app. The app allows you to check the videos you have filmed on your phone.
The camera comes with a night vision to shoot in the dark. The black and white image is quite clear. Not to mention, it also has a time-lapse function to film different natural and artificial phenomena. You will also receive all the important accessories such as a lens cover, an external microphone, an SD card, a USB cable, a power adapter, and a camera bag to name a few.
What We Don't Like
Now coming to the bad part, the camcorder lacks a good digital zoom. It is quite difficult to get anything under 8 feet into focus. It also lacks white balance and the video fails to translate properly on low resolution flip-out LCD.
Our Verdict
Rosedeca 4K Camcorder Video Camera is a brilliant camcorder for amateurs. It has all the features to meet your demands on a very low budget. However, you must look for higher-end cameras if you are a professional.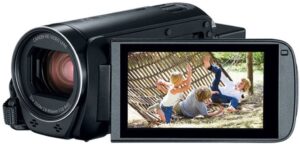 We mentioned in the introduction that it is difficult to get a cheap Canon camcorder. However, Canon VIXIA HF R800 Camcorder is an exception. Available for around $400, this is a behemoth of a camcorder, offering ultra-high-quality video for all kinds of use.
Best Features
It is a complete package with highly advanced features like Canon 3.28MP Full HD CMOS sensor, SuperRange I.O.S, and DIGIC DV 4 Image Processor. All these features combine to produce amazingly brilliant and clear videos.
Perhaps, the best feature of the camcorder is the incredibly good zoom. You can correctly focus on everything no matter how close or far it is. Similarly, the camcorder automatically corrects the backlight in the Highlight Priority mode. You can use this mode to get brighter images. The slow and fast recording options also enable you to take your time while recording the best moments of your life.
The best 4K camcorder under 500 also provides all the accessories such as a 64GB memory card, extra battery, a camera case, an excellent tripod, and a tabletop/tripod handgrip.
What We Don't Like
Talking about the shortcomings, there are not many. However, the videos are a little noisy in darker settings. Similarly, it is a bit confusing to use the Menu as the options are scattered all over the place.
Our Verdict
Canon VIXIA HF R800 is the best multipurpose camcorder to have. You can use it to record everything you want. Similarly, the price is fantastic for a Canon camcorder.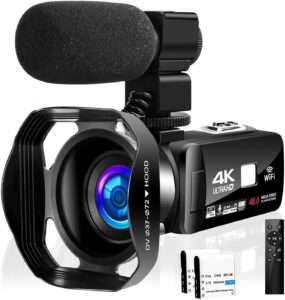 SEREE 4K 48MP Camcorder Video Camera is one of the top camcorders under 500 dollars. It has diverse features such as 4K video and compatibility with a 37mm lens.
Best Features
The 4K video at 30fps is much better than comparable models. The ultra 4K video is, in fact, a real surprise at this price. The camera does lack the big or extended lens but the hood more than compensates for it. The hood also improves the filming experience quite considerably.
The camcorder comes with 2 batteries, each of which lasts for 90-120 minutes on a full charge. Therefore, you can continue shooting for up to 4 hours without any interruption.
You can also shoot with a black and white image in the dark thanks to the night vision. Perhaps, the best part of the camcorder is the remote. It is not an ordinary remote but a special one because it also controls the battery and the angle. Similarly, it can control the camcorder from as far as 20 meters. Therefore, you don't have to plug it into the camera as well.
You have to install the "XDPRO" app if you want to connect your smartphone to the camcorder. You can also use it as a webcam by simply plugging the wire into your computer.
Not to mention, it also comes with all the necessary accessories as well.
What We Don't Like
The external microphone requires a separate battery which is not only a hassle to use but also costs you extra money. The hood tends to break easily because it is made of soft plastic. Similarly, the quality of the touchscreen leaves many people dissatisfied.
Our Verdict
SEREE 4K 48MP Camcorder Video Camera is among the best cheap camcorders currently available in the market. The 4K video is quite good and a host of other features make it a good option for beginners as well.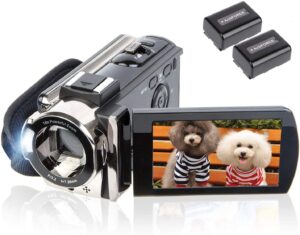 Kicteck Camcorder YouTube Vlogging Camera is one of the best camcorders under 500 for many reasons. It is a multipurpose camera suitable for all kinds of uses.
Best Features
The camera offers video and JPEG image resolutions of 1080P (15FPS) and 24M (6000 x 4500). Similarly, features like face capture, anti-shaking, built-in fill light, and 16X digital zoom make it a great camera to have if you are short on budget.
You can also use the camcorder as a webcam. Just connect the camera to your computer through a USB and start chatting with your friends and family on Skype. Similarly, the self-timer and the beauty function further ads to the versatility of the camera.
Kicteck Camcorder is a brilliant choice for creating YouTube videos. It has a pause function which comes in very hand while filming videos for the video sharing giant.
The battery time of 60-90 minutes is also very good. You can also record videos while charging. The camera also supports an SD card from 4GB to 32GB but the card is not included in the package.
What We Don't Like
First of all, you have to buy the memory card separately which increases the cost. Secondly, a lot of customers complain about poor zoom quality. The sound is also a bit muffled but that is the best you can get for $60 I presume.
Our Verdict
Kicteck Camcorder is the best budget camcorder for beginners and YouTubers who have just created their channels.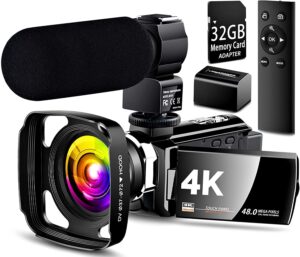 Available for under $250, LVQUONE Ultra HD Camcorder Video Camera is a great choice for vlogging. However, you can also use it for shooting any kind of video you like.
Best Features
The best feature of the camera is Ultra HD 4K video resolution at 60fps. No other camera in this price range delivers such a high video resolution. The 48-megapixel camera also means there will be no pixilation, resulting in a crystal clear image.
Another great thing about the camera is the extremely long battery life. It comes with two 1500mAH batteries, each of which has 3 hours of recording time. Therefore, you don't have to worry about charging your camera right in the middle of shooting a video.
The 4K camera provides you with a wide angle lens as well as a lens hood. You can use the wide angle lens to capture spectacular videos of nature. Similarly, it features a macro lens to take close up shots of small objects such as flowers, insects, and others.
The lens hood prevents dust and dirt particles from entering your lens, considerably enhancing its life. The camera also has features like motion detection, loop recording, and IR night vision. It also has an excellent remote control.
The night vision helps you record videos at night. The remote control enables you to adjust the angle when you are recording.
The camera also comes with all the accessories as you may expect.
What We Don't Like
Although the batteries can last for 3 hours they drain quit fast. You may have to buy new batteries earlier than expected. Similarly, the night vision range is limited compared to similar models. The camera has only a digital zoom which leaves a lot of things to be desired.
Our Verdict
LVQUONE Ultra HD 4K Camcorder is an excellent video camera for vlogging. You cannot go wrong with this camera as it is very cheap and offers a myriad of features.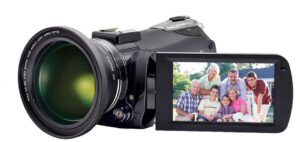 You need to check out ZOHULU Video Camera 4K Camcorder if you are looking for a high definition camcorder. It provides a video resolution of 1080P which is more than enough for most users.
Best Features
The camcorder offers 30X zoom, a 3.1-inch touchscreen, and a 13MP CMOS sensor. The 4K video is excellent considering its price. Another outstanding feature is automatic compression of files while saving and loading in 4K. Similarly, you can also zoom in while shooting your videos. Not many cameras offer this feature.
It is also the best low light camera under 500 for features like full spectrum video recording and color infrared night vision. Most 4K cameras under $500 only offer black and vision night vision.
The built-in Wi-Fi means you can easily send videos and files to your smartphone, tablet, and laptop. Furthermore, you can also convert your smartphone into a remote control after installing the ZOHULU app.
The excellent time-lapse function with pause capability also makes it a good option for vlogging and YouTube videos.
The external microphone has a dual noise reduction function, producing clear and noise free voice.
What We Don't Like
First of all, you cannot charge the camera while recording videos. People also complain about the blurry macro lens. Similarly, you can only install the hood without a lens. There is no functionality to manually focus the camera as well.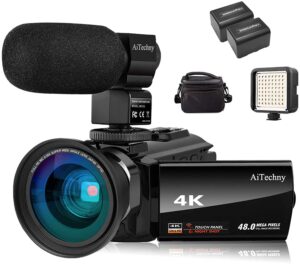 Experts hail AiTechny Video Camera 4K Vlogging Camcorder as the best budget semi-professional camera on the market. It will surpass all of your expectations when it comes to video and image quality as well.
Best Features
Just like all other good cameras, it features a 13MP CMOS sensor besides a 16X digital zoom. The video and image resolution top at 4K and 48 megapixels. Similarly, the wide angle lens with a macro lens produces excellent and clear videos and images. You can use the macro lens to capture small objects and the wide angle lens to record a bigger angle of view.
The Wi-Fi connectivity allows you to connect the camcorder to your smartphone. Therefore, you can send files easily to your smart devices besides using them as a remote control for the camera as well.
Other key features include a pause function, a 3.0-inch touchscreen, webcam application, IR night vision, and the ability to charge while recording. The camera also has two batteries with reasonable battery life.
What We Don't Like
There are rare complaints about discolored videos but we haven't experienced anything like that. There is also no autofocus which is a major emission for a camcorder.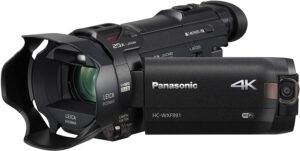 Panasonic 4K Cinema-Like Video Camera Camcorder will cost around $600 that is still a very reasonable price. The camera offers premium features that you cannot find in the sub $500 camcorders.
Best Features
The best feature of the camera is its outstanding image quality which is second to none. The ultra sharp ultra HD 4K videos will stun the viewers. It is a perfect camcorder for displays with 1080P resolution as well.
The camera also features an electronic viewfinder to provide you with a professional recording experience. You can quickly change the mode using the dedicated HDR button. The Exclusive High Dynamic Range (HDR) creates clear videos by eliminating shadows and highlighting crispier details.
The 20X zoom also enables you to get closer to the action. The 5 axis hybrid optical image stabilization means the camera won't shake at all while recording. The ½.3-inch BSI MOS sensor with 18.91 megapixels guarantees the production of clear and bright images.
You can further improve your video by using in-camera editing effects such as 4K post cropping, slow/quick motion, dolly zoom, and stabilization.
The picture recording function also has modes like a multi-camera scene picture and a built-in twin camera. The Wi-Fi feature mean you can use your smartphone to control the camcorder remotely.
What We Don't Like
Despite being a costlier camera, it lacks a lens ring to properly focus a shot. Similarly, the touchscreen delivers a slightly sluggish performance. It may also be inadequate for indoor shots.
Our Verdict
Panasonic 4K Cinema-Like Video Camera Camcorder is a highly capable 4K camcorder that can meet most of your semiprofessional and home video needs.
What to Look Out for in the Best 4K Camcorder under 500
It is a cumbersome task to choose the budget camcorder considering you have unlimited choices. You can take the right decision by keeping the following factors in mind.
· Video Resolution
The first thing you need to consider is the video resolution of the camcorder. The camcorder you choose should at least record in 1080P resolution. On the other hand, go for a camera with 4k at 30fps resolution if you want crispier and sharper videos and images.
· Optical Zoom
You need a camcorder that is equipped with the digital as well as the optical zoom. Some camcorders have a single lens for both. The digital and optical zoom considerably improve the quality of images.
· Auto-Focus
You should not compromise on autofocus as well. The autofocus function ensures the accurate depiction of whatever you are recording. You must get a camcorder with autofocus if you are just a beginner.
· Input Sockets
You also need to capture sound or voice with every video. Therefore, you must have a camcorder that has input sockets for connecting microphones and headphones.
· Connectivity
Nowadays, you often need to stream videos on YouTube and other channels. Only a camcorder with Wi-Fi capability will let this happen. Similarly, it will also allow you to connect your smart devices with the camcorder for easy transfer of files. You can also convert your smartphone into a camera remote after installing the relevant app.
Conclusion
With this, we conclude our guide to the best 4K camcorder under 500 dollars. We are quite sure you will find the right 4k camcorder after going through this article.