Your car battery can give up any time without any warning. Some of the most common reasons for a failed battery are bad weather, driving with an old battery, or leaving the lights on overnight. It can especially be a horrible experience if you are driving on a deserted road with no other vehicle in sight to jump start your battery. This is where the best portable car battery jump starter can come to your rescue.
In this guide, we will set on our quest to find the best battery jump starters. We will also discuss what makes them worth your consideration and money.
Car jump starters not only ensure your safety but also give you a peace of mind while traveling. You know you would not get into any trouble even if the battery fails in the middle of nowhere. All you have to do is to put a fully charged jump starter in your vehicle and you would reach home safely without needing any kind of help. On top of that, modern battery jump starters can double as portable power banks, allowing you to charge your smartphones, laptops, and other devices on the go.
10 Best Car Jump Starters
The following are the best jump starters according to your experts. We have chosen these starters after comparing their performance against factors like power output, cranking amp rating, voltage, cable length as well as price and functionality.
NOCO Boost HD GB150 4000A 12-Volt: Best portable car battery jump starter
NOCO Boost Plus GB40 Ultra Safe 1000A: Best basic car jump starter
GOOLOO SuperSafe 1200A 12-Volt: Ideal for smaller vehicles
STANLAY J5C09 JUMPiT Portable Power Station: Best for larger vehicles
Imazing Portable Car Jump Starter: Jump starter with a unique and futuristic design
Clore Automotive Truck PAC ES1224: Best heavy-duty portable battery jumper
STANLEY FATMAX J7CS Portable Power Station: A good option for your car
Clore Automotive Jump-N-Carry JNC660: Best traditional battery jumper
DEWALT DXAEJ14 Digital `Portable Power Station: Excellent instant jump starter
DBPOWER 800A Peak 18000mAH Portable Jump Starter: Small and lightweight car jump starter
Read also: 10 Best Rated Windshield Wipers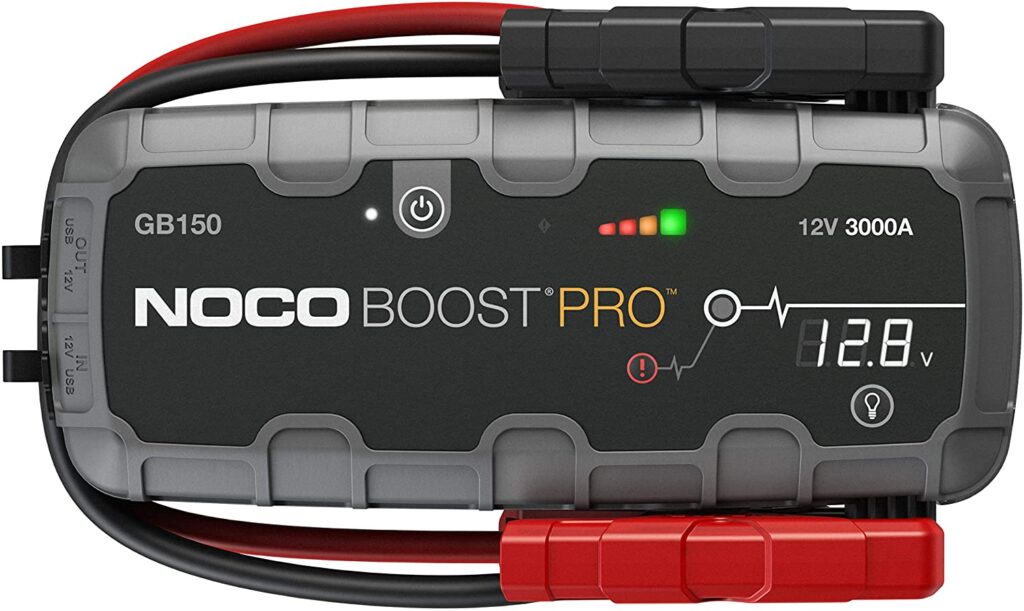 NOCO Genius Boost HD GB150 offers 4000 amperes of power which is enough to jump start even the largest of vehicles. That includes trucks, boats, tractors, cars, and diesel pickups, etc. Similarly, it can start up to 80 vehicles on a single charge. The portable jump starter is also easy and safe to use thanks to reverse polarity protection and spark-proof technology.
One of the best features of the GB150 is an integrated 500 lumens LED light. Furthermore, the LED light has seven different modes including strobe, flashlight, SOS as well as low, medium, and high modes. The LED light can work for up to six hours as well.
GB150 also becomes the best portable car battery jump starter for many other reasons. For example, it can charge inverters, tire compressors, and other 12-volt devices. On top of that, it can also charge your smartphones, laptops, and all other USB devices.
GB150 can also start both diesel and gasoline engines up to 10 liters thanks to its incredible power.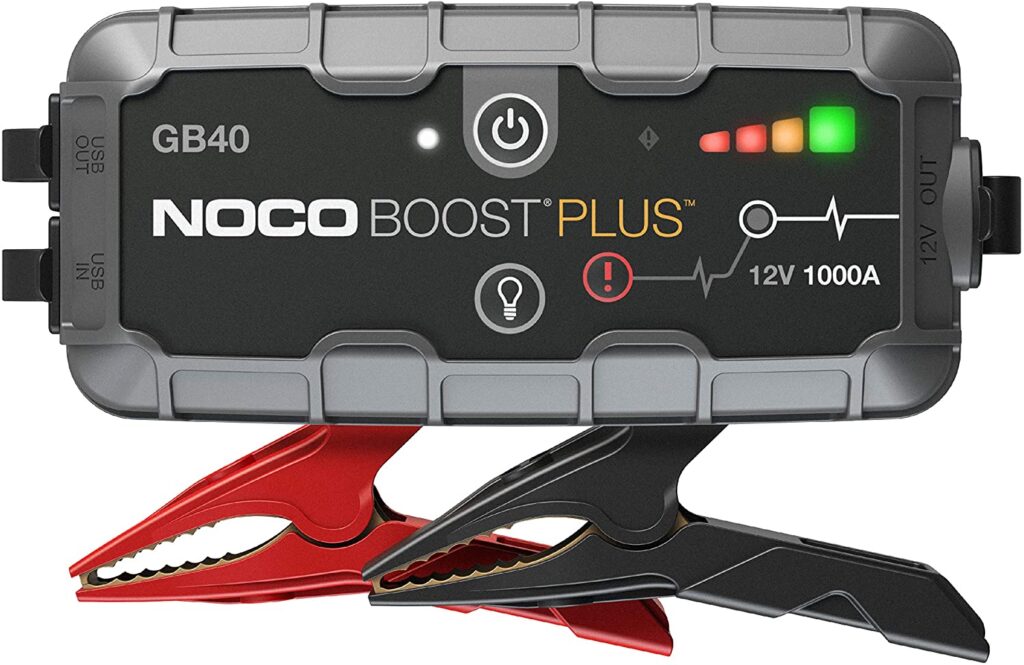 As the name suggests, GB40 prioritizes safety over everything else. It is a mistake and spark-proof starter, providing a fully safe start every single time. With the power of 1000 amperes, it can easily jump start diesel and gasoline engines up to 3 liters and 6 liters capacity respectively. To top it all, it can jump start 20 vehicles on a single charge.
GB40 is also powerful enough to charge four smartphones on a single charge through its UBS charging port. Similarly, it comes with a 100 lumens LED light that can come handy in the night. The flashlight has further 7 modes such as an emergency strobe. The SOS mode also enables you to send distress signals in Mores code. It is also very easy to carry thanks to its ingenious pocket-size design.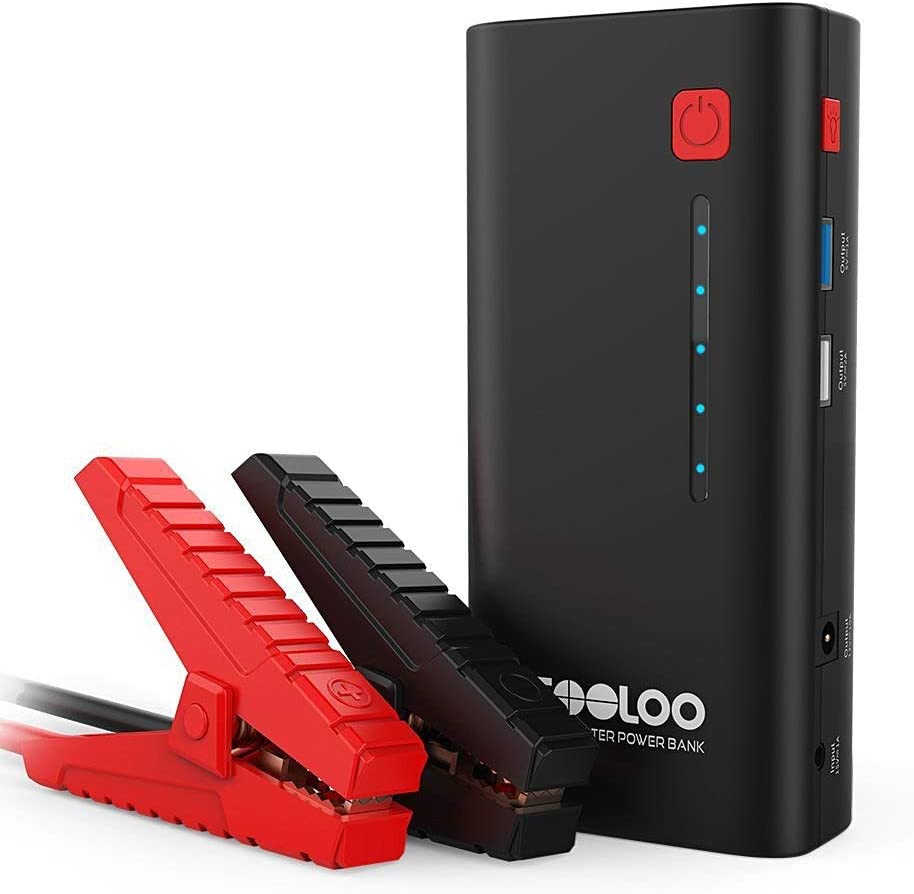 GOOLOO SuperSafe is one of the simplest emergency car jump starters. It also offers great value for your money. It is an ideal choice for smaller vehicles that don't require a powerful jump starter to start their engines.
GOOLOO SuperSafe has a straightforward design. On top of that, it only offers the most basic and necessary features to get your engine running. The no-frill approach means it is also quite affordable for every car owner. However, it can easily withstand wet or cold temperatures. Similarly, it does not take much space no matter you put it in the back seat, glove compartment, or trunk of your car.
The jump starter is powerful enough to stat most 12 volt vehicles including cars, motorcycles, lawnmowers, boats, yachts, and ATVs, etc. It can also hold the charge for 90 days after 5 hours of charging.
The device also comes with Quick-Charge USB ports that are compatible with most USB enabled devices such as smartphones, digital Backup cameras, kindles, and laptops. The charging is efficient and fast as well.
As for safety, the starter also employees several advanced safety technologies such as overload protection, over-current protection, over-charge protection, over-voltage protection, and high-temperature protection. It also has an LED light with three different modes such a Strobe Light, Flash Light, and SOS light.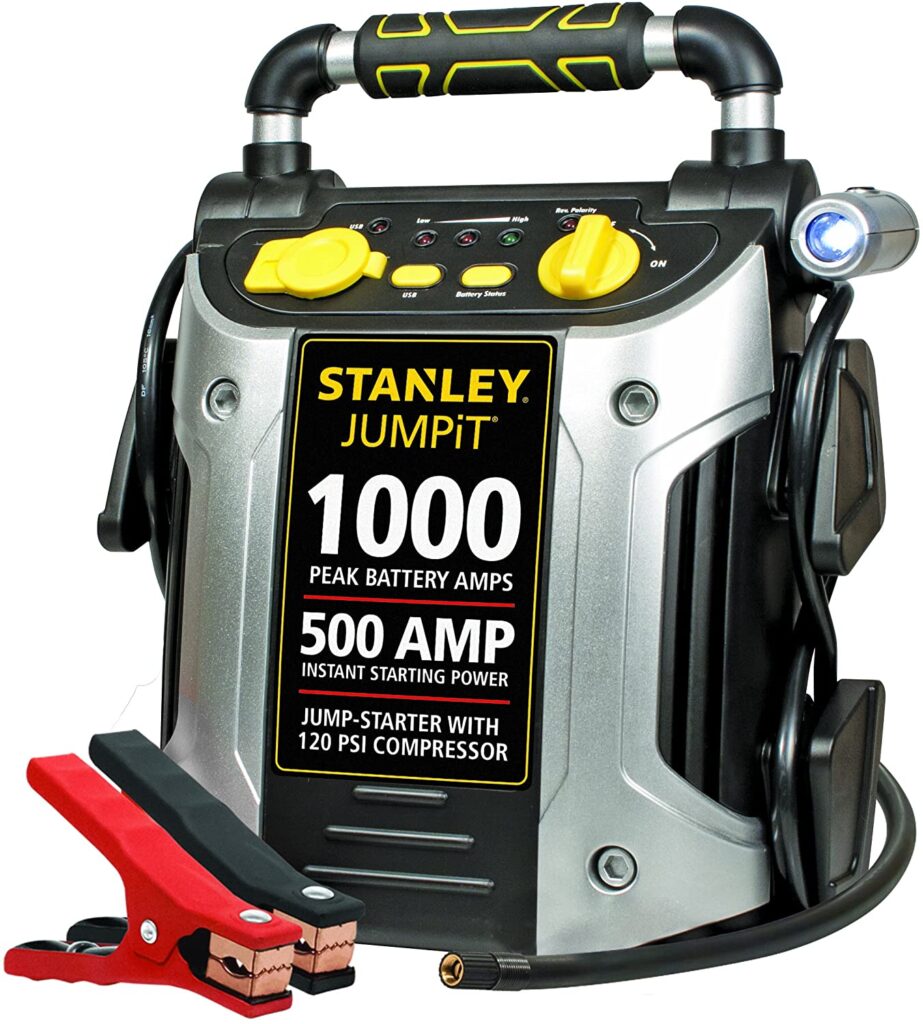 Stanley is another trusted name when it comes to making portable jump starters. While J5C09 is not as portable as other devices on our list, it is a powerful device with peak and instant powers of 1000 amperes and 500 amperes respectively.
A nice added feature of J5C09 is the built-in 120 PSI air compressor which allows you to inflate your tires as well. It is worth mentioning that this particular jump starter has been designed for vehicles with larger engines such as heavy-duty trucks. However, it does feature a 12-volt DC outlet and USB output enabling you to charge other devices as well.
Not to mention, it is also very safe to use because of the reverser polarity protection. However, smaller vehicle owners may find it an overkill mostly because of its weight that is nearly 18 pounds.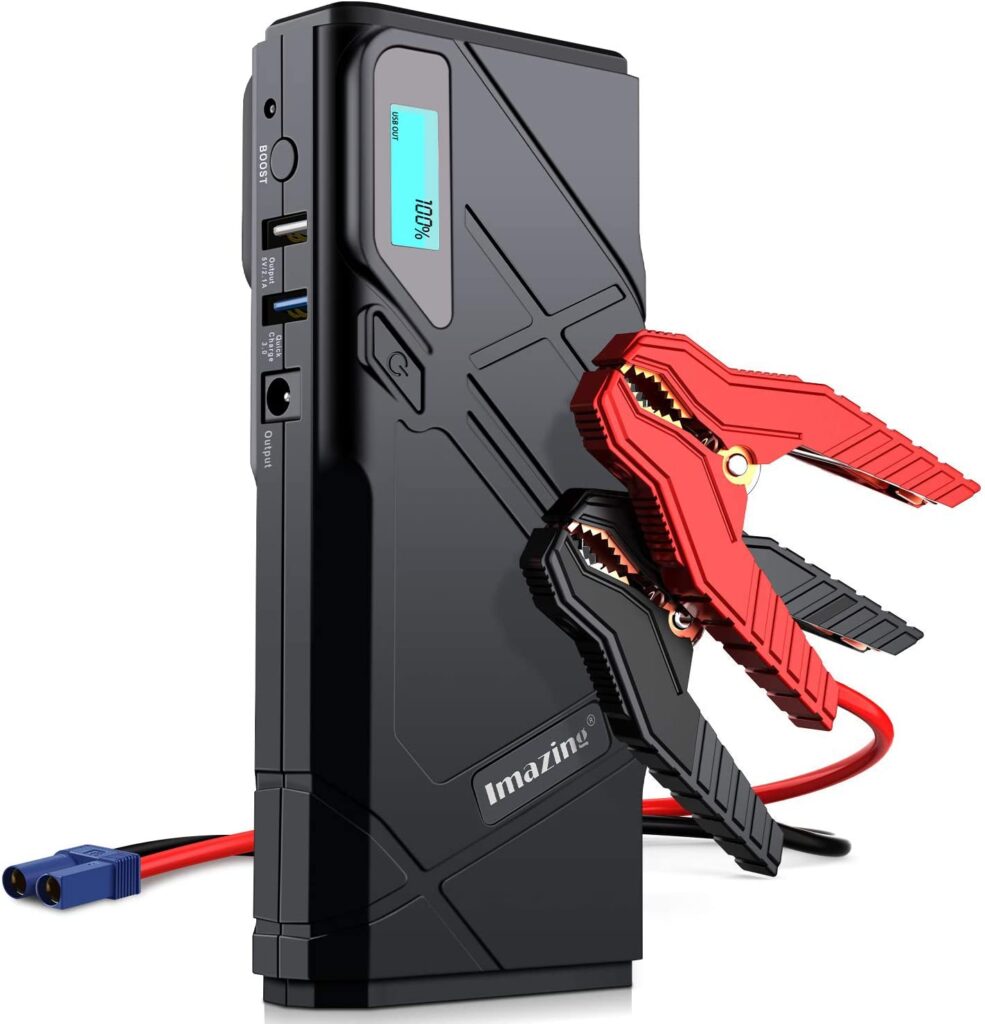 Imazing Portable is the most unique and futuristic looking jump starter on our list. Similarly, it is also a very compact and portable device compared to others. However, you should not be fooled by its design and size. It can easily power a 6 liters diesel engine and an 8 liters gas engine thanks to its peak power of 1500 amperes and 12000 mAH.
Being small and lightweight also means you can store it in the trunk or glove compartment of your car. The jump starter also employs six-in-one technology or functionality which is also its best selling point. It comes equipped with an LED flashlight and several USB ports. To top it all, it does not overload, overheat, or overcharge your battery owing to advanced safety technology.
Finally, it is housed in a convenient carrying case making it a sturdy and durable battery jumper as well.
Read more: The Best 6.5 Inch Car Speakers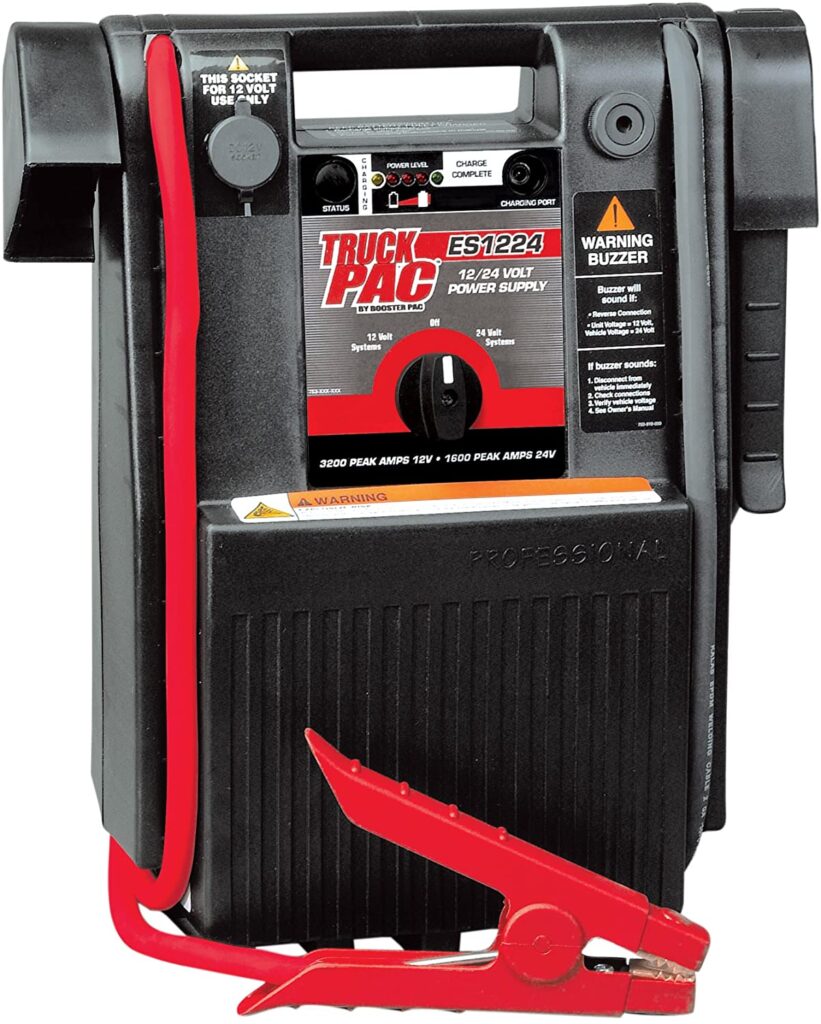 Clore Automotive Truck PAC ES1224 is a comparatively costly battery jumper. However, it can meet all of your battery jump starting requirements under one roof if you are willing to pay more than $300 for it. It is a heavy-duty jump starter which is a great feature in itself. It has a peak power of 3000 amperes which can start a 12-volt engine instantly. It can also provide a maximum power of 1500 amperes for rigs running on 24-volt batteries.
Another important feature of ES1224 is the noteworthy industrial-grade jumper clamps and heavy-duty cables. It can bring your battery back to life in extreme temperatures no matter it is too hot or cold. It has especially been designed to jump start heavy equipment such as trucks and rigs. All in all, ES1224 is truly the best portable car battery jump starter.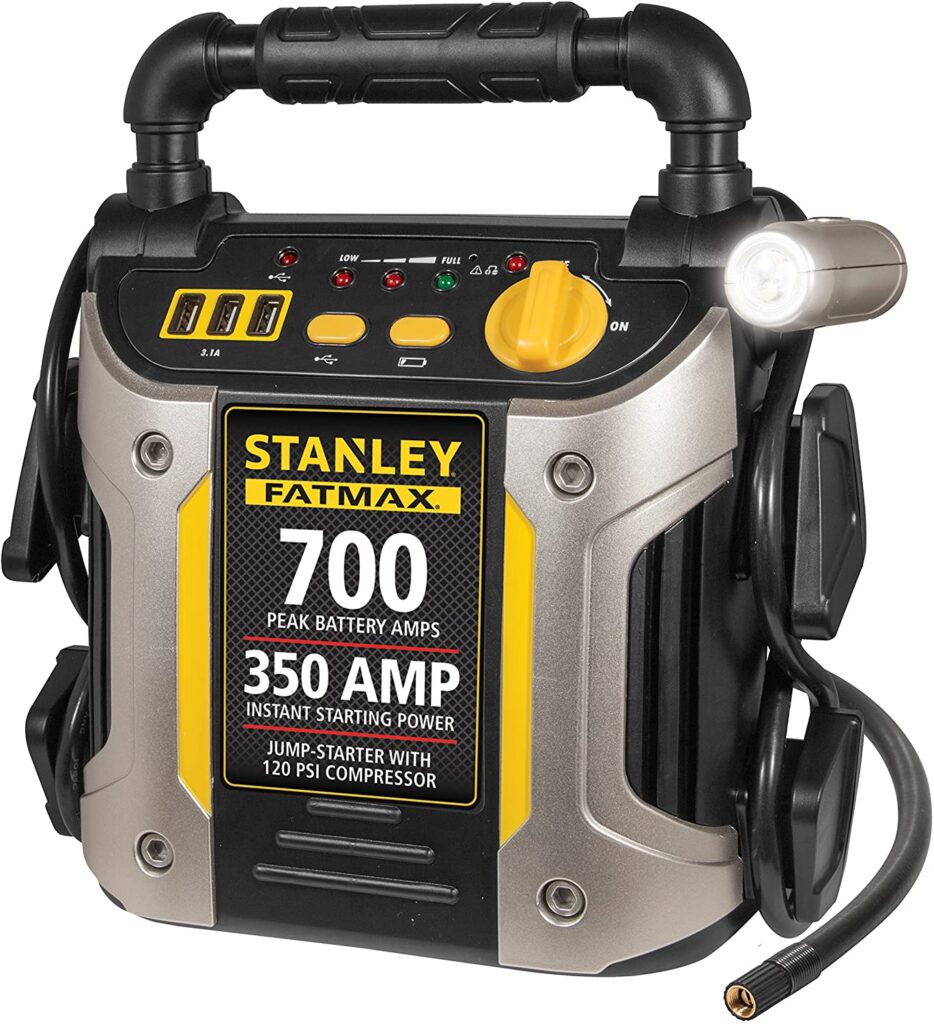 STANLEY FATMAX J7CS is very similar in features to STANLEY J5C09. It comes with a 120 psi air compressor to inflate your tires by the roadside. Similarly, it also has reverse polarity protection in addition to offering triple USB charging ports. You can also clearly see while inflating tires or charging the battery because of the 270-degree high powered LED flashlight.
The jump starter also gives audible warnings when you incorrectly hook up clamps to the battery. Finally, it offers instant and peak powers of 350 amperes and 700 amperes respectively.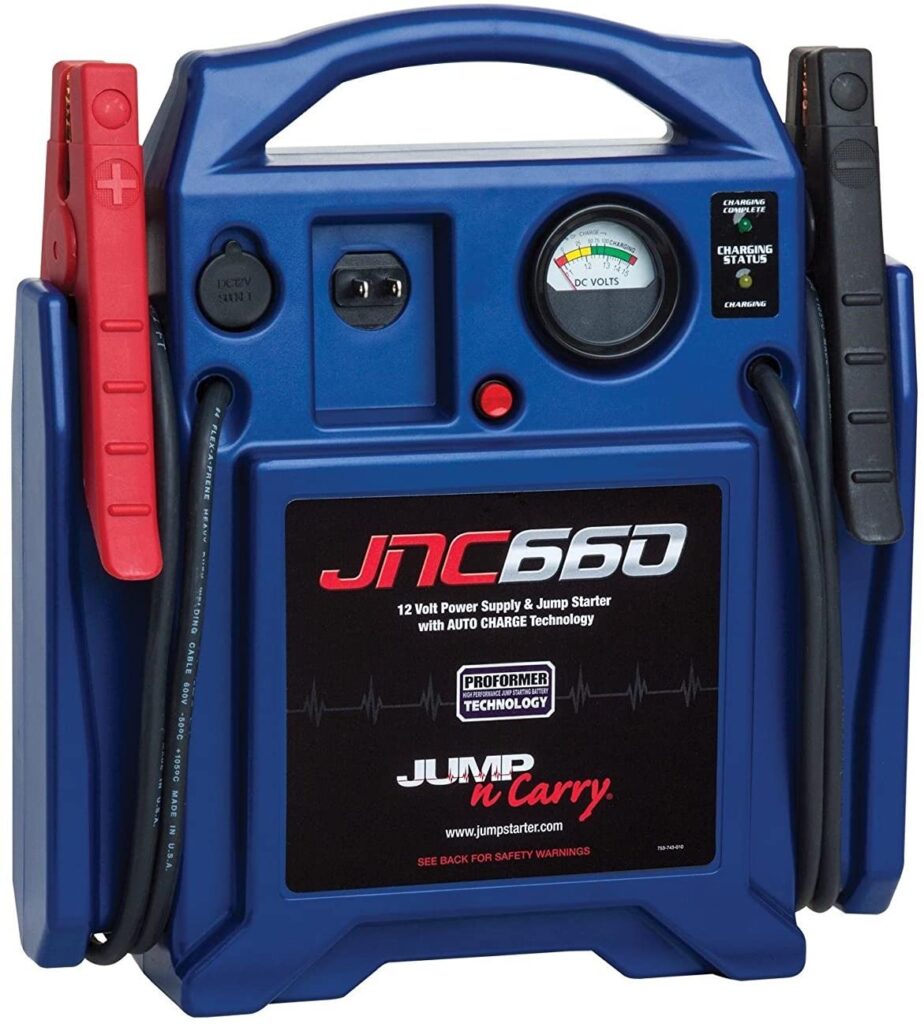 Clore Automotive Jump-N-Carry JNC660 is yet another great portable car jump starter. It offers extremely high power while starting your engine by employing the PERFORMER battery technology. This kind of battery also provides extended cranking power and lasts very long. It has a peak power of a whopping 1700 amperes and cranking power of 425 amperes.
A major downside of JNC660 is the lack of USB outlets. However, it comes with a 12-volt DC outlet to charge a wide variety of devices. You can also check the status of the battery using the voltmeter located at the front of the starter.
JNC660 is an ideal choice for you if you are looking for a more durable jump starter. It can withstand the everyday abuse and shop fluids as it is contained in a heavy-duty case. It is also very easy to carry thanks to a nice handle.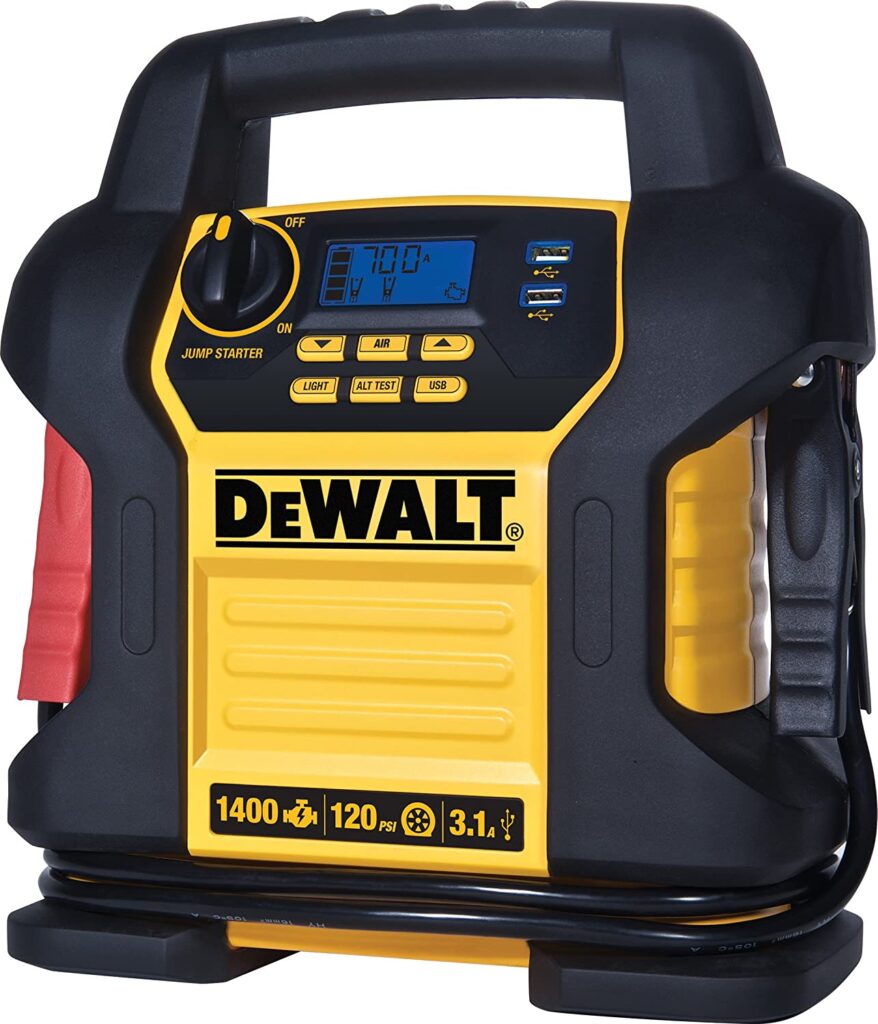 DEWALT makes a wide range of excellent power tools including some of the top rated portable jump starters. DEWALT DXAEJ14 is a terrific device offering instant and peak powers of 700 amperes and 1400 amperes respectively. The patented alternate check function further enhances the performance of this already great jump starter.
Just like all good battery starters, it also has built-in 3.1 USB outlets for charging a variety of devices. It also warns you audibly if you hook up your clamps incorrectly to the battery. They are heavy-duty clamps with 4 AWG cables, each of which is 3 feet long.
The best thing about DXAEJ14 is that it is compatible with all kinds of batteries including WET 12- volt batteries, GEL, and AGM.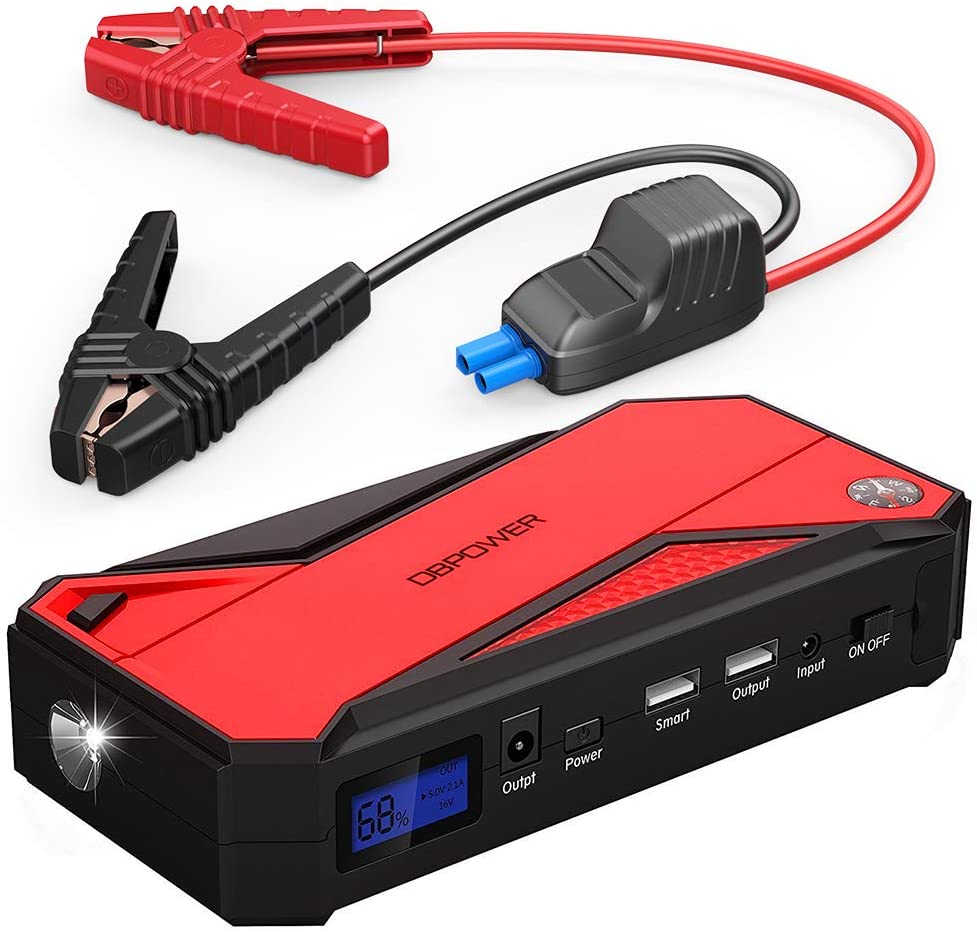 If you are looking for the best portable battery jump starter that can start your car in a jiffy, you must consider DBPOWER 800A Portable. It is not the most powerful of the jump starters with 800 amperes of peak power and 18000 mAH capacity. However, it can bring any engine back to life in no time. It is a perfect option for RVs, jeeps, SUVs, cars, and other vehicles because it can jump start gasoline and diesel engines with 7.2 liters and 5.5 liters of capacity.
It is also a very lightweight device, weighing less than 3 pounds. It also has USB ports allowing you to charge your smartphone, laptops, tablets, and other devices with the utmost ease. The easy-to-use LED screen at the front helps you read what is happening. Similarly, it also features a brighter and stronger LED flashlight.
How to Find the Best Portable Car Battery Jump Starter?
There are a lot of things you need to know such as power output, cranking amperes, and voltage when you shop for a car battery jump starter.
Power Output
People interpret power output either as watts or amperes making it a bit more difficult to understand. However, current or peak amperage delivered by the jump starter best typifies its power output. The peak amperes is the total capacity of a jump start or the maximum current it can deliver to a dead battery. It is better to have a jump starter with as much peak power as possible. It is necessary to initiate all of the vehicle's systems including the battery, engine, crankshaft, and all other mechanisms.
Cranking Ampere Rating
It is nice to have a jump starter with high peak power. However, it is the cranking ampere rating that is what you should be looking for. It is equal to the amount of power a jump starter can provide at 32-degrees Fahrenheit for about half a minute or 30 seconds. It also has to maintain a minimum of 1.2 volts for every cell of a standard 12-volts 6-cell battery. In simple words, it is the minimum power required to crank and start your engine in all kinds of weather.
Voltage
Voltage is defined as the total energy potential stored in any electrical device. It is primarily voltage that moves the current in the circuit. Therefore, it is the voltage that provides current to the battery when you use a jump starter to start it. It is very easy to choose the right voltage as the majority of the cars have a 12-volt battery whereas trucks and other heavier vehicles usually have a 24-volt battery.
Cable Length
When it comes to clamp's cable length, it has to be as long as possible. However, it is a personal preference. Some people do like their jump starter to have shorter cables because they normally place it closer to the battery terminals such as on the engine. Similarly, some people want longer cables because they usually place the jump starter on the ground. It is recommended that you go for cables that are at least 12 feet in length.
Storage Capacity
The best portable car battery jump starter will always have high storage capacity. Normally, measured in milliamp hours (mAH) or amp hours (AH), storage capacity should be high enough for you to use it as a mobile power source for long. Experts usually recommend using a battery with at least 18000 mAH of storage capacity.
Miscellaneous Features and Functionalities
The latest car battery jump starters come with a lot of features and functionalities. For example, you can use them as a mobile power bank besides jump starting your vehicles. This is can be an excellent feature especially if you travel with a lot of electronic devices such as smartphones and tablets. Similarly, you can also charge other electronic appliances as some of the jump starters also have inverters.
Another important feature a jump starter should have is an LED flashlight with SOS mode and an air compressor unit. The built-in air compressor can come in handy when you have to inflate underinflated tires on the roadside.
Price
A good jump starter containing only clams and cable will cost you at least $60. However, you can buy newer and more compact models for as little as $50. Some of these jumpers are so small you can easily put them in your side pocket. However, do ensure they are fully capable to jump start your vehicle.
Explanation of Jump Starter Terminology
We have mentioned a variety of technical terms in the previous sections. Now, it is time to understand each of these terms and learn what they stand for. While we have already discussed cranking amps and peak power, some terms remained to be explained.
SOS
You would have heard this term before. SOS stands for "Save Our Ship" and therefore, it is most commonly used by the sailors in peril. However, it is an internationally recognized distress signal signifying someone is in extreme trouble. You plead for urgent help every time you send this signal.
Fortunately, almost all of the jump starter nowadays feature LED flashlight with SOS mode among others. It helps you get noticed by anyone in the visual range by emanating a steady stream of flashes or blinks.
Joules
Joule is a unit of energy or work. It is the energy a jump starter has to spend to produce a watt of power every second. Therefore, 1 joule is equal to 1 watt/second. In short, a 1-watt LED bulb requires 1 joule of power every second to light up.
LED
LED stands for Light Emitting Diodes and it is also a very common term. The diodes produce electricity when current passes through the circuit. The semiconductor combines with the holes and electrons in the current to produce light. The best thing about LEDs is that they allow manufacturers to create light in different colors which can later be attributed to different LED flashlight modes.
Lithium-ion Battery
Lithium-ion batteries have a distinct advantage over other types of batteries that is they can store more energy in a very compact body. For every kilogram of battery, a lithium-ion can store 150 watts of electricity. Similarly, these batteries can also hold the energy for a comparatively longer period. Therefore, the best lithium-ion jump starter can easily serve you for 3 to 4 years.
Amperes
Ampere is the unit of current and it is the rate of energy flowing through an electric circuit. In simple words, it is the total amount of current contained by your jump starter.
Frequently Asked Questions
How many amps do I need to jump start my car?
If you have a normal consumer vehicle, you only need 400 to 600 amperes to jump start your car. You can start smaller and compact vehicles with only 150 amps. However, you need somewhere from 1500 amps to 2000 amps to boost a commercial vehicle.
Do portable car jump starters work?
Yes, portable car jump starters work. They can help you jump start your dead battery. However, you need to keep them charged for them to remain in working conditions. Fortunately, the latest car battery jumpers have different options for you to easily charge them.
How long do portable jump starters last?
The average life of a standard battery jump starter is 6 years. Some of the jump starters can last even longer.
What is the best lithium jump starter?
NOCO Boost HD GB150 4000A 12-Volt
NOCO Boost Plus GB40 Ultra Safe 1000A
GOOLOO SuperSafe 1200A 12-Volt
STANLAY J5C09 JUMPiT Portable Power Station
Imazing Portable Car Jump Starter
Clore Automotive Truck PAC ES1224
Final Thoughts
Concluding our battery jump starter reviews, we declare NOCO Genius Boost HD GB150 as the best portable car battery jump starter. You are also welcome to mention any other jump starter which deserves a place on this list.