What is the easiest way of preventing your bike from falling into the hands of an unscrupulous thief? It is to use the best lightweight bike lock. I know what you are thinking. How can a lightweight lock secure your bicycle? Well, it won't stop a determined criminal from trying. However, it can make your bicycler securer by working in combination with a stronger and more robust lock. They are also a great option to secure wheel, seats, and other easily removable components. Similarly, they will deter thieves to make their move, especially when you are away for short periods.
In this article, we are going to present the 10 best lightweight locks for your bicycle. The article will also contain the following information for you to conveniently find the right lightweight bike lock for you.
10 best lightweight bike locks
Types of lightweight bike locks
Bike Locks Security Ratings
How to buy the best lightweight bike lock?
It is also a fact that most lightweight locks are not as secure as their heavier counterparts. However, the locks on our list are not the ordinary and cheap locks you find in every other bike shop. They are robust enough to thwart any mischievous attempt on your bike. Besides, they are lightweight and small enough to be carried around easily and put in your pocket or bag respectively.
10 Best Lightweight Bike Locks
The following are the 10 best lightweight locks for your bicycle according to our experts. We have chosen these locks after testing hundreds of locks for their robustness, weight, and locking mechanism. We also talked to engineers and managers, read thousands of user reviews, and researched the market to compile the ultimate list.
So, here is the list of the lightweight locks you should consider buying for your bike.
Kryptonite New York Fahgettaboudit U-Lock: The best lightweight bike lock
Kryptonite New York Noose 1275 Chain Lock: Best chain lock for your bike
ABUS Bordo Granite X-Plus Folding Lock: Best Folding Bike Lock
Sportneer 5-Digit Resettable Combination Lock: Best Keyless Bike Lock
OTTOLOCK Steel and Kevlar Cinch Lock: Best bike lock for short periods
Kryptonite Evolution 11-14mm U-Lock: Lightest U-Lock in the market
Etronic Bike Lock M6 Combination Lock: The best cheap lock
Lumintrail 12mm Heavy Duty Cable Lock: The best cable lock for bikes
OnGuard Pitbull STD U-Lock: Lock with a brilliant locking mechanism
Kryptonite 16mm Stronghold Anchor Lock: Best Anchor Lock for Bikes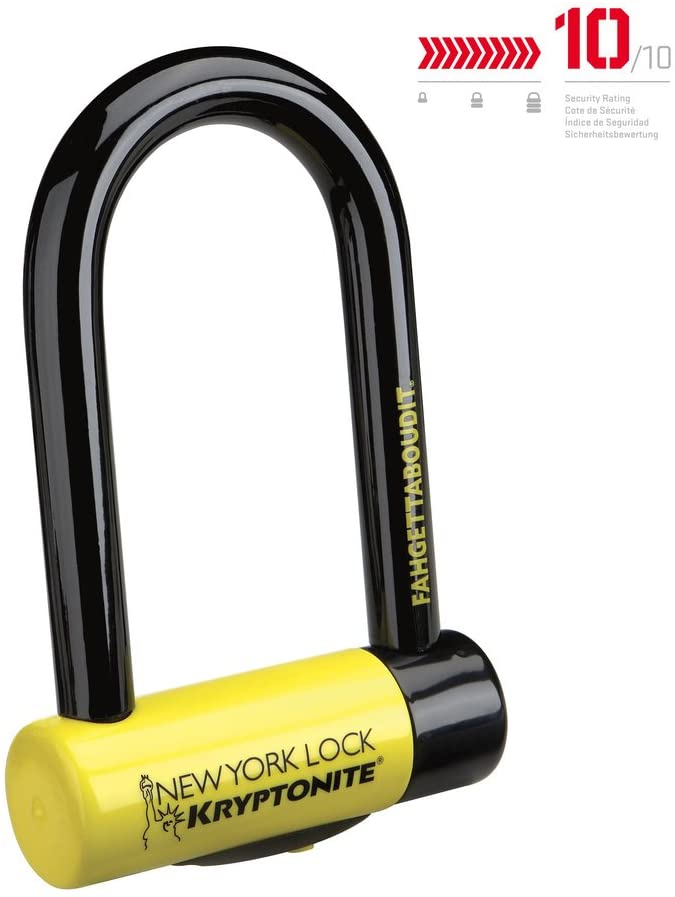 Kryptonite New York Fahgettaboutit U-Lock is the best lightweight bike lock without any doubt. Remember that Kryptonite will replace your bicycle worth up to $4000 if the lock fails to prevent it from stolen. That is quite a deal, isn't it?
Features
Kryptonite New York is made of 18mm hardened maximum performance steel. Therefore, it provides incredible resistance against all kinds of cutting tools including saws, grinders, bolt cutters, and other hand tools.
The lock also boasts a "pass-thru" crossbar design, just like other U-locks by Kryptonite. It has been designed to foil all types of theft attempts, especially cutting, drilling, and sawing attacks. A thieve has to cut the lock twice to steal your bike which is like a suicide in public places such as university parking lots, parks, markets, and others.
Kryptonite New York also has a very unique design. Instead of passing through the bottle boxes, the lock attaches to the frame thanks to the nylon strap that comes with the mounting bracket.
Some people, however, call the durability of the lock in question just because it relies on friction to stay in place.
Our Verdict
Kryptonite New York Fahgettaboudit is a great bike lock with the most reliable security features. It promises to protect your bike from thefts and keeps its promises 99% of the time. You must go for this lock if you want supreme protection and uncompromising security for your bicycle.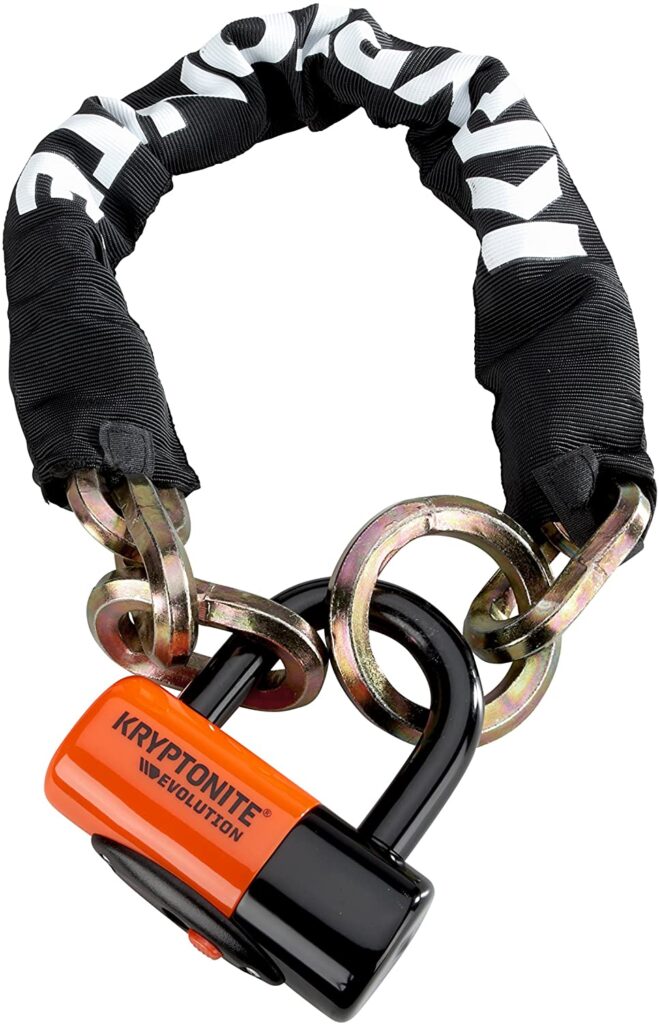 Kryptonite is a renowned and reliable name when it comes to making highly secure bike locks. A kryptonite bike lock will always keep thieves away despite its specifications and secure ratings and 1275 Chain Lock is no different.
Features
Chain locks offer many benefits which other types of locks cannot. First and foremost, you can attach them around almost anything because of their flexibility. Secondly, most chain locks are made of hardened steel and may live longer even than your bike. Thirdly, they are incredibly hard to cut due to their links which shift and move around. Even an angle grinder will fail to cut through them.
When you combine all of the above features, you get Kryptonite New York Noose 1275 Chain Lock. It is unbelievably robust as each link in the lock is made of hex-style 3t hardened manganese steel. The reinforced steel provides extra strength. You simply cannot cut it with an angle grinder, nothing to talk about a bolt cutter or a hacksaw.
Other impressive aspects of the lock are the durability and size of the chains. You will fasten the lock with a small kryptonite 14mm MAX-PERFORMANCE STEEL shackle having a complex, four-cylinder design. Similarly, it is also reinforced just like the chains.
A nylon fabric material further covers the steel and protect both the chain links and bicycle frame from scratches as well as dust.
The lock weighs comparatively more than its major rival which is its only drawback. You must also oil it regularly because it tends to get sticky in wet conditions.
The most interesting part of having Krypton Noose 1275 is that you can also activate optional Anti-Theft Protection. All you need to do is to register your product online. Kryptonite will pay you a part of the overall security value of your product in case the lock fails to protect your bicycle from theft.
Our Verdict
Kryptonite New York Noose 1275 is an excellent bike lock. It is perhaps the best lightweight bike lock for its extra-hard steel chain links and shackle as well as strong, secure features.

If you are looking for the best folding bike lock, you must consider the ABUS Bordo Granit X-Plus lock. It is top of the range Bordo series of locks by ABUS. Therefore, you can expect maximum security from this maximum strength lock.
Features
The most amazing thing about ABUS Bordo Granite is its very interesting design. Even the most experienced thieves won't understand what they are dealing with. The lock is not only lightweight but very effective and efficient. It is a very hard nut to crack, securing your bicycle from every kind of theft attempt.
The lock consists of 6 foldable 5mm plastic-coated metal bars. The bars are made of especially hardened steel. Each bar rivets into the next bar just like a chain. Therefore, it is very easy to fold the lock into the tiniest of places as well. It is also more compact than most U-locks when folded. Weighing only 2.6 pounds, it is also the lightest lock on our list.
The rivets provide maximum protection against attacks such as sawing and attempts at tempering. The ABUS Bordo Granite 6500 has earned a top score of 15 in the ABUS Security Level System.
The lock also comes with a mounting bracket and frame bag. The rubber material covering the lock also minimizes scratches on your frame. Similarly, it also includes two keys one of which also has an LED light.
Our Verdict
ABUS Bordo Granite is a high-quality foldable lock, offering unmatchable security to your bicycle. It is a nearly unbreakable security system and a fantastic choice for every rider.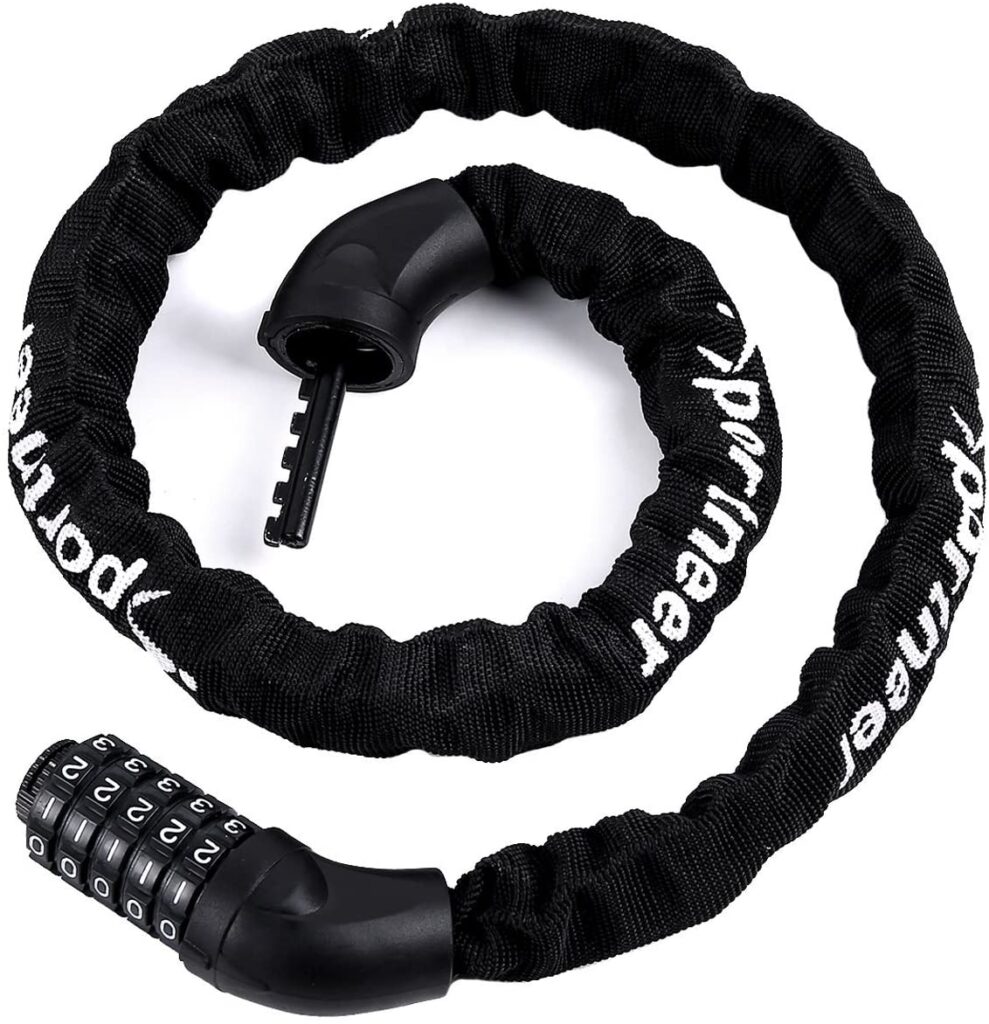 Combination bike locks have been around for ages. However, none of them has been as popular as the Sportneer 5-Digit Resettable Lock. Featuring a keyless Secure Lock Mechanism, it resolutely protects your bike from thieves.
Features
The Keyless Secure Lock Mechanism has more than a whopping 100,000 combinations thanks to a highly advanced 5-digit combination system. Therefore, it is nearly impossible for a thief to crack the code. On top of that, nobody can cut through it using ordinary saws and hacksaws as it is made of 0.27-inch extra thick manganese steel.
The lock's cable also has a protective zinc-plated coating which eliminates the chances of scratches on your frame. Having a 3.2 feet long cable, the lock is an ideal choice not only for bicycles but for gates, lawnmowers, ladders, fences, gates, and toolboxes as well. Not to mention, it is a breeze to set and reset the code or number combination frequently for added security.
The lock is also waterproof, rustproof, and dustproof because it is covered in a flexible cloth sleeve. It is a long-lasting lock which also saves you from the hassle of using keys to lock and unlock it.
Please note that many customers complain of lock jamming after extensive use. However, it shouldn't be a deal-breaker considering it is available for around $20.
Our Verdict
Sportneer 5-Digit Resettable Combination Lock is a great lock to have. The premium strong lock gives you peace of mind as you know nobody is going to steal your bike. It is a lightweight lock and very affordable as well.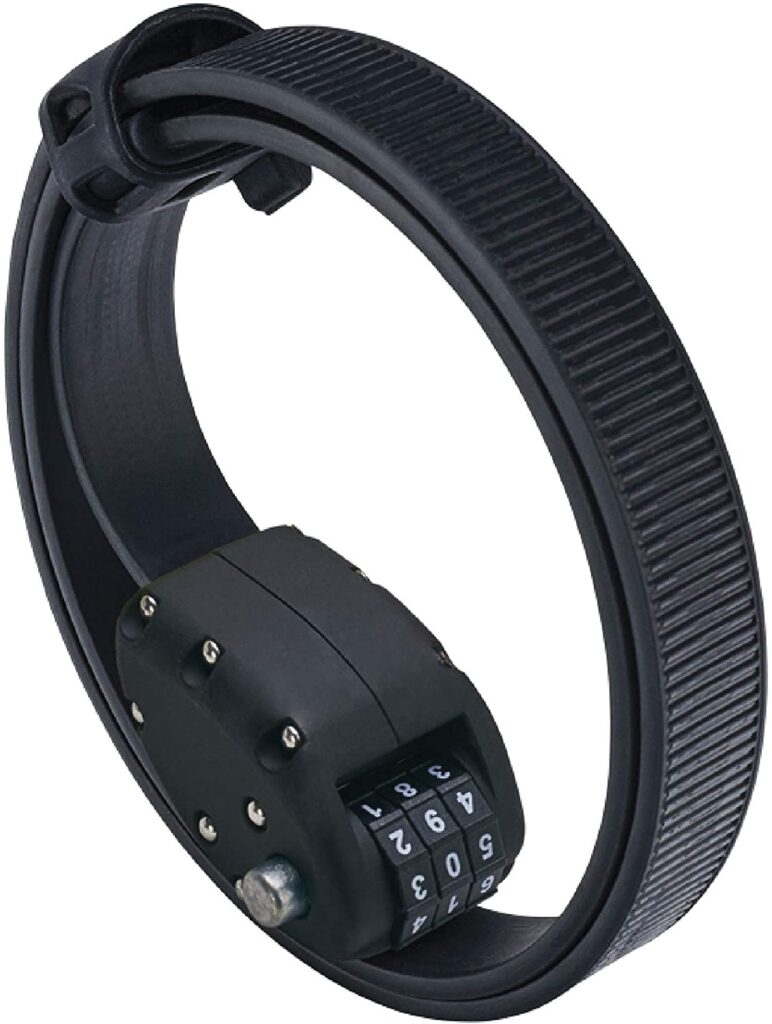 OTTOLOCk Steel and Kevlar Cinch lock has an award-winning design. It is a lightweight and extremely portable lock that can successfully safeguard your bike from mischievous attempts, especially for short trips to parks and stores.
Features
First things first. OTTOLOCK has explicitly mentioned in the user manual that the lock is not suitable for high-risk areas or long trips. However, it is an exceptionally good lock that provides maximum security when you have to be away for a short time such as for rest breaks, snacks, and water, etc.
The lock prevents cuts using a steel and Kevlar band. It weighs only 0.5 pounds and easily packs into a 3-inch diameter package. Therefore, you can easily put it under your saddle rails. It is also a fine upgrade on traditional U-Locks even though it cannot be a full replacement. The lock is more durable, more lightweight, and smaller than cable locks.
The Cinch Lock offers convenient security as it is made of multiple layers of aramid fiber and stainless steel. You can also use the lock for motorbikes, travel, and outdoors in addition to bicycles.
Our Verdict
OTTOLOCK Steel and Kevlar Cinch is the best small bike lock available in the market. It offers tremendous security to your bicycle for shorter periods. It is also reasonably priced and thus, a must-have for every bike owner.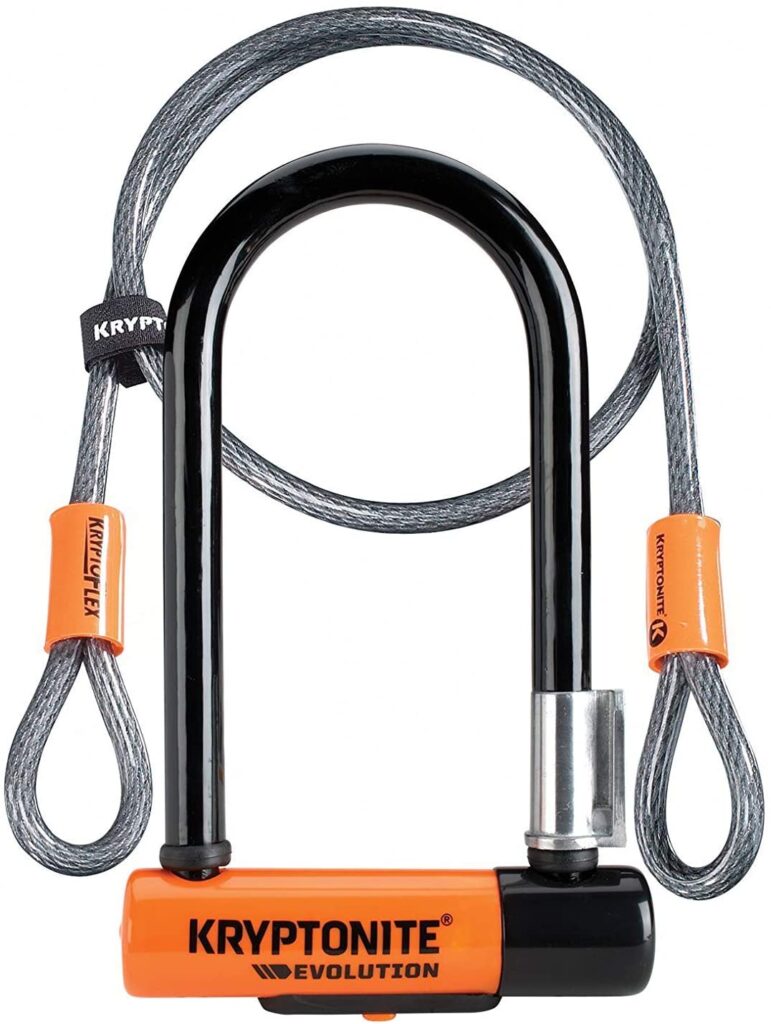 Kryptonite Evolution 11-14mm U-Lock may be the best lightweight bike lock in the world at the moment. It is a lightweight but extremely robust lock with the ability to keep thieves at bay.
Features
The lock is made of a 13mm hardened maximum performance steel shackle. It can easily resist all kinds of cutting tools such as bolt cutters, saws, hacksaws, and other hand tools. Krypton Evolution also comes with a 10mm Steel Looped Cable which provides added protection to your bike. The 4 feet cable is also long enough to be attached to almost anything including poles, gates, fences, and bike stands, etc.
The lock has an innovative "pass-thru" crossbar design. As a result, it offers unmatchable protection against single cut and twist style attacks. It also has increased holding power thanks to new hardened double-deadbolts.
The cylinder is the weakest link in any U-lock and thus, easiest to cut. However, this is not the case with Evolution Mini-7. Thieves simply cannot drill through or cut the higher security disc-style cylinder.
Our Verdict
Krypton Evolution Mini-7 is perhaps the lightest U-Lock you can currently buy. However, it is a very robust lock offering maximum protection to your bike. Every thief will think for a thousand times before trying to pick this lock.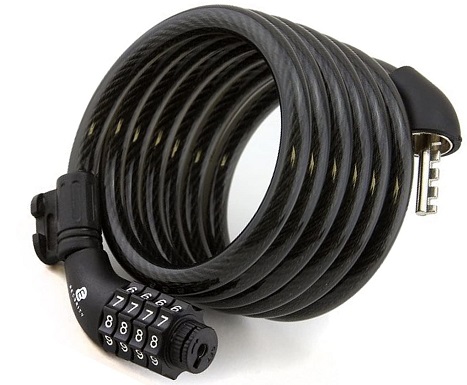 If you need a basic lock you can use as a theft deterrent, you must choose Etronic M6 Self Coiling Combination Lock. It is a fantastic lock for securing not only your bicycle but other valuables as well.
Features
The best feature of the lock is the 4-digit resettable combination. It is a keyless lock which is always very convenient to use. As the name suggests, you can also set and reset the combination whenever you want.
The lock comes with a self-coiling cable that provides supreme durability and strength thanks to featured braided steel. It does not scratch your bike's frame at all because of its protective vinyl coating.
The cable itself is 6 feet long which is a rarity in such a cheap lock (currently being sold for around $11). Therefore, you can lock it up around fences, gates, ladders, bikes, toolboxes, grills, and other items. The cable also offers exceptional resistance against cuts and thefts.
Last but not least; Etronic also backs up the lock with a 1-year manufacturer warranty.
Our Verdict
Etronic M6 Self Coiling Combination Lock is the cheapest bike lock on your list. However, don't be fooled by its price as it is a great lock to have for deterring thief and preventing cuts and drills.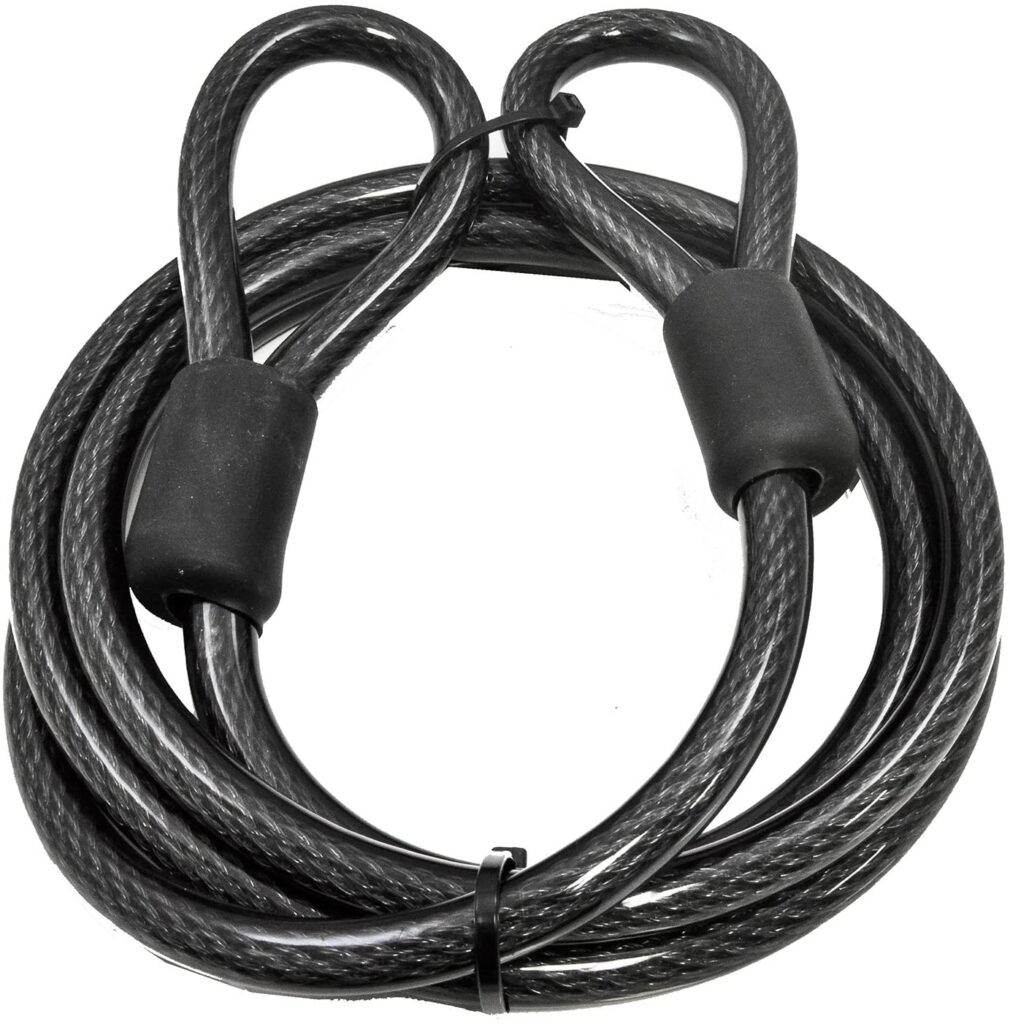 Lumintrail is the simplest of all the bike locks you may come across. However, it is a heavy-duty lock which has proven its worth time and again when it comes to protecting bicycles from theft.
Features
To begin with, the lock comes in four cable sizes that are 4 feet, 7 feet, 15 feet, and 30 feet. Therefore, you can use it to secure everything ranging from your bicycle to ladders, gates, fence, sports equipment, skateboards, and motorbikes, etc. Similarly, steel collars on both ends securely hold the loops.
Despite being a very simple lock, it provides exceptional flexibility and strength. Made of high quality and strong braided steel, it stubbornly resists cuts, drills, and other theft attempts. Similarly, the vinyl covering prevents rust and scratching your frame as well.
The lock performs brilliantly while working on its own. However, its performance enhances manifolds if you use it in combination with u-locks, pad-locks, or disk locks.
Our Verdict
Lumintrail 12mm Heavy Duty can easily become the best lightweight bike lock jut for its simplicity and ease of use. It offers incredible protection, especially when you use it to assist other locks.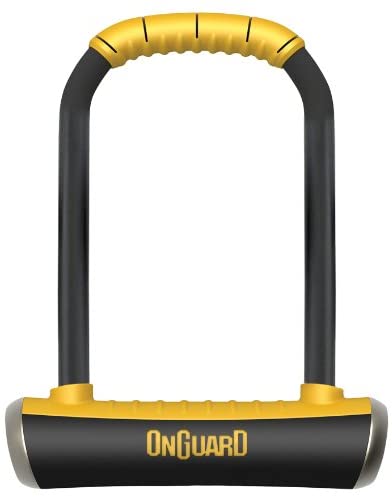 OnGuard is known for making some of the best lightweight bike locks. The OnGuard Pitbull STD U-Lock carries the tradition forward, offering some excellent security features to the riders.
Features
The Pitbull features OnGuard's patented X4P Locking Mechanism and thus, provides you with superior bike protection. You also get plenty of locking options because of the TriRadius hardened steel shackle.
Pitbull STD has a security rating of 80 which is excellent for a small U-Lock. The lock also comes with a Snap Lock Quick Release Multi-Position mounting bracket, making it very easy to use.
Pitbull also includes 4 extra grips and 1 micro-light key which projects a bright white beam that is very useful, especially in the dark.
Our Verdict
OnGuard Pitbull STD U-Lock is one of the best lightweight bicycle locks for its robustness, portability, and ease of use. You can confidently use the lock and it will protect your bicycle from theft.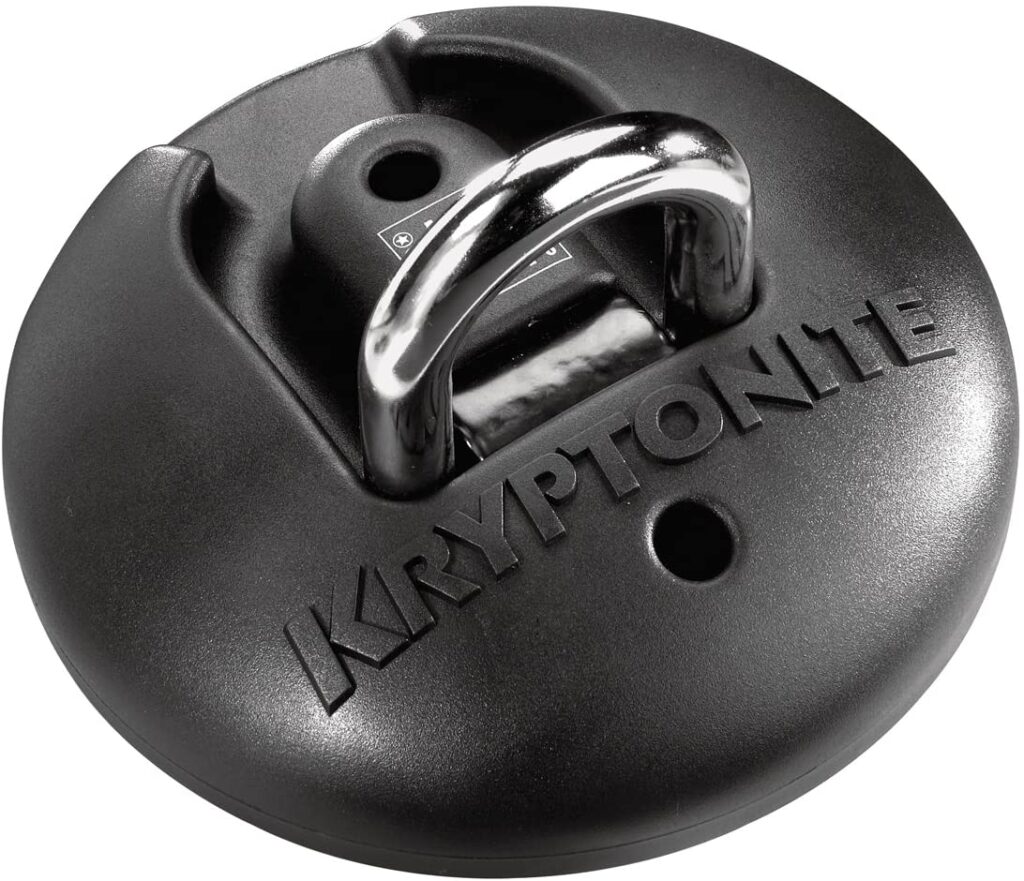 We have to include Kryptonite Stronghold Anchor Lock on our list for a variety of reasons. Unlike portable locks, it serves as a permanent locking point that you can install anywhere indoors or outdoors. Rest assured, it will protect your bicycles and motorbikes and keep them safe.
Features
You can attach the stronghold anchor lock anywhere you like such as concrete grounds, walls, and even on beds of trucks and trailers. The shackle itself is made of 16mm hardened carbon alloy steel, making it a nightmare for thieves to cut through it.
The anchor holds strongly to the cement or steel through 5/8 inches anchor bolts. Thieves can't remove those bolts as well.
The lock also comes with 2 MASONRY BITS that are the final moly-bolt diameter and initial pole hole.
There is no chance of running over the lock because it lays flat when not in use. Therefore, you can use it both in residential and commercial places without any safety hazards.
Our Verdict
You must give Kryptonite 16mm Stronghold a chance if you want to have a permanent locking point for your bike. This kryptonite bike lock will live up to your expectations.
Types of Lightweight Bike Locks
You need more security and thus high-quality locks that are impossible to beat in high-risk areas including universities, parking lots, and major metro areas. There are four different types of bike locks and here is how each one of them differs from others.
U-Locks
U-locks are the heaviest and most expensive of all the bicycle locks. Therefore, an imprudent thief at least needs a power tool to cut them. Hand tools such as saws and hacksaws stand no chances against U-Locks. Made of hardened steel, they offer unbelievable strength against thefts. A thief would need two cuts to open the lock in case of high-end U-locks that feature double deadbolts such as Kryptonite New York Fahgettaboudit U-Lock.
Folding Locks
Folding locks in the likes of ABUS Gordo Granit X-Plus are very popular among commuters for their small size and compact design. They also become a terrific alternative to cable and chain locks. However, they are not as robust as U-Locks. Thieves can drill a hole through their connecting joints using a power drill. Similarly, they are vulnerable to bolt cutters as well. However, they are an ideal option for objects that are too big for U-locks.
Chain Locks
You can use chain locks instead of U-Locks as long as the chain is made of hardened steel. Not to mention, the shackle has to be equally durable as well. The biggest benefit of a chain lock is that you can fasten it around both wheels as well as poles and trees irrespective of their diameter. Some of the models are very portable as they fit securely around your waist.
Lightweight Locks
Lightweight locks incorporate all other types of locks. These locks are available in a wide variety of materials and designs such as OTTOLOCK Steel and Kevlar Cinch Lock. Lightweight locks tend to be very cheap but an easy target for thieves. Even the hand tools like tin snips and bolt cutters can defeat them. Therefore, they are ideal only for securing your bike for short periods such as drink breaks or popping into a store.
Bike Locks Security Ratings
Many different companies have a security rating system for locks. However, Sold Secure is the most reputable and reliable of all the companies or ratings. Founded by Master Locksmiths, the company facilitates the users to compare the quality of different locks and safety products.
Sold Secure awards one of three ratings to the best lightweight bike lock that meets their testing criteria. These ratings are Sold Secure Bronze, Sold Secure Silver, and Sold Secure Gold.
As you can imagine, locks with the Sold Secure Bronze rating are the weakest of all locks and cannot stop professional thieves to steal your bike. They can serve as a theft deterrent at best and nothing else. They only keep opportunist thieves at bay and thus, they are a big waste of money. You must avoid them at any cost and that is why we haven't included any lock with Bronze rating on our list.
Locks with Sold Secure Silver Secure ratings are comparatively better than the ones with Bronze Secure rating. They offer a sort of compromise between price and security. Most lightweight bicycle locks have Gold Secure Silver rating. They are suitable for short-term use or cheaper bikes.
Gold Secure Gold rating is the highest and the best rating a bicycle lock can have. These locks provide your bicycle with maximum and uncompromised security. Locks such as Kryptonite New York have Sold Secure Gold Secure Gold rating.
How to Buy the Best Lightweight Bike Lock.
Apart from type and security rating, you need to consider many other things while buying a lock for your bicycle. The following is a summary of each of these factors.
Material
Bicycle locks made of hardened steel or titanium are the best. Such locks tend to be expensive and not everyone can afford them. However, they are impervious to bolt cutters, hacksaws, and other hand tools, much to the dismay and fright of bike thieves.
There are also locks made of cheaper softer allows that can easily be defeated by hacksaws, bolt cutters, and sawzalls.
Security
We have already covered this point to some extent in the material section. The whole idea behind having a bike lock is to secure your bicycle. Therefore, you must go for a lock that offers maximum security to your bike. In our experience, only U-locks made of hardened will successfully thwart any theft attempt 100% of the time.
Practicality
Many people ignore practicality while buying the so-called best lightweight bike lock. For example, you should not buy a massive chain lock if you commute to work because it is difficult to carry in your bag. Practicality also encompasses size and design which should play a vital role in making the final decision.
Price
You should spend as less money as possible on a bike lock. However, it does not mean you should settle on a substandard lock. Many locks offer you the highest quality, maximum security, and extreme durability for a very reasonable price such as all the locks on our lists.
Final Thoughts
It is pertinent to mention that no lock in the world is invincible. A determined thief can go through the defences of even the most robust of locks. However, the best lightweight bike lock will make your bike securer than ever before. You will have peace of mind that no one can dare touch your bike, nothing to talk about stealing it. Similarly, people with evil intentions will think a thousand times before trying to pick your bike.