Best car batteries for cold weather can help you keep trouble at bay. It is quite common for car batteries to cease during winters, leaving you in a perilous situation. Things can worsen if you are traveling on a desolate road with not a soul in sight to seek help from. Therefore, you must have a failure-free battery that can work flawlessly in harsh climates, especially extreme cold. This will not only you give peace of mind but will also enable you to reach your destination timely and safely.
10 Best Batteries for Cold Weather
Buying a battery for winters can be a tricky proposition. It involves a lot of research and that is where most people falter, buying the wrong battery for their car. Sometimes, the battery does not even fit their vehicle. However, you need not worry because we have covered this part for you.
Our guide includes everything about the best batteries for winters. Keep reading to the find the battery you are looking for to your vehicle running even in subzero temperatures.
Note: Here you go to see a list of Best Portable Car Battery Jump Starter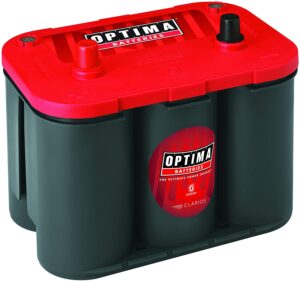 Optima is a well-known and well-respected brand when it comes to making batteries for winters. The Optima Batteries 8002-002 RedTop is a very popular model among people living in colder environments. The battery offers outstanding performance even in freezing temperatures while easily outperforming its competitors.
Features
The battery has a unique design which further enhances its effectiveness. Made of polypropylene, the case is well equipped to withstand extreme weather besides having enormous starting power. Therefore, it is also the best cold weather battery for off-road vehicles. However, it will start any vehicle regardless of its type or size with the utmost ease.
It employs a spiral cell technology to monitor the humidity, temperature tolerance, and automated conditions to improve its performance. The same technology also provides 15% more resistance to vibration, considerably increasing its lifespan as well. 8002-002 34 RedTop also has 40% bigger surface areas, providing much more power than comparable models.
The battery has a 100-minute reserve capacity as well as 800 cold cranking amps and 12 voltage capacity and 50Ah. It does not need any maintenance as well because it is a one-unit operating system using 99.9% pure lead. Moreover, the fully sealed framework means there are no chances of any acid leakage.
Recharging the battery is also easy because it allows faster conductivity. Similarly, you can place it anywhere you want
Our Verdict
Optima Batteries 8002-002 is an excellent battery that can restart any vehicle no matter how cold it is.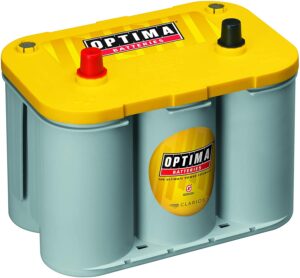 Optima dominates the market for cold weather batteries. The Optima 8012-021 D43 YellowTop is yet another great battery with a unique spiral cell design. Just like Optima 8002-002, it can bring any vehicle back to life irrespective of the temperature.
Features.
Optima 8012-021 is the battery for you if you have a vehicle that requires higher than average power to start. It will work wonders for you if your car lacks an alternator or it just has too many electronic accessories.
It is quite a powerful battery with a voltage capacity of 12V and cold cranking amps (CCA) of 620 amp. Therefore, it can easily support multiple electronic accessories at the same time without any hassle.
You can easily install Optima 8012-021 into vehicles with limited space because of its smaller size and weight. Similarly, the spiral-cell technology increases its lifespan by providing greater resistance against vibrations. It has twice as long life as traditional batteries thanks to the use of pure lead.
The dual purpose battery can act as both a deep cycling battery and a starter battery. The 100-minute reverse capacity is just icing on the cake.
Our Verdict
Optima 8012-021 can start any car or boat in an instant thanks to the massive power it offers despite its small size. Similarly, it is a better option than most because of its dual capabilities.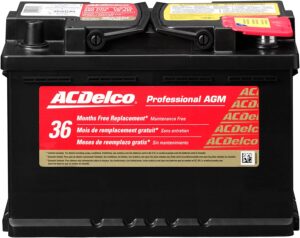 ACDelco is one of the most popular car battery manufacturers. It is no surprise that they also make the best car batteries for cold weather. Therefore, you can expect a lot from ACDelco 48AGM Professional AGM battery.
Features
The best feature of the battery is the matchless balance between the features and affordable price. The battery has a high-density negative past, resulting in a lifecycle of up to 70 amp per hour. Its lifecycle is greater than most of the comparable batteries. The battery also offers extended service thanks to the silver calcium stamped alloy fitted inside it.
ACDelco 48AGM can withstand all kinds of tough conditions such as icy and salty environments because of its tough vent cap design. It does not require any maintenance as well due to the additional oxygen recombination. This recombination also reduces water loss quite considerably.
The 12-volt battery also maximizes conductivity owing to the presence of calcium lead positive grid. Similarly, it allows better acid circulation with the help of enveloped puncture-free separators. As a result, the battery doesn't get hot and remain in service for a long time. Finally, the vent cap design also minimizes acid leakages.
Our Verdict
You can count on ACDelco to perform superbly in all kinds of weather given its brand reputation. Furthermore, you can confidently use it when you require a tremendous amount of power in high-end vehicles.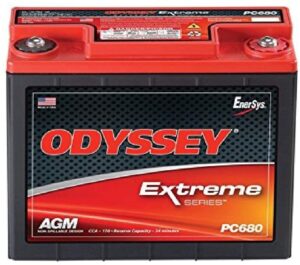 As the name suggests, the Odyssey PC60 Extreme Series battery will not disappoint you no matter you are driving through Florida or Alaskan wilderness. It is easily the best cold weather car battery in its own right for many reasons.
Features
To begin with, it has a quick charging time. It has the highest charging efficiency of all the batteries on our list. Odyssey PC680 can recharge in 4 to 6 hours which is significantly lower than the batteries like Optima 8002-002 and ACDelco 48GM. This is an amazing feature because people don't have even a second to lose in this busy world.
The battery has got you covered on both the cold and hot front, offering 170 cold cranking amp and 520 hot cranking amp respectively. As compared to traditional batteries, it also has a 70% longer life cycle.
The battery also holds high stable voltages for long periods. The deep cycle battery is capable of maintaining up to 400 cycles at 80% discharge depth.
The design of the battery also prevents acid leakages. The extreme temperature tolerant battery has a unique design that provides extra resistance against mechanical vibrations and high impact shocks.
Odyssey PC680 provides enough power to your car to excel because of the pure lead plates. These plates ensure productive and safe conduction of current in the battery as well.
Our Verdict
You must go for Odyssey PC680 Extreme Series battery if you want to use one in both colder and hotter environments.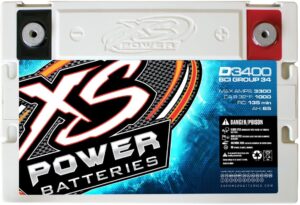 Most batteries tend to wear out while providing current to the engine but not XS Power D3400. It can discharge deeply constantly without showing any signs of degradation.
Features
XS Power D3400 has a CCA rating of 1000 which is way above that of conventional batteries. Similarly, the cold cranking voltages are much higher than the average threshold. Therefore, this battery can serve you well and reliably in winters, especially if you have a larger vehicle such as a pickup truck or an SUV.
The battery, just like all good batteries these days, has a Sealed Absorb Glass Mat (AGM) design. The container is fully sealed and the liquid electrolyte cannot move freely inside it as is the case with traditional batteries with "flooded" design. As a result, it is less likely to leak compared to the traditional batteries. It also makes it possible to mount it in an inverted position.
You can install the battery wherever you want because it lacks external vents as well. Some people even mount it inside a glove box or under a seat without worrying about leakages.
As there are no leakages, the battery is virtually maintenance-free. You don't have to remove rust from battery terminals every few months. It is also a good choice for off-road units because of increased resistance to jumps, shocks, and vibrations.
Our Verdict
XS Power D3400 is an excellent choice even if you have more expensive high-end vehicles. It is becoming increasingly popular among racing drivers for its extreme output power as well.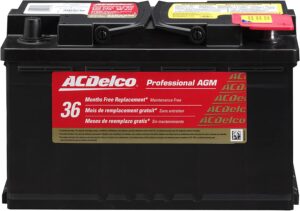 If you are a budget buyer looking for an affordable battery, you must consider the ACDelco 94RAGM Professional battery. It is a very durable unit and can serve you for years to come.
Features
The battery has 800 cold cranking amperes, enough to ignite the engine of any vehicle, big or small. Some of the higher-end batteries cannot offer the same CCA, to be honest. It is also quite resistant to overheating.
High density negative pass and Silver Calcium stamped alloy also increase the battery's life besides enhancing its performance. Made of 100% lead, the battery also maximizes the conductivity of the current and thus, providing enormous starting power to your vehicle.
Just like all ACDelco batteries, the 94RAGM has a vent cap design that prevents leakages. Similarly, it allows increased acid acceleration, keeping the battery cool and functional for a long time.
Our Verdict
ACDelco 94RAGM is the best winter battery for people with budget constraints. However, it offers reasonable performance when it comes to starting your car in the cold.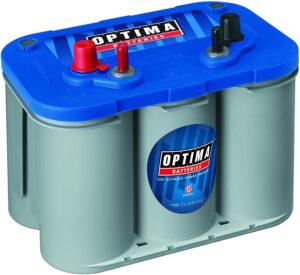 Optima Batteries 8016-103 D43M is a magnificent starter battery. Featuring a unique spiral technology and AGM design, it can easily start any vehicle in all kinds of weather, cold or hot.
Features
Optima 8016-103 D43M has a cold cranking amperage of 750 amps. Similarly, it has a 12 volts 55 Ah capacity as well. All these factors combine to give your vehicle more than optimal starting power even in the very bad weather.
The high output power of the battery also means you can use it in RVs and boats. It is 15% more resistant to traditional batteries and therefore, more durable as well.
The spiral cell design ensures liquid electrolyte does not move inside the container, thus reducing the chances of acid leakage. This very feature also allows you to mount the battery in any position you want.
Optima 8016-103D43M is a dual purpose battery. You can use it as a deep cycle battery or a starting battery depending on your requirements. Similarly, it has a high-shelf life thanks to the 120 minutes of high reserve capacity.
Our Verdict
Optima 8016-103D43M is a maintenance-free, strong cranking battery that guarantees to start your vehicle even in harsh conditions. In simple words, it is one of the best car batteries for cold weather to have.
Delphi BU9094R MaxStart AGM is the best car battery for cold weather if you want to power multiple electronic devices in your vehicle.
Features
The battery comes with an impressive 800 cold cranking amperage. Higher CCA means you will have more power to start your vehicle as well as the powerful modern devices at the same time. Some of these devices include DVD players, power windows, and heated seats. It also has a reverse capacity of 140 R.C.
The Group 94R reverse terminal battery offers 20% more resistance to vibrations compared to other batteries. It is also very easy to install thanks to the fortified posts and straps as well as optimized component compression.
The manifold venting system coupled with a sealed compartment to hold liquid also ensures zero leakage. Therefore, you can place the battery anywhere in your vehicle. Similarly, it has two times the lifespan of conventional batteries.
Our Verdict
Delphi BU9094R MaxStart AGM is a durable battery with all the features to get you to your destination safely during the cold weather.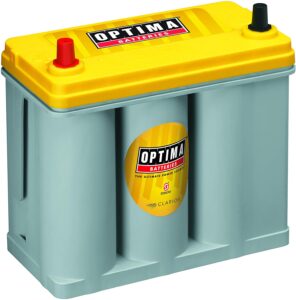 Optima Batteries are the ultimate choice of car owners for their incredible power and Optima Batteries 8171-767 YellowTop is no different. With enough cold cranking amperes and deep cycling capability, it can get you out of trouble every single time.
Features
The battery has 450 CCA which is sufficient to power up any vehicle. With 300 charging and recharging cycles, it also has a very fast charging speed.
Not to mention, the 8171-767 features a spiral cell technology like all other Optima batteries. This design offers durability besides zero leakages, easy mounting, and superior performance. 15% extra vibration resistance and enhanced life cycle only add to the versatility of the battery.
The solid cast cell connection ensures the battery works in cold weather. Made of 99.9% pure lead, the battery conducts electricity easily and smoothly. Similarly, the low internal resistance provides constant power and increase charging speed as well.
Our Verdict
Optima 8171-767 is one of the best car batteries for cold weather in the market. It is not only a powerful but very durable and safe battery as well.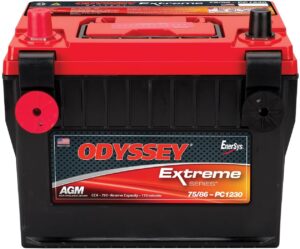 Finally, we have Odyssey 75/86-PC1230DT Automotive and LTV battery on our list. It is another extremely powerful battery that offers consistent and reliable performance in extreme weather conditions.
Features
The battery has 760 cold cranking amperage which is comparable to any other good battery. Similarly, the average lifespan of 3-10 years means you also save a lot of time and money. The battery has a 70% longer life cycle than traditional batteries as well.
Odyssey 75/86-PC1230DT can hold high and stable voltage for long periods. It can also fully recharge in 4-6 hours, making it the fastest recharging battery in the market.
The battery is also tolerant of extreme temperatures that are from -40° Fahrenheit to 113° Fahrenheit. The non-spillage design and high resistance to shocks are some of its other features. On top of that, if offers mounting flexibility, allowing you to mount it anywhere you want.
Our Verdict
You must go for Odyssey 75/86-PC1230DT battery if you are looking for extreme power, reliable performance in harsh weather, and durability.
How to Choose the Right Battery for the Cold Weather?
With so many choices at your disposal, it sometimes becomes difficult and confusing to find the right battery for the cold weather. This is when we come to your rescue. We are going to discuss all the features, functions, and factors you need to keep in mind while shopping for the best car battery for winter.
Cold Cranking Amperage (CCA)
Cold cranking amperage is perhaps the most important consideration. In simple words, it is a rating that defines the ability of your battery to start your vehicle in cold weather. As you already know, it is more difficult to start an engine in cold weather than warm weather. Without going into further details, the higher the CCA, the easier it will be for the battery to start the engine in colder temperatures.
Lifespan
You would always like to invest in a battery that serves you for years. Cold weather adversely affects the performance of the battery and result in its wear and tear. A time comes when the battery stops working altogether. Therefore, you must check out how durable a battery is and what its proposed lifespan is.
Dimensions
The batter you choose should fit nicely to your vehicle because different batteries have different sizes. Always measure up your vehicle before spending money on a new battery.
Safety
All electronic appliances are prone to safety hazards such as short-circuiting and overheating. Batteries in particular can be quite dangerous as they tend to spill acids and even explode. Many factors determine whether or not a battery is safe for us. For example, the battery should be fully sealed to prevent spillages. Similarly, separators and plates also play a big part in making a battery safe or unsafe.
Amperage Hours (Ah)
You must also consider the reverse capacity or amperage hours of the battery. Amperage hour is the energy a battery requires to produce an ampere of current per hour. You should always look for the battery with higher reverse capacity. It will help you speed up the vehicle to its full potential during winter or cold temperatures.
Maintenance-free Batteries
Maintaining a wet battery can be a real headache. You have to water it regularly to keep it functional. On the other hand, you just have to mount a maintenance-free battery in your vehicle and forget about it.
Your Budget
You must also set your budget before surfing the internet for the best car battery for cold weather. You can get an excellent car battery for less than $200. Theoretically, the higher you go, the better will be the performance of the battery. However, you must analyze the battery's features and function rathers than judging it by the price only.
Frequently Asked Questions
How many cold cranking amps do I need for cold weather?
Your car requires higher cold cranking amps to start as the temperature decreases. For instance, you need a CCA of 700 amps or even higher if you live in states like Washington and Minnesota where temperature constantly falls before zero. On the other hand, CCA of 150 amps is enough for warmer states like Florida.
How cold is too cold for a car battery?
Your battery can lose 60% of its power in subzero temperatures according to the research of Automotive Research Center. Therefore, cold weather can make your battery quite a week or even dysfunctional.
Are optima batteries good in cold weather?
Optima makes some of the best car batteries for cold weather. The YellowTop batteries in particular can provide a tremendous amount of power during winters when its demand is quite high. They also help you switch on multiple electronic devices such as headlights, car stereo, power windows, and windshield wipers simultaneously.
What to do if your car won't start in cold weather?
The first thing you can do is to use a battery tester to check your battery. You can also call a local mechanic to start the battery. If both options are not available, it is better to call 911 for assistance.
Final Thoughts
Concluding our guide to the best car battery for cold winters, we also recommended getting your batteries checked before the arrival of winters. Cold weather and cat batteries do not make a happy pair. Cold can considerably damage your battery, even rendering it very weak and unserviceable. A mechanic can tell you whether or not you need a new battery for cold weather.
You should not wait for winters to arrive if you do need a new battery. Buy a new one right now to avoid any problems and mishaps during the cold weather.